jump to recipe
Bacon Brown Sugar Garlic Chicken
Bacon Brown Sugar Garlic Chicken, the best chicken you'll ever eat with only 4 ingredients. Sticky, crispy, sweet and garlicky, the PERFECT weeknight meal.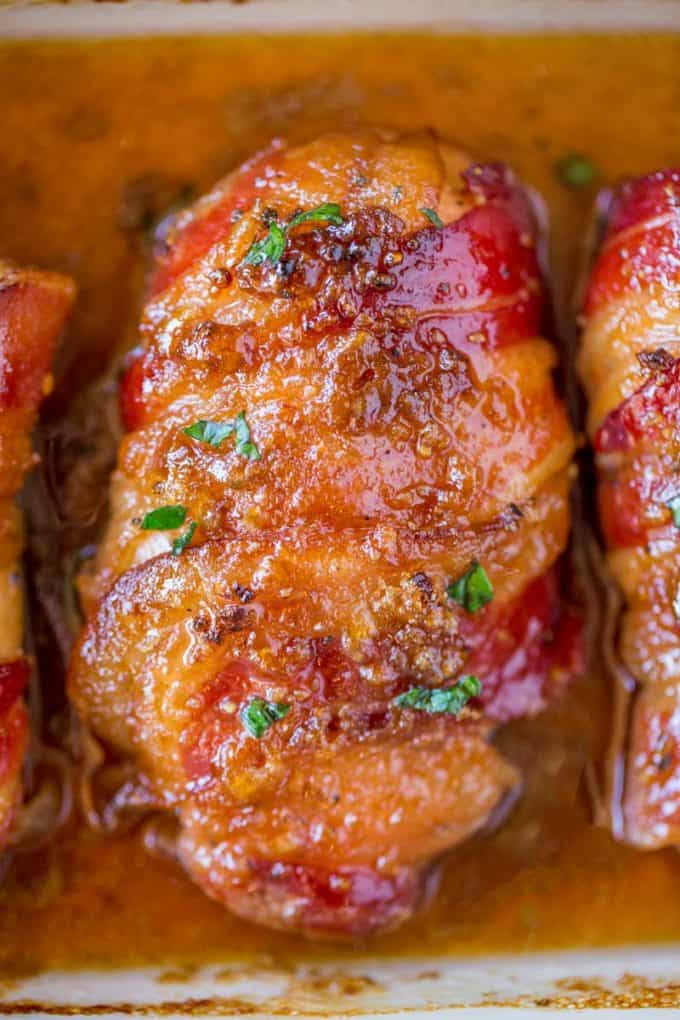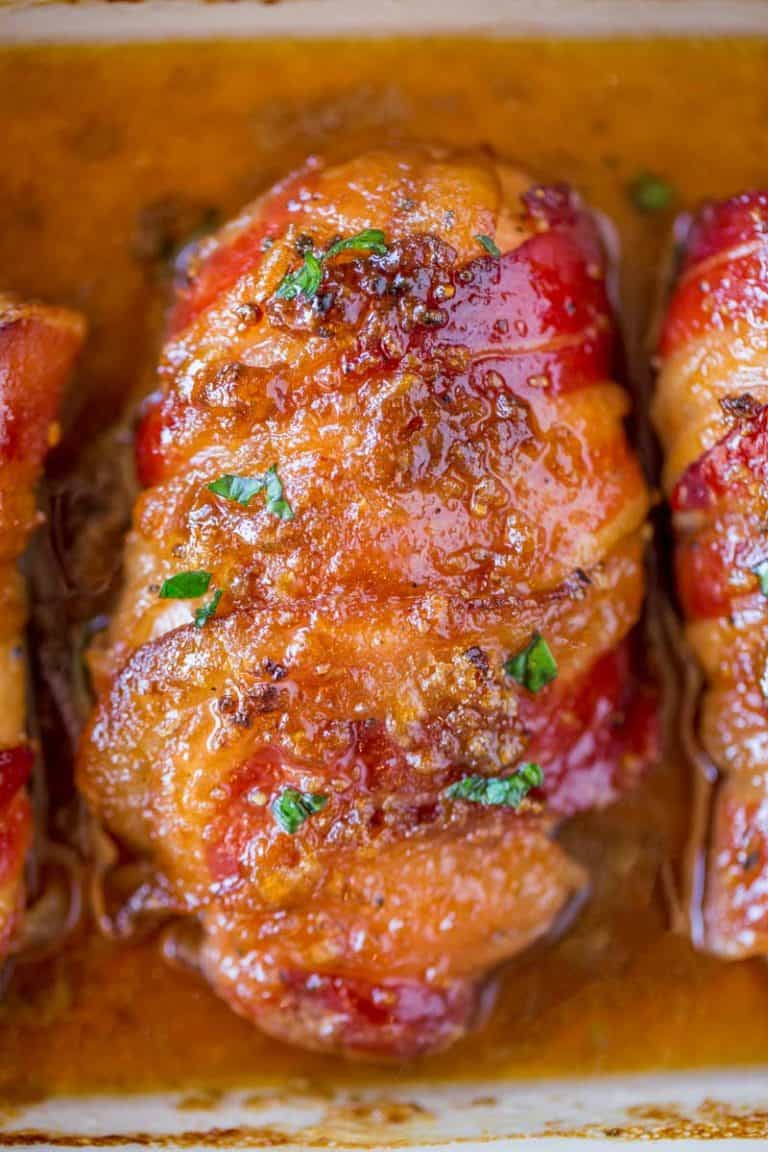 Bacon Brown Sugar Garlic Chicken is a recipe we've actually been making at home for years but I never thought to post because it is so closely related to this Slow Cooker Bacon Garlic Pork Loin and Brown Sugar Garlic Pork.
If I had to guess, I'd say about 10% of the comments and emails I get from readers are in reference to those two posts above and they're asking if they can use chicken. YES YES YES. I recently posted Slow Cooker Brown Sugar Garlic Chicken and wanted to post this oven baked version as well (with chicken breast meat!).
This Bacon Brown Sugar Garlic Chicken is as simple as it sounds. Yes salt and pepper add flavor too (so technically 6 ingredients?) but even without those two, you'll still have so much flavor it will leave you literally wanting to lick the plate.
MY OTHER RECIPES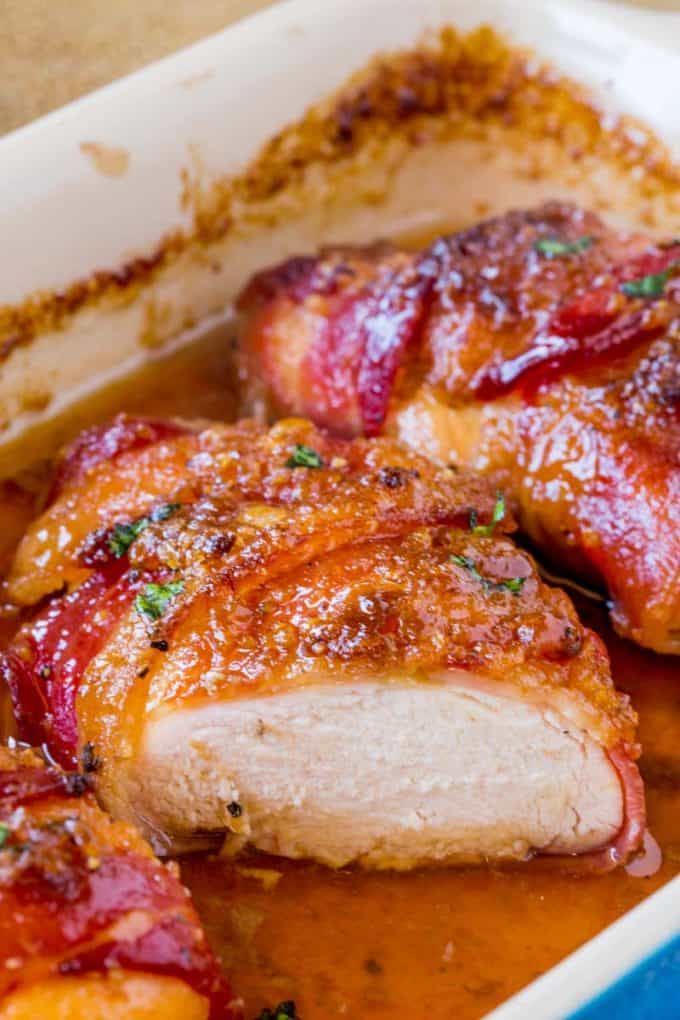 Looking for more easy weeknight meals?

Some notes about this Bacon Brown Sugar Garlic Chicken:
Use a baking pan with at LEAST one inch high sides (my pan is almost 2 inch tall sides). You can see in the pan the sauce gets up pretty high while bubbling, you don't want it to boil over into the oven.
If concerned about this, place a baking sheet under your baking pan to catch overflow (better on the sheet than in the oven).
Check the chicken at 25 minutes, you want to catch this when it is browned but not blackened and with sugar that can sometimes turn quickly.
Yes, you can absolutely make this meal in the slow cooker (this is coming soon too). Using thigh meat place it in the slow cooker with no added liquids.
Want it a bit spicier? Add in 1/2 teaspoon of crushed red pepper or a squirt of Sriracha.
If you want an even deeper caramel flavor, try dark brown sugar.
Serve with rice or potato wedges and roasted vegetables.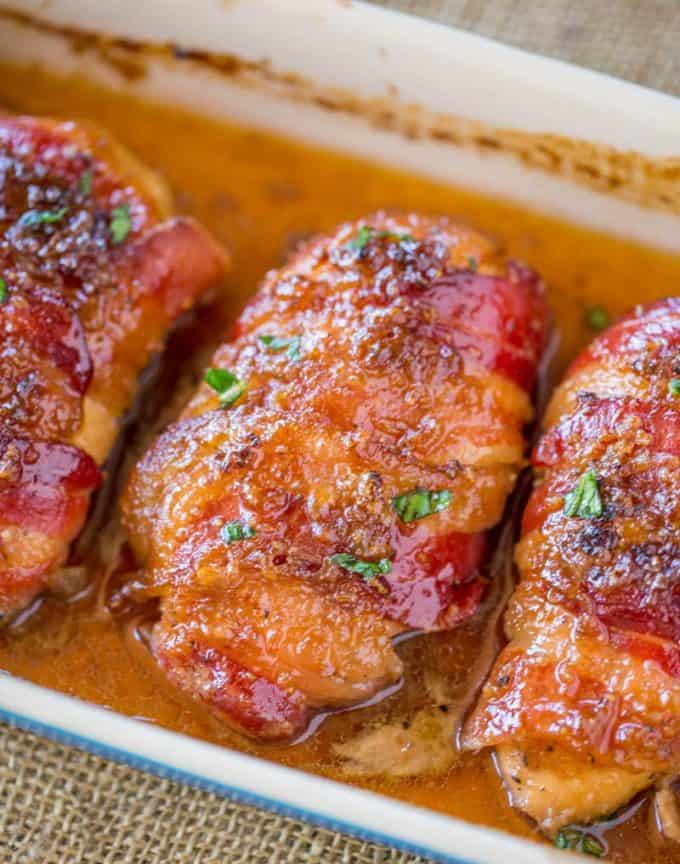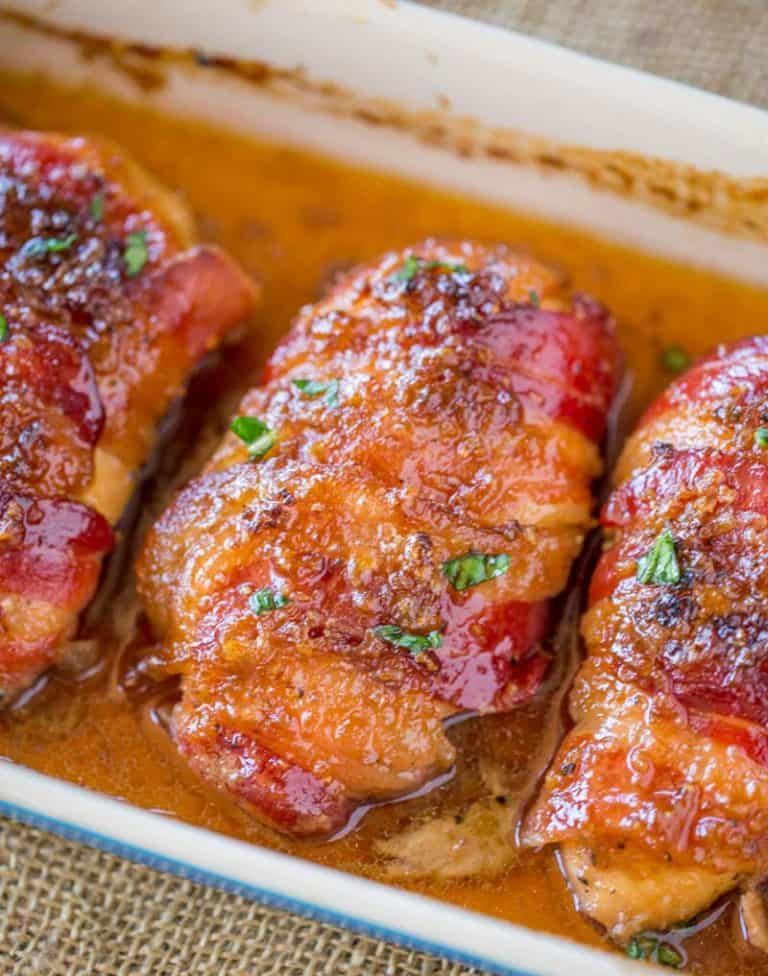 Looking for more awesome Brown Sugar Garlic Recipes?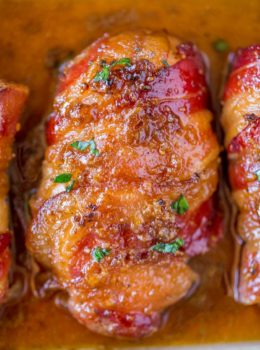 Bacon Brown Sugar Garlic Chicken
Bacon Brown Sugar Garlic Chicken, the best chicken you'll ever eat with only 4 ingredients. Sticky, crispy, sweet and garlicky, the PERFECT weeknight meal.
Ingredients:
2/3 cup brown sugar, packed
3 tablespoons garlic, minced
3/4 teaspoon Kosher salt
1/2 teaspoon black pepper
6 chicken breasts, boneless and skinless
12 slices bacon
Directions:
In a large bowl add the brown sugar, garlic, salt and pepper and mix until combined.
Coat the chicken in the brown sugar mixture.
Wrap each piece of chicken with two slices of bacon (aim for the end of the bacon pieces to stay under the chicken to prevent unwrapping while cooking).
Place into your baking pan (with at least 2 inch high sides).
Top with the remaining brown sugar mixture.
Cook at 375 degrees for 25-30 minutes or until cooked through and browned.
Careful to not let the brown sugar burn and blacken.
I made 3 in my pan, the recipe calls for 6. This is because I would've eaten the other three the next day for breakfast if it were in my fridge! For our family 3 is enough for dinner, but I didn't want the recipe to be confusing. 🙂
All images and text ©
Made this recipe?
Show me what you made on Instagram or Facebook and tag me at @DinnerthenDessert or hashtag it at #dinnerthendessert.
Dinner, then Dessert, Inc. owns the copyright on all images and text and does not allow for its original recipes and pictures to be reproduced anywhere other than at this site unless authorization is given. If you enjoyed the recipe and would like to publish it on your own site, please re-write it in your own words, and link back to my site and recipe page. Read my disclosure and copyright policy. This post may contain affiliate links.