Bacon Brown Sugar Garlic Chicken is the best chicken you'll ever eat with only 4 ingredients. Sticky, crispy, sweet, and garlicky!
If you're a fan of the wonderful pairing of sweet and savory, then you'll also love the other amazing Chicken Recipes, like the Memphis Barbecue Chicken Wings, the delicious Oven Baked Chicken Breasts, and the classic Chinese Honey Chicken.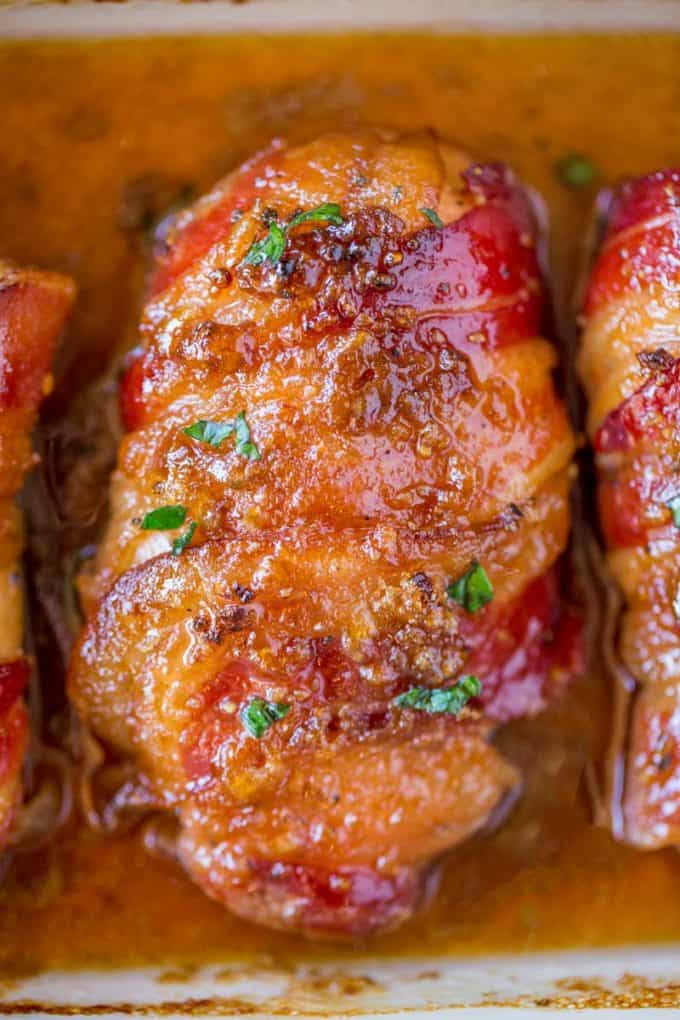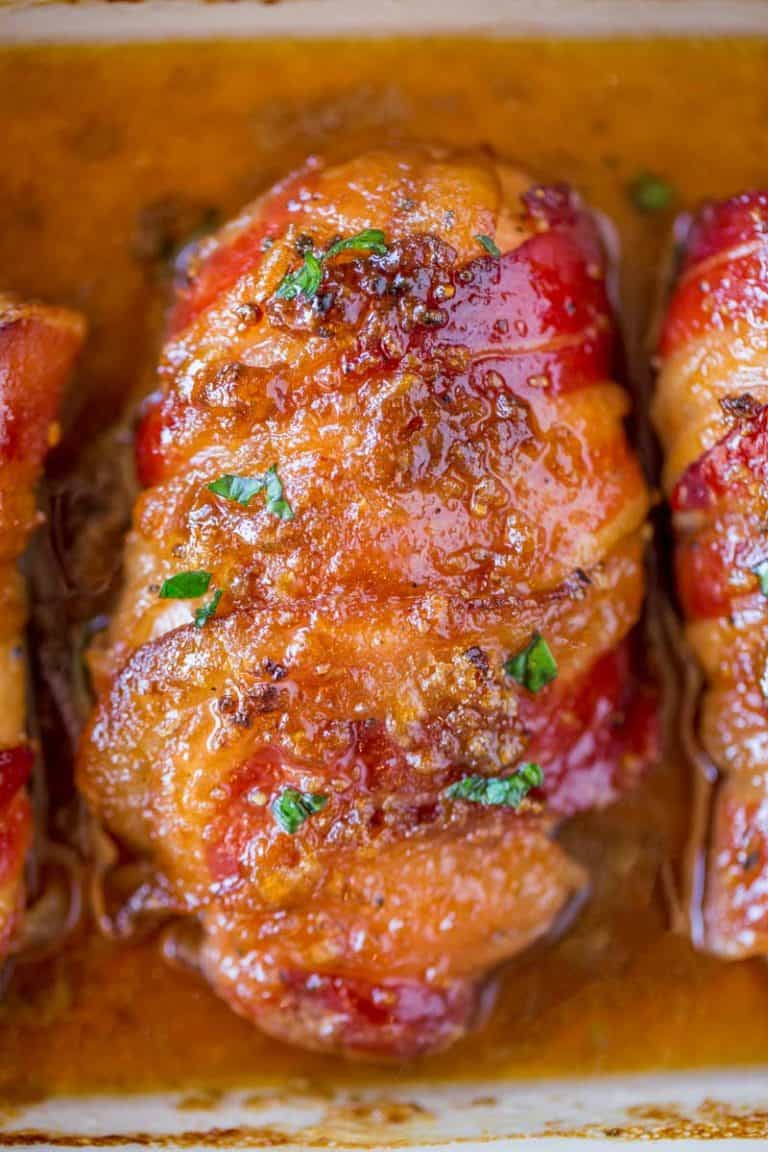 Chicken with bacon is a key element in the culinary universe, beloved by foodies all over the globe. And when you bring brown sugar and garlic into the mix, you're onto a real winner. What makes this Bacon Brown Sugar Garlic Chicken one of our favorite recipes is the perfect blend of sweet, savory, and umami flavors. The star of the show is, without a doubt, the brown sugar and garlic glaze. The sugar caramelizes beautifully in the oven making the chicken golden brown, while the garlic gives a subtle kick that complements the sweetness. As for the bacon, it infuses the chicken with its rich, smoky essence, making every bite an absolute delight.
Chicken is a versatile meat, tender and mild in flavor, which makes it an excellent canvas for the strong, bold flavors of bacon, brown sugar, and garlic. As for the bacon, its natural fattiness helps keep the chicken moist during baking, ensuring a succulent result and turns into crispy bacon on top!
Making this dish is relatively straightforward, with the procedure involving a simple marination process followed by wrapping the chicken in bacon and baking. This is an ideal recipe to whip up for a weeknight meal when you're craving something out of the ordinary yet uncomplicated. The ingredients are readily available, making it a stress-free culinary endeavor that results in a restaurant-quality dish.
What's fascinating about this recipe is that it could very well be a gourmet dish at a high-end restaurant, yet it's remarkably easy to make at home. For anyone who loves the combination of chicken and bacon, this is a recipe that you should not miss. Serve with yellow Persian Rice for a fun, flavorful, and delicious meal.
How to Make Bacon Brown Sugar Garlic Chicken
You don't need to be a culinary expert to create this delicious dish at home. It's simple, straightforward, and yet delivers outstanding results that will impress your friends and family. Check it out!
Step One: The first step is to gather your ingredients. Begin by combining the brown sugar, minced garlic, kosher salt, and black pepper in a large bowl.
Step Two: Next, coat the chicken breasts in the brown sugar mixture, ensuring they're thoroughly covered.
Step Three: Once coated, wrap each chicken breast with two slices of bacon. Try to ensure the ends of the bacon slices are tucked underneath the chicken to prevent them from unraveling during cooking.
Step Four: Place the bacon-wrapped chicken into a baking sheet with sides that are at least 2 inches high.
Step Five: Sprinkle the remaining brown sugar mixture over the bacon-wrapped chicken in the baking pan.
Step Six: Bake the chicken at 375 degrees Fahrenheit for 25-30 minutes, or until it's thoroughly cooked and the bacon is browned. Be mindful to avoid burning the brown sugar.
More Bacon u0026 Brown Sugar Favorites
Frequently Asked Questions
Is it necessary to use boneless and skinless chicken breasts?
Yes, for this recipe, boneless and skinless chicken breasts are recommended. They cook evenly and are easy to eat once wrapped in bacon.
Can I use a different type of sugar instead of brown sugar?
Brown sugar is recommended because it caramelizes and coats the chicken better, adding to the overall flavor. However, in a pinch, you could substitute with granulated white sugar.
What should I do if the bacon isn't crisping up in the stated cooking time?
If the bacon isn't crispy after 30 minutes, you can put the dish under the broiler for a couple of minutes. Watch closely to ensure it doesn't burn.
How do I know when the chicken is fully cooked?
The chicken is fully cooked when its internal temperature reaches 165 degrees Fahrenheit on a meat thermometer.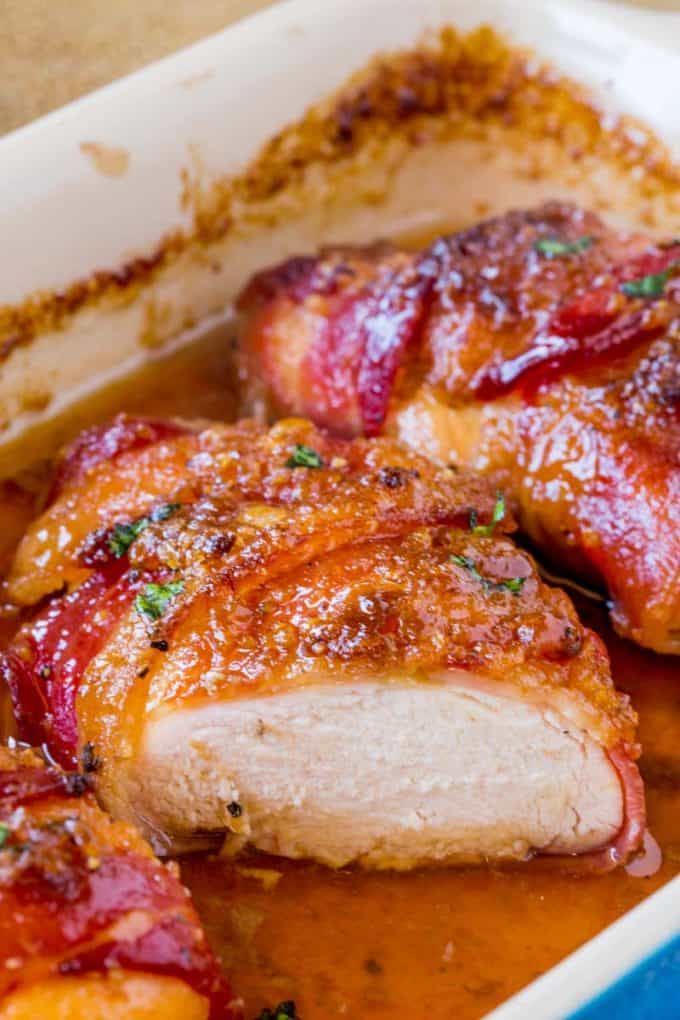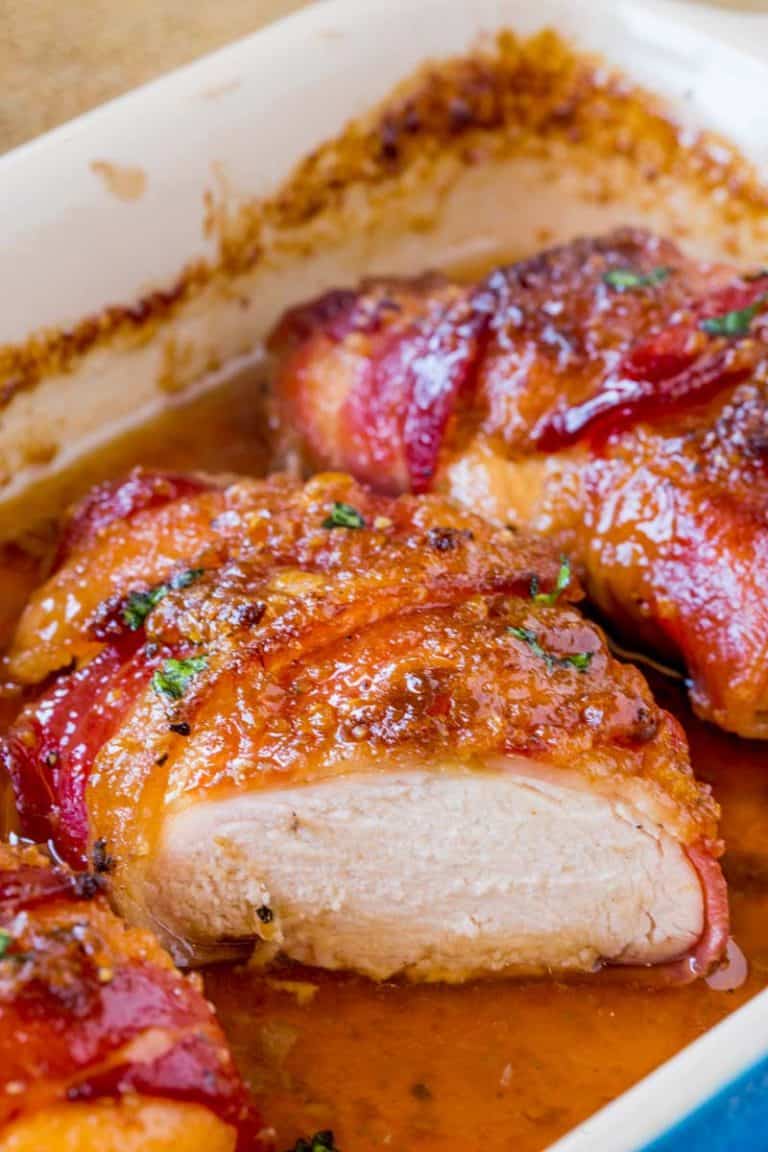 Create a free account to Save Recipes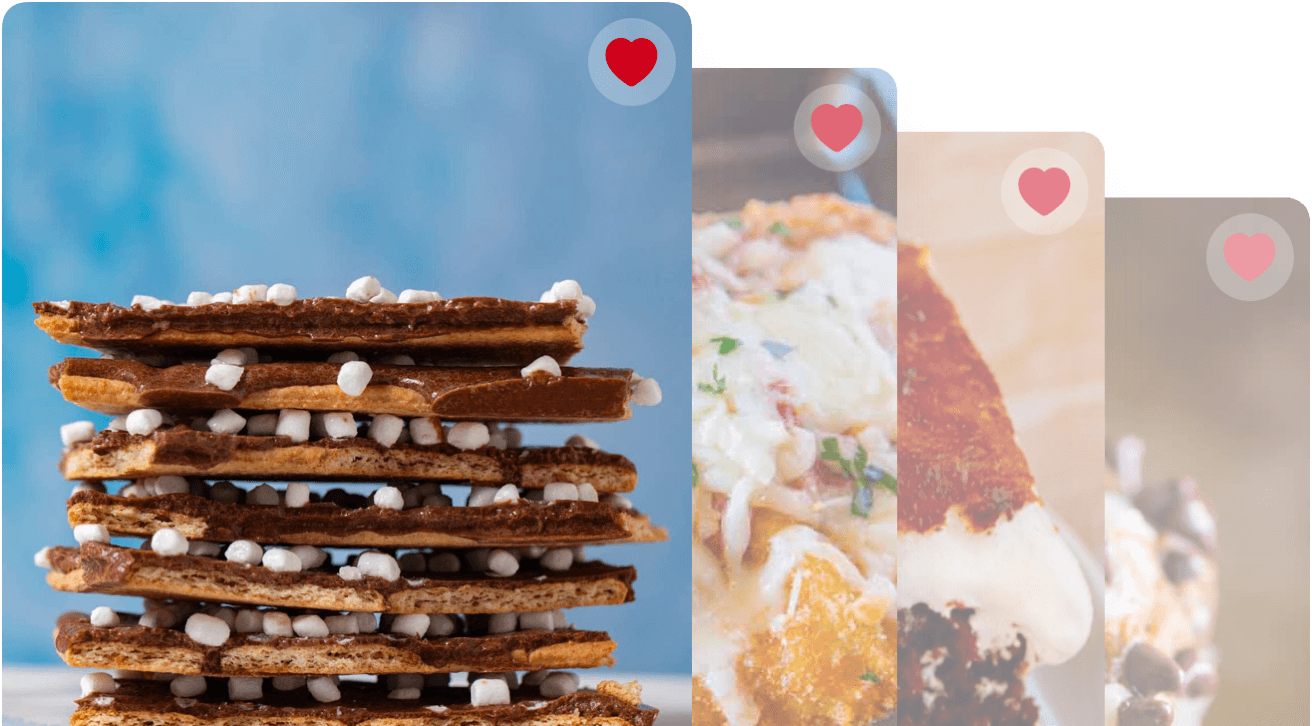 Key Ingredients in Bacon Brown Sugar Garlic Chicken
This recipe is a wonderful combination of a few impactful ingredients. Each one brings something unique to the table, culminating in a dish that is truly greater than the sum of its parts.
Brown Sugar: The brown sugar provides a wonderful sweetness to the dish, which contrasts beautifully with the savory elements. Its molasses content gives it a rich, deep flavor that white sugar cannot replicate.
Garlic: Minced garlic adds a potent and aromatic punch to the dish, balancing out the sweetness of the brown sugar. Its unique, pungent flavor permeates the chicken during cooking, making it a vital ingredient in this recipe.
Bacon: The bacon provides a deliciously smoky and savory element to the dish. It also keeps the chicken moist and tender while it cooks. Opt for thick-cut bacon if possible, as it will hold up better during cooking.
Chicken Breasts: Chicken breasts are used for their mild flavor and tenderness. They absorb the flavors of the bacon, brown sugar, and garlic beautifully, resulting in a savory, sweet, and utterly delicious dish.
Air Fryer Method for Bacon Brown Sugar Garlic Chicken
While this recipe calls for baking, you can also cook this dish using an air fryer for a potentially crispier result. We don't use a Dutch oven with a lid because it will steam the bacon which then won't get crispy.
Follow the recipe steps up to placing the bacon-wrapped chicken in the baking pan.
Instead of placing them in a baking pan, arrange the chicken pieces in the air fryer basket, ensuring they do not overlap.
Cook at 375 degrees Fahrenheit for 15-20 minutes, or until the chicken is cooked through and the bacon is crispy. Remember, air fryers can vary, so monitor them closely.
Can Bacon Brown Sugar Garlic Chicken Be Made Ahead of Time?
This recipe is fantastic for preparation ahead of time. You can wrap the chicken in the bacon and marinate it in the brown sugar mixture, then store it covered in the refrigerator for up to 24 hours before cooking. When you're ready to cook, simply preheat the oven and follow the recipe's baking instructions.
It's worth noting, however, that once cooked, this dish is best served immediately. If you have leftovers, store them in an airtight container in the refrigerator. They can be reheated in the oven or microwave until heated through. Add a little water to the dish when reheating to prevent the chicken from drying out.

Substitutions in Bacon Brown Sugar Garlic Chicken
Brown Sugar: If you don't have brown sugar on hand, you can use white sugar with a little bit of molasses added. Alternatively, coconut sugar could work as a healthier option.
Garlic: If fresh garlic isn't available, garlic powder can be used. Just remember, the flavor won't be as strong as fresh garlic.
Bacon: Turkey bacon can be used as a leaner option compared to regular pork bacon, but it might not provide the same level of richness.
Chicken Breasts: While chicken breasts are ideal, you could also use chicken thighs. Just adjust the cooking time as they may require a bit longer to cook thoroughly.
Variations on Bacon Brown Sugar Garlic Chicken
While the original recipe is delicious as it is, there are plenty of ways to add your own personal touch for a delicious chicken dinner.
Spicy Version: Add a teaspoon of chili flakes or cayenne pepper to the brown sugar mix.
Herby Version: Try adding some dried or fresh herbs like rosemary or thyme to the mix. Italian seasoning is also a good option for extra flavor.
Cheesy Version: After the chicken is cooked, sprinkle some grated cheese on top, then return to the oven until the cheese is melted and bubbly.
How to Serve Bacon Brown Sugar Garlic Chicken
This chicken dish is quite versatile when it comes to serving options. It pairs well with a variety of sides and complements several different cuisines. Top with chopped green onions as a colorful garnish. Here are a few ideas:
More Easy Weeknight Meals
How to Store Bacon Brown Sugar Garlic Chicken
Serve: After cooking, the chicken shouldn't be left at room temperature for more than two hours.
Store: Leftovers should be refrigerated in an airtight container and are best consumed within 3-4 days.
Freeze: While you can freeze the cooked chicken, the texture of the bacon may change upon thawing and reheating. It's best to freeze the marinated, bacon-wrapped chicken before cooking, then thaw overnight in the refrigerator and reheat on medium heat in the oven, air fryer, or toaster oven for 7-10 minutes.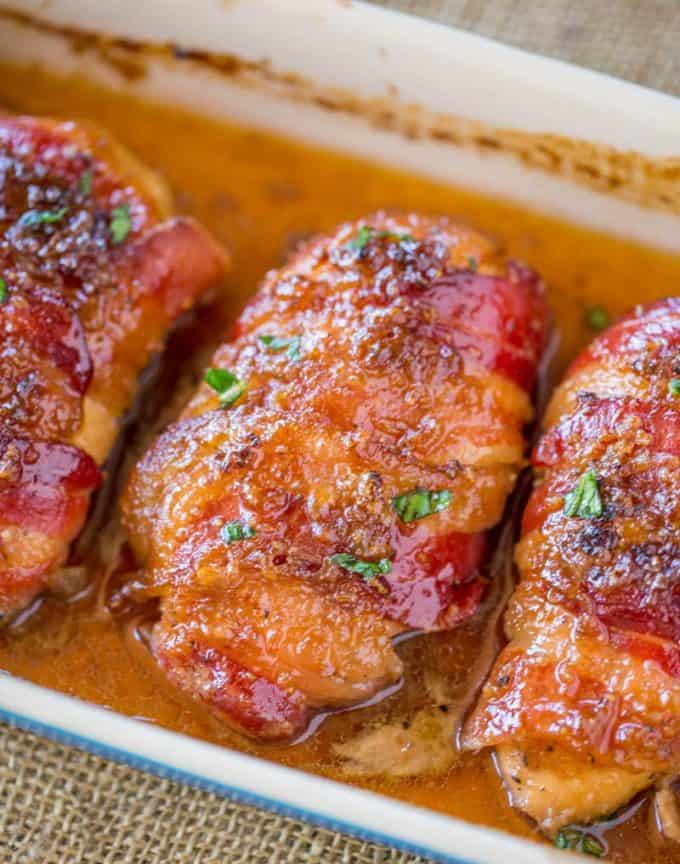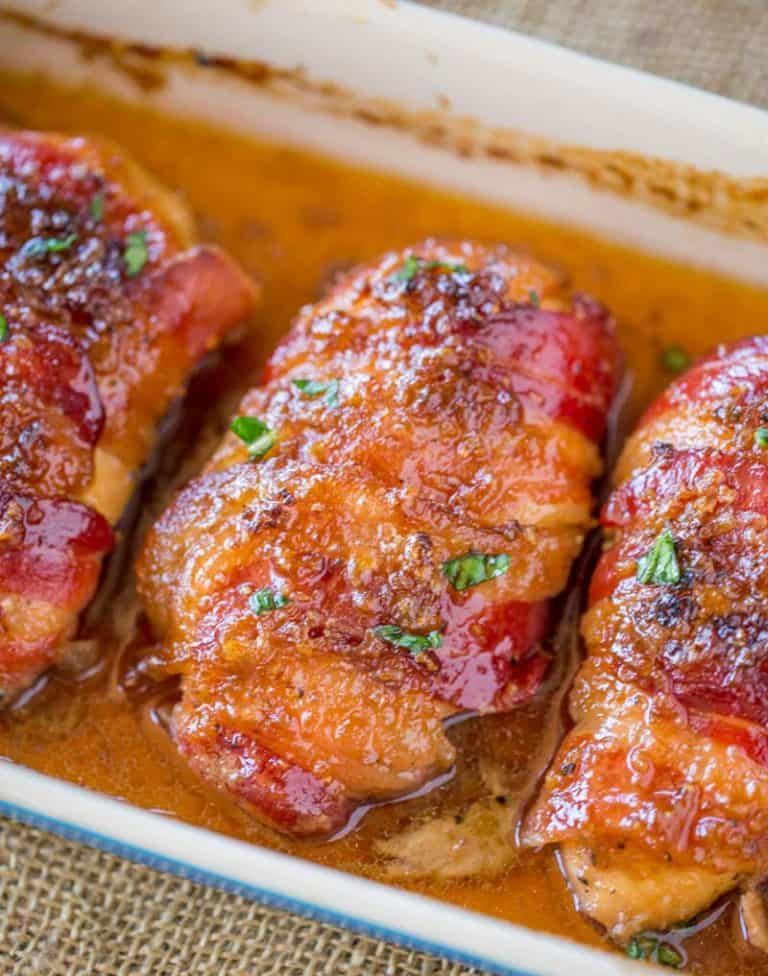 Ingredients
2/3

cup

brown sugar

, packed

3

tablespoons

garlic

, minced

3/4

teaspoon

kosher salt

1/2

teaspoon

course ground black pepper

6

chicken breasts

, boneless, skinless (4-5 ounces each)

12

slices

bacon
Instructions
In a large bowl add the brown sugar, garlic, salt and pepper and mix until combined.

Coat the chicken in the brown sugar mixture.

Wrap each piece of chicken with two slices of bacon (aim for the end of the bacon pieces to stay under the chicken to prevent unwrapping while cooking).

Place into your baking pan (with at least 2 inch high sides).

Top with the remaining brown sugar mixture.

Cook at 375 degrees for

25-30 minutes

or until cooked through and browned.

Careful to not let the brown sugar burn and blacken.
Notes
I made 3 in my pan, the recipe calls for 6. This is because I would've eaten the other three the next day for breakfast if it were in my fridge! For our family 3 is enough for dinner, but I didn't want the recipe to be confusing. 🙂
Nutrition
Calories:
540
kcal
|
Carbohydrates:
25
g
|
Protein:
53
g
|
Fat:
23
g
|
Saturated Fat:
7
g
|
Cholesterol:
173
mg
|
Sodium:
851
mg
|
Potassium:
971
mg
|
Sugar:
23
g
|
Vitamin A:
85
IU
|
Vitamin C:
4
mg
|
Calcium:
41
mg
|
Iron:
1.3
mg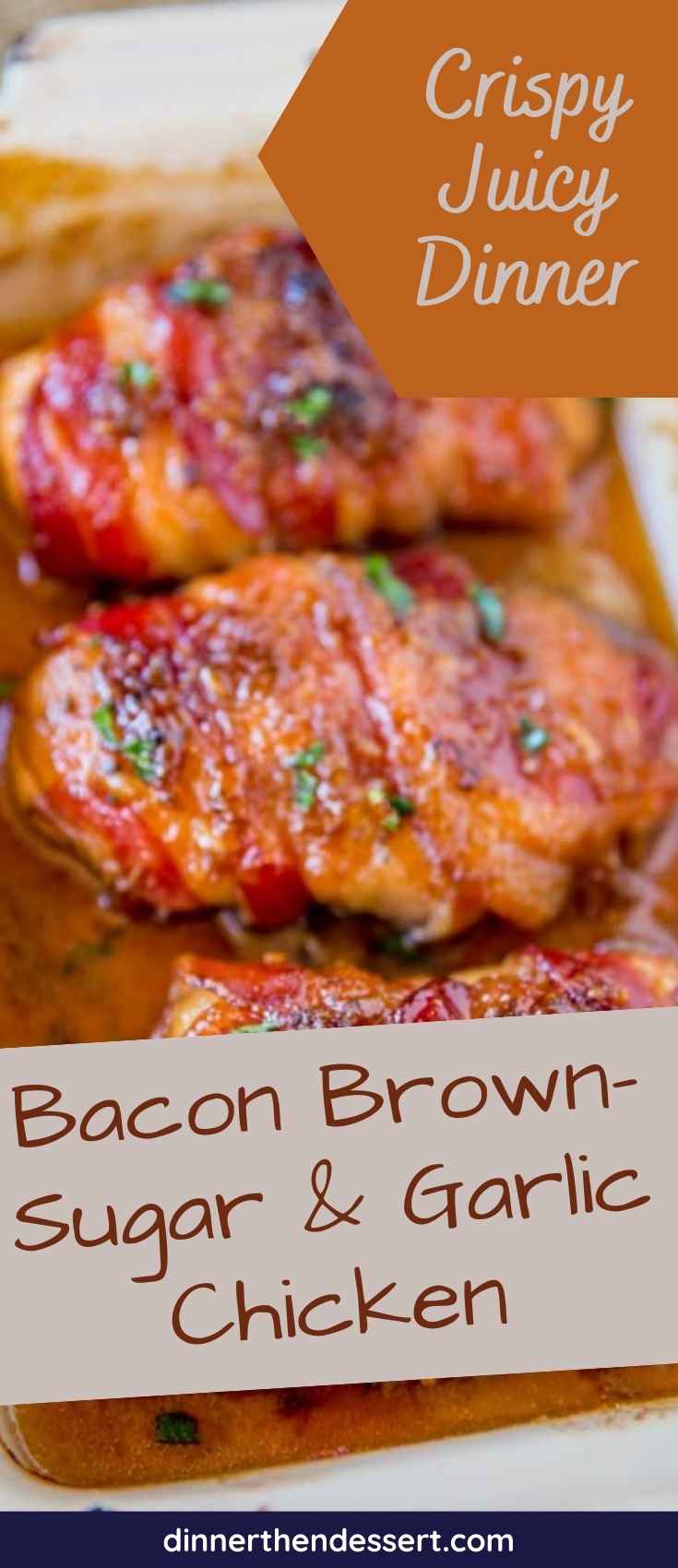 Photos used in a previous version of this post.