An Easy Cheese Board is perfect for holiday parties, get-togethers with friends, or any event. Follow simple directions to make it look perfect.
This fancy snack board is an easy variation on a Classic Charcuterie Board. But, you don't have to worry about the meat. Instead, all the emphasis is on your favorite cheeses in this wonderful Appetizer Spread.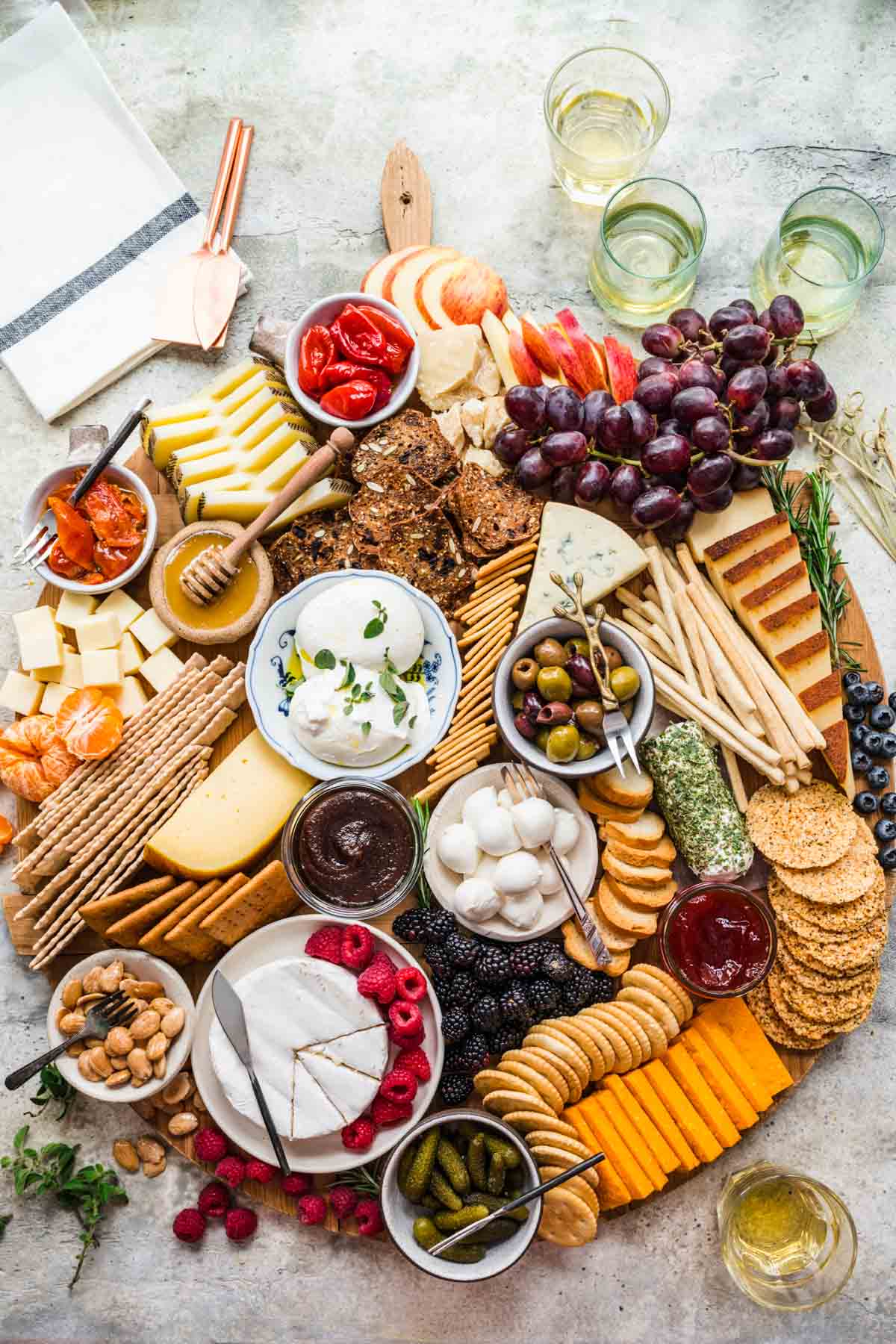 This delicious, simple Cheese Board is the perfect addition to a fun night with your girlfriends, or to elevate your family movie nights to a celebratory event. Your family and friends will love how elegant it looks, and everyone can enjoy trying different cracker, fruit, and cheese combinations.
It's easy to fill the cheese tray with crumbly, squeaky, and creamy cheeses for a nice variety. Then fill the awesome Cheese Board with fruit, nuts, and other snack foods to compliment the cheese. The fresh fruit adds a burst of color and a wonderfully sweet and juicy flavor that contrasts with nutty cheeses. Meanwhile, the soft cheese varieties are wonderful spread over a firm cracker.
Have fun with creative combinations of accompaniments to your cheese plate like honey, fruit preserves, dijon mustard, cornichons and fresh herbs for garnish. The variety of flavors, colors, and textures creates a beautiful board that will warmly welcome guests to any holiday season gathering.
You can also add simple appetizer recipes to the cheese platter. A homemade Cheeseball, Baked Brie, and Marinated Olives all make fantastic additions to the board.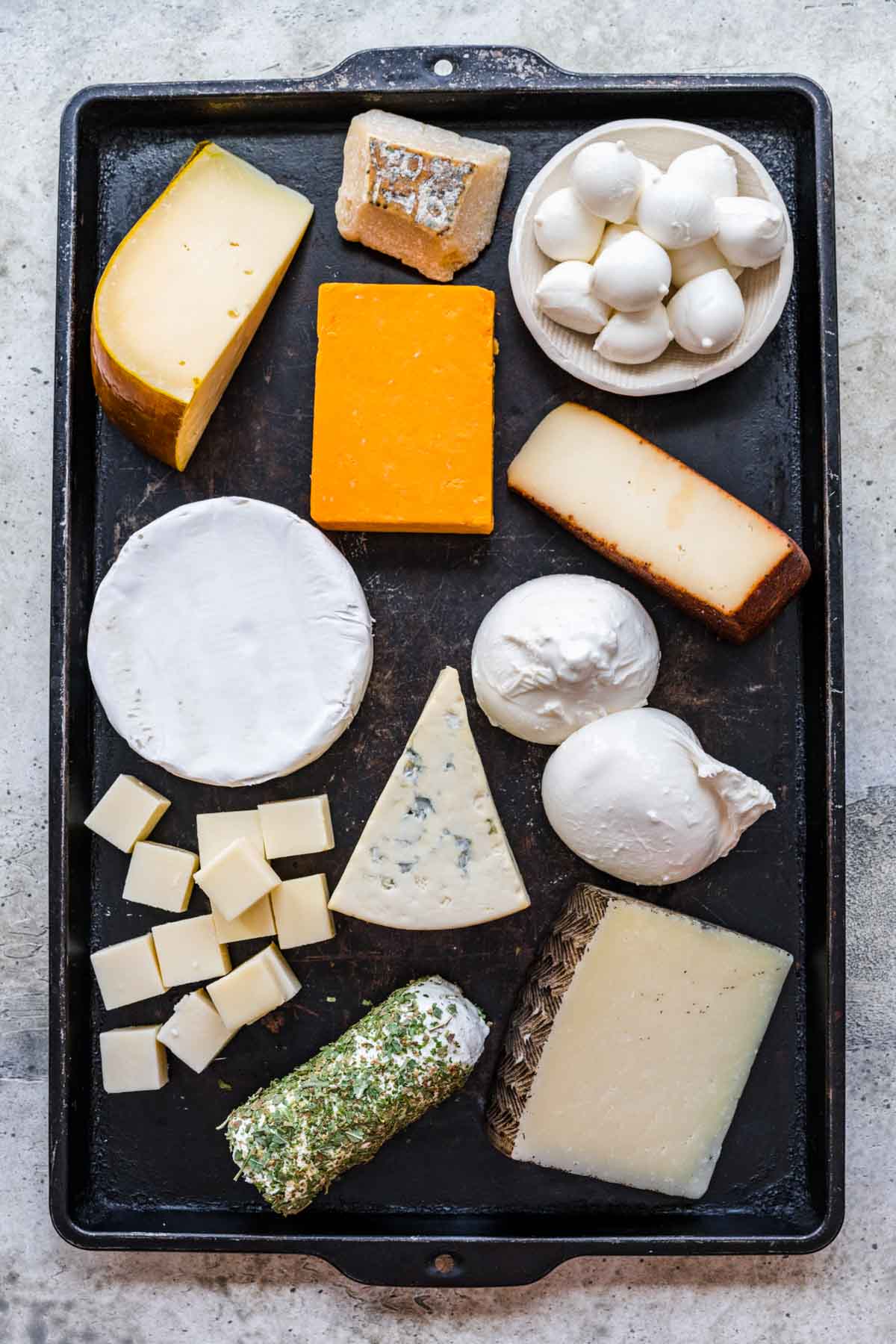 How to Assemble an Easy Cheeseboard
It's really up to you how you want to arrange types of cheese and other Cheese Board items. Here are some tips to make a beautiful presentation for your perfect appetizer.
Place Dishes First: You'll want some of the soft cheese, the green olives, and the nuts in bowls or on plates. Put these on the board first to ensure there is enough space for all of them and that they aren't too close to each other.
Place Large Items: Next, place cheese wheels and wedges. Then add large clusters of grapes and any other fruit or large items.
Toppings: Add the honey, mustard, and other sauces in small bowls.
Fillings: Fill the extra spaces with nuts, berries, orange slices, apple slices, bread, and crackers around the variety of cheeses.
Finishing Touches: Place a cheese knife next to any of your favorite cheeses that need one. Cut the brie into wedges and arrange raspberries around it on the dish. Sprinkle fresh thyme leaves and a drizzle of olive oil over burrata. Add rosemary sprigs for garnish.
Tip: Make sure to keep the ingredients together in clusters. If you mix different ones or spread them too much, it makes the board look messy. Keeping them together adds clusters of color around the whole Cheese Board.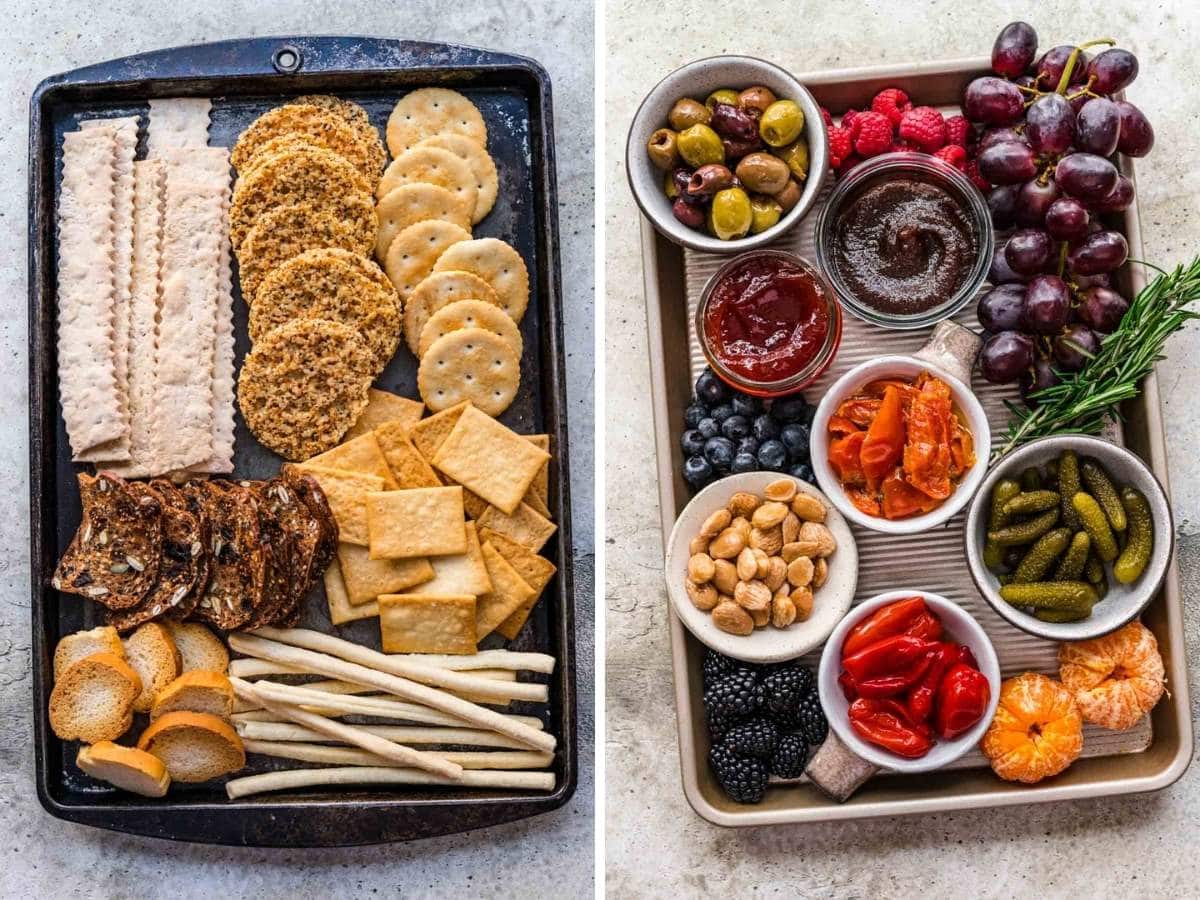 More Appetizer Recipes
Frequently Asked Questions
Can I make my Cheese Board ahead of time?
It's easy to arrange this cheese platter in just a few minutes before your party starts. However, if you want to get it done ahead of time, you can. Place the different kinds of cheese, fruit, and other soft items how you'd like. But, wait to add crackers, bread, or nuts because they can get soggy. Cover the arranged Cheese Board in plastic wrap and store it in the fridge for up to a day in advance. Add crackers and other crunchy items right before serving. 
How to transport your Cheese Board?
If you're bringing the cheese platter to someone else's house, there's an easy trick to keep the items on the cheese board surface. Before you add everything to the board, put aluminum foil underneath it. Then arrange the Cheese Board how you would normally. You may want to put nuts and other items likely to fall off in a small bowl and cover them in plastic wrap. Then wrap the whole board in aluminum foil. When carrying the board, try to keep it even so that the dishes don't slide off of the flat surface. 
What is the difference between a Cheese Plate and a Charcuterie Plate?
While cheese and charcuterie are often served together on one board, charcuterie specifically refers to the kinds of meat that are assembled. This Cheese Board recipe is focused on how to serve a delicious variety of cheeses with other accompaniments. You can also assemble a similar variety of charcuterie meats to serve alongside, or combine them into a delicious meat and cheese board appetizer.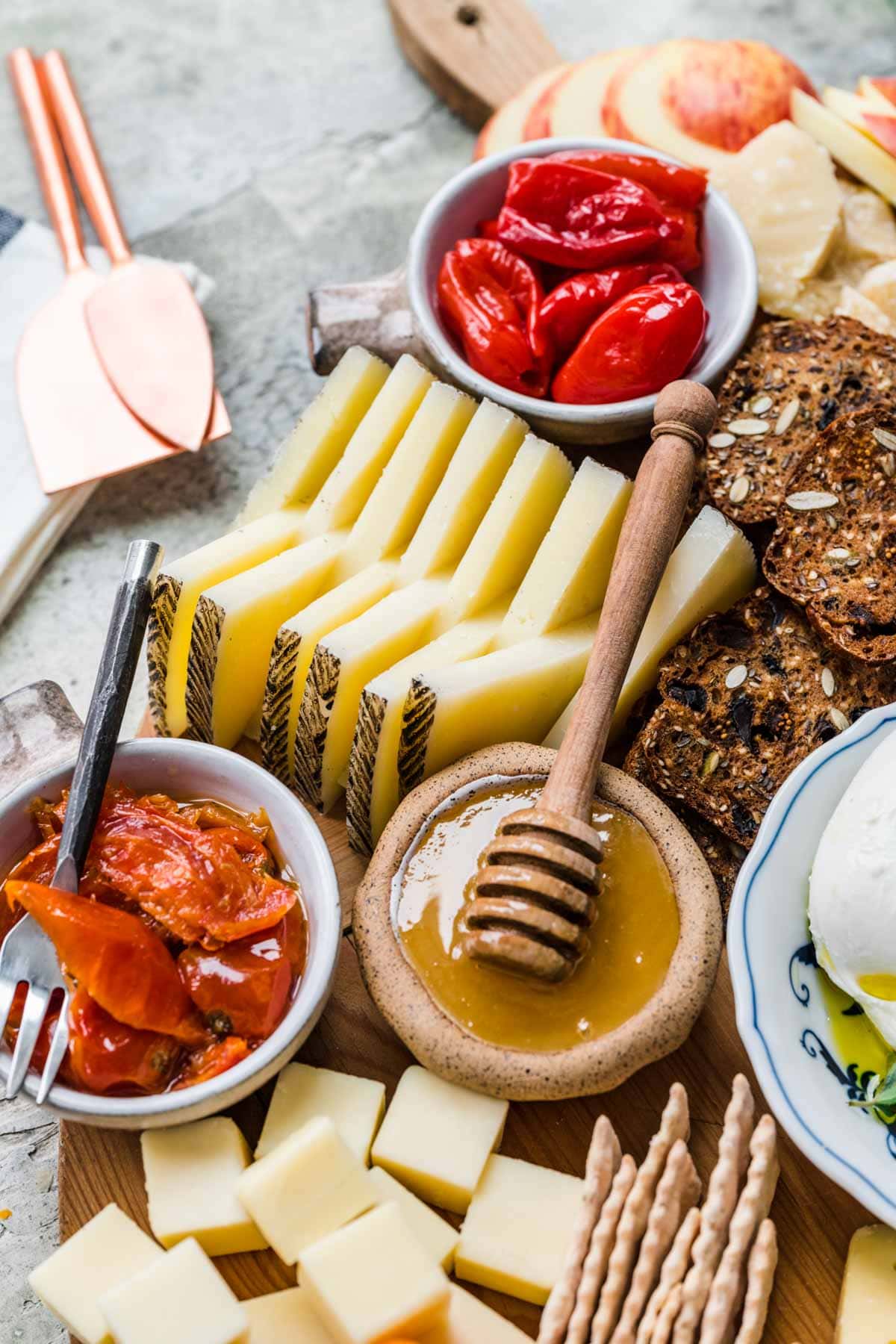 Create a free account to

Save Recipes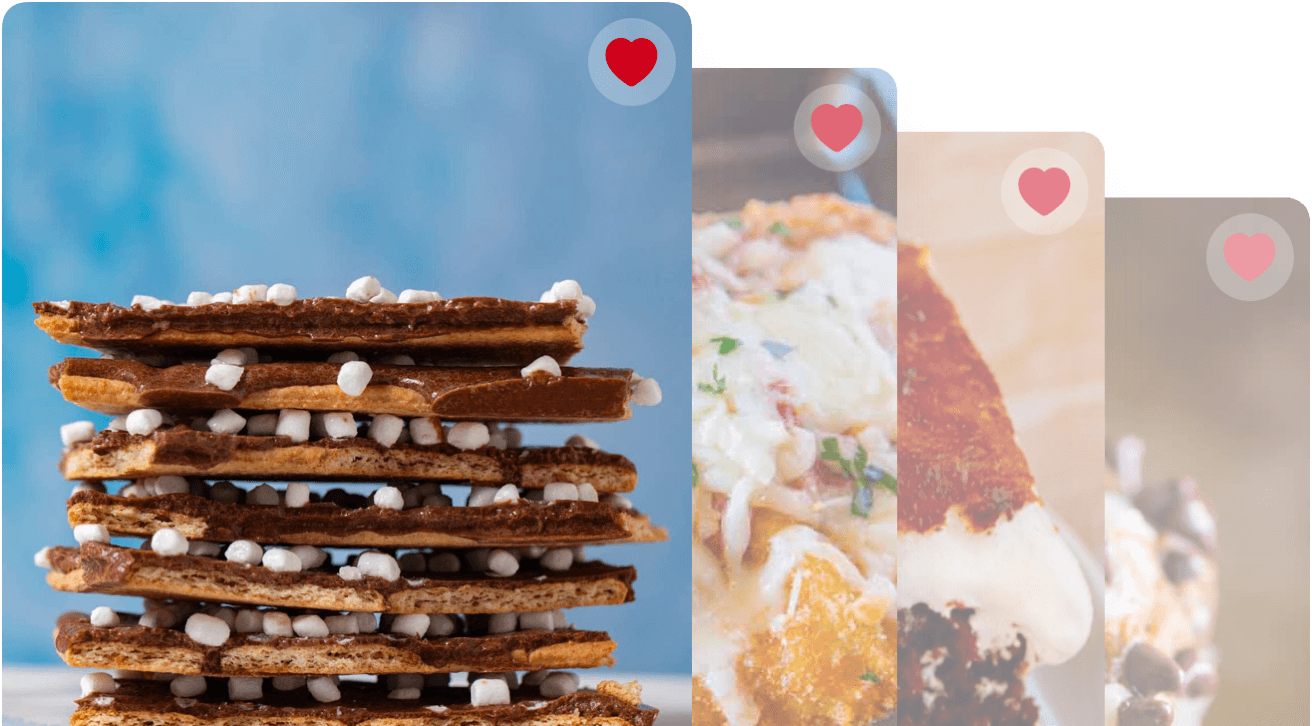 Key Ingredients for an Easy Cheese Board
Types of Cheese: You can use any of your favorite cheese on the Cheese Board, but here are some suggestions to give a nice variety to the platter. Add a wedge of aged cheese like sharp cheddar, soft cheese like a round of brie or goat cheese, and one crumbly cheese option like blue cheese. Other good options are manchego, gouda, burrata, and fresh mozzarella.
Fruit: Add fruit like fresh grapes, apple wedges, dried apricots, berries, and orange slices for a beautiful pop of color and variety flavors.
Nuts: Almonds, walnuts, or pecans are all good nut options to add some crunchy texture and warm flavor to the board. Marcona almonds are perfect because they are softer, sweeter, and they can be found in delicious flavor varieties like truffle or rosemary.
Crackers and bread: Add your favorite hard crackers and crusty bread slices to serve the cheese on. Plain water crackers are the perfect base for any ingredients, while multigrain crackers, dried fruit crackers, and crunchy breadsticks add different textures and flavors.
Accompaniments: Different condiments can enhance the flavors of the cheese on your Cheese Board appetizer. Try including honey, grainy mustard, fig or apricot jam, olives, chutney, balsamic glaze, or herb infused olive oil.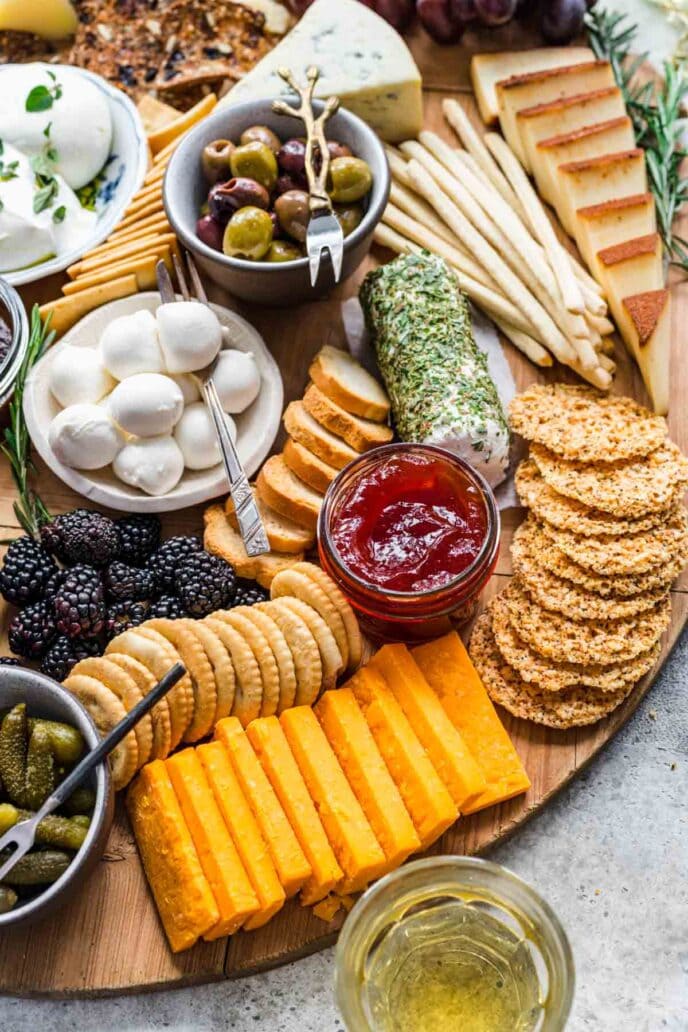 Variations for an Easy Cheese Board
Crackers and Bread: Any kind of crusty bread like French bread, focaccia, or toasted Italian bread work great. You could also add crunchy breadsticks. Add any of your favorite crackers like butter crackers, wheat thins, water crackers, pita chips and Triscuits.
Condiments: If you want some more condiments to go with your cheese, try adding grainy mustard, fig, apricot, or raspberry jam, spinach dip, and chutney.
Veggies: You can also add more vegetables like cherry tomatoes, carrot straws, sliced bell peppers, cucumber sticks, and piles of cornichons to your Cheese Board.
Seasonal Fruit: Use what is season to make your perfect Cheese Board for holiday entertaining. In the winter months, use pear slices, apples, figs, and citrus fruits. In the spring and summer, you can include berries, peaches, grapes, and apricots.
Charcuterie Board: To turn this cheese platter into a more classic Charcuterie Board, simply add a mix of meats including salami, sausage, Prosciutto, and other deli meats that pair well with the flavors of cheese.
Individual Cheese Boards: Serve each party guest a mini version if this delicious appetizer by portioning the ingredients into small paper cups or boxes. This is a great way to let guests who are not familial with each other enjoy the grazing experience without the worry of passing germs.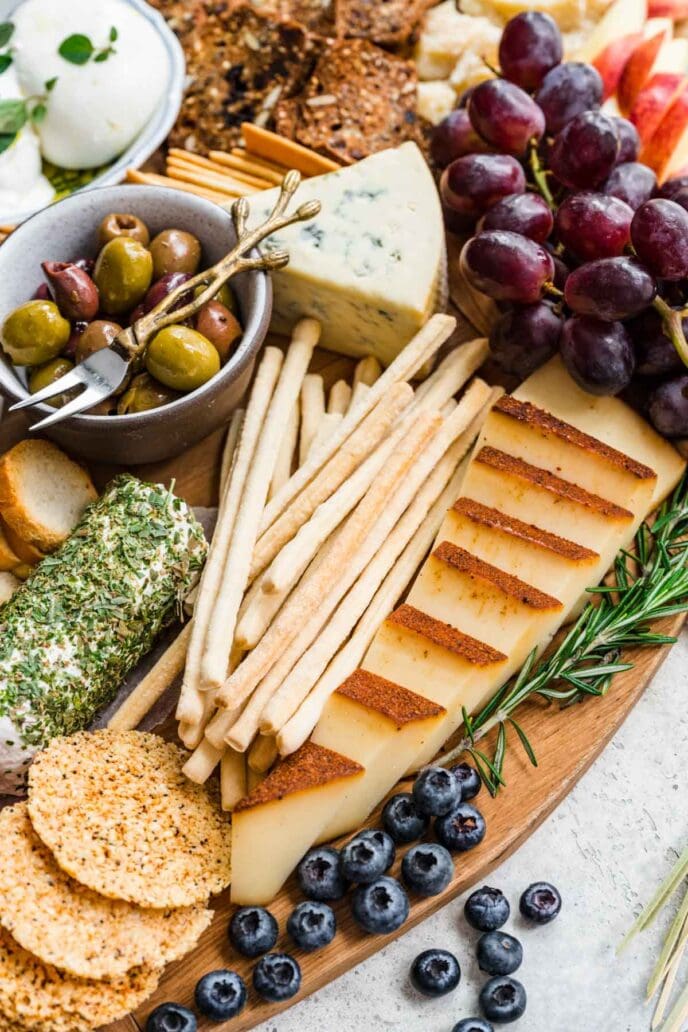 Party Favorites
How to Store a Cheese Board
Serve: So that you have time to arrange your Cheese Board, try putting it together 10 minutes or so before the guests arrive. It will only take a few minutes to make, but if you're a perfectionist, give yourself a few extra minutes to switch things around until it looks exactly how you want it to.
Store: If you want to put the Cheese Board together the night before your party, you absolutely can. Just leave off the crackers, and cover the whole dish in plastic wrap. It'll stay good in the fridge until it's time to serve.


Ingredients
1

round

Brie cheese

, such as Tremblaye

1

wedge

sharp cheddar cheese

8

ounces

goat cheese

, at room temperature

8

ounces

burrata cheese

4

ounces

manchego cheese

, sliced in triangles

1

wedge

blue cheese

, such as Roquefort

1 to 2

bunches green grapes

1 to 2

sprigs

fresh thyme

1 to 2

sprigs

fresh rosemary

1/2

cup

marcona almonds

1

tbsp

olive oil

Dried apricots

1/2

cup

olives

, pitted

1

package of dried fruit crackers

, such as Rustic Bakery

1

package water biscuit

, such as Carr's
Instructions
Place any wetter ingredients like jams, honey, olives or softer cheese into small bowls or plates.

Place cheeses on a platter or large board with space between.

Arrange the crackers, grapes, berries, apples and any additional fruit around the cheeses, alternating varieties. Sprinkle nuts between gaps to fill in the entire board.

Sprinkle thyme leaves on top of the burrata cheese and drizzle with olive oil. Place sprigs of rosemary and thyme on the board for garnish.

Add cheese knives, toothpicks as needed.
Equipment
wooden board or cheese platter
Nutrition
Calories:
100
kcal
|
Carbohydrates:
4
g
|
Protein:
6
g
|
Fat:
7
g
|
Saturated Fat:
4
g
|
Polyunsaturated Fat:
1
g
|
Monounsaturated Fat:
2
g
|
Cholesterol:
18
mg
|
Sodium:
130
mg
|
Potassium:
25
mg
|
Fiber:
1
g
|
Sugar:
1
g
|
Vitamin A:
252
IU
|
Vitamin C:
1
mg
|
Calcium:
45
mg
|
Iron:
1
mg