Baked Chicken Wings are made easy, and crispy, in the oven with a tasty spice rub made from chili powder, garlic powder, and onion powder.
Nothing makes a better party Appetizer than the perfect Chicken Wings recipe. They're easy to make, great for sharing, and a favorite with everyone. For more irresistible Chicken Wing recipes try BBQ Chicken Wings and Buffalo Wings.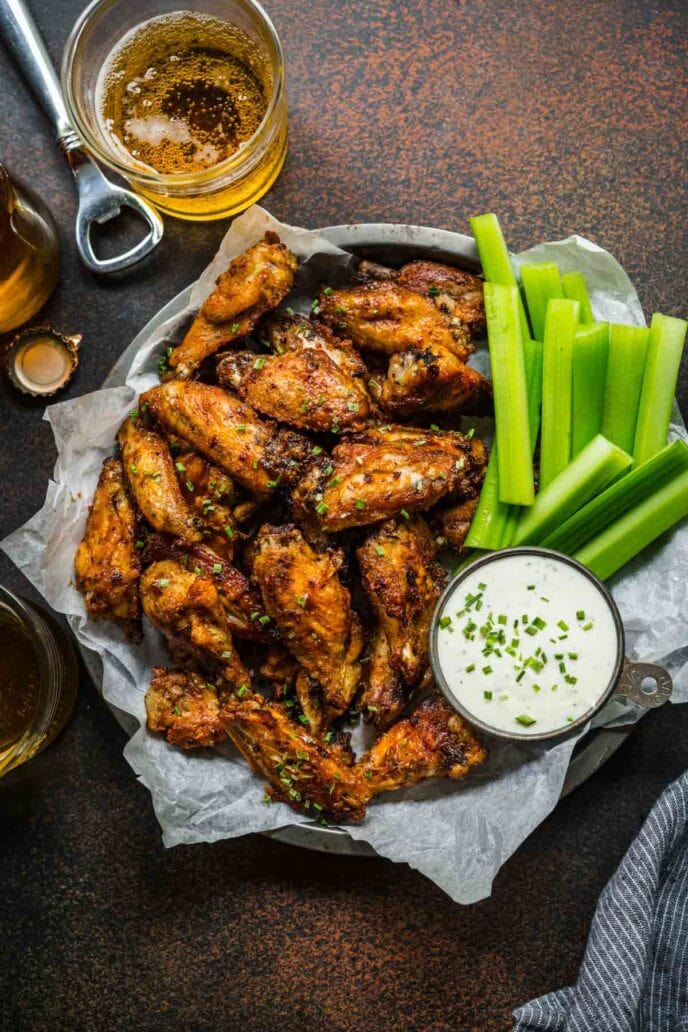 BAKED CHICKEN WINGS
Crispy Baked Chicken Wings are the ultimate party wings. You can prep them for the oven in no time, then bake them until you have nice crispy skin and tender insides. The flavors of garlic, onion, and chili are mixed into the crispy coating and go great with any number of your favorite dipping sauces. Serve them along with other favorite appetizers like Brown Sugar Smokies and Crispy Coconut Shrimp, for an unbelievable flavorful party.
Making Baked Chicken Wings in the oven makes them easy to enjoy at home and healthier than deep-frying like they typically would be at a restaurant. The Baked Chicken Wings are roasted to crispy perfection with a flavorful coating that's just as mouth-watering as anything you'd get at your favorite sports bar!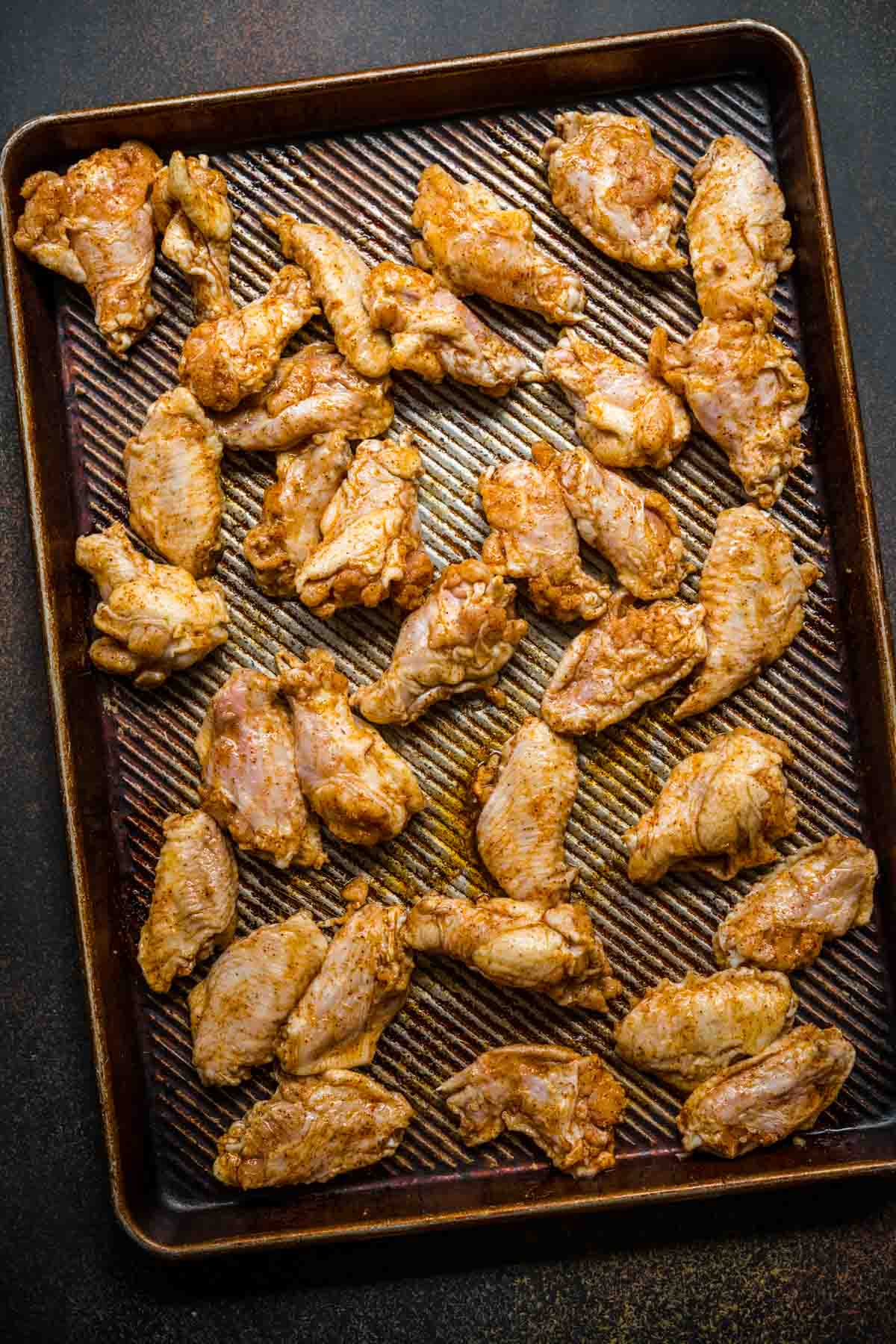 DIPPING SAUCE
Chicken Wings make a great appetizer for your next game night, super bowl watch party, or family get-together. Put the chicken on a serving dish along with your favorite sauces like Blue Cheese Dressing, BBQ Sauce, or Honey Mustard. For a spicy sauce, you can also use Buffalo Sauce. Put it out with other dippers like carrot sticks and celery for more tasty finger food. Here are a few more delicious dips to try:
Tangy Yogurt Dip: To make a cool yogurt dip combine 1 cup plain yogurt, 2 tablespoons chili sauce, and 1 teaspoon horseradish.
Homemade Tzatziki Sauce: Mix together 2 cups grated cucumber, 1 cup Greek yogurt (or sour cream), 2 tablespoons olive oil, a tablespoon chopped dill, a tablespoon lemon juice, and 1 minced garlic clove.
MORE DELICIOUS CHICKEN WINGS
TIPS FOR MAKING BAKED CHICKEN WINGS
Prep time: Start by preheating your oven, and if you're worried about the chicken sticking to the pan spray the baking sheet with cooking spray.
Coating: To make the delicious crispy skin, combine vegetable oil, garlic powder, onion powder, chili powder, salt, and pepper in a mixing bowl. Put the chicken wings in the bowl and make sure they're well covered on all sides in the crispy coating.
Cook time: Place the coated chicken wings in a single layer on your baking pan or cookie sheet. Pop the chicken in your preheated oven and leave them in for a 1-hour baking time. They'll bake to crispy, golden-brown perfection. To let the chicken cool quickly before serving at a party, you can place them on the wire rack then move them to your serving dish.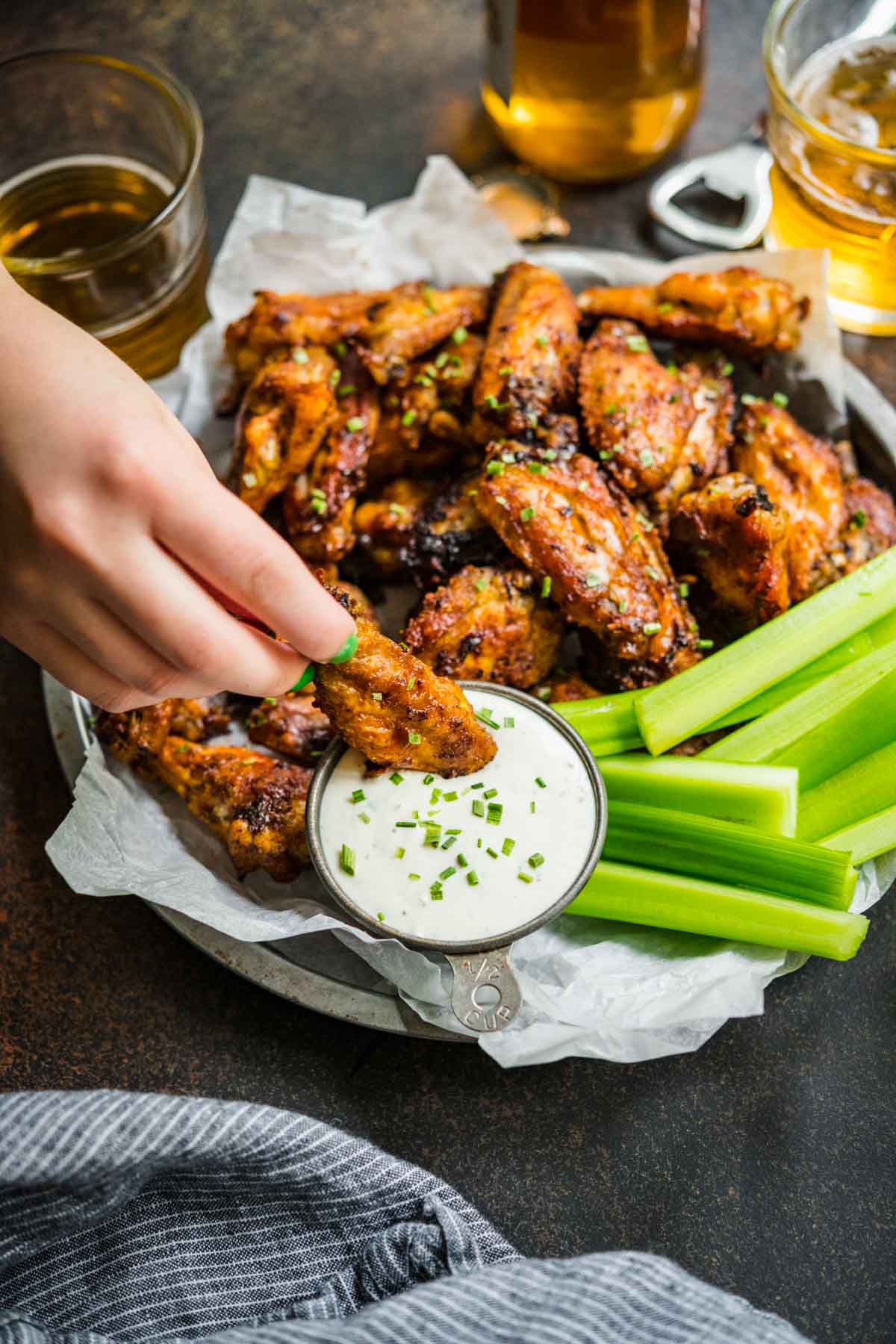 Create a free account to

Save Recipes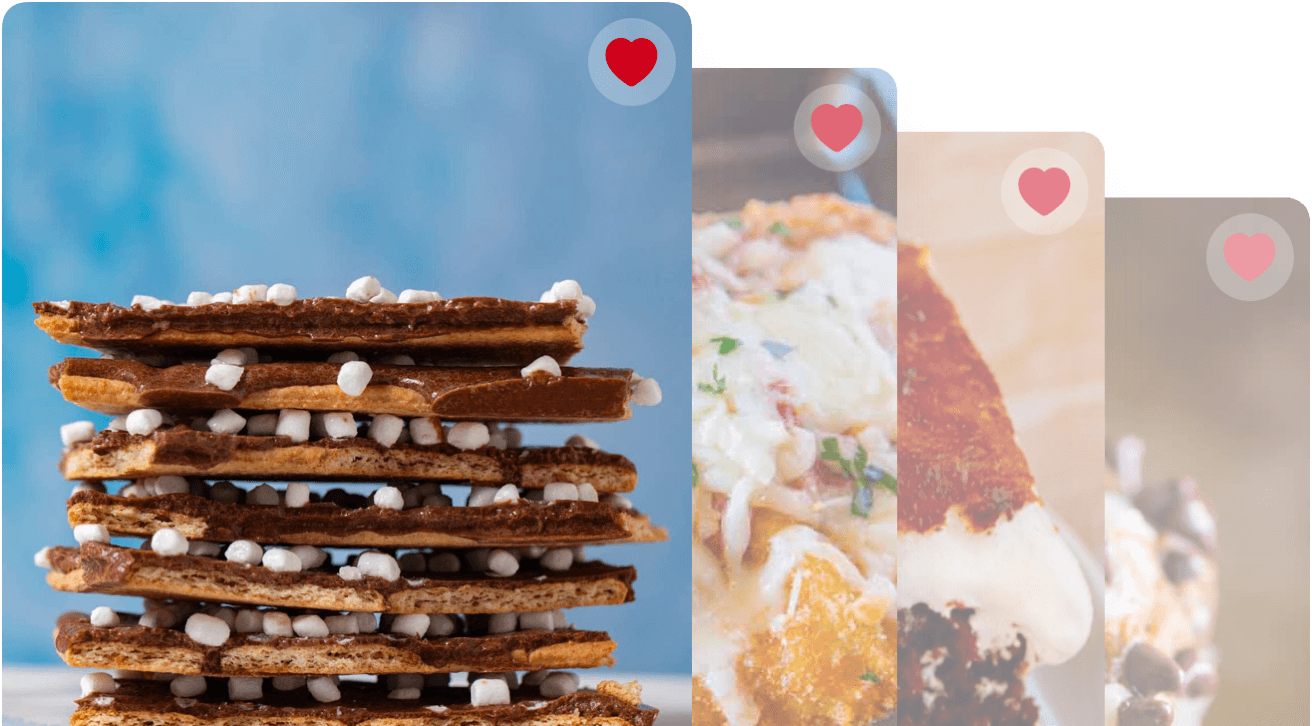 VARIATIONS ON BAKED CHICKEN WINGS
Raspberry Balsamic Baked Chicken Wings: For a unique and delicious flavorful take on this recipe, try making Raspberry Balsamic Baked Chicken Wings. To make the rich balsamic raspberry sauce combine ¼ cup balsamic vinegar, ½ cup raspberry jam, ¼ cup water, 1 teaspoon grated ginger, ½ tablespoon soy sauce, and 2 tablespoons butter. Pour the sauce over the Baked Chicken after 45 minutes in the oven. Then bake for another 15 minutes before serving.
Spicy Chicken Wings: To make spicy chicken try drizzling some hot sauce over the Chicken Wings before serving. Add a little hot pepper sauce at a time to make sure you don't add too much heat.
Sweet: To make sweeter Chicken recipes mix some brown sugar or ½ cup honey into the dry rub mixture.
BBQ Baked Chicken Wings: To make BBQ Chicken Wings bake the chicken as normal for 45 minutes. Then take the chicken out and drizzle BBQ sauce over the top before baking for the last 15 minutes.
Dry Rub Ingredients: You can add any number of your favorite seasonings to the rubbed baked chicken spice mixture. Oregano, rosemary, cumin, paprika, or basil would all add nice flavor the crispy Baked Chicken Wings.
MORE BAKED CHICKEN RECIPES
HOW TO STORE BAKED CHICKEN WINGS
Serve: Crispy Baked Chicken Wings shouldn't be left at room temperature for more than 2 hours.
Store: You can save this mouth-watering chicken in the fridge to enjoy later for 3-4 days.
Freeze: To freeze the Chicken Wings, put them in an airtight container or freezer bag. They'll stay good for up to 6 months.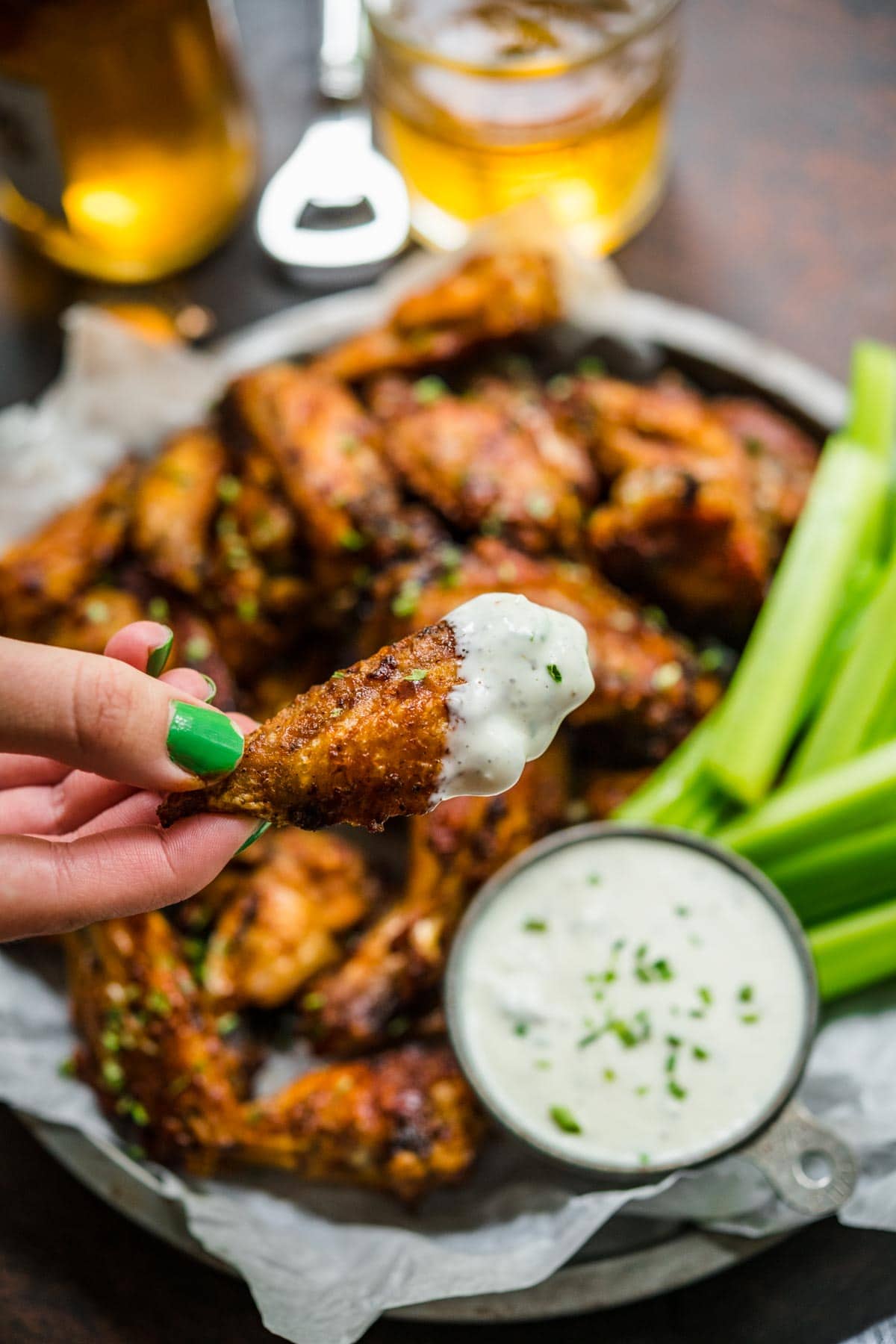 Ingredients
1/4

cup

vegetable oil

2

teaspoons

garlic powder

1

teaspoon

onion powder

1

teaspoon

chili powder

1

teaspoon

kosher salt

1/2

teaspoon

coarse ground black pepper

3

pounds

chicken wings

, thawed
Instructions
Preheat oven to 375 degrees.

In a large bowl whisk together vegetable oil, garlic powder, onion powder, chili powder, salt, and pepper.

Add chicken to the bowl and coat well.

Place chicken onto a large baking sheet and bake for 1 hour.
Nutrition
Calories:
267
kcal
|
Carbohydrates:
1
g
|
Protein:
17
g
|
Fat:
22
g
|
Saturated Fat:
10
g
|
Cholesterol:
71
mg
|
Sodium:
362
mg
|
Potassium:
157
mg
|
Fiber:
1
g
|
Sugar:
1
g
|
Vitamin A:
209
IU
|
Vitamin C:
1
mg
|
Calcium:
11
mg
|
Iron:
1
mg