Jerk Chicken Wings are the perfect appetizer marinated overnight in a homemade jerk sauce with green onions, jalapenos and spices baked crispy in the oven.
Just like my recipe for Buffalo Wings, Jerk Chicken Wings are the perfect game day snack that you can whip up for your guests, although you will need to let them marinade overnight. They're full of rich, delicious flavor, with a smoky kick, the perfect addition to our collection of Appetizer Recipes.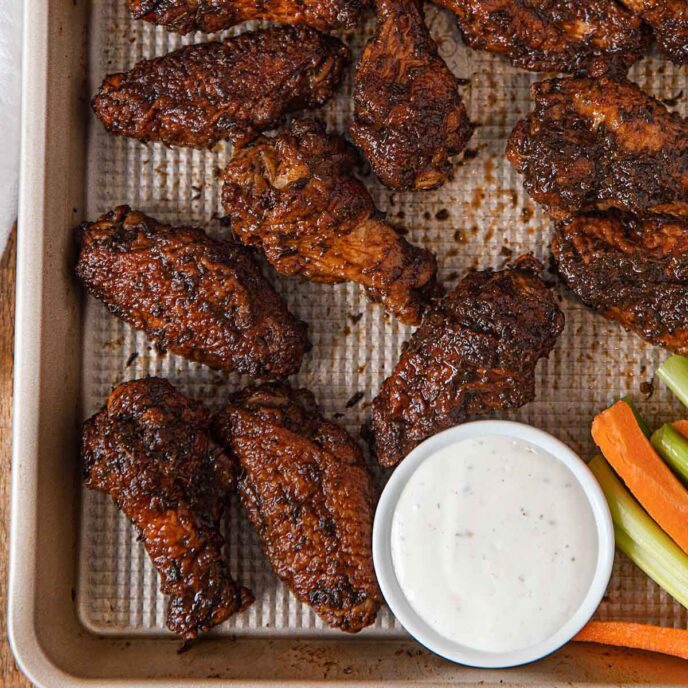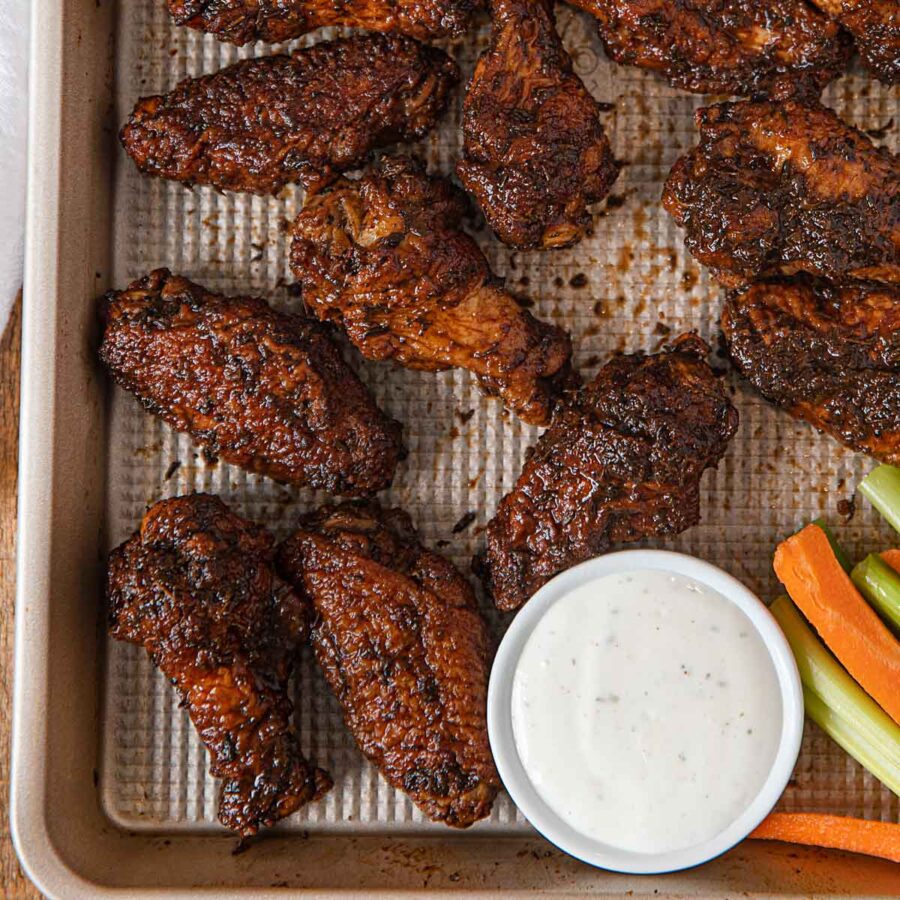 JERK CHICKEN WINGS
Looking for a new, unique appetizer? Want to wow your family with something different than the classic chicken wing recipes? This Jerk Chicken Wing recipe is incredibly easy to make, and the overnight marinade makes them extremely tender and flavorful. You can also customize them with some extra spice for that one friend of yours who can't get enough heat in their food, or you can add a tasty dip.
Jerk Chicken Wings have a delicious smoky flavor, and are filling enough to keep everyone happy without making them feel like they've eaten too much rich food. Make these a day ahead and keep them in the fridge overnight so they're ready to bake and perfectly marinated.
MORE DELICIOUS CHICKEN WING RECIPES
JERK CHICKEN WINGS FAQS
What is jerk seasoning made of? Usually chiles, cinnamon, garlic, Scotch bonnet peppers, nutmeg, allspice, and thyme, but there are a lot of variations.
Is Jerk Chicken spicy? "Jerk" refers to a cooking style, where meat is marinated and cooked in a blend of jerk spices. It can be as spicy as you want to make it.
Are Cajun and Jerk seasoning the same? No, there are key differences in texture and flavor. Jerk seasoning is Jamaican and is usually a paste. Creole seasonings came from French colonists and is usually a powder.


Create a free account to Save Recipes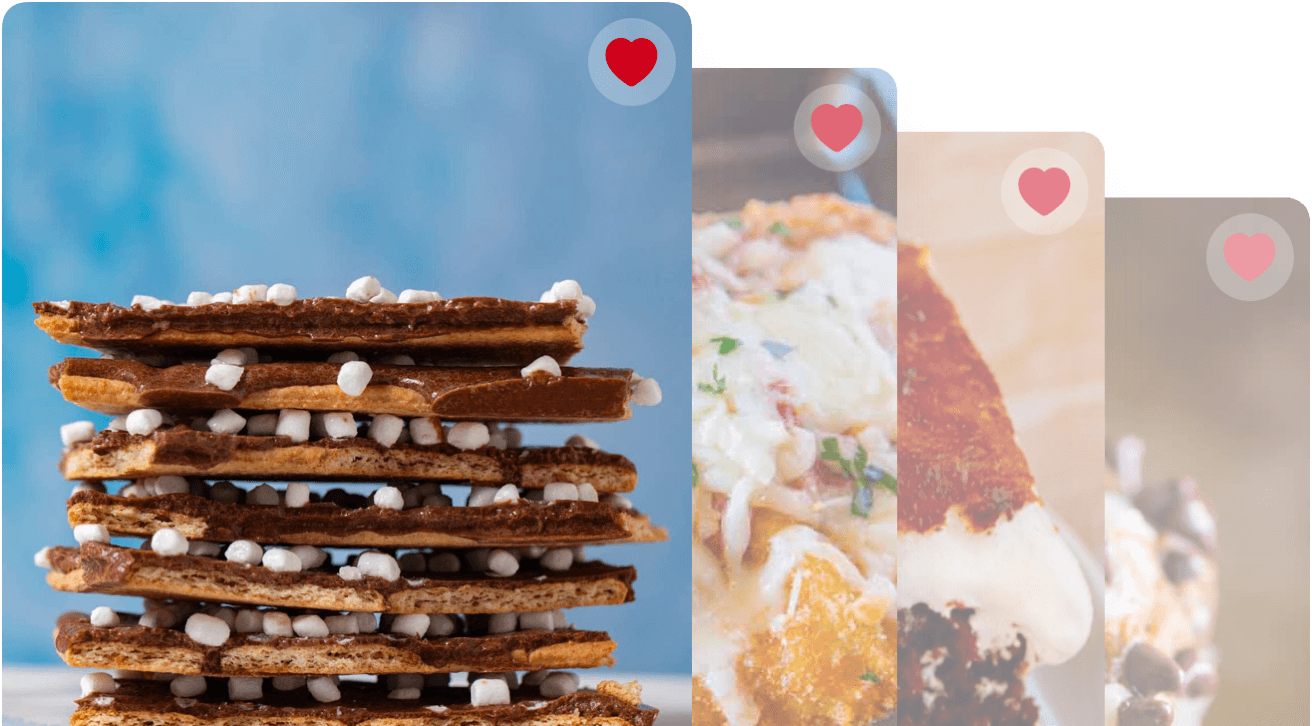 VARIATIONS ON JERK CHICKEN WINGS
Add ins: Try mixing in some finely chopped jalapenos to make your Jerk Chicken spicy, or you can try scallions, cilantro, or even chopped garlic cloves.
Gluten free: This recipe is already very gluten free, but it's always a good idea to check the labels on your ingredients to be sure. Soy sauce sometimes has gluten in it, so be sure to choose a celiac-friendly bottle when you're shopping for ingredients.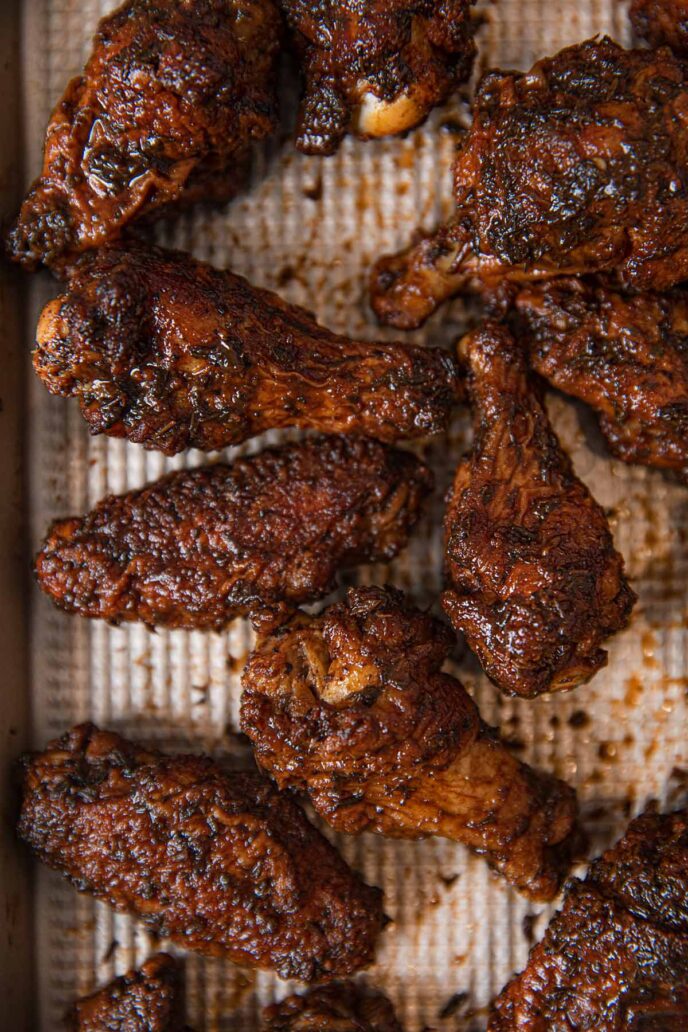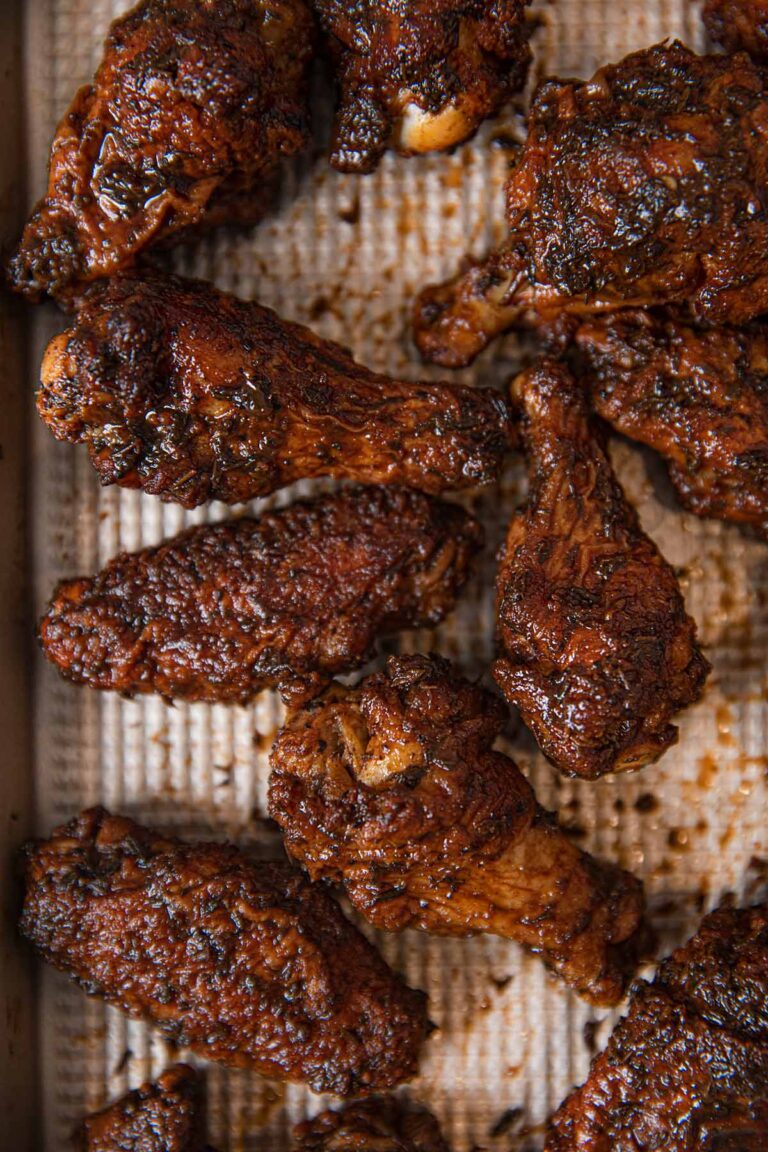 HOW LONG ARE JERK CHICKEN WINGS GOOD?
Serve: You shouldn't leave Jerk Chicken Wings out at room temperature for longer than 2 hours. You need to refrigerate them to keep them for later.
Store: Jerk Chicken Wings are good in the fridge for up to 3 days. For best results, cover the chicken wings with plastic wrap or put them in an airtight container that can completely seal. You should also allow the wings to cool all the way down to room temperature before you freeze or refrigerate them.
Freeze: Cooked Jerk Chicken Wings are good in the freezer for up to 3 months. Keep them completely sealed to keep moisture from getting onto the wings.
MORE DELICIOUS BUFFALO WING RECIPES:
WHEN ARE JERK CHICKEN WINGS SAFE TO EAT?
According to the USDA's Official Website, chicken is cooked through and safe to eat when the internal temperature reaches 165 degrees F (73.8 degrees C). You should always check the temperature of your chicken before you eat it, no matter how cooked it looks on the outside. Insert a meat thermometer into the thickest part of the meat to get an accurate reading.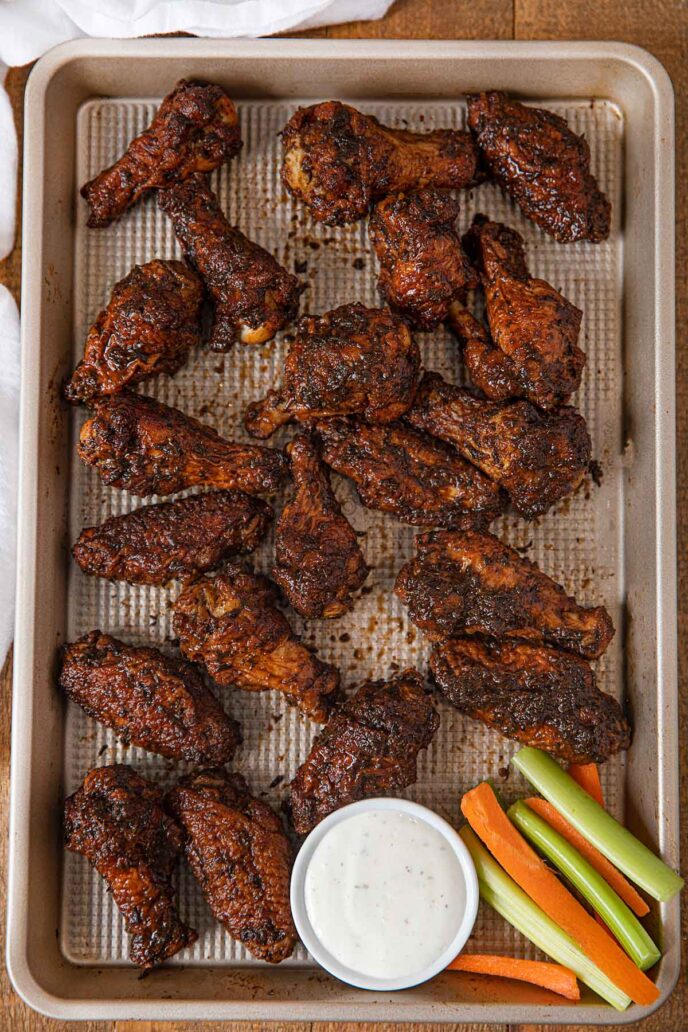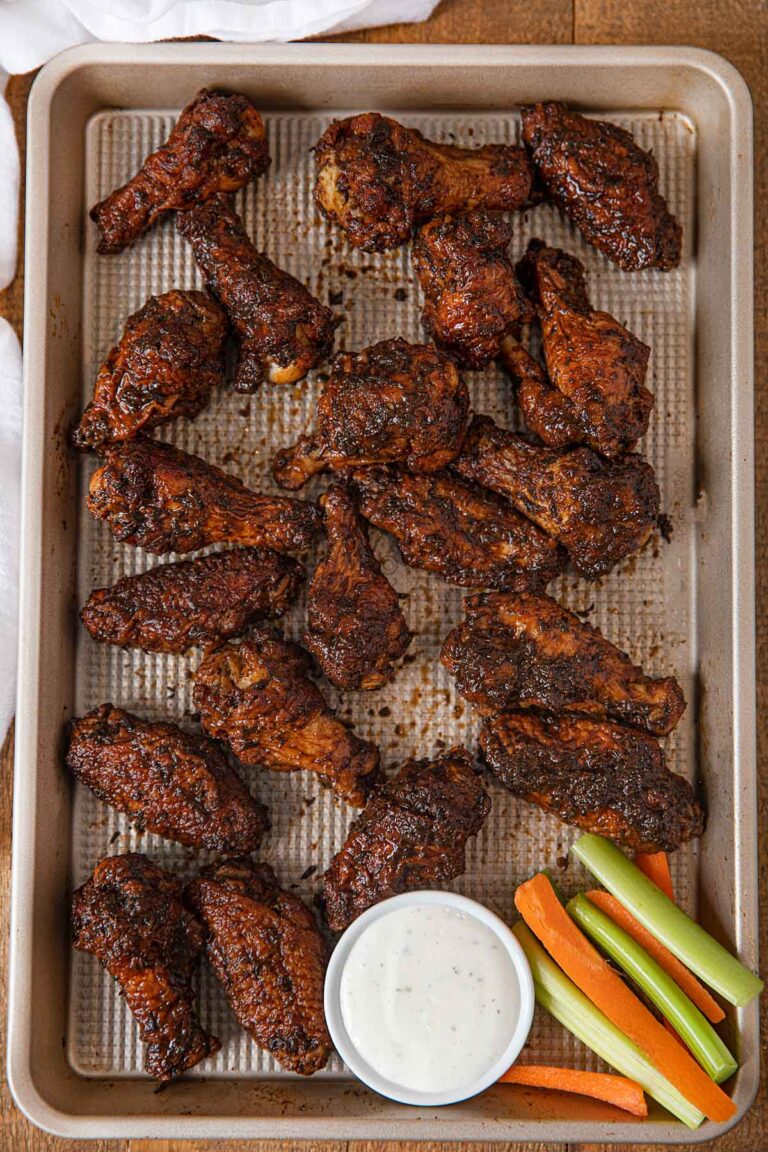 Ingredients
1

yellow onion

, chopped

6

stalks

green onions

, chopped

3/4

cup

low sodium soy sauce

1/4

cup

vegetable oil

1/2

cup

white vinegar

2

tablespoons

brown sugar

1

jalapeno pepper

, seeded, deveined and halved

1

tablespoon

fresh thyme leaves

1/2

teaspoon

kosher salt

1/2

teaspoon

ground allspice

1/2

teaspoon

ground cinnamon

1/2

teaspoon

ground cloves

3

pounds

chicken wing drumettes

cooking spray
Instructions
In a food processor add the green onions, onion, jalapeno, soy sauce, vinegar, vegetable oil, brown sugar, thyme, kosher salt, cinnamon, cloves, and allspice and puree until smooth.

Place chicken in a large ziplock bag with half the marinade and reserve the rest of the marinade in the refrigerator.

Marinate in the refrigerator for at least

8 hours

.

Preheat oven to 425 degrees and spray a baking sheet with cooking spray.

Place chicken drumettes on prepared baking sheet and reserve marinade left in the bowl.

Bake in the preheated oven for

25 minutes

.

Brush ½ the reserved marinade onto the chicken wings and bake an additional

20 minutes

.

Flip the chicken and brush the rest of the marinade on the chicken and cook and additional

10 minutes

.
Nutrition
Calories:
363
kcal
|
Carbohydrates:
13
g
|
Protein:
24
g
|
Fat:
25
g
|
Saturated Fat:
9
g
|
Cholesterol:
94
mg
|
Sodium:
1671
mg
|
Potassium:
348
mg
|
Fiber:
2
g
|
Sugar:
6
g
|
Vitamin A:
442
IU
|
Vitamin C:
27
mg
|
Calcium:
57
mg
|
Iron:
2
mg