Easy Boneless Buffalo Wings recipe for crispy fried bite sized chicken pieces tossed in buttery tangy hot sauce. The ultimate game day snack!
If you're a fan of all things buffalo-flavored, your ultimate Appetizer spread is Buffalo Chicken Dip, classic Buffalo Wings, and boneless chicken pieces all made with Homemade Buffalo Sauce!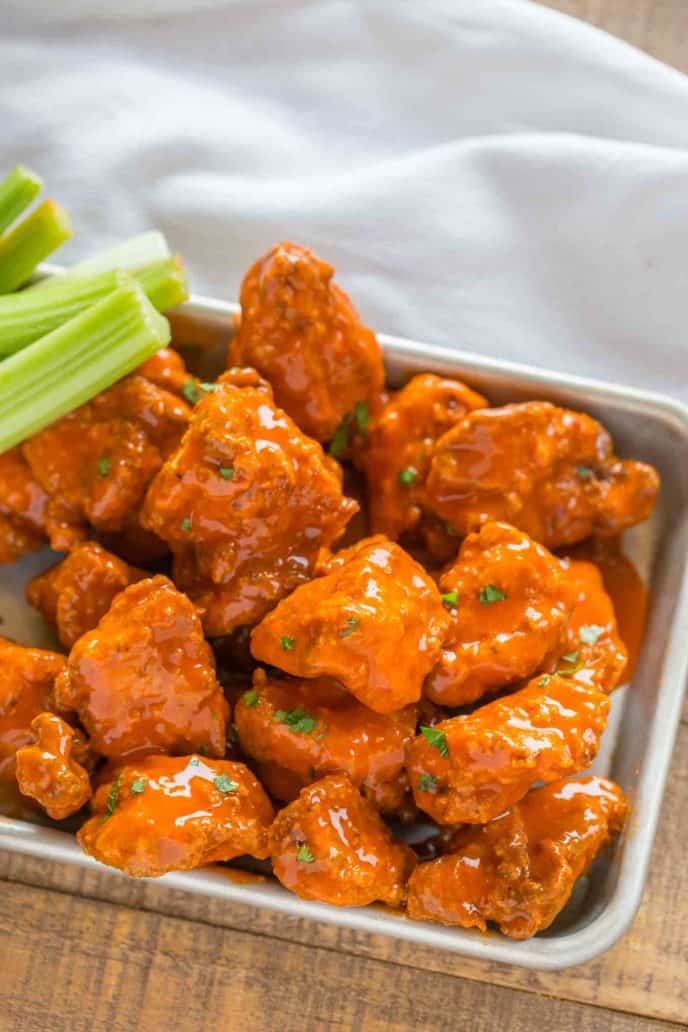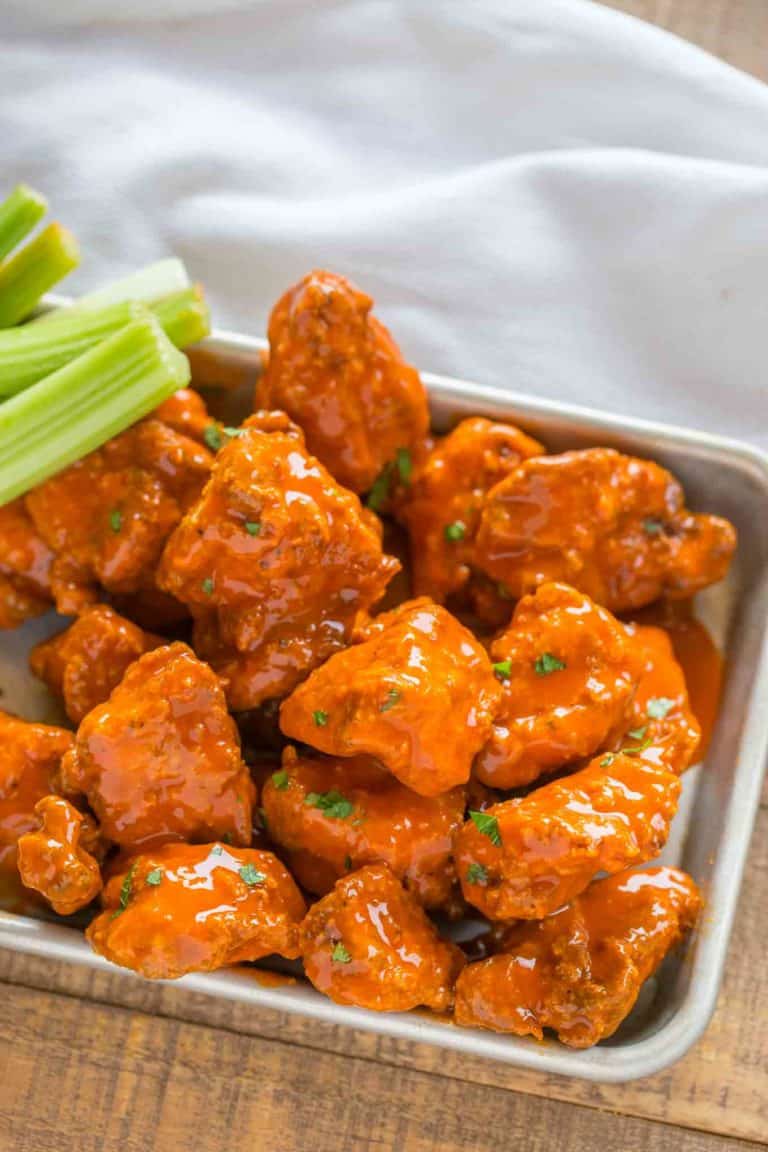 There's a lot to love about Boneless Buffalo Wings. As perfect as a game-day snack as they are for a casual dinner, these bite-sized pieces have all the appeal of traditional buffalo wings, but with an edge that makes them more convenient to enjoy. They are crispy on the outside, tender and juicy on the inside, and slathered with a tangy, fiery sauce that will have you reaching for more.
Despite the name, boneless wings aren't actually wings at all, they're just cut up boneless chicken breast that's breaded and fried. Breading the chicken is a two part process but it's made with simple ingredients you almost certainly have on hand. The first part is just flour, salt and pepper, and the wet batter is made with just milk and egg. The key is to double dip the chicken, breading it once and then a second time, so you get a thick, crunchy coating that will soak up the sauce without getting soggy!
The sauce is what makes Boneless Buffalo Wings spicy versus the chicken coating. You could always make the coating spicy by adding some cayenne to the flour mixture and hot sauce to the milk mixture, then you wouldn't even need buffalo sauce unless you like them super fiery and saucy! Or if you want them more kid-friendly, skip the buffalo sauce and use a more mild sauce.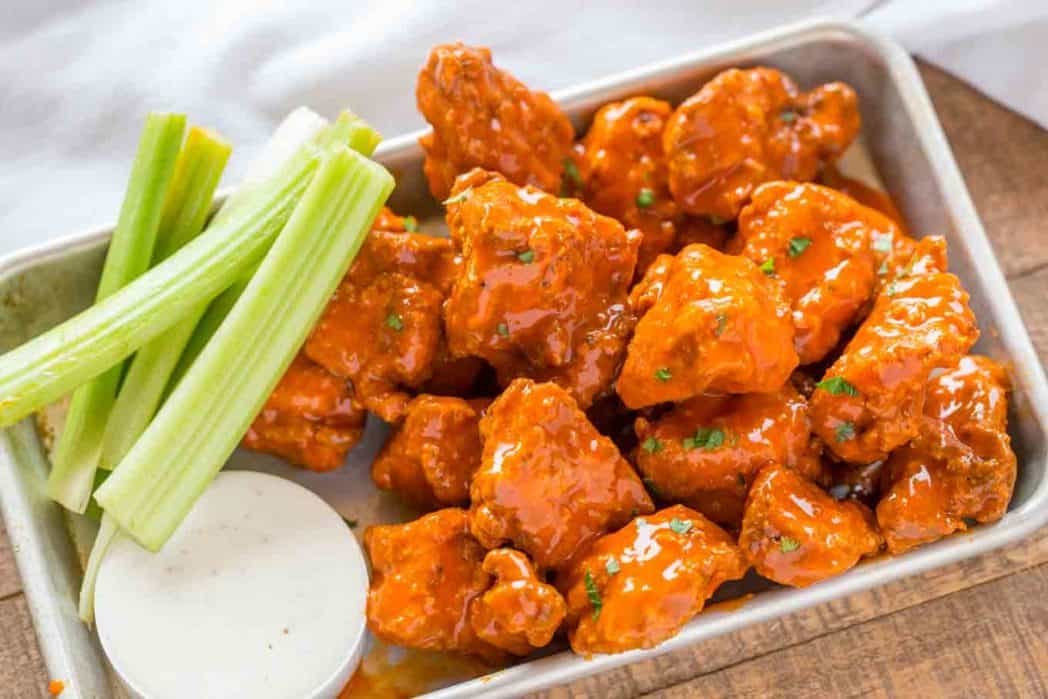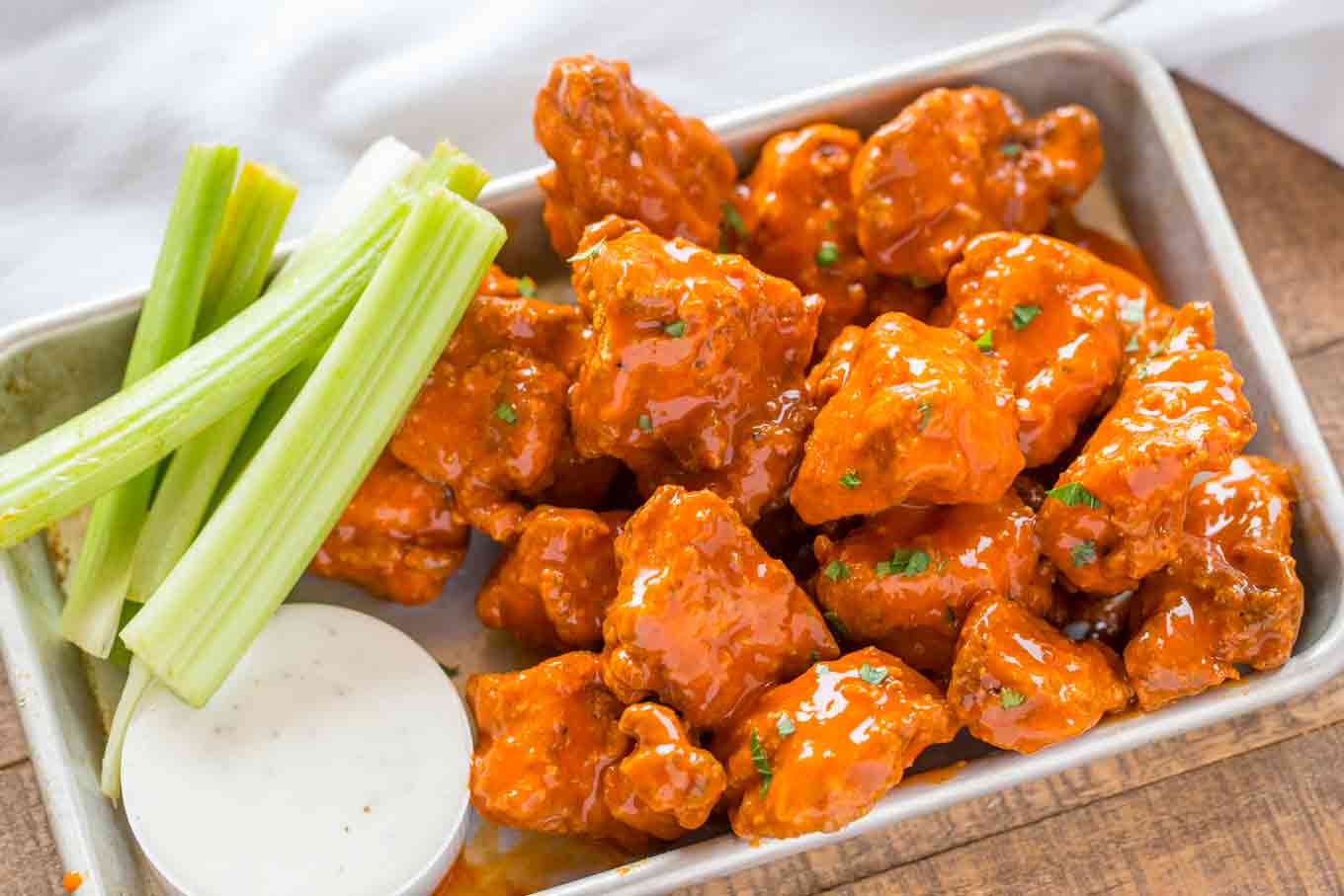 No matter how spicy or mild you make them, Boneless Wings can be served like normal wings with some cut up vegetables and Blue Cheese Dressing or Ranch Dressing. What makes these Boneless Wings better than bone-in wings is that you can also use them to make easy Buffalo Chicken Wraps or Buffalo Chicken Salads! Instead of dunking them in dressing, use it as a topping (or wrap filling) along with lettuce, red onions, tomatoes, and blue cheese crumbles.
What's the difference between boneless and traditional wings?
While traditional buffalo wings are actual chicken wings that are either left whole or divided into the drumette and wingette, boneless buffalo wings are typically made from boneless, skinless chicken breasts cut into bite-sized pieces. Both are deep-fried and tossed in buffalo sauce, but bone-in wings don't necessarily have breading because the skin provides a crispy coating. Unlike the traditional wings, boneless wings are easier to eat (no bones to deal with!) and often more appealing to those who prefer white meat.
How to Make Boneless Buffalo Wings
Batter: You will need two medium bowls. In one bowl, whisk the flour and seasonings. In the other bowl, whisk the egg and milk until smooth.
Chicken: Cut the chicken into bite-sized pieces. Dip the chicken pieces into the egg mixture then the flour mixture, then repeat (you are coating them twice). Rest coated chicken pieces on a cookie sheet.
Fry: Heat oil in a large dutch oven to 375 degrees. Fry in batches, about 6-8 pieces at a time. Cook for 5-6 minutes, until cooked through. Let drain on a clean cookie sheet (do not add a paper towel, it will make the chicken greasy). Coat the chicken in the wing sauce and serve.
More Tasty Buffalo Flavored Recipes
FAQs for Boneless Buffalo Wings
What's the difference between hot sauce and buffalo sauce?
Hot sauce is typically made with a simple blend of chili peppers, vinegar, and sometimes a few seasonings, offering a straightforward heat. On the other hand, buffalo sauce is a flavored sauce that contains hot sauce as its base, but is also mixed with ingredients like butter, vinegar, and additional seasonings, giving it a rich, tangy flavor that is less spicy and more complex.
Why are my boneless wings not crispy?
Overcrowding the pan can lower the oil temperature, causing the wings to steam rather than fry. Cook in smaller batches to maintain the right oil temperature and ensure the crispiest chicken bites!
What cut of chicken is best for Boneless Wings?
The best cut of chicken for boneless wings is the chicken breast. This is because it's boneless, lean, easy to work with, and its mild flavor pairs perfectly with any sauce. It cooks quicker than bone in chicken and stays juicy and tender cooking at high heat.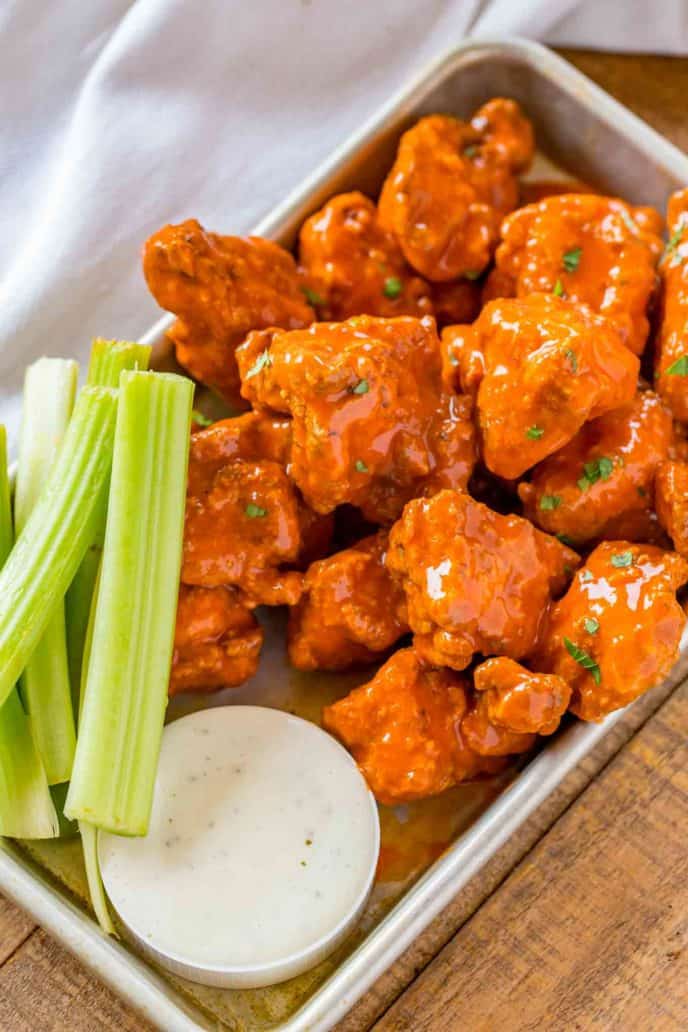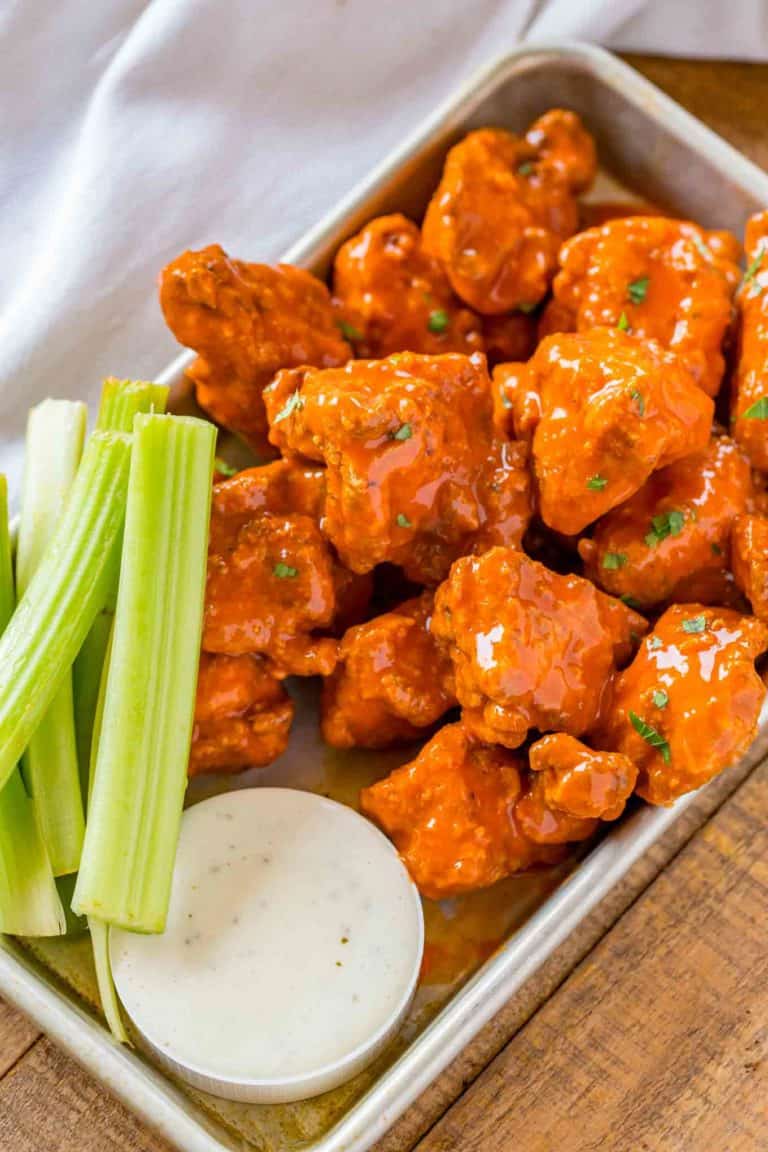 Create a free account to

Save Recipes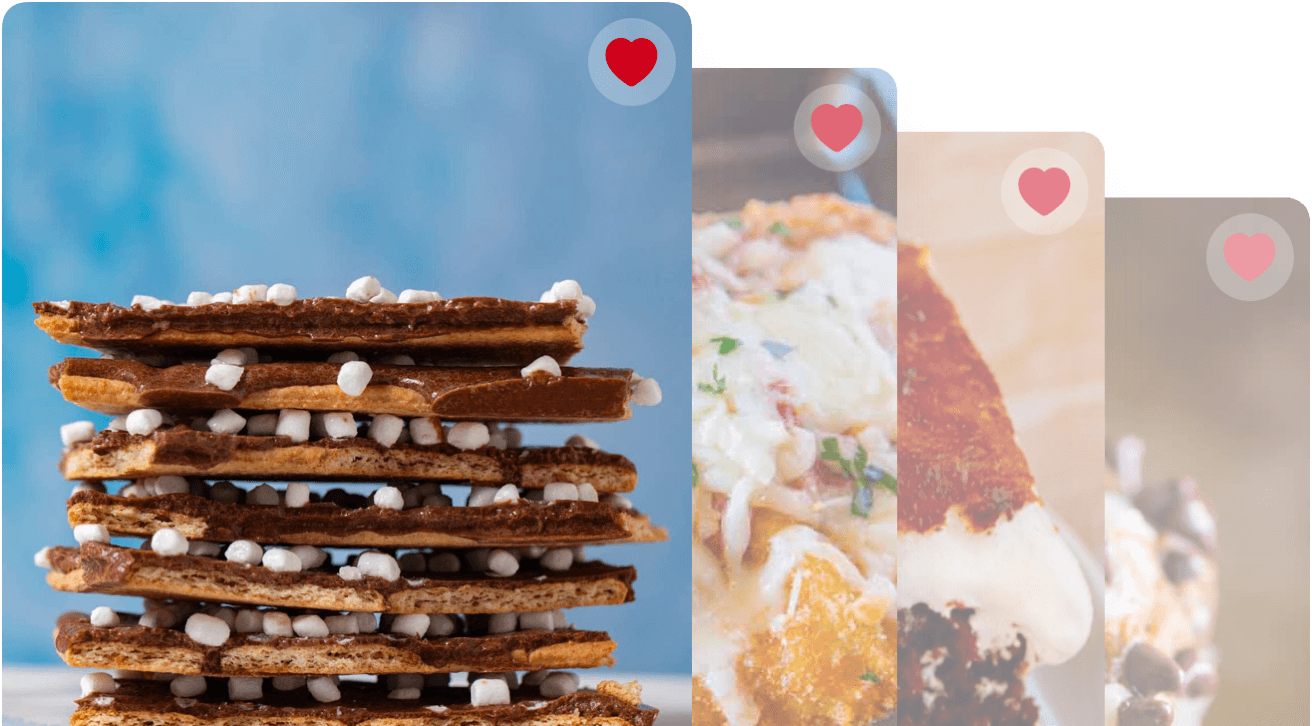 Key Ingredients
Chicken Breasts: Skinless and boneless, chicken breasts are best for boneless wings because they are lean and fry quicker than darker meat. They stay juicy frying at high heat and cook perfectly in minutes.
Flour: The flour creates a flavorful, crunchy coating on the chicken. You want to whisk in the salt and pepper to break up any clumps for a lighter breading and to have it seasoned evenly.
Batter: The egg and milk mixture acts as a binder that allows the flour to adhere to the chicken for a thicker coating while locking in the moisture for juicy chicken bites.
Buffalo Wing Sauce: Buffalo wing sauce is tangy, spicy, and has a buttery goodness that balances out the heat from the hot pepper sauce. You can easily make your own wing sauce with the recipe added to this post or pick up your favorite store bought bottle.
Can you make Boneless Buffalo Wings ahead of time?
Yes, boneless buffalo wings can be made ahead of time. The breaded and fried chicken pieces can be made a day ahead and stored in the refrigerator. You can also freeze them for up to 2 months. If freezing, lay them on a baking sheet and freeze until solid, then transfer to a freezer bag. Freezing first keeps them from sticking or getting freezer burn. When you're ready, you can put the frozen chicken straight into the oven at 350 degrees, Bake until warmed through and crispy, then smother in buffalo sauce and serve.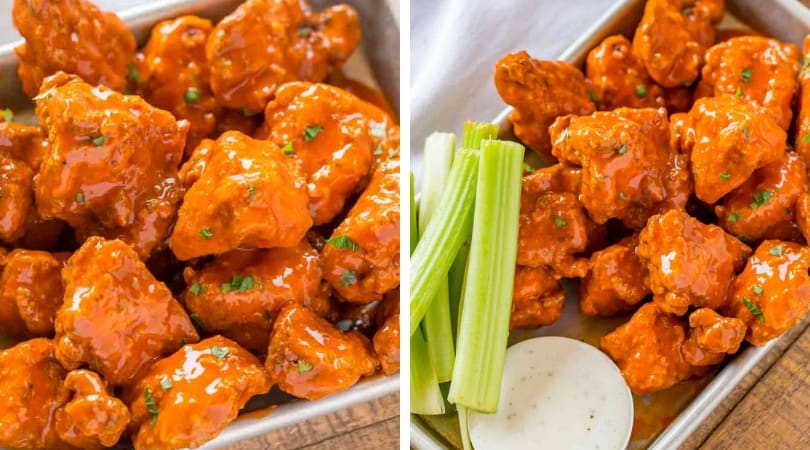 Variations
Lighter: You can make boneless wings lighter by skipping the thick batter. Toss the boneless skinless chicken breast pieces lightly in seasoned flour then bake using the instructions below. Coat with sauce and serve.
Honey BBQ: Swap the buffalo sauce for your favorite Barbecue Sauce and add a ¼ cup of honey, or brown sugar, for a sweet and smoky twist.
Garlic Parmesan: After frying, toss the wings in a mixture of melted butter, minced garlic, and freshly grated Parmesan. Sprinkle with chopped parsley for a beautiful finish.
Lemon Pepper: Toss fried wings in a mixture of melted butter and lemon pepper seasoning for a zesty, tangy alternative. Make them spicy by adding a ½ teaspoon of cayenne pepper or red pepper flakes.
Easy Buffalo Wing Sauce
2/3 cup Frank's Red Hot hot pepper sauce
½ cup unsalted butter
1 ½ tablespoons white vinegar
¼ teaspoon Worcestershire sauce
Place a small saucepan on the stove over medium-high heat.
Add the ingredients to the saucepan and whisk together until combined and bubbling. 
Oven Baked Boneless Buffalo Wings
Preheat the oven to 375 degrees and line a baking sheet with parchment paper or spray lightly with cooking oil.
Arrange the breaded chicken pieces on the baking sheet in a single layer without touching.
Bake for 15 minutes, flip and bake another 15 minutes, or until golden brown and cooked through.
Toss the baked chicken in buffalo sauce and serve immediately.
Air Fryer Boneless Buffalo Wings
Preheat the air fryer to 400 degrees.
Arrange the prepared chicken pieces in a single layer in the air fryer basket, ensuring they're not overcrowded.
Air fry for about 10-12 minutes or until golden brown and crispy, flipping halfway through.
Toss the air-fried chicken in buffalo sauce and serve immediately.
More Chicken Wings Recipes
How to Store
Store: Leftover boneless buffalo wings can be stored in an airtight container in the refrigerator for up to 3-4 days. It's best to store them without sauce if possible, because it will make the breading softer.
Reheat: To reheat, bake in a preheated oven or air fryer at 375 degrees until heated through, about 10-15 minutes. Using an oven or air fryer will help crisp the coating up again versus a microwave that just heats them up.
Freeze: If you plan on freezing, it's best to do so before adding the sauce. Freeze cooled chicken pieces on a baking sheet until solid, then transfer to a freezer bag. They can be stored in the freezer (with or without sauce) for up to 2 months. Reheat in the oven straight from the freezer and then toss with the sauce.


Ingredients
2

chicken breasts

, boneless skinless

1

cup

flour

2

teaspoons

kosher salt

1/2

teaspoon

ground black pepper

1

large egg

1

cup

whole milk

canola oil

, for frying

2

cups 

buffalo wing sauce
Instructions
In a medium bowl whisk together the flour, salt and pepper and in a second bowl whisk the egg and milk together.

Cut the chicken into two inch chunks then dip each piece of chicken into the egg mixture then the flour mixture, then back to the egg, then back to the flour then rest on a cookie sheet for

20 minutes

.

Heat three inches of canola oil to 375 degrees in a large dutch oven when you are ready to fry.

Add 6-8 pieces of chicken at a time to the oil and fry for

5-6 minutes

until cooked through then remove to a clean cookie sheet and when all the chicken is done toss with the buffalo chicken wing sauce.
Notes
Note: click on times in the instructions to start a kitchen timer while cooking.
Nutrition
Calories:
296
kcal
|
Carbohydrates:
27
g
|
Protein:
30
g
|
Fat:
6
g
|
Saturated Fat:
2
g
|
Cholesterol:
119
mg
|
Sodium:
4963
mg
|
Potassium:
547
mg
|
Sugar:
3
g
|
Vitamin A:
190
IU
|
Vitamin C:
1.3
mg
|
Calcium:
85
mg
|
Iron:
2.1
mg