A Hot Chocolate Charcuterie Board makes it easy for your holiday guests to make their own rich and delicious drink recipe.
A classic Charcuterie Board is the perfect party platter made with meat, cheese, crackers, and fruit. Instead of that classic snack board, you can try the same idea to make everyone's favorite cold weather Drink Recipe easy to customize.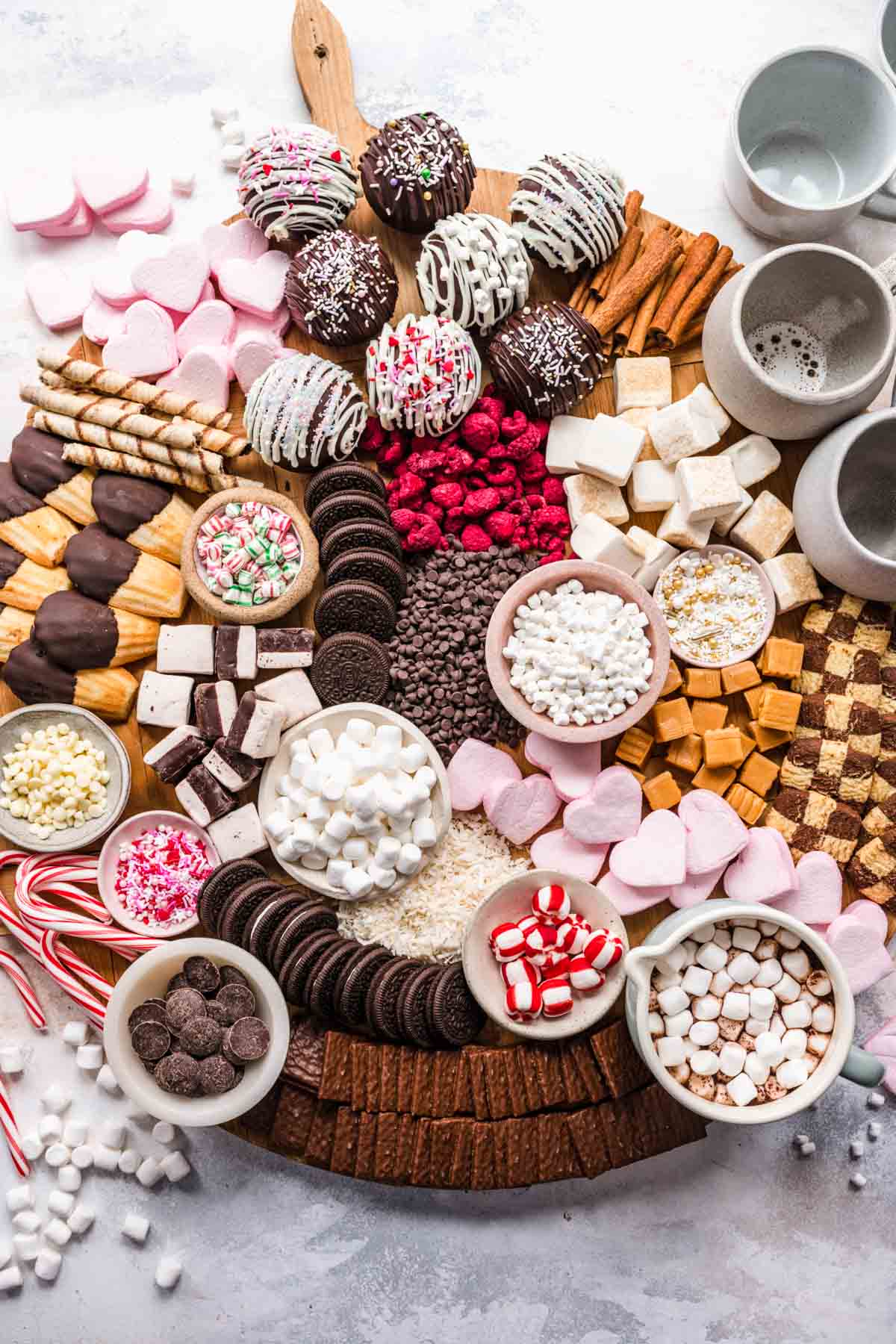 This classic Hot Chocolate Recipe is the perfect holiday treat or cozy winter warm-up drink to enjoy all through the cold months. Nothing will make you feel better after a hard day like the perfect mug of creamy hot chocolate. This Board would also be the star of any party. It could even make a wonderful and memorable gift to present to your co-workers, neighbors, or friends.
Not only does it make a delicious treat, but hot chocolate is also easy to customize with marshmallows, whipped cream, peppermint, cinnamon, and sprinkles in holiday colors. So, this year you can take this family holiday tradition up a notch. Make this beautiful and festive Charcuterie Board, and everyone can have fun making a customized mug of cocoa. Arranging this Hot Chocolate Charcuterie Board is almost as much fun as drinking hot chocolate. Plus, this fun party platter is a hit with both adults and kids.
Hot Chocolate Charcuterie Board FAQs
Can I make Hot Chocolate Dessert Board ahead?
If you want to arrange your Hot Chocolate Platter ahead of your party, you definitely can. Keep the Hot Chocolate in a crockpot so that it stays warm and tastes fresh when your guests arrive. Arrange everything else on the board as you'd like. As long as your house isn't warm enough to melt the chocolates and other candies, you can leave the board at room temperature. Otherwise, put it in the fridge.  
How to transport a Hot Chocolate Board?
If you're taking the Hot Chocolate Dessert Board to a potluck or another party outside of your house, transporting it can seem tricky, but it is possible. The key is to put foil under the board before you arrange it. Then cover any bowls or containers with plastic wrap. Finally, wrap the foil over the top, and do your best to carry the board flat. 
What kind of Board should I use?
Charcuterie Boards look amazing on wood boards of any tone. The finish is really a matter of persona preference. You can use round boards that are just for display. You could even use your cutting board. If you have a cheese board already, you can use that. Some boards have a combination of materials like a wood frame and edge, with a ceramic center that would look nice. You can even use a tray or platter that you love to create your Charcuterie Board.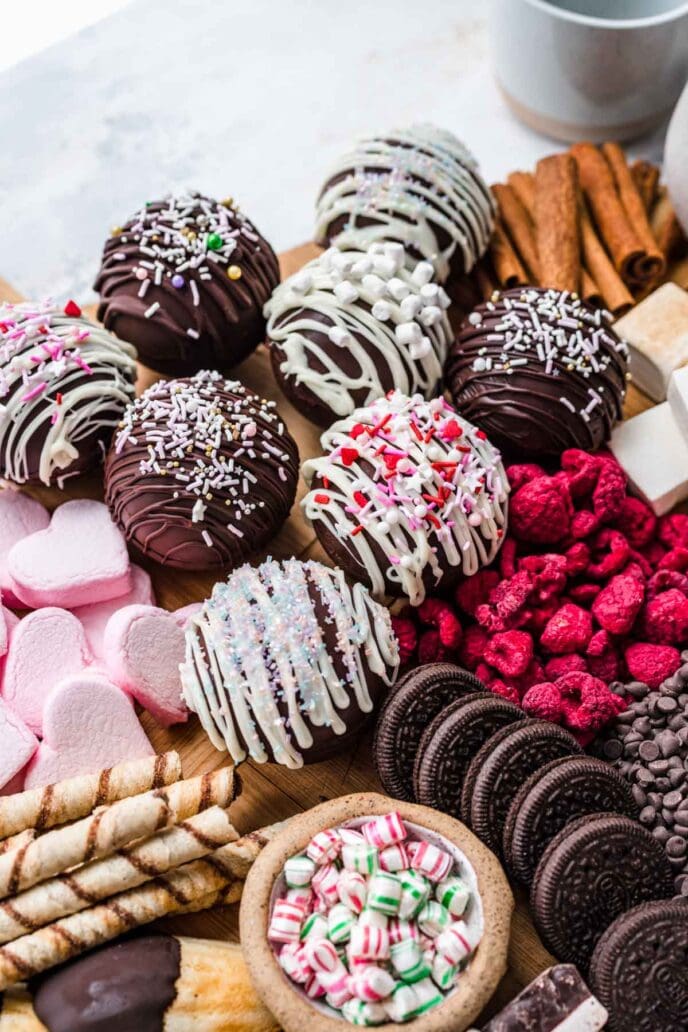 More Festive Drink Recipes
Key Ingredients
Hot Cocoa Mix: You can make the perfect Hot Chocolate recipe with an amazing creamy flavor. All you need is dutch processed cocoa powder, maple syrup, chocolate pieces, vanilla, and heavy cream. Once you've tried this incredible version, you'll never want to go back to store-bought hot chocolate packets.
Milk: Adding warm milk and heavy whipping cream turns the hot cocoa mix into the perfect mug of rich cocoa.
Liqueur: Adding liqueur to your drink is completely optional. If you want to Kahlua, Frangelico, or Baileys would taste amazing in the holiday drink. You could set the bottles out next to the Board along with 1-ounce shot glasses. This will allow your guests to add to their choice of liqueur in small increments until they reach their desired taste.
Hot Cocoa Toppings: There are so many toppings and decorations to add to the board. Crushed hard peppermint candy, marshmallows, cinnamon sticks, sprinkles, and more all make good toppings. You can also use pretzel rods and whole candy canes as hot chocolate stir sticks.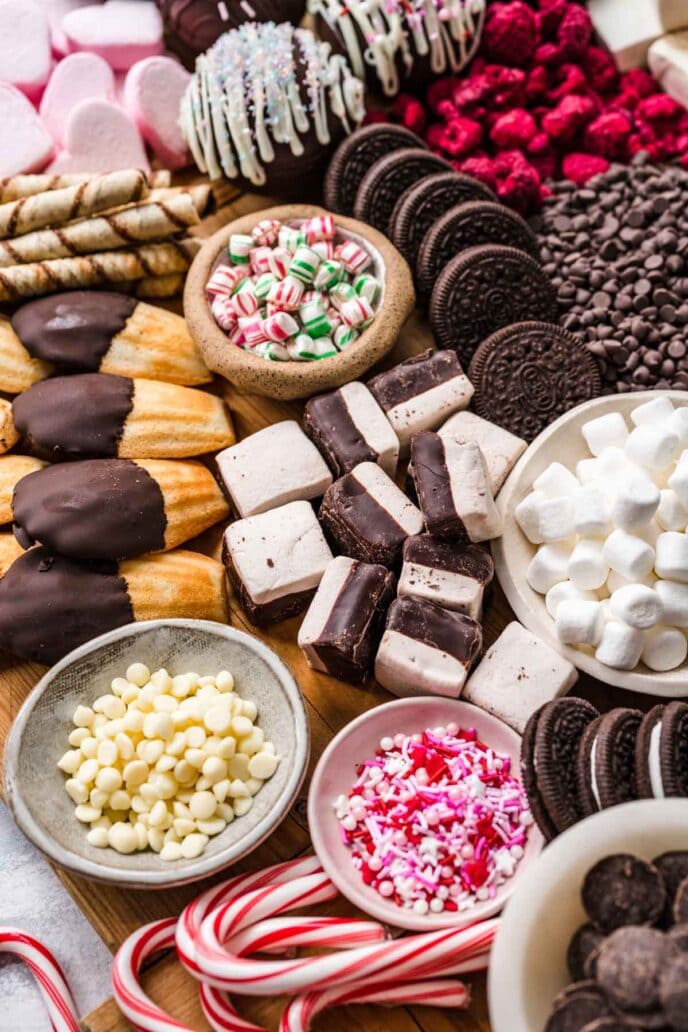 How to Arrange
Make Hot Chocolate: Before serving your Hot Chocolate Board, I'd recommend making the hot chocolate yourself. Follow the ingredient ratios we've included for a nice creamy mix. You can always double the amount depending on how many you're serving. Add the Baileys, Kahlua, or other liqueur add-ins if you're serving a party where everyone is old enough to drink. If not, I'd recommend leaving that to the side as an option for anyone to add if they want. Once you've made the hot cocoa, you can keep it in your slow cooker to keep it warm throughout your entire party.
Arrange Board: When arranging any Charcuterie Board, you want to start by adding your biggest items. For this dessert board, some items are best in bowls, like mini marshmallows, peppermint candies, chocolate-covered pretzel rods, dark chocolate pieces, white chocolate pieces, and coconut flakes. Place those dishes on the Charcuterie Board first. Then you can fill in the gaps with candies, cookies, caramels, decorative marshmallows, and any other additions you like until all the blank spaces are filled.
Color Scheme: You can create your board to have a particular color scheme by adding marshmallows, dried fruits, candies, cookies, or sprinkles in the shades of your choice. A blue or a pink color scheme, for example, would look beautiful alongside the rich natural chocolate colors. Choosing bowls and mugs in matching colors will finish off the look of your board nicely.
Tip: In order to obtain the same look for your Board, be sure to keep each of the same ingredients together. If you try to spread and mix ingredients it just makes the board look messy.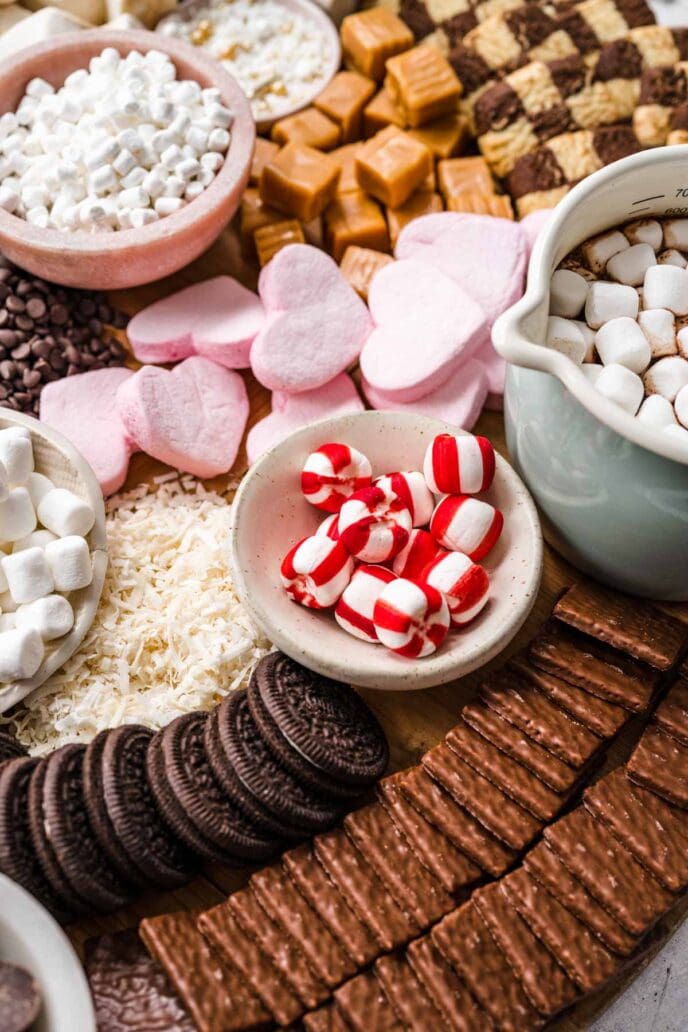 Create a free account to Save Recipes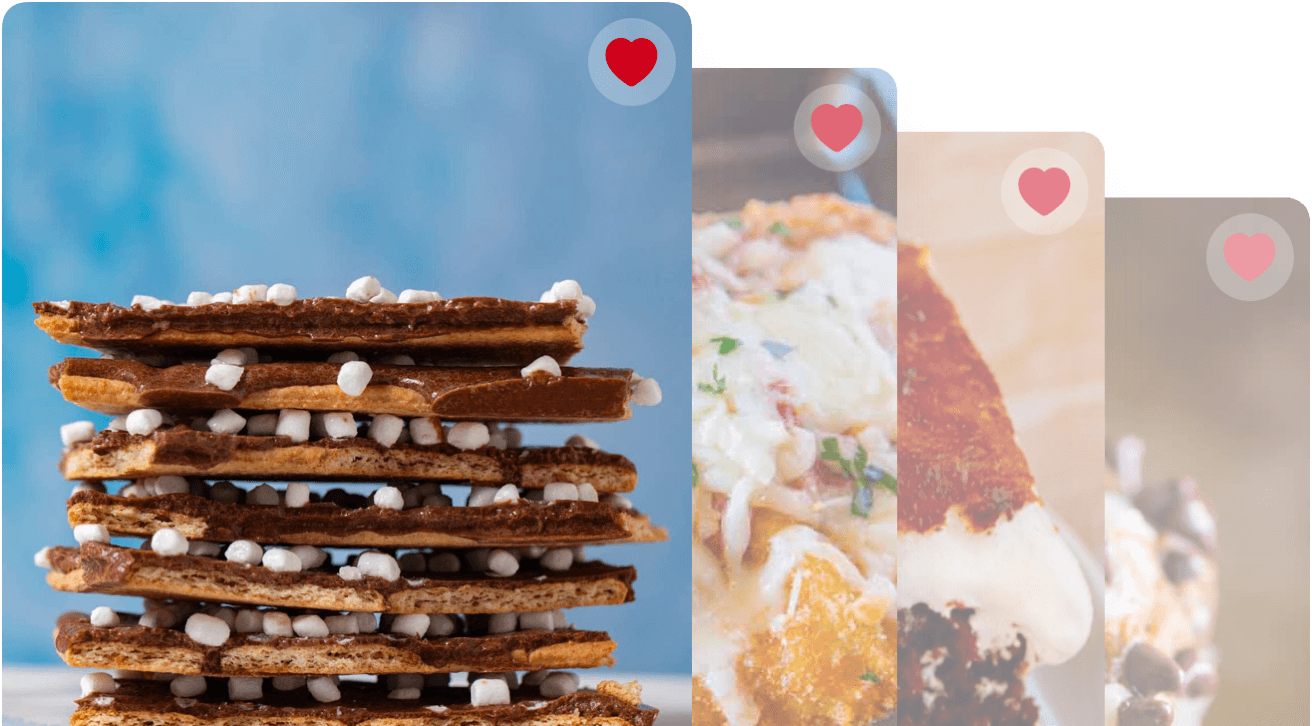 Variations
Hot Chocolate Bombs: Instead of making a hot chocolate mix and preparing the cocoa in a slow cooker, you could make Hot Chocolate Bombs. Hot Chocolate Bombs look amazing on the Hot Chocolate Board, and they're an easy way for everyone to make their own mug. For this version, you can have warm milk to the side for everyone to pour over the Hot Chocolate Bomb.
Salted Caramel Hot Chocolate: One popular way to flavor hot chocolate is with a drizzle of Caramel Sauce and a sprinkle of sea salt over the top of the drink.
Homemade Accompaniments: A Hot Chocolate Charcuterie Board is also a great way to serve festive cookies and homemade candies. You can fill blank spots on the board with different kinds of cookies like Sugar Cookies, Gingerbread Men, and Butter Cookies. Homemade Candies like Chocolate Fudge, Peanut Butter Fudge, and Caramels are also great additions. 
Items for Dipping: You can add more items to your Charcuterie Board that will taste great dipped in the hot chocolate. Chocolate hazelnut wafers, doughnuts, churros, Krispy cereal treats, or graham crackers would all taste delicious.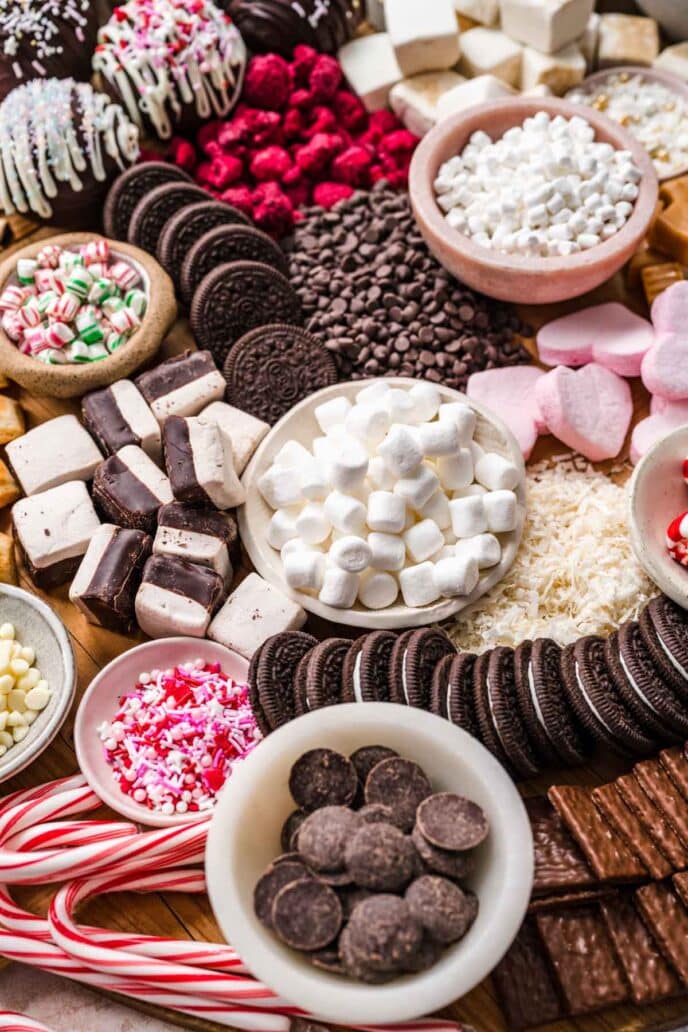 More Favorite Chocolate Treats
How to Store
Serve: It doesn't take long to put this Hot Chocolate Board together. So, when possible, I'd recommend just arranging it right before you plan to serve.
Store: If you want to get the board ready in advance, you can cover it and leave the board at room temperature overnight. Just be sure to leave the cream and any other dairy ingredients in the fridge. Then add them to the Hot Chocolate Charcuterie Board right before serving.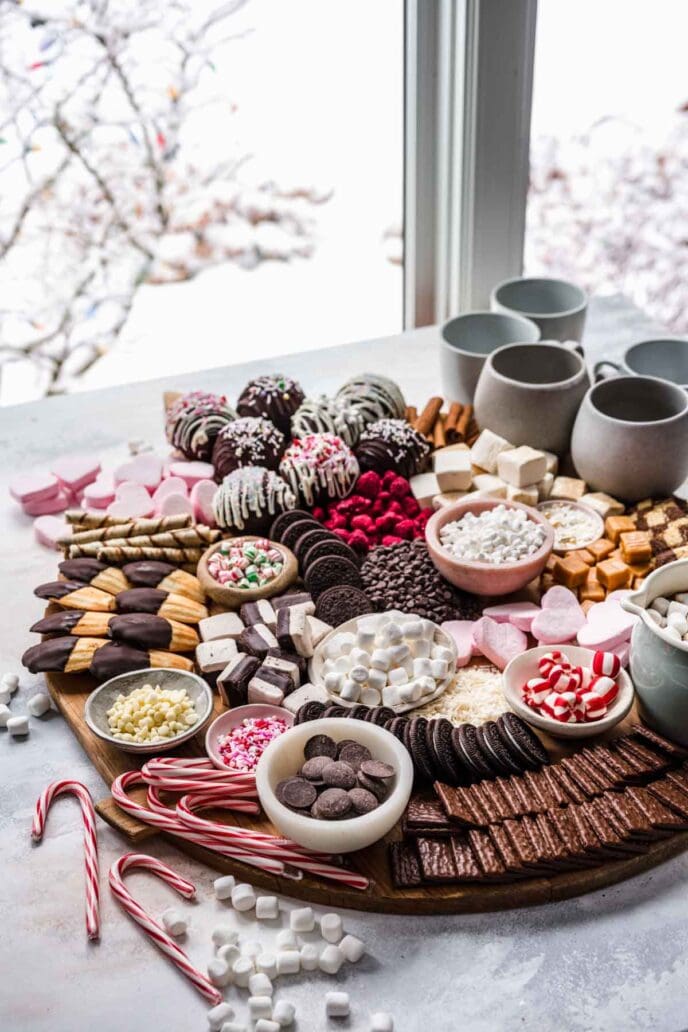 Ingredients
Hot Chocolate
3 1/2

cups

whole milk

2

tablespoons

Dutch-processed cocoa

2

tablespoons

pure maple syrup

2

ounces

bittersweet chocolate

, 60% cacao, broken into pieces

1

ounce

bittersweet chocolate

, 70% cacao, broken into pieces

2

teaspoons

vanilla extract

1

cup

liqueur

, such as Kahlua, Frangelico or Baileys; optional

½

cup

heavy cream

¼

teaspoon

salt
Accompaniments:
Hard peppermint candies

Cookies

Fudge

Marshmallows

Other accompaniments as desired
Instructions
Heat and combine hot chocolate ingredients.

Arrange mix-ins, stirrers, and hot chocolate accompaniments on the board.
Nutrition
Calories:
304
kcal
|
Carbohydrates:
27
g
|
Protein:
5
g
|
Fat:
13
g
|
Saturated Fat:
8
g
|
Polyunsaturated Fat:
0.5
g
|
Monounsaturated Fat:
3
g
|
Trans Fat:
0.01
g
|
Cholesterol:
30
mg
|
Sodium:
119
mg
|
Potassium:
266
mg
|
Fiber:
1
g
|
Sugar:
24
g
|
Vitamin A:
397
IU
|
Vitamin C:
0.1
mg
|
Calcium:
155
mg
|
Iron:
1
mg