Chocolate Covered Pretzels are sweet, salty, and crunchy, made with pretzel twists, melted chocolate, and flaky sea salt!
Chocolate is its own food group in this kitchen, and we've been busy making all of our favorite desserts like Dark Chocolate Crinkle Cookies,Christmas White Chocolate Trash Snack Mix and Slow Cooker Chocolate Peanut Candy.

Chocolate Covered Pretzels are one of the all-time favorite recipes to make for the holidays because they're the perfect snack to wrap up as gifts. The pretzel adds a really nice crunch against the sweet candy, with some added flaky salt for a salty flavor.
You can cover the pretzel in milk chocolate or white chocolate (or a combo of both). This recipe utilizes melting chocolate, but you can also do this with chocolate chips leftover from making other holiday desserts.
This is a totally kid-friendly recipe, and the perfect way for them to have fun in the kitchen making a sweet and salty treat! You want to make sure you have either parchment or waxed paper on hand for this recipe, to make sure the pretzels don't stick as they dry. Try putting them on a cookie sheet to dry so it's easier to move them to the refrigerator all at once.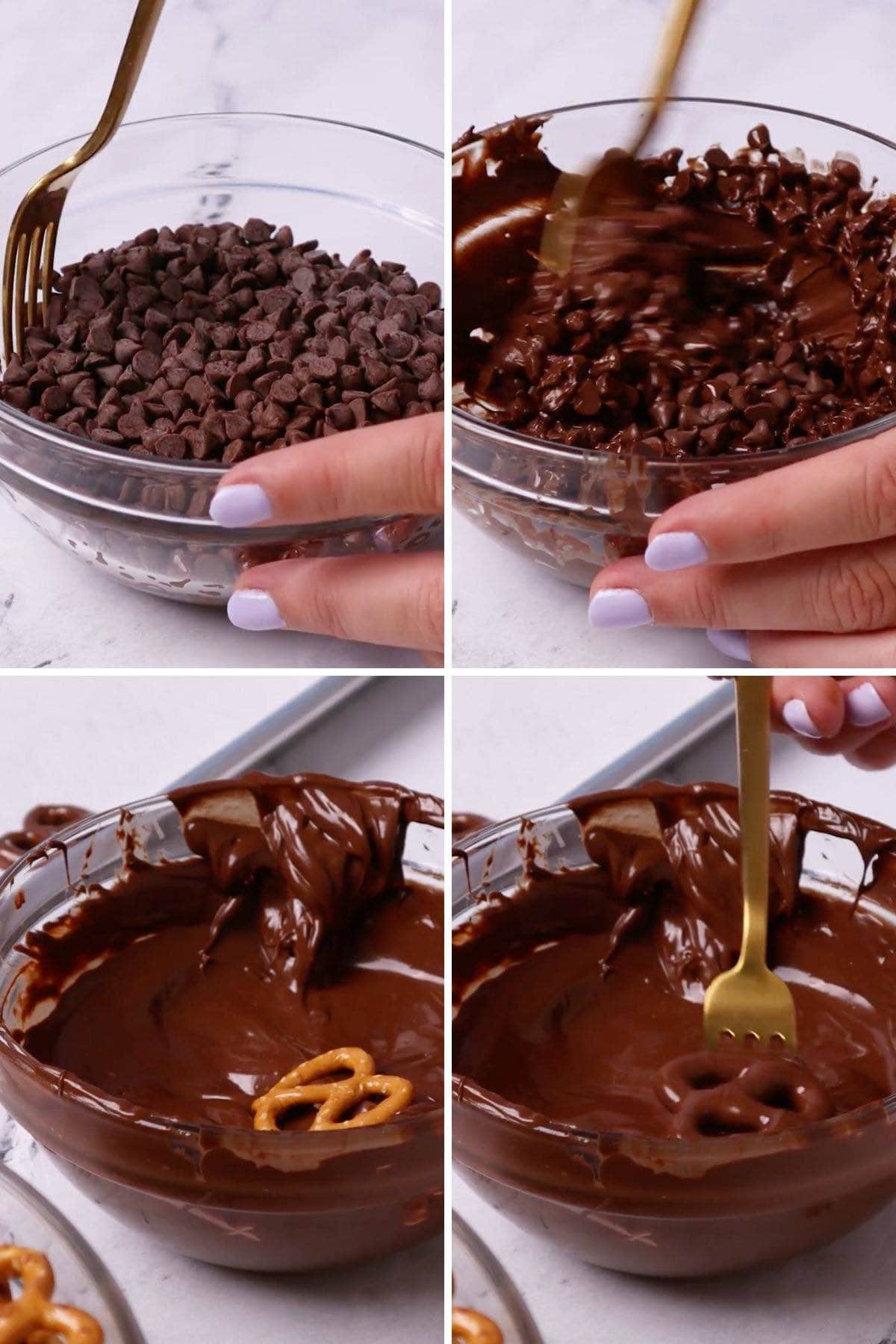 How to Make Chocolate Covered Pretzels
The process of making Chocolate Covered Pretzels is remarkably easy!
Melt – Liquify the chocolate over heat.
Dip – Immerse the pretzels individually into the melted chocolate. Let any excess chocolate drip off before putting it on the cooling rack.
Set – After you've dipped the pretzels in chocolate, let them harden in the fridge, then enjoy!
More Chocolate Desserts to Try
Frequently Asked Questions
How Long do Chocolate Covered Pretzels Last?
These pretzels will last at room temperature in an airtight container for 2-3 weeks. Keep them in a cool dry place, remember that chocolate can melt if it gets too hot. I'd recommend a plastic bag and a container, just to make sure they don't go stale. The last thing we want is stale snacks!
What Kind of Chocolate do You Use for Dipping Pretzels?
For this recipe you can use melting chocolate or chocolate chips to coat the pretzels. Many people also like to keep a piping bag ready to decorate them after the first coating. For example, coat with milk chocolate, then top with a white chocolate drizzle.
This recipe actually coats both with additional semisweet chocolate and white chocolate just so you could see how you can actually make it look beautiful even with just additional chocolate of the same variety too!
You can sprinkle some sugar (or salt in this recipe) on decoratively. I have also rolled the chocolate-dipped pretzels in crushed candy canes, crushed Oreos, and chopped peanuts. There are so many ways to make this amazing recipe!
How do you Melt Chocolate for Dipping Pretzels?
The easiest way is to melt the candy for this recipe is in the microwave, stopping every 30 seconds to stir and make sure the chocolate isn't burning. You can also use a double boiler to melt the chocolate, stirring continuously until it looks smooth.
How do you Cool Chocolate Covered Pretzels?
Lay the chocolate covered pretzels on a baking sheet with parchment paper and place in the refrigerator for about 15-20 minutes. The melted chocolate will set once its cold, then you can remove the pretzels from the baking sheet and move to your container
Can I Freeze Chocolate Covered Pretzels?
Freezing might make the pretzels go stale more quickly, so doing so is not recommend. This recipe works best at room temperature, or refrigerated if it's too warm or the chocolate starts melting.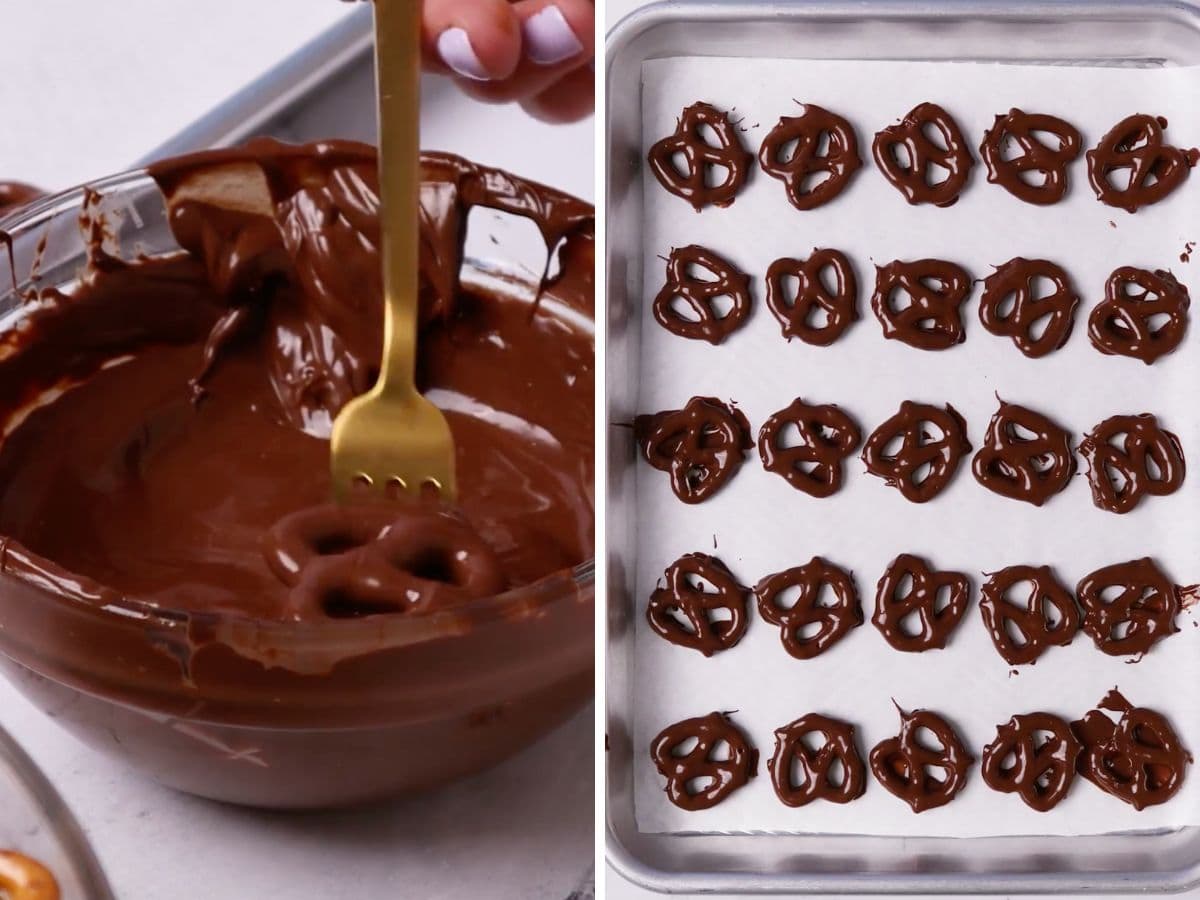 Create a free account to

Save Recipes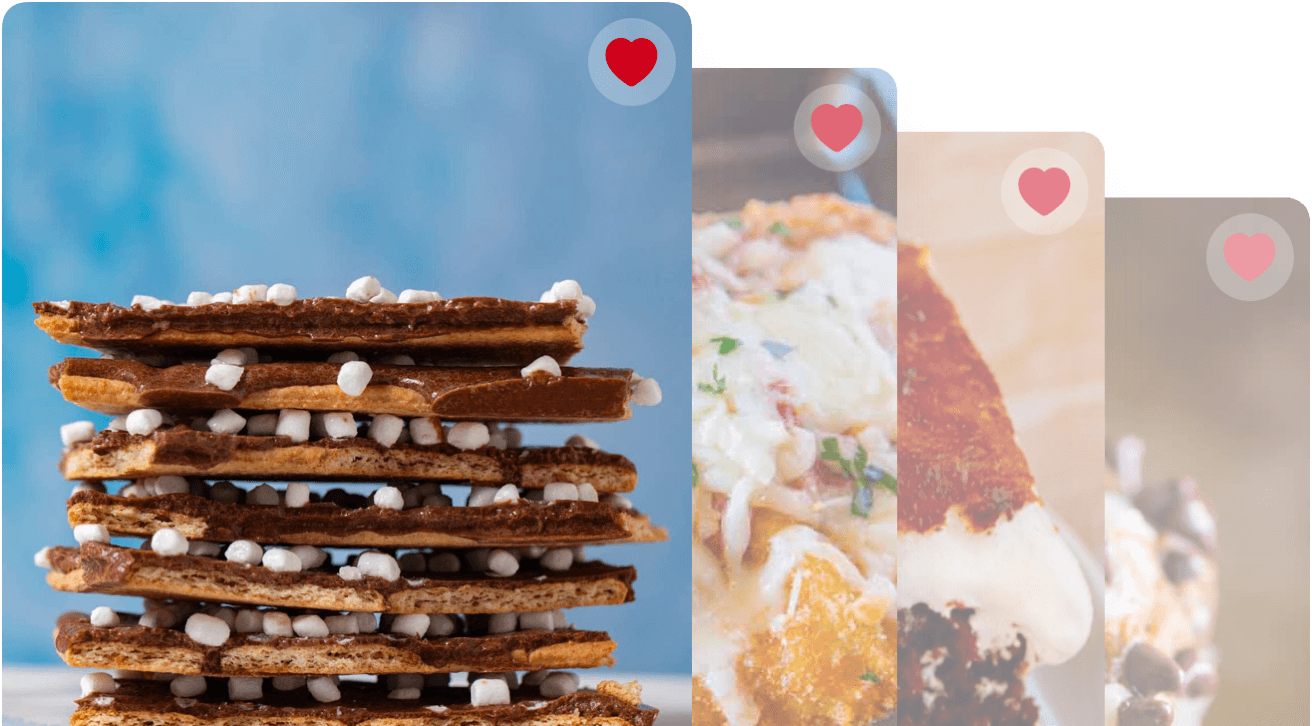 Key Ingredients for Chocolate Covered Pretzels
Chocolate: The classic milk chocolate pretzels are the perfect place to start.
Pretzels: The pretzel twists used here are small and crunchy chips compared to the larger doughy counterpart that's usually dipped in a yummy cheese sauce. The crunchy little bites are easy to eat and fun to share.
Variations of Chocolate Covered Pretzels
Chocolate: Use your favorite chocolate whether dark, milk, or even white chocolate chips to add some fun variety!
Pretzels: This recipe is using traditional pretzel twists, but you can also use pretzel rods and pretzel sticks too. If you're using pretzel rods or sticks, you can just dip about 2/3rds of the pretzel rod into the bowl of chocolate.
Topping: The flaky sea salt used in this recipe goes great as a decorative piece. You can also try coarse sanding sugar. During the holiday season, try using a thematic sprinkle decoration instead. You can also try toffee bits. Just dust the chocolate with sprinkles.
Coconut: Make chocolate-coconut pretzels by dipping them in sweetened coconut flakes! It's the perfect no bake recipe for the weekend.
Orange: Dip in dark chocolate and sprinkle with chopped candied orange peel for a chocolate orange pretzel recipe!
Peppermint Pretzels: Add a few drops of peppermint extract to melted semisweet chocolate and sprinkle with peppermint candy for a Christmas version!
Tips for Making Chocolate Covered Pretzels
Don't leave these in sunlight or in a warm room. If you know it's going to be especially warm one day, store them in a cooler place like the refrigerator.
You can add nuts to the food processor to chop them quickly, like pecans, almonds, or walnuts.
Make this a diary-free recipe by using allergen free chocolate chips instead of milk chocolate.
The difference between wax paper and parchment paper is that wax paper cannot withstand the heat when baking, while parchment paper can. They're both great for this no bake recipe because they're non-stick.
More Yummy Pretzel Recipes
How to Store Chocolate Covered Pretzels
Serve: Serve these sweet treats as soon as the chocolate has solidified. They can be placed on parchment paper and in a tin container or just on a plate.
Store: Keep chocolate covered pretzels stored in an airtight container for up to 3 weeks. You can store either in the refrigerator or in the pantry without issue.
Freeze: Store chocolate covered pretzels in the freezer in an airtight container for up to 3 months for best flavor. If you want to keep it longer than that, wrap them in the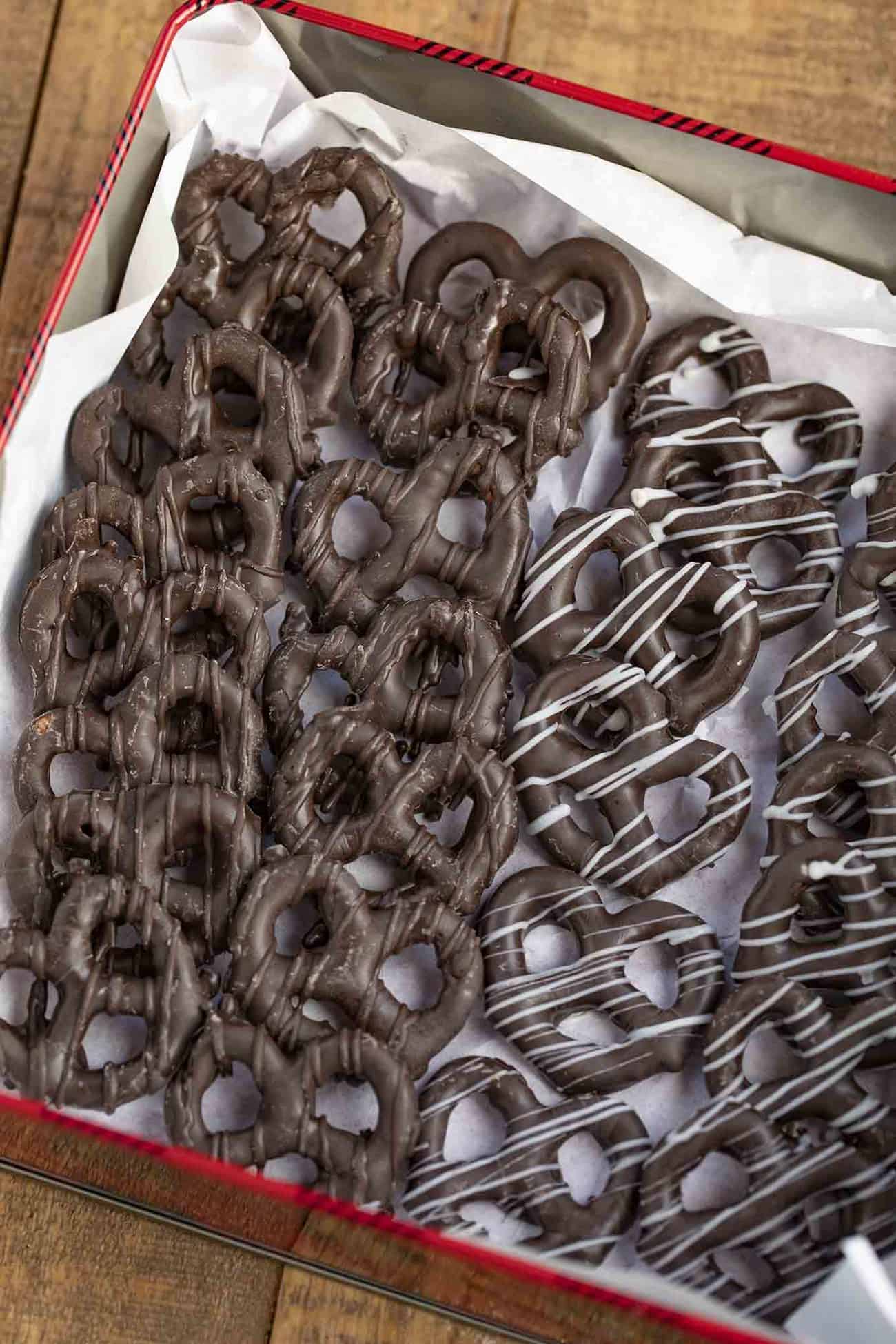 Instructions
Melt the chocolate in a microwave safe bowl in 30 second increments.

Dip the pretzels, scrape most of the chocolate off the bottom of them and place onto parchment paper to harden.

Place remaining chocolate into piping bag and squeeze over pretzels and sprinkle salt over the top then harden the pretzels fully in the refrigerator for at least

15 minutes

.
Notes
Note: click on times in the instructions to start a kitchen timer while cooking.
Nutrition
Calories:
72
kcal
|
Carbohydrates:
12
g
|
Protein:
1
g
|
Fat:
2
g
|
Saturated Fat:
1
g
|
Sodium:
184
mg
|
Potassium:
43
mg
|
Sugar:
2
g
|
Calcium:
5
mg
|
Iron:
0.9
mg