A Chocolate Pretzel Wreath is the perfect festive treat to serve for a holiday party. Candied pretzels are arranged in a ring to make a wreath shaped snack!
Christmas time is the perfect season to whip out your favorite Homemade Candy Recipes. Between Chocolate Fudge, Peppermint Bark, and Peanut Clusters there are plenty to pick from. This pretzel recipe makes a fun treat that's not only easy to make but also looks amazing!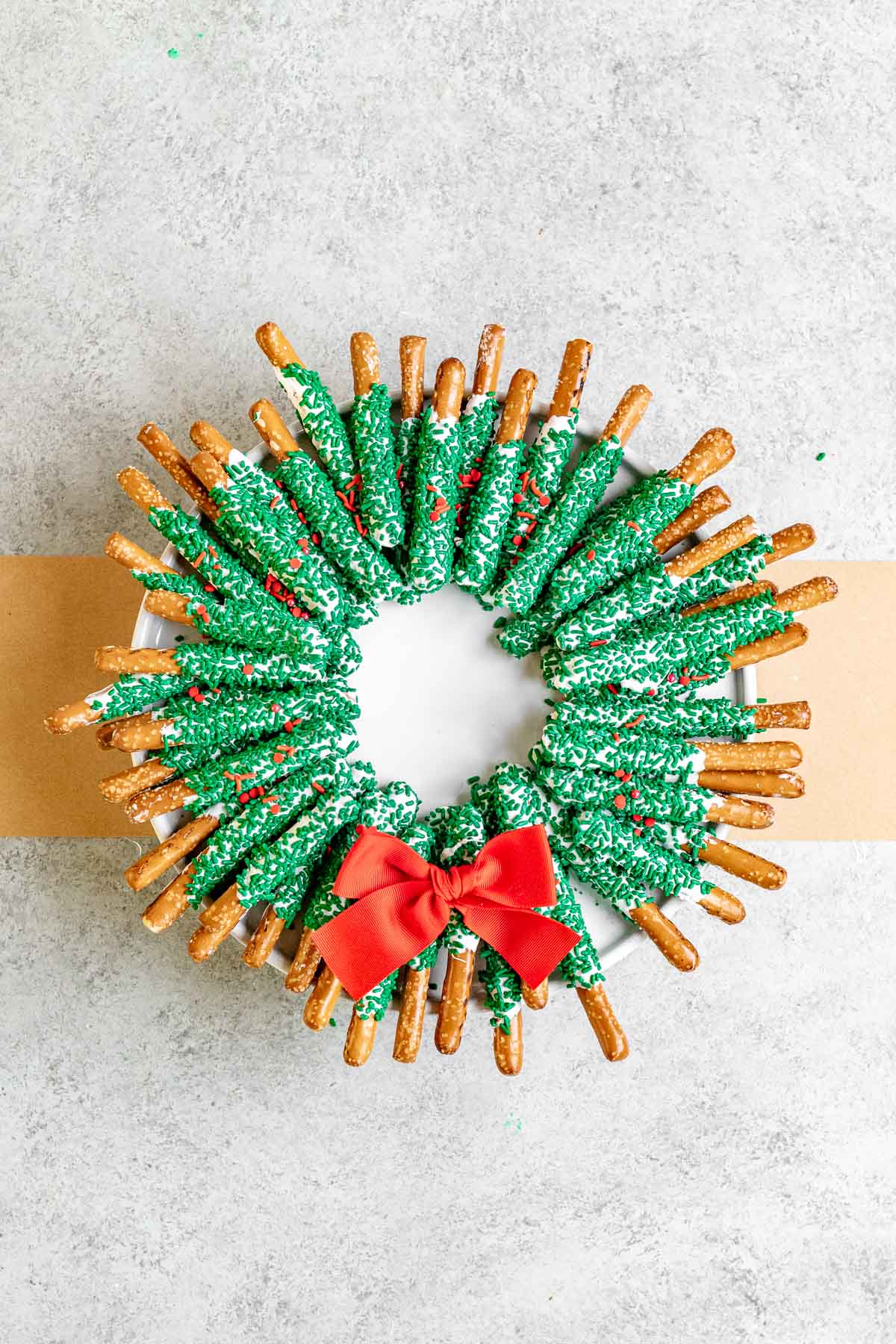 CHOCOLATE PRETZEL WREATH
Chocolate Covered Pretzels are simultaneously one of the most delicious and the easiest sweet snacks you can make! Crunchy pretzels are dipped into melted chocolate for the perfect combination of sweet and salty. Once the chocolate hardens you have the perfect homemade candy!
From that simple base, we've also made Chocolate Peanut Butter Pretzels and Chocolate Caramel Pretzels. This recipe also builds off of chocolate covered pretzels but adds a little more holiday cheer to the dessert.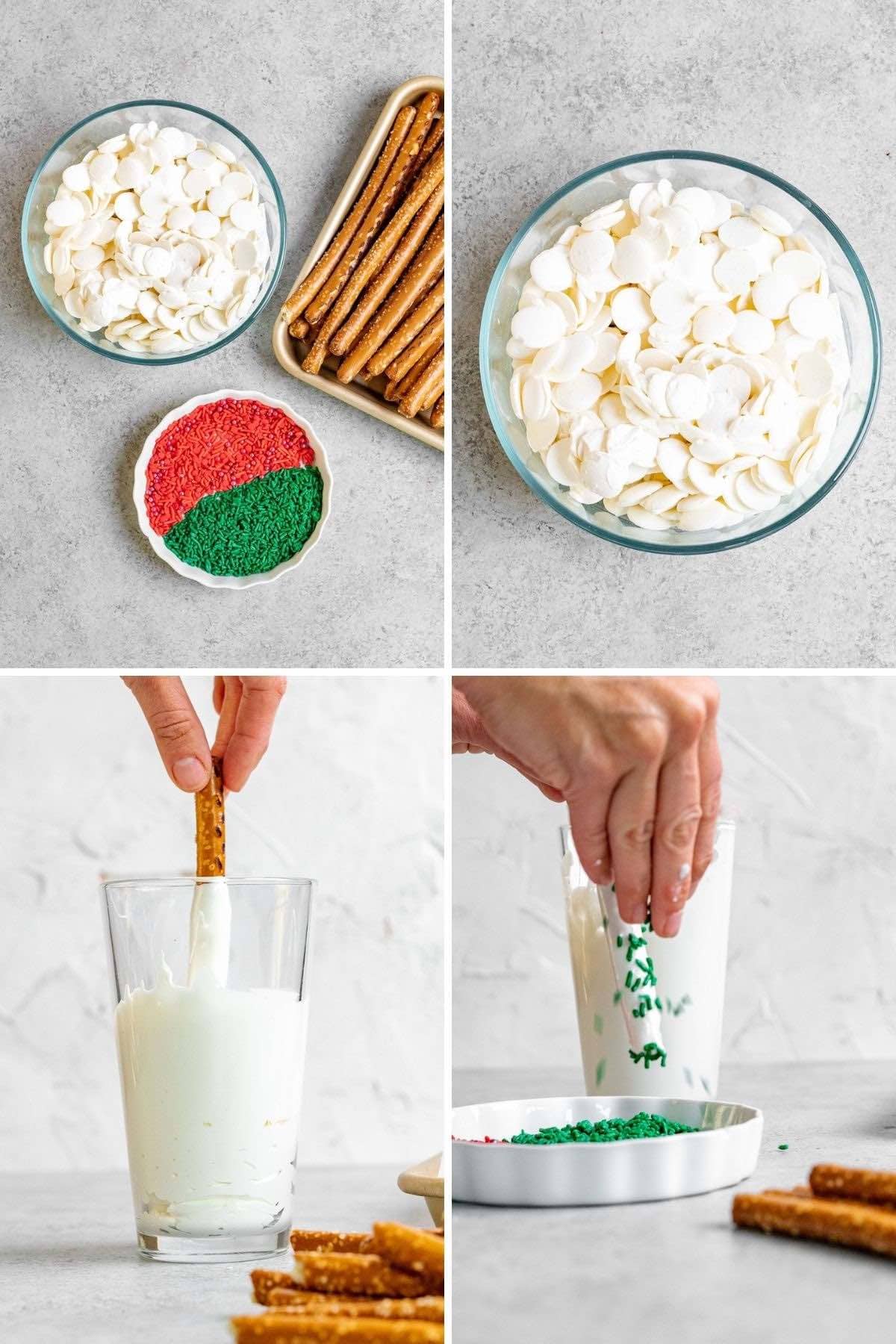 The pretzel rods are coated in white chocolate, and then you add red and green sprinkles to give them holiday colors. Once they've hardened you can arrange them into pretzel rings to look like a Christmas wreath. The sweet snack is sure to be a show stopper and you can add extra decorations to make them look as bright and festive as you want.
MORE CHOCOLATE DIPPED RECIPES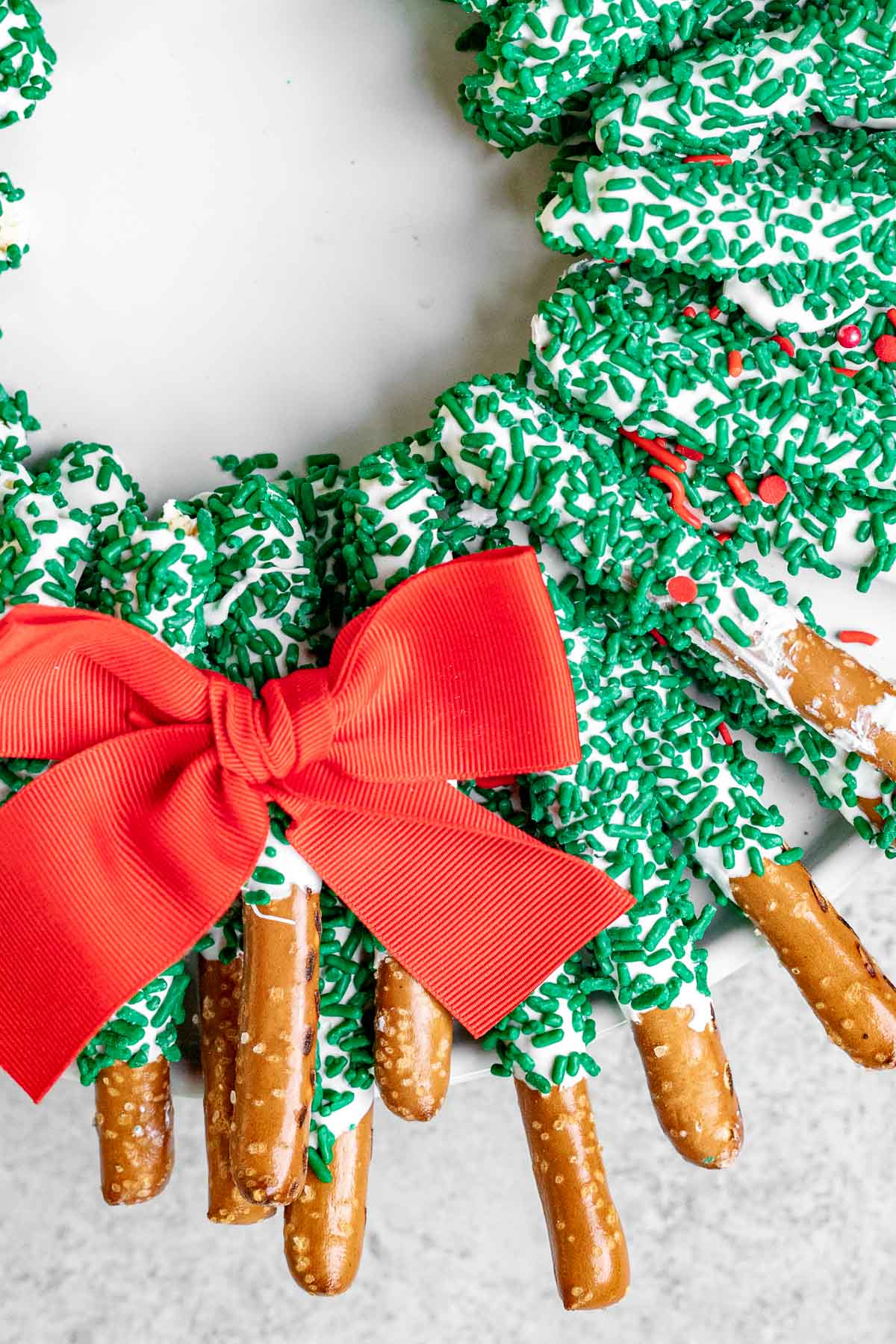 TIPS FOR MAKING AND SERVING CHOCOLATE PRETZEL WREATHS
Prep: Line a baking sheet with wax paper.
White chocolate: Put the white chocolate confectionery coating candy in a microwave-safe bowl. Then heat for 30 seconds. Stir the confectionery coating candy, and then melt for 15 seconds. Stir until completely smooth. For the easiest dipping, pour the melted white chocolate into a tall and thin cup.
Pretzels: Break each pretzel rod in half as evenly as you can. Dip pretzels into the melted white chocolate. Let the excess confectionery coating candy drip off.
Sprinkles: Hold the coated pretzel above your bowl of sprinkles. Sprinkle them until nicely coated in the green sprinkles.
Harden: Place the prepared pretzel rods on the wax paper-lined baking sheet.
Arrange: Once the pretzels have hardened arrange them in a circle pattern on their serving plate with a hole in the center so it looks like a wreath. Use red sprinkles to garnish, or mix some red sprinkles into the green ones when you are coating them.
Serving: If serving at a party, you can put a dessert dip like our Pretzel Bites Dipping Sauce in a bowl in the center of the wreath.
Delivering: If you want to give Chocolate Pretzel Wreaths away as friend, family, or neighbor gifts, then you'll have to package them carefully. Arrange the pretzels on a plate and wrap it tightly in plastic wrap to try to keep them from moving. It will be best if you put some kind of round object like a small bowl or cup in the center of the plate. That way the pretzels won't slide into the center.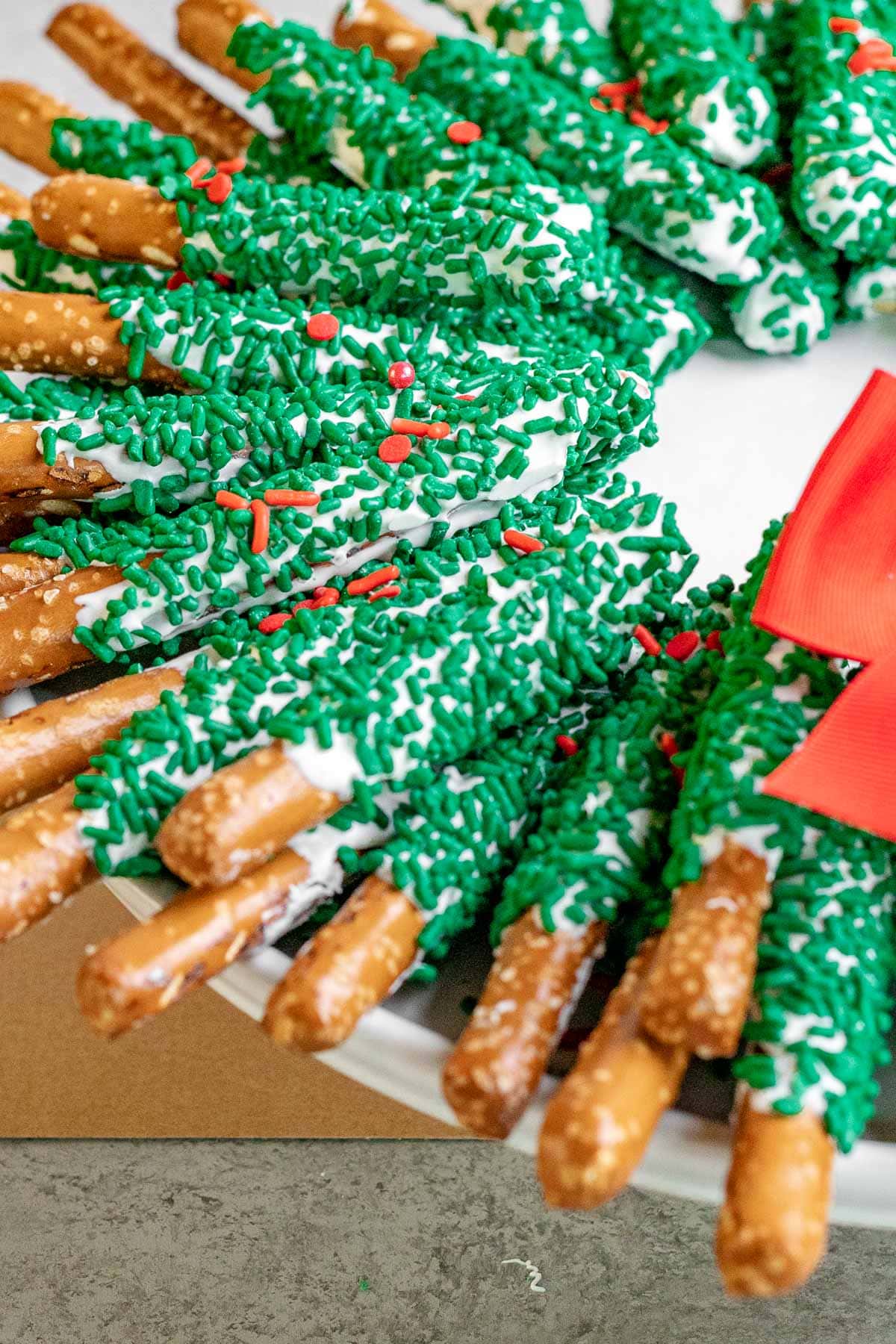 Create a free account to

Save Recipes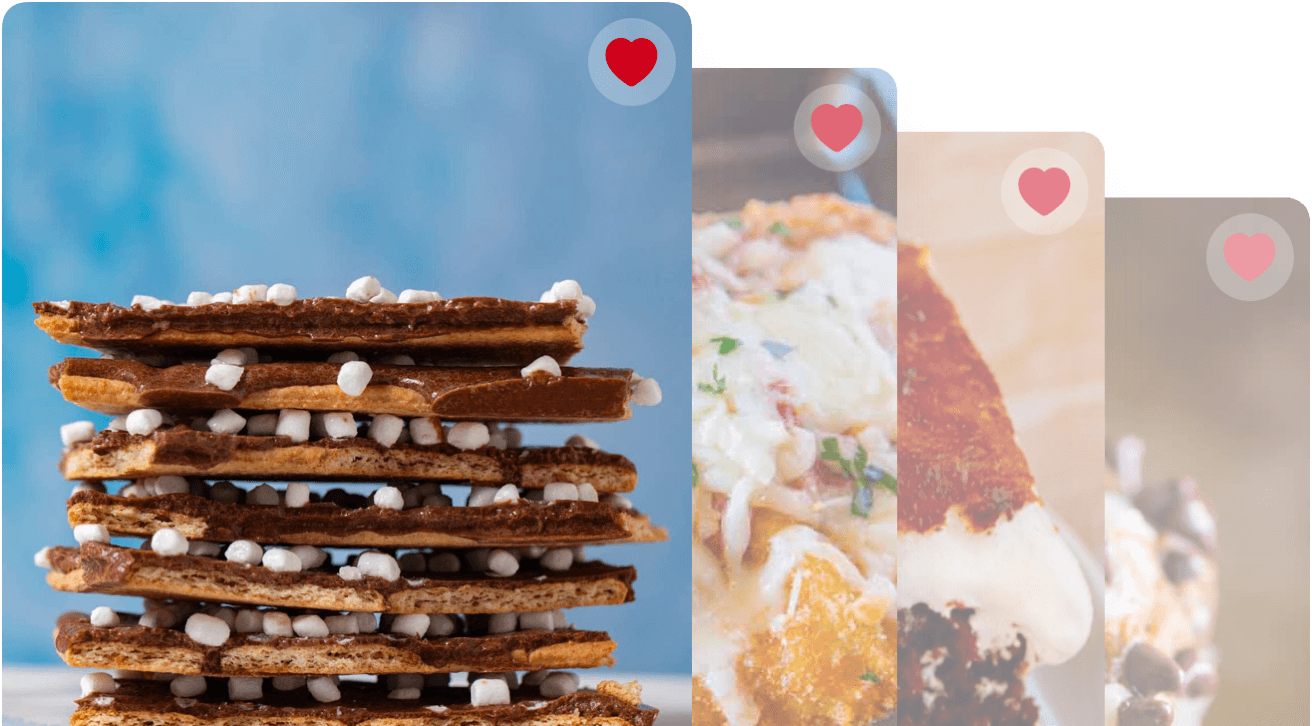 VARIATIONS ON CHOCOLATE PRETZEL WREATHS
Peanut Butter: For an extra boost of flavor add a drizzle of peanut butter over each of the pretzel rods.
Confectionery Coating Candy: In place of the white chocolate confectionery coating candy, you can use different kinds of coating candy melts. Try regular milk chocolate or dark chocolate. Just keep in mind that those colors will be more visible through the green sugar.
Add-ins: There are so many different flavors and decorations you can add to your pretzel rods. For some coconutty goodness sprinkle coconut flakes over the top. This will also look like snow has fallen on the wreath. You can also add red hots to look like berries on the wreath. Candy cane bits, sparkling sanding sugar, or drizzled melted chocolate would also make delicious additions.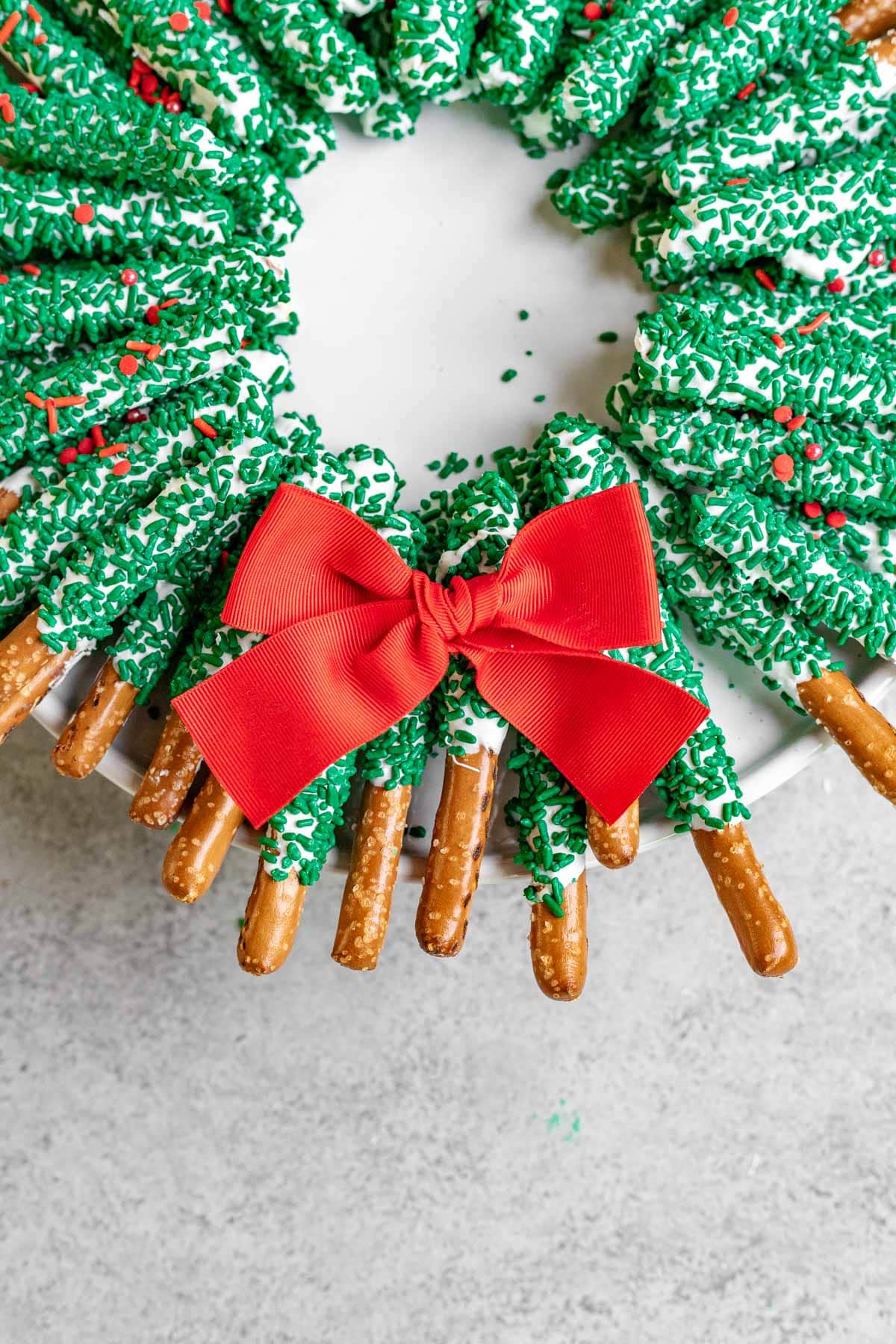 MORE HOLIDAY CANDY RECIPES
HOW TO STORE CHOCOLATE PRETZEL WREATHS
Serve: Chocolate covered pretzels can be kept out for about 3 weeks. Seal them in an airtight container with layers separated by a sheet of parchment paper. You can rearrange the pretzels into a wreath before serving.
Store: If you put your Chocolate Pretzel Wreath in the refrigerator it will stay good for 2 weeks.
Freeze: Kept separated by parchment paper in an airtight container, chocolate covered pretzels will last in the freezer for up to a whole year.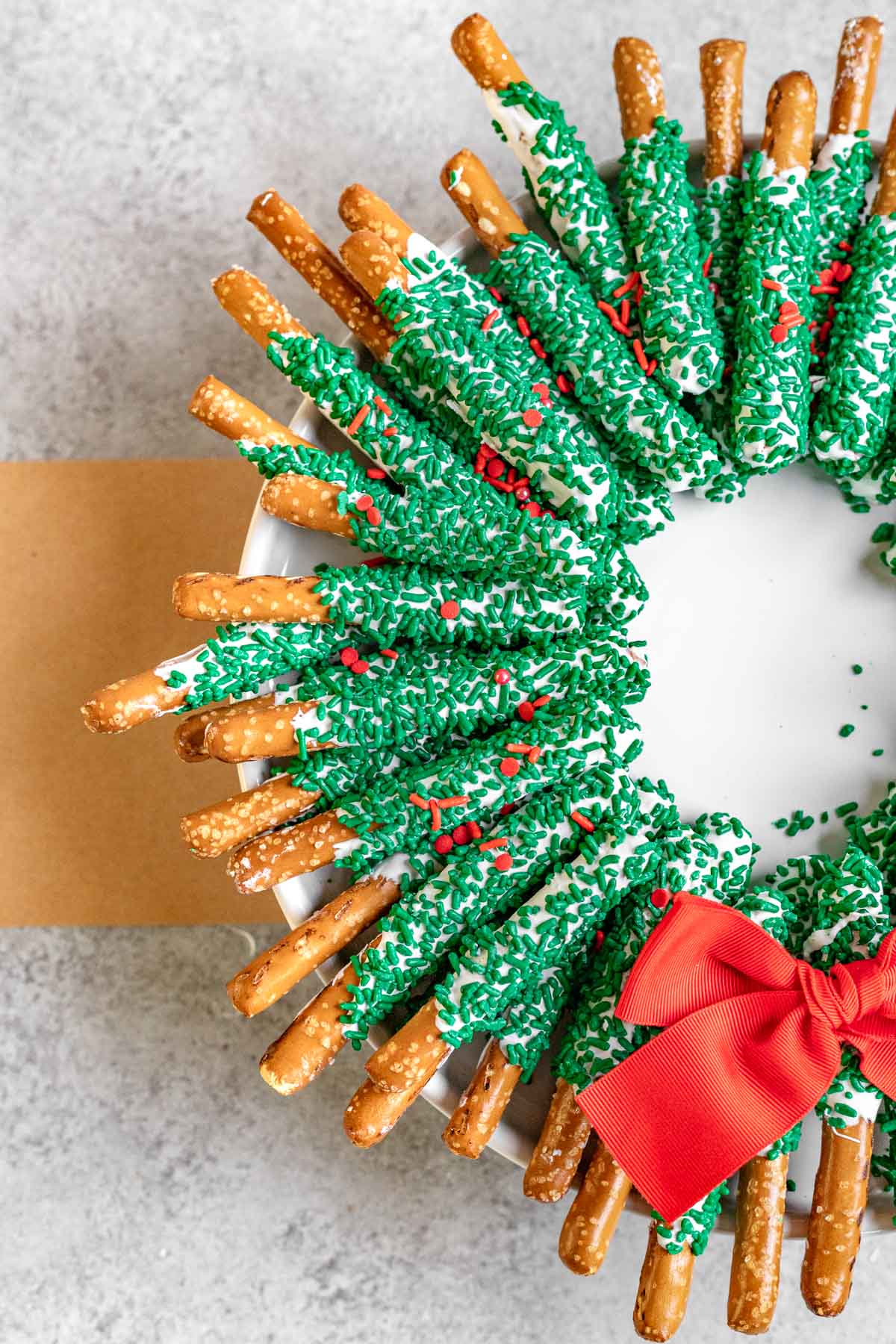 Instructions
Add the white chocolate disks to a microwave-safe bowl and microwave for

30 seconds

, then stir and microwave for

15 seconds

.

Stir until smooth, then pour into a tall, thin cup.

Dip the broken side of the pretzel rods into the melted chocolate, let excess chocolate drip off.

Hold over the bowl of sprinkles and sprinkle on the candy while slowly spinning pretzels.

Place them back onto the baking sheet and let harden.

When pretzels have cooled and hardened, add them to a serving tray in a circle pattern, like a wreath.
Nutrition
Calories:
235
kcal
|
Carbohydrates:
34
g
|
Protein:
3
g
|
Fat:
10
g
|
Saturated Fat:
6
g
|
Cholesterol:
6
mg
|
Sodium:
205
mg
|
Potassium:
100
mg
|
Fiber:
1
g
|
Sugar:
23
g
|
Vitamin A:
9
IU
|
Vitamin C:
1
mg
|
Calcium:
59
mg
|
Iron:
1
mg