Peanut Clusters an easy recipe for no bake Christmas treats made with only 3 ingredients! Easiest chocolate peanut clusters with a sprinkle of sea salt.
We love to make easy no bake treats like Mixed Nut Clusters and Chocolate Covered Almonds for easy Christmas treats. Check out our Candy Recipe catalog for more easy recipes you can make for any occasion, or no occasion at all!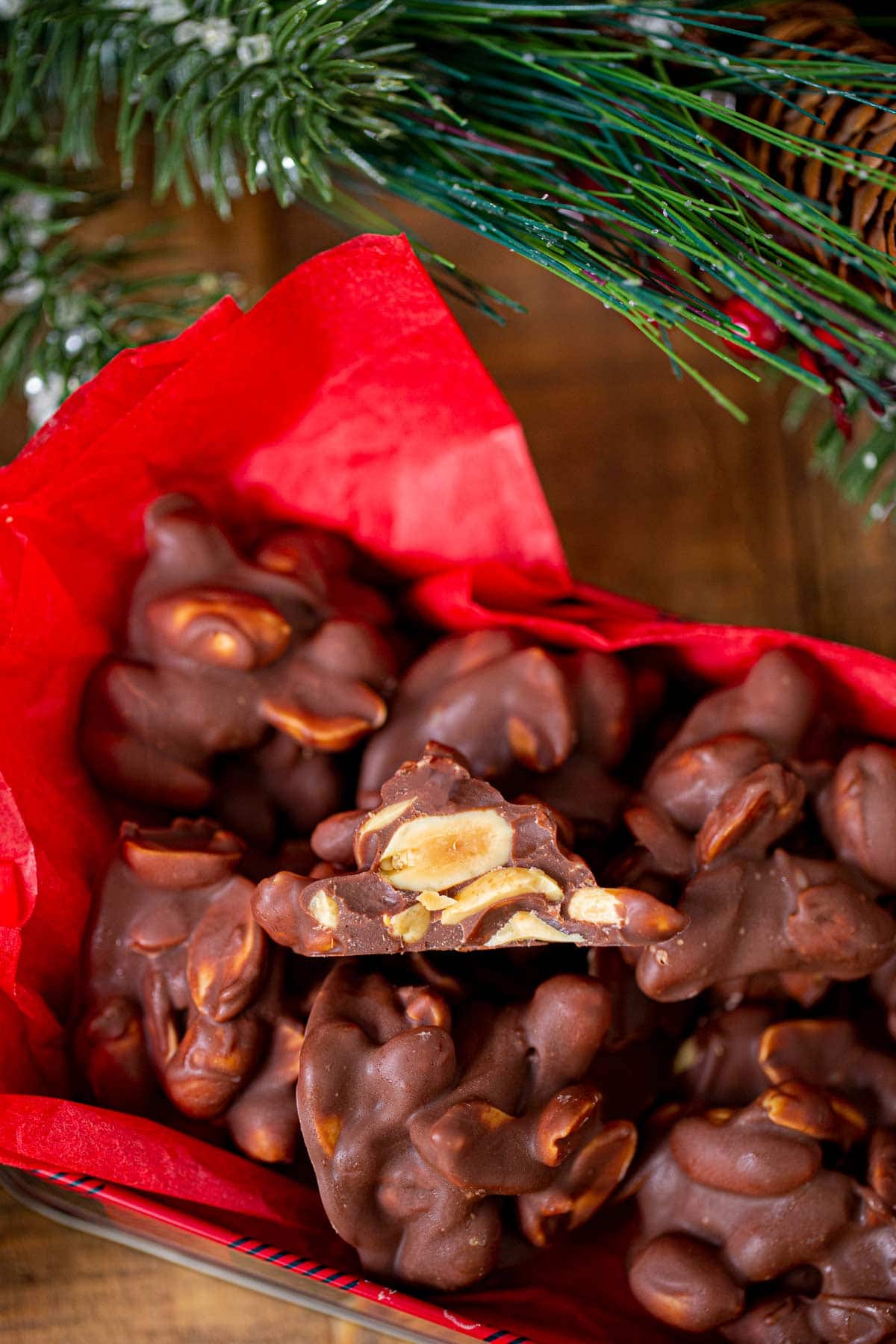 PEANUT CLUSTERS
Can you think of an easier candy recipe than mixing melted chocolate chips and your favorite salty snack? From nuts to Potato Chips, we love pairing sweet milk chocolate with savory, crunchy ingredients and adding a dash of salt to hit every taste bud.
These Peanut Clusters are so easy to make, you can put your youngest kitchen helpers on candy duty. I like to help by monitoring the microwave cook time needed to melt chocolate. To keep little hands safe, I wrap a microwave safe bowl in a thick kitchen towel.
These candies make great Christmas gifts, but they also make great treats to keep in the refrigerator for whenever you get a chocolate bar craving. You can also use them as a sundae topping! Chop up Chocolate Peanut Clusters and sprinkle on Vanilla Ice Cream topped with Whipped Cream and Hot Fudge.
MORE CHOCOLATE DIPPED DESSERTS:
This is one of the simplest, back to the basics candy recipes ever. Three ingredients you could even grab at most gas stations if needed. Peanuts, chocolate chips, and a sprinkle of salt and you don't even have to get fancy with sea salt. Just use salted peanuts instead. You can also use other salts like Pink Himalayan or smoked salt. I don't recommend using table salt though, it's too fine and won't stand out.
Can you make Slow Cooker Peanut Clusters?
To make Crockpot Peanut Clusters, you'll want to replace half of your chocolate chips with almond bark. I recommend vanilla almond bark. Melt chocolate by cooking on low setting, stirring occasionally, for 2-3 hours. Fully mix in peanuts and scoop onto parchment lined baking sheet. Cool for at least 30 minutes.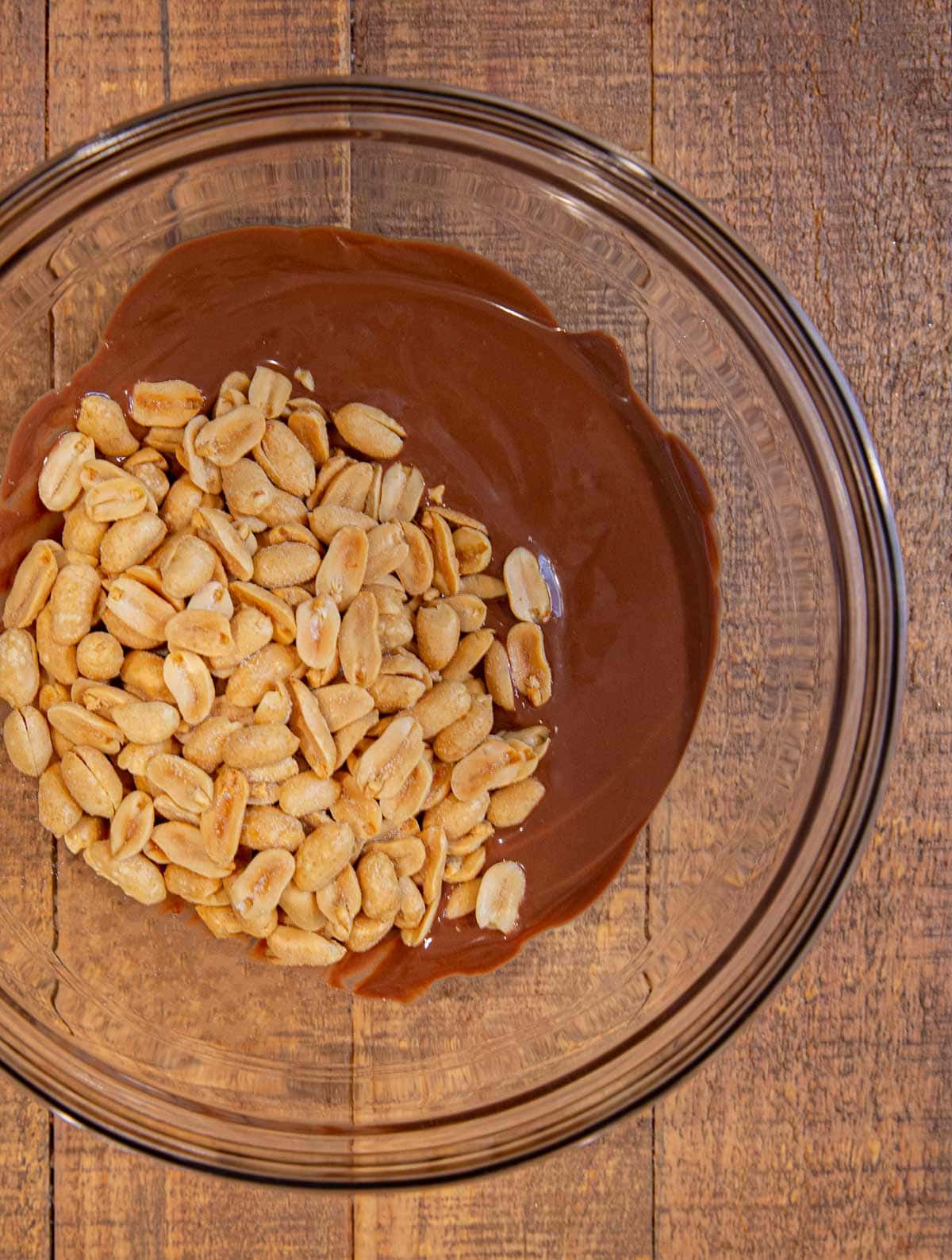 Create a free account to

Save Recipes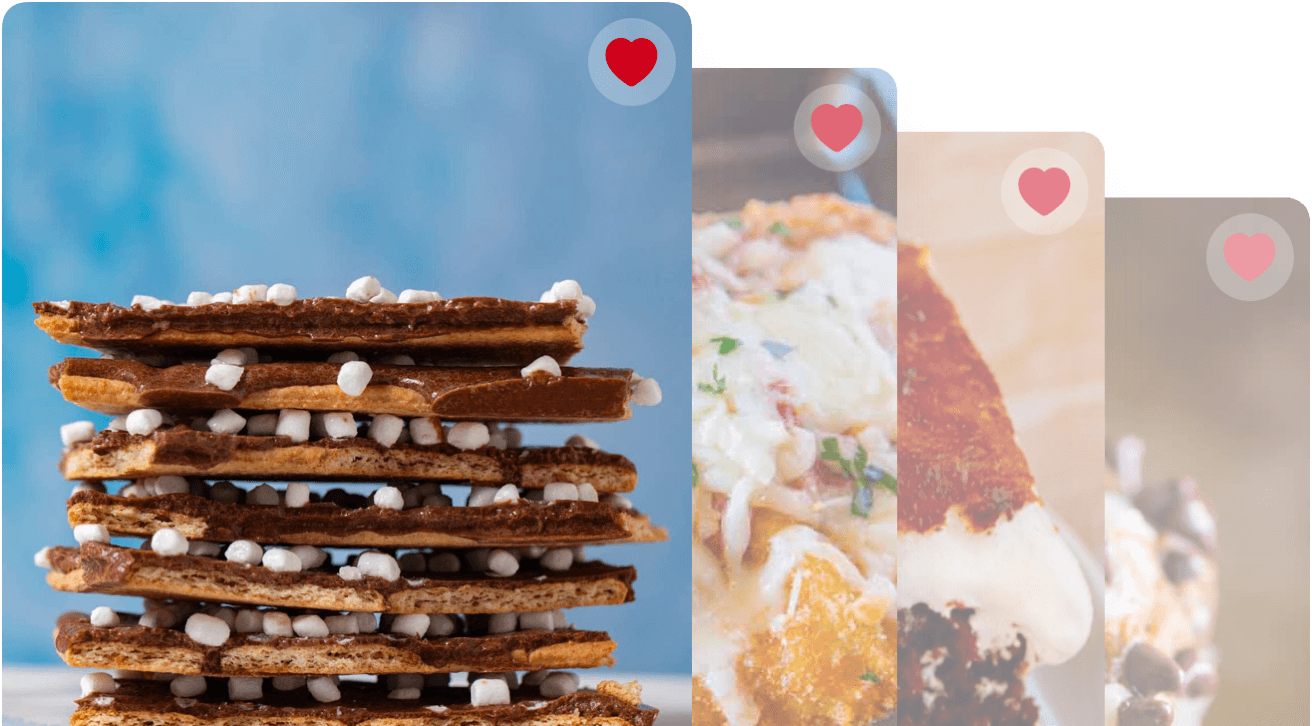 VARIATIONS ON PEANUT CLUSTERS
Chocolate: Mix up the chocolate that you are using by substituting white chocolate chips, dark chocolate chips, or milk chocolate chips. You can also use melting chocolate wafers or candy bars with a chocolate content.
Mix Ins: Just like cookies, you can mix in so many baking ingredients in to Peanut Clusters like butterscotch chips, roughly chopped pretzels, M&Ms, or chopped Marshmallows.
Peanut Butter: Make these even more peanut buttery by adding ½ cup cream peanut butter to your melted chocolate. Then stir in Peanut butter chips or chopped peanut butter cups with the peanuts.
Fruit: Go for an easy, trail mix inspired treat by mixing in dried cranberries and granola bites. Use hard granola so it doesn't get soggy.
Caramel: Stir in finely diced bits of Salted Caramels in with the peanuts, then drizzle melted Caramels over the Peanut Clusters after they have hardened.
Nuts: Substitute half of the peanuts with other favorites like walnuts, almonds, or cashews. Try smoked peanuts or spicy peanuts for a different kind flavor.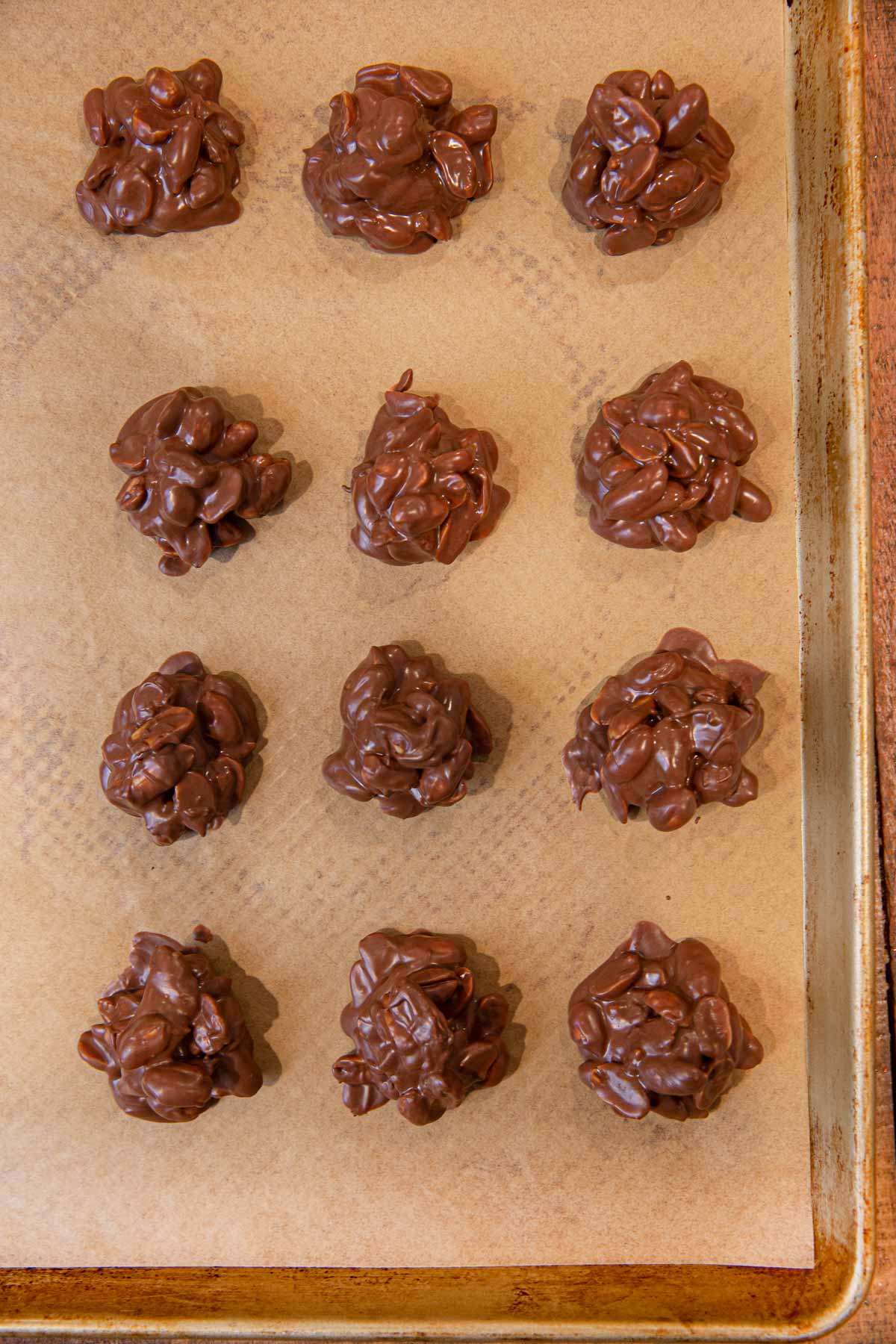 FAQs About Chocolate Peanut Clusters
Why does my chocolate turn white? Chocolate will turn white due fat bloom, or the cocoa butter (or other liquid fat) making its way to the surface of the chocolate and crystalizing over time.
Can you freeze Chocolate Covered Peanuts? You can definitely freeze Peanut Clusters, but keep in mind that condensation will collect and they won't be as pretty when thawed. For gifts, I always making them fresh.
What is almond bark? Almond bark is very different than using chocolate chips. It is made of oils, sugars, and flavorings but no cocoa butter or chocolate liquors so it is not chocolate. I usually don't use it unless I'm mixing it equally with chocolate.
MORE TASTY HOLIDAY SNACK RECIPES
HOW TO STORE PEANUT CLUSTERS
Serve: Cool for at least 30 minutes to fully set. Store these snacks in a cool, dry place in an airtight container.
Store: Keep your Peanut Clusters in the refrigerator or at room temperature for up to 2-3 weeks.
Freeze: Chocolate Peanut Clusters will freeze well for up to 4 months in an airtight freezer bag.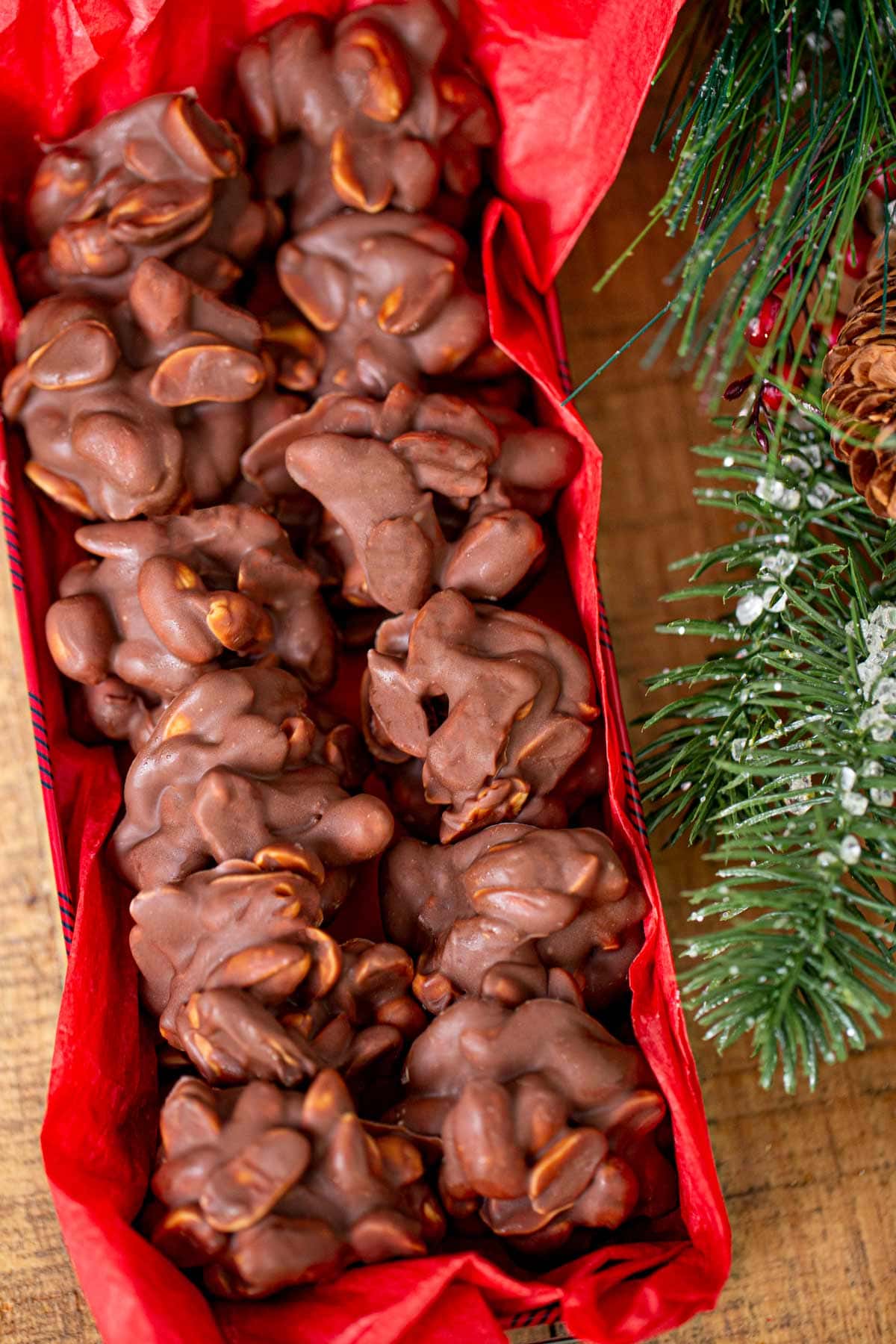 Ingredients
2

cups

semisweet chocolate chips

2 1/2

cup

unsalted peanuts

, shelled

1/4

teaspoon

sea salt
Instructions
Add the chocolate chips to a large glass bowl and microwave in

30 second

increments until smooth, stirring in between each

30 seconds

.

Add in the peanuts and stir to coat.

Line a baking sheet with parchment paper then add small spoonfuls to the baking sheet in mounds.

Sprinkle with sea salt while chocolate is still wet.

Refrigerate until firm.
Nutrition
Calories:
176
kcal
|
Carbohydrates:
11
g
|
Protein:
5
g
|
Fat:
13
g
|
Saturated Fat:
4
g
|
Cholesterol:
1
mg
|
Sodium:
27
mg
|
Potassium:
185
mg
|
Fiber:
2
g
|
Sugar:
6
g
|
Vitamin A:
8
IU
|
Calcium:
18
mg
|
Iron:
1
mg