Salted Caramels made with sugar, cream, butter, and corn syrup are the PERFECT combo of sweet and salty, and incredibly easy to make!
Valentine's Day is rapidly approaching and homemade candies are on the menu including Oreo Balls, Buckeye Balls and Chocolate Truffles.
SALTED CARAMELS
Salted Caramels are the perfect melt-in-your-mouth candy to make at home, made with a mixture of sugar, heavy cream, butter, and corn syrup, flavored with vanilla and topped with kosher salt (or sea salt).
You can make a really big batch of these at one time, making them PERFECT for giving out as gifts, or adding to a dessert tray at a party. All you need is a saucepan and a candy thermometer to get started!
HOW TO STORE SALTED CARAMELS
You can either wrap the caramels in candy wrappers, or store them in an airtight container at room temperature. Add a layer of wax paper between the caramels to prevent them from sticking to each other.
HOW LONG DO SALTED CARAMELS LAST?
Homemade caramels will last for 2-3 weeks on the counter. You can also freeze caramels for 2-3 months when wrapped tightly. Defrost on the counter for at least and hour before serving.
SALTED CARAMELS WITH CONDENSED MILK
You can replace the cream in this recipe with condensed milk. This may add another layer of sweetness and indulgence to the caramels that works really well with the kosher salt (or sea salt).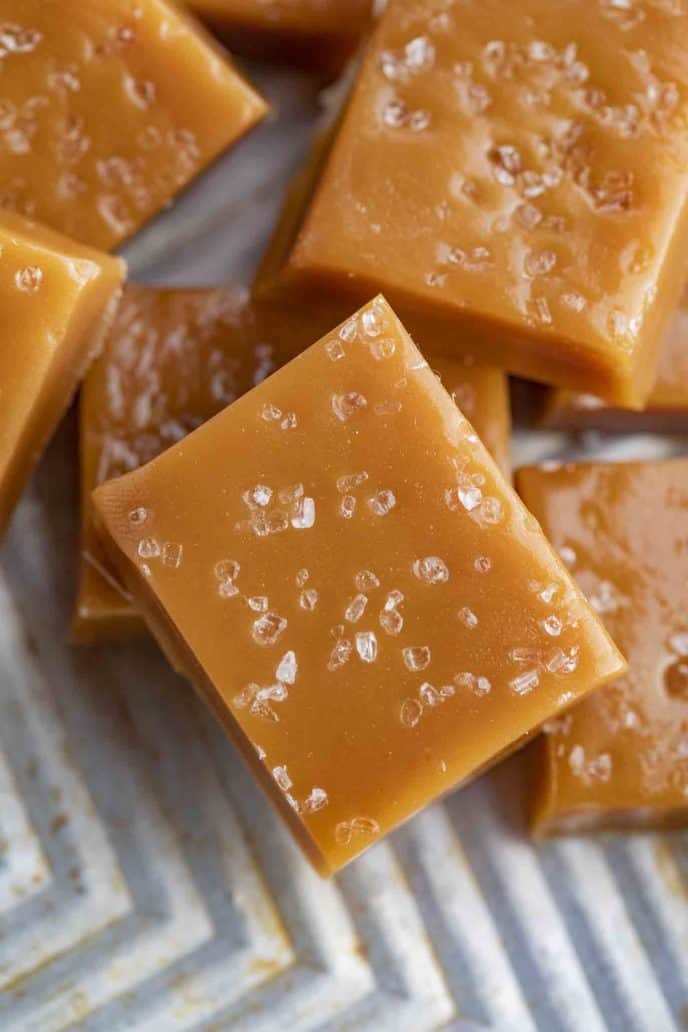 Create a free account to

Save Recipes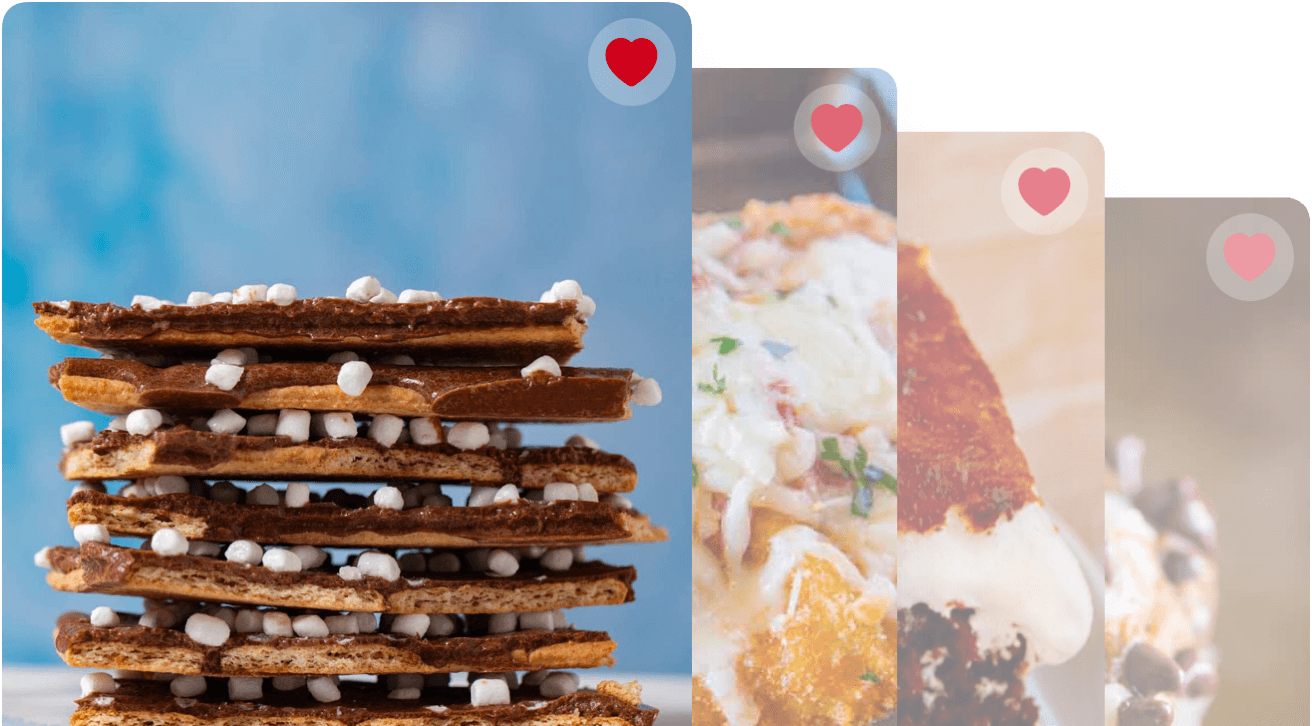 DIP THESE CARAMELS IN CHOCOLATE
After the caramels have hardened and you've cut them into cubes, dip the caramels in melted dark chocolate for a chocolate covered caramel. You can wait to add the salt or sea salt at the end for this method.
Melt the dark chocolate in the microwave at 30 second increments, stirring each time, until smooth.
TIPS FOR MAKING SALTED CARAMELS
This recipe calls for kosher salt, but you can use sea salt or fleur de sel, which is a type of flaky sea salt.
Use a knife dipped into hot water and quickly dried to cut the caramels, the heat will make it easier to cut through the sugar. Or use a pair of kitchen scissors to cut the caramels into cubes.
Wrap these caramels with plastic candy wrappers to give as gifts during the holidays.
Make sure to watch your candy thermometer closely, as the texture of the caramel depends a lot on how to sugar cooks. We're aiming for 245 degrees F, try not to go above this.
We're adding salt to the top of these caramels for both flavor and decoration, so I recommend using unsalted butter. The salted butter would just be too much in this recipe.
Make sure your saucepan is a good quality. How the metal that your saucepan is made out of conducts heat can make the difference between making great caramels and burning your sugar.
Your caramels will be incredibly sticky, so make sure to line your baking pan with parchment paper or wax paper.
If you want an even deeper flavor, replace the granulated sugar with brown sugar in this recipe.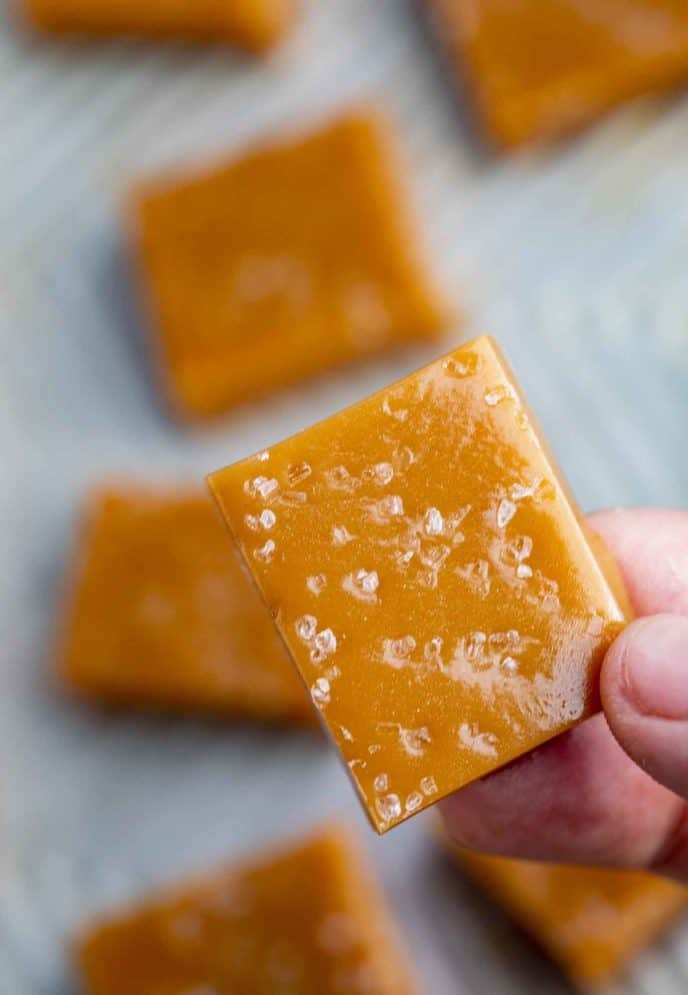 Instructions
Line an 8x8 inch baking pan with parchment paper.

Add the sugar, heavy cream, corn syrup, butter and 1 teaspoon salt to a dutch oven (with a candy thermometer attached) on medium heat, whisking well until it comes to a boil, then lower the heat to medium low, whisking well until it reaches 245 degrees.

Turn off the heat and whisk in the vanilla extract then pour it into the baking pan and sprinkle the remaining salt over the top and let it harden for

4-6 hours

before cutting.
Notes
Note: click on times in the instructions to start a kitchen timer while cooking.
Nutrition
Calories:
71
kcal
|
Carbohydrates:
9
g
|
Fat:
3
g
|
Saturated Fat:
2
g
|
Cholesterol:
12
mg
|
Sodium:
63
mg
|
Potassium:
4
mg
|
Sugar:
9
g
|
Vitamin A:
135
IU
|
Calcium:
5
mg