White Chocolate Fruit and Nut Clusters are an easy dessert perfect for parties or as gifts. Dried fruits, nuts, and chocolate candy ready in 30 minutes.
If you are looking for more Candy Recipes like my Mixed Nut Clusters that are sweet, simple, and look beautiful for holiday parties or as quick gifts, you will love this White Chocolate Bark inspired treat.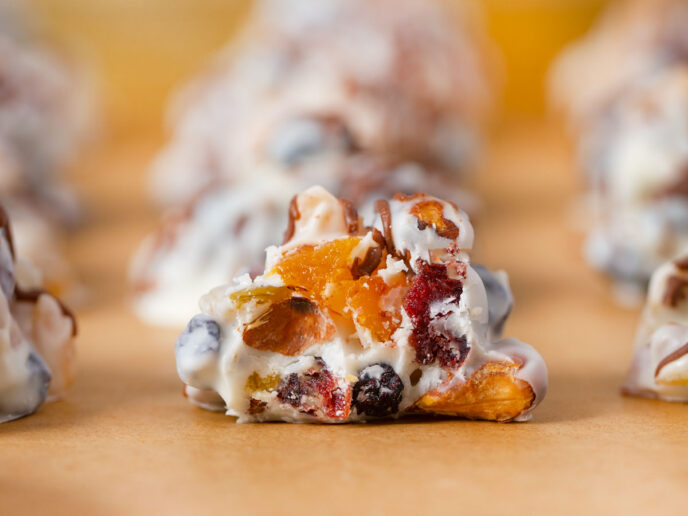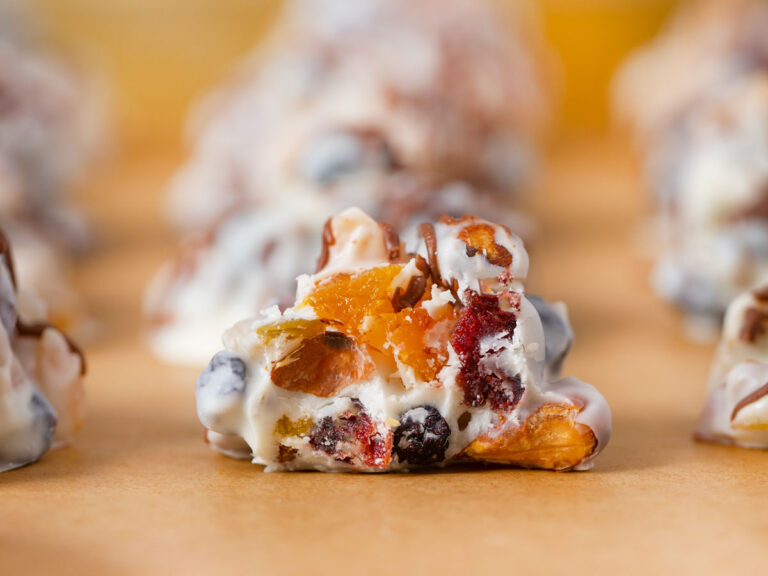 WHITE CHOCOLATE FRUIT AND NUT CLUSTERS
The holiday season is coming to a close and if you are looking for a last minute gift idea or bite-sized dessert for your party, these White Chocolate Clusters are just what you need.
What I love about these clusters is that they turn those leftover baking ingredients, like half bags of dried cranberries, apricot pieces, and almonds into a beautiful dessert or snack that looked planned all along. They are so simple to make and are easily adjusted to what you have on hand.
If you've been baking a lot of fresh pies or fruit tarts, you may have some fresh fruit or berries leftover that would go great in these White Chocolate Fruit clusters. If you don't have a dehydrator, I've included easy instructions on how to dry out your fruit to use in this recipe and store for later.
Unlike a traditional White Chocolate Bark, these sweets were made by shaping them into clusters, so they come out looking as great as they taste. They make perfect party favors stacked up neatly and wrapped with cellophane that's tied off with decorative ribbon.
Make these treats all year round, substituting seasonal dried fruits and different nuts for the occasion. Try adding pastel food coloring for Easter candies and swap out the cranberries for dried cherries. For Fourth of July, use dried blueberries and strawberries with macadamia nuts.
MORE WHITE CHOCOLATE CANDY RECIPES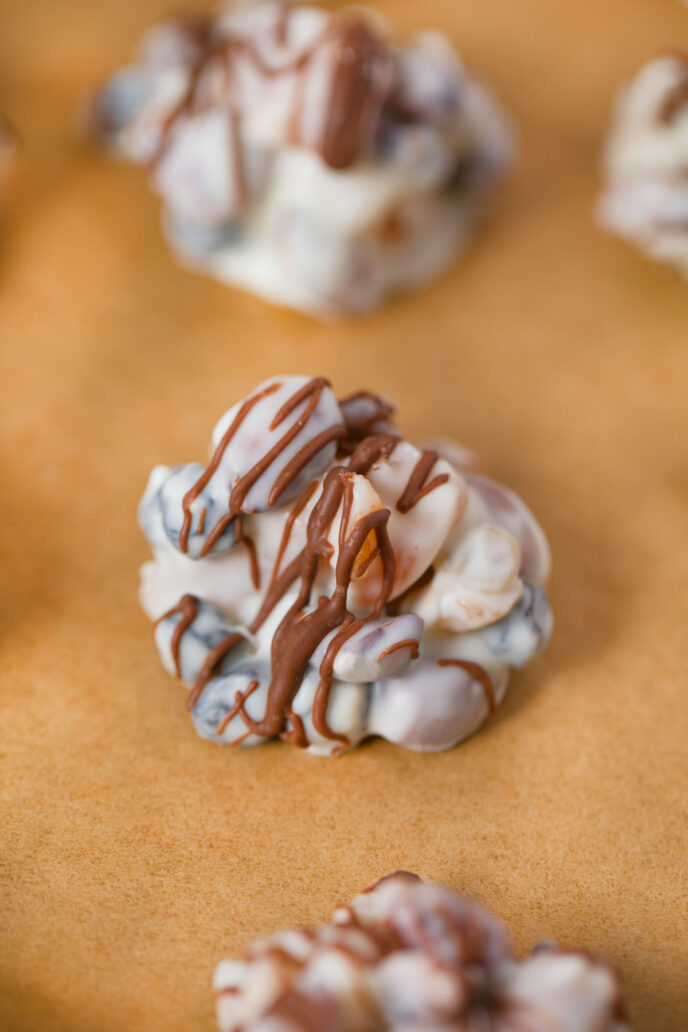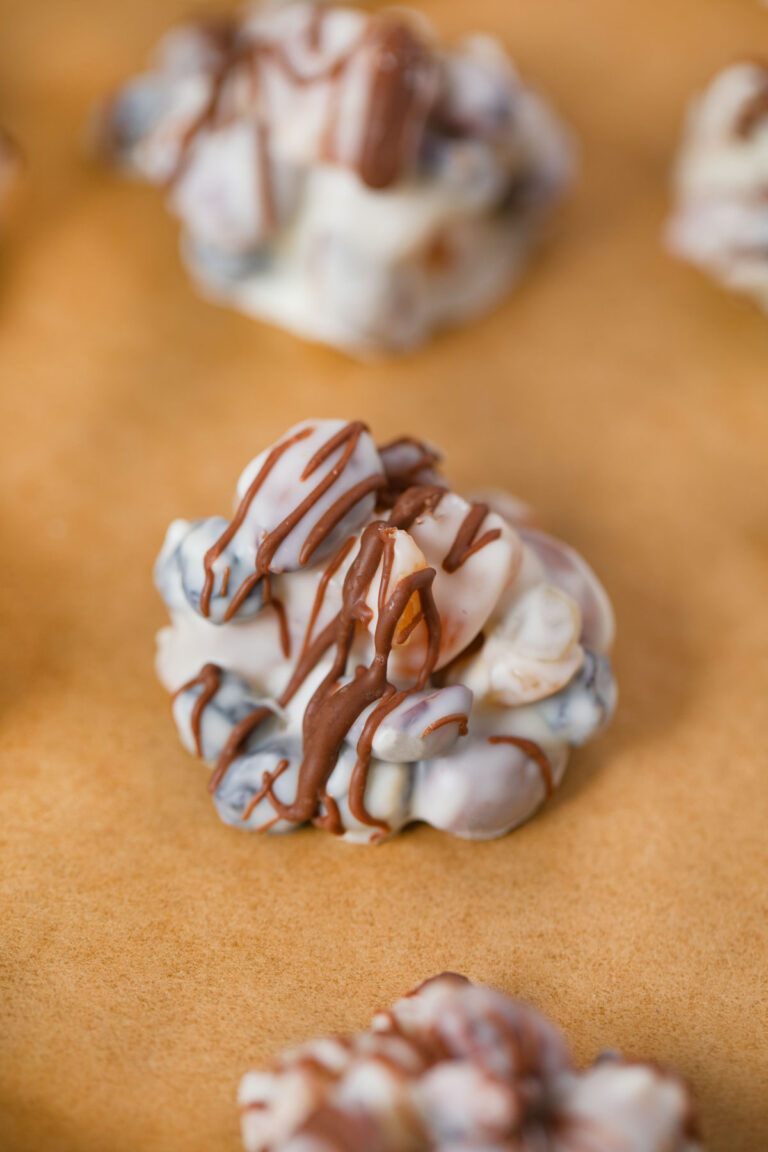 Create a free account to

Save Recipes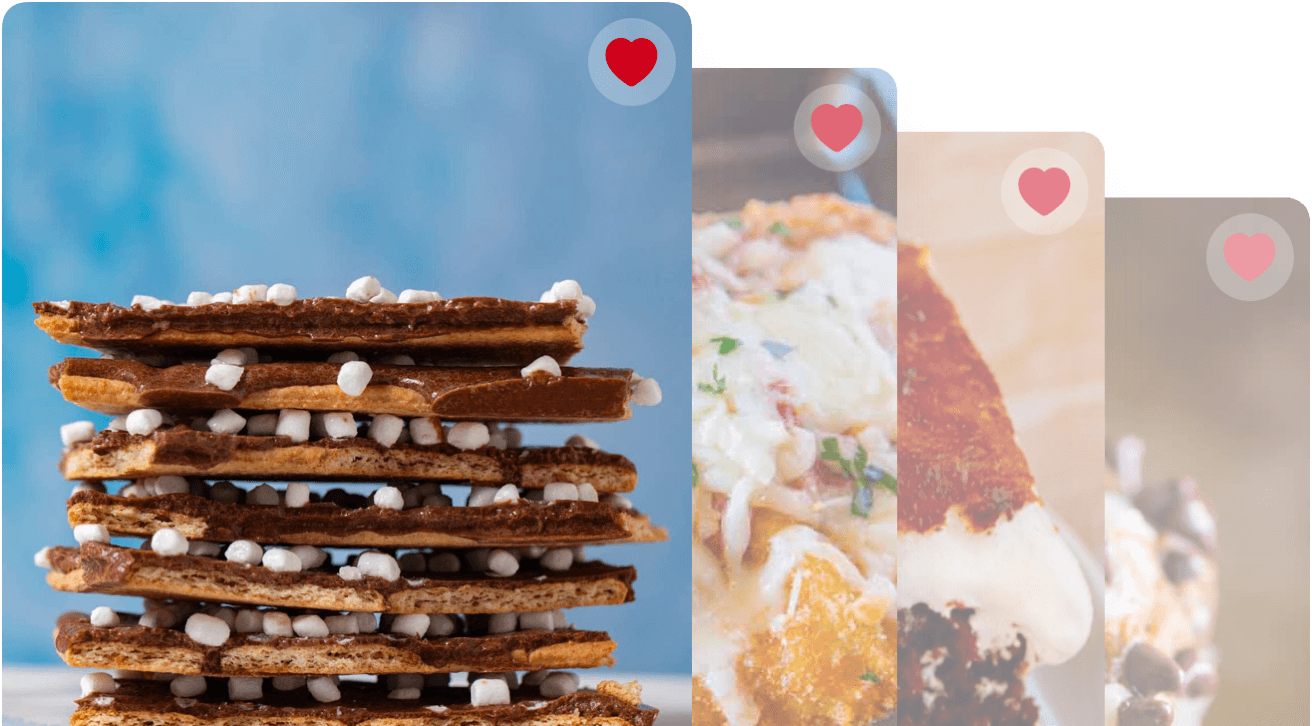 VARIATIONS ON WHITE CHOCOLATE FRUIT AND NUT CLUSTERS
Fruit: Sweet and tangy fruit or berries pair well with creamy white chocolate. Try dried mango or pineapple for a more tropical flavor. If you can find them (or make them), dried raspberries would also taste delicious.
Toasted Nuts: Toasting nuts in the oven before using in candies and bark is a great way to add an extra layer of flavor. Toss them in a spicy seasoning to add zing that balances out the sweetness.
Chocolate: While white chocolate is delicious and rich, these would taste just as good substituting Dark Chocolate. You can also decorate by dipping your clusters halfway into melted chocolate.
Candy Bars: Make these into White Chocolate Fruit and Nut Bars. Make a Graham Cracker Crust and press into an 8×8 pan as one even layer. Bake as usual and allow to cool completely. Assemble your cluster mixture on top and chill for 1 hour. Slice into even bars.
HOW TO DRY FRUIT AND BERRIES IN OVEN
Don't dry berries and fruit in the same pan, as they will take different times to dry out.
Pre-heat oven to 225 degrees.
Halve or quarter the whole fruit you want to dehydrate.
Pat berries down or allow to air dry.
Line a baking pan with parchment paper.
Place fruit cut sides up about 1 inch apart on pan.
Sprinkle 1 tablespoon sugar over fruit. No need to sugar the berries.
Place pan in oven and dry until fruit has shriveled, edges have dried, but is still chewy, about 1 ½ to 4 hours depending on fruit.
Transfer pan to a cooling rack and remove fruit from pan while still warm.
Cool completely before storing so no moisture collects in the bag or container.
Store your dried fruit and berries in freezer for up to 6 weeks in airtight container.
MORE DELICIOUS HOLIDAY CANDY!
HOW TO STORE WHITE CHOCOLATE FRUIT AND NUT CLUSTERS
Serve: White Chocolate Clusters can be kept in a cool, dry place for up to 1 week.
Store: To keep your Clusters fresh longer, store in the refrigerator for about 2 weeks in a sealed container.
Freeze: You can freeze these candies for up to 3 months in an air-tight container.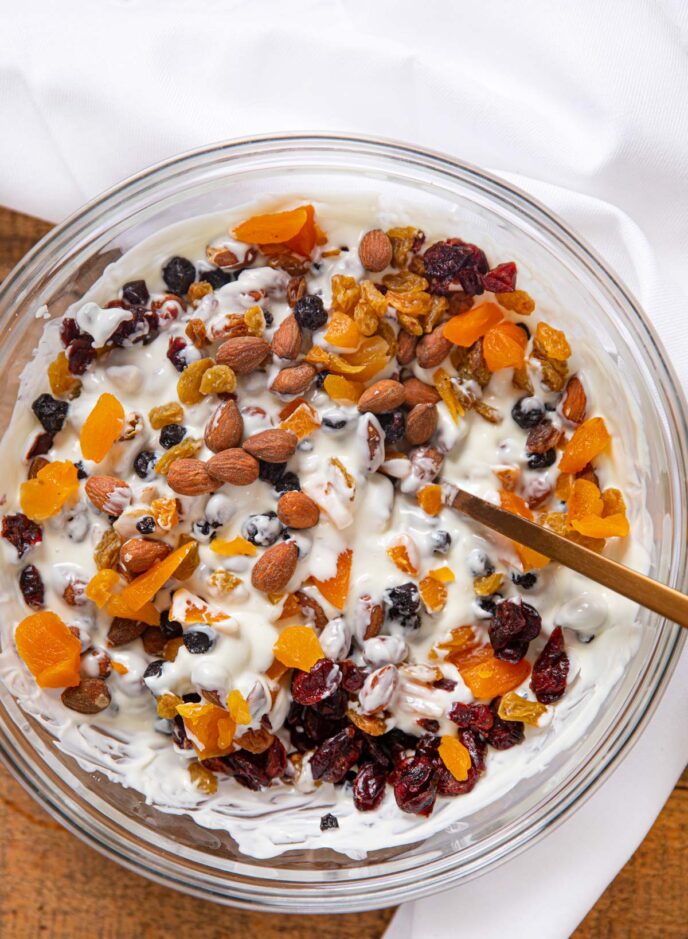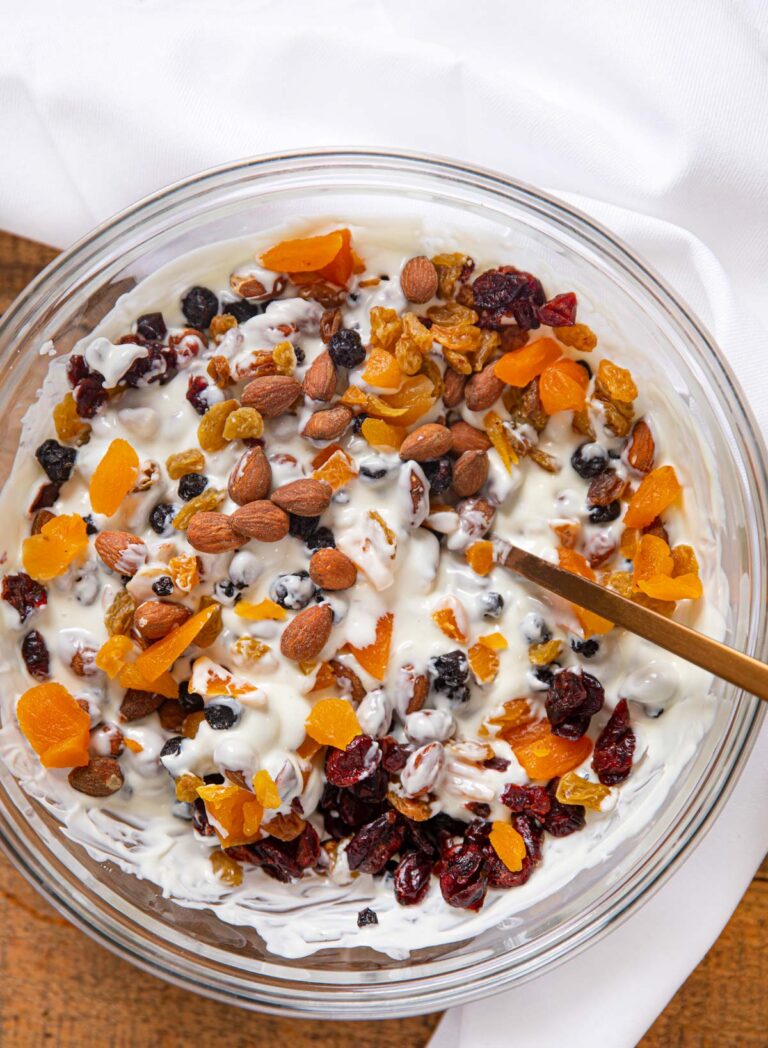 Ingredients
12

ounces

white chocolate melting discs

1/2

cup

almonds

1/2

cup

dried apricots

, coarsely chopped

1/2

cup

dried cranberries

1/2

cup

dried blueberries

1/2

cup

golden raisins

1/2

cup

raisins

2

ounces

semi sweet chocolate chips
Instructions
Line a baking sheet with waxed paper.

Add the white chocolate discs to a large glass bowl and microwave in 30 second increments until smooth, stirring in between each 30 seconds.

Add the almonds and fruits into the chocolate and stir.

Place spoonfuls of the chocolate mixture onto the baking sheet in mounds.

Refrigerate until set,

15 to 20 minutes

.

Melt the semi sweet chocolate chips in a small glass bowl in the microwave in 30 second increments until smooth, stirring in between each 30 seconds.

Drizzle the chocolate over the clusters and refrigerate again to set.
Nutrition
Calories:
181
kcal
|
Carbohydrates:
26
g
|
Protein:
2
g
|
Fat:
9
g
|
Saturated Fat:
4
g
|
Cholesterol:
4
mg
|
Sodium:
18
mg
|
Potassium:
215
mg
|
Fiber:
2
g
|
Sugar:
19
g
|
Vitamin A:
122
IU
|
Vitamin C:
1
mg
|
Calcium:
52
mg
|
Iron:
1
mg