Peppermint Bark is sweet layers of dark and white chocolate topped with crushed peppermint candies and broken into pieces. EASY to make and no baking required!
Who doesn't absolutely love making Holiday Treats? Today, everyone is in the kitchen working away, sipping on Eggnog while baking Award Winning Gingerbread Cookies and making Pretzel Turtles.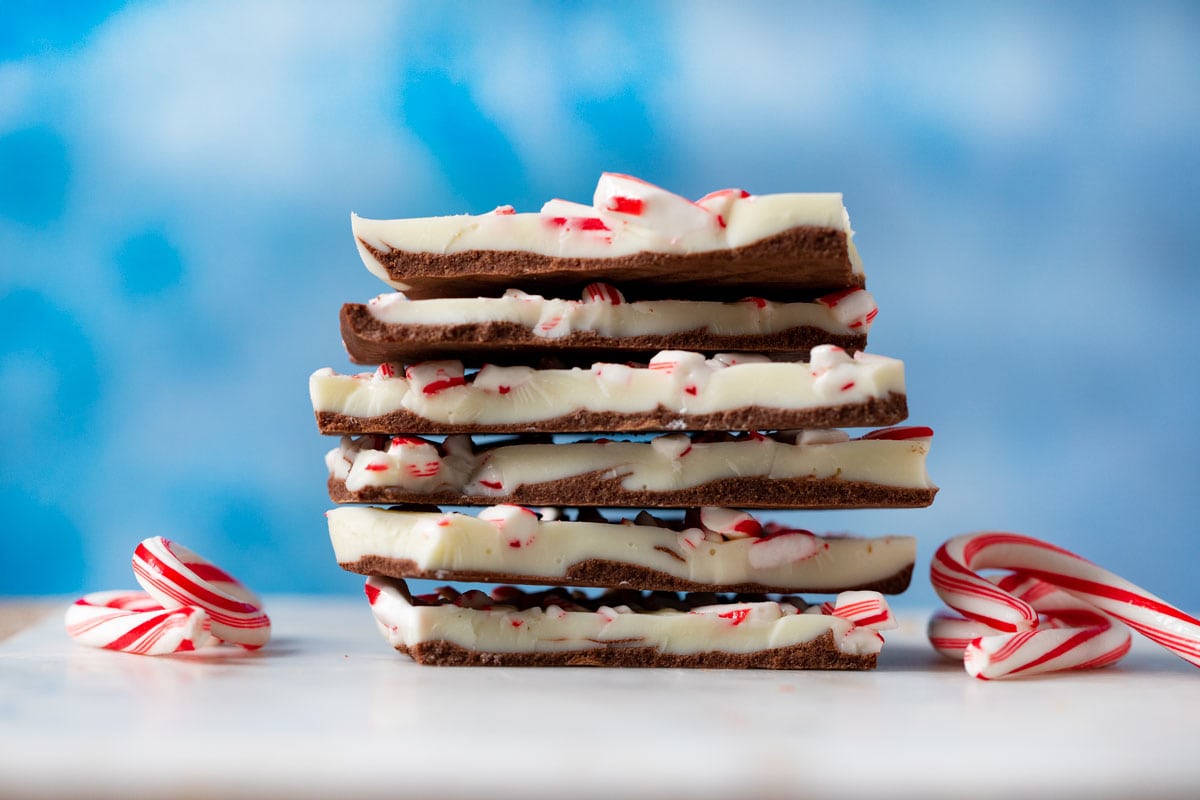 Peppermint Bark is a no-bake recipe that's incredibly easy to make, has a short prep time, and is the perfect project to keep the kids entertained during the holiday season. Layers of chocolate topped with peppermint candy is one of the most popular treats out there. Plus, there's a lot of different flavor combos you can go with too.
For this recipe, the bottom layer is a sweet dark chocolate or milk chocolate, and the top is a peppermint flavored white chocolate. If you have kids they'll love to help sprinkle the candy cane bits on top! You can even make this classic holiday treat any time of the year!
With this recipe you want to use either parchment paper or a nonstick foil-lined baking sheet, like a cookie sheet, to make the chocolate easier to lift off of the pan later. You can even use a thin coating of coconut oil on the bottom to prevent the chocolate from sticking to the pan.
If you have extra melted dark chocolate, drizzle decoratively on top before you refrigerate. You'll make this one of your go-to holiday desserts! If you love this recipe try Peppermint Oreo Balls, too! It's a great way to use up more of that crushed peppermint candy.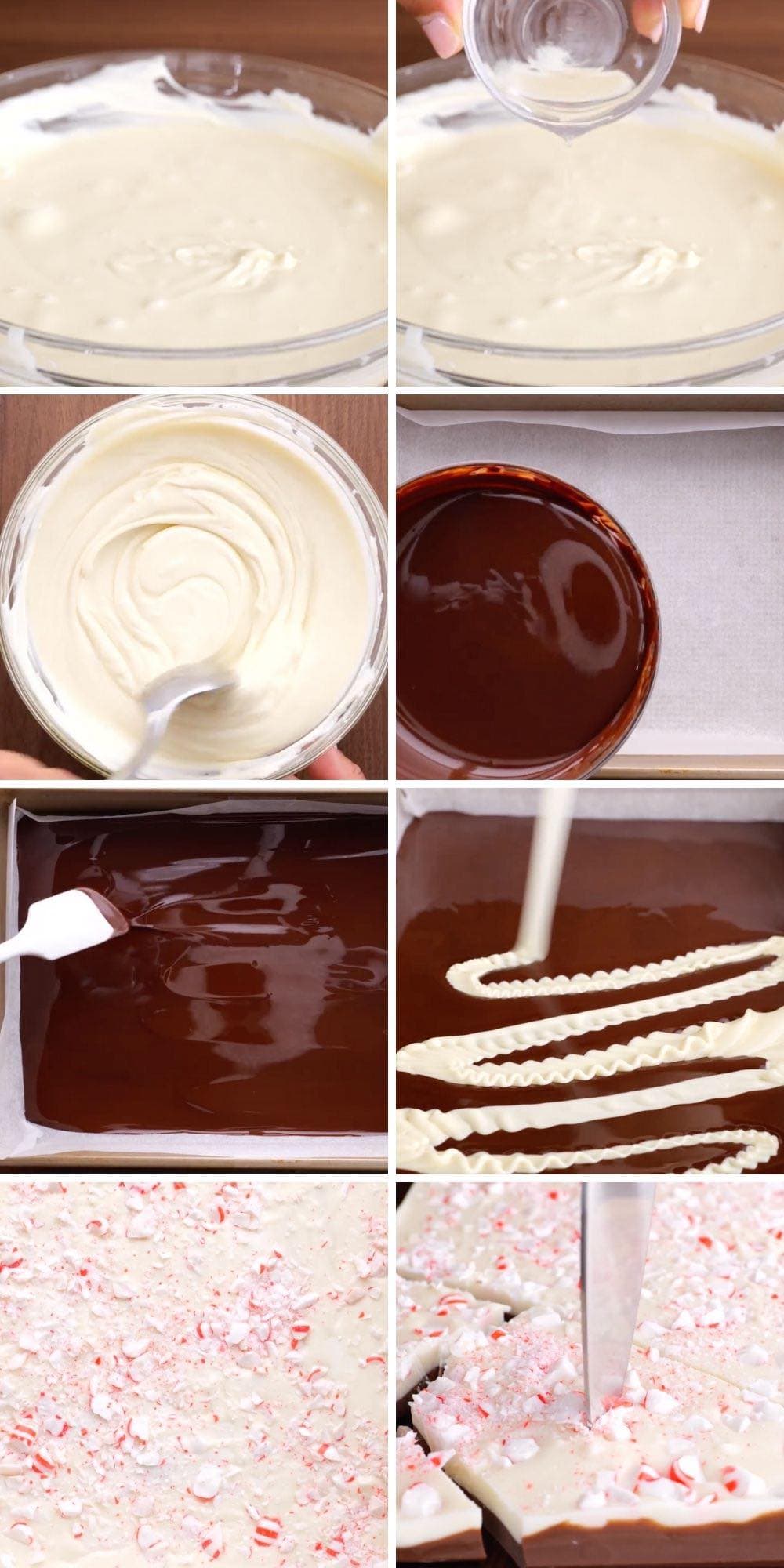 How to Make Peppermint Bark
The process to make Peppermint Bark is so EASY, anyone can do it! Note: repeat steps 1 and 2 twice before moving on to step 3.
Step 1 – Melt: First, melt the dark colored chocolate; then the white chocolate is melted separately in microwave/heatproof bowls. Peppermint extract is mixed into the dark chocolate. Use a microwave-safe bowl to melt the chocolate. If you don't want to use a microwave, you can also melt the chocolate in a double boiler on the stove.
Step 2 – Pour: As soon as the dark chocolate is melted, pour it into the baking sheet with parchment paper. Then, after the white chocolate has melted, pour that on top of the hardening dark chocolate.
Step 3 – Decorate: Finally, top the chocolate with crushed peppermint candy! Layer mini candy canes on top of bark before it sets for a more Christmas decorative look. If you use candy canes, cut each piece around so you have one per square. Be sure to use up all the candy cane dust for the most flavor.
Step 4 – Cut: After the chocolate has completely cooled and hardened, break the bark into pieces. Then it's ready to eat!
More Peppermint Bark Recipes
Frequently Asked Questions
Why is it called Bark?
Peppermint Bark is essentially a very large and thin candy bar. When it is broken up into smaller pieces, they are not uniform in shape and resemble pieces of bark that have fallen off a tree. 
How do you cut Peppermint Bark?
Pull the parchment paper up (use an offset spatula to help) and hold the peppermint bark in your hands. Make sure it's had enough time to harden in the cookie sheet, this step is important! Carefully break into large pieces and place in an airtight container. You can also cut the bark into squares using a sharp knife, being careful not to crack the chocolate into small pieces with too much pressure.
How do you keep Peppermint Bark from separating?
Allow the candy to come to room temperature before before trying to cut or break the bark. This gives the chocolate a chance to settle and come together instead of separating. Make sure not to let the dark layer get too cold before adding the white chocolate layer, this creates too much of a separation between the layers.
Can you change up the layers? 
Sure! Put the melted white chocolate down first, and then the dark chocolate layer with the peppermint candy on top. This would be a fun way to make two batches and have contrasting pieces when served. 
Does Peppermint Bark contain allergens? 
This depends on several factors and whether the chocolate has dairy, which is a common dietary intolerance in the USA. Additionally, it is important to be aware that many people have serious allergies to artificial red food coloring found in most common peppermint candy. So, if you're going to take some to a party, consider using peppermint candy with a natural red color. 
What is the the secret to the best Peppermint Bark ever? 
The secret to the best Peppermint Bark ever is quality chocolate. Use real peppermint candy made with peppermint oil, and chocolate that hasn't been diluted with artificial flavors or fillers like palm oil. This is especially important with the white chocolate. While it costs a bit more, the best Peppermint Bark is made with real food ingredients! Bonus points if the chocolate is fair-trade certified.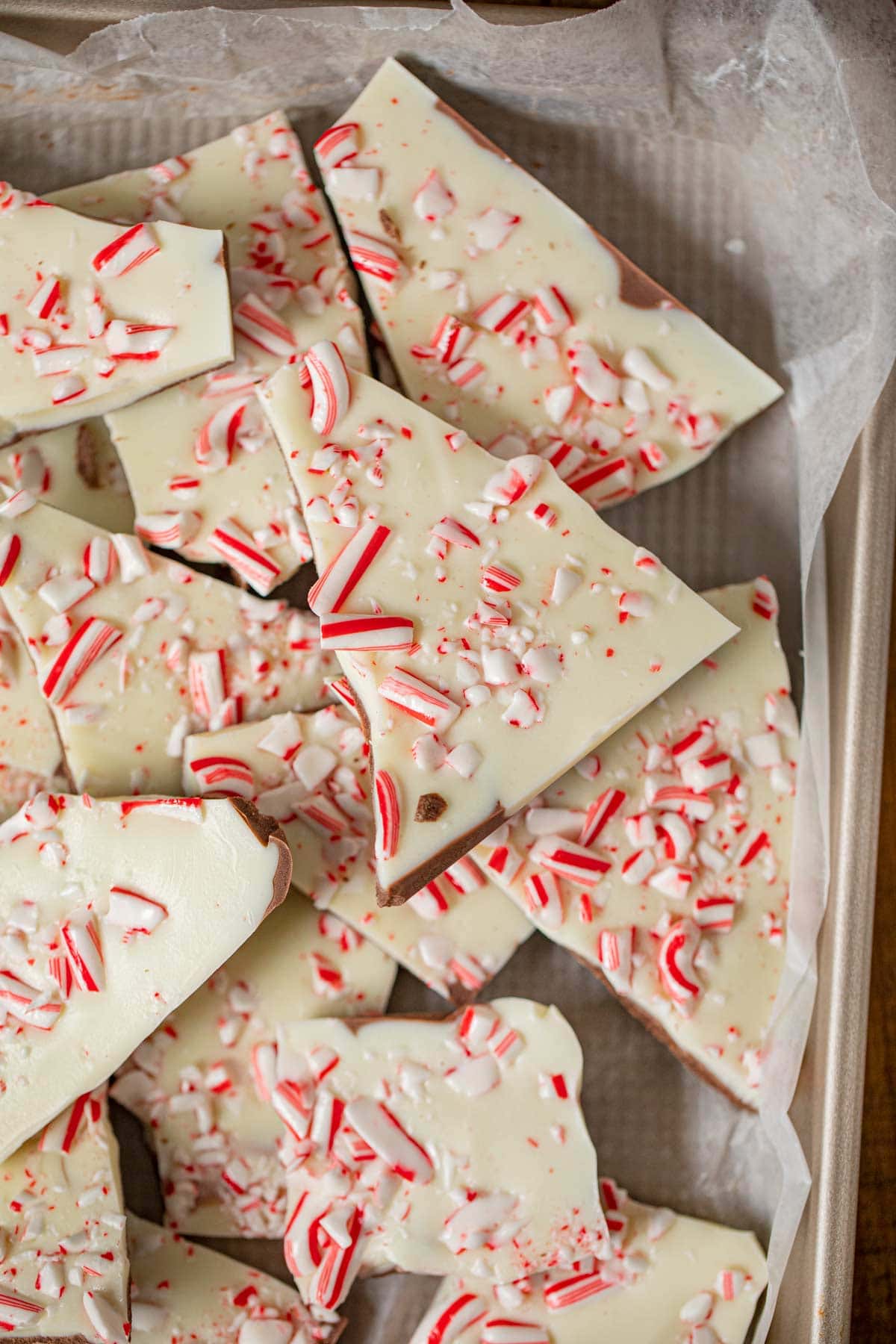 Create a free account to

Save Recipes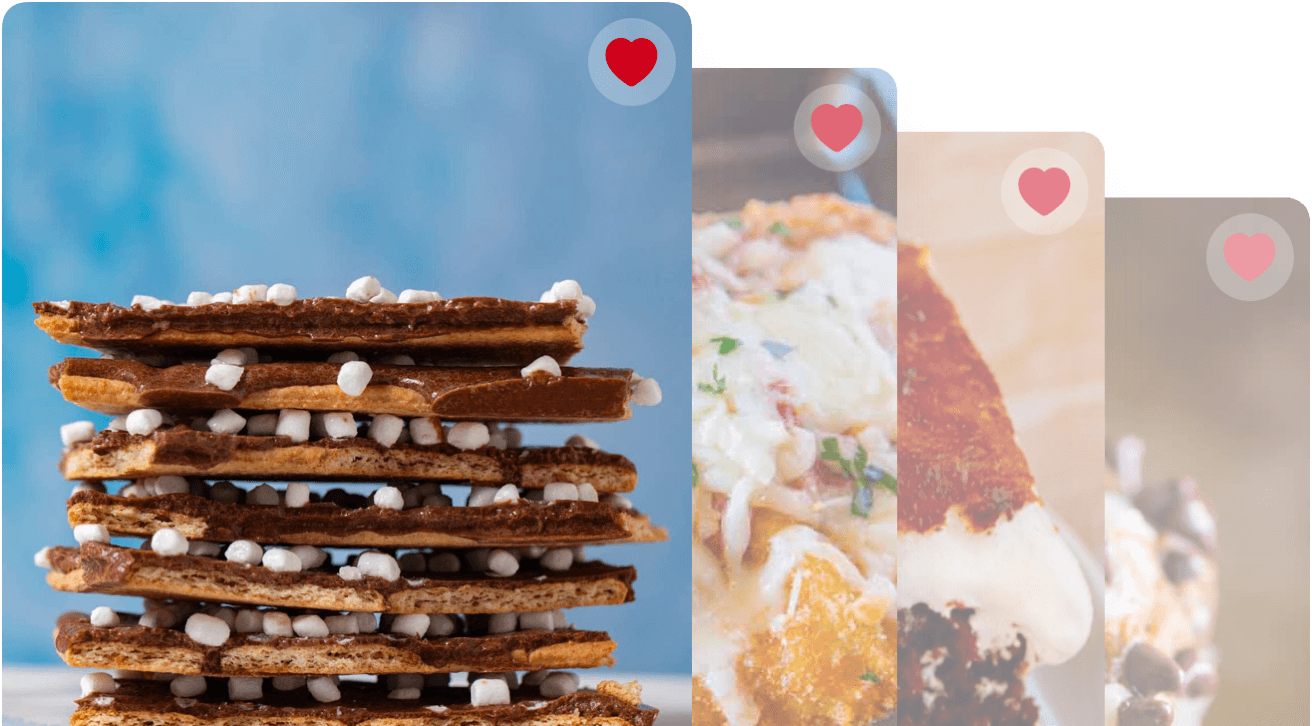 Key Ingredients in Peppermint Bark
Dark Chocolate – The dark chocolate layer gives a deep flavor to this candy from the processed cacao seeds in which the cocoa butter is removed either partly or in full. This recipe uses dark, semi-sweet chocolate, but you can also use milk chocolate. For best results, be sure to find a real chocolate that doesn't have artificial vanillin flavoring.
White Chocolate – White chocolate comes from the cacao seed as well. It is the cocoa butter that is processed out of the cacao seed and gives a rich, buttery flavor. Try to avoid white chocolate cut with palm oil as the flavor and quality won't be as good.
Peppermint Candy – This recipe uses crushed candy cane pieces made with mint flavor, but you can use any of the traditional red and white colored peppermint candies to crush and use here. Some grocery stores even sell pre-crushed peppermint candy.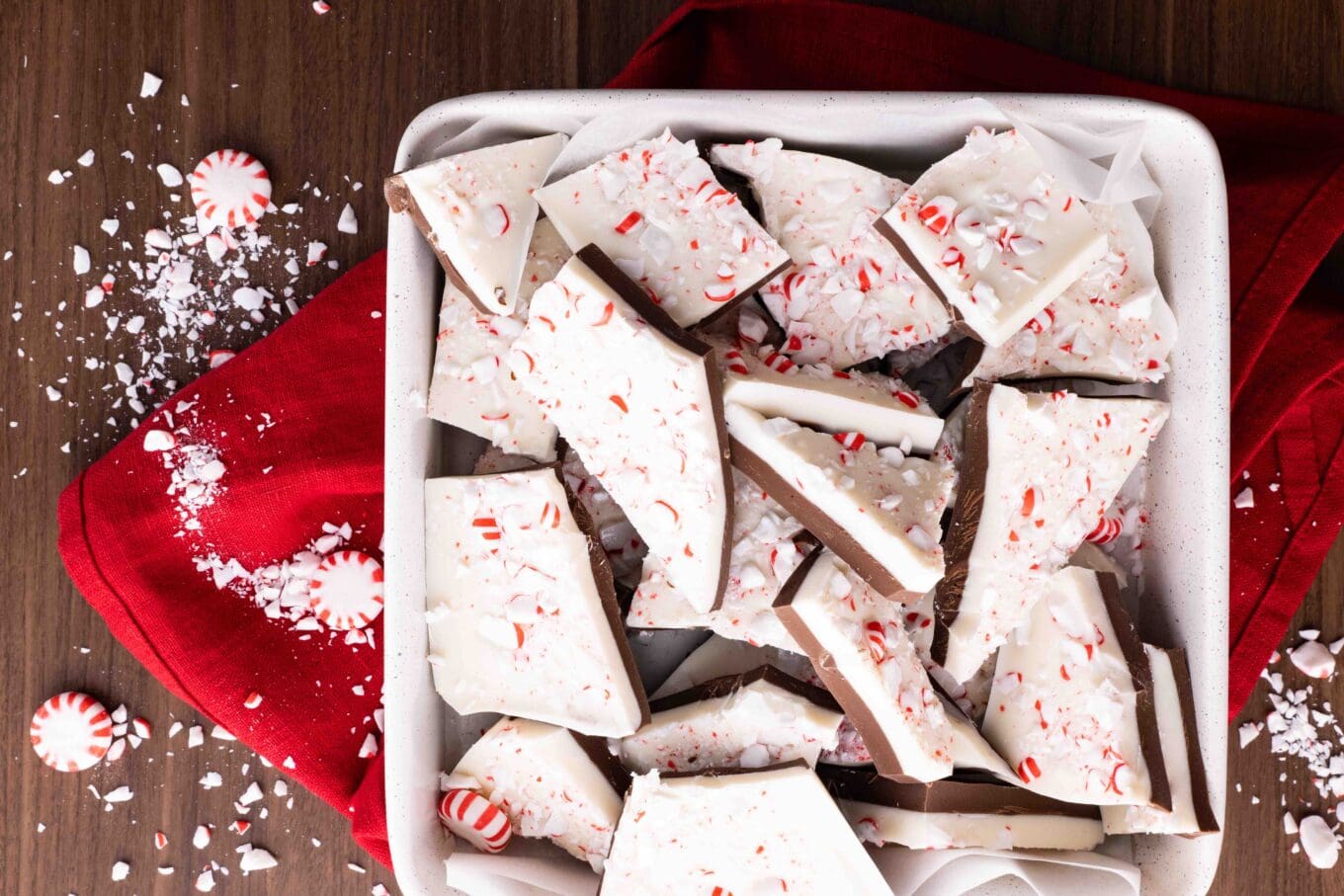 Variations on Peppermint Bark
Key Lime Pie Bark: Leave out the milk chocolate and use all white chocolate with a teaspoon of lime extract, then top with chopped candied lime zest for a key lime pie bark.
S'mores Bark: Leave out the peppermint extract and top with crushed graham crackers to make a fun s'mores bark!
Salted Caramel Chocolate Bark: Leave out the peppermint extract and candy canes entirely and instead drizzle with salted caramel sauce. Then use a rubber spatula to make a swirl pattern for salted caramel chocolate bark.
White Chocolate Peppermint Bark: This Peppermint Bark recipe uses a mix of dark chocolate and white chocolate chips. For an all white chocolate peppermint bark, sub the dark for more white chocolate. Add the same amount of peppermint extract, and crushed peppermint candies or candy canes to add some natural red color to the bark.
How to Store Peppermint Bark
Serve: Peppermint bark will keep in an airtight container on the counter for about 1 ½ – 2 weeks.
Store: If it's really hot, wrap tightly and store the bark in the refrigerator.
Freeze: You can freeze peppermint bark when wrapped tightly and put in an airtight container. Thaw the bark in the refrigerator to avoid condensation on the chocolate.
More Christmas Dessert Recipes


Ingredients
30

peppermint candies

, crushed

1 1/2

pounds

semi-sweet dark chocolate

1 1/2

pounds

white chocolate

3/4

teaspoon

peppermint extract
Instructions
Line a 9×13 baking pan with parchment paper and melt the dark chocolate chips in the microwave in 30 second increments in a glass bowl until fully melted (stirring each time, about

90 seconds

).

Pour the dark chocolate onto the baking pan and spread, then melt the white chocolate chips in the microwave in 30 second increments until fully melted then add in the peppermint extract.

Pour the white chocolate chips over dark chocolate chips carefully and evenly, then top with the crushed candies, pushing them in slightly before cooling the pan in the refrigerator until fully hardened (about

30 minutes

).
Notes
You can use chocolate chips, or melting chocolate to make the melting easier.
Note: click on times in the instructions to start a kitchen timer while cooking.
Nutrition
Calories:
331
kcal
|
Carbohydrates:
38
g
|
Protein:
3
g
|
Fat:
17
g
|
Saturated Fat:
13
g
|
Cholesterol:
6
mg
|
Sodium:
55
mg
|
Potassium:
260
mg
|
Fiber:
1
g
|
Sugar:
30
g
|
Vitamin A:
10
IU
|
Vitamin C:
0.2
mg
|
Calcium:
142
mg
|
Iron:
0.4
mg
Photos used in a previous version of this post.