Peppermint Oreo Balls are crushed Oreo cookies and cream cheese dipped in sweet chocolate then rolled in crushed peppermint candies.
Nothing says the holidays are here like Oreo Balls, and you'll love the peppermint version too! These make the perfect homemade gift along with gift boxes full of Chocolate Covered Pretzels and Chocolate Covered Oreos.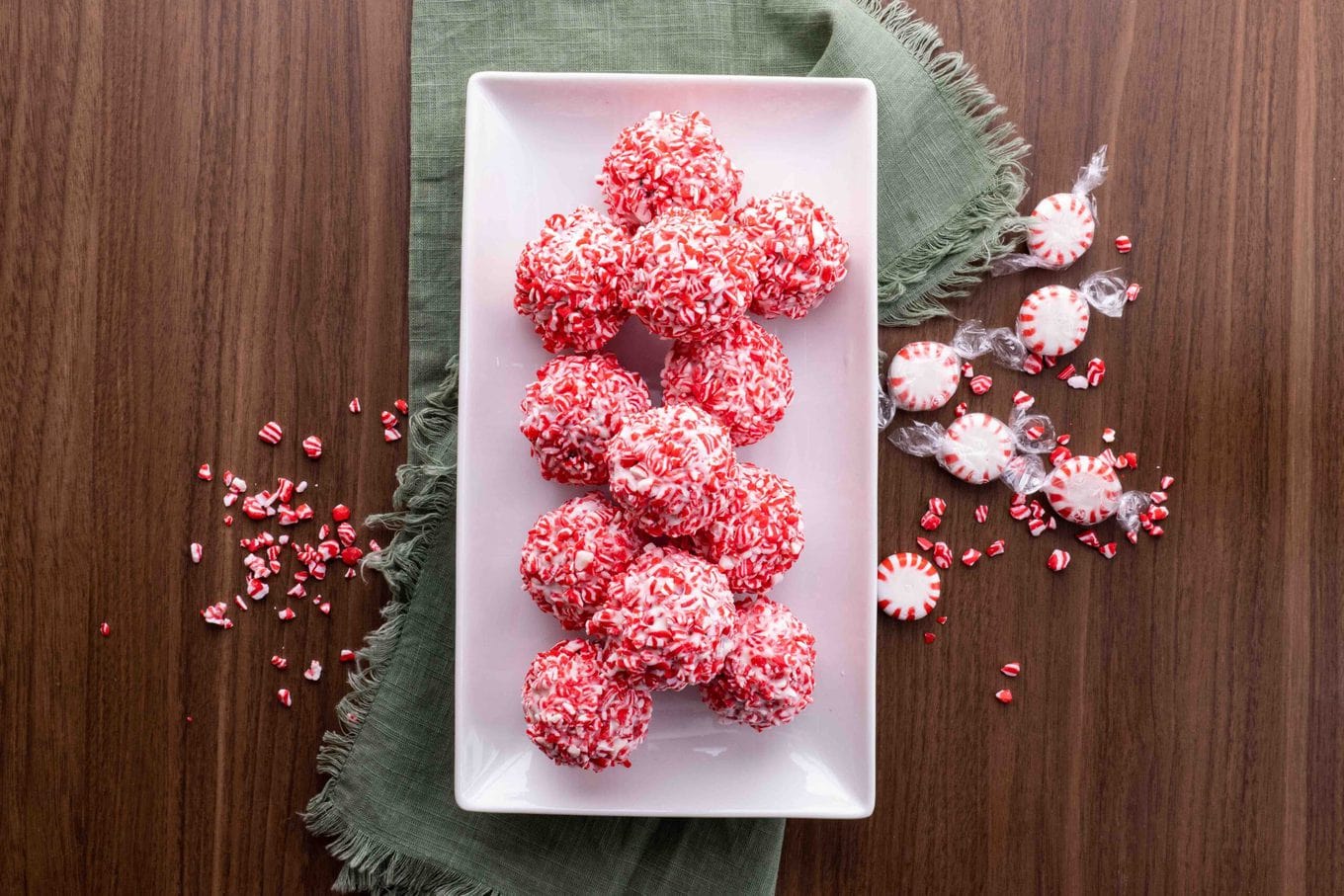 PEPPERMINT OREO BALLS
Peppermint Oreo Balls are an indulgent mixture of crushed Oreo cookies and cream cheese, dipped in melted chocolate and rolled in peppermint candy pieces.
If you love peppermint and cheesecakes, you'll definitely like this version of the recipe. They're sweet, creamy, and have a really nice crunchy texture from the outside layer of candy, plus they're no-bake so they're incredibly easy to throw together.
These are PERFECT for wrapping in plastic with a ribbon and giving as a homemade holiday gift, or as a favor for a holiday party.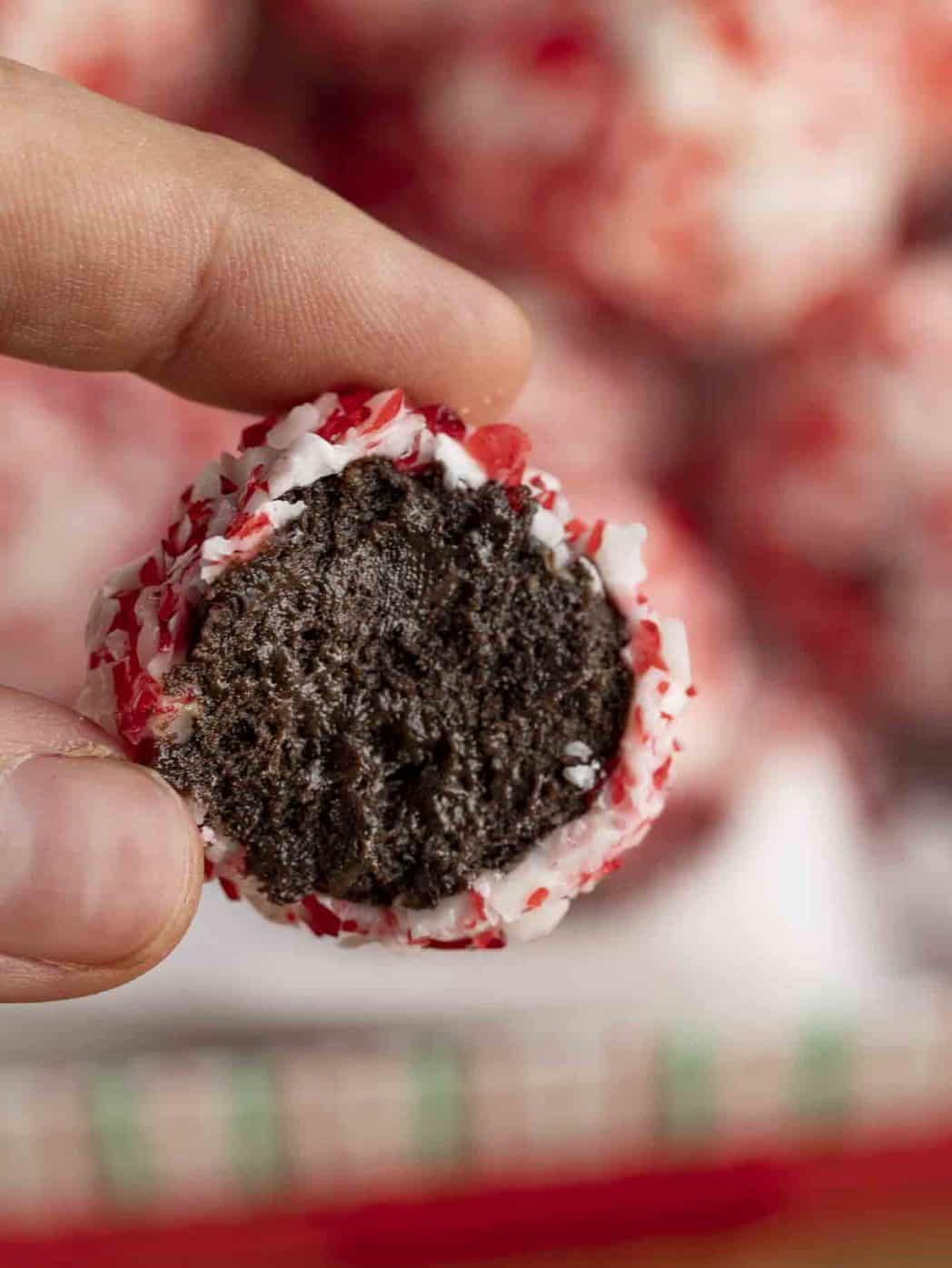 It's a great idea to make a double batch because they're not going to last very long. Plus this recipe is easy to get help with because you don't need perfect chocolate dipping skills, tiny hands can help since you can let them roll it in the crushed peppermint candies!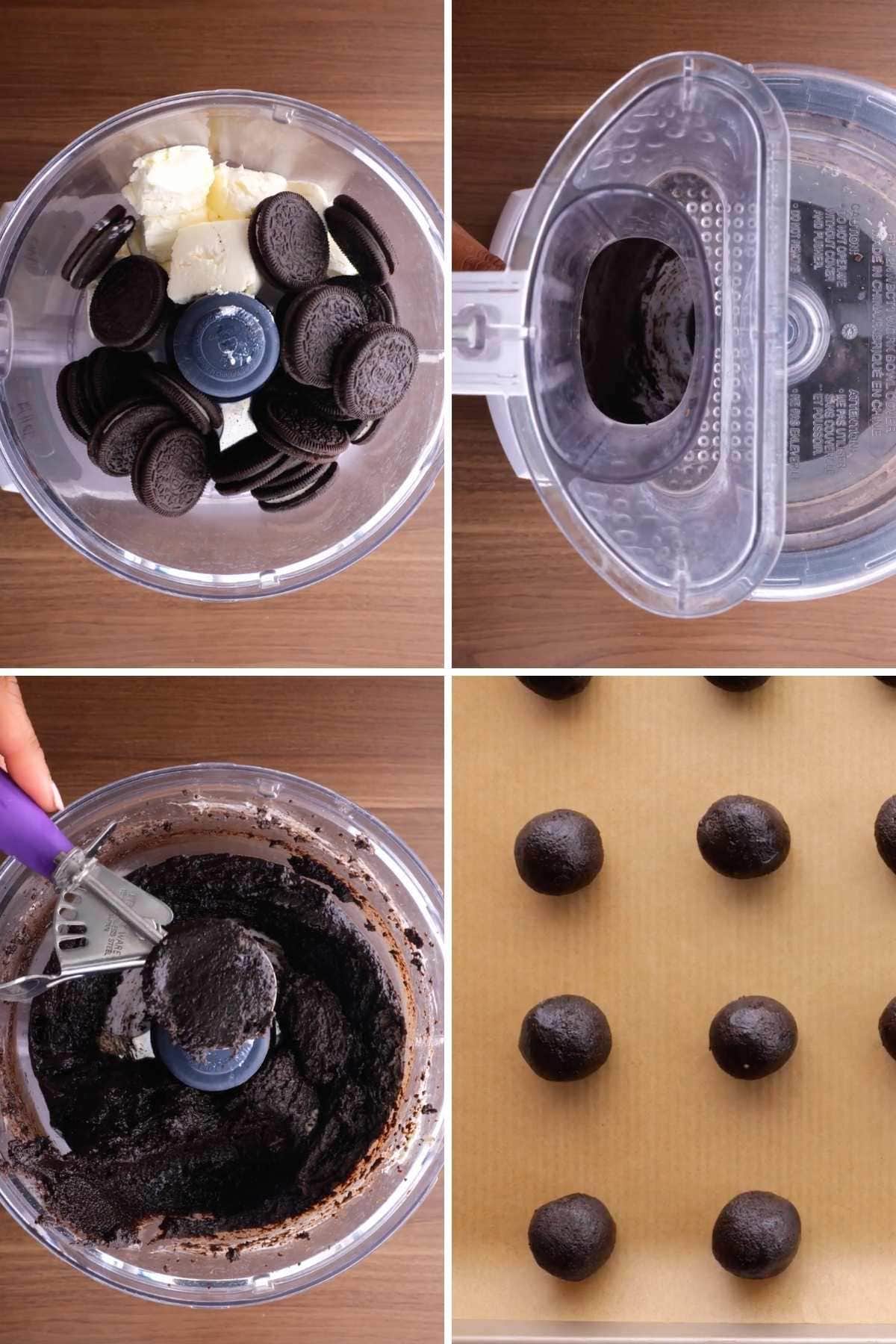 Create a free account to Save Recipes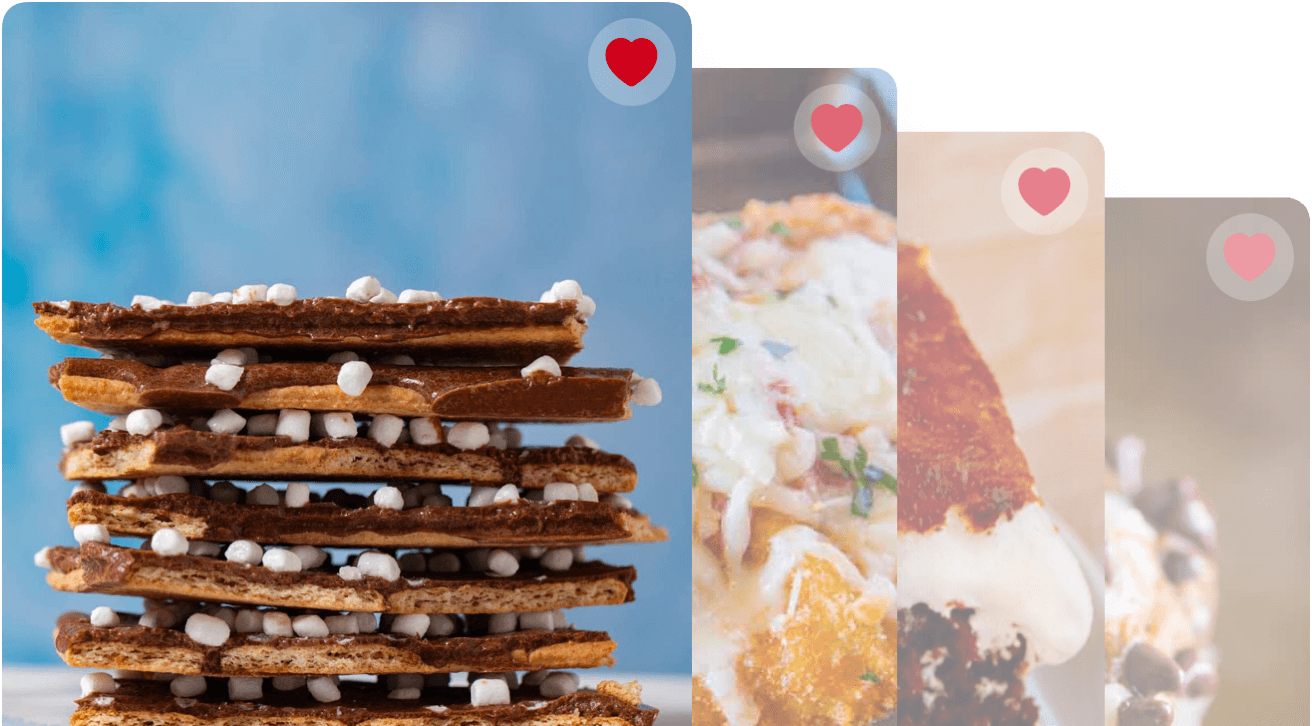 MORE HOLIDAY DESSERTS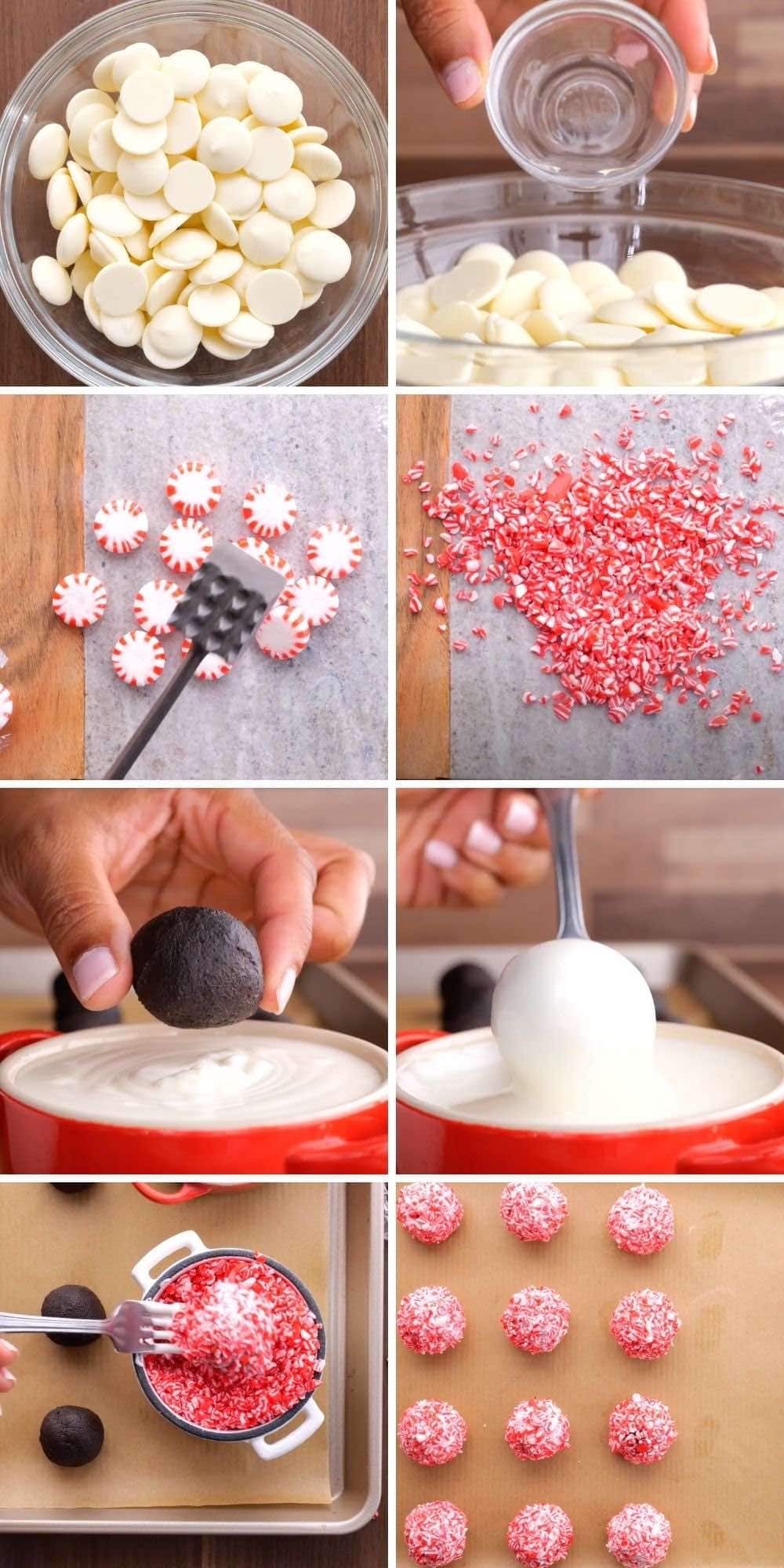 FREQUENTLY ASKED QUESTIONS
What if I'm having trouble with the melting wafers?
If your chocolate is too thick or not thinning out enough, add a few drops of coconut oil until it reaches the consistency you're looking for. You can also try using almond bark instead, which is a smoother white chocolate with a richer flavor than regular melting wafers.
How can I make these even more festive?
Add red sprinkles to the crushed peppermint candies for more pops of festive red color!
Do I need to freeze the Oreo balls before dipping?
Make sure you freeze your Oreo balls before dipping them in the chocolate. This is the trick to getting them to hold their shape.
Can I use other chocolates for this recipe?
This recipe uses white chocolate, but you can swap that if preferred. We use it because it doesn't make the peppermint candy look dirty but if you dislike the flavor of white chocolate feel free to swap as you'd like.
How do I crush the peppermint candies for this recipe?
You can crush the peppermint candies with a food processor, or by placing them in a sealable plastic bag and crushing with a rolling pin.
How do I make these Oreo balls look even?
An ice cream scoop can help make sure your Oreo balls are all about the same size.
What else can you roll Peppermint Oreo Balls in?
You can roll them in chopped pecans, peanuts, or almonds, red and green colored sugar or sprinkles, crushed Oreo cookies, mini chocolate chips, or shaved chocolate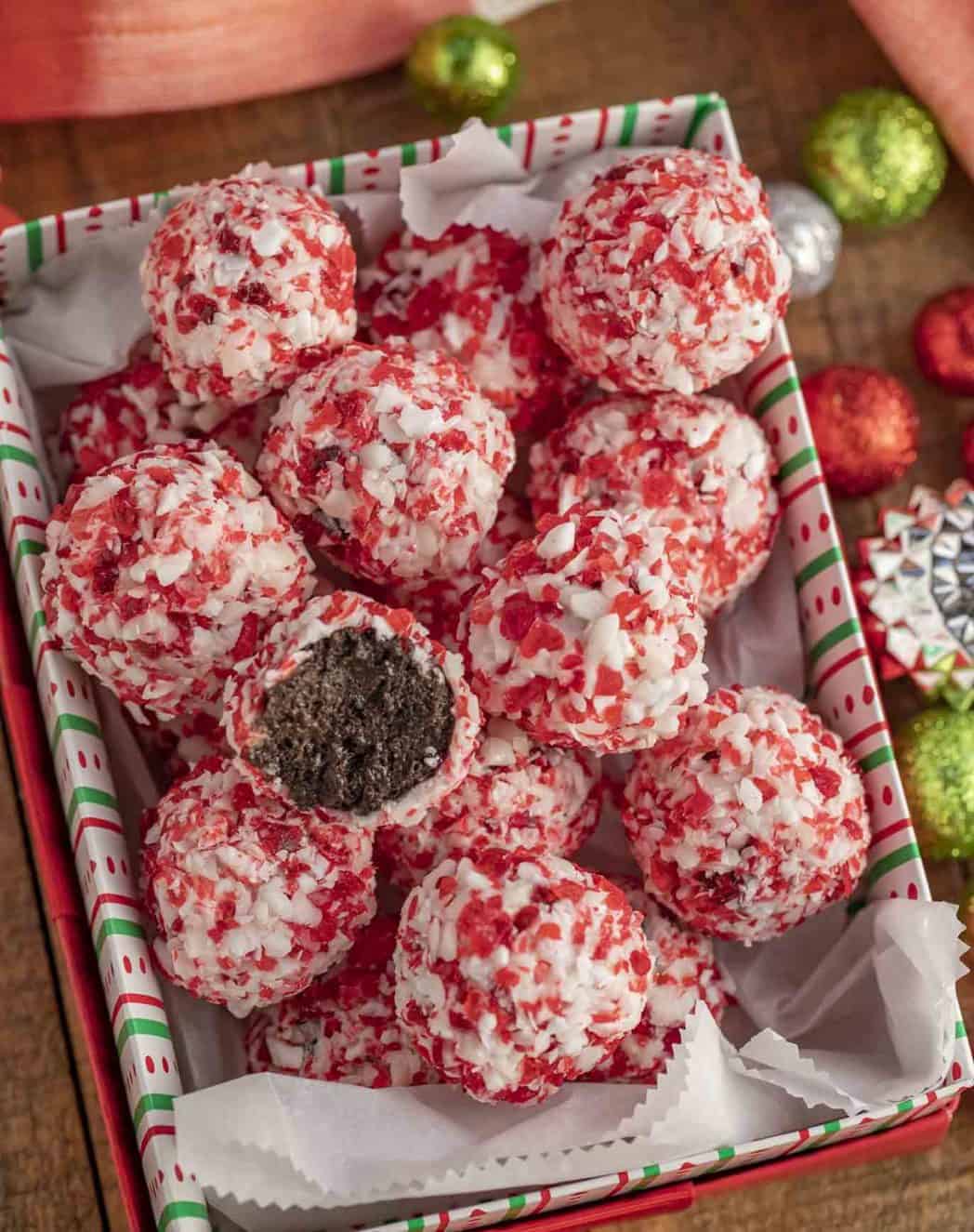 HOW TO STORE PEPPERMINT OREO BALLS
Serve: Don't leave Peppermint Oreo Balls at room temperature for longer than 2 hours. Unlike other truffles that use a ganache, these use a dairy-based cream cheese in the center, so for food safety they have to be kept cold.
Store: Peppermint Oreo Balls can be kept in the refrigerator for up to 3-4 weeks in an airtight container.
Freeze: You can also freeze peppermint Oreo balls for 3-4 months if you want to make them ahead of time. When you're ready to store the balls, put a piece of parchment paper between each layer of Oreos, to prevent them from sticking to each other. This is especially important if you freeze them, or you might end up with a big chocolate block of Oreo balls. Let them defrost in the refrigerator before serving. If you freeze them ahead of time, put them in the refrigerator the night before to make sure they're not still frozen in the center when you serve them.


Instructions
Place the cream cheese and Oreos in a food processor and process until combined. Scoop out small parts of the mixture and roll into 48 1 inch balls. Place the balls on a cookie sheet lined with parchment paper. Freeze for

20 minutes

, or until hardened.

Melt the semisweet chocolate with peppermint extract in the microwave at 30 second increments, stirring between each one.

Once melted, dip each ball in it with a fork, scraping the bottom. Roll in peppermint candies and put the ball on the parchment paper.
Notes
Note: click on times in the instructions to start a kitchen timer while cooking.
Nutrition
Calories:
172
kcal
|
Carbohydrates:
22
g
|
Protein:
1
g
|
Fat:
8
g
|
Saturated Fat:
4
g
|
Cholesterol:
9
mg
|
Sodium:
86
mg
|
Potassium:
70
mg
|
Sugar:
17
g
|
Vitamin A:
90
IU
|
Vitamin C:
0.1
mg
|
Calcium:
34
mg
|
Iron:
1.1
mg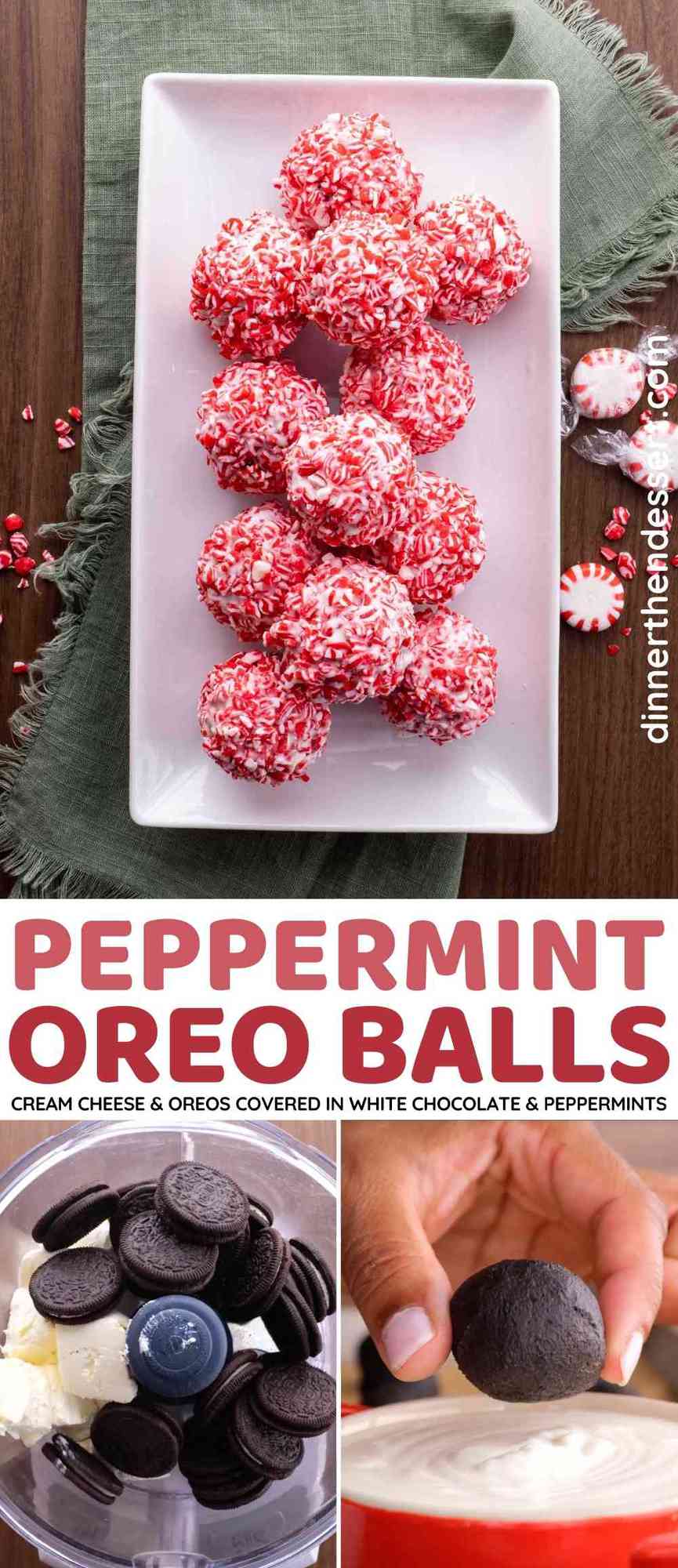 Photos used in a previous version of this post.