Pretzel Turtles are a sweet and salty caramel treat that's incredibly EASY to make in just a few minutes with only 3 ingredients!
We love all things Christmas in December, and this week we are making our favorite recipes like these Award Winning Gingerbread Cookies and Slow Cooker Chocolate Peanut Candy.
PRETZEL TURTLES
Pretzel Turtles are the PERFECT quick and easy treat made with pretzels, Rolo chocolate caramels, and pecans. They're crunchy, salty, sweet, and loaded with chocolate and caramel flavor. These are a lot like your traditional turtle candy, but with a twist!
I make these for almost any holiday party we throw and put them in little goodie bags because they're super simple to make, and always get rave reviews. Technically you're supposed to wait for the chocolate to harden again once it cools off before serving, but I won't fault you if you eat one while it's gooey and warm. They're also really kid-friendly, they'll have a blast adding the candies on top of the pretzels!
HOW LONG DO YOU BAKE PRETZELS WITH ROLOS?
Pretzel turtles only have to be baked long enough to melt the chocolate, so 2-3 minutes should be good. If your candy isn't melting quickly enough, add another minute or two. Also remember that you're going to press the melted chocolate down with a pecan, so don't worry if it's not completely flattened.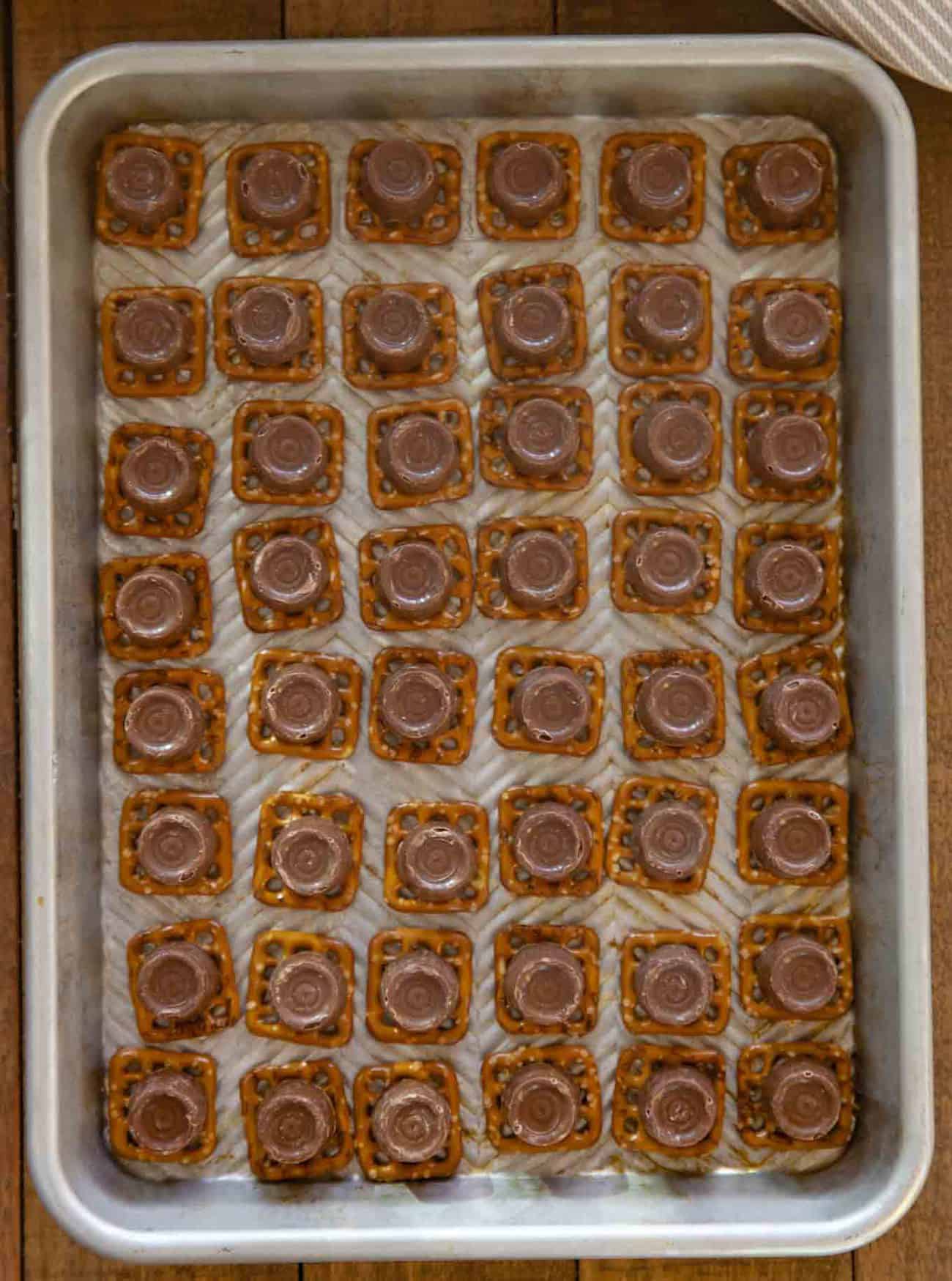 You can see how easy it is to make a huge quantity of these desserts. Plus with a bag of pretzels, a couple of bags of rolo and a pound of pecan halves you can make a couple hundred of these bites and give them out to your neighbors, to your kid's teachers, to friends and family and more.
I love topping mine with some sea salt too, but to keep these traditional I skipped that here.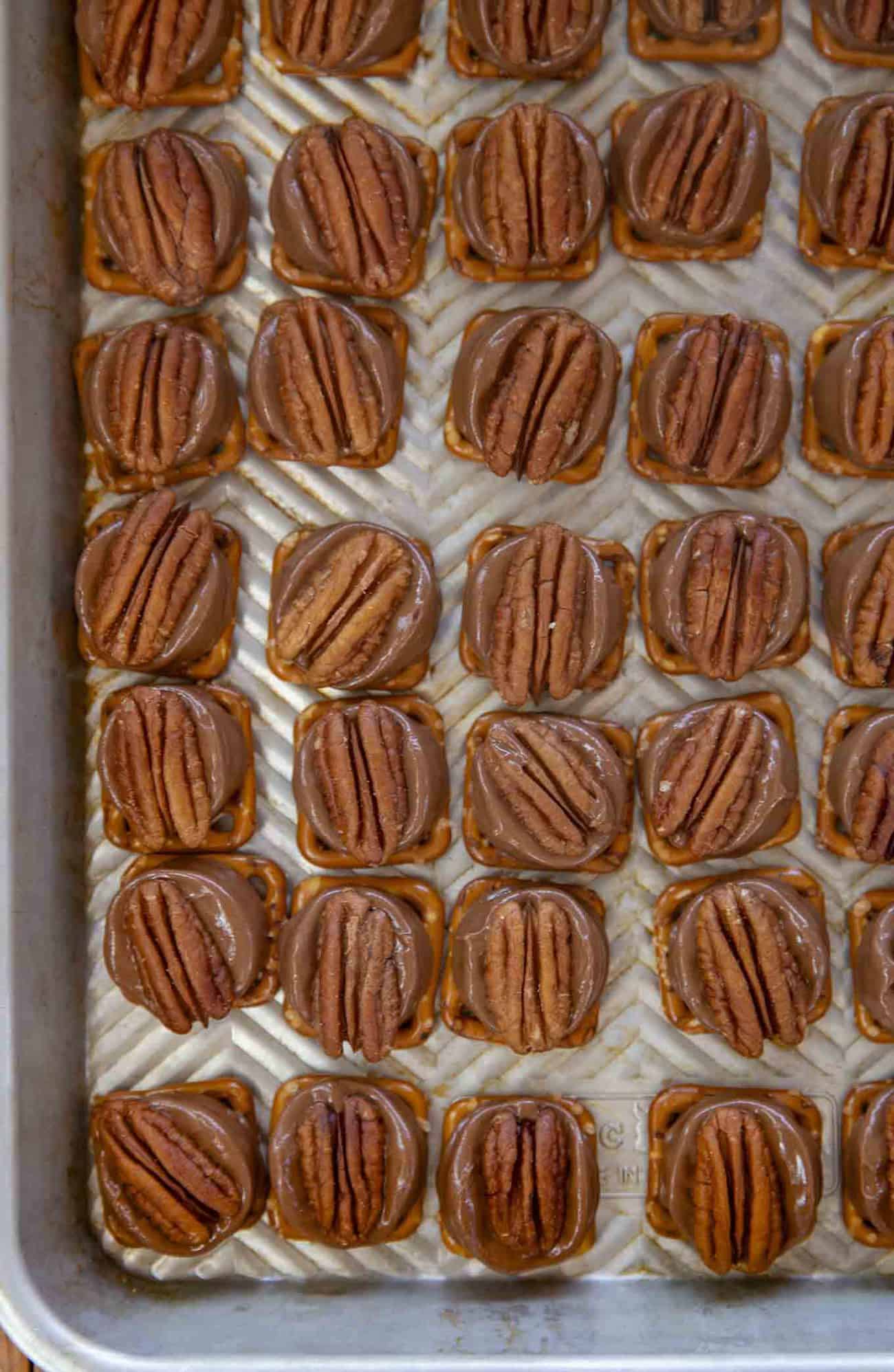 Create a free account to Save Recipes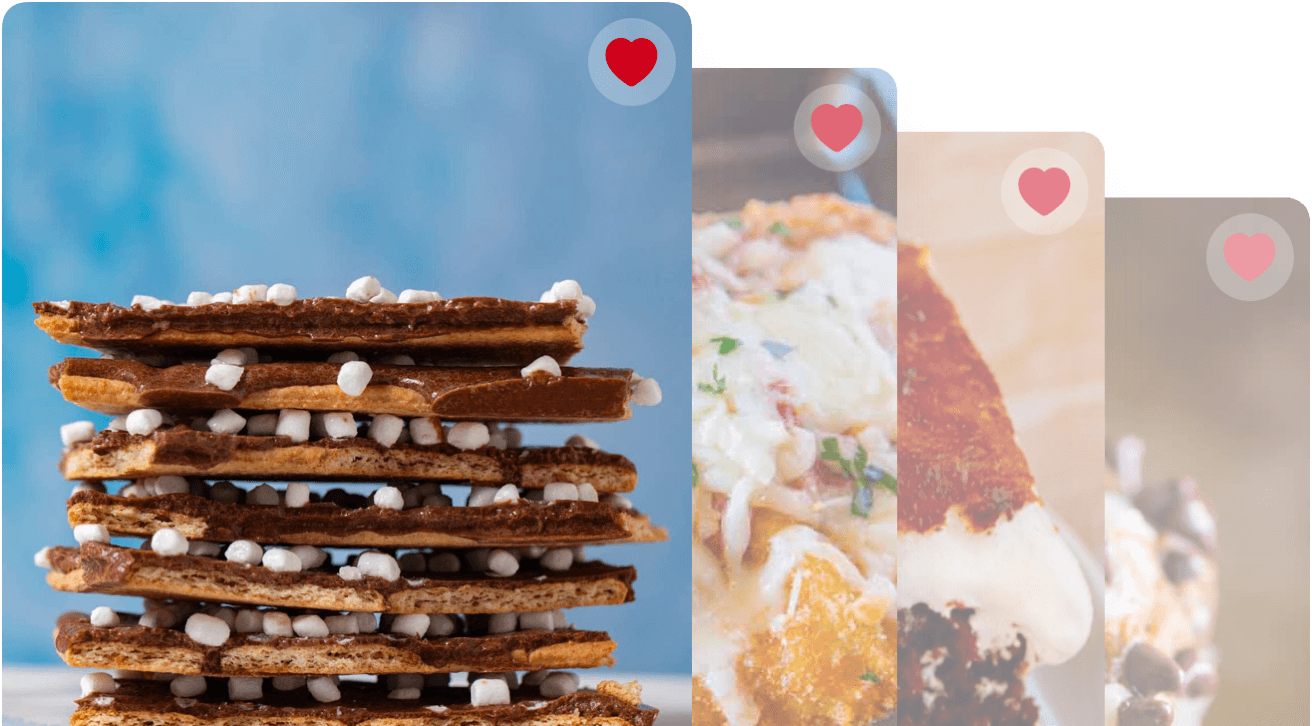 CAN I MAKE PRETZEL TURTLES IN THE MICROWAVE?
You can make these in the microwave, but it takes a longer time because you're going to have to work in batches. Fit as many pretzels as you can on a plate, and microwave for 20-30 seconds, or until you can press the pecan down on the Rolo and it flattens easily.
HOW DO YOU STORE PRETZEL TURTLES?
Store pretzel turtles at room temperature or in the refrigerator in a tightly sealed container for several weeks. Place a piece of parchment paper between each layer so they don't stick together.
Keep them out of warm places, like next to a window in sunlight, to avoid the chocolate melting. You can also freeze for 2-3 months if you want to make them ahead of time.
MORE TURTLE PRETZEL IDEAS
Instead of pecans, try using peanut M&Ms, mini marshmallows, butterscotch, peanut butter, or caramel with flaky salt on top.
For a holiday version, top with a mini marshmallow and melted chocolate with peppermint extract, then top with a pecan and crushed candy cane pieces.
If you don't have Rolos, you can use a whole caramel candy and a teaspoon of melted chocolate or a chocolate kiss on top.
I also love making really good quality salted caramels that I dip in bittersweet chocolate and top with flaky sea salt (recipe coming soon). I would melt those on a pretzel then top with a pecan and a second pretzel for a pretzel turtle sandwich as the homemade caramels are much softer and creamier.
Try hazelnuts or almonds instead of pecans for a different flavor.
TIPS FOR MAKING PRETZELS turtles
You can decorate pretzel turtles with a drizzle of melted chocolate (white or dark) or caramel sauce.
For a different flavor you can toast your pecans first, or try making pretzel turtles with my Slow Cooker Candied Cinnamon Pecans.
Make sure you press your pecans into the candy right away, while they're still soft enough to stick.
If you want your candy to set faster, refrigerate for 15-20 minutes before serving.
Add these to a decorative tin to give away as holiday gifts!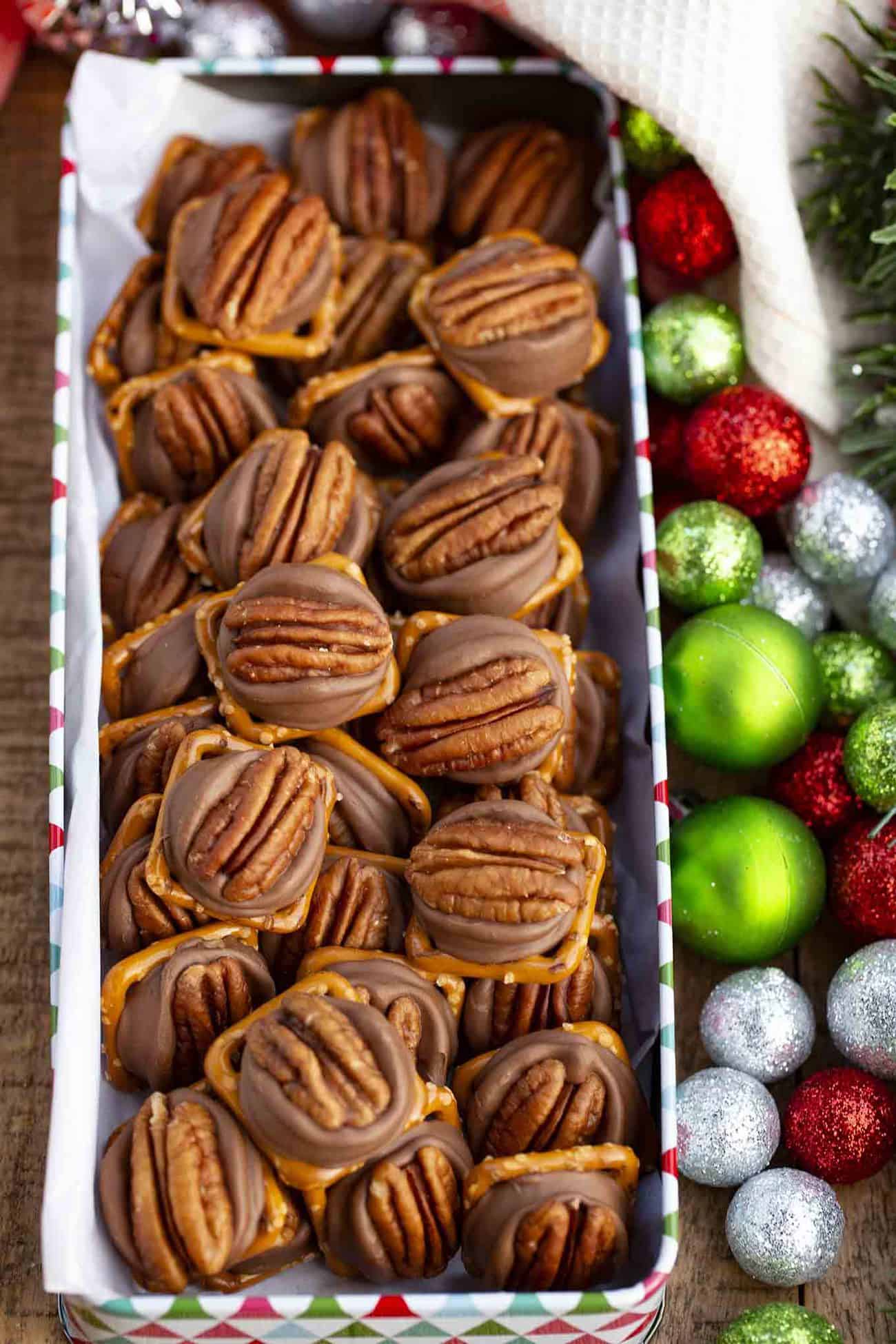 Instructions
Preheat the oven to 200 degrees.

Line the pretzel snaps up on a baking sheet, then top with the rolo chocolates and melt in the oven for

3 minutes

before topping each one with a pecan half and letting harden completely before serving.
Notes
Note: click on times in the instructions to start a kitchen timer while cooking.
Nutrition
Calories:
41
kcal
|
Carbohydrates:
5
g
|
Fat:
2
g
|
Sodium:
23
mg
|
Potassium:
18
mg
|
Sugar:
3
g
|
Vitamin A:
5
IU
|
Vitamin C:
0.1
mg
|
Calcium:
10
mg
|
Iron:
0.1
mg