Edible Cookie Dough is a raw flour and egg-free treat with graham crackers and chocolate chips that is safe for everyone to enjoy.
We've made a bunch of no bake desserts, like Eggless S'mores Cookie Dough, Cupcakes Stuffed with Chocolate Cookie Dough, and Monster Cookie Dough Cupcakes, and this version made with graham crackers is the BEST one yet.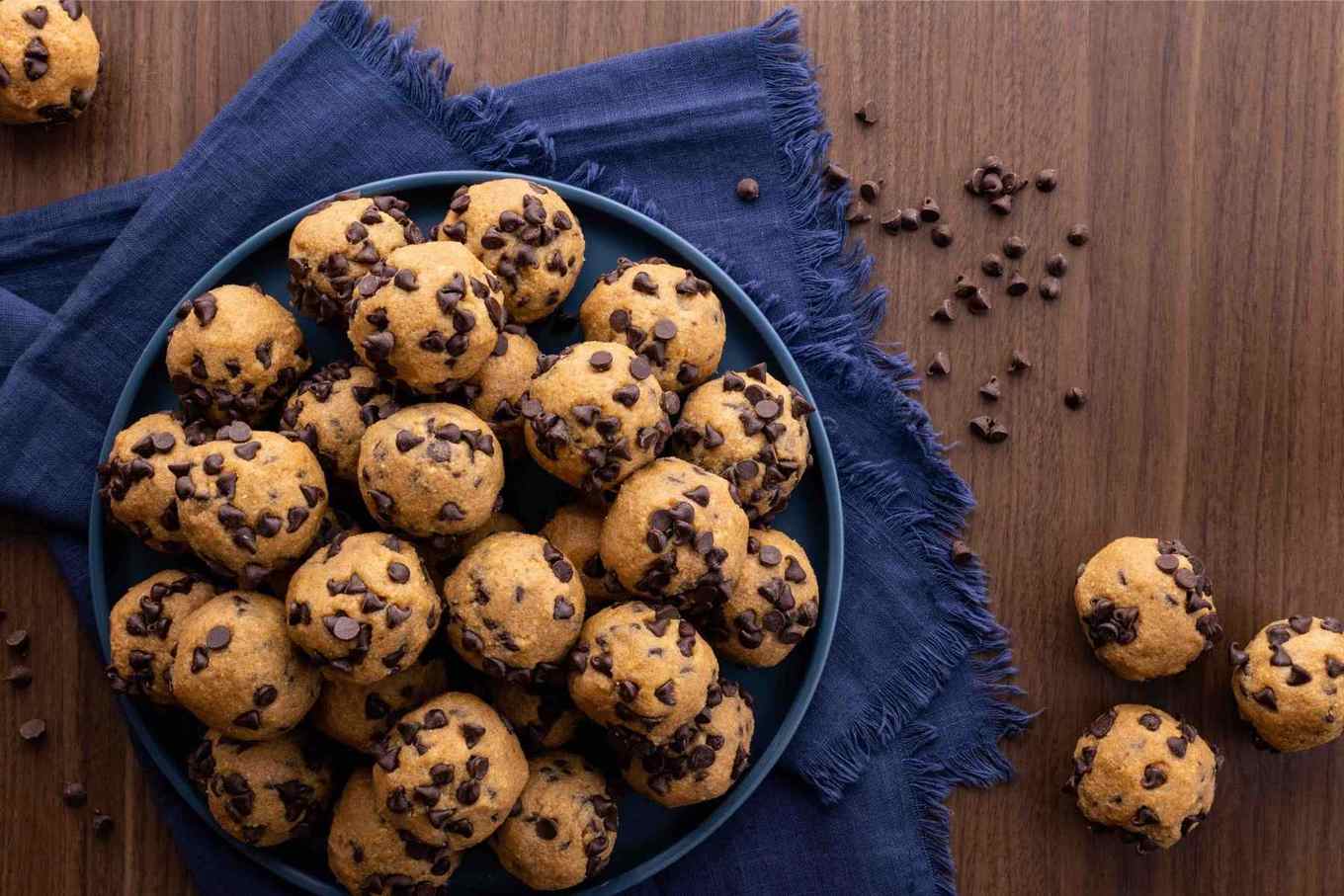 Edible Cookie Dough is the perfect way to indulge in everyone's secret love of eating cookie batter straight from the bowl. This edible cookie dough recipe is delicious, rich, and you have NO chance of getting salmonella or E. coli from it.
Chocolate chip cookies were invented by Ruth Graves Wakefield, an American business woman and chef who owned the Tollhouse Inn (does the name sound familiar?) Her invention is one of the best things to come out of the 1900s and couldn't possibly get any better, right? If that's what you think, you haven't tried the no bake version.
Edible cookie dough is delicious (especially chocolate chip cookie dough), and it takes a lot of us back to childhood where we snuck a taste of cookie batter from the bowl and were scolded by an adult for eating something with raw eggs and raw flour in it.
This version is totally safe to eat raw (it actually wouldn't really work if you tried to cook them – it is eggless, flourless and has no leavening agents), and the natural flavors of the dough are rich and delicious.
If you're a fan of cookies, you're not alone. There's a cookie museum in Joplin, Missouri, called the National Cookie Cutter Historical Museum, and December 4th is National Cookie Day. Whether or not you've celebrated December 4th in the past, it's a pretty good excuse to try cookie dough bites out with some friends.
If you liked this and want some other no bake treats, try these recipes for Avalanche Cookies, No Bake Cookies and No Bake Granola Bites.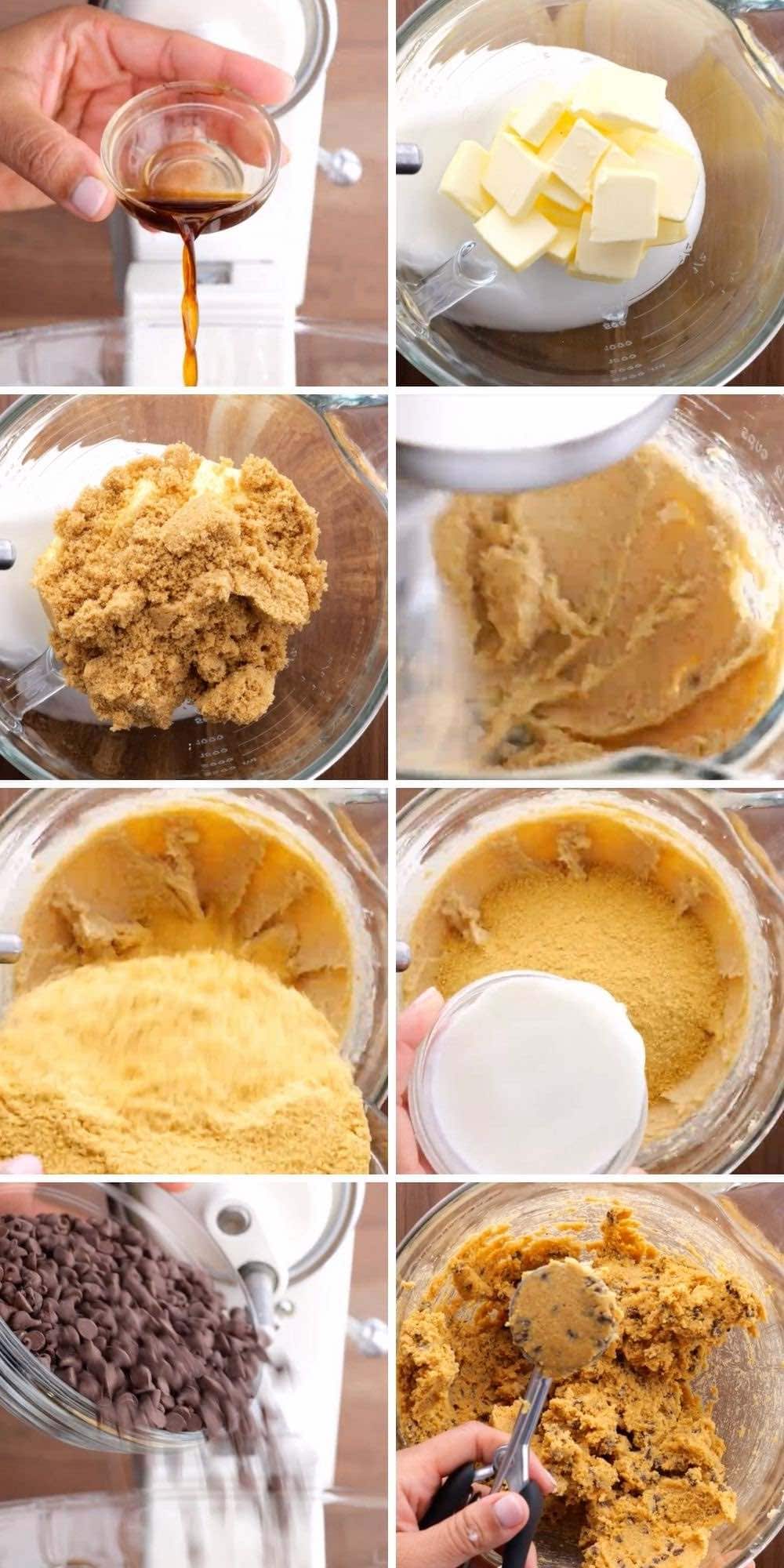 Tips for Making Edible Cookie Dough
Get out a large baking sheet and line it with parchment paper.
Pour the mini chocolate chips into a small bowl and set aside.
With an electric or stand mixer, stir the butter, brown sugar and vanilla.
Once the mixture is light and fluffy, gradually mix in the graham crackers, salt, and milk.
Fold in the mini chocolate chips. Make sure they are well mixed in.
You can use a cookie scoop to make perfect, round balls.
Press the dough ball into the bowl of chocolate chips and set onto the baking sheet.
Chill before eating.
For a tasty side that will impress your guests even more, try serving edible cookie dough with a side of Homemade Vanilla Ice Cream and a dollop of Homemade Whipped Cream.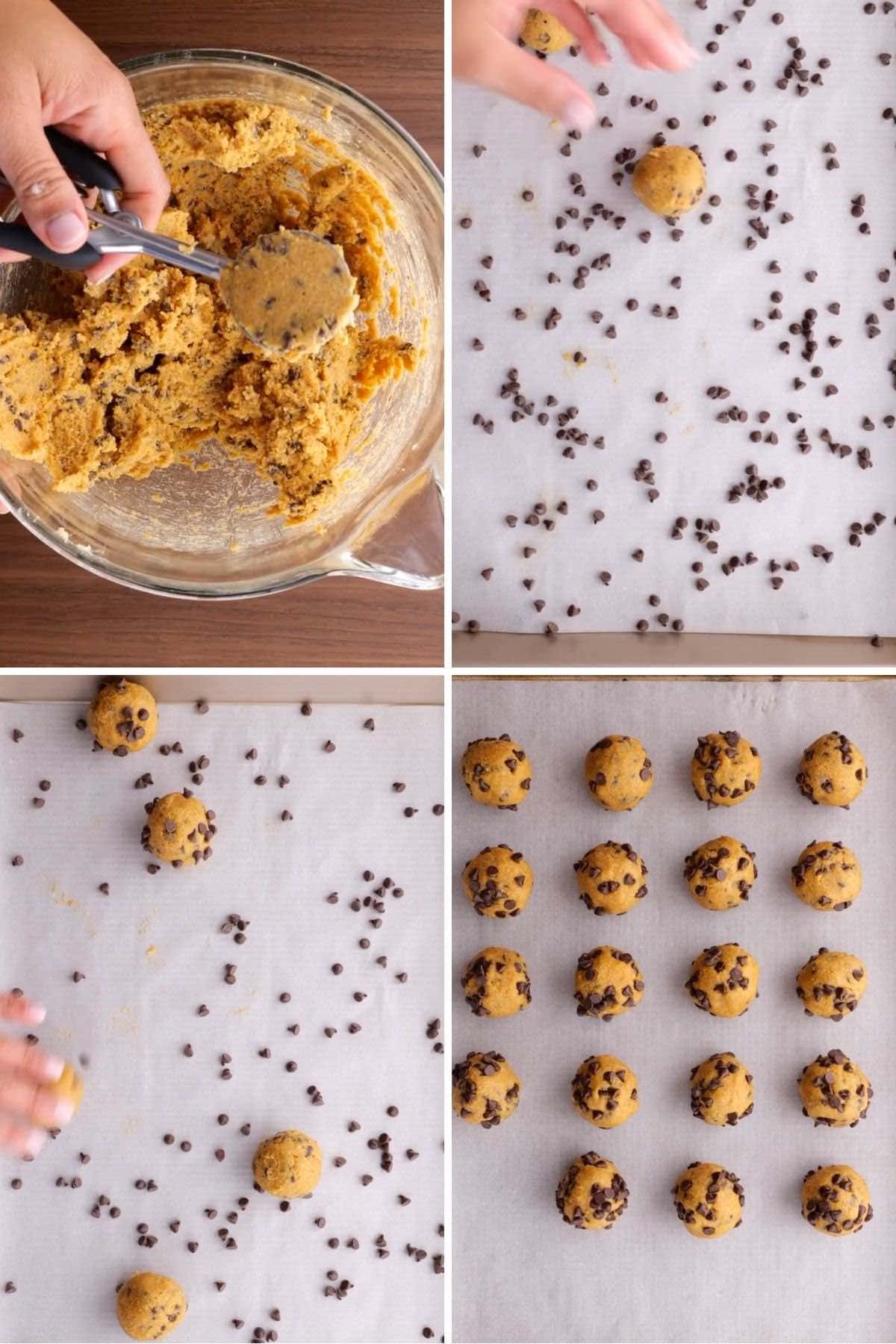 Create a free account to Save Recipes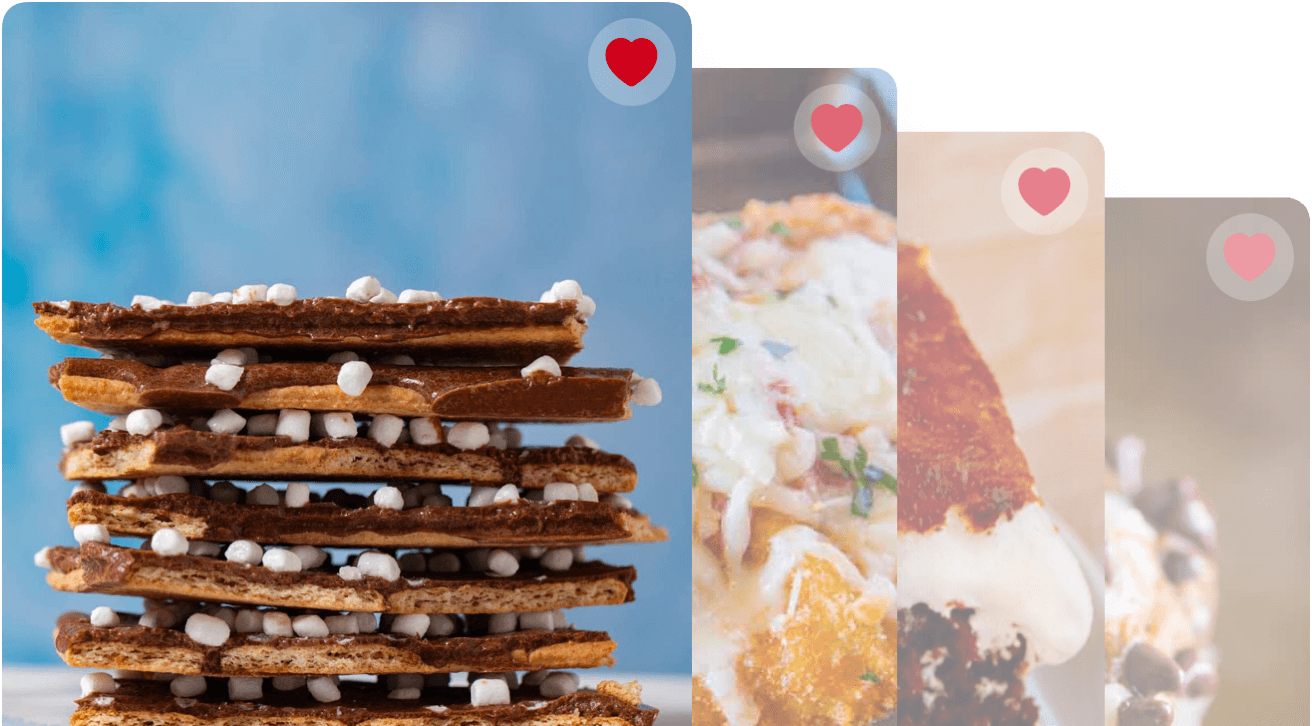 Frequently Asked Questions
Can I add peanut butter to Edible Cookie Dough?
Peanut butter is amazing in everything from Chicken Satay with Peanut Sauce to cheesecake, and cookie dough balls are no exception. Try mixing peanut butter into this recipe for a richer, nuttier flavor. If you are allergic to peanut butter, you can also try this recipe with almond butter for a similarly rich flavor.
What kind of chocolate should I use for Edible Cookie Dough?
You can use whatever kind of chocolate you would like for this edible cookie dough recipe. I used semisweet, but you can use milk chocolate or dark chocolate instead.
How do I make Edible Oreo Cookie Dough?
If you want a stronger flavor than classic chocolate chip, you can crush up Oreos and mix them into the batter. Oreos are delicious chilled and add a lot of crunch to the edible cookie dough.
How do you make Vegan Edible Cookie Dough?
You can make a vegan version of this recipe very easily by substituting margarine for the butter and almond milk for the cow milk. Be aware that you may need to adjust the amounts to personal taste.
What is the difference between traditional cookie dough and edible cookie dough?
Edible cookie dough and traditional cookie dough are very different. Edible cookie dough is an egg-free, yummy treat that is safe for everyone to enjoy. This recipe is for an egg-free and flour-free version of traditional cookie dough, since eating raw eggs or uncooked all purpose flour or wheat flour can make you very sick.

Don't think that you can just go eating packages of uncooked cookie dough because of this no bake version. Although Nestle did just release a new product which is a tub of edible no-bake cookie dough, and while the taste isn't completely the same as the original dough, it is a good option for kids who are eager to eat the cookie dough while baking!
Variations on Edible Cookie Dough
Make these bites EVEN better and dip them in melted chocolate or add a few kinds of chocolate.
You can even grab one out of the freezer, let it thaw for about five minutes and eat it that way, it's the best treat ever.
Make the bites into bar form and cut them into cookie shape, then make them into ice cream sandwiches!
Make them into tiny little circles and add them as an ice cream topping, or a topping to a cake.
Make them into tiny circles and add them as a homemade ice cream mix-in.
How to Store Edible Cookie Dough
Serve: Since they have milk in them, you shouldn't leave your cookie dough bites at room temperature for longer than 2 hours to be on the safe side.
Store: Since you don't have to worry about them getting stale or having to reheat them, edible cookie dough is good in the fridge for up to 1 month.
Freeze: You can freeze these cookie dough bites for up to 10 months in an airtight container. To thaw them, let them sit in the fridge until they are soft to the touch.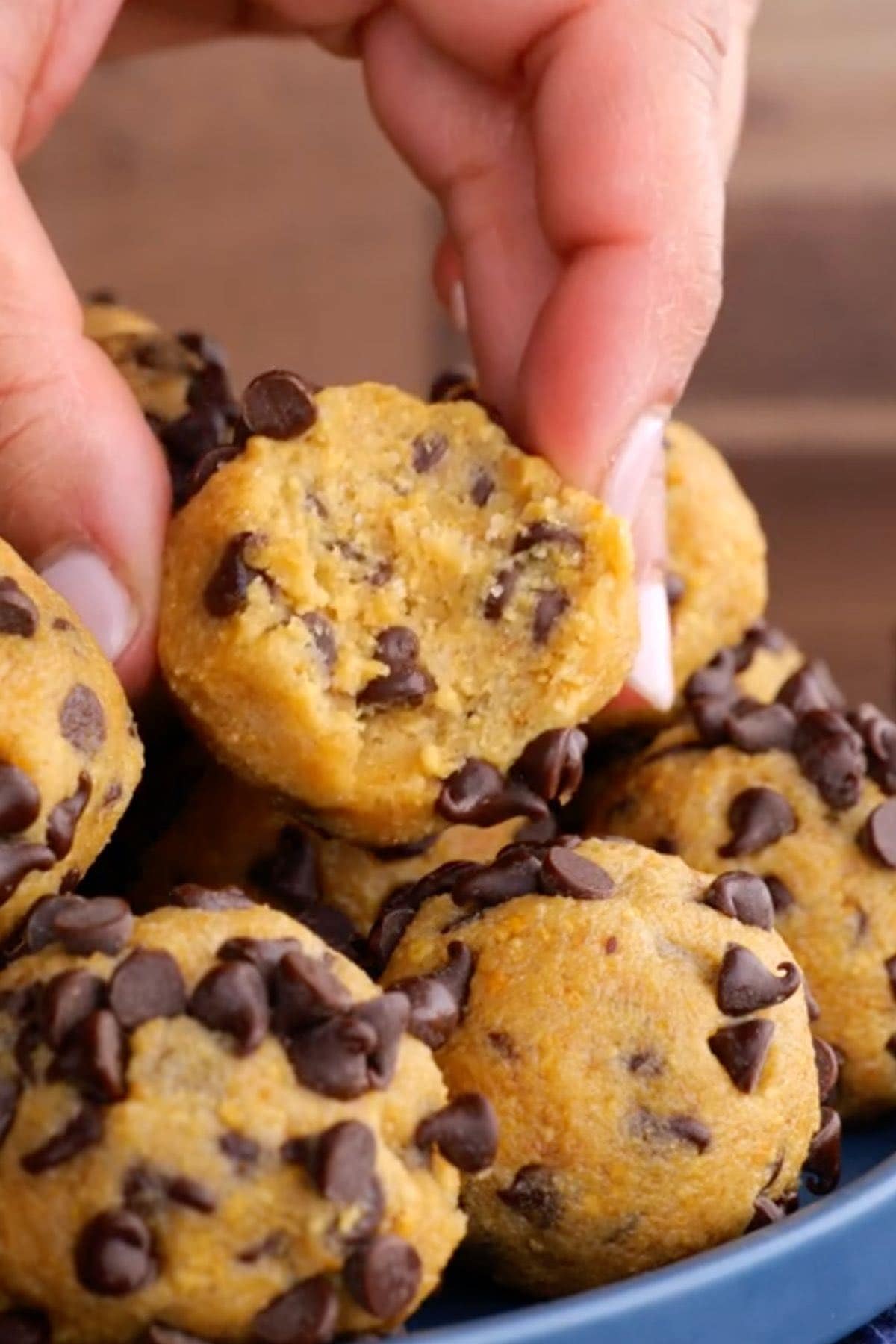 Ingredients
1 1/2

cups

unsalted butter

, softened

1 1/2

cups

brown sugar

2

teaspoons

vanilla extract

3

cups

graham cracker crumbs

1

teaspoon

kosher salt

1/3

cup

whole milk

2

cups

mini chocolate chips

, (semisweet)
Instructions
Prepare a baking sheet or large tray with parchment paper or wax paper.

To your stand mixer add the butter, brown sugar and vanilla on medium speed until light and fluffy, about

1-2 minutes

.

Add in the graham cracker crumbs, milk, salt and 1 cup of the mini chocolate chips.

Using a 2 tablespoon scoop, scoop the cookie dough onto a tray with the remaining chocolate chips spread out over it and roll over more chips. (Don't dip into a bowl of chips or it will get way too many onto the bites, make sure they are spread out).

Refrigerate until serving.
Nutrition
Calories:
221
kcal
|
Carbohydrates:
26
g
|
Protein:
1
g
|
Fat:
13
g
|
Saturated Fat:
8
g
|
Cholesterol:
26
mg
|
Sodium:
147
mg
|
Potassium:
36
mg
|
Fiber:
1
g
|
Sugar:
20
g
|
Vitamin A:
315
IU
|
Vitamin C:
0.1
mg
|
Calcium:
35
mg
|
Iron:
0.6
mg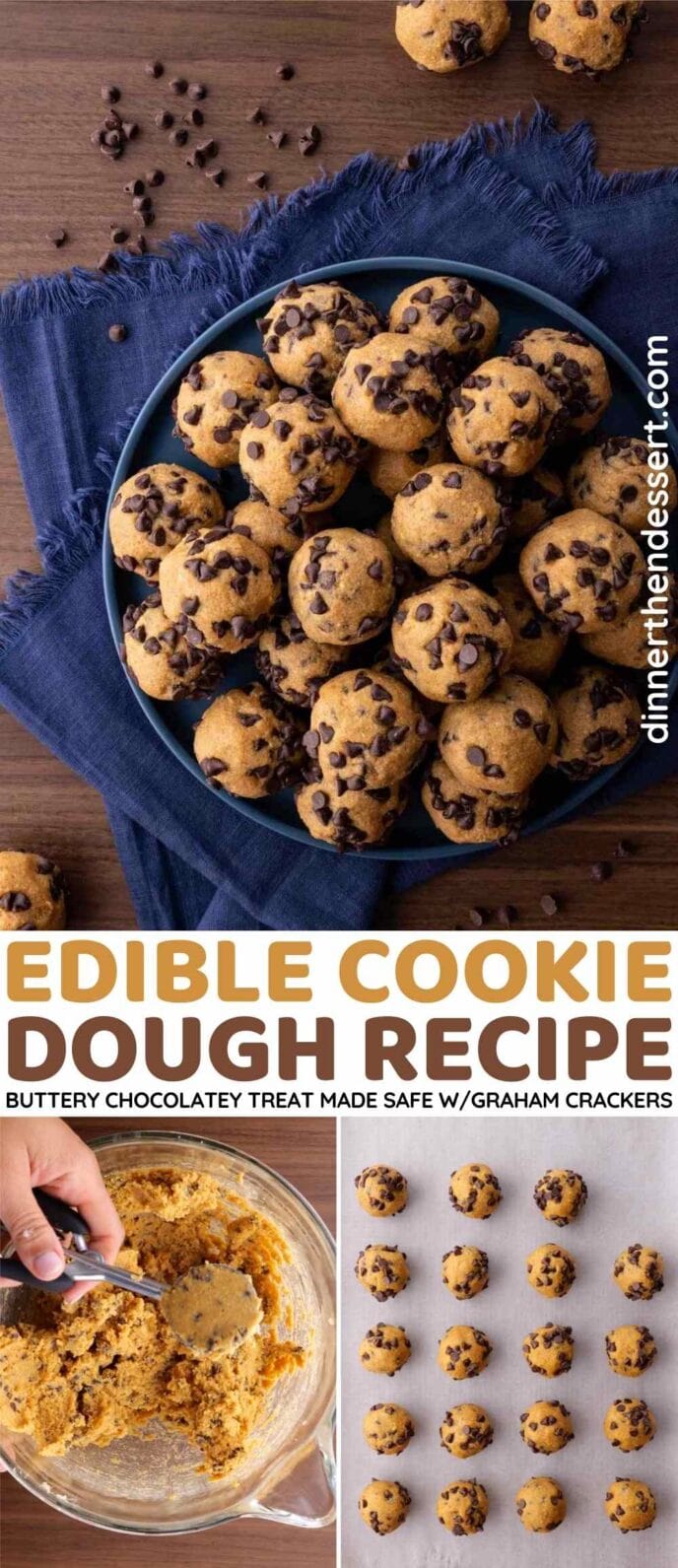 Photos used in a previous version of this post.