No Bake Cookies are chocolate oatmeal cookies made in a pan then cooled, made with cocoa, oats, and peanut butter in 20 minutes!
If you love to bake, take a break from the oven with these No Bake Cookies. Then when you're in the mood to turn on the heat again, try our favorite cookie recipes, Rolled Sugar Cookies, Peanut Butter Cup Cookies, and Mexican Wedding Cookies!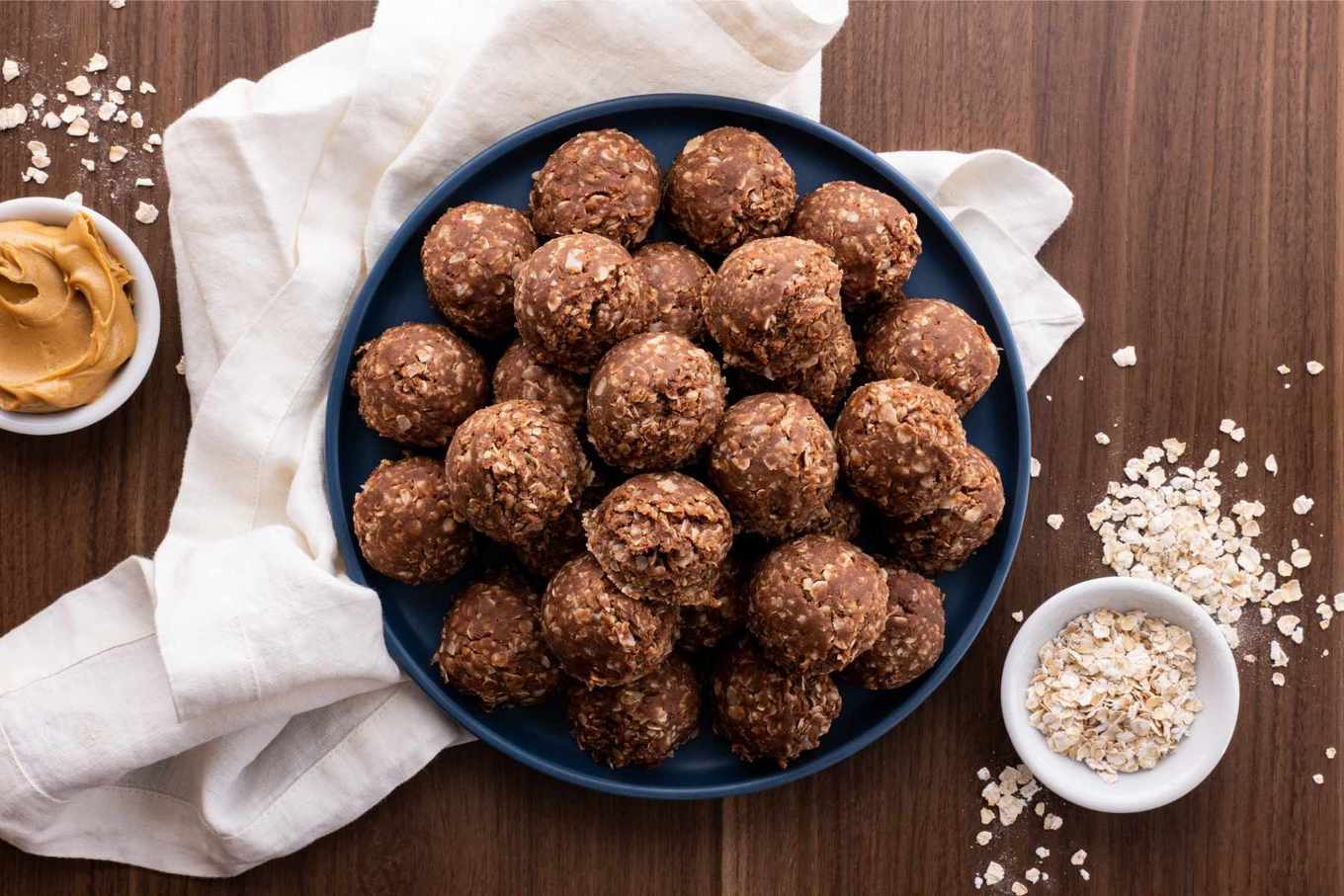 No Bake Cookies are the EASIEST no-bake dessert you'll make all year, and my go-to when it's too hot out to turn the stove on and bake cookies. They're soft and chewy, with peanut butter and quick oats mixed with cocoa, sugar, and vanilla extract. These are no bake, but they are not no cook so you're going to need a saucepan to boil the ingredients and a baking sheet to let these cookies cool.
The BEST part about no bake cookies is how fast they come together, with a total time of under 20 minutes once they've cooled. Plus you don't need to worry about preheating the oven when there's no baking step involved!
Frequently Asked Questions
What type of oats do you use for No Bake Cookies?
There are two types of oats that you'll generally see in recipes when you bake, old-fashioned rolled oats and quick cooking oats. Rolled oats are less processed, while quick cooking oats have been flattened, so it takes less time to cook them. Usually if you bake with quick cooking oats, you'll get a softer texture.

This recipe uses quick cooking oats because they mix in quickly, but you can substitute with rolled oats if you want a chewier texture, or if that's what you already have in your pantry.
Can you make No Bake Cookies without milk?
If you're not avoiding dairy, you can replace it with cream, half and half, or buttermilk if that's what you have. If you're looking for a dairy free version of no bake cookies, you can use almond milk or soy milk in its place. Remember if you use a dairy-free alternative milk, you're also losing some of the fat in the recipe, so the texture and flavor might be slightly different.
What type of peanut butter should I use for No Bake Cookies?
I don't recommend using natural peanut butter for this recipe, because the regular kind has a better flavor. Also, these no bake cookies are flourless and the peanut butter is helping to hold these no bake cookies together, so I recommend using smooth peanut butter and not chunky.
Can I use Nutella in No Bake Cookies?
Add a few tablespoons of Nutella to the batter, or drizzle with melted chocolate when they're done to decorate the cookies and make them more indulgent.
Can I substitute the butter in No Bake Cookies?
You can replace the butter in this recipe with coconut oil, but the cookies might turn out slightly flatter when they cool compared to the butter version.
Are No Bake Cookies gluten free?
Use certified gluten free oatmeal to make these cookies gluten free.
Can you use brown sugar for No Bake Cookies?
You can make no bake cookies with brown sugar, but if I'm going to use it then I like to use 1 cup of white sugar and ¾ cups of brown sugar. It will add a deeper flavor and a more chewy texture.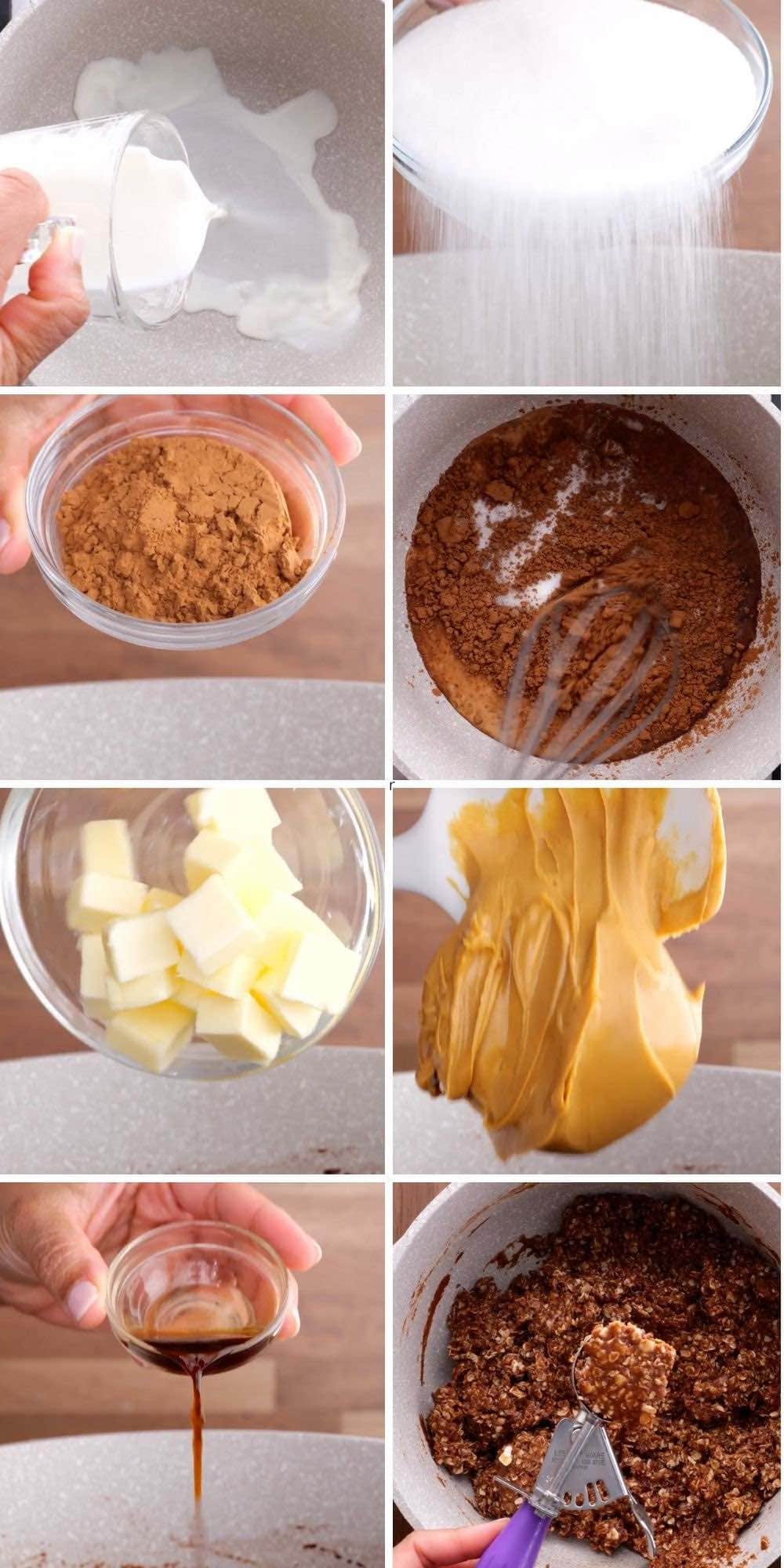 Create a free account to

Save Recipes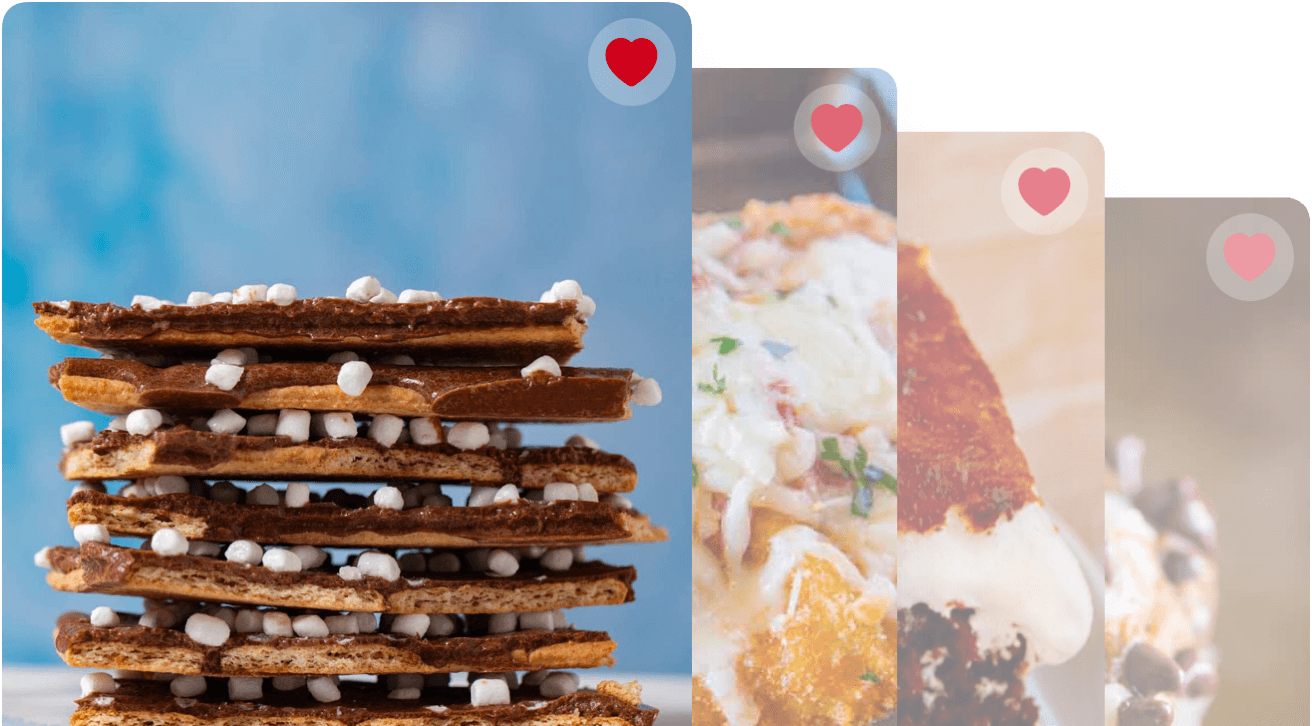 More Easy Cookie Recipes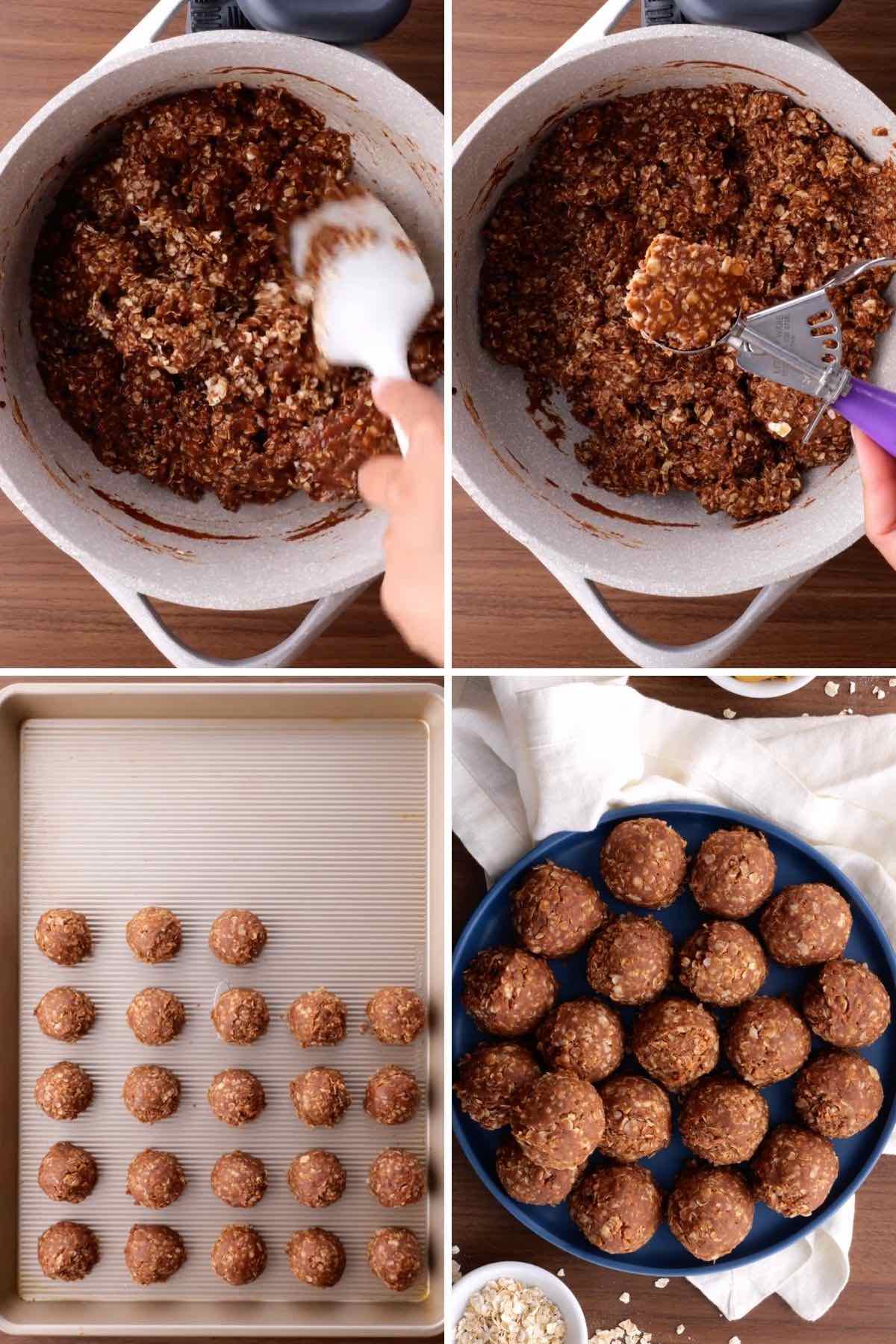 Tips for Making No Bake Cookies
Have your ingredients ready to go. You're not going to bake these, so the timing will matter once it comes to a boil. Have everything on the counter so when you're ready to add the peanut butter it doesn't have a chance to cool down before everything is added.
When you boil your ingredients make sure you time it for a full 60 seconds, then turn the heat off immediately. If you go over time, the texture of the cookies may turn out too wet or too crumbly.
I like to use vanilla, but you can try substituting it with other flavors like rum extract or almond extract.
You can replace the creamy peanut butter with chocolate peanut butter to make this dessert more indulgent.
I like to use a small ice cream scoop, about 1-2 tablespoon sized, which helps make sure all of the cookies come out the same. Plus it's faster than adding tablespoonfuls with actual spoons.
If you want extra chocolate, try adding a cup of semi-sweet chocolate chips at the very end. You can also add chopped walnuts, almonds, or pecans.
You can use regular cocoa or dark chocolate cocoa.
Top with flakey sea salt for a sweet and salty flavor.
Even though you're not going to bake these, I still recommend lining your cookie sheet with parchment paper, to stop the cookies from sticking and also to make cleanup easier.
How to Store No Bake Cookies
Serve: No Bake Cookies can be kept at room temperature while serving.
Store: No bake cookies can be stored at room temperature in an airtight container for about a week, or two weeks in the refrigerator. You can also refrigerate no bake cookies to help them cool faster!
Freeze: No bake cookies are perfect for making ahead and freezing. You can make a second batch of cookies when you have all of the ingredients out, and freeze half for later. Then just defrost them on the counter until they're at room temperature before serving.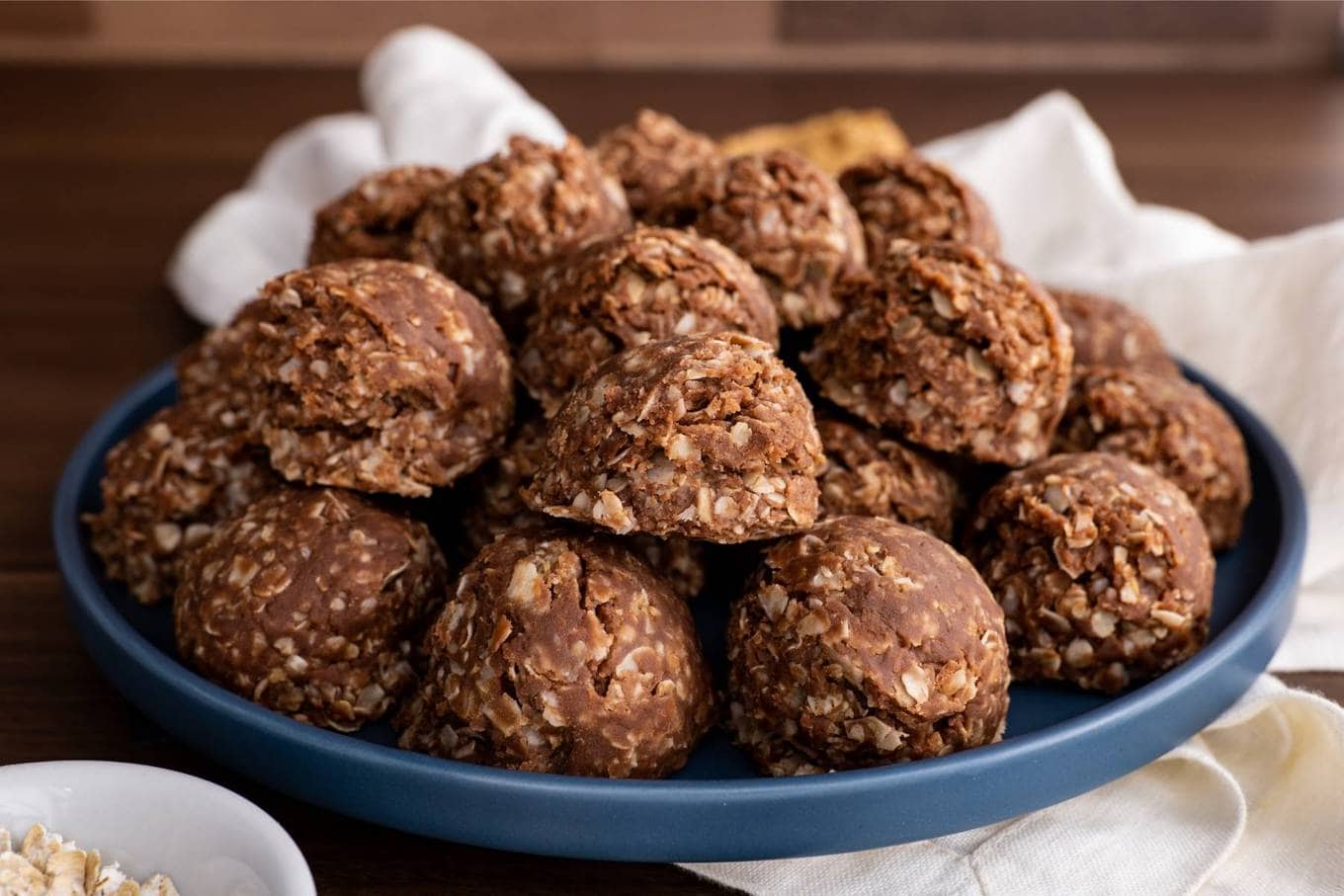 Ingredients
1/2

cup

whole milk

1 3/4

cups

white sugar

1/4

cup

unsweetened cocoa powder

1/2

cup

unsalted butter

3/4

cup

smooth peanut butter

3

cups

quick cooking oats

2

teaspoons

vanilla extract
Instructions
Whisk together the milk, sugar and cocoa powder in a large dutch oven until fully combined then add in the butter and bring to a rolling boil.

Boil for

1 minute

to the second then turn off the heat, whisk in the peanut butter and vanilla until smooth then add in the oats until full mixed.

With a 1 tablespoon scoop, scoop the cookies onto a greased cookie sheet and allow them to cool and harden.
Notes
Note: click on times in the instructions to start a kitchen timer while cooking.
Nutrition
Calories:
175
kcal
|
Carbohydrates:
25
g
|
Protein:
3
g
|
Fat:
7
g
|
Saturated Fat:
3
g
|
Cholesterol:
10
mg
|
Sodium:
46
mg
|
Potassium:
110
mg
|
Fiber:
1
g
|
Sugar:
15
g
|
Vitamin A:
125
IU
|
Calcium:
16
mg
|
Iron:
0.7
mg
Photos used in a previous version of this post.