Rolled Sugar Cookies are a CLASSIC sweet holiday cookie made with a few simple pantry ingredients, and bake in only 8 minutes!
The Classic Cookies never go out of style throughout the year or during the holidays including our Chocolate Chip Cookies, Peanut Butter Cookies and Oatmeal Raisin Cookies.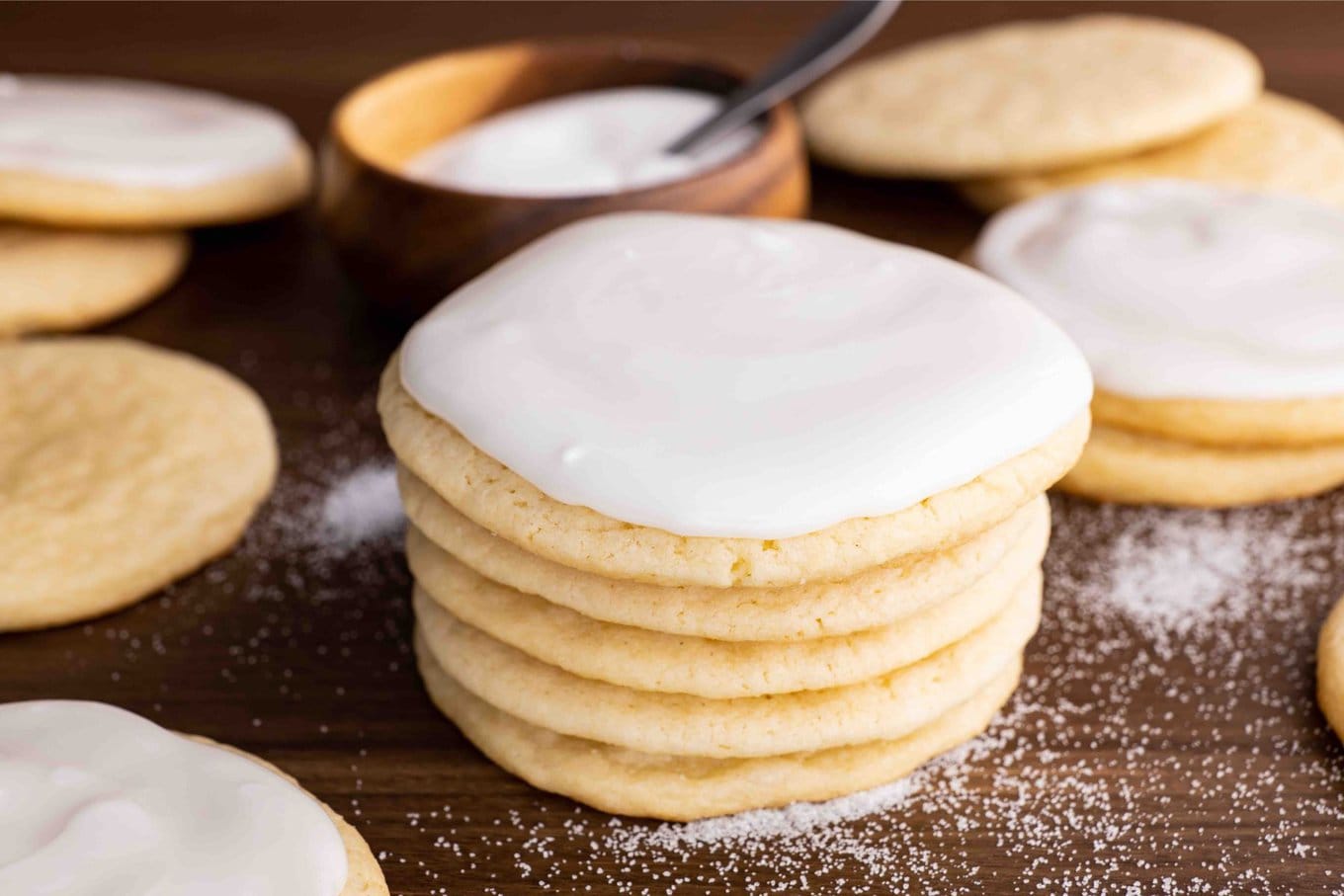 Rolled Sugar Cookies are the PERFECT cookie to make for the holidays, or any time of year! They're my go-to dessert recipe, because they're really easy to make with simple ingredients and bake in only 8 minutes. You'll love to decorate these with Sugar Cookie Frosting and decorative sprinkles or colorful sugar. You can also leave them unfrosted and just enjoy the cookie by itself!
This is also kid-friendly, and a great recipe to make with the family. Use fun cookie cutters for this sugar cookie recipe, and the kids will love helping to cut the cookies out and decorate. This cookie recipe is also perfect for making ahead and freezing, giving you more time to relax this holiday season!
Serve Rolled Sugar Cookies in a Christmas Cookie Box along with other easy favorites like Award Winning Gingerbread Cookies and Mint Chocolate Chip Cookies for a fun and festive holiday dessert tray.
How to Make Rolled Sugar Cookies
In a large bowl, cream together butter and sugar until smooth. Beat in eggs and vanilla. Stir in the flour, baking powder, and salt. Cover, and chill dough for at least one hour (or overnight).
Preheat oven to 400 degrees.
Roll out dough, using powdered sugar on the surface and rolling pin ¼ to ½ inch thick. Cut into shapes with any cookie cutter.
Carefully, with a spatula, place cookies 1 inch apart on cookie sheets lined with parchment paper.
Bake 6 to 8 minutes in preheated oven. Cool completely.
More Easy Classic Cookie Recipes
Frequently Asked Questions
Why are my Sugar Cookies hard?
Usually if a sugar cookie has turned out too hard, it's because they are over-baked. Watch your timing closely when baking these cookies, and even check them a minute or two before they are supposed to be done. If you're sure that you're baking them for the right amount of time according to the sugar cookie recipe, try using an oven-safe thermometer to double check the baking temperature. Sometimes an oven can cook higher or lower than the set temperature, and you can change it up or down to compensate. Also, make sure you're not over-mixing the dough, especially if you are using a stand mixer where it can be easy to do so. You want to mix until everything has just come together, then chill the dough before rolling it out. Over-mixing can result in hard cookies, regardless of which sugar cookie recipe you follow.
How do I know if Sugar Cookies are done?
Watch the baking time for your sugar cookie recipe carefully. When the cookies are slightly firm, but still indent when you touch them (carefully, they're hot!), they are done. If your cookies start turning brown around the edges, they've gone too far. Check your sugar cookies recipe for the correct time. If you roll the cookies on the thinner side, they may bake faster. After letting cool for a minute or two, carefully use a spatula to transfer the baked cookies to a wire rack to complete cooling. 
Why did my sugar cookies spread?
If your sugar cookies are spreading, there's a good chance that the cookies have too much butter or granulated sugar. Make sure you're measuring your ingredients exactly. Try using a knife to level your baking cups when you're scooping sugar. This sugar cookies recipe calls for chilling the dough before baking, which will help prevent the dough from spreading in the oven. Make sure you don't skip this step!
What is the difference between a sugar cookie and a shortbread cookie?
Sugar cookies are soft with a primarily sweet flavor when compared to shortbread, which tastes more like butter or shortening. This is due to shortbread cookies having more butter in the recipe while sugar cookies have more granulated sugar.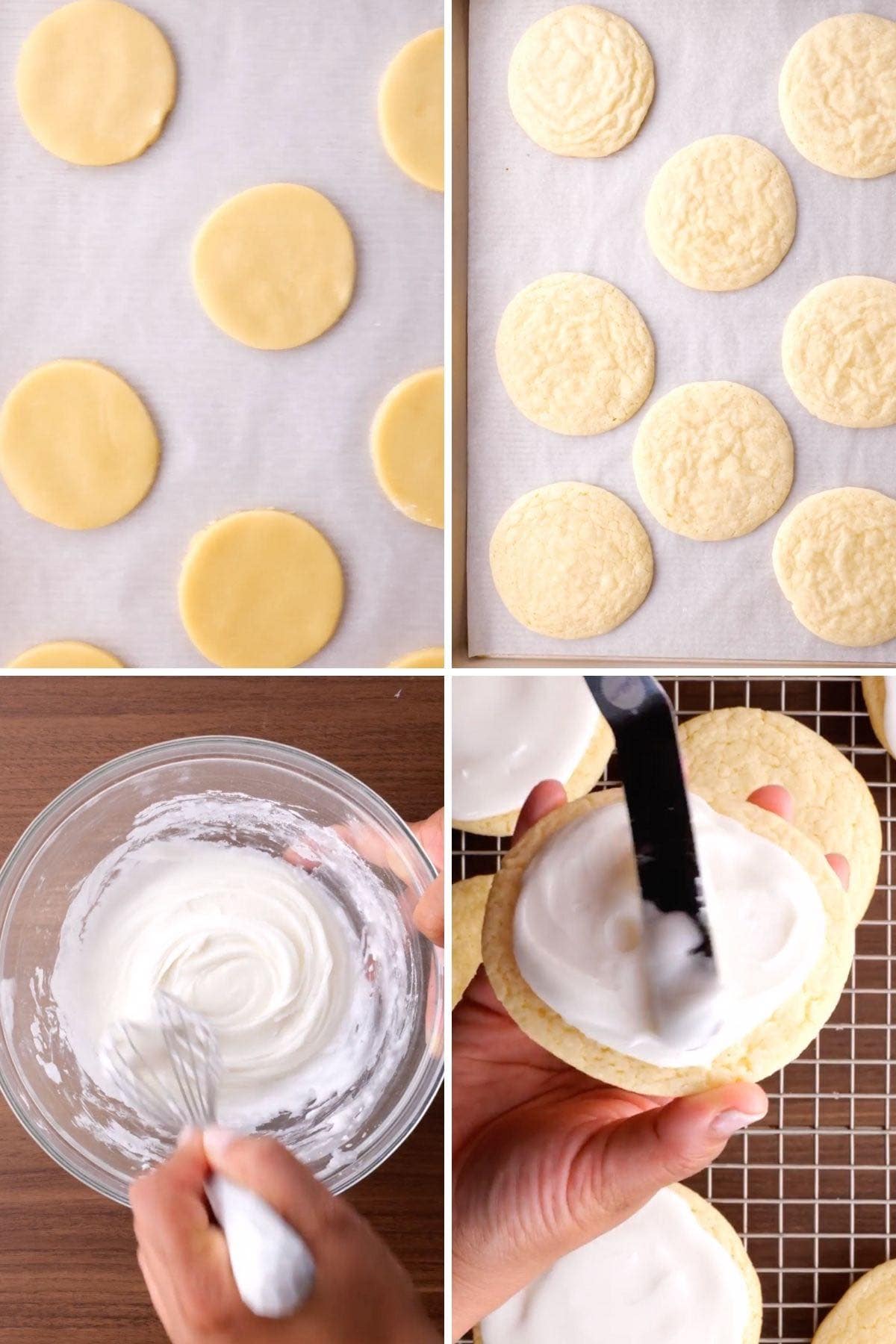 Create a free account to Save Recipes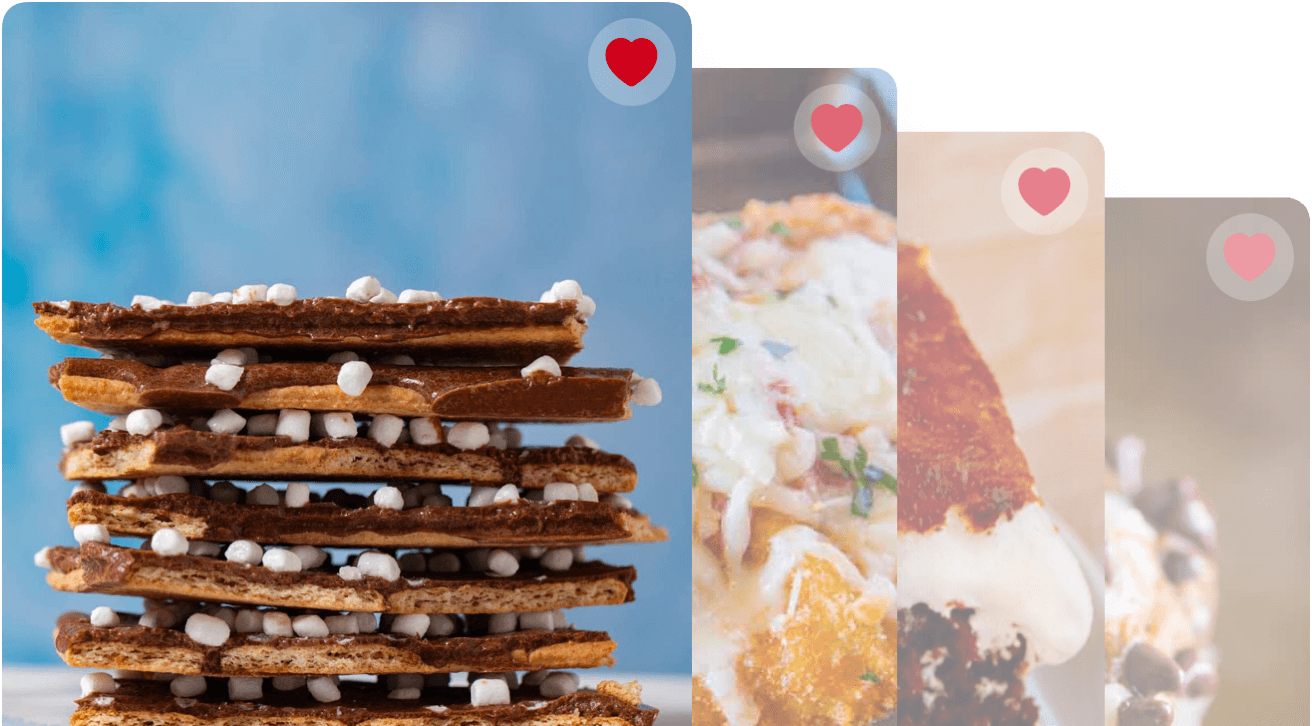 Key Ingredients in Rolled Sugar Cookies
Butter: It's a good idea to use unsalted butter to make cookies so you can decide how much salt to add. If you do use salted butter, omit the teaspoon of salt from the recipe. Make sure to bring your unsalted butter to room temperature before working with it, and cream it in the stand mixer for a few seconds before adding sugar.
Flour: All Purpose Flour works beautifully for all basic recipes like these perfect sugar cookies. Always sift your dry ingredients together to combine and remove any lumps before incorporating into the wet ingredients.
Sugar: It's not sugar cookies without the sugar! Use regular white sugar for this classic recipe.
Eggs: Remove your eggs from the refrigerator when you remove your butter to soften about 30 minutes prior to making your sugar cookie dough. This will help everything incorporate smoothly without any clumps of cold butter.
Vanilla: A touch of vanilla helps give a warm balance to the buttery sweet flavor of the cookies.
Can Rolled Sugar Cookies be Made Ahead?
Any grandmother can tell you that the secret to having a kitchen overflowing with yummy baked treats is to start early and freeze as much as you can! This cookie dough can be made up to 2 days in advance of baking, or frozen up to 1 year! Simply defrost in the refrigerator and roll the chilled dough out when you are ready to bake. You can also freeze baked sugar cookies 1-2 months and defrost at room temperature before frosting.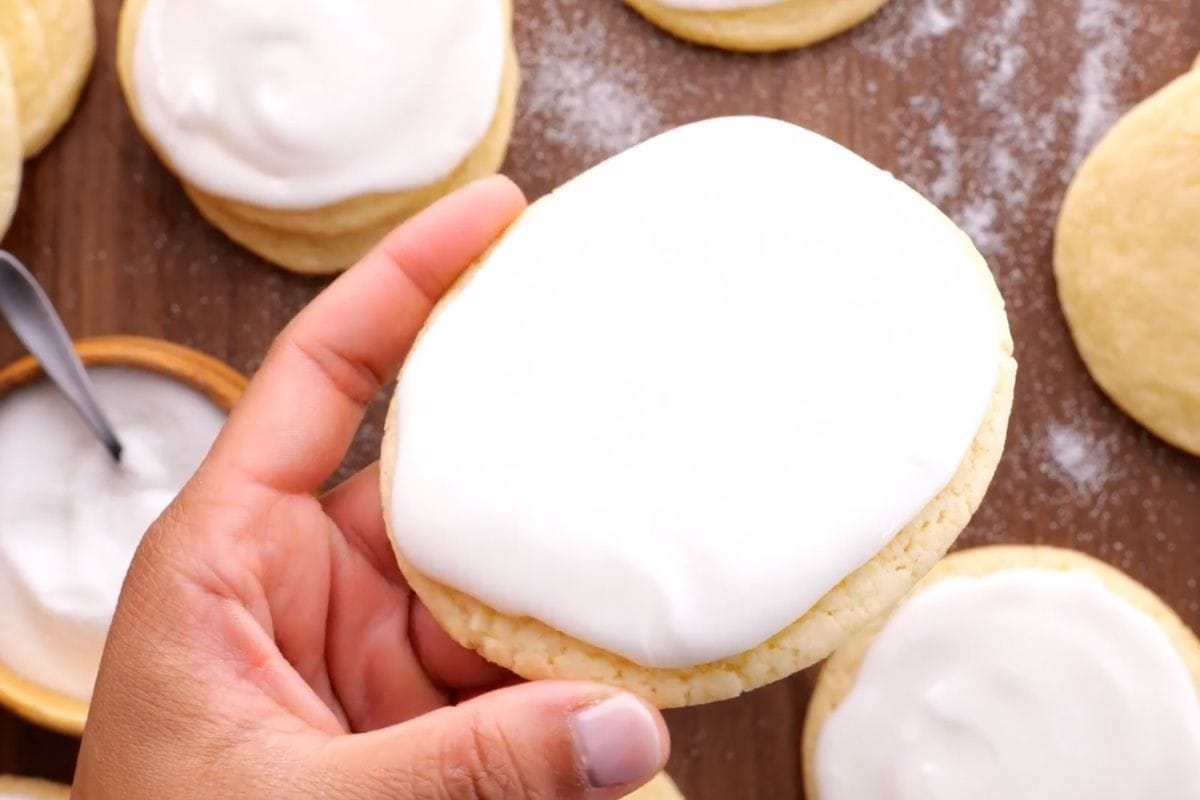 Tips for Making Sugar Cookies
Cookie Rolling: For an easier time rolling out your cookies, roll them on a floured surface right after you mix the dough, while it's still at room temperature. Place the rolled out cookie dough between sheets of parchment paper, roll up the parchment paper and refrigerate. Then just unroll, cut out your cookies, and bake according to your cookie recipe!
Sticky Dough: If your dough is too sticky to work with, dust the dough and your rolling pin with flour. Be careful not to go overboard with the flour here, or the cookies may dry out. Dust any excess flour off of the cookies before baking.
Parchment Paper: If you're afraid of drying out your cookie dough, place a piece of parchment paper between the dough and your rolling pin and roll it out that way. Line your cookie sheets with parchment paper to prevent the cookies from sticking when baked.
Decorations: If you're decorating your cookies with a dusting of powdered sugar, make sure the cookies are completely cooled, or the sugar can melt. Sanding sugar works well as decoration because it doesn't melt during baking. Royal icing will dry hard, which is perfect if you want to package cookies for gifting.
Cookie Cutters: You can dip your favorite cookie cutters in flour to help keep them from sticking to the dough.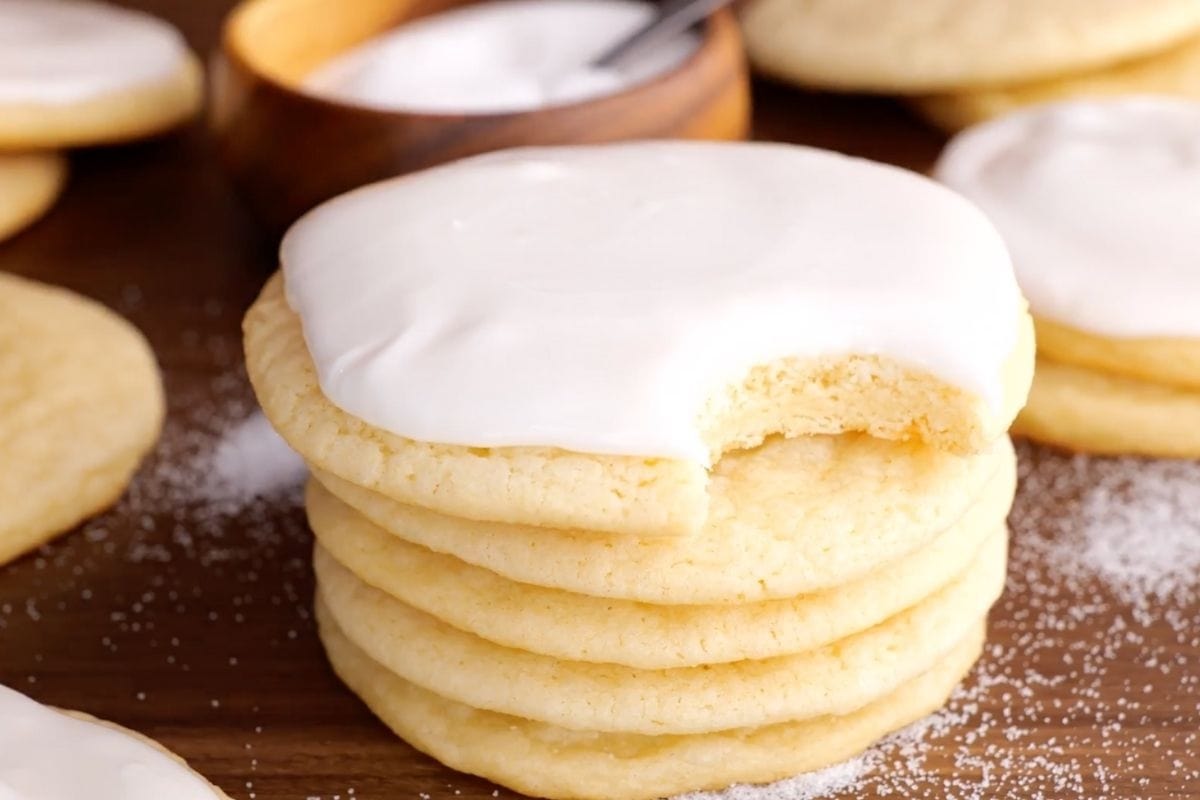 Variations on Rolled Sugar Cookies
Extracts: I always use vanilla extract in sugar cookies, but you can swap it for almond extract if that's what you have. Or keep the vanilla and also add seasoning to your cookie recipe, like cinnamon and nutmeg!
Frosting Flavors: If you're decorating your cookies with homemade frosting, instead of vanilla you can try other flavoring like peppermint!
Shortening: You can substitute half butter and half shortening in this sugar cookie recipe. You might lose some of the buttery taste but the shortening will help the texture of the sugar cookies.
More Sugar Cookie Recipes
How to Store Sugar Cookies
Serve: Sugar cookies can be kept at room temperature as long as they are not frosted with a dairy based icing.
Store: Sugar cookies can be kept in an airtight container at room temperature for 4-5 days. I don't like to refrigerate sugar cookies because they can harden compared to room temperature cookies.
Freeze: This Sugar Cookie recipe is perfect for making ahead of time and freezing, which is especially helpful if you're making early Christmas cookies! If you freeze the cookies already baked, wait to decorate them until after you defrost them. This way your Christmas cookies won't lose any of their decoration.

If you're just freezing the cookie dough, roll it into a log and wrap tightly in plastic wrap, then in tinfoil. Defrost in the refrigerator the night before you want to bake, then follow the cooking instructions for your sugar cookie recipe. Sugar Cookie dough will last for about a year in the freezer.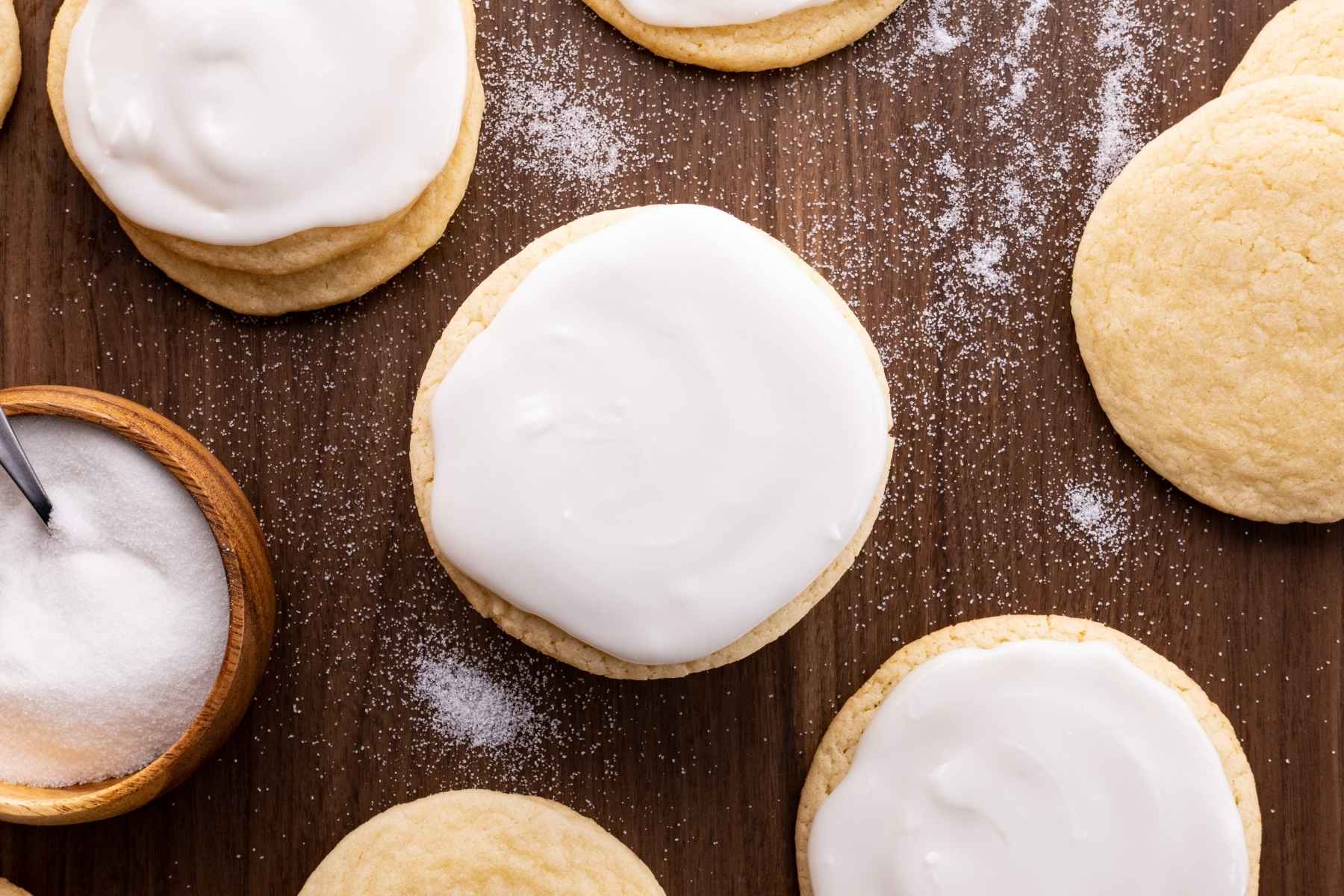 Ingredients
Sugar Cookies
1 1/2

cups

unsalted butter

, softened

3

cups

sugar

4

large

eggs

2

teaspoons

vanilla extract

5

cups

flour

2

teaspoons

baking powder

1

teaspoon

salt
Sugar Cookie Frosting
1 1/3

cups

powdered sugar

1

tablespoon

whole milk

1

tablespoon

light corn syrup

1/2

teaspoon

almond extract
Instructions
Sugar Cookies
In a large bowl, cream together butter and sugar until smooth. Beat in eggs and vanilla. Stir in the flour, baking powder, and salt. Cover, and chill dough for at least

one hour

(or overnight).

Preheat oven to 400 degrees.

Roll out dough, using powdered sugar on the surface and rolling pin ¼ to ½ inch thick.

Cut into shapes with any cookie cutter.

Carefully, with a spatula, place cookies 1 inch apart on cookie sheets lined with parchment paper.

Bake

6 to 8 minutes

in preheated oven. Cool completely.
Sugar Cookie Icing
Whisk together powdered sugar and milk until smooth.

Add in corn syrup and almond extract until smooth and shiny.

Thin with additional corn syrup if needed, then whisk in food coloring as desired.
Nutrition
Calories:
204
kcal
|
Carbohydrates:
27
g
|
Protein:
2
g
|
Fat:
9
g
|
Saturated Fat:
5
g
|
Cholesterol:
43
mg
|
Sodium:
157
mg
|
Potassium:
56
mg
|
Sugar:
12
g
|
Vitamin A:
295
IU
|
Calcium:
19
mg
|
Iron:
1
mg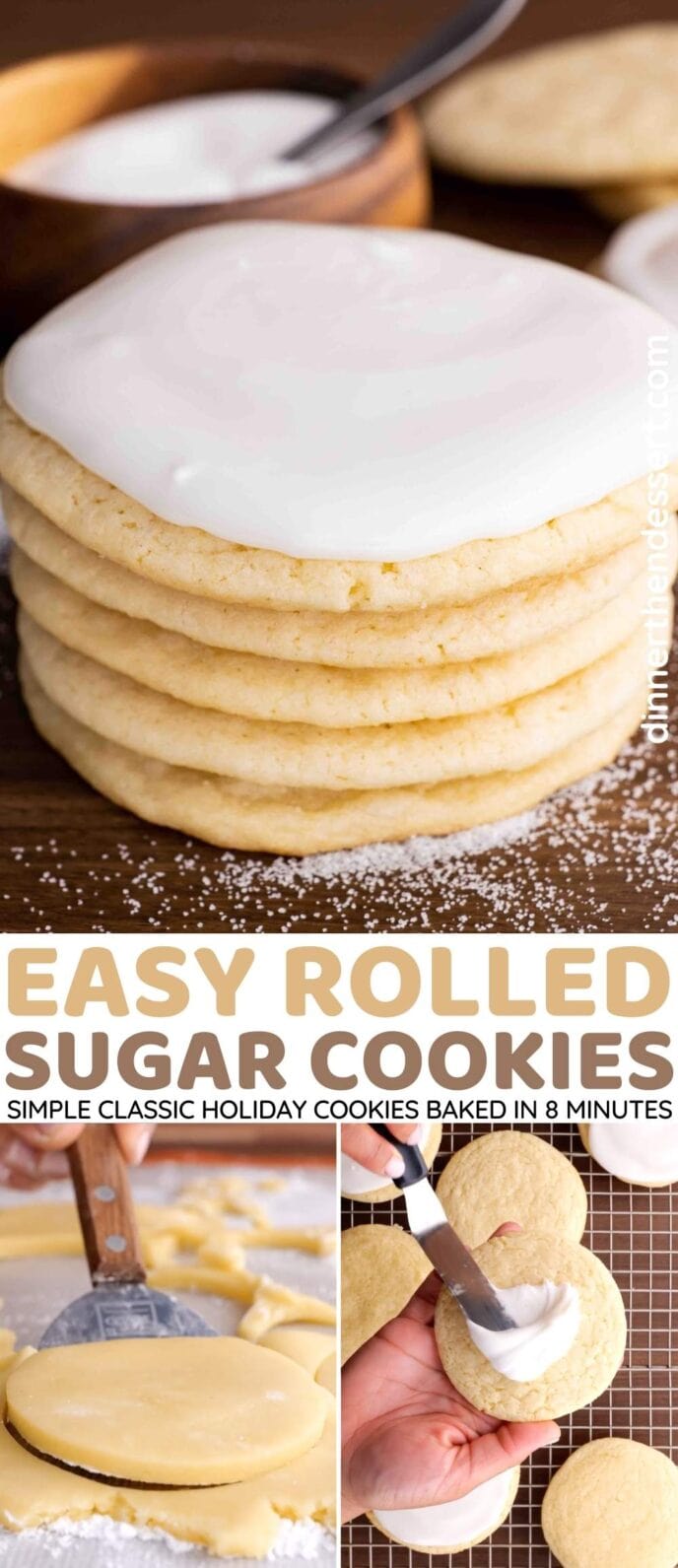 Photos used in a previous version of this post.