This Christmas Cookie Box is a complete holiday cookie box guide with how to pack and ship treat boxes plus a holiday cookie recipes roundup!
From Gingerbread Cookies to Shortbread Cookies to Chocolate Cookies, a basket full of your family's favorite Cookies is the perfect gift for all the people you love this holiday season!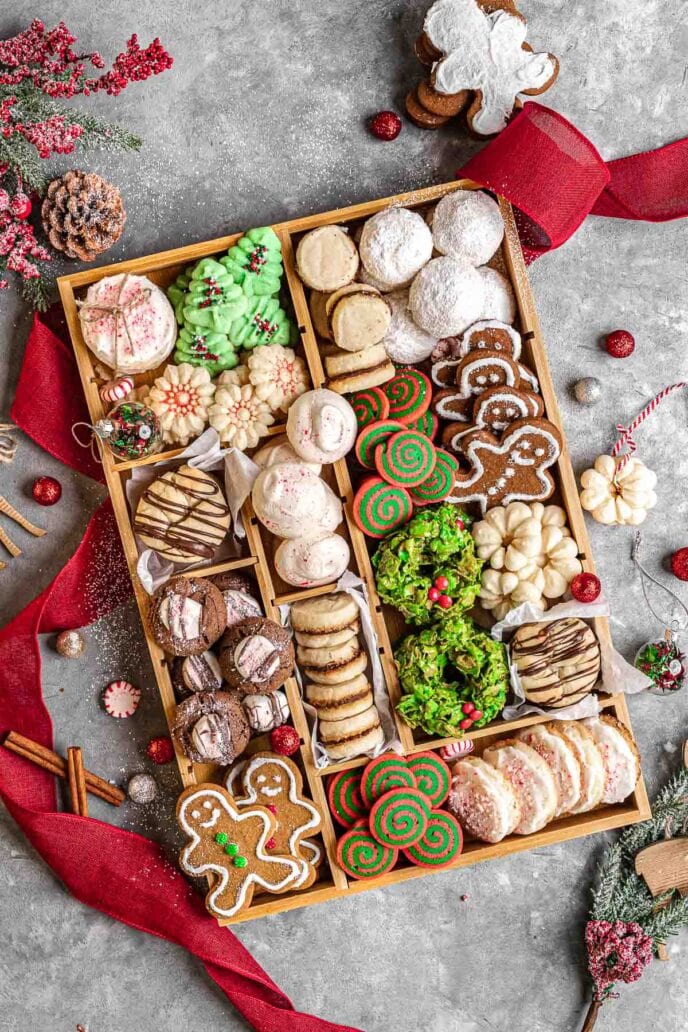 There is nothing quite like getting a cookie tin full of festive holiday cookies. It's a simple yet touching gift from the heart. And of course, we all love having lots of homemade scrumptious cookies without having to bake! This year, turn your holiday baking into a heartfelt gift for all your friends and neighbors, with our easy instructions for making a Christmas Cookie Box.
Gifting edible treat boxes can be overwhelming, From how to organize shopping lists and what to bake, to ideas for stylish boxes to how to keep those cookies fresh and intact during shipping, there is a lot to think about. Especially during the holidays! Our step by step instructions make it easy for you to create your own fabulous Christmas Cookie Boxes. This is your ultimate guide to cookie boxes with everything you need to know, plus our best tips and tricks, to make and ship homemade cookies this holiday season.
This Ultimate Christmas Cookie Box Guide Includes:
Planning for Your Cookie Box
Baking for Your Cookie Box
Assembling Your Cookie Box
Packing and Shipping Your Cookie Box
What Cookies We Used for Our Perfect Christmas Box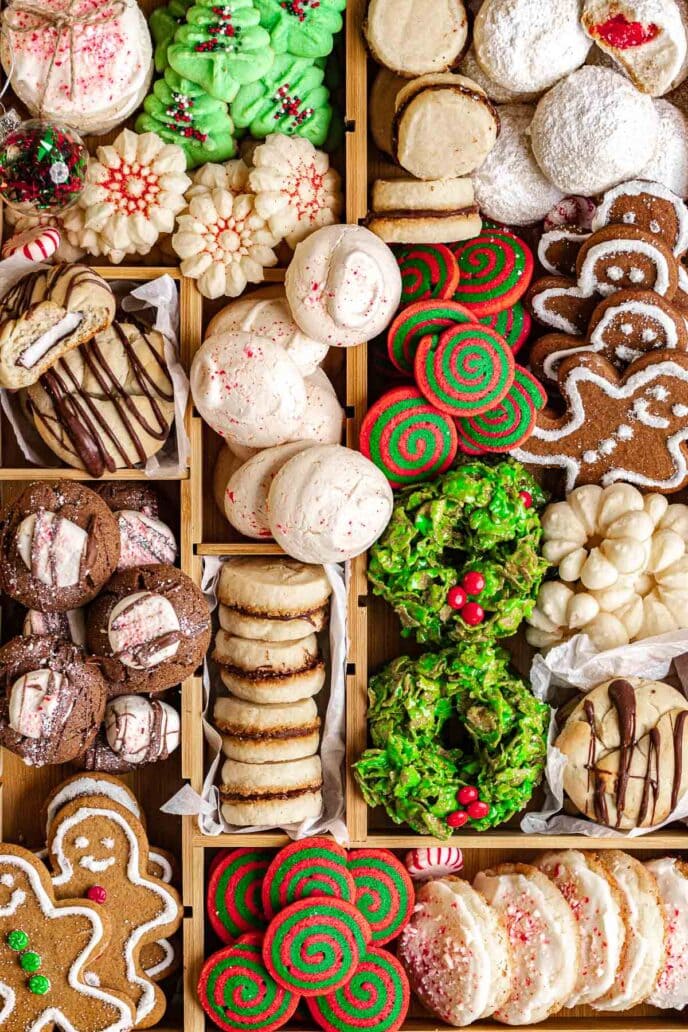 Planning Your Christmas Cookie Box
If you are just running holiday baking leftovers over to a neighbor in a tin, you don't need to pull together lists ahead of time. Making a Christmas Cookie Box takes a bit more work though, and we are all about easing that work as much as possible by planning everything out.
Choosing What Cookies to Bake
Choosing what cookies to bake seems like the simplest step, but there are things you want to consider. First off, how many cookies do you want to make? We suggest about 6-8 cookies because you don't want to burn yourself out. Obviously our Christmas Cookie Box is over the top with more than 10 cookies, but you don't need to choose that many! Choose cookies that share complimentary tastes and flavors, especially when using strong flavors like peppermint. We like to make cookie recipes that are different sizes and textures to add variety.
Figuring out the Timing
Honestly, giving yourself ample time is the secret weapon to making stunning Cookie Boxes. Everything else is (literally) just filler. Give yourself enough time to shop for ingredients and supplies. Baking, cooling, and decorating cookies all adds to the time. It takes time to assemble the boxes, especially if you plan on wrapping things individually, and pack them correctly for shipping. Finally, you'll need to figure out how long shipping will take and plan on a few hours at UPS or FexEx during the holidays.
Tips for Planning a Treat Box
Print out the recipe cards for all your cookie recipes and read them through at least once before you go shopping.

Plan out the order you need to make each batch of cookies so they have enough time to cool completely and for any decorations to set.

Take inventory of what you have on hand both for ingredients and supplies, and separate them out. This includes any packaging for the actual boxes.

Get an idea of what else you want in your box besides cookies. Things like candy, roasted nuts, fudge, and cute little holiday knickknacks or ornaments, etc.

Baking for Your Christmas Cookie Box
Before you start baking, obviously you need to make sure you have all the ingredients you will need. This is where your shopping list comes in handy, and it helps to make cookies that share a lot of ingredients so you can buy in bulk. One thing people often overlook is making sure they have all the baking equipment they need. Having a couple extra wire racks is a game changer when baking lots of batches of cookies.
Shopping for Supplies
This is where choosing which cookies you want to bake ahead of time makes a big difference. It takes a little prep work (and some math), but it's worth it to only have to make one trip to the grocery store to get all the baking ingredients you need. I like to print out all the cookie recipes I want to bake. This way I can cross things off as I add them to my list and I don't have to toggle between a bunch of open browsers.
Baking The Cookies
Now for the fun part, the actual holiday baking! I like to double check which types of cookies I want to bake and in what order, based on the timing to chill dough, decorate, etc. I set out any pantry ingredients and baking equipment the night before and first thing in the morning I pull out any ingredients that need to be at room temperature. Let the baking and decorating commence!
Tips for Baking Cookies
Here's a little secret: You don't have to bake all your cookies on the same day or even on the same weekend. Many types of cookies can be frozen head of time, either as baked cookies or as raw cookie dough.

Leave plenty of time for cooling, especially if the cookies are frosted. Also, you want to use frosting that will harden, like Royal Icing, unless you don't plan on stacking your cookies. Both our Classic Gingerbread Cookies and our Chocolate Gingerbread Cookies recipes have instructions on how to make Royal Icing. Swapping soft frosting with a drizzle of dark chocolate or white chocolate can work too.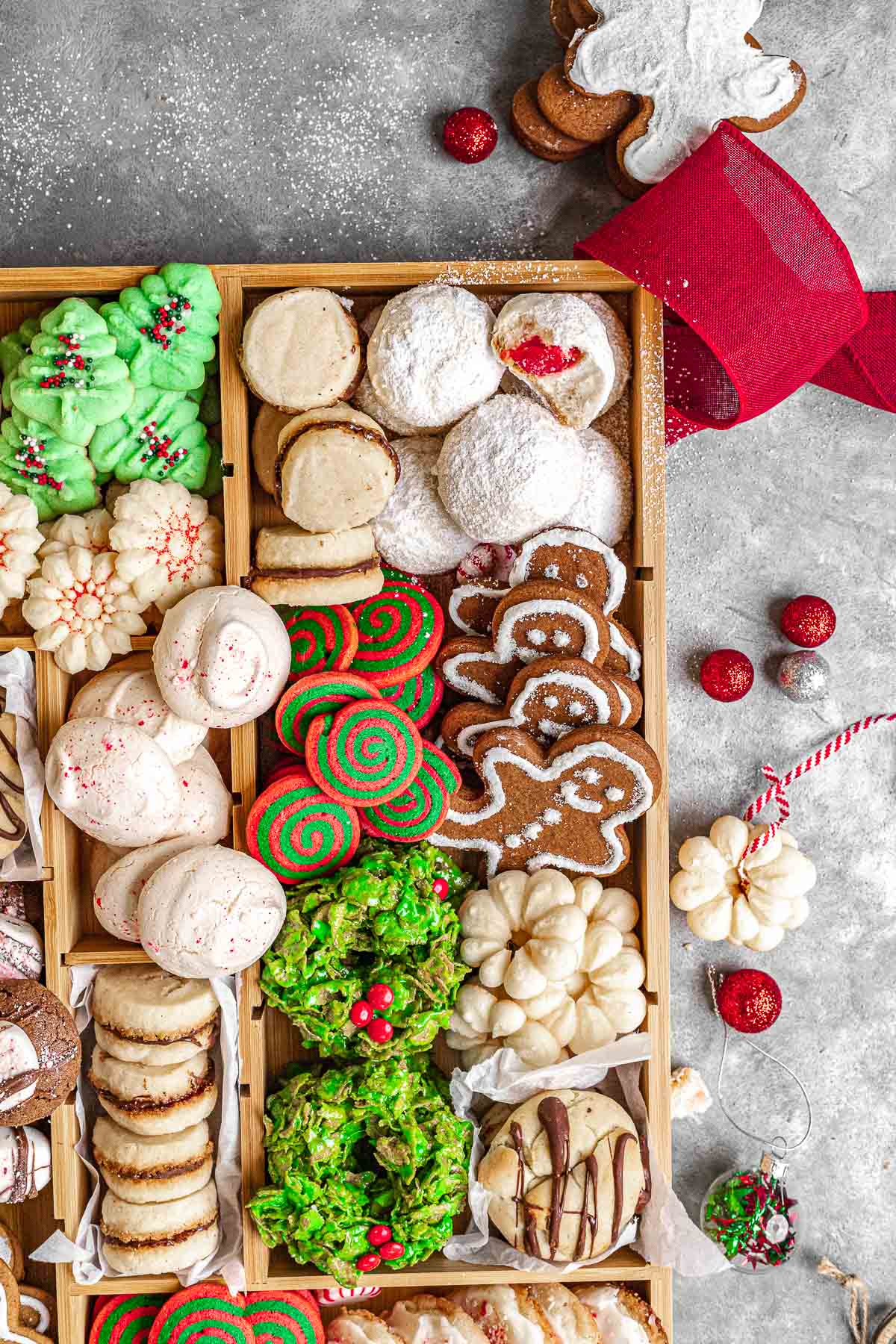 Assembling Your Christmas Cookie Box
After your cookies are cooled and ready, it's time to assemble the box and add decorations. You'll want to use a larger heavy cardboard box, big enough to hold your cookies plus any dividers and other treats you want to use.
Dividers for the Cookie Box
A lot of the time the little boxes and bags that are too small for an actual gift box are perfect for packing a box and separating smaller kinds of cookies. From festive plastic bags to tiny treat boxes – you'd be surprised at what you can get at the dollar store. You can also use holiday ziploc bags, plastic wrap, and cellophane to separate cookies. Foil tins, small cookie tins, cupcake liners, mini loaf pans, or even cardboard ornament dividers are also great to create sections in your cookie boxes.
How to Decorate a Cookie Box
Cookies are the star of a cookie box of course, but half the fun is in the decorating. Adding tiny ornaments, ribbon, gift tags, mini pine cones, and tissue paper will really make your box pop. Use twine around a stack of cookies or tie the ends of cellophane wrap with festive ribbon for an easy decoration.
Filling a Cookie Box
Don't store soft cookies and crisp cookies next to each other because they will soften the crisper cookies. Line your cardboard box with parchment paper or wax paper to keep the cookies fresh. Make sure your cookies are completely cooled before packing them in the box. Finally, use parchment paper or wax paper between layers of cookies to keep them firm and prevent them from sticking together. Only wrap cookies in food safe paper and use tissue paper for decoration only.
Other Treats to Include
Try festive favorites like candy canes, chocolate kisses, candy coated chocolates, peppermint candies, candied nuts, roasted nuts, fudge, chocolate covered pretzels, or Chocolate Covered Pretzel Rods. We have over 50 Christmas Candy Recipes that would make great additions to your treat boxes!
Favorite Cookie Recipes
Packing and Shipping Cookie Boxes
How to Pack a Cookie Box To Ship
You want a large enough box to fit your actual cookie box in with room to add fillers to keep your cookies from breaking and the box from jostling around. Use fillers like bubble wrap, scrunched up newspapers, cardboard paper towel tubes, shredded paper, or folded up cardboard pieces. Tape up your box with packing tape and make sure to write FRAGILE on every side in big bold letters.
How to Ship a Cookie Box
You'll want to double check your local shipping times and costs for where you want to ship your cookies. We recommend shipping through UPS or Fed-Ex and paying for 2 day air shipping so they get there as soon as possible, but again go with your budget and time needs.
What's In Our Cookie Box this Year?
1

/12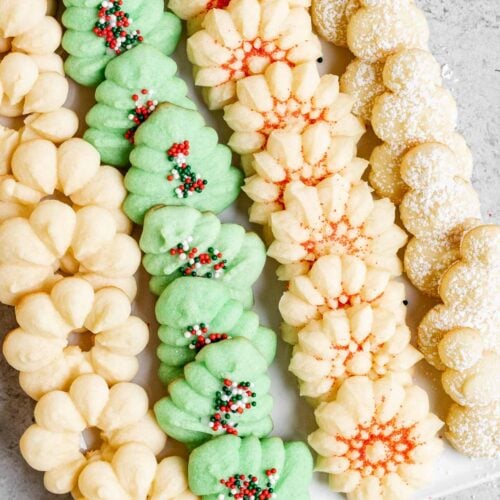 Buttery and beautiful, Spritz Cookies are a holiday classic made easily with a cookie press. Keep them simple or decorate for the holidays.
Check out this recipe
2

/12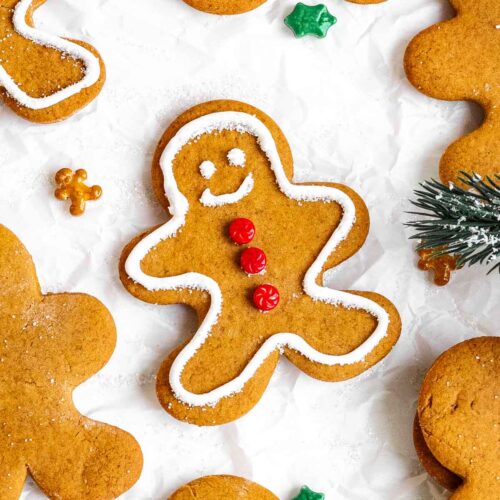 Gingerbread Men are a classic holiday cookie filled with warm spices like nutmeg, molasses, and clove. Royal Icing recipe and decorating tips included!
Check out this recipe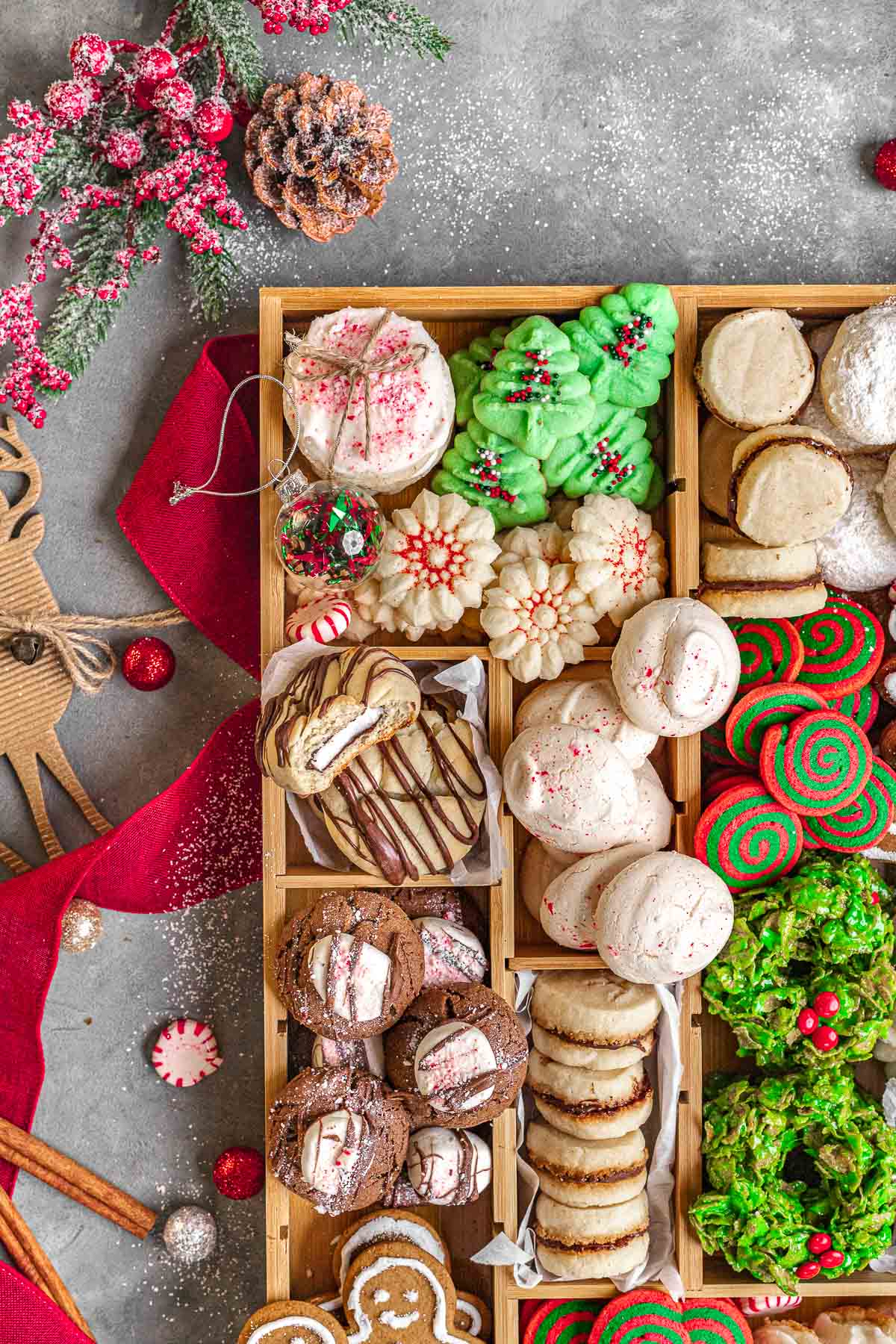 Other Cookies for Your Holiday Box


Instructions
Bake each recipe of cookie according to its instructions.

Arrange 4-8 of each cookie in a decorative box or tin.