Peppermint Filled Cookies are the perfect buttery, cream cheese cookie with a peppermint patty at the center and melted chocolate topping.
Chocolate and peppermint are two of the most iconic flavors used in holiday Dessert Recipes. Peppermint Bark Brownies, Chocolate Peppermint Hearts, and these Peppermint Filled Cookies will give you a peppermint fix this holiday season.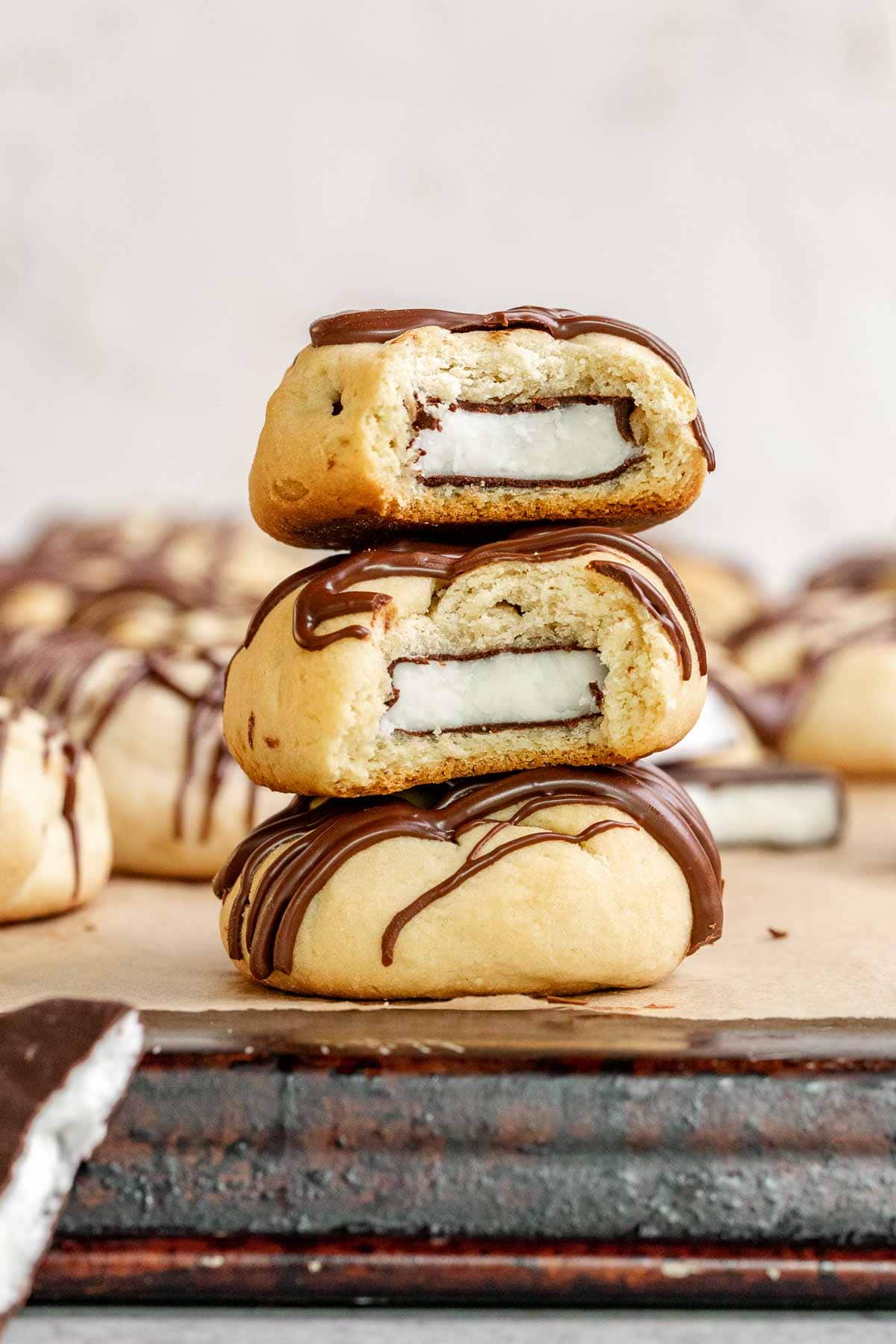 This is one of those holiday recipes you'll find yourself coming back to year after year. They're a great-tasting holiday cookie with a chocolate and peppermint cream filling that makes them completely unique.
Each of these classic vanilla cookies gets a hit of wintery peppermint filling from refreshing peppermint patties in the center. The buttery cookies and chocolate topping are the perfect complement to peppermint flavor from the York peppermint patties in the center of each cookie. The cool mint mixes with the warm vanilla flavors of the cookie for an absolutely blissful flavor in every bite.
Add this recipe to your holiday cookie plate at a family get-together, bring them to a cookie exchange, or package them up to send as gifts. The good news is each recipe makes 40 cookies so there will be plenty to share. They go great alongside other classic holiday cookies like Gingerbread and Sugar Cookies. The peppermint surprise at the center makes the perfect exciting addition to traditional holiday baked goods.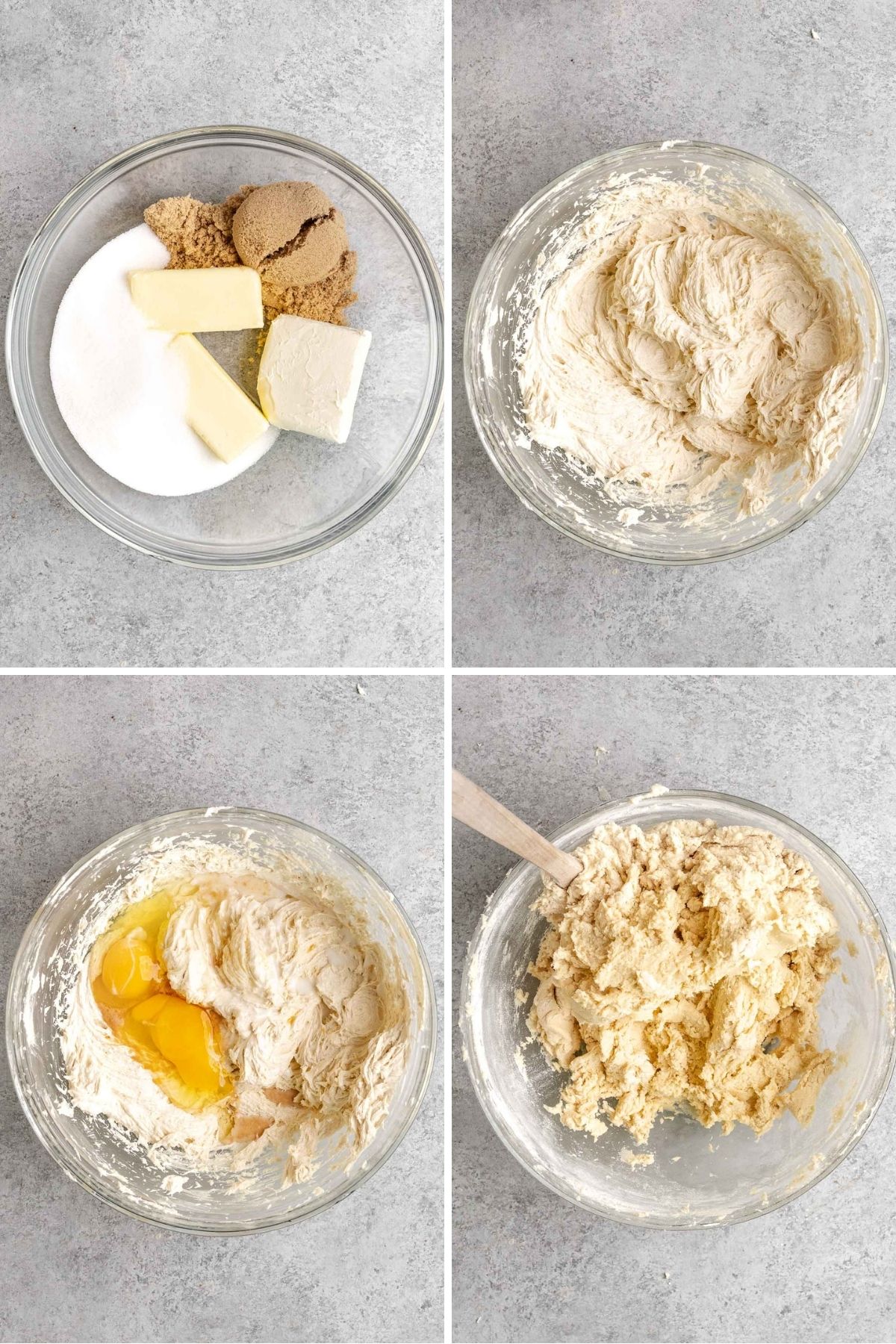 How to Make Peppermint Filled Cookies
Cookie Dough: Cream together the butter, softened cream cheese, granulated sugar, and brown sugar until light and fluffy. You'll probably have to beat them together for about 5-7 minutes to get the right consistency. Then add the eggs, milk, and vanilla to the mixing bowl, and beat until combined. Sift together the all-purpose flour, baking soda, and salt in a separate bowl. Add the flour mixture to the rest of the dough slowly and mix until just combined. One of the secrets to baking is not to overmix the dough.
Refrigerate: Divide the dough into two large pieces and flatten them into circles. Wrap each one in plastic wrap and refrigerate until the dough is firm.
Shape: Take the refrigerated dough out and place it on a floured surface. Roll out each piece of dough with a floured rolling pin until it's about ¼ inch thick. Then use a round cookie cutter to cut them into 3-inch circles. Coat the cookie cutter in flour so that it doesn't stick to the rounds of dough. Then, place peppermint patties in the center of each circle of prepared dough. Fold the dough over the chocolate and pinch the top to seal it.
Baking Time: Place the cookies on a greased or parchment-lined baking sheet with the fold side down. Bake for 8-10 minutes in a 400-degree oven until the cookies are golden brown. After baking, move them to wire racks to cool completely while you make the chocolate coating.
Chocolate Topping: Add the chocolate chips and shortening to a microwave-safe bowl and melt in 30-second increments, stirring between each session until smooth. Drizzle the chocolate over the cooled cookies, then put them in the fridge until the chocolate sets.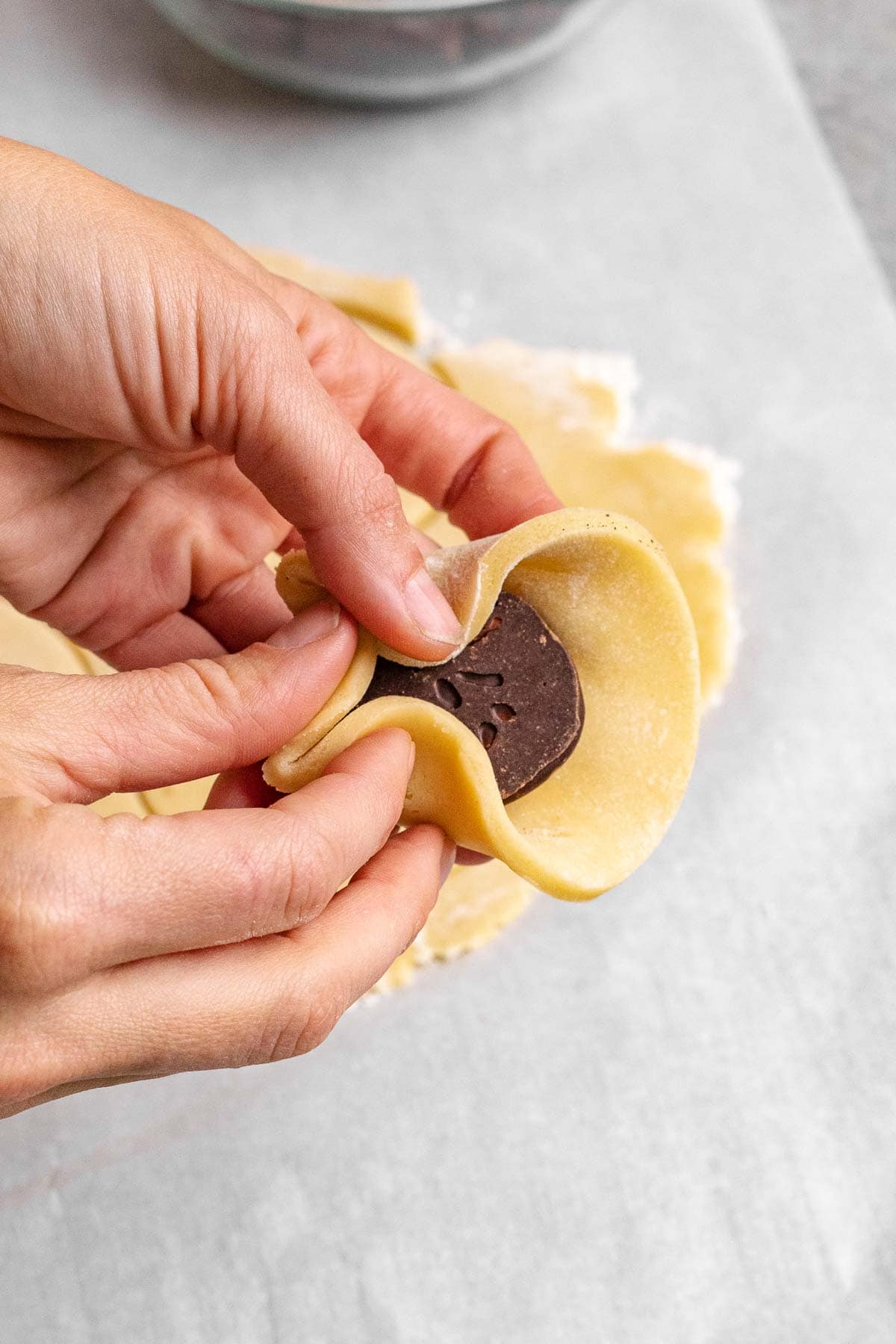 More Yummy Cookie Recipes
Frequently Asked Questions
How do I know when Peppermint Filled Cookies are done?
When the edges of the cookies begin to look golden brown and the tops are set, the cookies are ready. You can let them cool on the pan for 1-2 minutes then transfer to a wire baking rack to ensure that they do not overbake on the hot pans as they cool.
Why use cream cheese in cookie dough?
The cream cheese in these cookies helps to keep them light and fluffy. It also helps to keep them from spreading too thin over the candy center, which might happen if you were to only use butter. Cream cheese also adds a tangy flavor that goes well with the sweetness of the rest of the brown sugar and chocolate in the recipe. 
How do I keep cookies from being too dry?
If your cookies are turning out too dry, you could be measuring your flour incorrectly and using too much. To correctly measure flour for baking, fluff the flour with a measuring cup so it is not compacted, before spooning flour into the measuring cup, then leveling it off with a flat knife. This way you are not using additional flour because it was compacted in the bag. Your oven could also be too hot. Use an oven safe thermometer to check that your oven temperature is correct. If it is off, adjust the dial accordingly until the thermometer reads the correct temperature.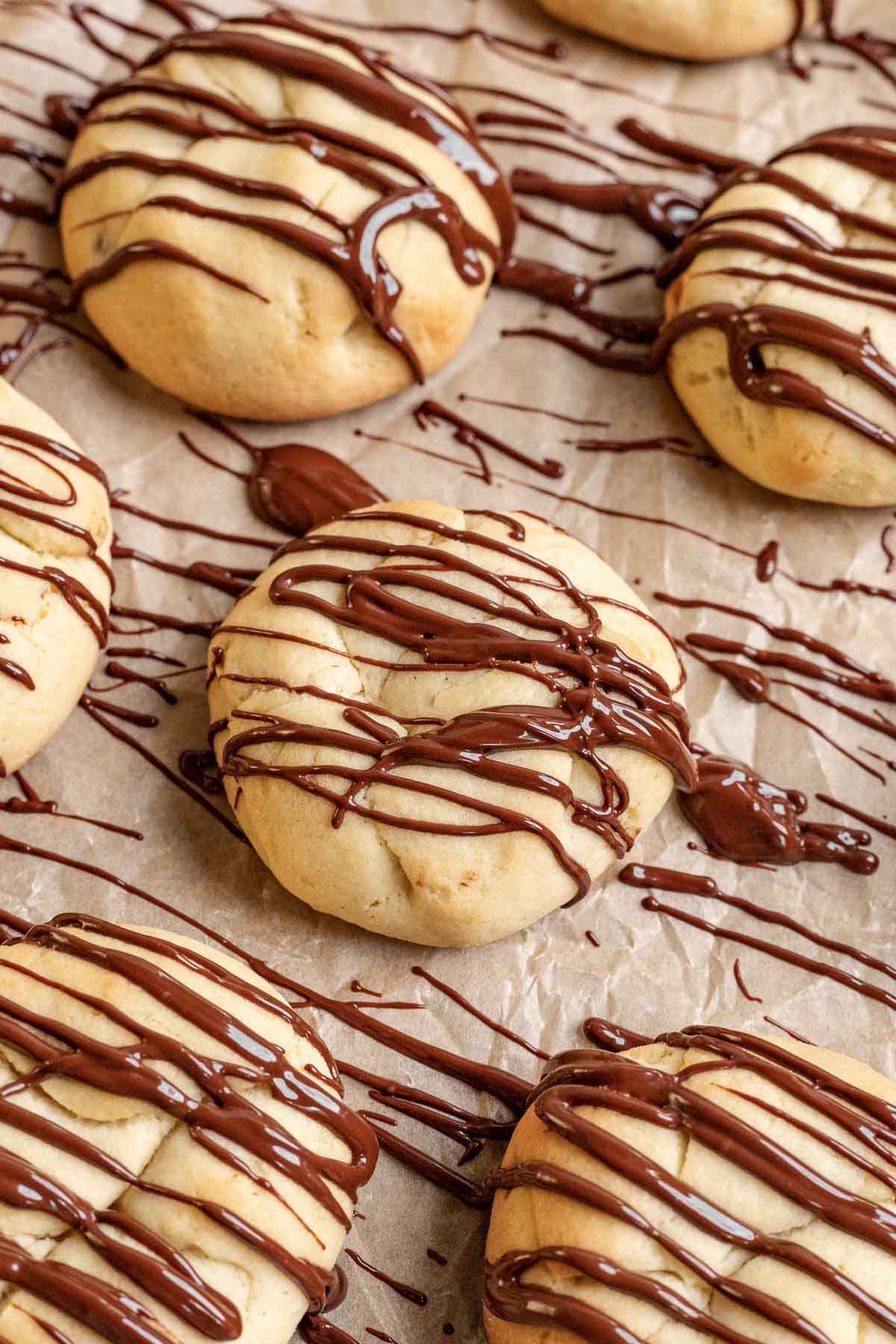 Create a free account to Save Recipes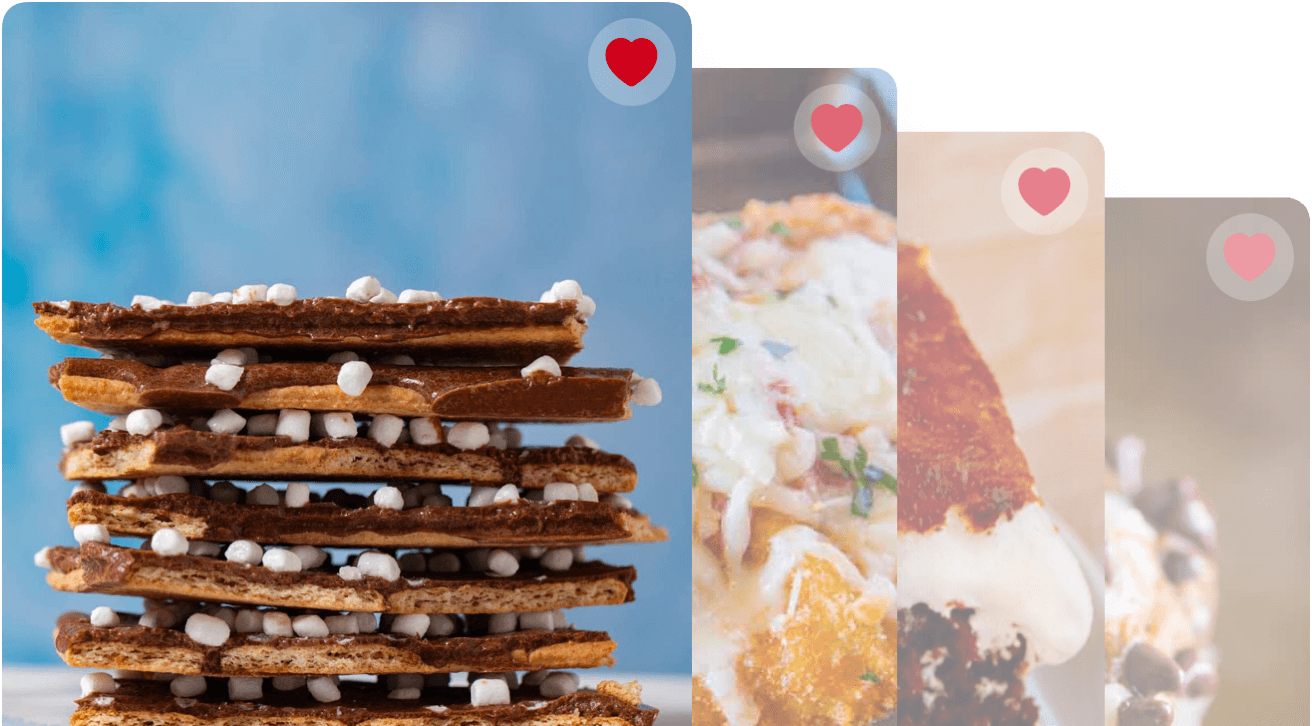 Key Ingredients in Peppermint Filled Cookies
Vanilla Cookie Dough: The tender, buttery cookie dough is made with common pantry ingredients like white and brown sugar, vanilla, flour, baking soda and salt. Eggs, milk, butter, and cream cheese round out the ingredients for this light and tasty vanilla cookie.
Peppermint Patties: Chocolate covered peppermint cremes are the secret surprise in the center of these pillowy cookies. York is the common brand you can easily find in the grocery store. If you have a favorite local candy shop that makes them, feel free to use your favorite kind.
Chocolate Drizzle: A semi-sweet chocolate drizzle gives your Peppermint Filled Cookies even more chocolate flavor to balance the sweetness of the cookie and the peppermint candies inside.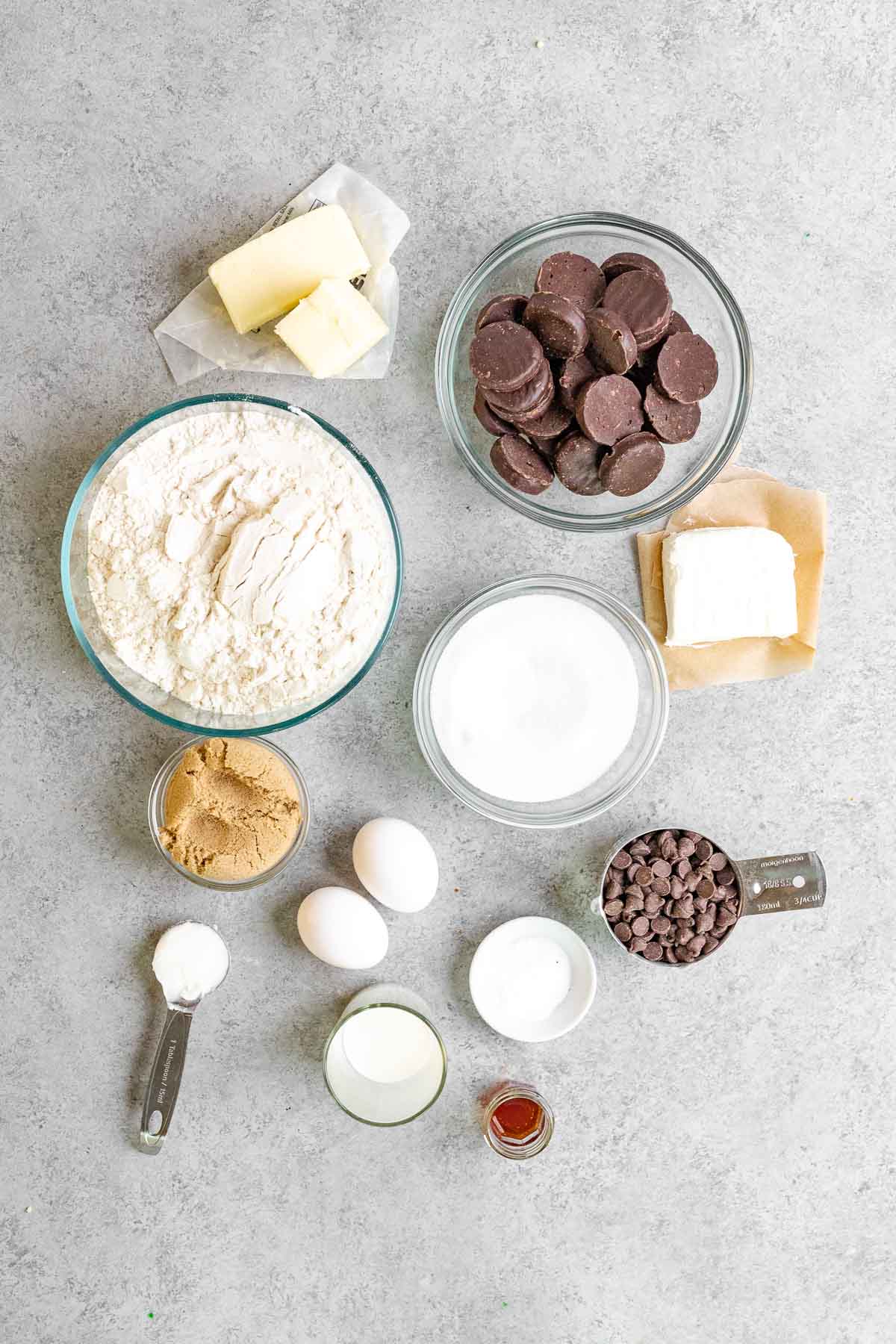 Can Peppermint Filled Cookies be Made Ahead?
The best way to make cookies in advance is to prepare the dough and let it chill until you are ready to bake. You can assemble the Peppermint Filled Cookies up to 24 hours in advance, and refrigerate them tightly covered. If you would like to make them even further in advance, freeze the assembled unbaked cookies in a single layer for 1 hour, then transfer to a freezer safe plastic bag and freeze up to 3 months. Then when you want fresh baked cookies, all you have to do is preheat your oven and bake them straight out of the fridge or freezer! Then drizzle with the melted chocolate and your holiday baking is easy and quick!
Variations on Peppermint Filled Cookies
Peppermint Cookies: Instead of just having a peppermint filling, you can add some peppermint flavoring to the cookies themselves. Just mix a teaspoon peppermint extract along with the rest of the cookie dough ingredients.
Chocolate Cookies: To make these even more chocolatey, add ¾ cup unsweetened cocoa powder to the dry ingredients, and reduce the flour to 3 ¼ cup. Then you will have a chocolate cookie dough instead of plain vanilla along with the peppermint patty and chocolate topping. Yum!
Chocolate Drizzle: We've used semi-sweet chocolate chips in this recipe, but you could also try out milk chocolate, dark chocolate, or even white chocolate.
Decorations: To add a more festive look to the cookies try adding some sprinkles, large-grain sugar, or crushed candy canes over the top before the melted chocolate sets. You could also make the cookies into holiday colors by adding a few drops of food coloring to the cookie dough.
Different Fillings: Once you've mastered the technique of these treat-filled cookies, try baking different surprises inside. Try baking these with a thin peanut butter cup, an Oreo cookie, Girl Scout Cookie, caramels, or marshmallow candies inside.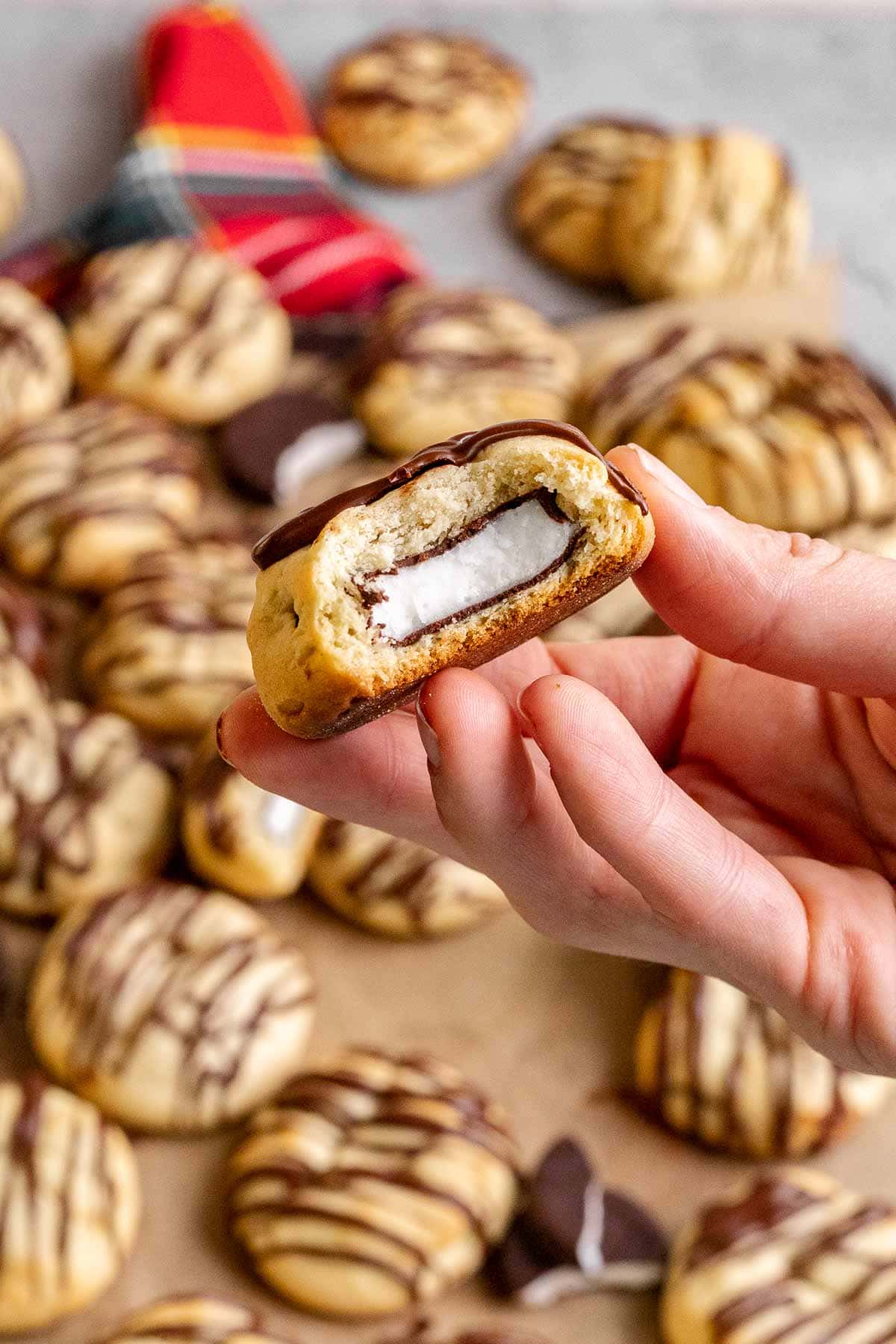 More Peppermint Dessert Recipes
How to Store Peppermint Filled Cookies
Serve: Let the chocolate topping harden in the fridge before you take the cookies out to serve them.
Store: Once they've set, the cookies can stay good in an airtight container in the fridge or at room temperature for 2-3 weeks. You just want to make sure it's not too warm in your house, or the chocolate will melt.
Freeze: Peppermint Filled Cookies are also a great recipe to make ahead of time and store in the freezer. Properly sealed, they'll stay good frozen for up to 3 months.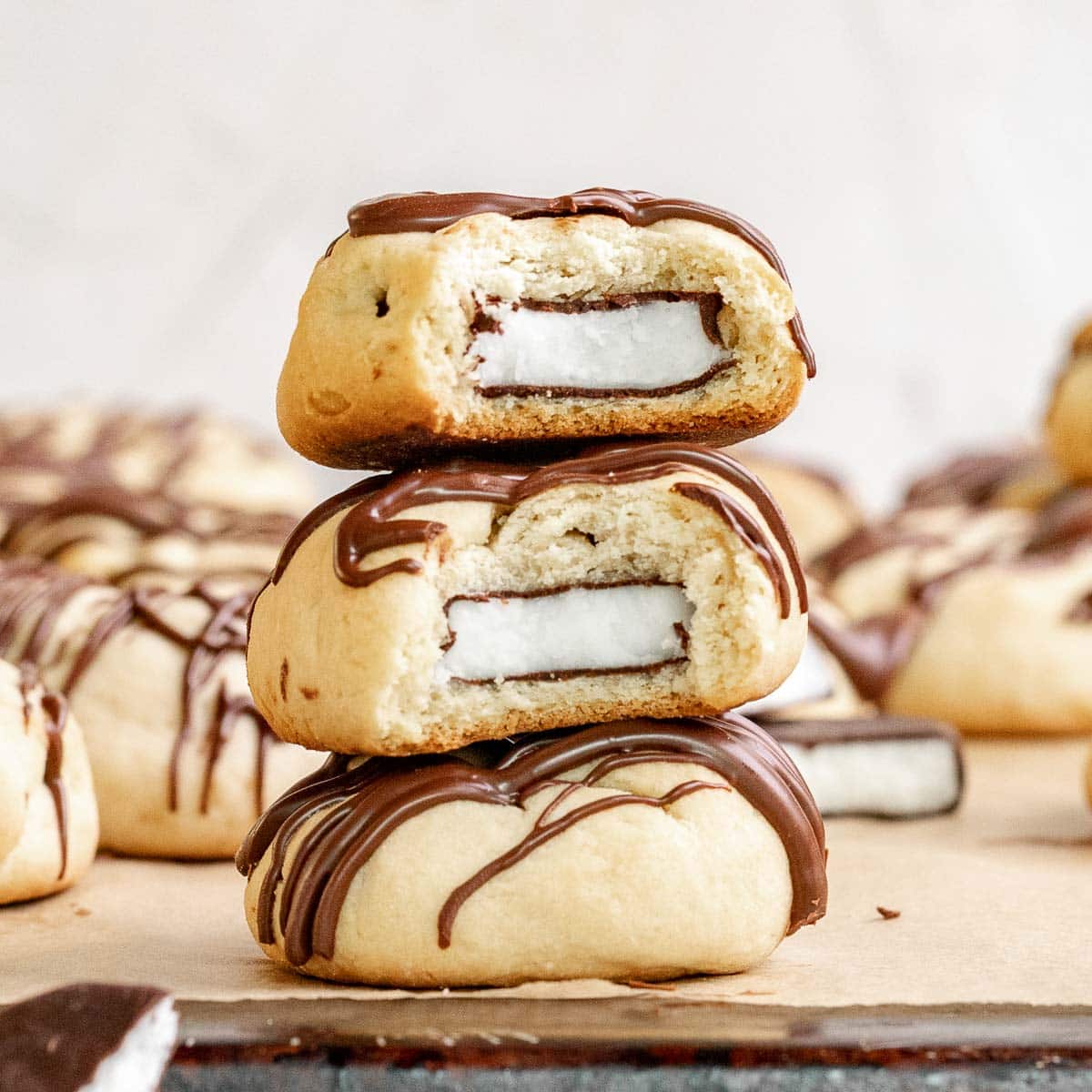 Ingredients
1

cup

butter

, softened

4

ounces

cream cheese

, softened

1

cup

sugar

1/2

cup

brown sugar

, packed

2

large

eggs

, room temperature

1

tablespoon

2% milk

1

teaspoon

vanilla extract

4

cups

all-purpose flour

1

teaspoon

baking soda

1/2

teaspoon

salt

40

chocolate-covered peppermint patties

, 1-½ inches, unwrapped

3/4

cup

semisweet chocolate chips

1

tablespoon

shortening
Instructions
In a large bowl, cream butter, cream cheese, and sugars until light and fluffy,

5-7 minutes

.

Beat in eggs, milk and vanilla.

In another bowl, whisk flour, baking soda, and salt; gradually beat into butter mixture.

Divide dough in half; shape each into a disk.

Wrap and refrigerate

30 minutes

or until firm enough to roll.

Preheat oven to 400 degrees.

On a lightly floured surface, roll each portion of dough to 1/4-inch thickness.

Cut with a floured 3-inch round cookie cutter.

Place a mint patty in the center of each circle; fold the dough over the patty.

Pinch to seal seams.

Place on greased baking sheets, seam side down.

Bake

8-10 minutes

or until cookies are golden brown.

Remove from pans to wire racks to cool completely.

In a microwave, melt chocolate chips and shortening; stir until smooth.

Drizzle over cookies.

Refrigerate until set.
Nutrition
Calories:
313
kcal
|
Carbohydrates:
54
g
|
Protein:
3
g
|
Fat:
10
g
|
Saturated Fat:
6
g
|
Trans Fat:
1
g
|
Cholesterol:
24
mg
|
Sodium:
127
mg
|
Potassium:
96
mg
|
Fiber:
1
g
|
Sugar:
37
g
|
Vitamin A:
176
IU
|
Vitamin C:
1
mg
|
Calcium:
18
mg
|
Iron:
1
mg