Chocolate Peppermint Hearts are a cute easy holiday treat made with mini candy canes and chocolate. Perfect for party favors, gifts, or on a cookie tray.
This Homemade Candy Recipe has a similar taste to classic Peppermint Bark but made into a sweet heart shape with whole candy canes.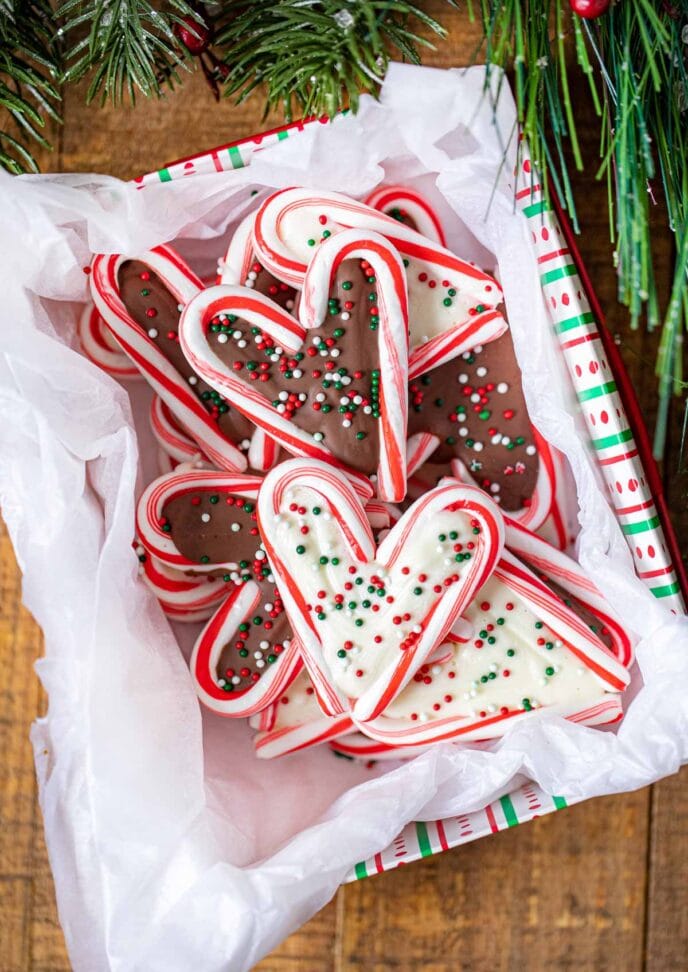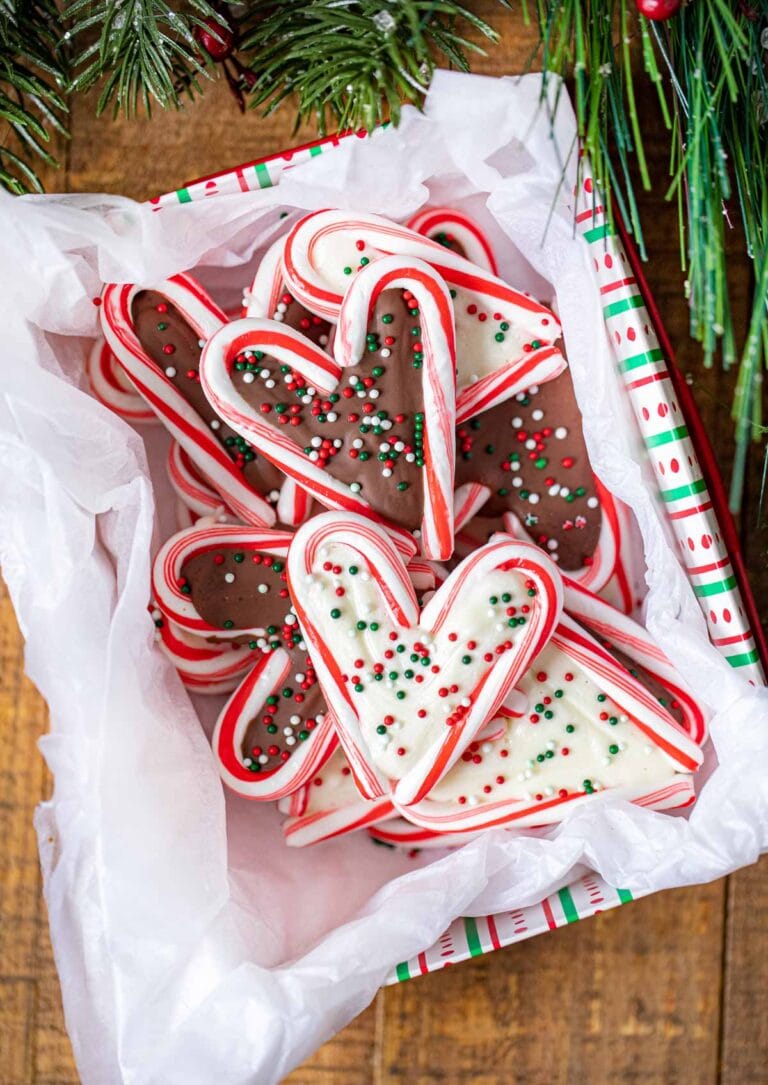 CHOCOLATE PEPPERMINT HEARTS
Chocolate and peppermint are the ultimate holiday combo. Simple treats like this one come together in just a few minutes. All you need are chocolates, mini candy canes, and sprinkles. The whole dessert comes together in just 20 minutes with creamy chocolate surrounded by crunchy candy canes.
The heart-shape makes this recipe especially festive, and perfect for parties. Put these treats out on a tray with classic holiday cookies like Gingerbread Cookies, Molasses Cookies, and Sugar Cookies. Your guests are sure to love these adorable and easy heart shaped treats. They're a fun take on old-fashioned holiday flavors.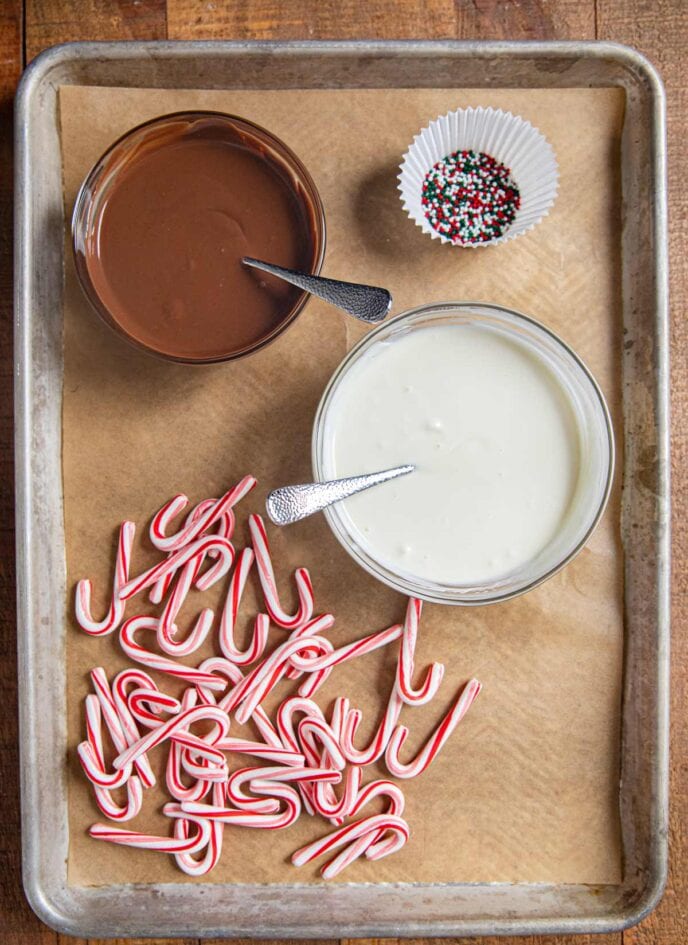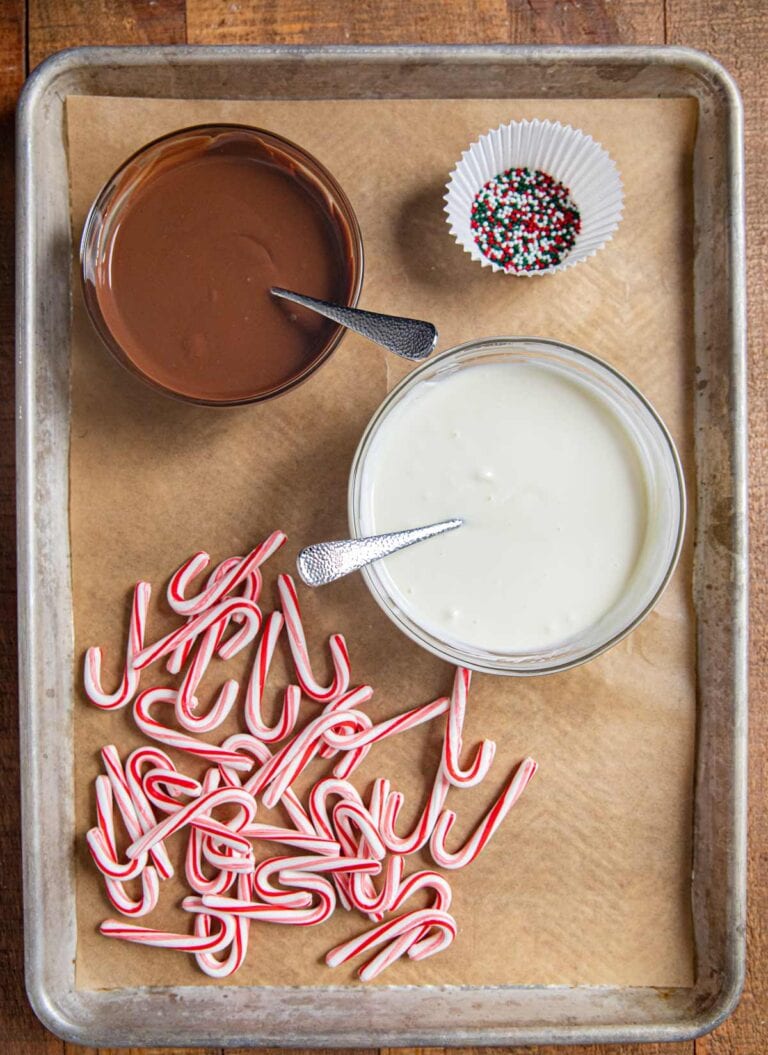 KID-FRIENDLY
Chocolate Peppermint Hearts are the perfect recipe for your kids to help you make. They're wonderfully easy and fun to decorate. Just start by melting the chocolate and white chocolate in two separate microwave safe bowls. Once you have smooth chocolate you can start putting together the candy cane hearts.
You and your kids can then line mini candy canes on you parchment paper lined baking sheet in the shape of hearts. Put the melted chocolate into ziplock bags with the corner cut off so you can pipe the chocolate into the hearts. Then you can have fun decorating with as many sprinkles and toppings as you'd like. All that's left to finish up this easy no-bake recipe is refrigerating the hearts for 15 minutes.
MORE HOMEMADE HOLIDAY CANDIES
PACKAGING CHOCOLATE PEPPERMINT HEARTS
This is an easy holiday dessert that's perfect to package and give to people as a homemade gift. You want to make sure the candy canes don't break, so it's important to pack them carefully. One option is just wrapping the Candy Cane Hearts in cellophane with a ribbon at the top to make a party favor. If you're worried about the candies breaking put decorative tissue paper between each candy so they don't knock against each other.
If you are sending the Peppermint Hearts in the mail put them in a box fairly similar to their size so they don't have room to shake around. Separate them with tissue paper and put paper over the top to give it something soft to knock against.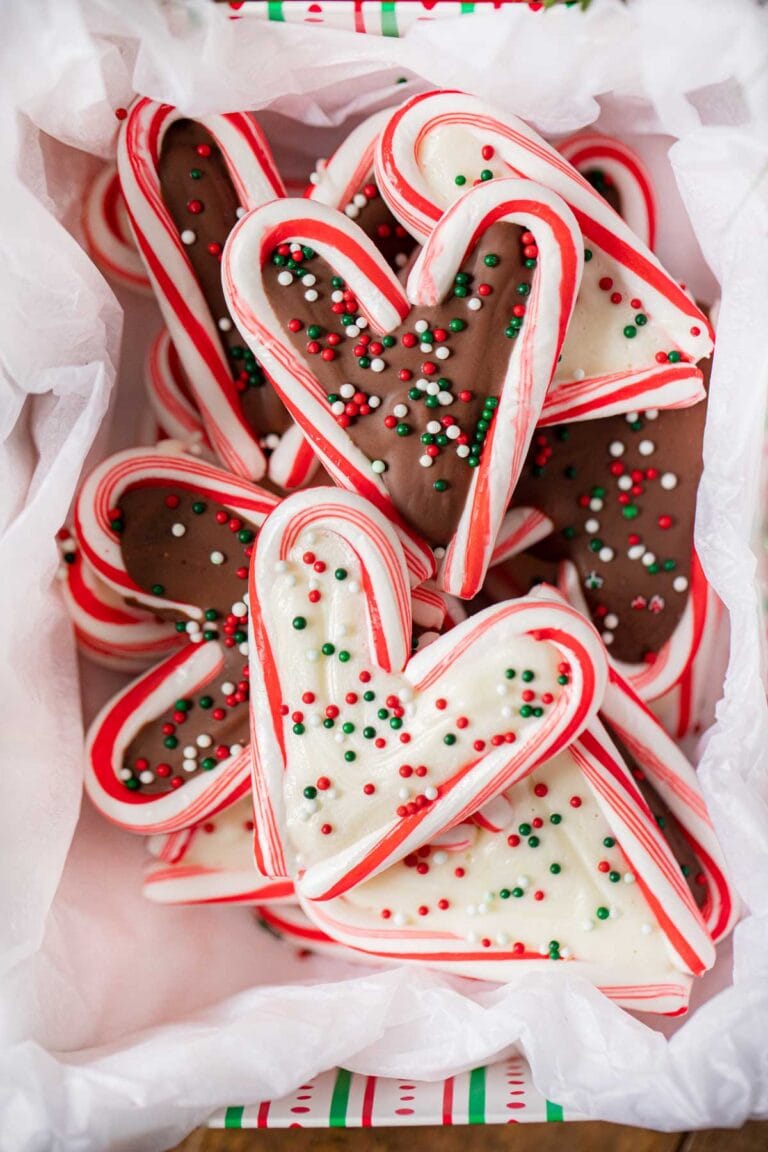 Create a free account to

Save Recipes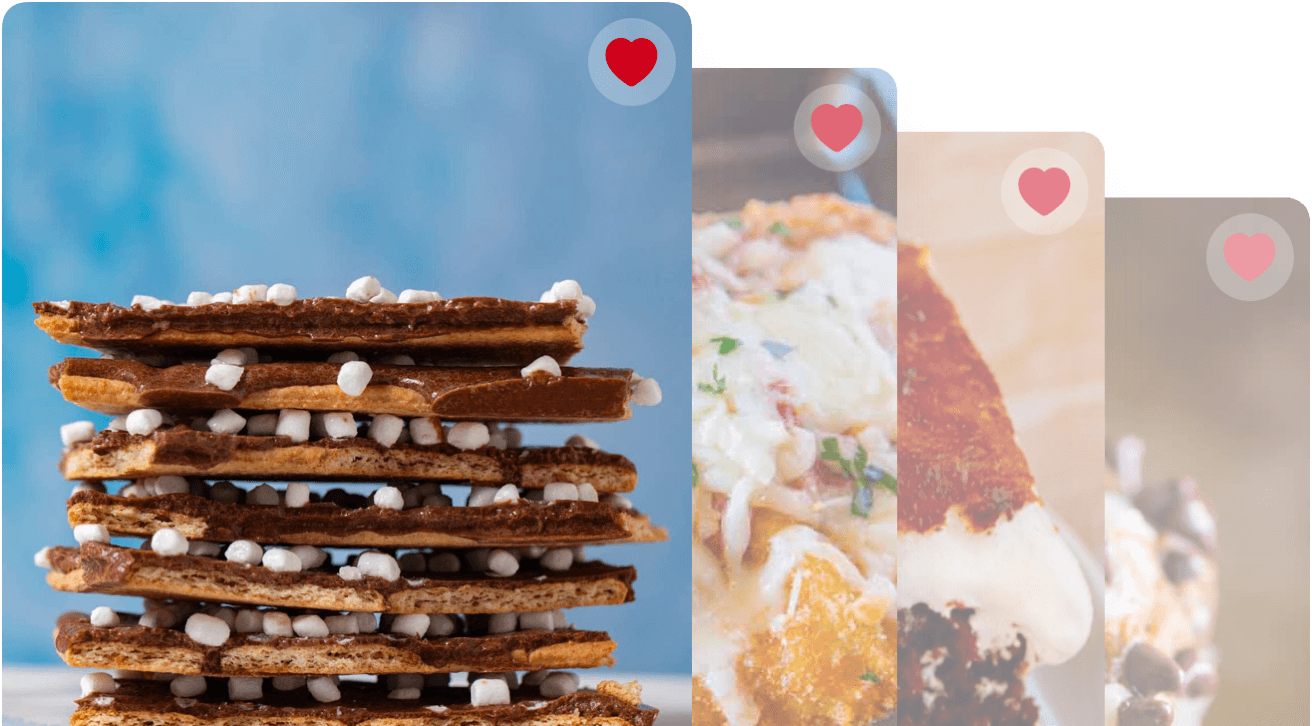 VARIATIONS ON CHOCOLATE PEPPERMINT HEARTS
Chocolate: You can use any kind of chocolate you like to make the center of your Peppermint Hearts. Instead of using semi-sweet chocolate chips try using milk chocolate or dark chocolate. You can also drizzle some chocolate over the top of the hearts. Try drizzling white chocolate over the semisweet hearts and semisweet chocolate over the white chocolate hearts for decoration.
Candy Canes: There are lots of different flavors of candy canes, and you can feel free to try any you like in this treat. Try using fruit candy canes, green candy canes, chocolate candy canes, or even oreo candy canes.
Decorations: Along with festive sprinkles try adding edible glitter, peppermint bits, or cookie crumbs. You could also use food coloring to make the white chocolate hearts a fun, festive color.
HOW TO STORE CHOCOLATE PEPPERMINT HEARTS
Serve: Once the Peppermint Hearts have hardened in the fridge you can store them at room temperature. As long as you keep them in a cool enough place that they don't melt, they can be stored in an airtight container for up to 10 days.
Store: Although you can keep your Peppermint Hearts at room temperature, we'd definitely recommend storing them in the fridge. Kept wrapped or in an airtight container they'll keep well for up to 3 weeks.
Freeze: Kept in a sealed container, they will keep well for up to 6 months.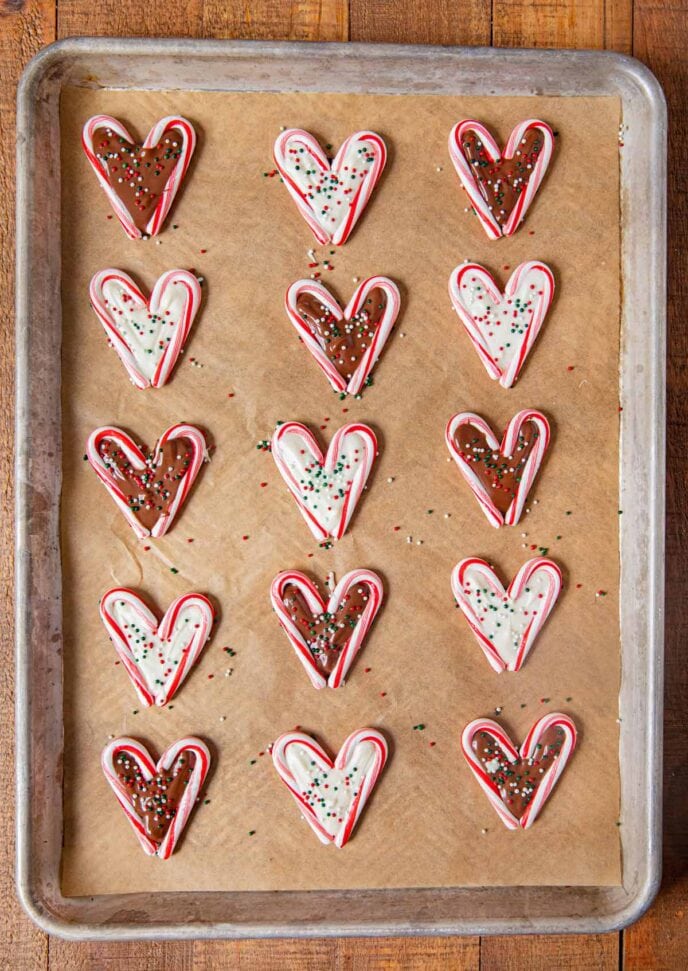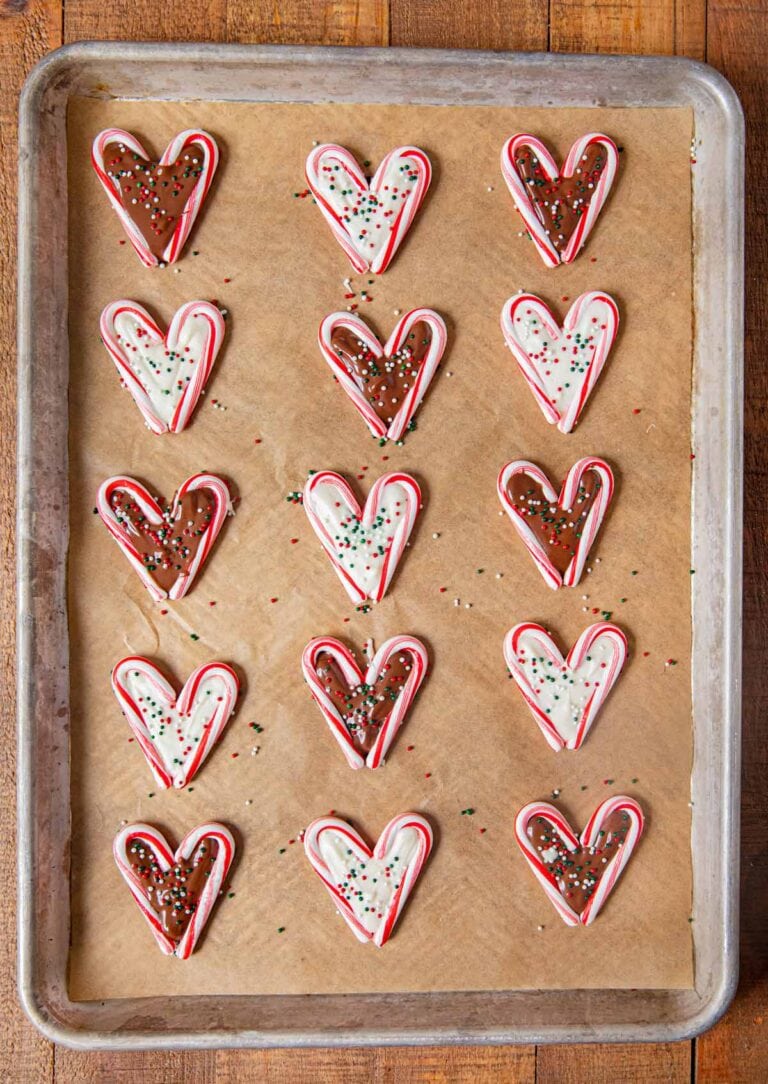 Instructions
Add the chocolate chips in small bowls to the microwave in

30 second

increments until smooth, stirring in between each 30 seconds.

Line up the candy canes on your baking sheet lined with parchment paper into hearts.

Make sure the edges are touching.

Add chocolate to small ziplock bags and trim the edge of a corner off.

Pipe chocolate into the hearts and smooth with a toothpick or fork.

Top with remaining sprinkles while chocolate is still wet.

Refrigerate until firm, about

15 minutes

.
Nutrition
Calories:
183
kcal
|
Carbohydrates:
35
g
|
Protein:
1
g
|
Fat:
5
g
|
Saturated Fat:
3
g
|
Cholesterol:
2
mg
|
Sodium:
6
mg
|
Potassium:
57
mg
|
Fiber:
1
g
|
Sugar:
28
g
|
Calcium:
15
mg
|
Iron:
1
mg