These chewy Molasses Cookies are the perfect holiday treat for Christmas and your holiday cookie exchange.
The most requested Christmas Cookie on the site is our Ultimate (Award Winning I may add) Gingerbread Cookies, but requests come in all year long for Molasses Cookies! This molasses cookie recipe is an old family recipe (over 50 years old), and it is not a letdown! Check out our other Cookie Recipes for more ideas, like Ginger Cookies.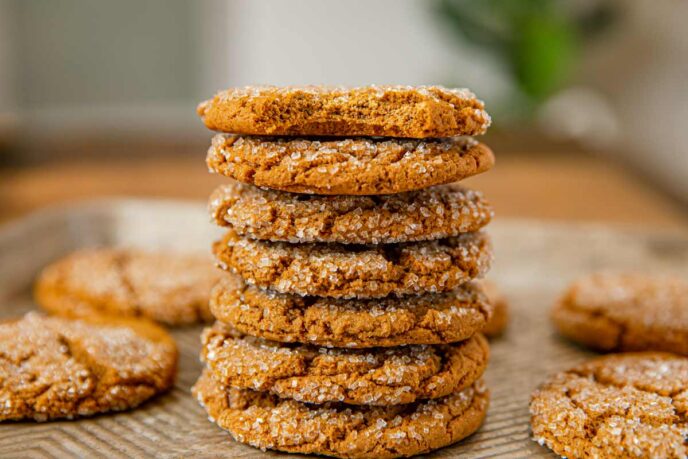 We're filling our trays with all kinds of holiday-themed baked cookies this time of year. There are so many types of cookies and kids usually go for their favorite cookies, like Sugar Cookies, because not only are they fun to decorate, but they are a holiday classic. These soft molasses cookies just might become a new family favorite! 
There's just something special about spiced homemade Molasses Cookies that puts everyone in the holiday spirit. Honestly, we could eat these all year long and it could be part of the reason we stock up on molasses.
But what exactly is molasses? Molasses is the thick and viscous syrup made from boiling the natural juices of, primarily, sugarcane. There are three levels of boiling (reducing) the cane sugar. The third and final boil is what produces the dark blackstrap molasses used as a sweetener in cooking. Its flavor is bittersweet and earthy, and actually is the main ingredient in the production of rum. Another exciting feature of molasses is that it is high in nutrients too!
These cookies are just as easy to bake as other cookies, but have a rich molasses flavor that's perfect for winter. The smell of these cookies baking in the oven can take you right to the holidays. It's like your favorite Gingerbread Cake smell with the portability of cookies!
We also call these Rudolph Cookies in our house because these are the cookies left for the reindeers on Christmas Eve. Santa gets Chocolate Chip Cookies, of course!
These are the perfect Christmas cookies to add to a Christmas cookie tray for your coworkers (hello amazing break-room surprise!) or to give to friends and neighbors. The deep, rich color from the molasses really sets these baked cookies apart from the other holiday cookies.
How to Make Molasses Cookies
Making molasses cookies is really easy. You'll just combine the ingredients in a shallow bowl, let it cool for an hour, then roll little scoops of dough in the special sanding sugar, put them onto the cookie sheet, and bake! Let them cool on some wire racks afterwards before serving. A few more details are listed here:
You're going to mix the melted butter, brown sugar, sugar and egg in a medium bowl.
Add in the molasses until fully mixed in, about 30 seconds.
Sift dry ingredients.
Add it into the stand mixer on low speed until just combined.
Cover bowl with plastic wrap and refrigerate for 1 hour.
Preheat the oven to 375 degrees.
Roll 2 tablespoon sized scoops of dough.
Roll in sanding sugar.
Bake for 10-12 minutes.
Enjoy your freshly baked chewy molasses cookies!
Frequently Asked Questions
What is a silicone baking mat?
A silicone baking mat functions like parchment paper in that it is heat safe, and is used instead of greasing the pan. Silicone baking mats are made from food-grade silicon and are reusable which makes them highly desirable; whereas parchment paper is not reusable. 
Can I grease the pan if I don't have a silicone baking mat or parchment paper?
Yes! You can grease the pan with shortening, all-purpose flour, butter or a non-stick cooking spray. If your pan is newer, it might already be a non-stick pan. 
Why is most molasses unsulfured?
Sulfur dioxide was originally added as a preservative, and to lighten the color. The sulfur was eventually removed as the public did not approve of the difference in flavor from this additive, as well as awareness spread about its toxicity.
Can I make my own brown sugar?
Yes! It's really easy since it uses only two ingredients: refined white sugar and molasses. In a mixing bowl, bag, or blender add one tablespoon of molasses to every one cup of sugar and mix it thoroughly for delicious homemade brown sugar. You can also use regular granulated sugar or raw turbinado sugar which produces a slightly darker version of regular brown sugar. Super yummy in so many recipes! 
Should I use Light or Dark Molasses?
When choosing a molasses for these baked cookies, we recommend a dark molasses due to its deeper flavor. You can use light molasses if preferred, but we suggest using dark molasses for the best taste.
How to Scoop and Roll these Cookies
If this is your first time making these cookies, we suggest using a cookie scoop to help portion out the dough to make the dough balls.
This ensures the dough will be uniform in size.
Your dough will stay colder (this is better) because the heat of your hand won't warm it up.
You won't have sticky hands.
You can even roll with the tines of a fork in the sugar to make this mess free.
It makes the process easier when you have little helpers in the kitchen too!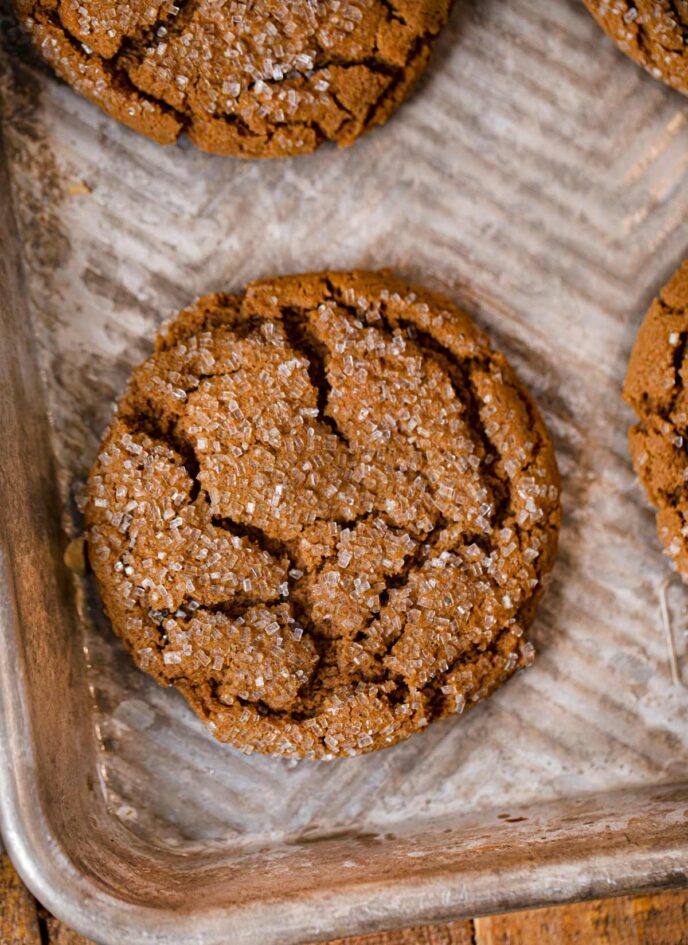 Create a free account to Save Recipes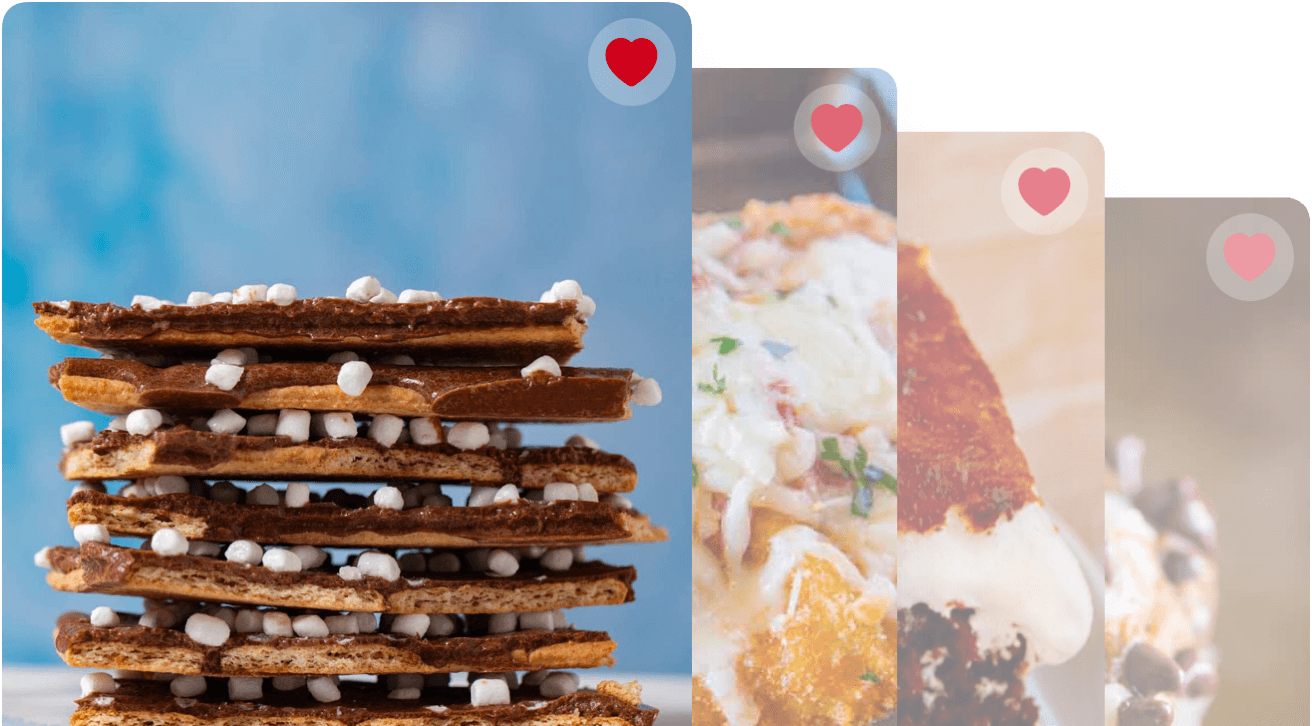 Substitutions
Brown sugar: Brown sugar is actually made from processed white sugar with a small bit of raw molasses added to coat the granules. You can substitute equally for another sugar. See the FAQ section below for the easy recipe on how to make your own brown sugar at home!
Sanding Sugar: Sanding sugar is a larger and refined course-grain sugar that is not as susceptible to moisture or heat like normal sugar. It is uses as a confectioners decoration as a result of this ability to not dissolve. If you don't have sanding sugar, you can use regular granulated sugar but may not get the exact same crunchy results used in this recipe.
All-purpose flour: This flour can be substituted equally 1-to-1 for whole wheat flour.
Variations on Molasses Cookies
Add-Ins: Sprinkle in chocolate chips, either milk chocolate or white chocolate, into the cookie dough for a fun mash-up of two classics. You can also melt chocolate and dip the bottoms in chocolate. This is the ultimate Molasses Cookie for a holiday cookie exchange!
Frosting: Add in drops of food coloring (if you want it to be festive) to Buttercream Frosting and spread over the tops of these cookie.
Toppings: Drizzle melted caramel or chocolate over these cookies. You could even dip half of it and add sprinkles for a holiday twist.
Nuts: Pistachios or Walnuts would make a great addition to a nuttier cookie.
More Delicious Cookies Classics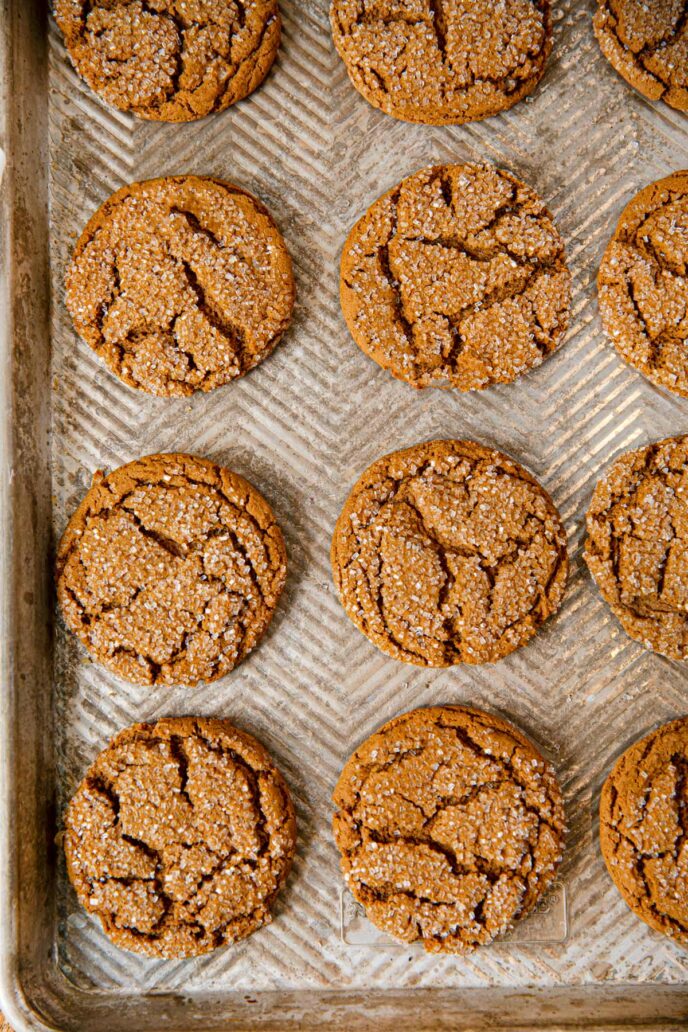 Tips for Baking Molasses Cookies
Don't skip the sifting step for the dry ingredients: flour, baking soda, salt, cinnamon, and ginger. It really helps to fully combine it all and makes it lighter and easier to combine with the wet ingredients. Feel free to use a handheld electric mixer in your shallow bowl, if you have one.
Well seasoned baking sheets that are great for cookies. If you have issues with baked goods sticking, use a silicone baking mat or parchment paper to line the baking sheets. It not only makes clean up a breeze but helps keep your cookies from sticking to the baking sheet making them easier to remove.
Make sure to refrigerate the dough for 1 hour. The chilling process helps to solidify the fat in the cookie which helps to eliminate the issue of the cookies spreading while baking.
Don't forget to roll cookie dough balls in the course sanding sugar before baking.
How to Store and Serve
Serve: Once you remove the cookies from the oven, allow them to cool for 5 minutes on the baking sheet before serving them. Serve them in a cookie tin for an extra special feel!
Store: Store the cookies once they've fully cooled at room temperature, store them in an airtight container for up to 4 days (if they last that long!).
Freeze: These cookies can be frozen for up to 3 months if stored in a freezer-safe storage container or bag.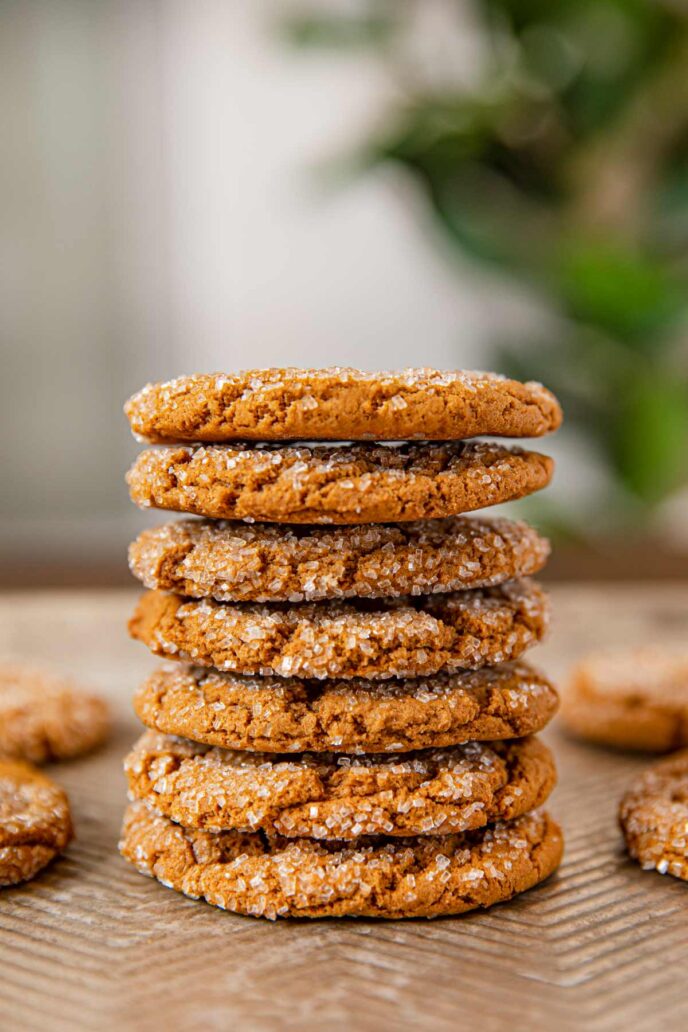 Ingredients
3/4

cup

unsalted butter

, softened

1/2

cup

brown sugar

, packed

1/2

cup

sugar

1

large

egg

1/4

cup

molasses

2

cups

flour

1

teaspoon

baking soda

1/2

teaspoon

salt

2

teaspoons

ground cinnamon

1

teaspoon

ground cloves

1

teaspoon

ground ginger

1/2

cup

coarse sanding sugar
Instructions
To your stand mixer add the butter, brown sugar, sugar and egg on medium speed until smooth.

Add in the molasses until fully mixed in, about

30 seconds

.

Sift the flour, baking soda, salt, cinnamon, cloves and ginger, then add it into the stand mixer on low speed until just combined.

Cover bowl with plastic wrap and refrigerate for

1 hour

.

Preheat the oven to 375 degrees.

Roll 2 tablespoon sized scoops of dough in coarse sanding sugar and place on cookie sheets at least 2 inches apart.

Bake for

10-12 minutes

until the tops are cracked then cool for 5 minutes before removing gently from cookie sheets.
Nutrition
Calories:
152
kcal
|
Carbohydrates:
24
g
|
Protein:
1
g
|
Fat:
6
g
|
Saturated Fat:
4
g
|
Cholesterol:
22
mg
|
Sodium:
101
mg
|
Potassium:
73
mg
|
Fiber:
1
g
|
Sugar:
15
g
|
Vitamin A:
187
IU
|
Calcium:
17
mg
|
Iron:
1
mg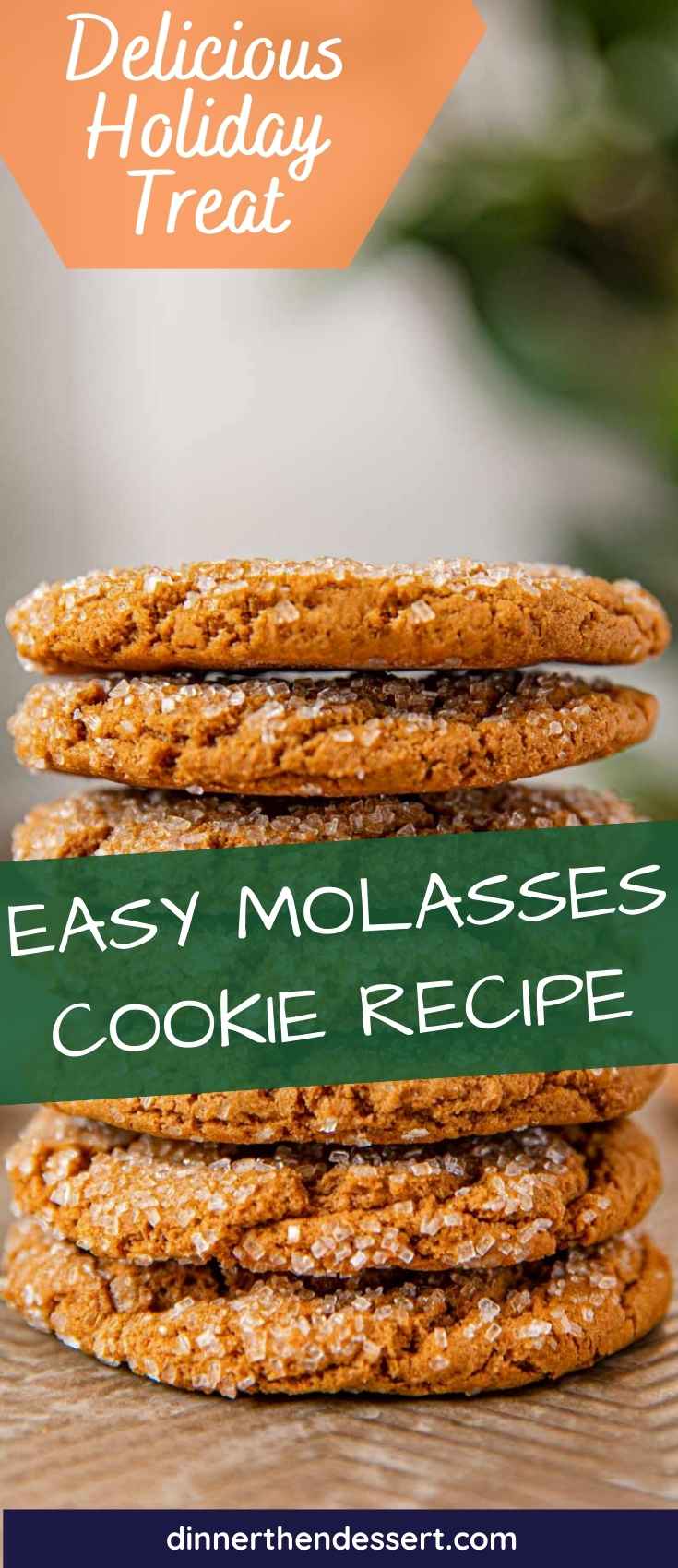 Photos used in a previous version of this post.