Hershey's Kiss Cookies are soft, chewy chocolate cookies topped with Hershey's Kisses, ready in under 30 minutes! Perfect for the holidays!
Cookie Recipes are a popular dessert choice here and these chocolate cookies are the perfect complement to the fan favorite Peanut Butter Blossoms.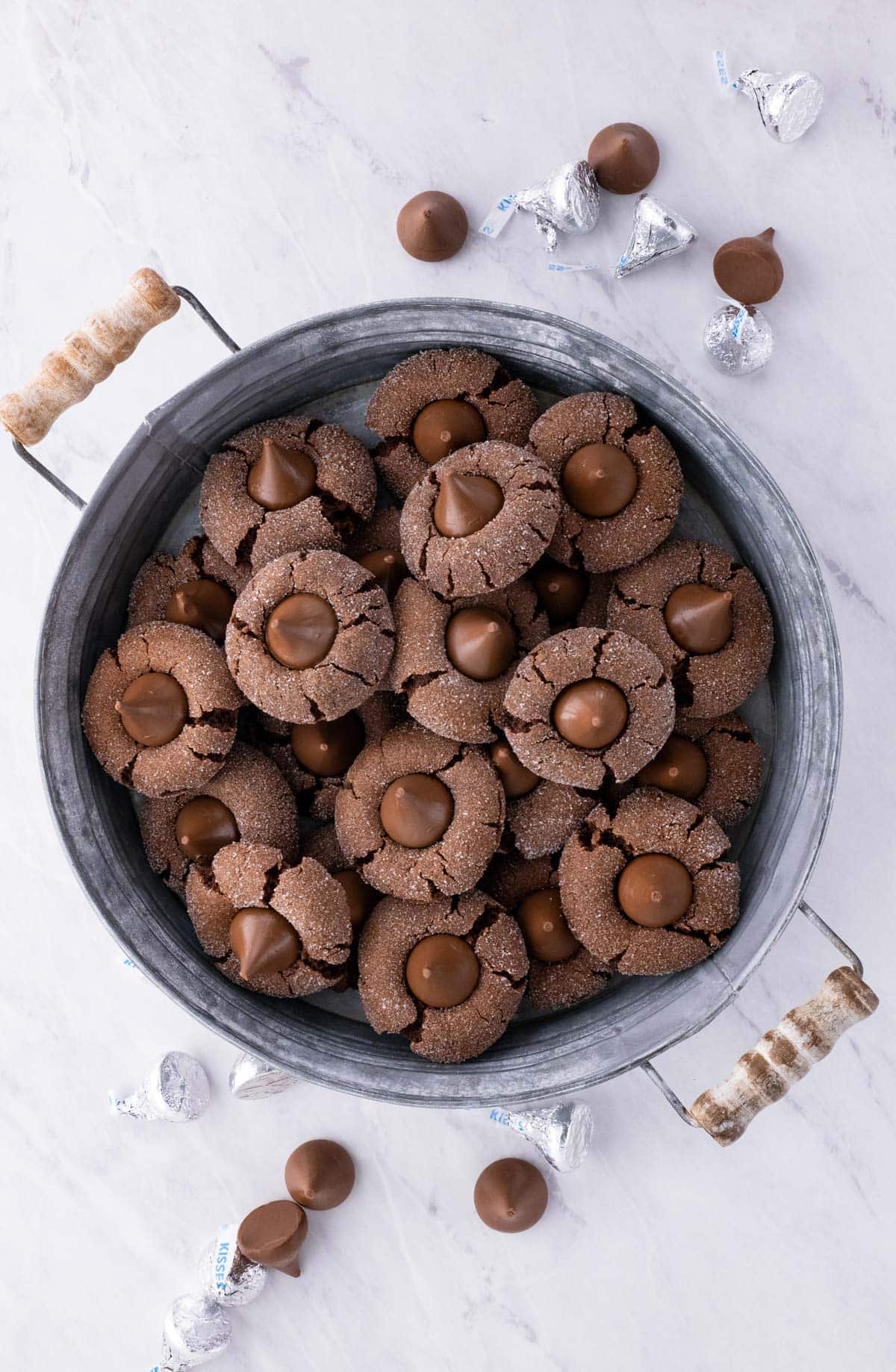 HERSHEY'S KISS COOKIES
Hershey's Kiss Cookies are the PERFECT combo of chewy chocolate cookie and Hershey kiss candies. They are made with cocoa powder and melted chocolate, with kisses pressed into the top, which is basically chocolate heaven. Plus they're totally kid-friendly, because they'll love helping to press the candies into the cookies!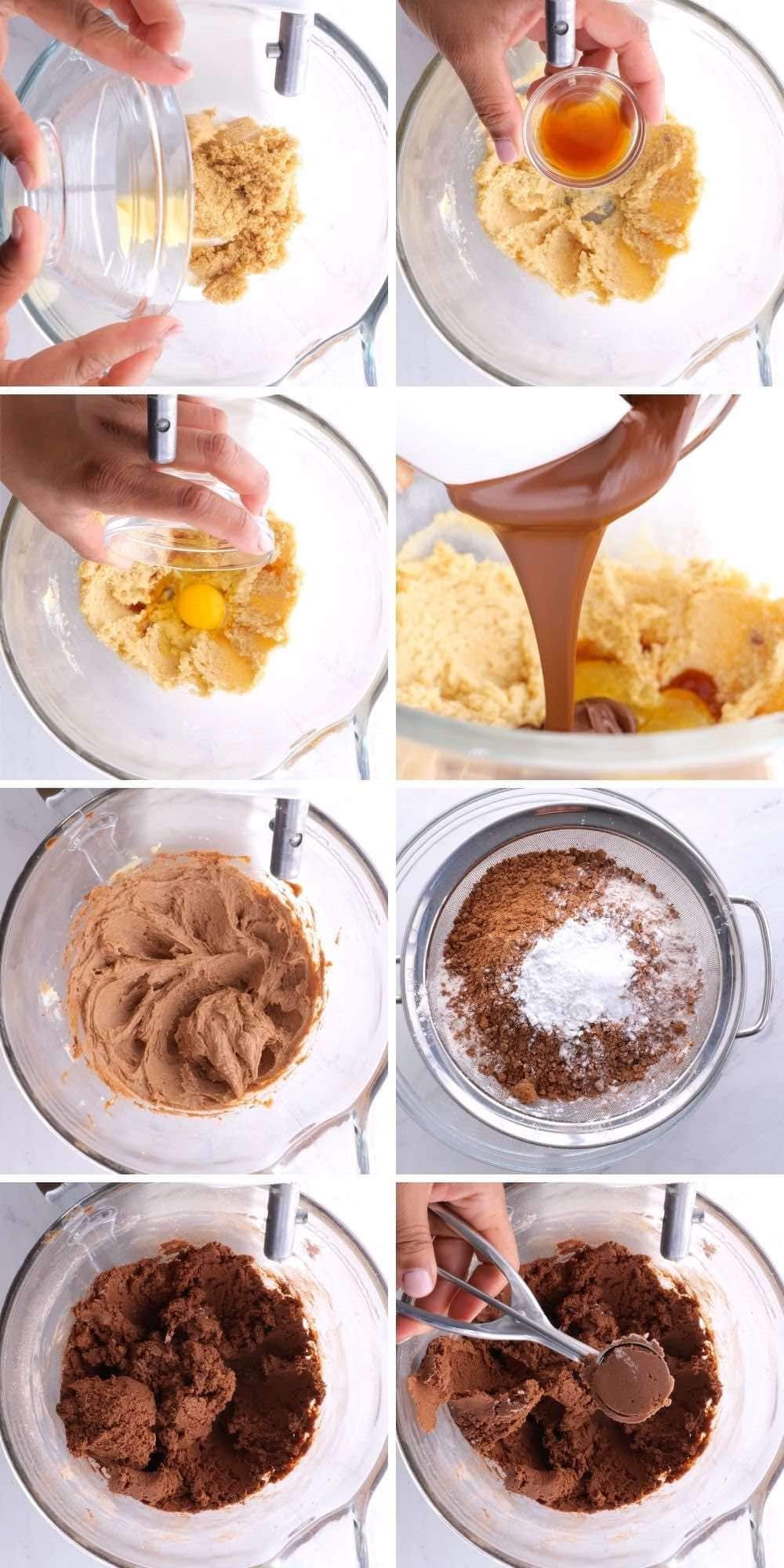 These kiss cookies are like a chocolate version of popular Peanut Butter Blossoms but without the peanut butter.
Gift Giving Cookie Box Tips:
If you're making a cookie plate or a cookie box for friends, family and neighbors you'll want to be sure to include cookies of different shapes. For a well rounded cookie plate you want to include 8-10 recipes and generally 1-2 cookies of each per person.
Make sure to gift in a an airtight container, use a paper box or a plate only when the gift recipient will be enjoying it immediately, like at an office gathering. Giving someone cookies in a non-airtight container is an invitation for them to taste the cookies when they're stale, which takes away from all the effort you put into making them!
1 Person – include 2 of each variety for a full cookie box and beautiful presentation.
2-4 people – Include 1 cookie of each variety per person, and make sure to buy boxes big enough to fit them all.
Include cookies of different shapes and sizes, add in a bar recipe or candy (like Buckeye Balls and Oreo Truffles) if desired for more variety.
For easy separation you can add the cookies into muffin liners so flavors won't blend as easily (this is especially important for spice cookie recipes like Gingerbread), using colorful liners will help with presentation as well.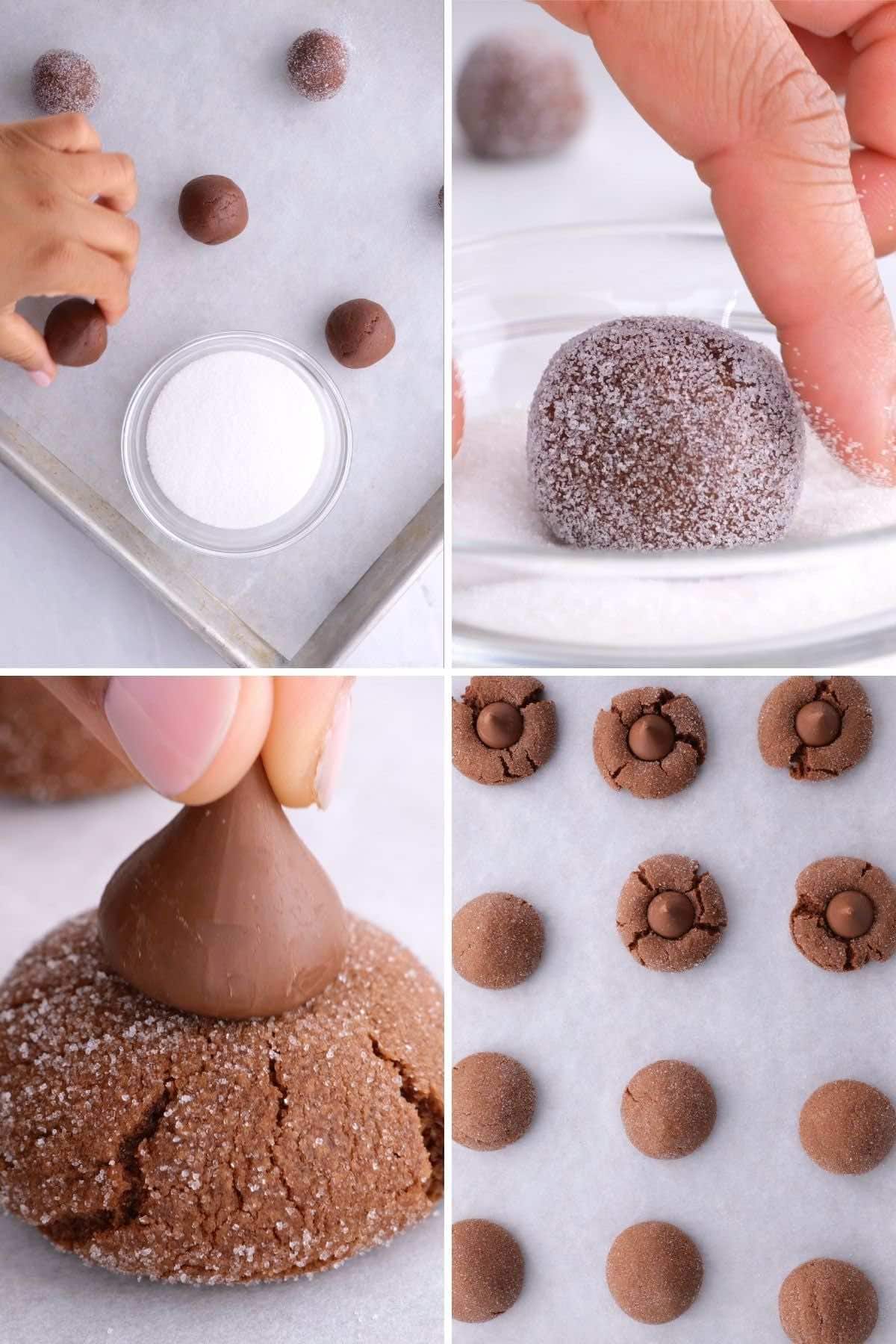 MORE CHOCOLATE PRESSED COOKIES
HOW TO MAKE HERSHEY'S KISS COOKIES
Cream: Cream together your butter and sugar well, you're looking for a light and fluffy mixture so don't stop when it is just combined, continue for 2 minutes to incorporate more air into the butter.
Melted Chocolate: Some cookies get their chocolate flavor from cocoa powder, but this recipe uses melted chocolate. Make sure to let the chocolate cool for a few minutes so the butter is not warmed which will result in a denser cookie.
Measure well: Use a spoon and level method for measuring the flour for correct measurements. If you dip the scoop into the bag or container of flour you'll be packing in significantly more flour than the recipe needs.
Sift Dry Ingredients: Make sure to sift your flour before adding it to the mixer to avoid lumps and over-beating to remove the lumps.
Rolling Dough: Roll the cookies into a ball, handling them as little as possible (the more you handle these cookies the more the butter inside them will melt from the heat of your hand.)
Coat: You'll want to roll these in sugar, you can also use colorful sugar if you'd like to be more festive or coarse sanding sugar for a crunch when enjoying them.
Chocolate Kiss: Make sure you unwrap these before the cookies come out of the oven, you're going to want to work quickly to press them into the cookies when they come out. The longer they sit the less the chocolate candy will be able to adhere.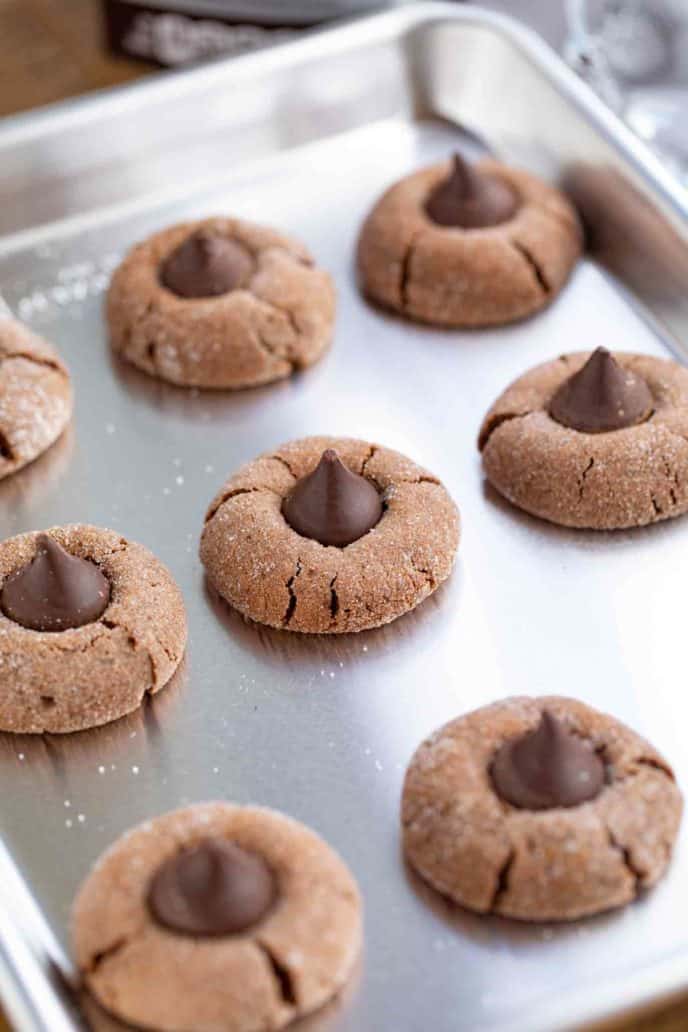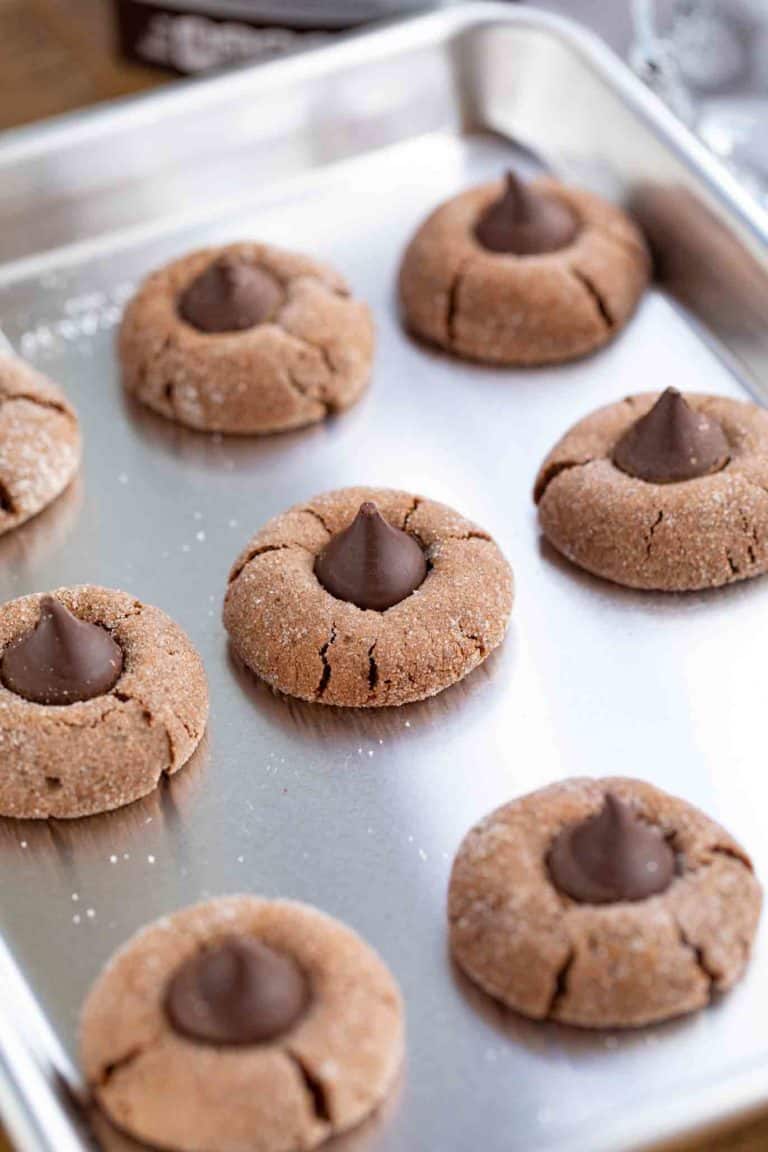 Create a free account to Save Recipes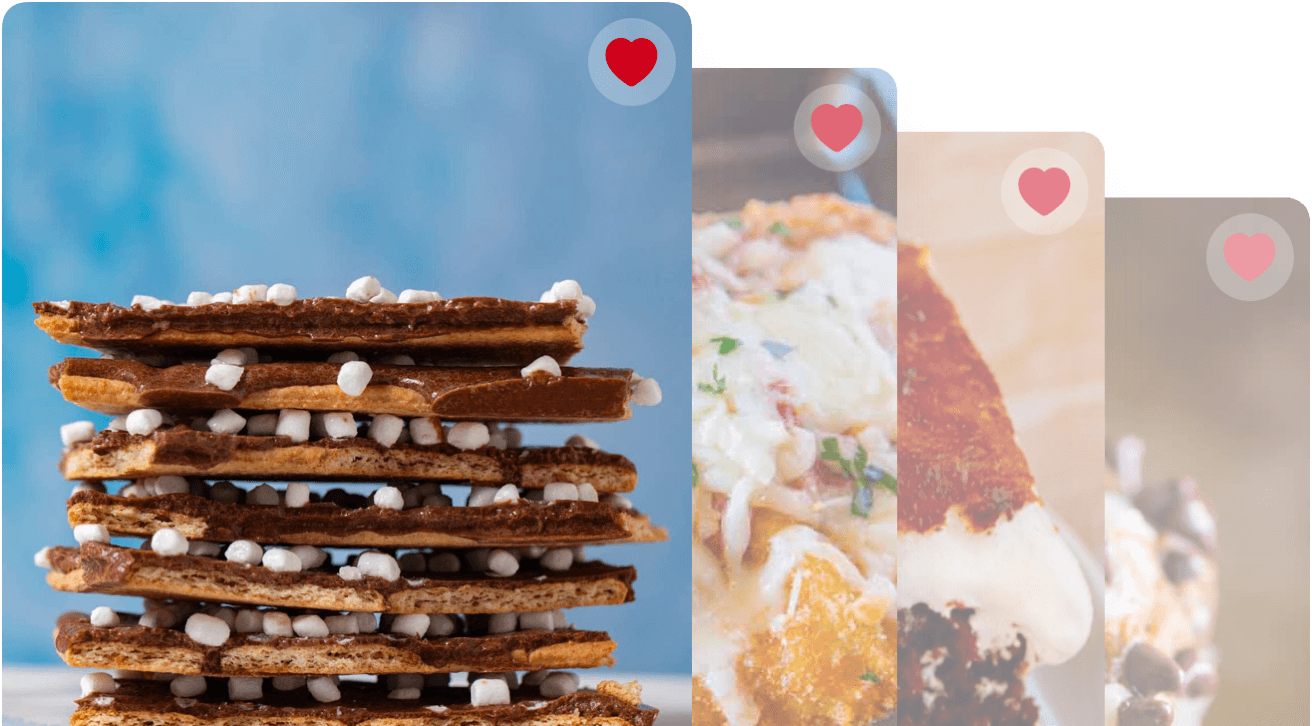 FREQUENTLY ASKED QUESTIONS
What kinds of kisses can be used with these cookies?
You can use flavored Hershey kisses for these chocolate cookies. They are delicious with the almond, caramel-filled, and white chocolate versions, too!
Can I use a different candy?
Try other toppings instead of the kisses, like chocolate chips or chocolate mints, caramel, marshmallows, or peanut butter.
Why does this recipe have two types of sugar?
This recipe uses both white granulated sugar and brown sugar, which helps keep the cookie chewy. But if you only have white granulated sugar, you can replace the brown sugar with that, it will affect how chewy the cookies are, but you'll still have delicious cookies.
How can I make these more festive for Christmas?
Try using peppermint chocolate and crushed peppermint candies for a holiday version!
How do I keep these cookies from sticking together?
Be careful not to crowd the cookies on the cookie sheet, so the cookies have room to drop and don't stick together.
How do I keep these cookies from sticking to the pan?
Line your cookie sheet with parchment paper to help keep the cookies from sticking, and also to help with cleanup when you're done!
How do I keep kiss cookies from crumbling?
If your cookies are crumbly, it's usually because they're either over-baked or there's too much flour being added. Make sure to measure the all purpose flour exactly, leveling the measuring cup or using a scale. This is a good practice with all of the dry ingredients when you're baking.
MORE HOLIDAY COOKIE FAVORITES
HOW TO STORE HERSHEY'S KISS COOKIES
Serve: Kiss cookies can be kept in an airtight container at room temperature for up to 1 week. If looking to keep them fresh longer add a slice of bread to the container to help absorb moisture.
Store: You can store these cookies in the fridge for up to 2 weeks. Keep the cookies in an airtight container, separated by parchment paper.
Freeze: You can keep cookies in the freezer, wrapped well with plastic wrap for up to 3 months, be careful storing them as the tops are not even, so nest them carefully.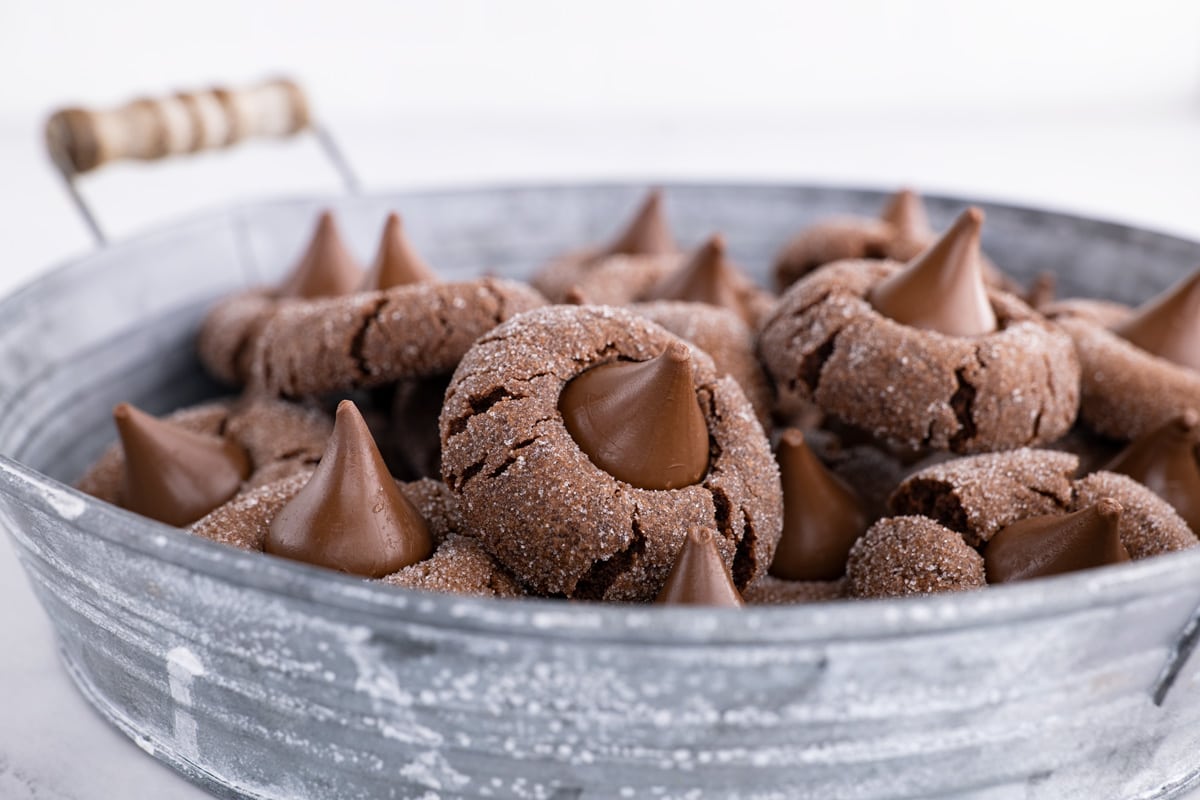 Ingredients
1/3

cup

semi-sweet chocolate chips

1/2

cup

unsalted butter

, softened

1/2

cup

sugar

, plus more for rolling cookies in

1/2

cup

brown sugar

, packed

1

teaspoons

vanilla extract

1

large

egg

1 3/4

cups

flour

1/4

cup

unsweetened cocoa powder

1 1/2

teaspoons

baking powder

1/4

teaspoon

salt

30

Hershey's Kisses

, unwrapped
Instructions
Preheat oven to 350 degrees and line two baking sheets with parchment paper.

Melt the chocolate chips in a small microwave safe bowl in 30 second increments until smooth and creamy, then let sit for

2-3 minutes

to cool.

To your stand mixer add the butter and sugar to a stand mixer with the beater attachment on medium speed until lightened in color and fluffy, about

two minutes

.

Add in the vanilla, egg and finally the cooled melted chocolate.

Sift together the flour, cocoa powder, baking powder and salt and add it into the stand mixer on low speed until just combined.

Scoop with a 1 tablespoon measure into a bowl of sugar and roll in the sugar (try not to touch the dough too much).

Place on a baking sheet and bake for

8-10 minutes

.

Once you remove from the oven have the chocolate kisses unwrapped and ready to push into the center of each cookie (gently) immediately then remove from the pan to cool completely.
Notes
Note: click on times in the instructions to start a kitchen timer while cooking.
Nutrition
Calories:
118
kcal
|
Carbohydrates:
16
g
|
Protein:
1
g
|
Fat:
5
g
|
Saturated Fat:
3
g
|
Cholesterol:
14
mg
|
Sodium:
27
mg
|
Potassium:
56
mg
|
Sugar:
10
g
|
Vitamin A:
100
IU
|
Calcium:
26
mg
|
Iron:
0.7
mg
Photos used in a previous version of this post.