Red Velvet Kiss Cookies tastes like red velvet cupcakes in cookie form with a Hershey's Kiss in the middle, the perfect holiday cookie.
These Red Velvet Kiss Cookies are easy and impressive cookies you'll enjoy baking like our yummy Molasses Cookies, flavorful Peanut Butter Blossom Cookies and Classic Hershey's Kiss Cookies. Make all three for the perfect easy Holiday Baking platter!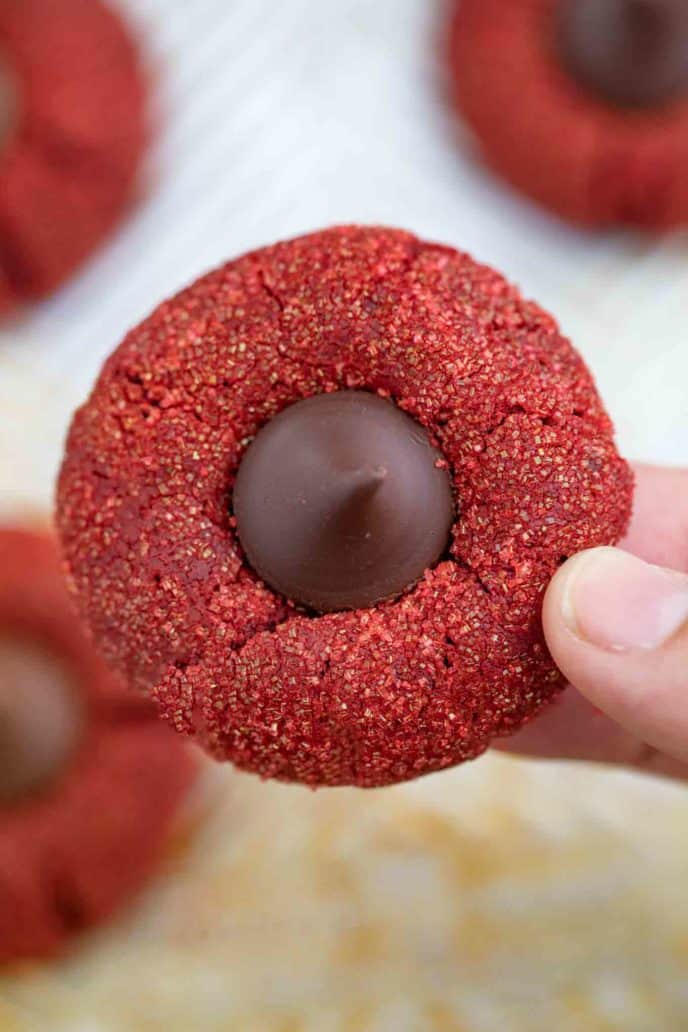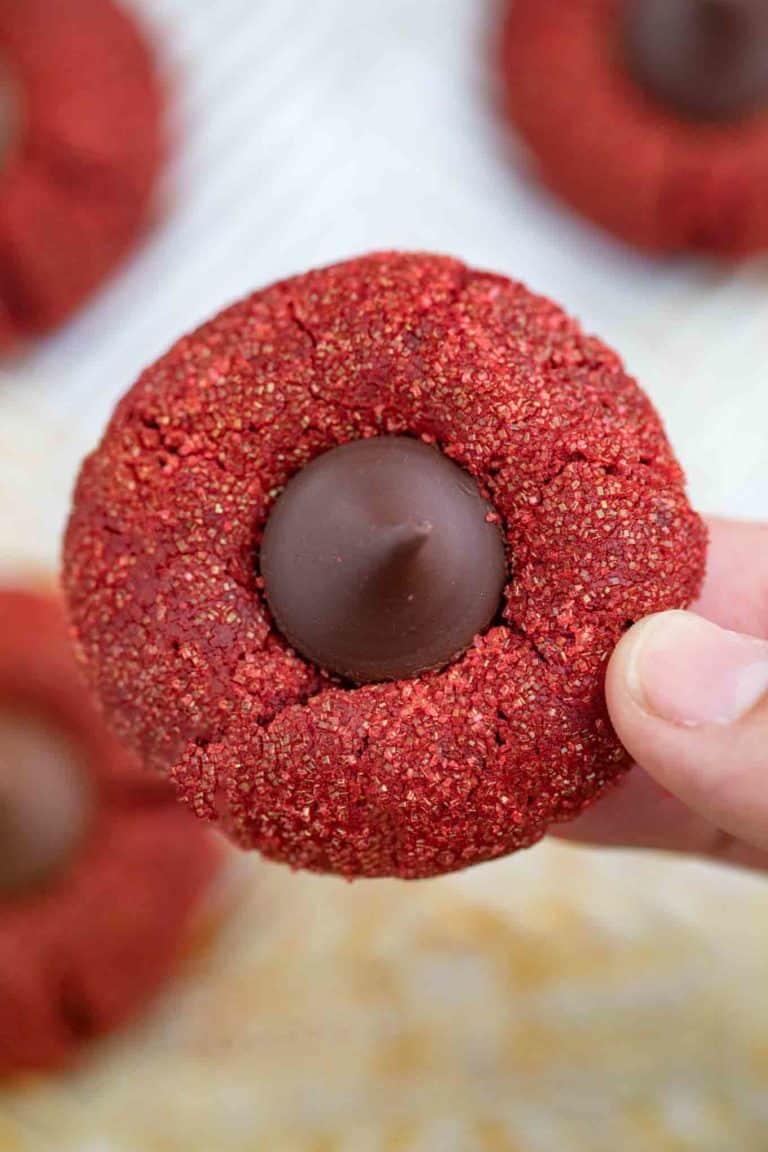 Red Velvet Cookies are incredibly fun! But while the flavor may seem confusing since it's a light cocoa flavor with a buttery finish, everyone will love eating these festive cookies. Of course, the red color comes from food coloring.
Many recipes for red velvet cookies come from red velvet cake mix, but these cookies are baked from scratch. You can make them in just a few minutes, so don't be intimidated by the lack of cake mix in this recipe. It's really easy to put this together.
If you want to skip the sanding sugar next time, you can also roll the cookies in powdered sugar before baking to make them into crinkle cookies and skip the chocolate candy altogether. You can also use Hershey's Hugs which are white chocolate and milk chocolate striped kisses.These cookies are naturally the next thing to make after you've tried Red Velvet Cake with Cream Cheese frosting and Red Velvet Cupcakes for Christmas or Valentine's Day.
How to Make Red Velvet Kiss Cookies
Making these delicious cookies at home is so easy. And because we are not using a premade cookie mixture, the flavor is going to be so much more authentic and wholesome. Let's check out the process!
Step One: Whip the butter together with the sugar. As an option, instead of using a stand mixer, you can use a large bowl and hand mixer since you only need to beat butter with sugar and the rest of the ingredients only need to be barely combined.
Step Two: Sift the dry ingredients into a medium bowl, then mix with egg and coloring. Always sift your dry ingredients when baking and always add it to your recipe on low speed until just mixed in. The less your flour interacts with the cookie dough the less the gluten works to create a tougher dough.
Step Three: Ball up the dough into portions, roll in sugar, and refrigerate for 20 minutes. Using a cookie scoop ensures all your cookies will be the same size. Make sure to handle the cookie dough a minimal amount before baking, the butter staying cold will keep the cookies thicker, like a pillow.
Step Four: Bake. Use a good silicone mat/baking mat to prevent the bottoms of the cookies from overcooking.
Step Five: As soon as the cookies are done baking, immediately press the chocolate Kisses into the cookies. Enjoy after they've cooled! Let your cookies cool completely on a wire rack instead of on the baking sheet. Only let them cool on the baking sheet for a couple minutes to firm up before removing them. 
More Red Velvet Inspired Recipes
Frequently Asked Questions
How do I make my cookies chewy?
Here are a few good tips for keeping homemade cookies chewy: Use a combo of brown sugar and white sugar in your cookie recipe like we do in this one make the best cookies. Under bake by 1-2 minutes if you find your cookies are coming out more crisp than you'd like. If you mix the flour too much in the recipe the cookies can be too dry. Refrigerate your cookie dough to keep the cookies thicker if you find they are baking too thin. And finally, use a good quality baking sheet/cookie sheet.

If your cookies crack when baking your dough was too dry. This means you added too much flour likely from scooping rather than spooning flour into your measure.
How do I make sure the cookies are red colored?
Baked Red Velvet goods require a lot of red food coloring to overcome the natural colors in the recipe. The cocoa powder is brown and if not compensated for will keep the cookies brown in color, even with a bit of food coloring. We recommend using a full tablespoon of liquid food coloring for best results. Keep in mind it has to be liquid, not a gel-based coloring. 
Why are my Kiss Cookies flat?
When your butter gets too warm, your cookies will flatten too quickly in the oven. You need the butter to be softened to cream it well, and the time it spends in the refrigerator gives it some time to firm back up to bake into a thicker cookie. Make sure to allow time for these cookies to cool in the refrigerator properly before baking.
How do I measure flour correctly?
When measuring flour for baking do not put your measuring cup directly into your flour container. This is not an accurate way to measure flour as the scooping packs in more flour than you need. Instead use a clean spoon to spoon flour into your measuring cup, then level it off. Do not use any utensils in measuring ingredients before using them with your flour, this can cause cross contamination in your flour container.


Create a free account to

Save Recipes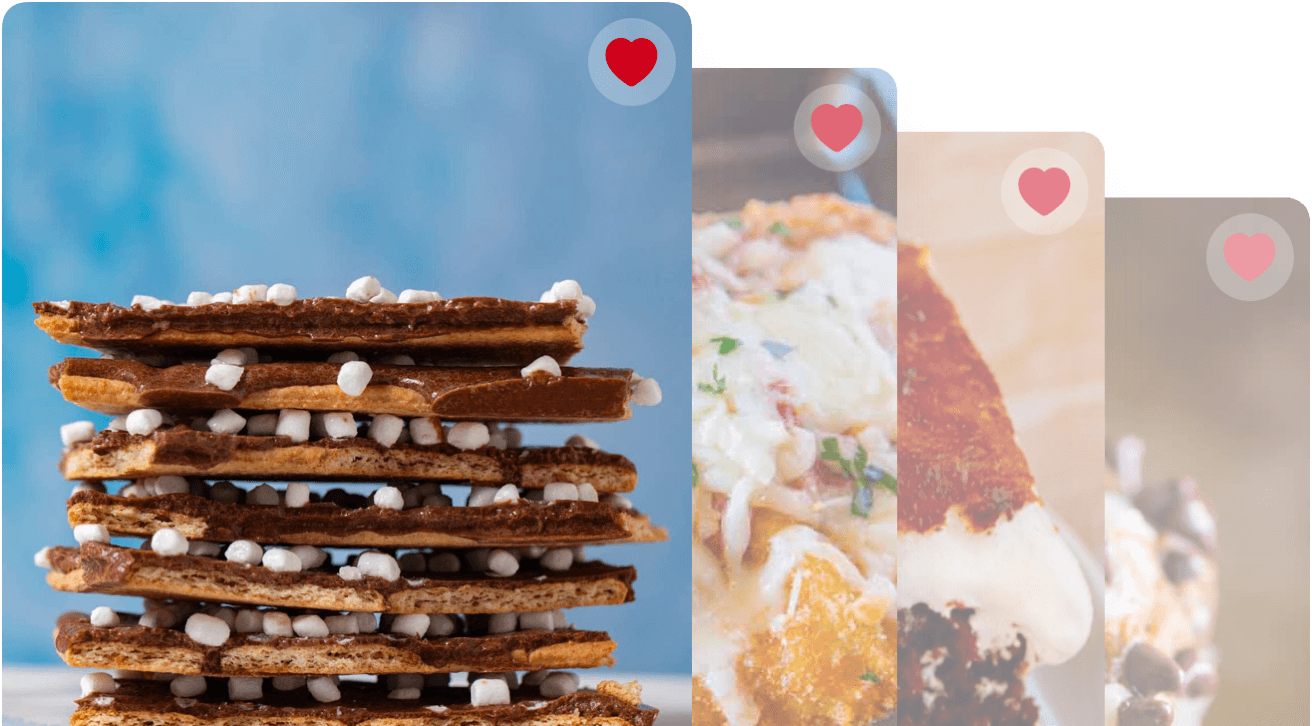 Key Ingredients in Red Velvet Kiss Cookies
These ingredients are pretty easy to pick up a most major grocery stores.
Kisses: We use regular Hershey's Milk Chocolate Kisses in this recipe.
Sugar: This recipe utilizes both brown and white sugars. You can use granulated sugar as well for the coating.
Red Color: The red dye has to be liquid based, not gel food coloring. If using one of the beet, pomegranate, or hibiscus based options, double the amount used to ensure the red color comes through.
Vanilla: Use real vanilla extract for best taste.
Cocoa: Unsweetened cocoa powder is a staple that should be found in every pantry.
Variations on Red Velvet Kiss Cookies
The flavor from Red Velvet is actually just buttery chocolate. This makes it easy to make a few fun variations on this recipe!
Kisses: This recipe calls for milk chocolate Hershey Kisses. But you can substitute with white chocolate Kisses, ones with almonds, and even the mint flavored ones for a fun take on the perfect treat!
Cocoa Powder: There are some brands that offer a white cocoa flavored powder which you can substitute for the brown cocoa powder. This will be especially helpful if using a natural red food coloring agent.
White on White: Use white cocoa powder and white Kisses for a fun and bright variation.
Caramel Delight: Use caramel-filled Kisses on top of the cookie for a delectably sweet addition to the classic version.
Red Coloring: If you want a healthier and/or kosher version of food coloring, you can use the concentrated juice from beets and pomegranates, or the saturated tea of hibiscus as well. They'll need to be concentrated versions and you'll need to double the red coloring used if using one of these directly. There are some premade organic-style red food colorings that are great for coloring eggs, but that may not produce the energetic red color needed in these cookies, so be sure to use a heavy hand if utilizing them.
More Easy and Delicious Cookie Recipes
How to Store Red Velvet Kiss Cookies
Serve: Since these cookies contain large chocolates make sure they are kept in a cool spot in single layers or the chocolate kisses will get marks on them and melt.
Store: When storing be sure to store in airtight containers, they will stay fresh for up to one week at room temperature.
Freeze: Freeze your Red Velvet Kiss Cookies up to 2-3 months with parchment paper between layers, in an airtight container to prevent freezer burn.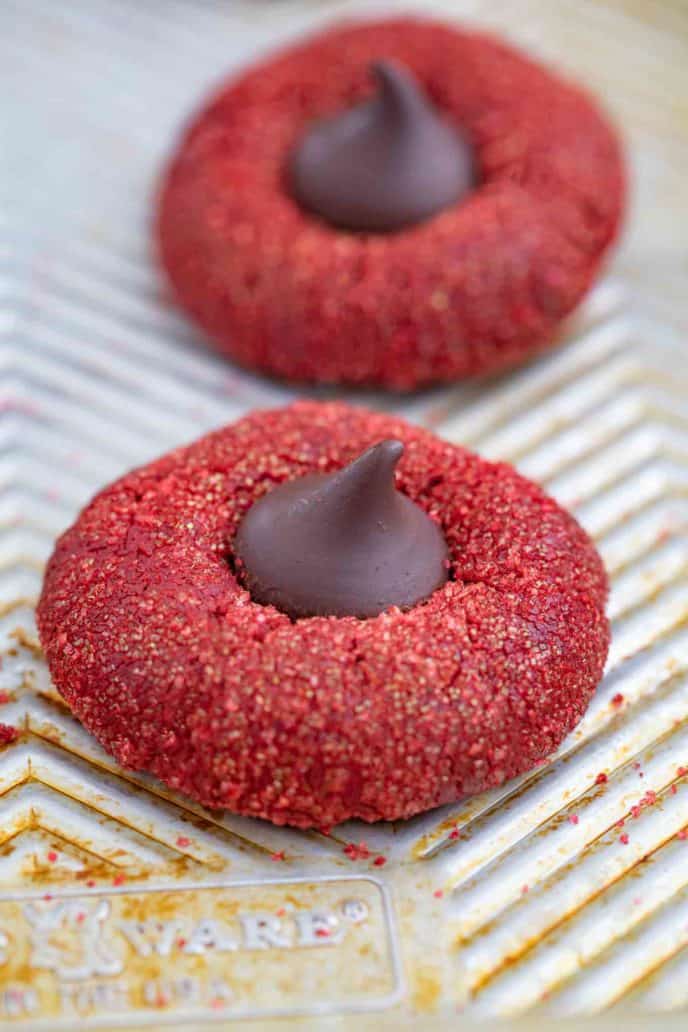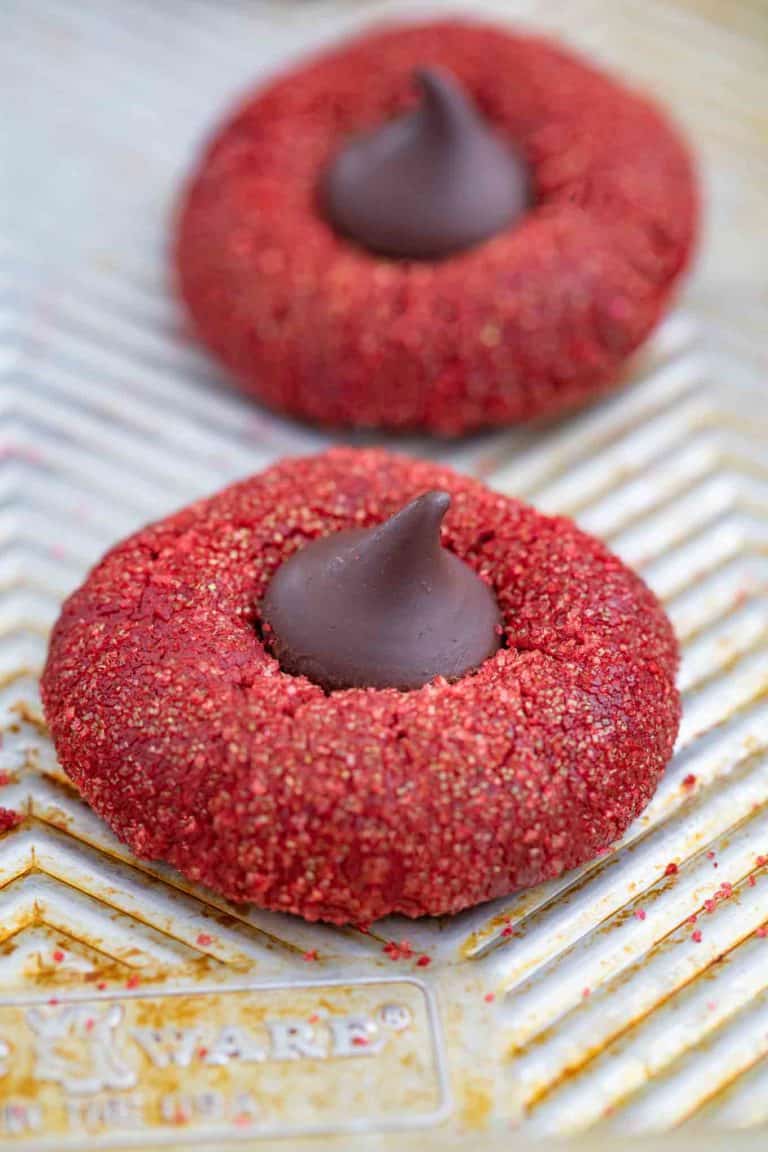 Ingredients
14

tablespoons

unsalted butter

, softened, (⅞ cup of butter)

1

cup

brown sugar

1/2

cup

sugar

2

cups

flour

1

cup

cocoa powder

3/4

teaspoon

baking soda

1/4

teaspoon

baking powder

1/4

teaspoon

salt

2

large

eggs

1

teaspoon

vanilla extract

1

tablespoon

red liquid food coloring

3/4

cup

sanding sugar

, gold, red, or clear

36

Hershey's Kiss chocolates

, unwrapped
Instructions
Preheat the oven to 350 degrees. Add to the stand mixer the butter, brown sugar and sugar. Set on medium speed for

1-2 minutes

until light and fluffy.

While the butter is creaming sift the flour, cocoa powder, baking soda, baking powder, and salt in a separate bowl.

Add the eggs, vanilla extract, and red food coloring to your stand mixer for

15 seconds

then add in the flour mixture.

Scoop the cookies with a 1 tablespoon sized cookie scoop and roll in sanding sugar then refrigerate for

20 minutes

.

Bake on a cookie sheet for

11-13 minutes

then as soon as they come out of the oven press a Hershey's Kiss chocolate into the middle of the cookie and allow them to cool on a wire rack.
Nutrition
Calories:
187
kcal
|
Carbohydrates:
27
g
|
Protein:
3
g
|
Fat:
8
g
|
Saturated Fat:
5
g
|
Cholesterol:
24
mg
|
Sodium:
54
mg
|
Potassium:
158
mg
|
Fiber:
3
g
|
Sugar:
13
g
|
Vitamin A:
155
IU
|
Calcium:
32
mg
|
Iron:
1.9
mg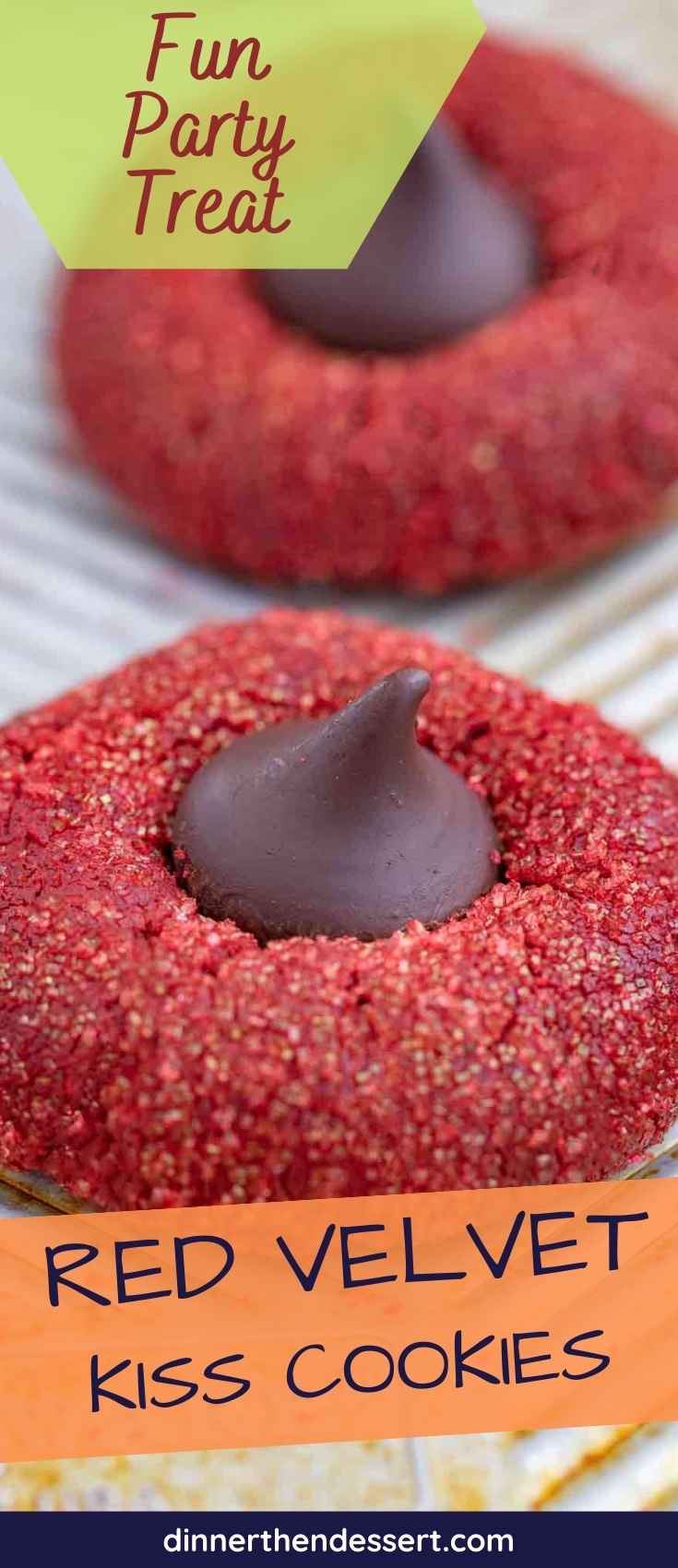 Photo used in a previous version of this post.