Chocolate Chip Cookies are a CLASSIC recipe that's soft, chewy, and made with only a few basic ingredients, ready in under 20 minutes!
We made over 50 cookies in the last 6 weeks and these Chocolate Chip Cookies were among our favorites along with the Lemon Cookies, and of course our favorite Award Winning Gingerbread Cookies.
CHOCOLATE CHIP COOKIES
Chocolate Chip Cookies are one of my all-time favorite classic cookie recipes. I almost always have these ingredients in my pantry, so it's really easy to make a batch last minute.
Plus, I don't know anyone who doesn't like a warm, soft, chewy chocolate chip cookie straight out of the oven. Not to mention, a good chocolate chip cookie recipe is the ultimate kid-friendly activity on a rainy day!
HOW TO MAKE CHOCOLATE CHIP COOKIES CHEWY
This really depends on what recipe you're using, but there's a few tricks you can try to increase the chewiness in your chocolate chip cookie recipe.
Use a combo of brown sugar and granulated sugar in your chocolate chip cookie recipe. The brown sugar has more moisture in it naturally, which brings more moisture to the cookies, resulting in a more chewy texture.
Watch your cooking time and temperature. Set a timer for a minute or two less than you think you'll need, so you don't accidentally over-bake your chocolate chip cookies. Also, if your chocolate chip cookies consistently come out burnt and crispy on the bottom but perfect and chewy on the top, invest in a good oven-safer thermometer to check if your oven is cooking true to temperature.
Use butter, not shortening. Butter has more than just fat, it also has solids and moisture, which both make for a chewy cookie. Other chocolate chip cookie recipes may call for a combo of both, which is ok, too.
Make sure you refrigerate your cookie dough before baking. This one is really important, because a warm dough may spread too much, and flatter cookies are more likely to crisp up. You can have the perfect cookie recipe, but it goes wrong because of skipping this step.
HOW TO STORE CHOCOLATE CHIP COOKIES
Chocolate Chip Cookies should be stored at room temperature in an airtight container. They will stay good for about 2-3 weeks.
CAN YOU FREEZE CHOCOLATE CHIP COOKIES?
You can freeze chocolate chip cookie dough to pull out of the oven at any time! Either roll the cookie dough into a log and cover tightly with plastic wrap, or freeze the scooped out balls on a baking sheet, then move them to a freezer-safe container later. If you go the pre-scooped method, you can go straight to the oven with them. The log will have to defrost for a few hours before you work with it.
You can also freeze already-baked chocolate chip cookies. Just wait until they are completely cooled, then layer them in an airtight container between layers of parchment or wax paper. They will last for about 3 months. You can also reheat them at 300 degrees F in the oven until they're warm.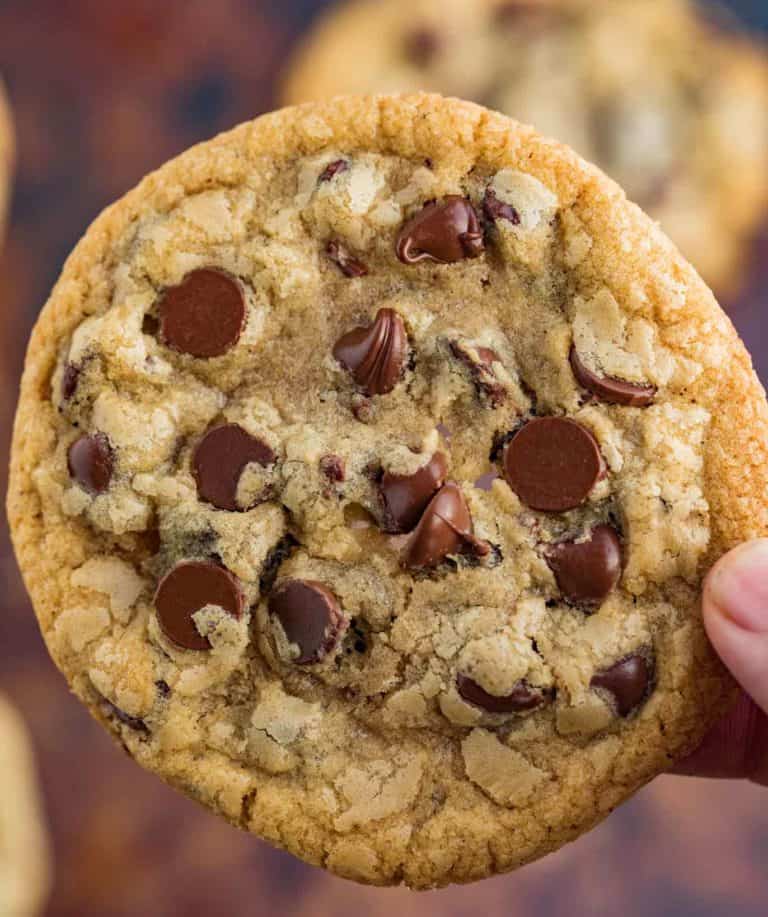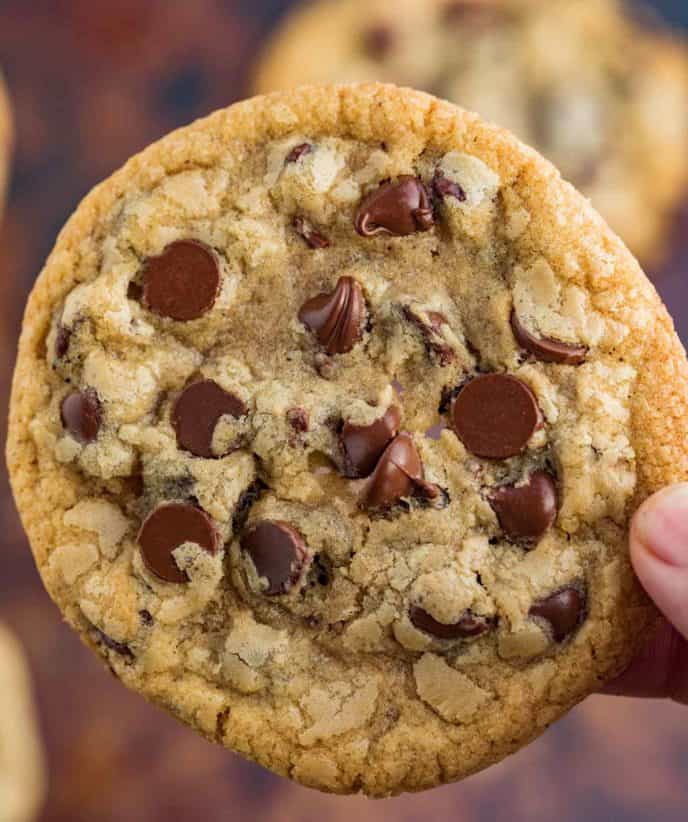 MORE COOKIE RECIPES
WHY DID MY CHOCOLATE CHIP COOKIES TURN OUT FLAT?
Your chocolate chip cookie recipe may be spreading too much for a few reasons, usually having to do with butter and granulated sugar, or too little all purpose flour. If you ended up with crispy cookies, try these tricks next time.
Make sure you're refrigerating your dough before baking. Butter that's already too warm in the dough will spread faster.
Use a mixture of butter and shortening to help the cookies spread less.
Make sure you're measuring your ingredients accurately, with measuring cups and leveling out the cup with a butterknife. Also make sure you're using fresh not expired ingredients.
Try increasing your all purpose flour or baking soda, the recipe you are using may call for too little of both.
TIPS FOR MAKING CHOCOLATE CHIP COOKIES
You can use dark, milk, or white chocolate chips for this cookie recipe. Instead of chocolate chips you can also try using butterscotch or caramel chips!
Cover your baking sheet with parchment paper. This keeps the cookies from sticking to the sheet and also helps them spread properly.
Use an ice cream scoop to ensure that the cookies will all be the same size, and also speed up the scooping process.
I always choose unsalted butter because I want to control the amount of salt in my cookie recipe. If you're using salted butter, omit the salt in this recipe.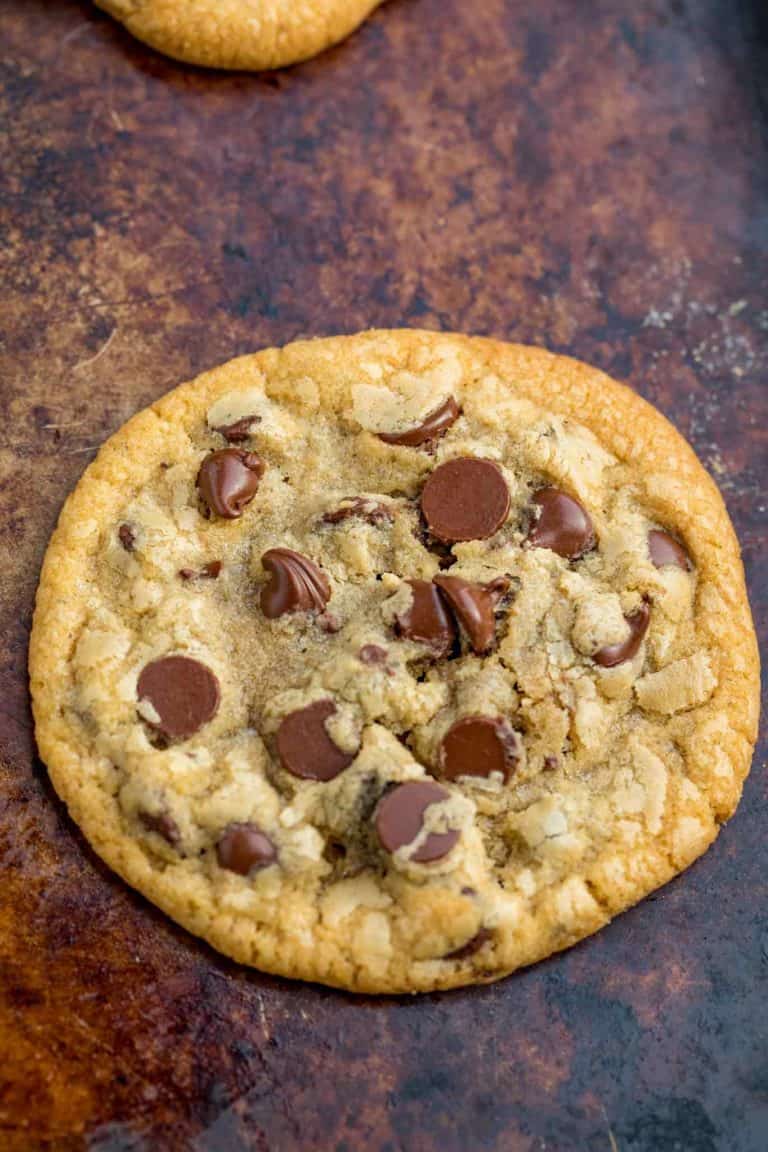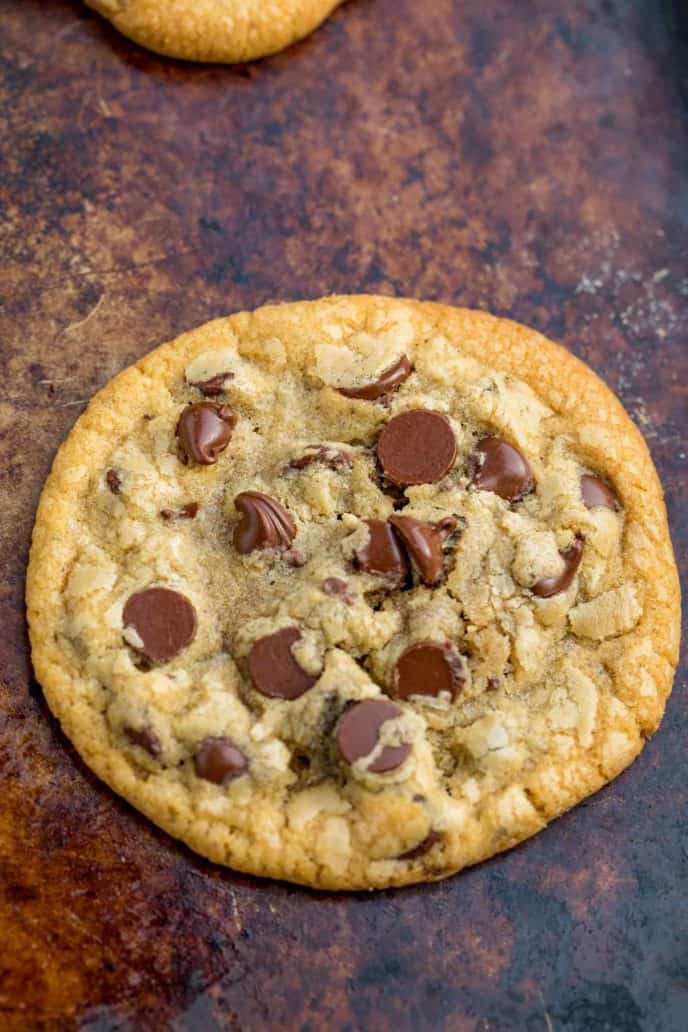 Recipe
Save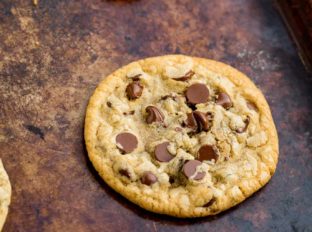 Chocolate Chip Cookies
Yield:

24

servings

Prep Time:

10

minutes

Cook Time:

10

minutes

Total Time:

20

minutes

Course: Dessert
Cuisine: American
Author: Sabrina Snyder
Chocolate Chip Cookies are a CLASSIC recipe that's soft, chewy, and made with only a few basic ingredients, ready in under 20 minutes!
Ingredients
1

cup

unsalted butter

softened

1

cup

white sugar

1

cup

packed brown sugar

2

large eggs

1

tablespoon

vanilla extract

3

cups

flour

1

teaspoon

baking soda

1/2

teaspoon

salt

2

cups

semisweet chocolate chips
Instructions
Note: click on times in the instructions to start a kitchen timer while cooking.
Preheat oven to 350 degrees.

To a stand mixer cream together the butter, sugar and brown sugar until light and fluffy, about 2-3 minutes.

Add in the eggs one at a time along with the vanilla.

Sift the flour and baking soda and add it to the stand mixer along with the salt on low speed until just combined and stir in the chocolate chips.

Using 1/4 cup scoops bake the cookies 6 to a sheet and bake for 10-12 minutes.
Recipe Notes
Note: click on times in the instructions to start a kitchen timer while cooking.
Nutrition Information
Yield: 24 servings, Amount per serving: 285 calories, Calories: 285g, Carbohydrates: 37g, Protein: 3g, Fat: 13g, Saturated Fat: 8g, Cholesterol: 34mg, Sodium: 104mg, Potassium: 121mg, Fiber: 1g, Sugar: 22g, Vitamin A: 265g, Calcium: 24g, Iron: 1.8g
All images and text © for Dinner, then Dessert.
Keyword:
chocolate chip cookies
Save