Chocolate Chip Cookies are the most popular cookie for a reason! Buttery and soft with the perfect amount of chocolate chips, in 20 minutes!
There's nothing better than the smell (or taste!) of a freshly baked Cookie Recipe, whether you're making a classic like this Chocolate Chip Cookies recipe or a holiday favorite like Ginger Cookies.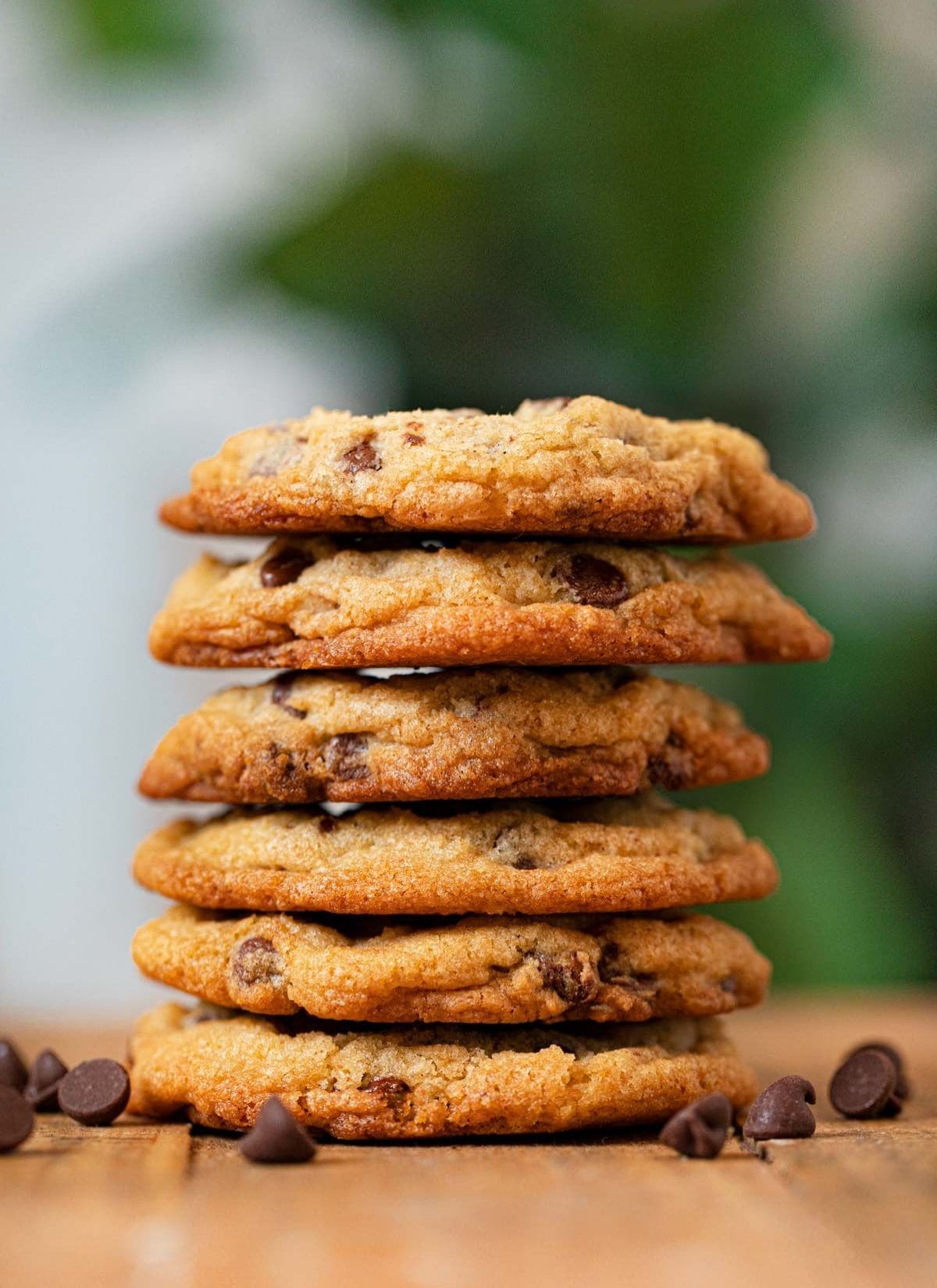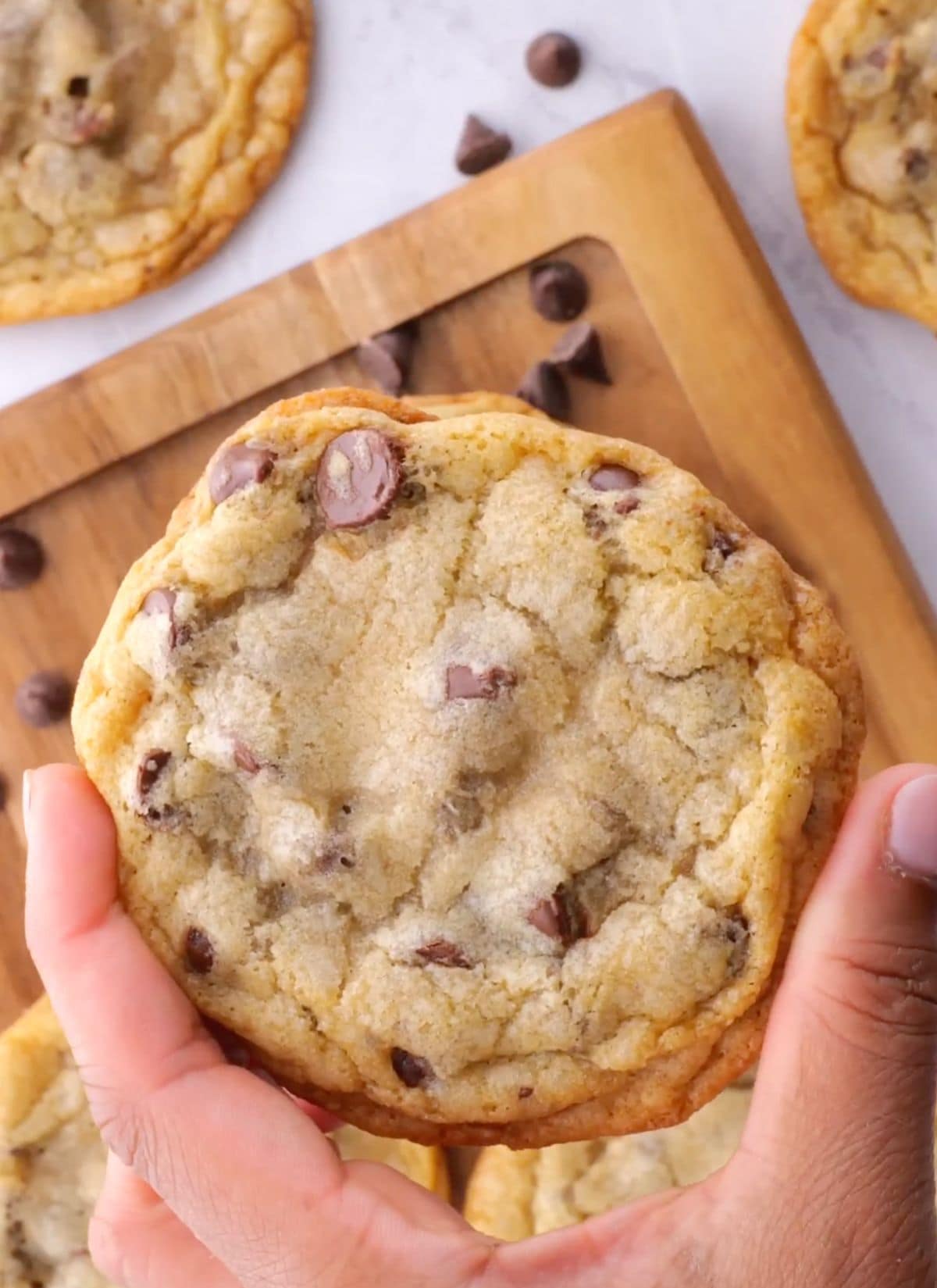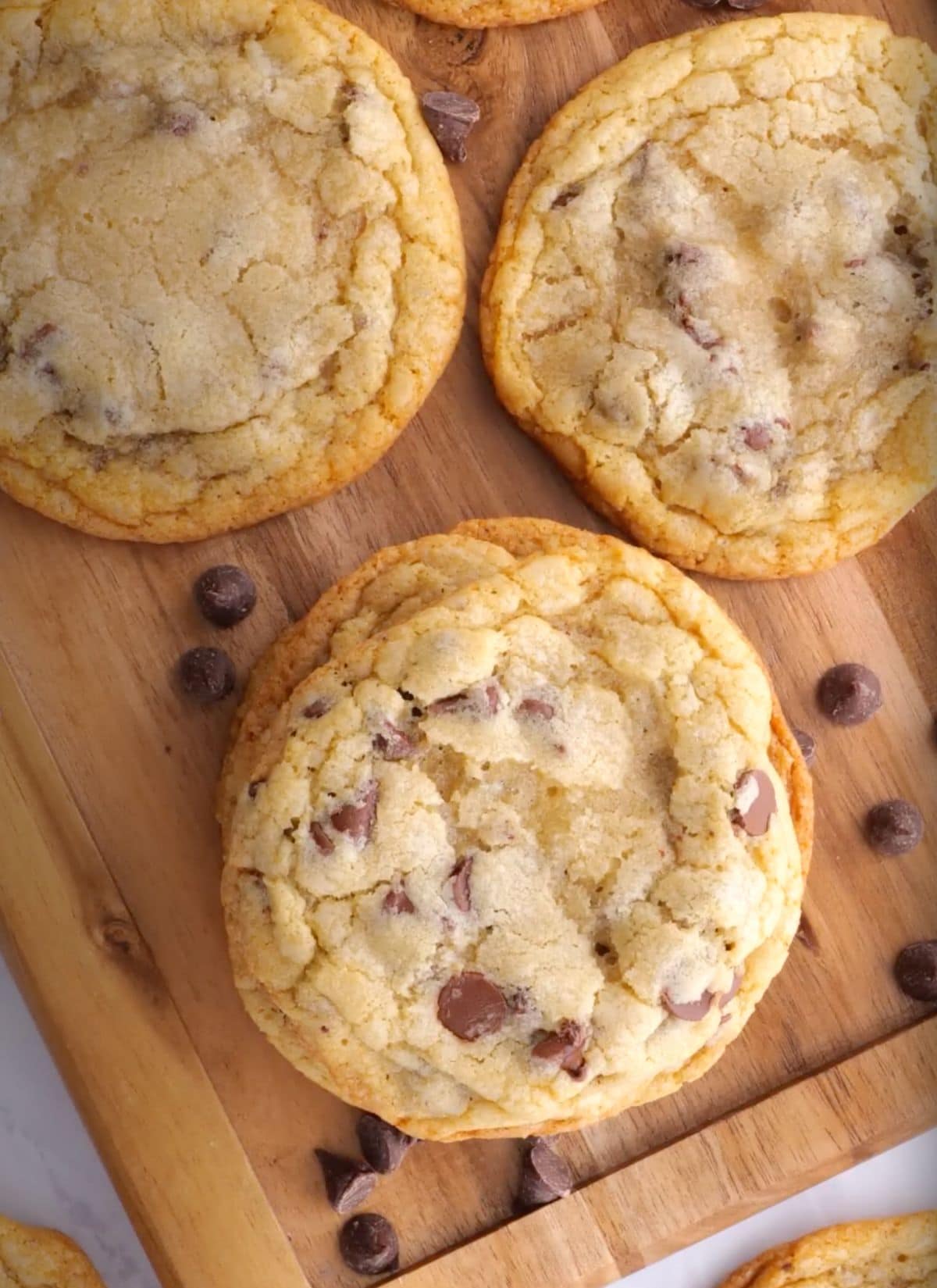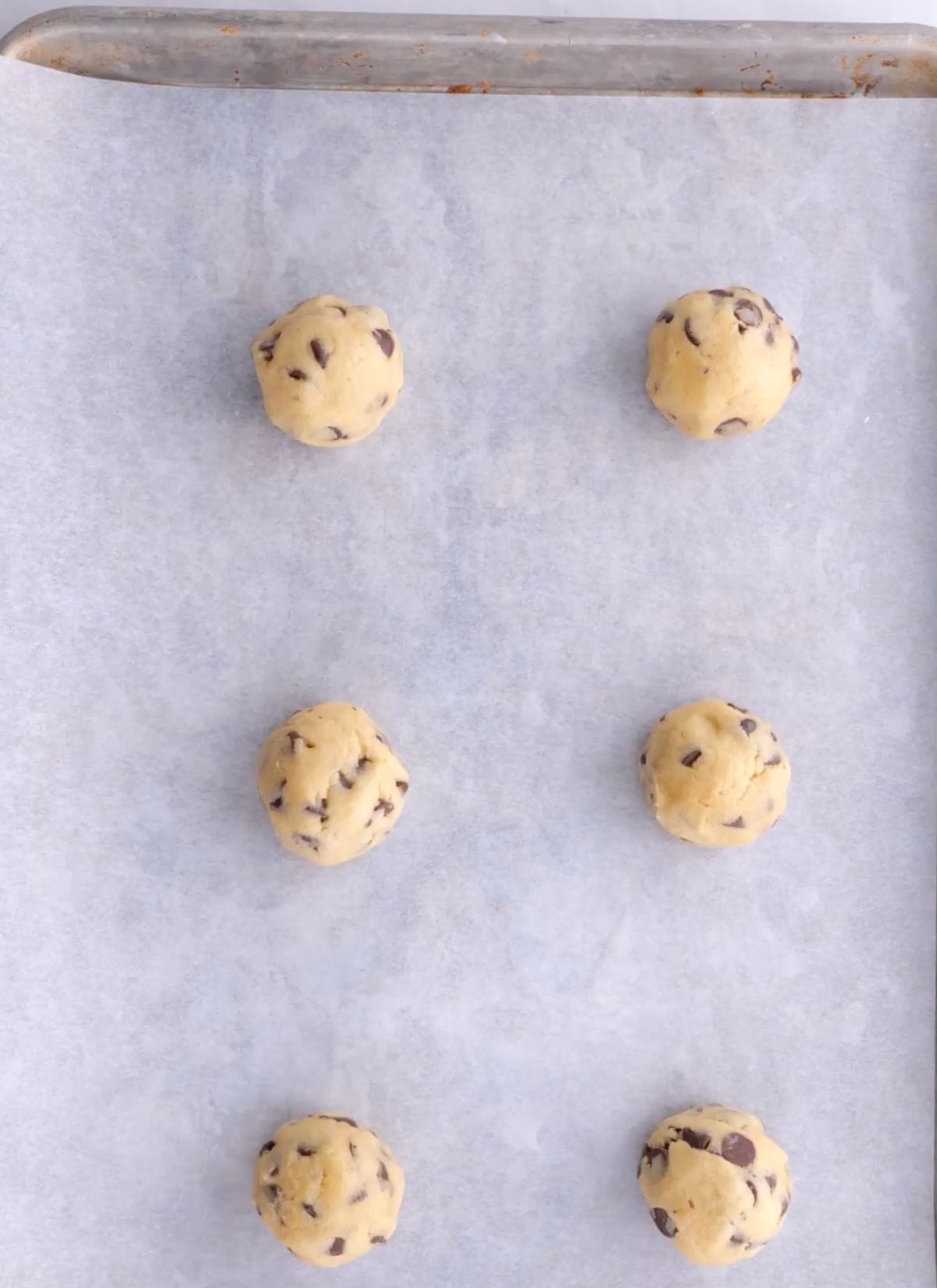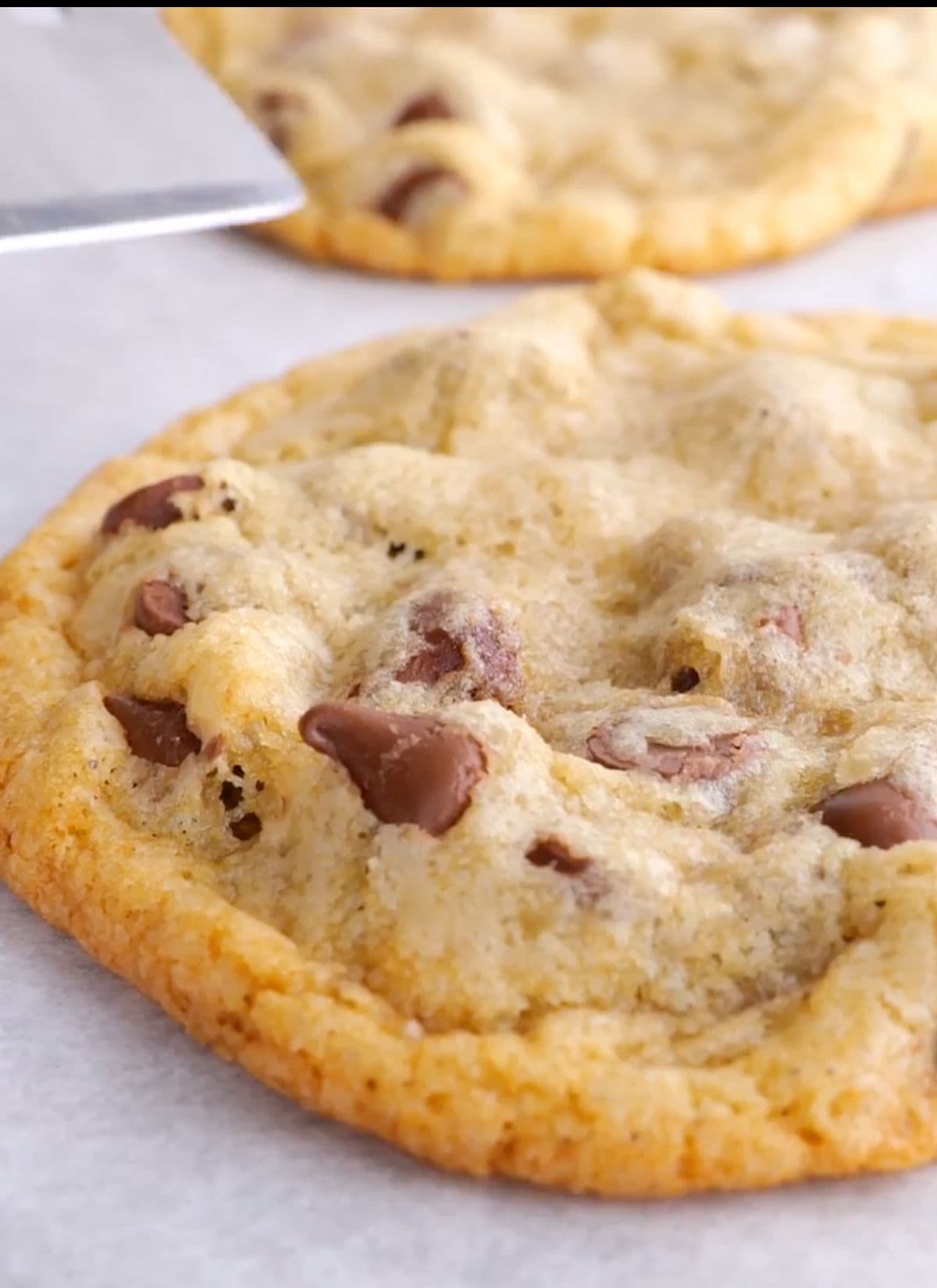 About our Chocolate Chip Cookies Recipe
Chocolate Chip Cookies are an all-time favorite cookie recipe. These are really common ingredients, even for a sometimes-baker. You're likely to have these ingredients in the pantry, so it's really easy to make a batch last minute. Plus, do you know anyone who doesn't like soft, chewy, warm cookies straight out of the oven? Not to mention, a good chocolate chip cookie recipe is the ultimate kid-friendly activity on a rainy day.
Your cookies can turn out differently based on how you like them. If you prefer a chewy Chocolate Chip Cookies recipe, that will be easy to achieve. Enjoy a cookie with crisp edges? No problem. If you like different types of chocolate then you can add in your favorite, as well as customize with any other add-ins. Follow the tips in this post to make this the Chocolate Chip Cookies recipe of your dreams!
"Can Chocolate Chip Cookies be made ahead?"
The fresher these cookies are, the better they will taste. However, the taste will not be diminished much if you want to make these Cookies ahead of time. Bake them ahead and store them in an airtight container after they cool completely. If you want to serve them warm to your family and friends, just heat them up in the microwave for 15 seconds. Check the warmth and heat for a few seconds longer if needed. Another idea for make-ahead, is to make the cookie dough and refrigerate it for a day or two. Then bake the cookies fresh before you want to serve them.
Chocolate Chip Cookies Ingredients
1 cup unsalted butter: Choosing unsalted butter allows you to control the amount of salt in the cookie recipe. 1 cup will be 2 sticks of butter.
1 cup white sugar and 1 cup brown sugar: You'll use both brown and white granulated sugar in this recipe. Of course, sugar will make the cookies sweet but using brown sugar will add extra flavor and moisture due to the molasses it contains.
2 large eggs: Crack each egg into a small container before adding them into the cookie dough. This is helpful in case one of your eggs isn't any good, then it won't ruin your whole batch of cookies.
1 tablespoon vanilla extract: Vanilla will add wonderful sweet and warm flavor and fragrance to your delicious cookies.
3 cups flour: This recipe calls for standard, all-purpose flour. If you're interested in whole wheat flower, take a look at the variations below.
1 teaspoon baking soda: Make sure you measure your baking soda carefully, as this is an important ingredient that will help your cookies rise.
½ teaspoon salt: You'll choose standard table salt for your cookie dough. If you're using salted butter, you can omit the salt.
2 cups semisweet chocolate chips: These are the classic chips people think of when making Chocolate Chip Cookies, however you can use any type of chocolate you have on hand.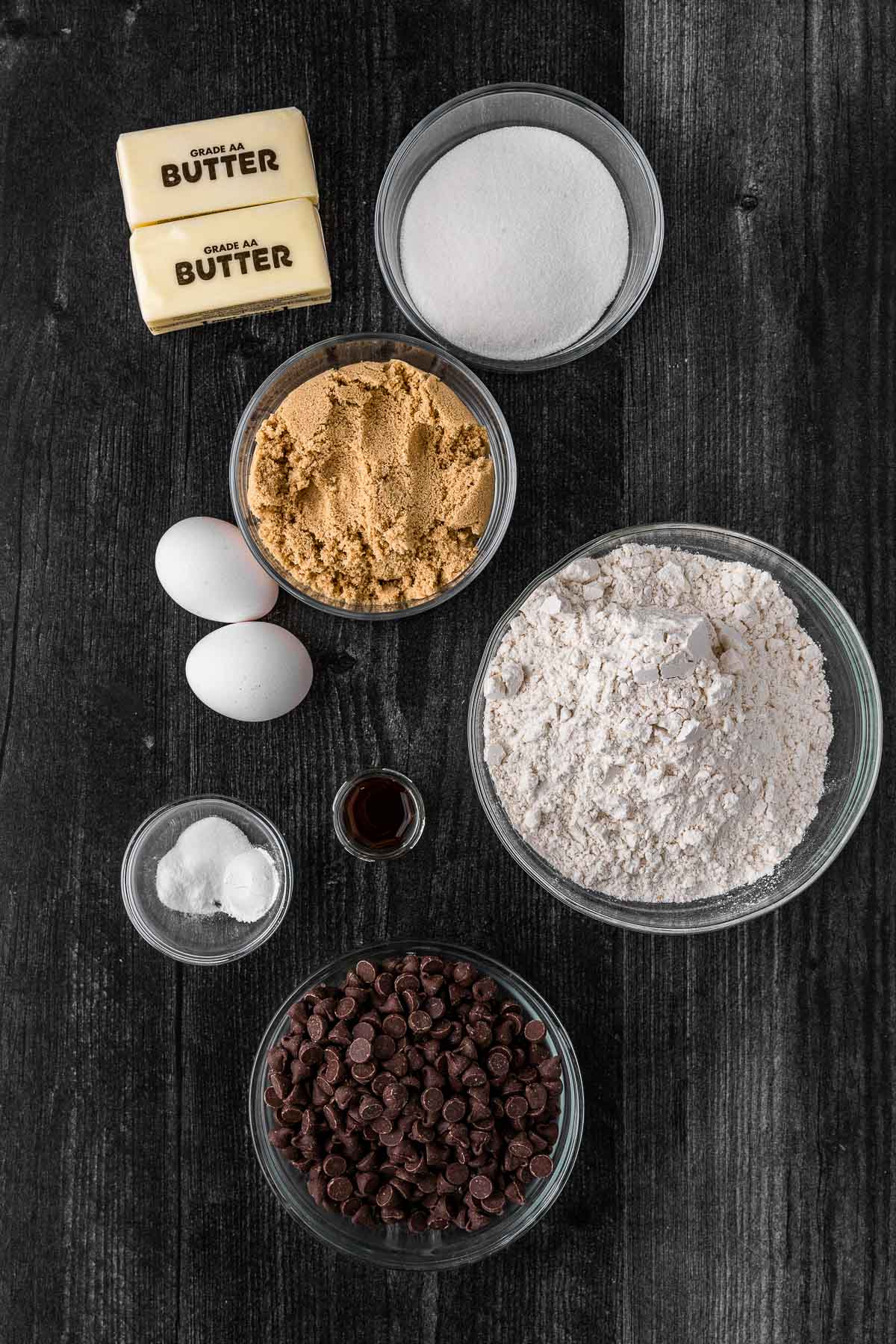 Kitchen Tools & Equipment
Stand Mixer with Paddle Attachment: Your stand mixer is the perfect choice for these cookies. It will make forming the dough a breeze. You can also use a handheld electric mixer and a large mixing bowl, or choose to mix the dough by hand.
Cup and Teaspoon Measures: You will need the cup measure for your flour, sugar, and chocolate chips. You'll use a set of teaspoon measures for the vanilla, baking soda, and salt.
Sifter: It is important to sift your dry ingredients so they are fully mixed, and well-distributed in your batter. If you don't have a sifter, you can add the ingredients to a bowl and use a whisk to blend the ingredients.
Baking Sheets: Grab a baking sheet or 2 so that you can roll out your balls of dough and bake 2 batches at a time.
Parchment Paper: Cut a sheet of parchment to fit your cookie sheet. Use it to line the sheet so the cookies won't stick to the bottom.
Cookie Scoop: A cookie scoop will allow for all of your cookies to be the same size and shape when baked.
How to Make Chocolate Chip Cookies
Time needed: 20 minutes.
Prep Time

Set the oven temperature to 350 degrees.

Wet Ingredients

To a stand mixer cream together the butter, white sugar, and brown sugar until light and fluffy, about 2-3 minutes. Add in the eggs one at a time along with the vanilla.

Dry Ingredients

Sift the flour, baking soda, and salt, then add the flour mixture to the mixer on low speed until just combined.

Chocolate

Stir in the chocolate chips. You can now choose to refrigerate your chocolate chip cookie dough for a more chewy cookie or cook the dough right away for a crispier cookie.

Baking Time

Using ¼ cup scoops, form the dough into balls. Line a baking sheet with parchment paper and bake until golden brown, about 10-12 minutes.

Cool

Let them rest for a couple minutes and then transfer to a wire rack to cool.
Nutritional Facts
Nutrition Facts
Chocolate Chip Cookies
Amount Per Serving
Calories 68
Calories from Fat 72
% Daily Value*
Fat 8g12%
Cholesterol 20mg7%
Sodium 1mg0%
Potassium 2mg0%
Carbohydrates 0.01g0%
Protein 0.1g0%
Vitamin A 236IU5%
Calcium 2mg0%
Iron 0.002mg0%
* Percent Daily Values are based on a 2000 calorie diet.
Baking Tips & Tricks
Achieve perfectly baked Chocolate Chip Cookies by following these tips.
Achieve a Fluffy Texture


Make sure you're refrigerating your dough before baking. Butter that's already too warm in the dough will spread faster.
Measure your ingredients accurately, leveling out the cups and teaspoons with a butterknife. Also make sure you're using fresh, not expired ingredients.

Make Chewy Cookies

Use a combination of brown sugar and granulated sugar according to the directions. The brown sugar will bring more moisture to the cookies, resulting in a chewier texture.
Use real butter, not butter substitutes. Butter has more than just fat, it also has solids and moisture, which make for soft cookies. Other chocolate chip cookie recipes may call for a combo of butter and shortening, which is ok, too.
Refrigerate your cookie dough before baking, because a warm dough can result in flatter cookies that are more likely to crisp up.
Watch your cooking time and temperature. Set a timer for a minute or 2 less than you think you'll need, so you don't accidentally over-bake your cookies.

Make Crunchy Cookies

In order to achieve crispy, crunchy cookies without going out to get different ingredients, start by replacing the brown sugar with more white sugar.
Form your cookie dough balls without refrigerating the dough. This will allow the cookie to spread and crisp in the oven.
Bake the cookies for the full cooking time and then check them to look for browned edges. If they aren't browned yet, give them a minute or 2 more in the oven.
How to Store Chocolate Chip Cookies
Serve: Save Chocolate Chip Cookies in a ziplock bag or other airtight container at room temperature for up to 3 days.
Store: Keep your cookies in the fridge in an airtight container and they'll last for up to a week before getting stale. To get your cookies warm and chewy again, microwave for about 15 seconds.
Freeze: Freeze prepared cookie dough or baked cookies for up to 2 months in a freezer-safe container. Freeze cookie dough in balls on a baking sheet for about an hour before transferring to a freezer bag to easily bake from frozen dough.
Ideas to Serve Chocolate Chip Cookies
Use this classic Chocolate Chip Cookies recipe any time of year. Make them for a birthday gathering, a potluck, picnic, dinner party, or just to have around the house for snacks, desserts, or lunchbox additions. Add these crowd-pleasers to a Holiday dessert tray or Christmas Cookie platter. Box some up for party favors at your next birthday party. The possibilities are endless.
The very obvious pairing for homemade Chocolate Chip Cookies is a tall, cold glass of milk. However, you can up your game a little bit by serving them with Homemade Chocolate Milk, a homemade Wendy's Frosty (Chocolate or Vanilla), a refreshing Cold Brew Coffee, Classic Horchata, or comforting Hot Chocolate.
FAQs for Chocolate Chip Cookies
Why did I end up with flat cookies?
Your chocolate chip cookie recipe may be spreading too much for a few reasons, usually having to do with butter and granulated sugar, or too little all purpose flour. If you ended up with flat, crispy cookies, make sure your ingredients are fresh, measured correctly, and try refrigerating cold dough overnight covered in plastic wrap before baking.
Why are my cookies burning on the bottom?
If your chocolate chip cookie recipe consistently come out burnt and crispy on the bottom but perfect and chewy on the top, invest in a good oven-safe thermometer to check if your oven is cooking true to temperature.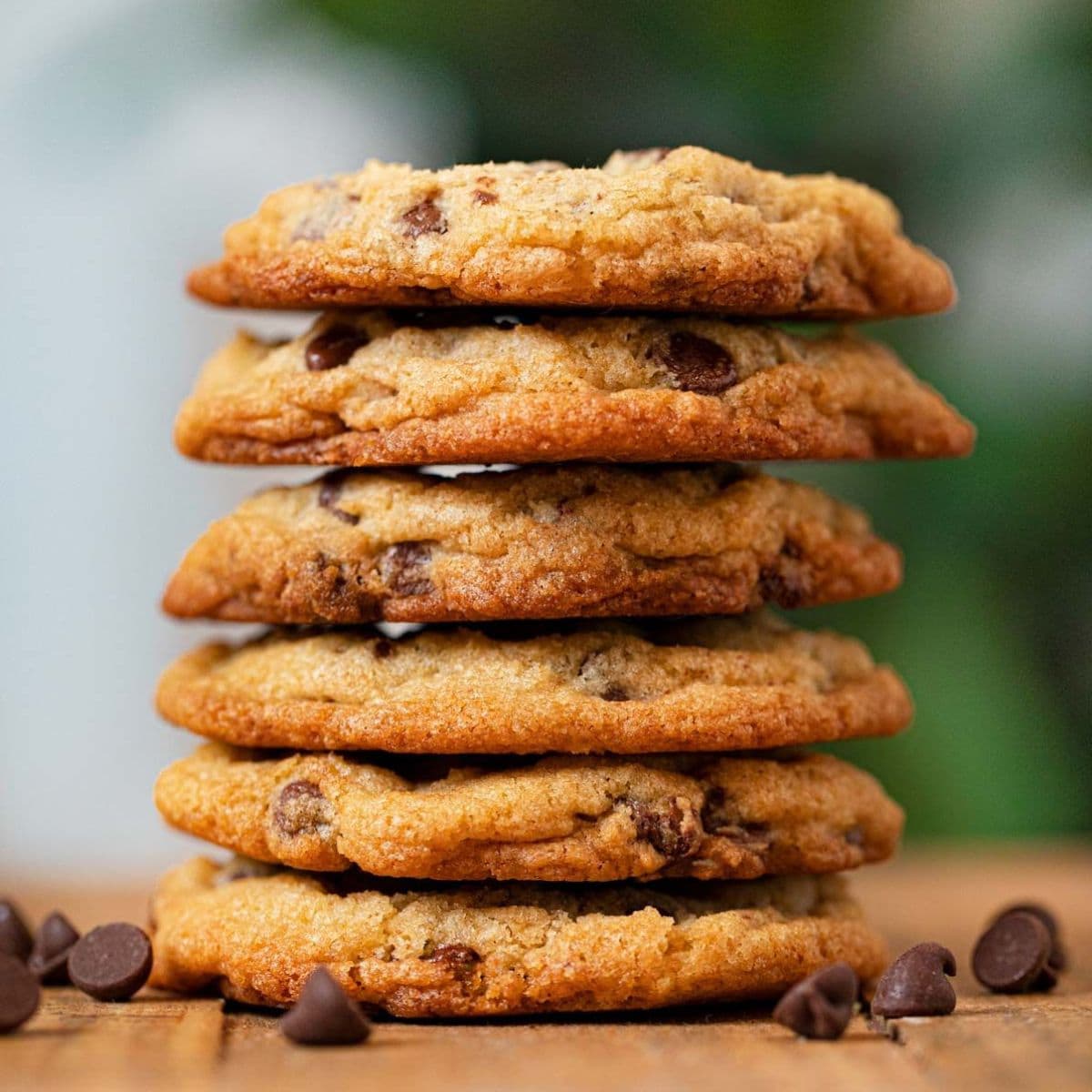 Recipe Card


Ingredients
1

cup

unsalted butter

, softened

1

cup

sugar

1

cup

brown sugar

, packed

2

large eggs

1

tablespoon

vanilla extract

3

cups

flour

1

teaspoon

baking soda

1/2

teaspoon

salt

2

cups

semisweet chocolate chips
Instructions
Preheat oven to 350 degrees.

To a stand mixer cream together the butter, sugar and brown sugar until light and fluffy, about

2-3 minutes

.

Add in the eggs one at a time along with the vanilla.

Sift the flour and baking soda and add it to the stand mixer along with the salt on low speed until just combined and stir in the chocolate chips.

Using ¼ cup scoops, bake the cookies 6 to a sheet and bake for

10-12 minutes

.
Notes
Note: click on times in the instructions to start a kitchen timer while cooking.
Nutrition
Calories:
68
kcal
|
Carbohydrates:
0.01
g
|
Protein:
0.1
g
|
Fat:
8
g
|
Saturated Fat:
5
g
|
Polyunsaturated Fat:
0.3
g
|
Monounsaturated Fat:
2
g
|
Trans Fat:
0.3
g
|
Cholesterol:
20
mg
|
Sodium:
1
mg
|
Potassium:
2
mg
|
Sugar:
0.01
g
|
Vitamin A:
236
IU
|
Calcium:
2
mg
|
Iron:
0.002
mg
Chocolate Chip Cookies Variations
Switch up the Chocolate: You can use dark chocolate chips, milk chocolate chips, or white chocolate chips for this cookie recipe. Instead of chocolate chips you can also try using butterscotch chips, peanut butter chips, or caramel chips! Better yet, use any delicious combination of chips that sounds tasty to you.
Chocolate Chunk Cookies: There's something about looking at a cookie and seeing huge chunks of chocolate all over. You just know it's going to be extra special. Create that effect at home and buy chocolate chunks instead of chips.
Add Nuts: Try adding peanuts, chopped almonds, or chopped walnuts to add another flavor and some crunchy texture to the cookies.
Dried Fruit: Add in raisins, dried cranberries, dried cherries, or dried blueberries for some extra fruit flavor.
Orange Chocolate Chip Cookies: Add the zest of one medium orange to your cookie dough to bring another element of flavor, or even a holiday twist with this flavor combination.
Sea Salt Chocolate Chip Cookies: Top your cookies with flaky sea salt for Salted Chocolate Chip Cookies. You'll love the sweet and salty flavors together and the salt will stick to the cookies if you sprinkle it on right after they come out of the oven.
Whole Wheat: If you like to bake with whole wheat flour, you can substitute half the all-purpose flour for whole wheat to bring some whole grain goodness to the cookies without changing the texture too much.
Related Recipes
More Chocolate Chip Cookie Recipes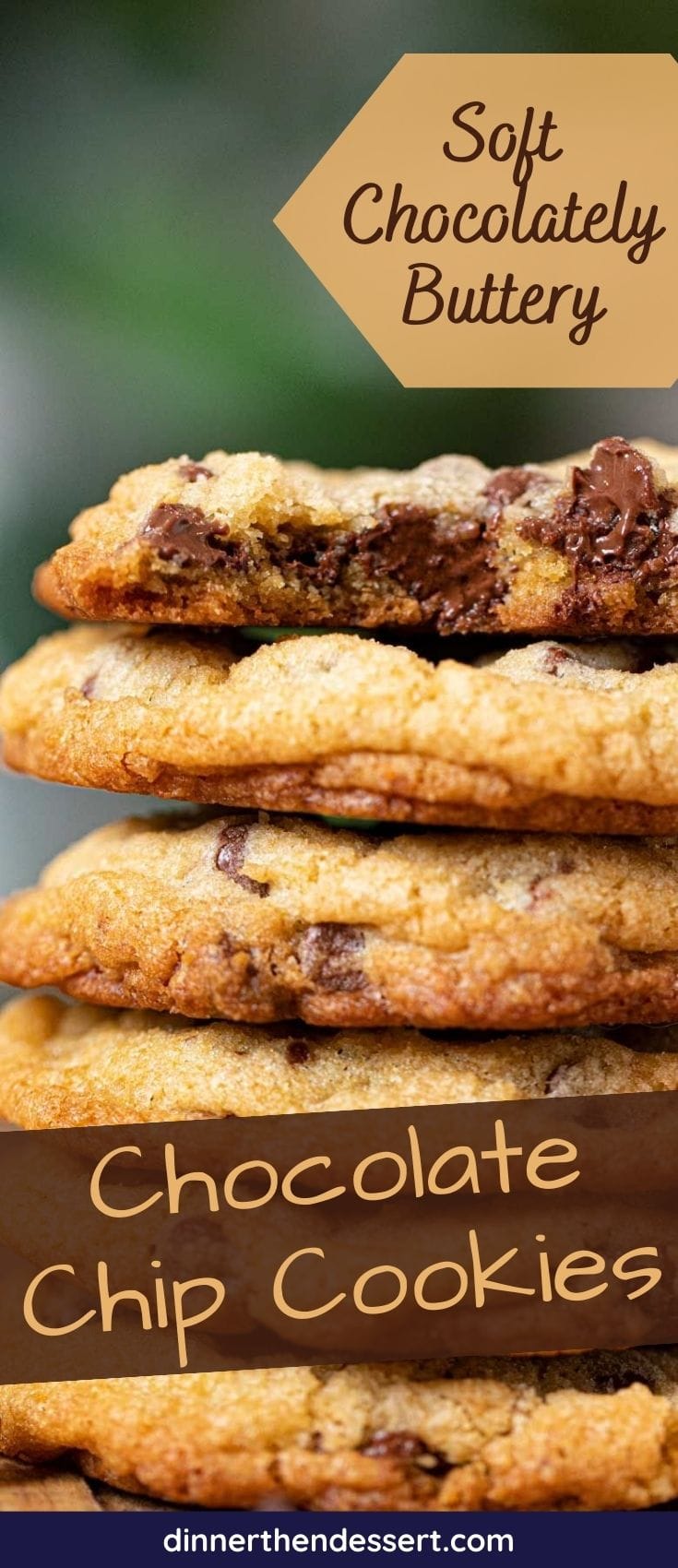 Images from a previous version of this post.