Oatmeal Chocolate Chip Cookies are a chewy, buttery oatmeal cookie recipe filled with semi-sweet chocolate chips.
In our house you're either team Chocolate Chip Cookie or team Oatmeal Raisin Cookie so this cookie brings everyone together to make our favorite cookies.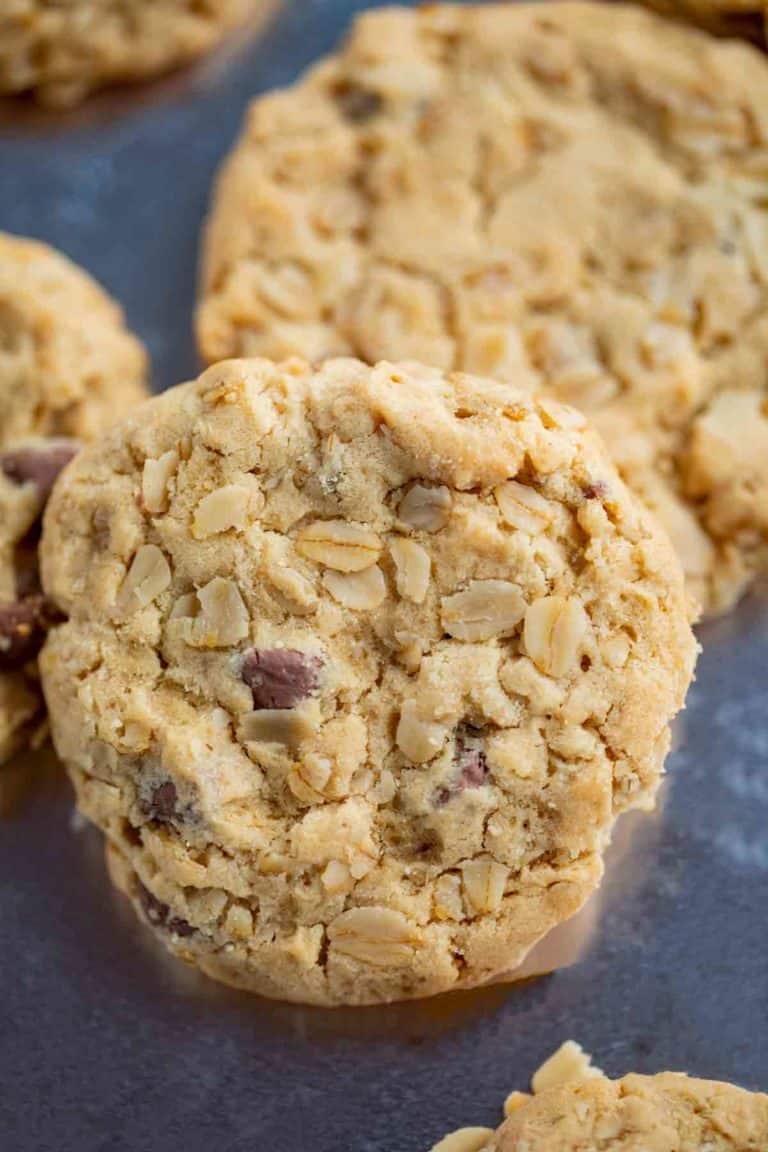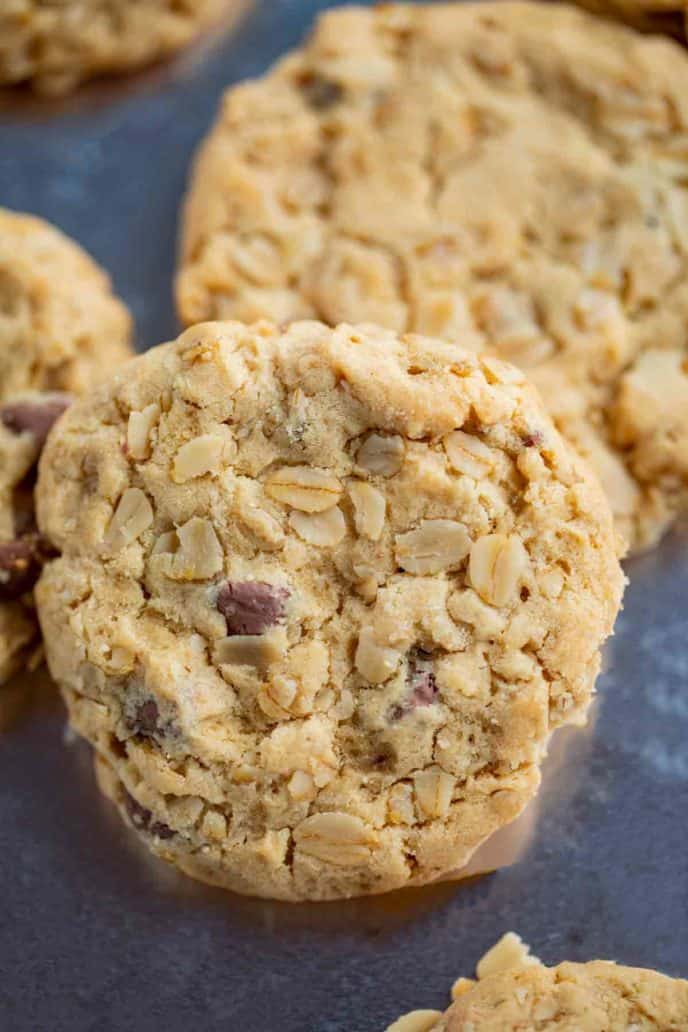 Chocolate Chip Oatmeal Cookies
Plus, since the base of the cookie is such a classic oatmeal flavor, you can change up the chocolate chips next time to your favorite flavors including: white chocolate chips, chopped nuts, sometimes a 1/4 cup of peanut butter, some ground cinnamon or instead of light brown sugar or you can even use dark brown sugar in place of light brown sugar for a deeper molasses flavor.
Oatmeal Raisin Cookies are definitely my jam, but this recipe is a close second and a quick and easy swap for the rest of the family. I used to only make the raisin variety until I started seeing raisins covered in crumbs on plates around the table once the kids were done and I realized I was fighting a losing battle.
Lesson learned. Kids love cookies and you'll be left with a plate of cookie covered raisins. Point taken.
So, let's discuss how to make these the best EVER soft and chewy chocolate chip oatmeal cookies!
HOW TO MAKE COOKIES CHEWY:
Using a combo of brown sugar and white sugar like in my chocolate chip cookie recipe makes the best cookies.
Under bake by 1-2 minutes if you find your cookies are coming out more crisp than you'd like.
If you like your cookies crispy bake them for 12-13 minutes.
If you mix the flour too much in the recipe the cookies can be too dry.
If you scoop your flour instead of spooning it into your measure it can be too dry.
Refrigerate your cookie dough to keep the cookies thicker if you find they are baking too thin.
Use a good quality baking sheet/cookie sheet and line with parchment paper/silicone mat.
HOW TO MAKE THESE OATMEAL COOKIES GLUTEN-FREE:
Instead of using flour, grind instant oats into flour instead and use in place of flour and bake as directed.
WHY ARE MY COOKIES FLAT?
Warm butter/Room temperature butter is usually the reason behind flat cookies. You need the steam from the cold butter to give the cookies that extra bit of lift to help give the extra height to these cookies. Be sure you don't skip the refrigerating process in this recipe.
I find instant oats can sometimes disintegrate into my batter throughout the cooking process and it also doesn't really result in a good chewy cookie. Stick with the rolled oats, you won't be disappointed.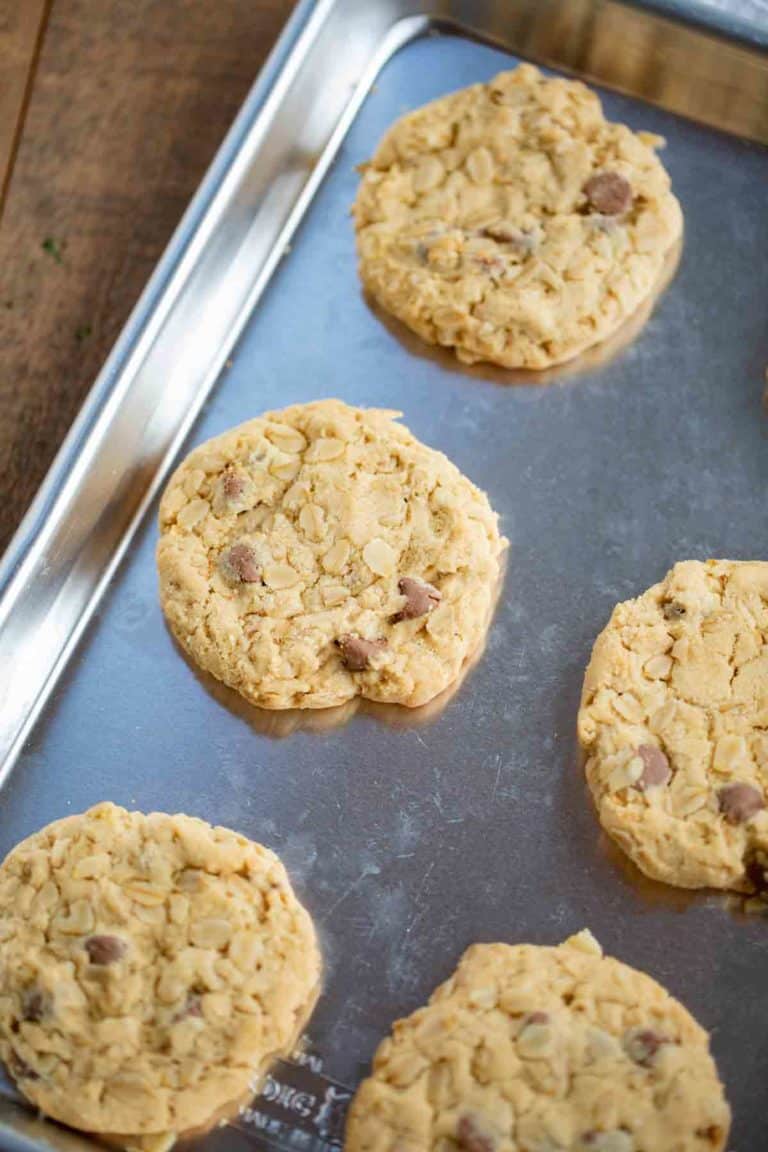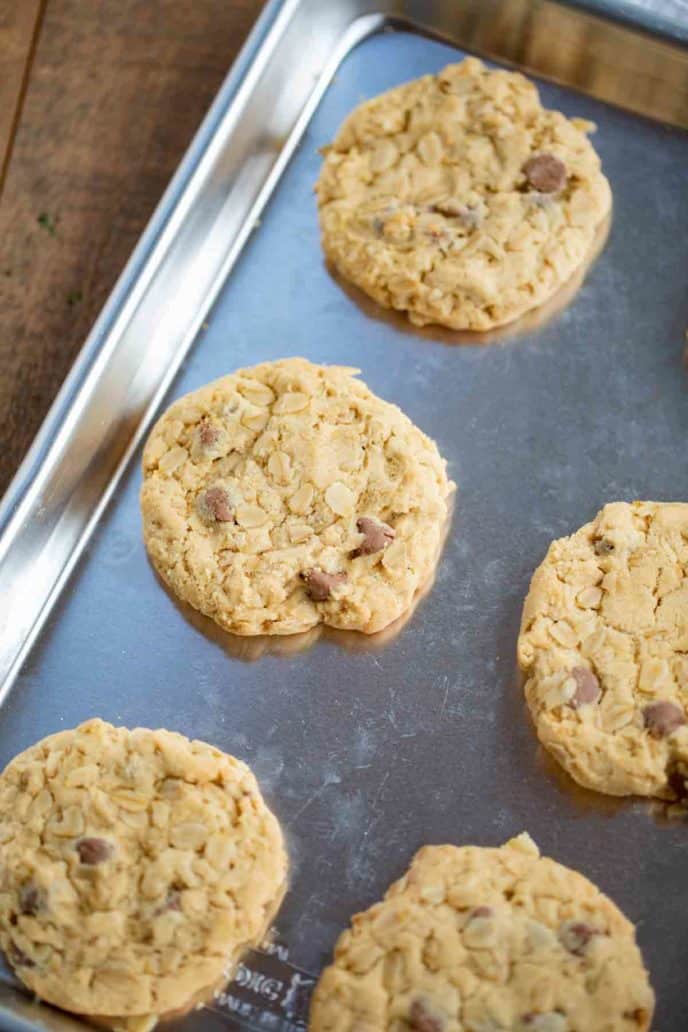 HOW TO STORE YOUR COOKIES:
As always the enemy of cookies is air, be sure to keep your cookies stored in an airtight container. Even better, store them with a slice of bread to keep them extra moist. That bread will absorb any additional moisture that is in the air keeping your cookies fresh.
Can you freeze Oatmeal Cookies? Yes, you absolutely can, just be sure to use an airtight container. I like to use a ziplock with as much of the air removed as possible.
Can you freeze Oatmeal Cookie Dough? Yes, I freeze it in scoops in an airtight container with as much air removed as possible.
COOKIE BAKING TIPS:
Use an electric mixer to beat the butter and sugar well until very light and fluffy before adding in the flour mixture and the chocolate chips.
Let your cookies cool completely on a wire rack instead of on the baking sheet. I only let them cool on the baking sheet for a couple minutes to firm up before removing them.
Using a cookie scoop ensures all your cookies will be the same size.
Instead of using a stand mixer you can use a large bowl and hand mixer since you only need to beat butter with sugar and the rest of the ingredients only need to be barely combined.
More Cookie Recipes: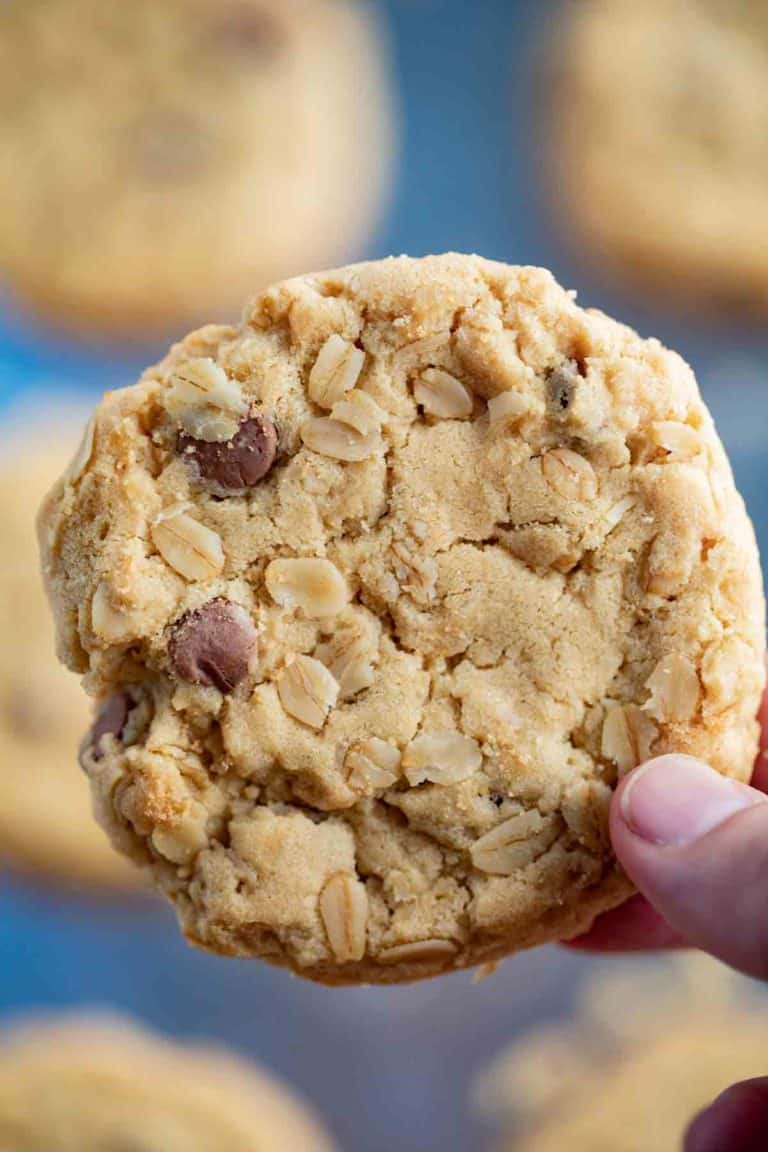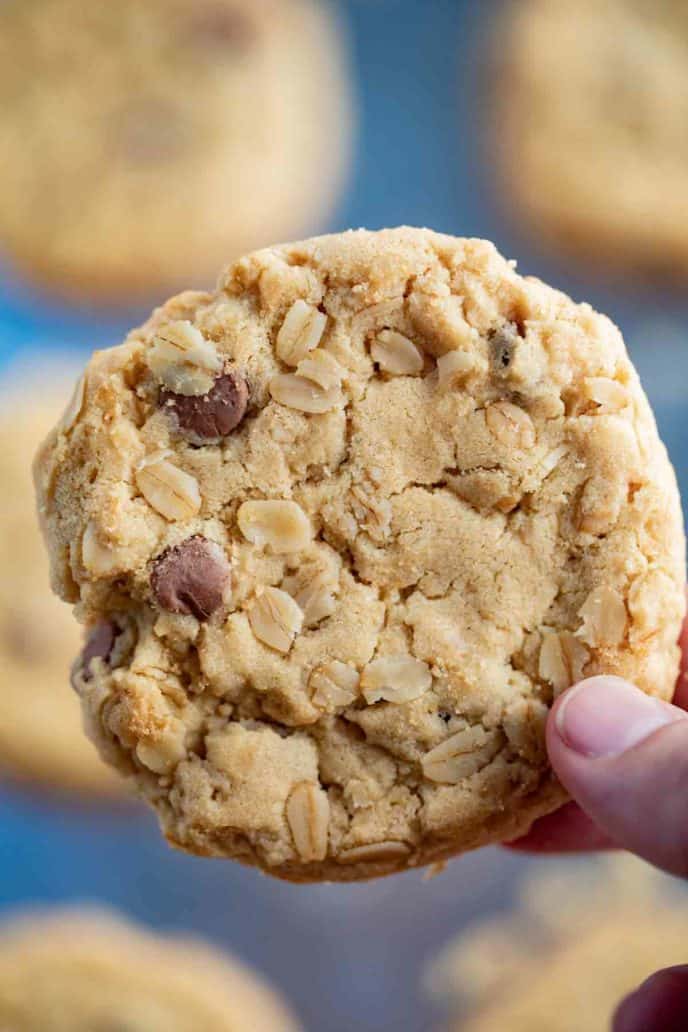 Recipe
Save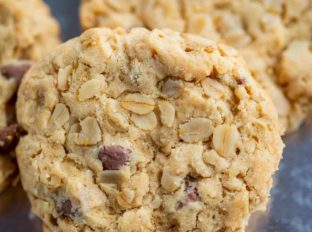 Oatmeal Chocolate Chip Cookies
Yield:

24

cookies

Prep Time:

10

minutes

Cook Time:

10

minutes

Total Time:

20

minutes

Course: Dessert
Cuisine: American
Author: Sabrina Snyder
Oatmeal Chocolate Chip Cookies are the best oatmeal cookies and the perfect twist to the classic raisin cookie for kids who aren't raisin fans.
Ingredients
8

tablespoons

unsalted butter

softened

1/3

cup

sugar

1/3

cup

brown sugar

packed

1

large egg

2

teaspoons

vanilla extract

1/2

cup

flour

1/2

teaspoon

baking soda

1 1/2

cups

old fashioned oats

(not quick oats)
Instructions
Note: click on times in the instructions to start a kitchen timer while cooking.
Preheat the oven to 350 degrees and to your stand mixer add the butter and sugar on medium speed beating until light and fluffy for 1-2 minutes.

Add in the egg and vanilla until well mixed then on low speed add in the flour and baking soda until just combined.

Add in the oats and chocolate chips until just combined on low speed and using a 2 tablespoon measure scoop the dough onto a baking sheet and bake for 8-9 minutes.

Recipe Notes
Note: click on times in the instructions to start a kitchen timer while cooking.
Nutrition Information
Yield: 24 cookies, Amount per serving: 131 calories, Calories: 131g, Carbohydrates: 15g, Protein: 1g, Fat: 7g, Saturated Fat: 4g, Cholesterol: 17mg, Sodium: 27mg, Potassium: 70mg, Fiber: 1g, Sugar: 8g, Vitamin A: 130g, Calcium: 12g, Iron: 0.9g
All images and text © for Dinner, then Dessert.
Keyword:
oatmeal chocolate chip cookies
Save