Easy Snickerdoodle Cookies with the perfect cinnamon sugar coating are the perfect amount of chewy for your nostalgic snickerdoodle memories.
Popular classic cookie flavors on the site include Chocolate Chip Cookies, Oatmeal Raisin Cookies and a family favorite, Peanut Butter Cookies. This is the best Snickerdoodle Cookie recipe ever!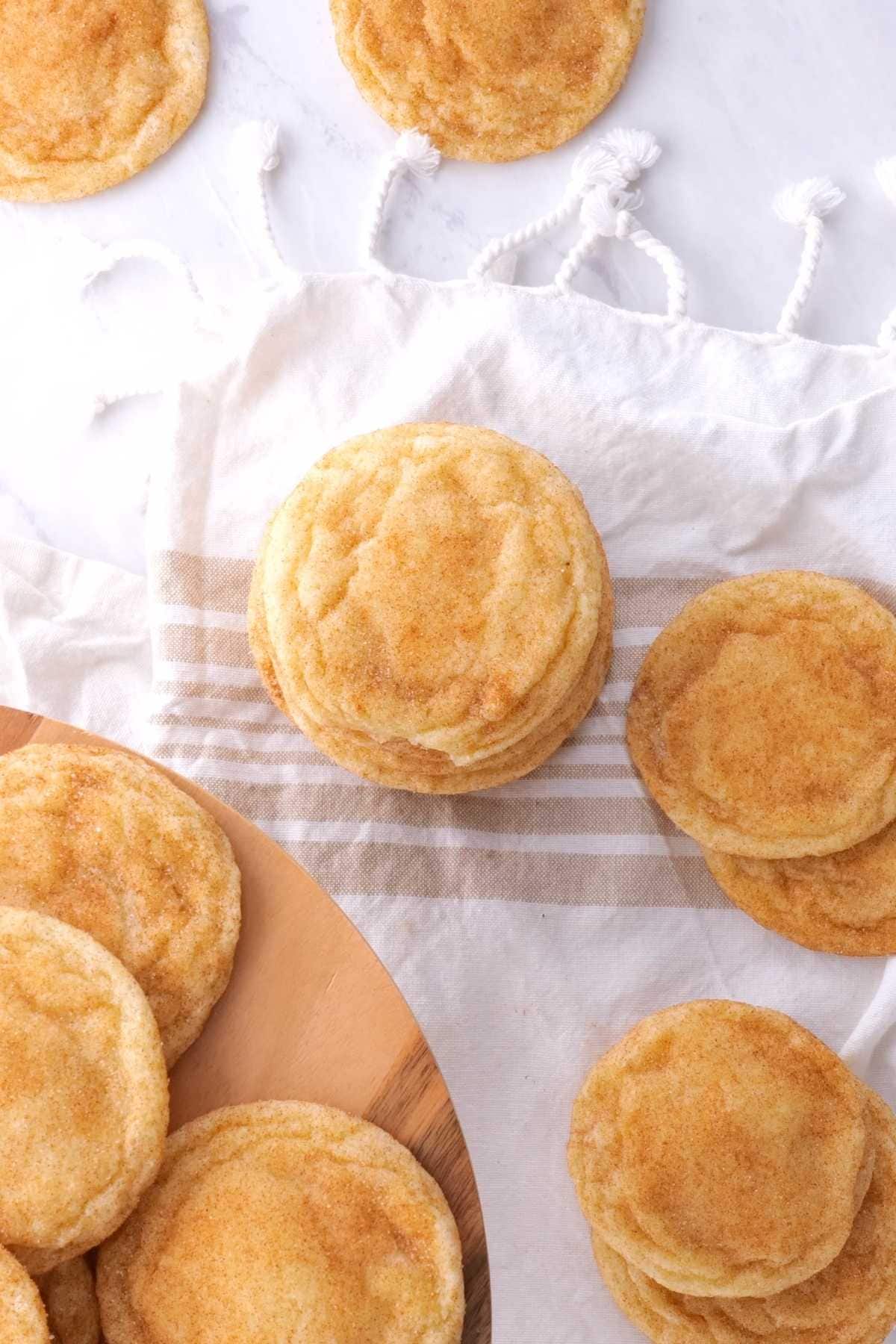 SNICKERDOODLE COOKIES
Snickerdoodle Cookies are the ultimate classic Cookie Recipe. Like a Sugar Cookie with a tang (thanks to the cream of tartar) and then of course there is the delicious cinnamon sugar that the cookies are rolled in before baking. The cookies may not with the award for the prettiest on your Christmas Cookie Exchange plate, but they will certainly be one of the first to disappear!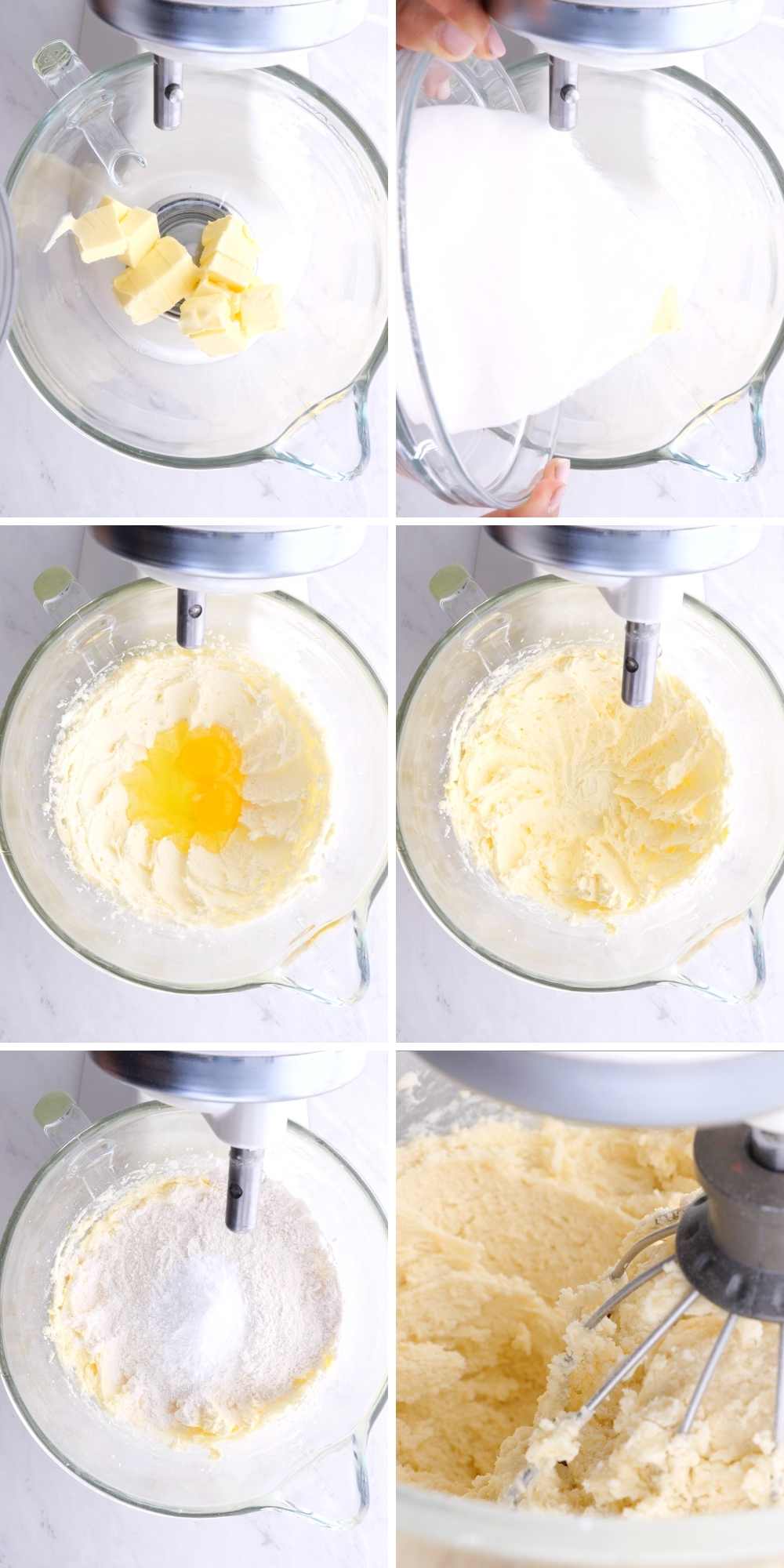 The key difference between sugar cookies and snickerdoodles is actually the cream of tartar used in snickerdoodles. Cream of tartar inhibits sugar crystallization which creates the chewier, puffier and softer texture of the snickerdoodle cookie and is a non negotiable ingredient in this recipe.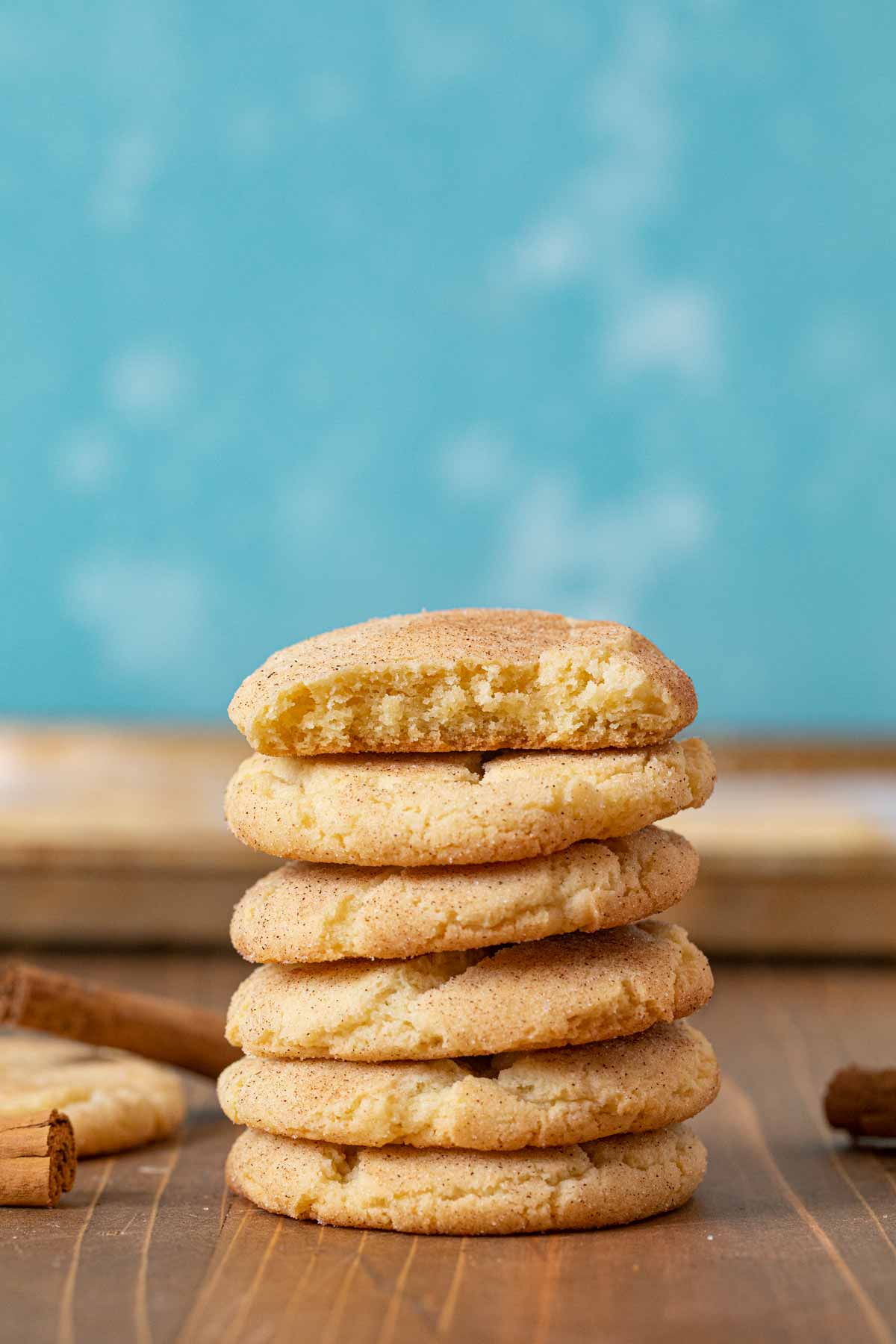 Because there is the cinnamon sugar flavor on the outside and the additional tang of flavor that comes from the cream of tartar, you don't actually need to add any vanilla extract to this recipe. It would just muddle the flavors of the cookie. These Snickerdoodle Cookies taste amazing just as the recipe is written, but can always experiment with vanilla extract, or even use a bit of ground nutmeg, some white chocolate chips, or any other mix-ins you want to add to these classic snickerdoodles.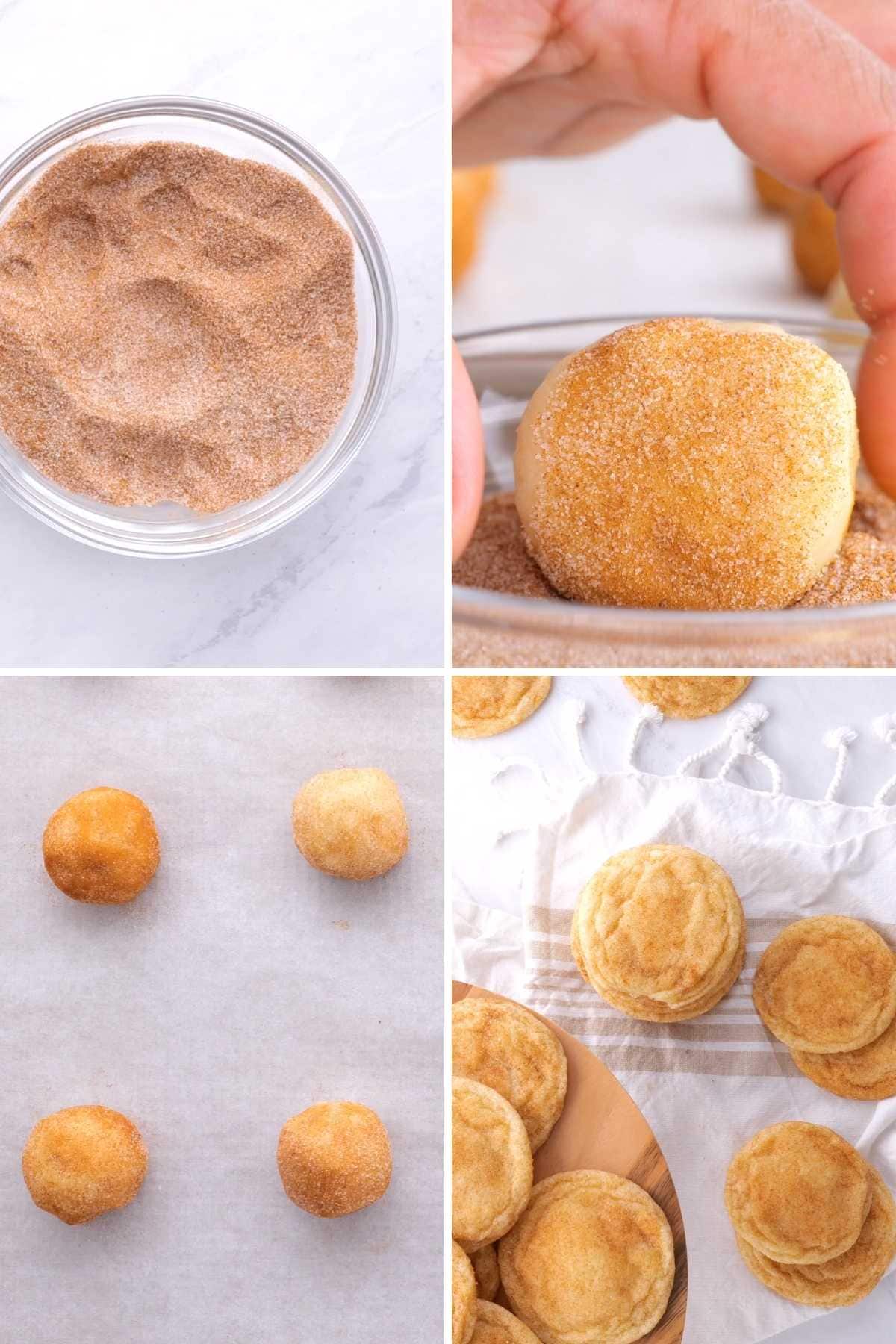 If you love snickerdoodles another recipe that is really similar you may also love would be my Brown Sugar Cookies which also are like chewy snickerdoodles but they have a more caramel-like flavor than these buttery cookies, the difference of course being they're primarily made with brown sugar while these are made with only white sugar.
MORE DELICIOUS COOKIE RECIPES
COMMON QUESTIONS FOR MAKING SNICKERDOODLE COOKIES
Why did my snickerdoodles spread too much? If your cookies are spreading too much, there's a good chance that the cookies have too much butter or granulated sugar. Make sure you're measuring your ingredients exactly. Try using a knife to level your baking cups when you're scooping sugar.
Why are my snickerdoodle cookies hard? If your snickerdoodles turned out too hard it means you've over-baked them. There should be a chewy texture to these cookies, so try baking them for 1-2 minutes less. If you're sure that you're baking them for the right amount of time according to the sugar cookie recipe, try using an oven-safe thermometer to double check the baking temperature. Sometimes an oven can cook higher or lower than the set temperature, and you can change it up or down to compensate. Also, make sure you're not over-mixing the dough, especially if you are using a stand mixer where it can be easy to do so.
How do I know if snickerdoodles are done? Watch Snickerdoodle Cookies closely because the cinnamon sugar mixture they are rolled in will give the illusion of browning. Since you won't be able to see the color of the cookie as clearly, watch for the shiny color in the middle of the cookie. When it looks slightly set, immediately remove as you are looking for these cookies to stay chewy.
Can I freeze snickerdoodles? This snickerdoodle recipe is perfect for making ahead of time and freezing, which is especially helpful if you're making early Christmas cookies! You can wrap the baked cookies in a double layer of plastic wrap and foil. Alternatively, you can freeze the dough and bake them fresh when ready. If you're just freezing the cookie dough, roll the balls in the cinnamon and sugar before freezing them on a baking sheet. Then place the frozen dough balls in a ziplock bag and remove as much air as possible. Defrost in the refrigerator the night before you want to bake, then follow the cooking instructions.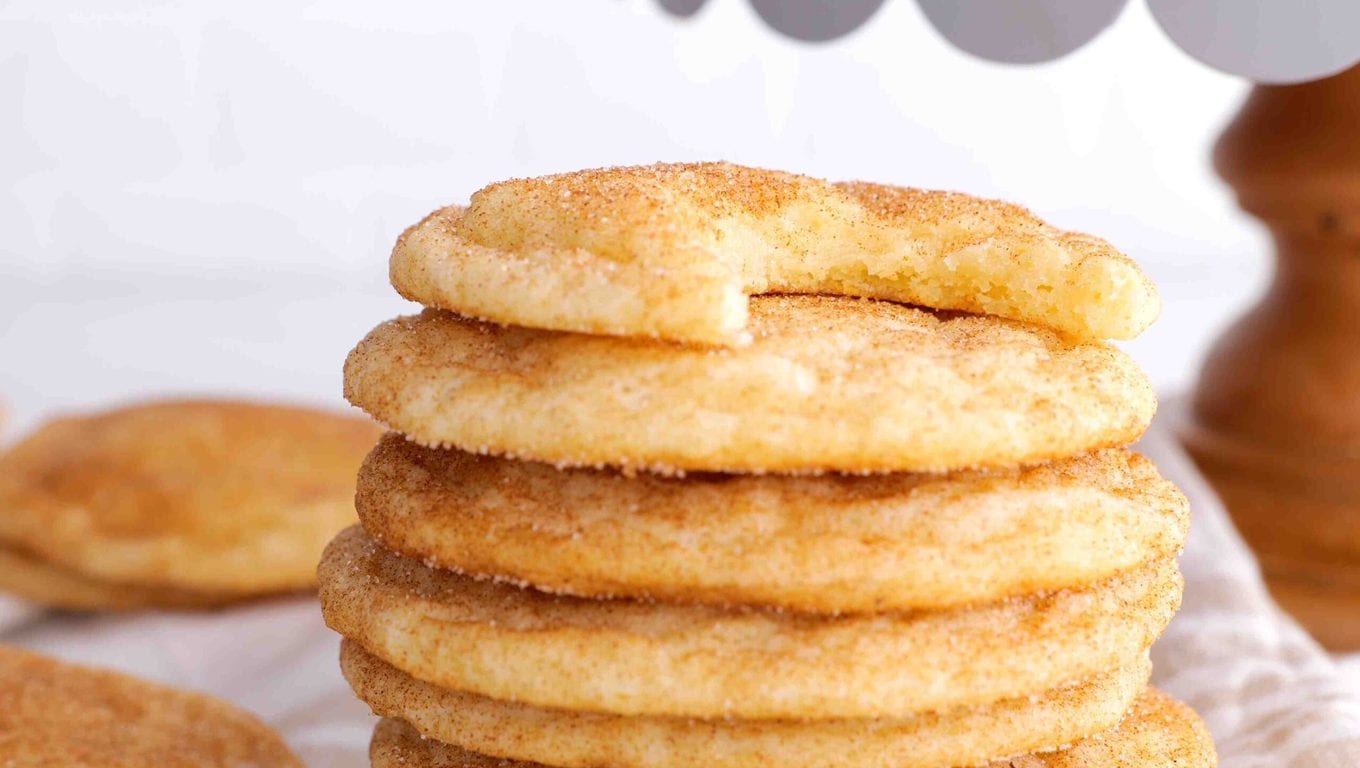 Create a free account to Save Recipes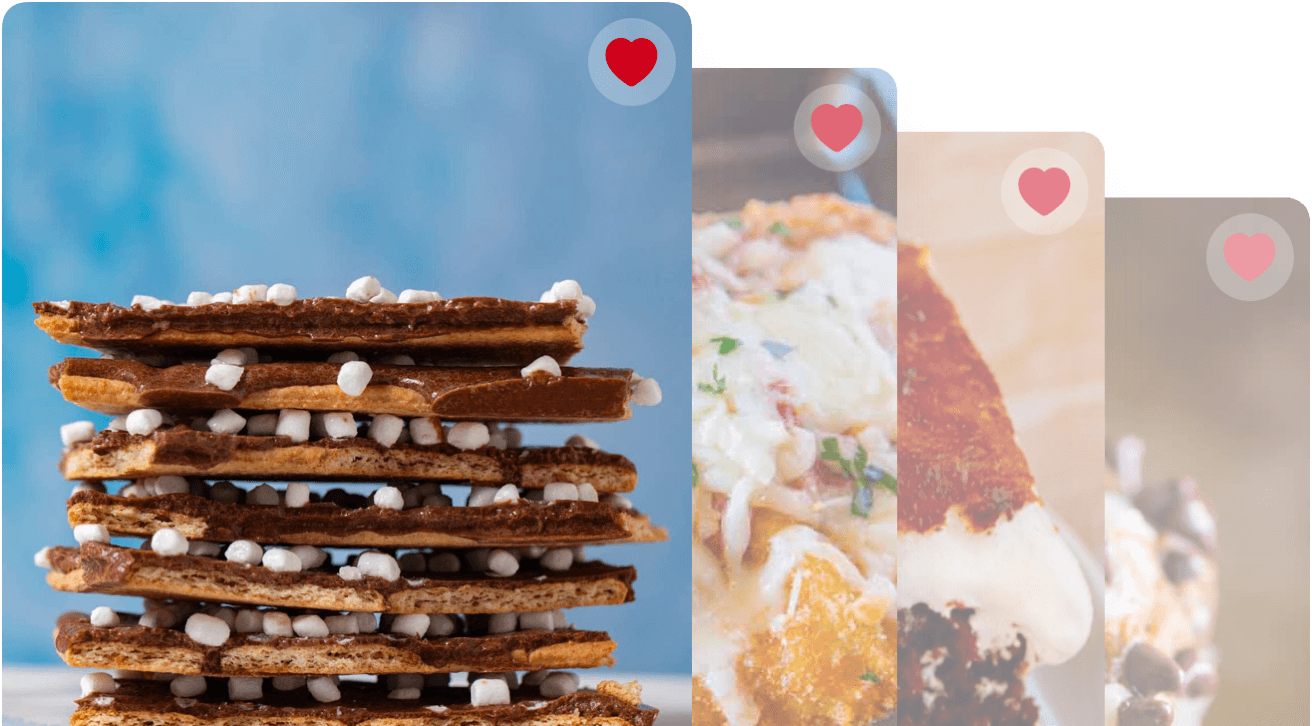 TIPS FOR MAKING SNICKERDOODLE COOKIES
Use unsalted butter to make cookies so you can decide how much salt to add. If you do use salted butter, omit the teaspoon of salt from the recipe.
Line your cookie sheet with parchment paper to prevent the cookies from sticking when baked.
Any leftover dough you have can be frozen, then defrosted and re-rolled when you're ready to bake.
Be sure to only mix the dry ingredients in until just combined to prevent over-mixing.
Use a cooling rack/wire rack to cool the cookies completely.
Make sure your baking soda and cream of tartar are fresh.
Do not swap other ingredients like baking powder for your baking soda or cream of tartar.
Make sure your cookie dough balls are rolled well in the cinnamon sugar but don't let them get too warm before baking. If they get too warm refrigerate them for 30 minutes before baking.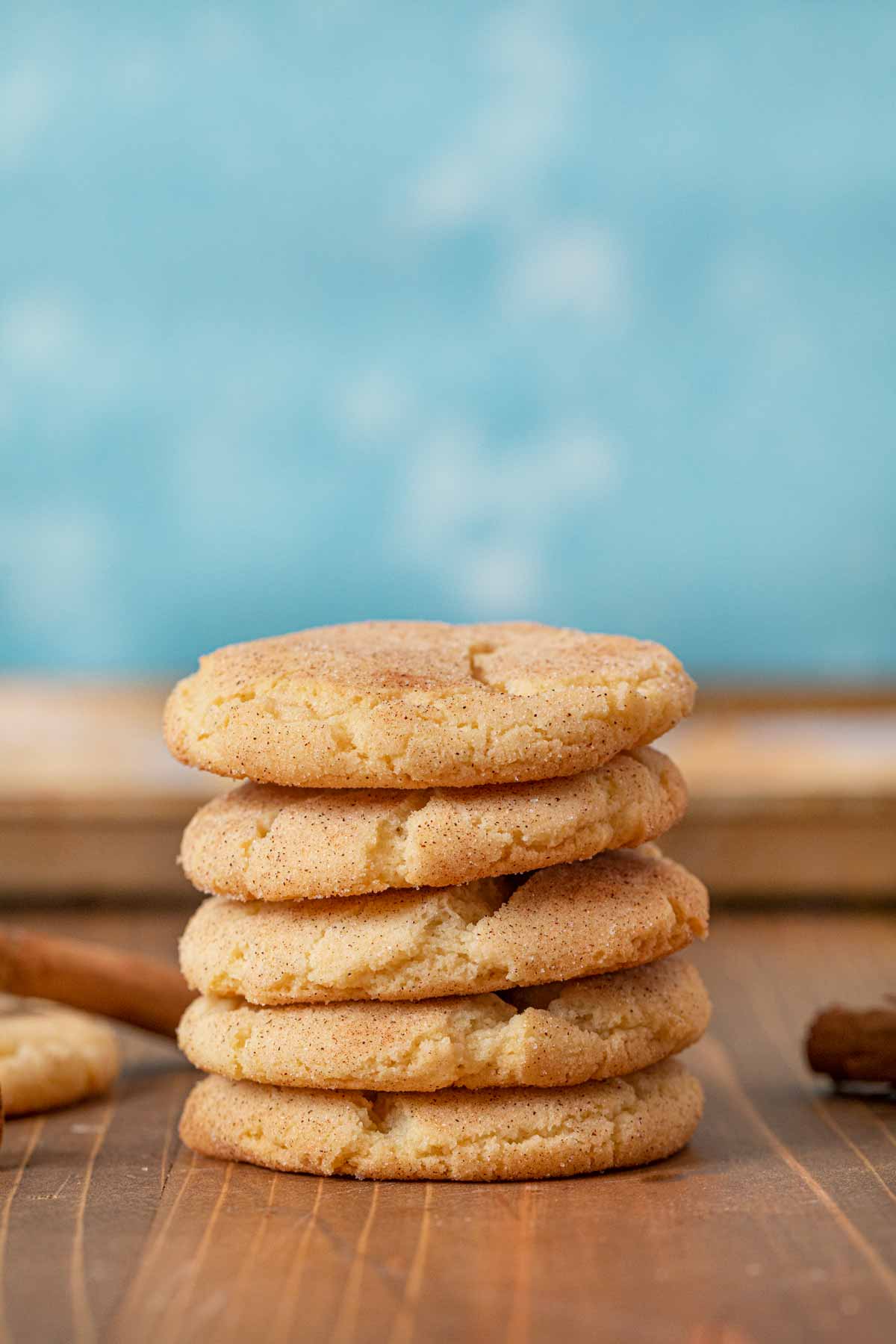 VARIATIONS ON SNICKERDOODLE COOKIES
Ice Cream Sandwiches: Make an ice cream sandwich with two cookies using my homemade Vanilla Ice Cream in the middle.
Mix ins: Try adding mini chocolate chips or M&Ms to the dough for a chewy chocolate chip cookie.
Decorations: Use colored sanding sugar or sprinkles along with the cinnamon when rolling Snickerdoodle Cookies before baking to add a festive touch.
MORE CHEWY COOKIE RECIPES
HOW TO SERVE AND STORE SNICKERDOODLE COOKIES
Serve: Snickerdoodles will last in an airtight container at room temperature for about a week.
Store: Store them with a sheet of parchment paper between each layer, to keep the cinnamon sugar from becoming moist and becoming more like a paste and sticking together.
Freeze: If you freeze the cookies already baked, be sure to wrap them in plastic wrap then in foil when freezing. This way your Snickerdoodle Cookies won't lose any of their delicious chewy texture.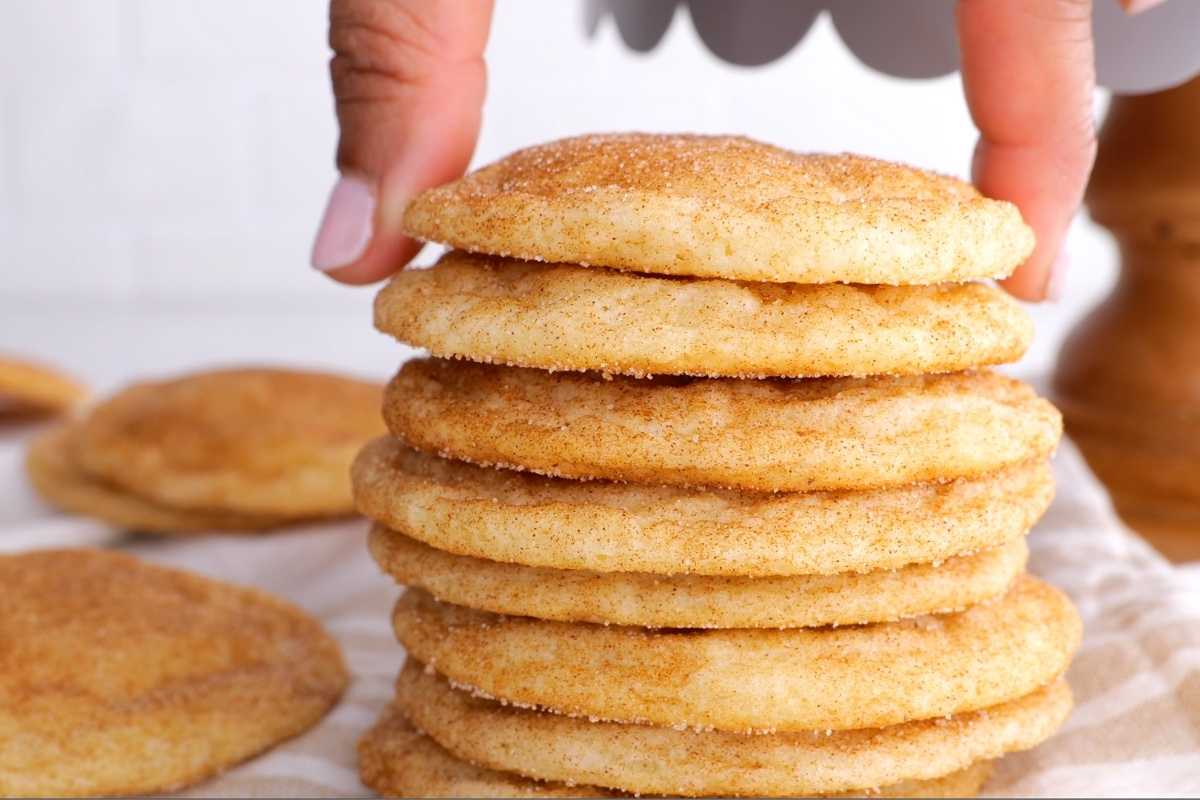 Ingredients
1 

cup

unsalted butter

, softened

1 3/4 

cup

sugar

, divided

2  

large

eggs

2 1/2 

cups

flour

2 

teaspoons

cream of tartar

1 

teaspoon

baking soda

3/4 

teaspoons

salt

1 

tablespoon

ground cinnamon
Instructions
Preheat oven to 400 degrees.

In a stand mixer whisk the butter and 1 ½ cups of sugar on high speed for

3-5 minutes

until light and fluffy.

Add in the eggs and whisk until fully combined.

Add in the flour, cream of tartar, baking soda and salt and turn on low until just combined.

In a small bowl add the last ¼ cup of sugar and cinnamon and stir until combined.

Scoop one tablespoon of cookie dough into the cinnamon and sugar and roll it around.

Bake 2 inches apart for

6-8 minutes

, until the edges have just barely started to brown.
Nutrition
Calories:
135
kcal
|
Carbohydrates:
15
g
|
Protein:
2
g
|
Fat:
6
g
|
Saturated Fat:
4
g
|
Cholesterol:
31
mg
|
Sodium:
155
mg
|
Potassium:
84
mg
|
Vitamin A:
215
IU
|
Calcium:
12
mg
|
Iron:
1
mg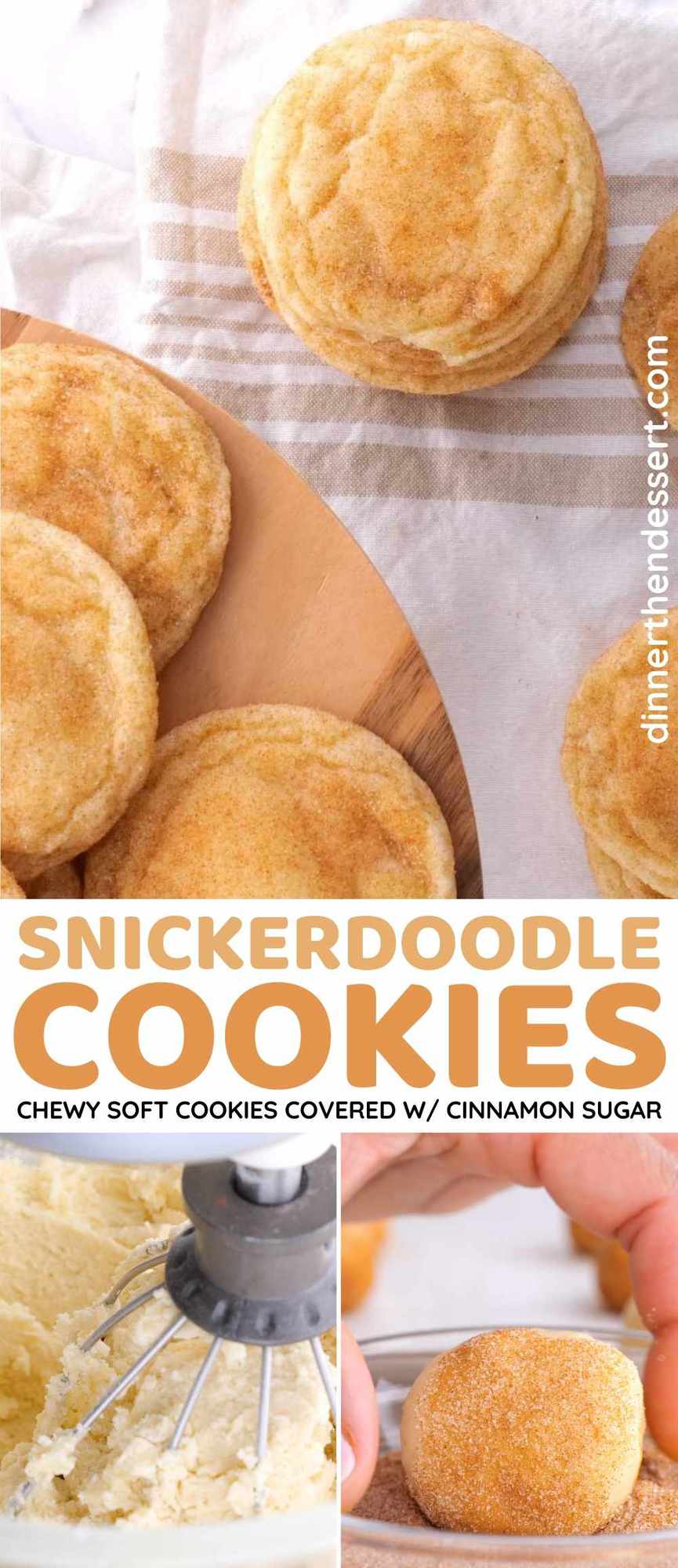 Photos from a previous version of this post: