Peanut Butter Cookies made with simple ingredients like flour, butter, eggs, and peanut butter, are chewy and slightly crunchy, and incredibly EASY to make!
We're building our cookie repertoire this year, and right now we're perfecting the recipes for our Lemon Cookies, Award Winning Gingerbread Cookies, and Chocolate Chip Cookies.
PEANUT BUTTER COOKIES
Peanut Butter Cookies are the PERFECT combo of creamy peanut butter and chewy brown sugar cookies, rolled into one. I like to use creamy peanut butter for this recipe, but you can use chunky peanut butter if you want crunchy little bites of peanuts in your cookies. These are like my Flourless Peanut Butter Cookies, but with more chewiness and a melt-in-your-mouth texture that makes them my go-to when I'm craving a peanut butter dessert!
This is an old fashioned peanut butter cookie recipe, but you can make it your own with chocolate chips or your favorite toppings. I recommend using regular peanut butter instead of natural peanut butter here, because the regular will hold up better. You can also use an ice cream scoop to put the dough on the baking sheet, which will ensure that they're all the same size.
HOW LONG DO PEANUT BUTTER COOKIES LAST?
Place the cookies in an airtight container on the counter for 2-3 weeks, if they don't get eaten before that.
CAN YOU FREEZE PEANUT BUTTER COOKIES?
This peanut butter cookies recipe can be frozen either as already baked cookies, or as cookie dough. If you're freezing baked cookies, layer them in a container with parchment paper so they don't stick together.
If you're freezing the dough, scoop out the balls and place them on a baking sheet. Put the baking sheet in the freezer for 1-2 hours, until the cookie balls are frozen. Then move the balls to an airtight container, with parchment paper between each layer, and put them back in the freezer. This peanut butter cookie recipe will freeze for about 3 months.
The cookie balls can go straight from the freezer to the oven to bake. The already baked cookies can either be defrosted and served, or reheated in the oven at 300 degrees F for a total time of 5-8 minutes to mimic freshly baked cookies before serving.
WHY DO PEANUT BUTTER COOKIES HAVE FORK MARKS?
Some peanut butter cookies have fork marks because of the density of the cookies, caused by adding peanut butter to the dough. What that marks are actually doing is flattening the cookie, and helping them bake more evenly. Over time it also became the decorative look that is associated with peanut butter cookies.
I roll my cookie dough into balls and let them bake without pressing them down because I like the fluffier chewier flavor that comes from not packing them down.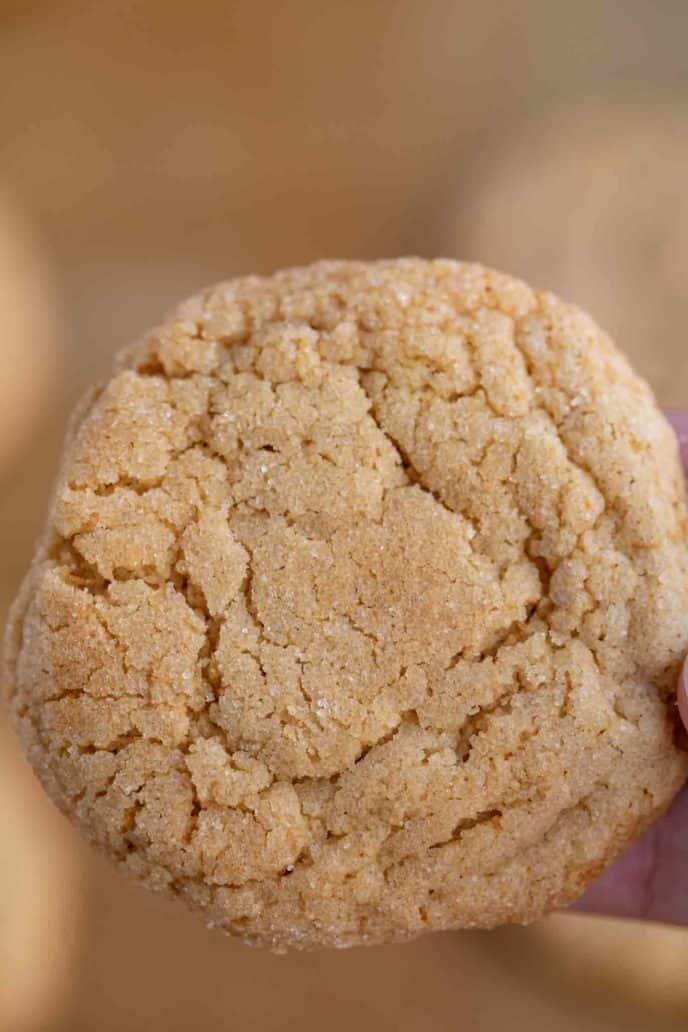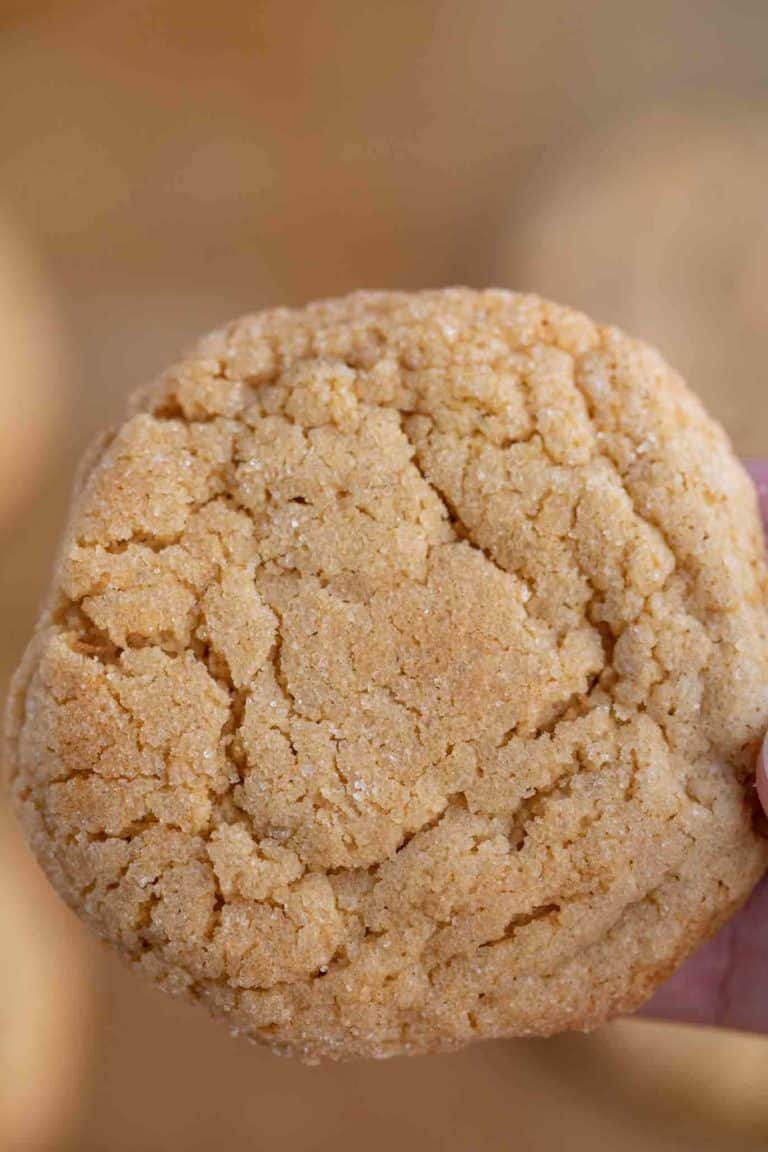 Create a free account to

Save Recipes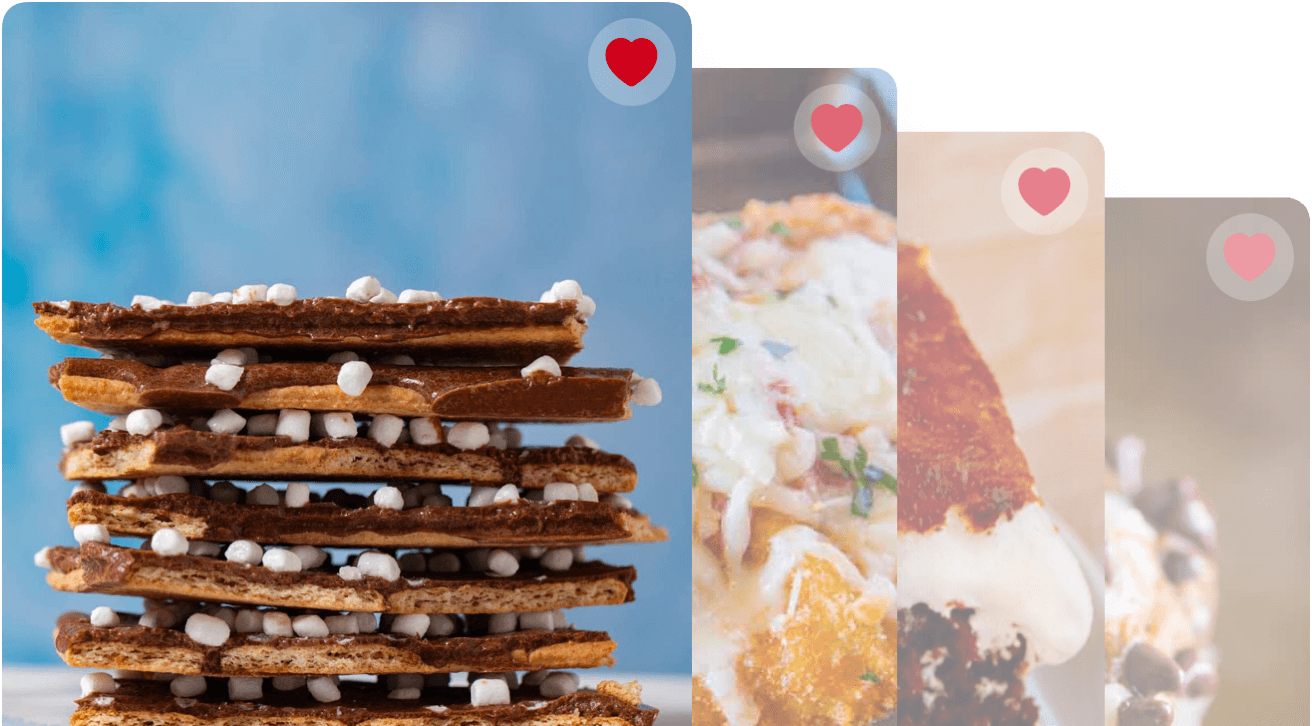 MORE COOKIE RECIPES
WHY ARE MY PEANUT BUTTER COOKIES CRUMBLY?
You might be using too much all purpose flour in your dough. This will cause any cookie recipe to be too dry, which makes them crumbly.
Your oven is baking hotter than the set temperature. Try using an oven-safe thermometer and setting the oven. Check it after the oven is preheated to see if it is actually cooking at the set temperature, or if it's too hot or not hot enough.
Make sure you're using good quality baking sheets. The metal conducts heat, which has a big impact on any cookie recipe you're making. This could be why your cookies are burning on the bottom before the top is done.
TIPS FOR MAKING PEANUT BUTTER COOKIES
You can substitute the brown sugar for white granulated sugar in this recipe. Keep in mind that if you do use granulated sugar, your cookies won't turn out as chewy and they'll lose some of the molasses flavor that the brown sugar brings to the table.
Make sure your ingredients are at room temperature before starting. This helps everything blend together without leaving lumps.
Add a teaspoon of cinnamon to the dough, or drizzle the cookies with a honey glaze after they've cooled to add some flavor variation.
Use parchment paper on your baking sheet to prevent the cookies from sticking. Peanut butter cookies are extra sticky due to the peanut butter!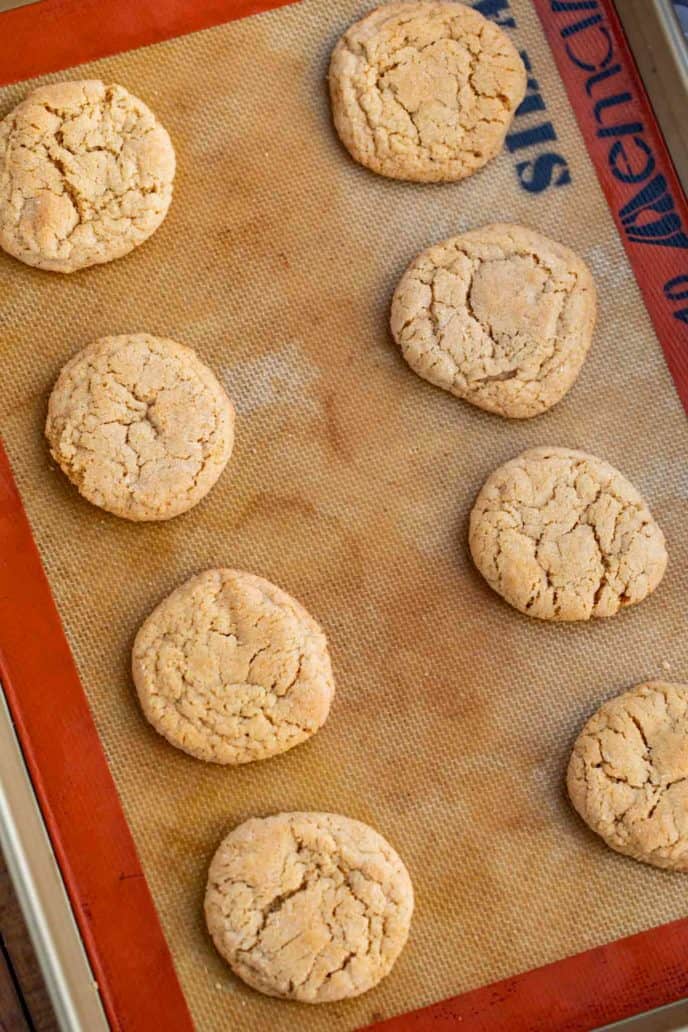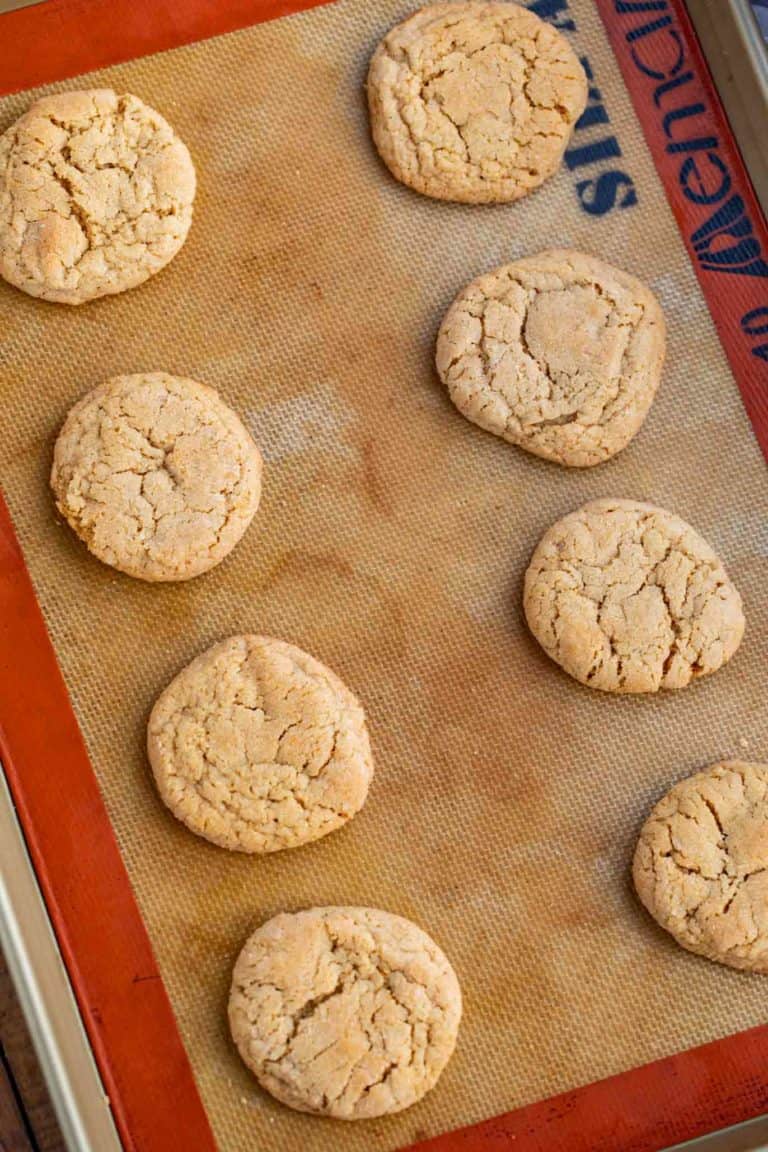 Ingredients
1

cup

unsalted butter

1

cup

peanut butter

1

cup

sugar

1

cup

brown sugar

packed

2

large eggs

2 1/2

cups

flour

1

teaspoon

baking powder

1 1/2

teaspoons

baking soda

1/2

teaspoon

salt
Instructions
To a stand mixer cream together the butter, peanut butter, sugar and brown sugar together on high speed for

1-2 minutes

until light and fluffy.

On medium speed add in the eggs one at a time until well combined.

Sift the flour, baking powder and baking soda in a separate bowl then add it into the stand mixer with the salt on low speed until just combined then chill the mixture for at least

2 hours

.

Pre-heat the oven to 375 degrees and scoop the dough into 2 tablespoon sized balls then bake for

10-12 minutes

.
Notes
Note: click on times in the instructions to start a kitchen timer while cooking.
Nutrition
Calories:
250
kcal
|
Carbohydrates:
29
g
|
Protein:
4
g
|
Fat:
13
g
|
Saturated Fat:
6
g
|
Cholesterol:
33
mg
|
Sodium:
175
mg
|
Potassium:
120
mg
|
Sugar:
18
g
|
Vitamin A:
255
IU
|
Calcium:
26
mg
|
Iron:
1
mg