Peanut Butter Cookies made with simple ingredients are chewy and slightly crunchy, and incredibly EASY to make!
If you love the deep flavors of Peanut Butter Cookies, you'll love our other Cookie Recipes like our zesty Lemon Cookies, the Award Winning Gingerbread Cookies, and the classic Chocolate Chip Cookies.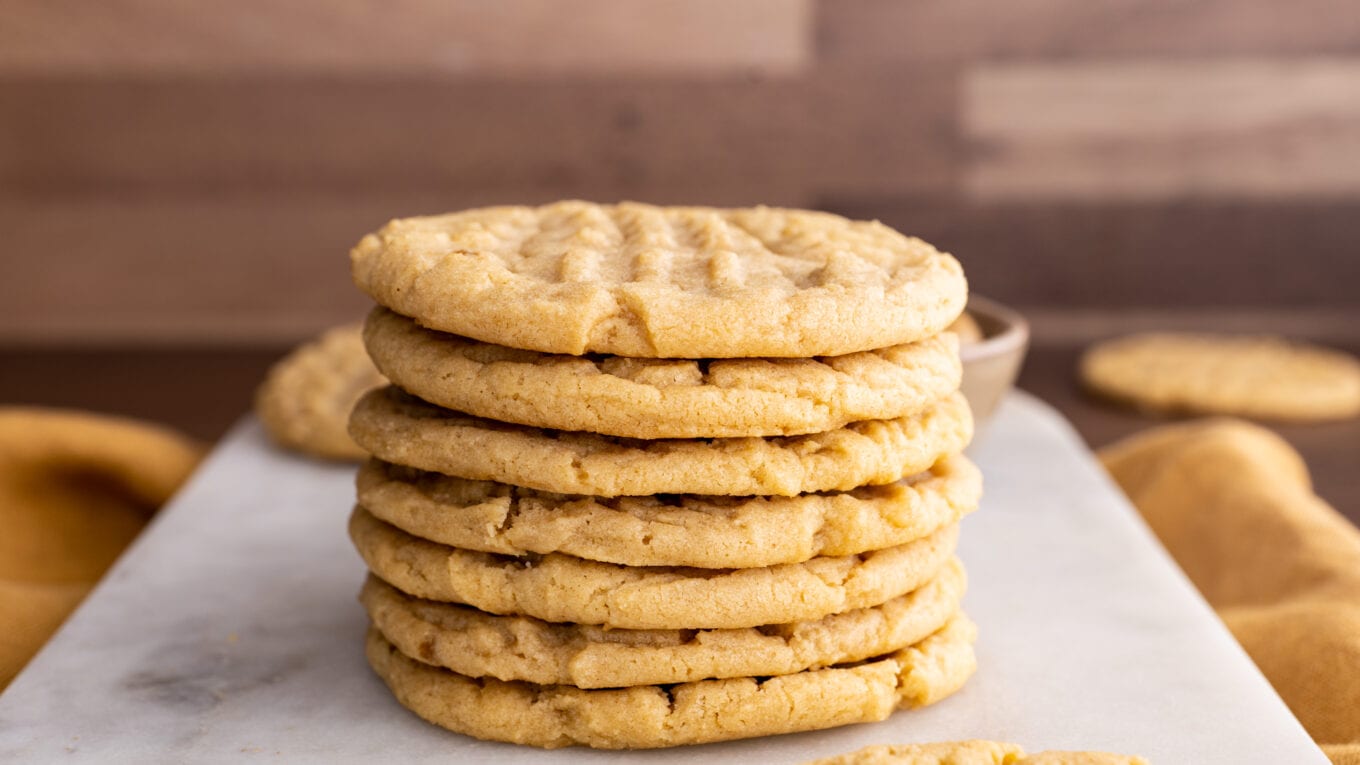 Among cherished cookie recipes, Peanut Butter Cookies hold a special place. They are a timeless classic, a beloved favorite of both children and adults alike. These cookies possess a rich, nutty flavor from the peanut butter, balanced beautifully with the sweetness of the sugars. The crispy exterior yields a soft, melt-in-your-mouth interior, making each bite indulgent.
Though the origins of Peanut Butter Cookies can be traced back to the early 20th century in the United States, they've since become a global favorite. These cookies are perfect for all occasions – whether you're baking a batch for a special celebration, a homemade gift, or simply to satisfy a sweet tooth on a lazy Sunday afternoon.
These Peanut Butter Cookies are in good company with other sweet treats you can find around the site. Serve it with homemade Vanilla Ice Cream for a delicious dessert pairing! 
How to Make Peanut Butter Cookies
Everyone should have a go-to cookie recipe, and this Peanut Butter Cookie recipe is an excellent choice. They are easy to make, require simple ingredients, and promise a delicious outcome. Check it out!
Step One: Make sure your ingredients are at room temperature before starting. This helps everything blend together without leaving lumps. Cream the butter, peanut butter, sugar, and brown sugar together in an electric mixer at high speed until the mixture becomes light and fluffy.
Step Two: Reduce the speed to medium and add the eggs, one at a time, ensuring each egg is well combined before adding the next.
Step Three: In a separate bowl, sift the dry ingredients – the flour, baking powder, and baking soda. Add this mixture to the stand mixer along with the salt. Mix on low speed until just combined. Chill the dough for at least two hours.
Step Four: Preheat your oven to 375 degrees Fahrenheit. Scoop the dough into 2-tablespoon-sized balls and place them on a baking sheet. Use parchment paper on your baking sheet to prevent the cookies from sticking. Peanut butter cookies are extra sticky due to the peanut butter! Bake for 10-12 minutes until golden brown. Cool on a wire rack and enjoy when ready! 
Frequently Asked Questions
Why should the dough be chilled before baking?
Chilling the dough before baking allows the fats (butter and peanut butter) to solidify. When the cookies are placed in the oven, the fats melt slowly, preventing the cookies from spreading too quickly and becoming flat. The result is a thicker, chewier cookie with a beautifully crinkled top.
Can I use natural peanut butter in this recipe?
While natural peanut butter can be used in this recipe, it can lead to a slightly different texture and flavor due to its oil separation. For best results, use a commercial brand of creamy peanut butter.
What can I do if I don't have a stand mixer?
No stand mixer? No problem! You can use a hand mixer or cream the ingredients together by hand using a whisk or a wooden spoon. The key is to ensure that the butter, peanut butter, and sugars are well combined and light in texture.
How can I ensure my cookies are soft and not too crunchy?
To ensure soft, chewy cookies, avoid overbaking them. The cookies should be taken out of the oven when they're golden around the edges but still soft in the center. They will continue to cook slightly as they cool on the baking sheet.
Why are my cookies crumbly?
There might be several factors why they are crumbly. You might be using too much all-purpose flour in your dough. This will cause any cookie recipe to be too dry, which makes them crumbly.

Your oven is baking hotter than the set temperature. Try using an oven-safe thermometer and setting the oven. Check it after the oven is preheated to see if it is actually cooking at the set temperature, or if it's too hot or not hot enough.

Make sure you're using good-quality baking sheets. The metal conducts heat, which has a big impact on any cookie recipe you're making. This could be why your cookies are burning on the bottom before the top is done.
Why do Peanut Butter Cookies have fork marks?
Some peanut butter cookies have fork marks in a criss-cross pattern because of the density of the cookies, caused by adding peanut butter to the dough. What that marks are actually doing is flattening the cookie, and helping them bake more evenly. Over time it also became the decorative look that is associated with peanut butter cookies.

Create a free account to Save Recipes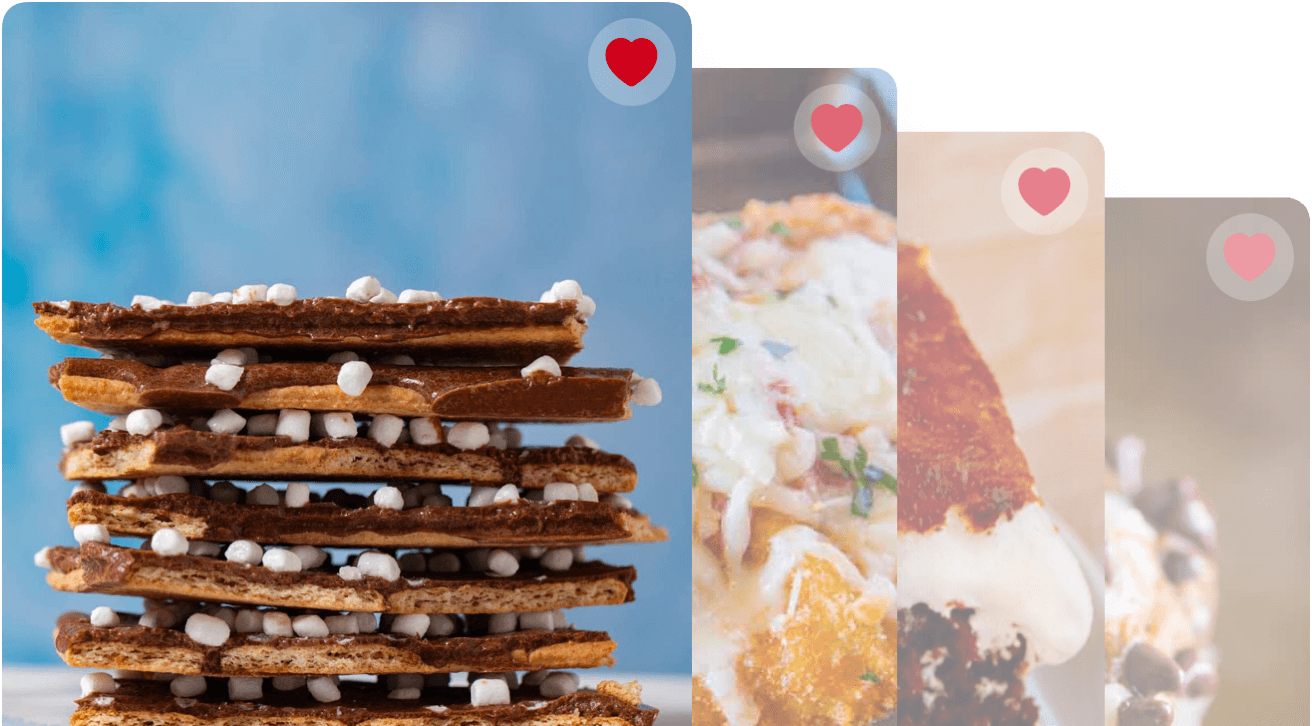 Key Ingredients in Peanut Butter Cookies
Making these Peanut Butter Cookies is straightforward, and the ingredients are likely already in your pantry. The choice of ingredients and the method of combining them is what creates these cookies' wonderful texture and taste.
Unsalted Butter: Using unsalted butter also allows you to control the sodium content of your cookies and give them the fat content needed for the perfect flavor.
Peanut Butter: The star of the show! Peanut butter provides the rich, nutty flavor that is the hallmark of these cookies. For the best flavor and texture, use creamy commercial peanut butter.
Sugars: This recipe uses a combination of both white sugar and brown sugar. The granulated sugar helps the cookies spread and crisp up, while the brown sugar adds moisture and a depth of flavor thanks to its molasses content.
Alternative Cooking Methods for Peanut Butter Cookies
For those without a conventional oven, or simply wanting to try a different method, these Peanut Butter Cookies can also be made in an air fryer.
To air-fry your cookies, preheat your air fryer to 350 degrees Fahrenheit. Place the dough balls into the air fryer basket, ensuring they have enough room to spread out. Air fry for about 8 minutes or until the cookies are golden brown and firm around the edges. Remember, the cookies will continue to cook as they cool.
Can Peanut Butter Cookies Be Made Ahead of Time?
Yes, these Peanut Butter Cookies are perfect for making ahead of time. You can shape the dough into balls, and then freeze them on a baking sheet. Once frozen, transfer the dough balls into a freezer bag or airtight container. They can be baked straight from the freezer, simply adding a couple of extra minutes to the baking time.
Once baked, these cookies will stay fresh in an airtight container at room temperature for up to a week. You can also freeze the baked cookies. To do this, let the cookies cool completely, then place them in a freezer-safe container, with layers separated by wax paper to prevent sticking. When ready to serve, thaw them at room temperature and enjoy!
Substitutions in Peanut Butter Cookies
While this recipe uses a classic combination of ingredients to achieve a beloved flavor profile, there are a few potential substitutions to cater to different dietary needs or pantry supplies.
Gluten-Free Flour: For those with gluten intolerances, replace the regular flour with a gluten-free all-purpose flour blend. This will allow you to enjoy these delightful cookies without the gluten.
Almond Butter or Sunflower Seed Butter: If you have a peanut allergy or simply want a different flavor, you can substitute the peanut butter with almond butter or sunflower seed butter. Keep in mind that this will slightly alter the flavor of the cookies.
Sugar: If you're aiming to reduce refined sugar in your diet, you could substitute the white sugar with coconut sugar or even maple syrup. However, remember that altering the sugar will also modify the texture and spread of the cookies. You can substitute the brown sugar for white granulated sugar in this recipe. Keep in mind that if you do use granulated sugar, your cookies won't turn out as chewy and they'll lose some of the molasses flavor that the brown sugar brings to the table.
Variations on Peanut Butter Cookies
While the classic Peanut Butter Cookie is hard to beat, there are several ways you can add a twist to this beloved recipe. Add a teaspoon of cinnamon to the dough, or drizzle the cookies with a honey glaze after they've cooled to add some flavor variation.
Chocolate Dipped Peanut Butter Cookies: For a touch of elegance and an extra hit of flavor, try dipping half of each cooled cookie into melted dark or milk chocolate. Allow the chocolate to set before serving.
Peanut Butter and Jam Cookies: Add a dollop of your favorite jam or jelly to the center of each cookie dough ball before baking for a PB&J-inspired treat.
Peanut Butter Oatmeal Cookies: For a bit of texture, substitute 1 cup of the flour with 1 cup of rolled oats.
More Peanut Butter Treats
How to Store Peanut Butter Cookies
Serve: Once baked, Peanut Butter Cookies can be left out at room temperature for up to 3 hours. However, they are best enjoyed warm from the oven or cooled to room temperature.
Store: To store these cookies, place them in an airtight container. They will stay fresh at room temperature for about a week. Remember, if your cookies seem to dry out, you can place a slice of bread in the container to help them retain moisture.
Freeze: If you wish to store these cookies for longer, you can freeze them. Place the cooled cookies in a freezer-safe airtight container or bag, and they will keep for up to three months. When you're ready to enjoy them, just let them thaw at room temperature.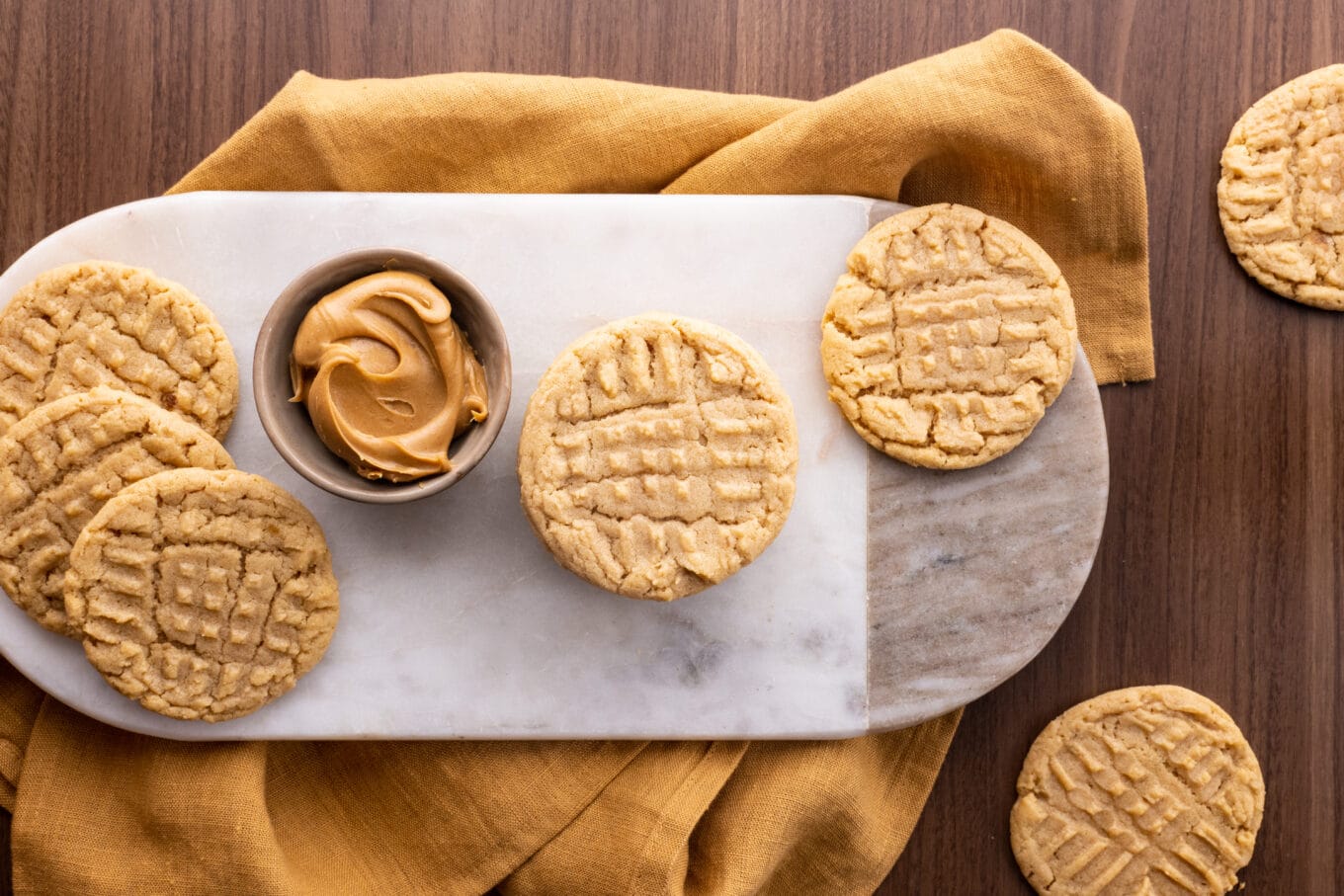 Ingredients
1

cup

unsalted butter

1

cup

peanut butter

1

cup

sugar

1

cup

brown sugar

, packed

2

large eggs

2 1/2

cups

flour

1

teaspoon

baking powder

1 1/2

teaspoons

baking soda

1/2

teaspoon

salt
Instructions
To a stand mixer cream together the butter, peanut butter, sugar and brown sugar together on high speed for

1-2 minutes

until light and fluffy.

On medium speed add in the eggs one at a time until well combined.

Sift the flour, baking powder and baking soda in a separate bowl then add it into the stand mixer with the salt on low speed until just combined then chill the mixture for at least

2 hours

.

Pre-heat the oven to 375 degrees and scoop the dough into 2 tablespoon sized balls then bake for

10-12 minutes

.
Notes
Note: click on times in the instructions to start a kitchen timer while cooking.
Nutrition
Calories:
250
kcal
|
Carbohydrates:
29
g
|
Protein:
4
g
|
Fat:
13
g
|
Saturated Fat:
6
g
|
Cholesterol:
33
mg
|
Sodium:
175
mg
|
Potassium:
120
mg
|
Sugar:
18
g
|
Vitamin A:
255
IU
|
Calcium:
26
mg
|
Iron:
1
mg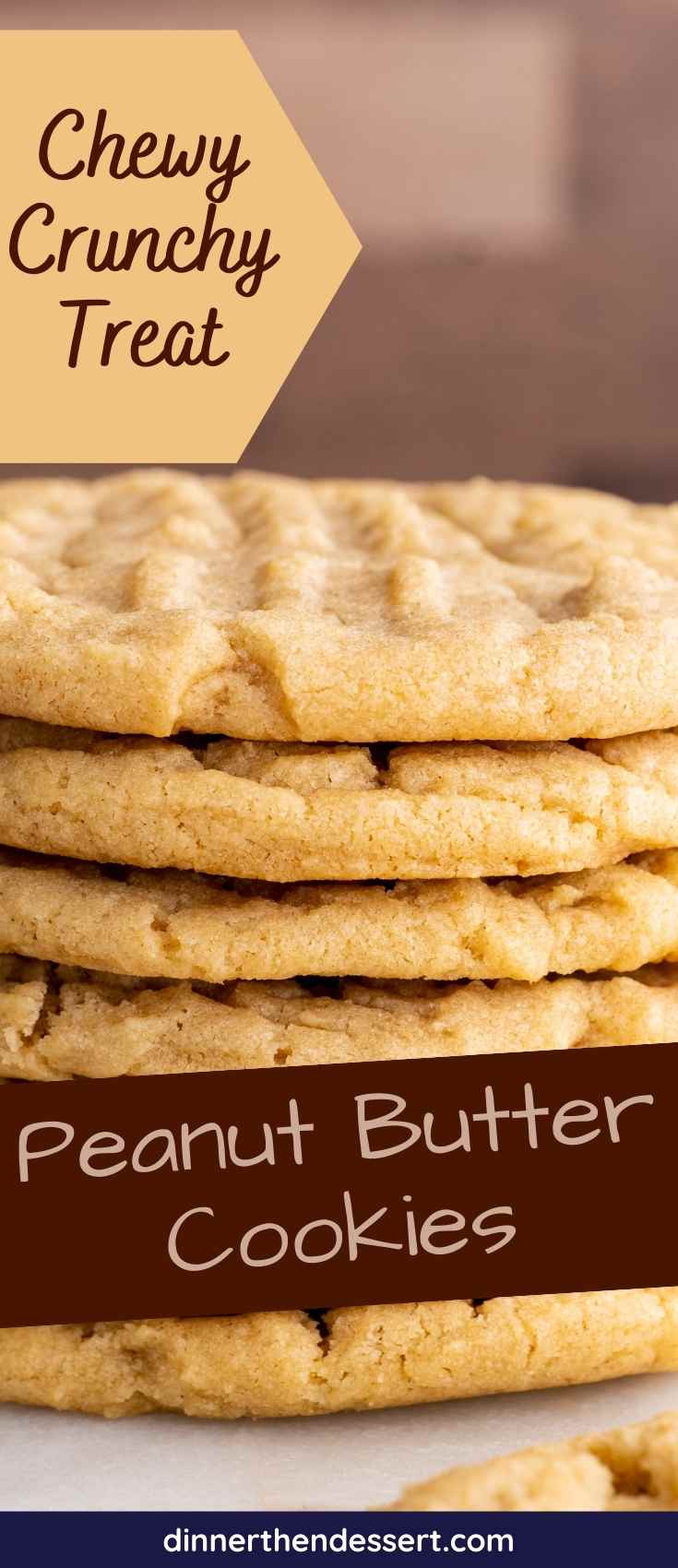 Photos used in a previous version of this post.