Lemon Cookies flavored with fresh lemon juice and lemon zest are soft, sweet, and PERFECT for tea time with friends!
Cookie season never ends in the kitchen, and today we're busy baking up our favorite Cookie Recipes, like the sultry Dark Chocolate Crinkle Cookies, the easy Flourless Peanut Butter Cookies, and the fun Black and White Cookies.

Lemon lovers unite! Lemon Cookies are one of the best cookies to make because they're a little bit chewy, and little bit sweet, and full of those bold lemon flavors you'd expect from the fresh lemon juice and zest. Some people also refer to these cookies as Lemon Crinkle Cookies, but with as many lemon cookie varieties as there are, these are the most lemon-y ones which makes them a classic. 
Of all the lemon cookie recipes, this one is the perfect treat. You can make these all year round because while cookies are amazing during the holidays, lemon is also one of best flavors to bring out in the springtime and summer. Given the weather in the winter season, these cookies will bring a spark of joy to everyone! 
These cookies drop, so we're only looking to scoop about a tablespoon of dough to roll in the sugar. You can find tablespoon-sized ice cream scoops with a release button that make this part a lot faster and easier.
You can also make this ahead of time and chill or freeze the cookies until you're ready to serve, making them perfect to pull out when you're entertaining on busy days! You're just going to love the fresh lemon zest, just like in our Lemon Curd recipe.
How to Make Lemon Cookies
These soft lemon cookies have amazing lemon flavor from real lemons. The process is easy, but you don't want to forget to take the time to let the dough cool. Check it out!
Step One: The cookie batter is first mixed together according to the recipe. You can use a medium bowl or mixer with the paddle attachment. Mix the wet ingredients together first, and then the dry ingredients into the wet. Don't forget the grated lemon zest for flavor and color!
Step Two: Before you scoop out the cookies onto your prepared baking sheet or silicone baking mat, they need to be refrigerated first for at least two hours. Better if it's overnight. 
Step Three: Once the dough has been chilled completely, use a cookie scoop or tablespoon scoop out tablespoon size amounts. Then roll them in the powdered sugar. Alternatively, instead of rolling them in sugar, you can also top these cookies with a simple glaze or lemon glaze. Or, dust them with powdered sugar after they've cooled down. Align them on cookie sheets with parchment paper. 
Step Four: Now you bake them. These lemon cookies bake really fast, so watch them closely! They will still be really soft when you remove them from the oven. The cookies will firm up as they cool off. You can lightly tap them to see if they've firmed up or if they need more time. 
More Yummy Lemon Desserts
Frequently Asked Questions
Why do we have to chill the dough for so long? 
Lemon cookies are considered a drop cookie, which means that they have a lot of sugar in the dough, causing them to drop down and flatten really fast. This happens even more-so when the butter in the cookies is warm and already melty.

It is really important to refrigerate the dough for this cookie recipe, because you're giving the butter and sugar a chance to get really cold. Then when they hit the heat of the oven, it will take longer for the cookie to drop than it does for the dough to cook through, leaving you with the chewy soft amazing texture that we're looking for here.

Refrigerate this dough for a minimum of two hours, but preferably overnight, to make sure it's as cold as possible. If you go straight from mixing to the oven, you're running the risk of flat crunchy cookies.
How long do Lemon Cookies last?
This cookie recipe will keep on the counter in an airtight container for 8-10 days. We recommend layering the cookies with parchment paper to stop them from sticking together. Or, the more likely case is these yummy cookies will only last about an hour before they're gone!
Can you freeze Lemon Cookies? 
You can freeze lemon cookies for a few weeks when sealed tightly and layered with parchment or wax paper. Defrost at room temperature for a few hours before serving.

You can also freeze the dough. Either roll it in plastic wrap tightly and seal the whole thing in a plastic bag, or scoop it into tablespoon sized balls, freeze the balls initially on a baking sheet, then transfer to an airtight container. You can go right from the freezer to the oven when you're ready to bake.
Can I use yellow food coloring? 
If you'd like to get an extra yellow tint to your cooking, add 4-5 drops drops of yellow food coloring to the dough while mixing. We're not using any food coloring in our recipe nor in the photos you see here. It's all from the fresh lemon zest!
Can I use lemon oils or lemon extract? 
If you're really going for an intense lemon flavor, 2 or 3 drops of lemon oil while mixing will really bring it up a notch and make them even more delicious. We recommend not adding too much extra flavor as they are already flavorful and too much might make them bitter in taste. 
What should I do if it starts to curdle while I'm mixing it? 
Sometimes, citrus added with dairy can curdle. Try mixing the vanilla and the lemon together first before adding it with the other ingredients.
Should the butter be at room temperature or refrigerated when adding it to the dough? 
You can use either straight out of the refrigerator or at room temperature butter because the dough will get put back into the refrigerator to really get cold. It will be easier to mix if it is at room temperature though.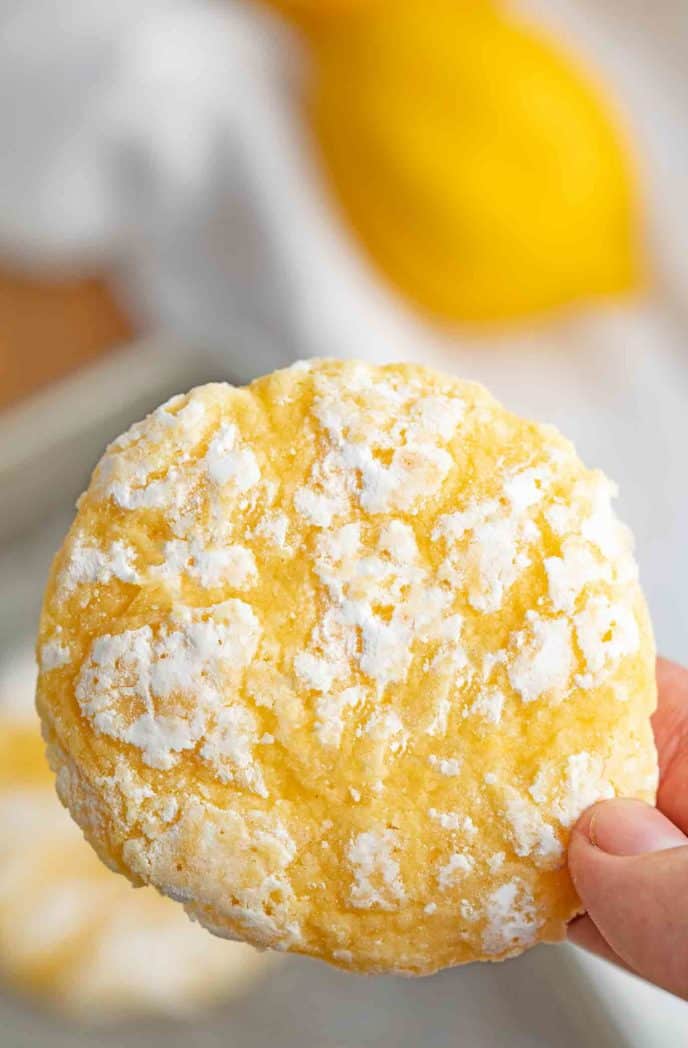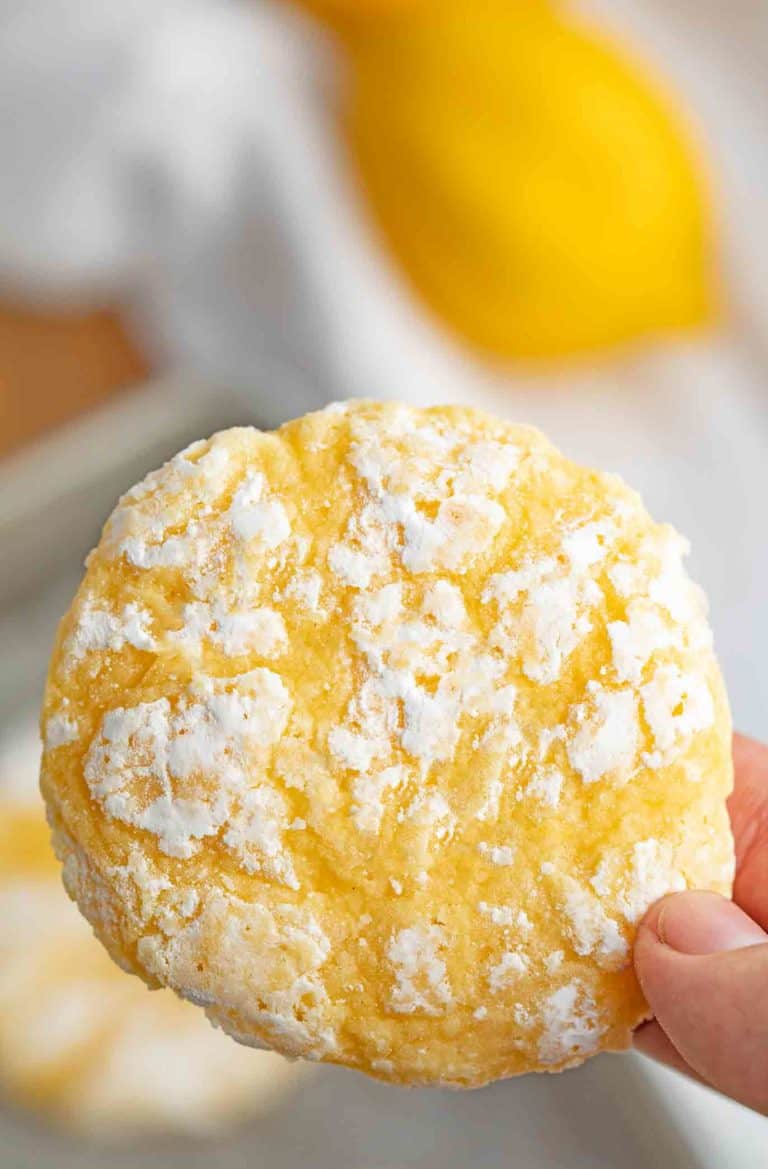 Create a free account to

Save Recipes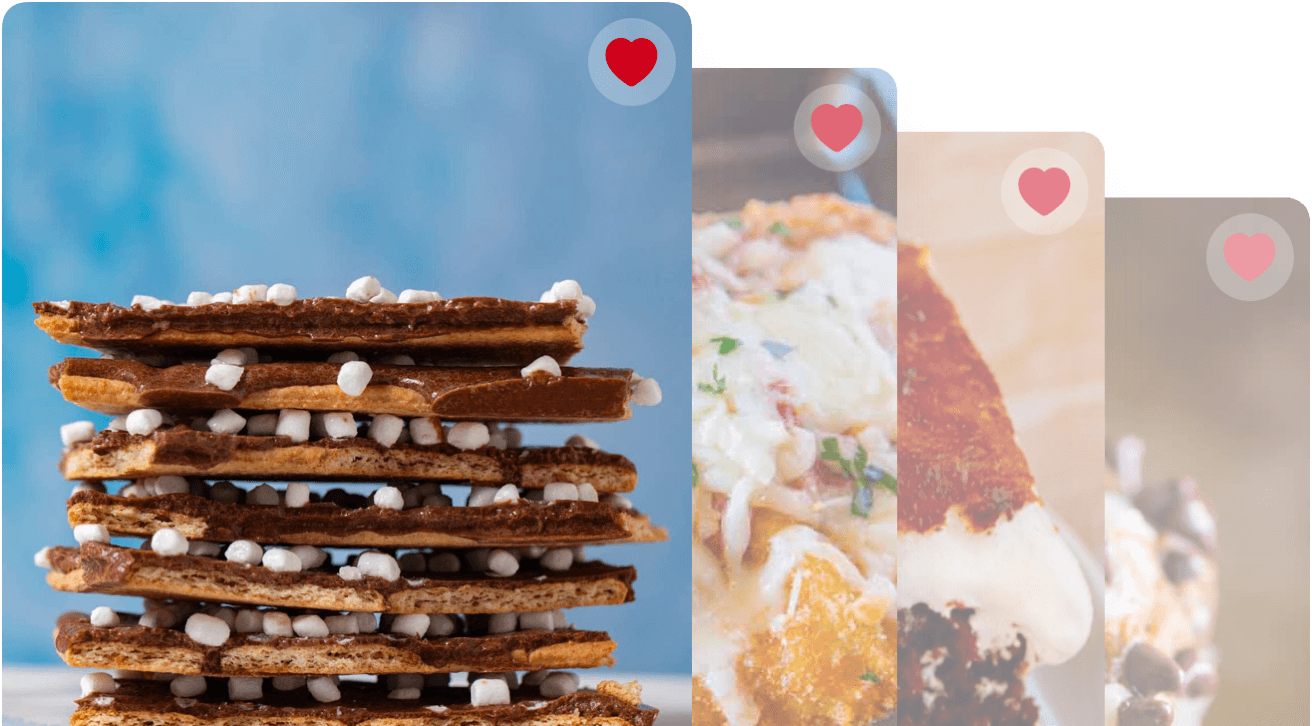 Key Ingredients in Lemon Cookies
This is a simple cookie recipe and all the ingredients can easily be found at your local grocery store. Make sure you've got some baking sheets too! Using a wire rack will help the cookies cool as well.
Lemon: We recommend using fresh lemon juice instead of bottled. The fresh juice just tastes better and doesn't have any added ingredients that can mute the flavor of the cookie. You can use a lemon zester to get the skin off of the lemon, or just use a small cheese grater and it does the job just as well. Don't forget to wash the lemons first! 
Cookie Dough: The dough is a standard flour mixture composed of dry ingredients mixed with wet ingredients. We're using regular granulated sugar and bleached white all purpose flour for this recipe. Be sure to use unsalted butter for best taste. White sugar works good too. 
Can I make Lemon Cookies ahead of time? 
Yes! These chewy lemon cookies can easily be made ahead of time! Bake them according to the recipe and once they have cooled, place them in a bag in the freezer or fridge. They'll last at least a week in the fridge and up to six months in the freezer. Simply let them thaw to room temperature before serving. Enjoy! 
How to Make Lemon Cookies with Cake Mix
Start with either lemon cake mix or white cake mix.
Combine cake mix in a mixing bowl with 2 eggs and ½ cup of vegetable oil.
If you're using lemon mix, add zest only, or it will be too lemony. For white, add both lemon zest and lemon juice.
Scoop onto a baking sheet and bake at 350 degrees F for a total time of 8-10 minutes, or until they are cooked through.
Dust with confectioner's sugar or top with glaze or frosting once the cookies have completely cooled.
How to Store Lemon Cookies
Serve: Serve these cookies when they've cooled down from baking. Keep them covered during the summer season and refrigerate them within 2 hours. 
Store: These yummy cookies will store in the fridge for about 2 weeks in an air tight container. 
Freeze: You can easily place these cookies in an air tight container and freeze them for up to 6 months. They'll be easier to thaw if wrapped individually with saran rap, or layered between parchment paper.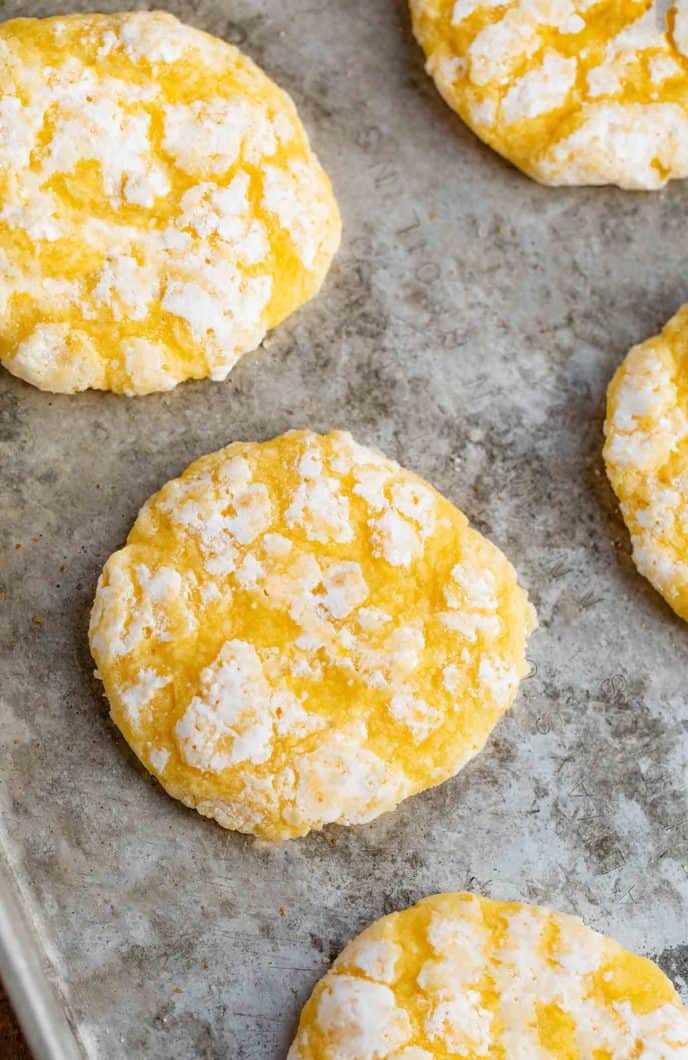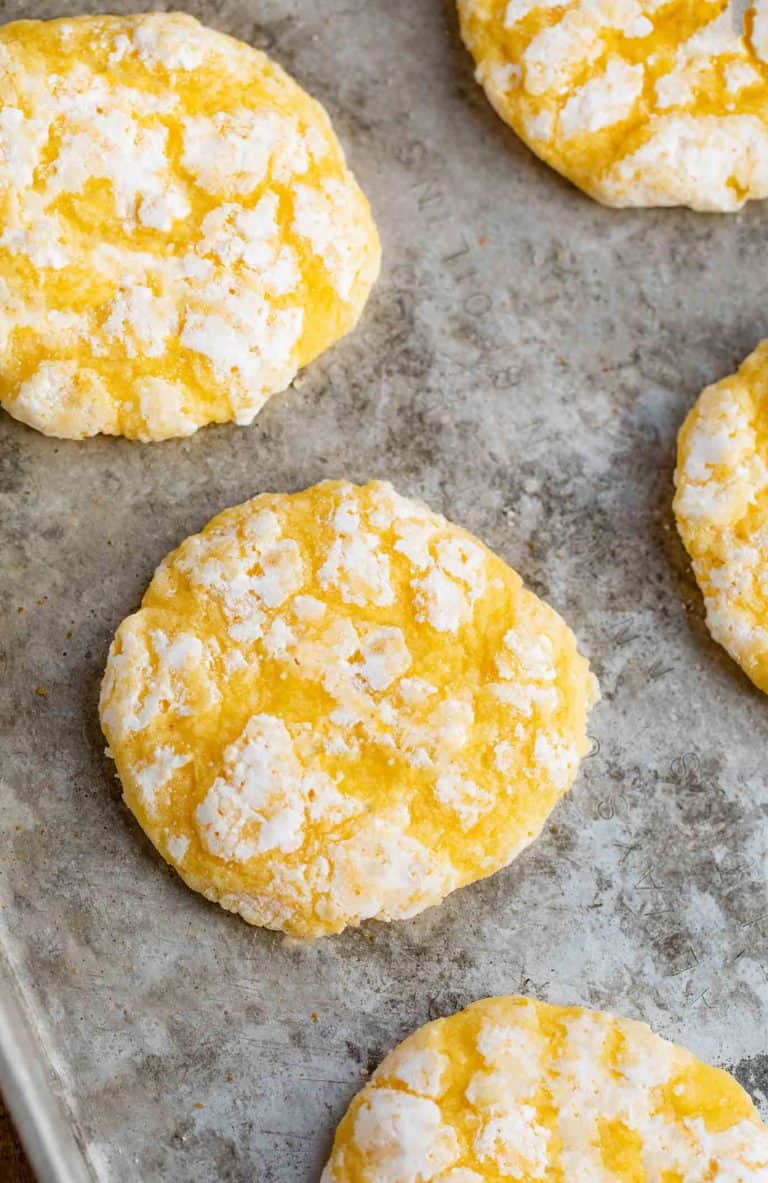 Ingredients
1

cup

sugar

10

tablespoons

unsalted butter

4

tablespoons

lemon juice

2

teaspoons

lemon zest

1

teaspoon

vanilla extract

2

large

eggs

2

cups

flour

2

teaspoons

baking powder

1/4

teaspoon

salt

1

cup

powdered sugar
Instructions
Cream the butter and sugar in your stand mixer until light and fluffy, about

2-3 minutes

then add in the lemon zest, vanilla, egg and lemon juice and combine fully.

Sift the flour, baking powder and salt together then add it to the stand mixer on medium speed and mix until just combined.

Wrap the dough in saran wrap and refrigerate for at least two hours (preferably overnight), then when you're ready to bake, preheat the oven to 350 degrees.

Using a tablespoon scoop, drop tablespoon amounts into powdered sugar and roll until well covered then place onto a cookie sheet.

Bake for

9-11 minutes

, do not brown the cookies, they'll be soft when they come out and harden as they cool.
Notes
Note: click on times in the instructions to start a kitchen timer while cooking.
Nutrition
Calories:
138
kcal
|
Carbohydrates:
21
g
|
Protein:
1
g
|
Fat:
5
g
|
Saturated Fat:
3
g
|
Cholesterol:
26
mg
|
Sodium:
30
mg
|
Potassium:
52
mg
|
Sugar:
13
g
|
Vitamin A:
165
IU
|
Vitamin C:
1.2
mg
|
Calcium:
19
mg
|
Iron:
0.6
mg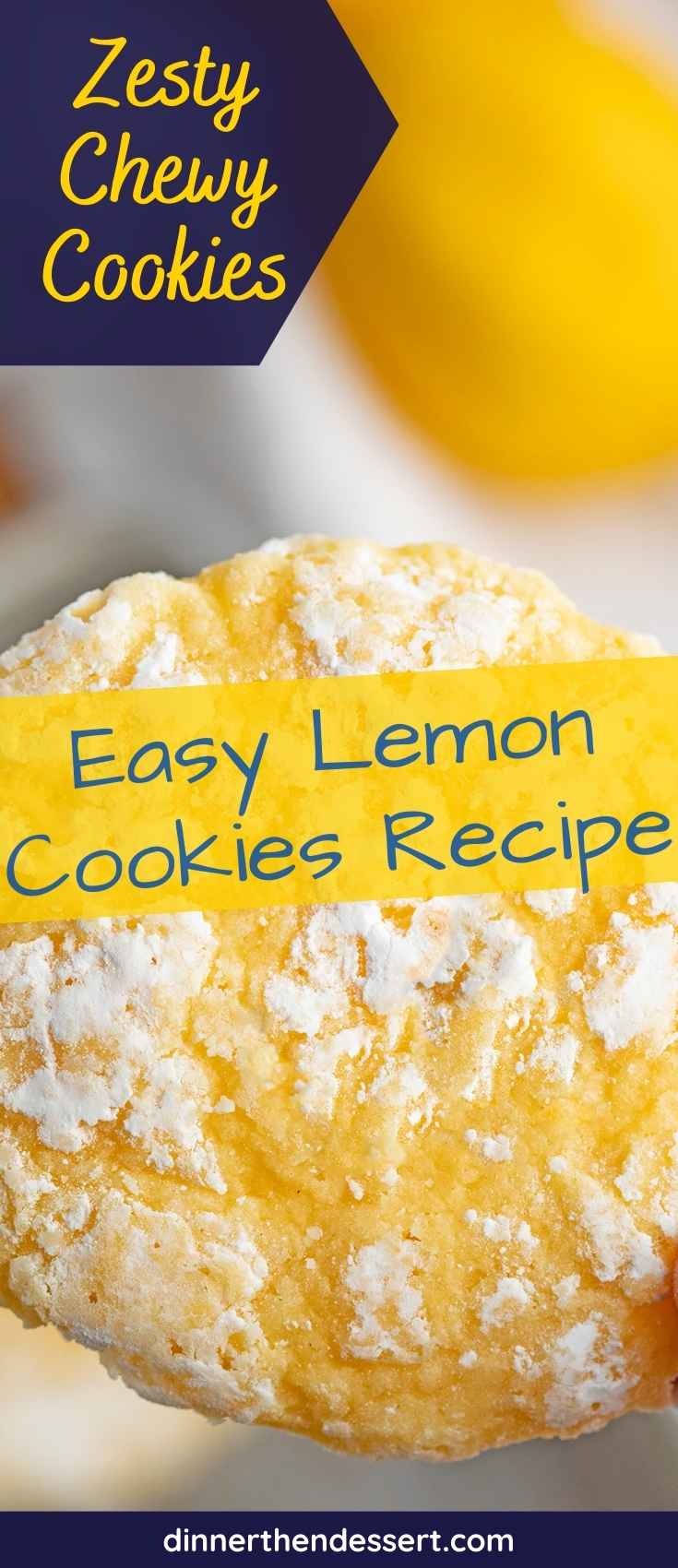 Photos used in a previous version of this post.