Creamy Lemon Crumb Bars
This post may contain affiliate links. Read my disclosure policy here.
Easy Creamy Lemon Crumb Bars with a quick oatmeal crumb base and a sweet and tart creamy lemon filling.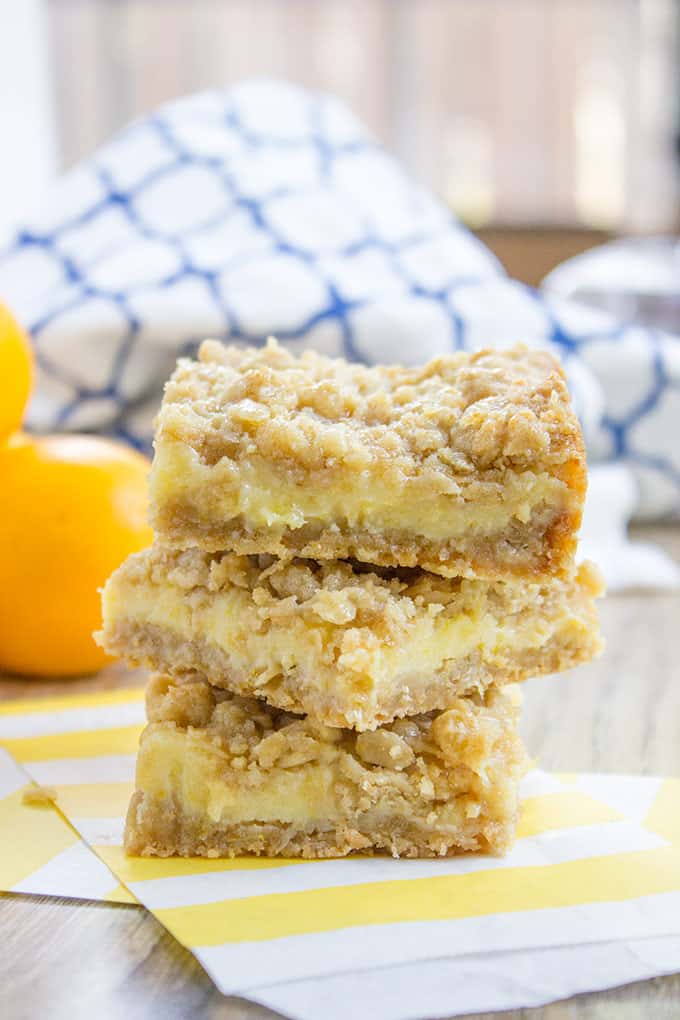 These Creamy Lemon Crumb Bars taste like a cross between a lemon curd bar and a lemon cheesecake bar sandwiched between the softest oatmeal cookie you've ever made. Take into account how easy they are to make and how bright these flavors are and these bars will make you feel like Spring has arrived.
Lemon bars have long been one of my favorite desserts to make and lemon tarts are actually my most requested dessert by a pretty far margin. The rich filling is both easy and impressive and even though these bars aren't going to win any sort of a beauty contest I guarantee you'll think the flavor is out of this world.
The base recipe is delicious but lets get some more options out there:
Add sliced freeze dried strawberries on top of the filling and before the crumble for strawberry lemon bars.
Use half lemon juice/zest and half lime… or heck ALL lime!
Dip the bottoms of these bars in melted white chocolate for an even more over the top experience.
Use Meyer Lemons (you are probably spying them in the back of these photos)…full disclosure, I used Meyer Lemons in these bars and they are AMAZING. That being said 99% of the time I make this recipe I use standard lemons.
Used dried cherries or dried blueberries in bars. I make them even better by soaking them in more lemon juice or water.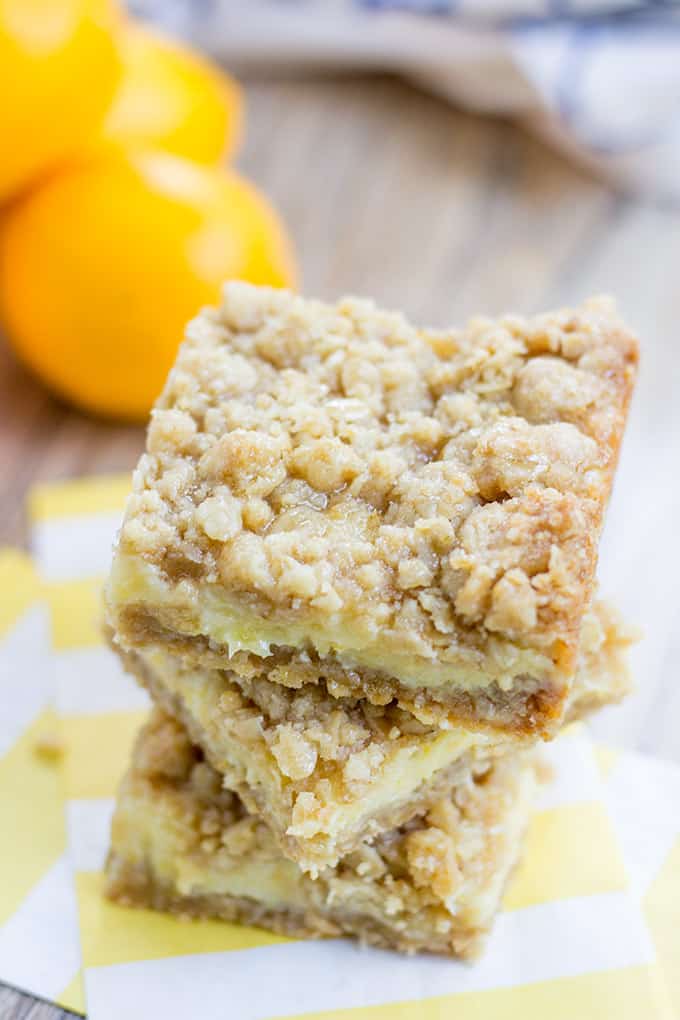 If you have time, you can also try them frozen. I love putting these bars in the freezer and if you have any left over. I've also made these with coarse sanding sugar before for an extra crunch on top. They make the bars look like jewels!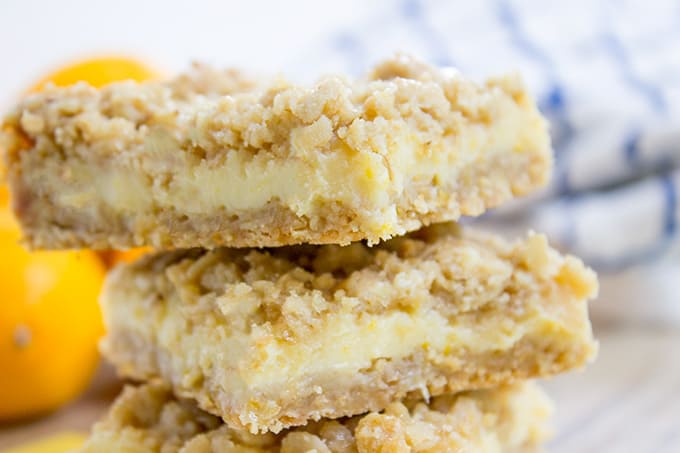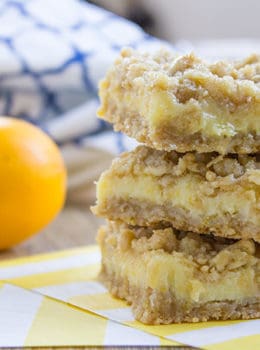 Creamy Lemon Crumb Bars
Easy Creamy Lemon Crumb Bars with a quick oatmeal crumb base and a sweet and tart creamy lemon filling.
Prep Time 15 minutes
Cook Time 40 minutes
Total Time 55 minutes
Ingredients
1 1/4 cups all-purpose flour
1 1/4 cups old fashioned rolled oats
1/2 teaspoon salt
1/2 teaspoon baking soda
1/2 cup granulated sugar
1/2 cup packed light brown sugar
3/4 cup unsalted butter , melted
1 teaspoon vanilla extract
1 (14 oz) can sweetened condensed milk
2 tablespoons finely grated lemon zest
1/2 cup fresh lemon juice
2 large egg yolks
Instructions
Preheat oven to 350 degrees and butter/flour or baking spray an

8x8 baking pan

.

In a large mixing bowl add flour, oats, salt and baking soda.

Mix in the sugar and light brown sugar.

Add the vanilla and melted better together and mix it into the dry ingredients.

Press half the mixture into the bottom of your baking pan.

Bake for 15 minutes.

While the crust is baking, mix together the condensed milk, lemon zest, lemon juice, and egg yolks.

Add it to the baking pan once it is done baking and dot the top of the filling with the remaining crumble evenly.

Bake for an additional 20-22 minutes.

Let cool completely, then refrigerate.

The bars slice better cold. If you want to slice perfectly you can also freeze it so the filling doesn't ooze at all while cutting.

If you want to take this over the top you can also freeze the bars then cut and dip the bottom half in some melted white chocolate.

Put the dipped bars onto a wax paper lined cookie sheet and keep refrigerated.
Recipe Notes
This post contains affiliate links. Adapted from Cooking Classy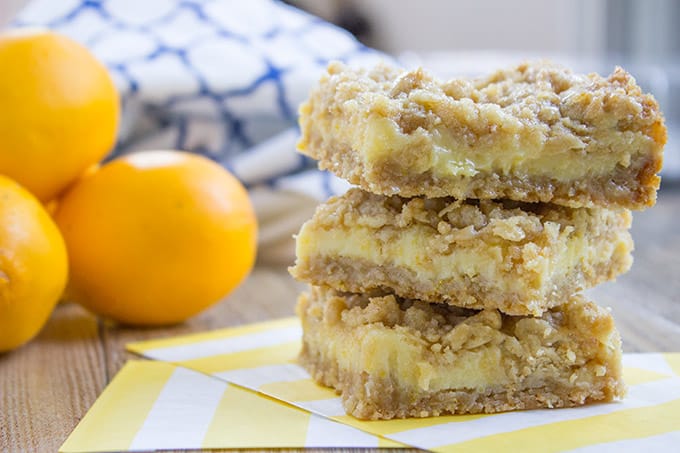 Dinner, then Dessert, Inc. owns the copyright on all images and text and does not allow for its original recipes and pictures to be reproduced anywhere other than at this site unless authorization is given. If you enjoyed the recipe and would like to publish it on your own site, please re-write it in your own words, and link back to my site and recipe page. Read my disclosure and copyright policy. This post may contain affiliate links.