Apricot Shortbread Bars are the perfect soft, buttery bars with sweet apricot jam spread over the top for a bright summery flavor.
Shortbread Cookies are a classic Dessert Recipe that you can make with a handful of simple ingredients. This version adds apricot jam to the top of the traditional shortbread base for a sweet and tangy fruit flavor.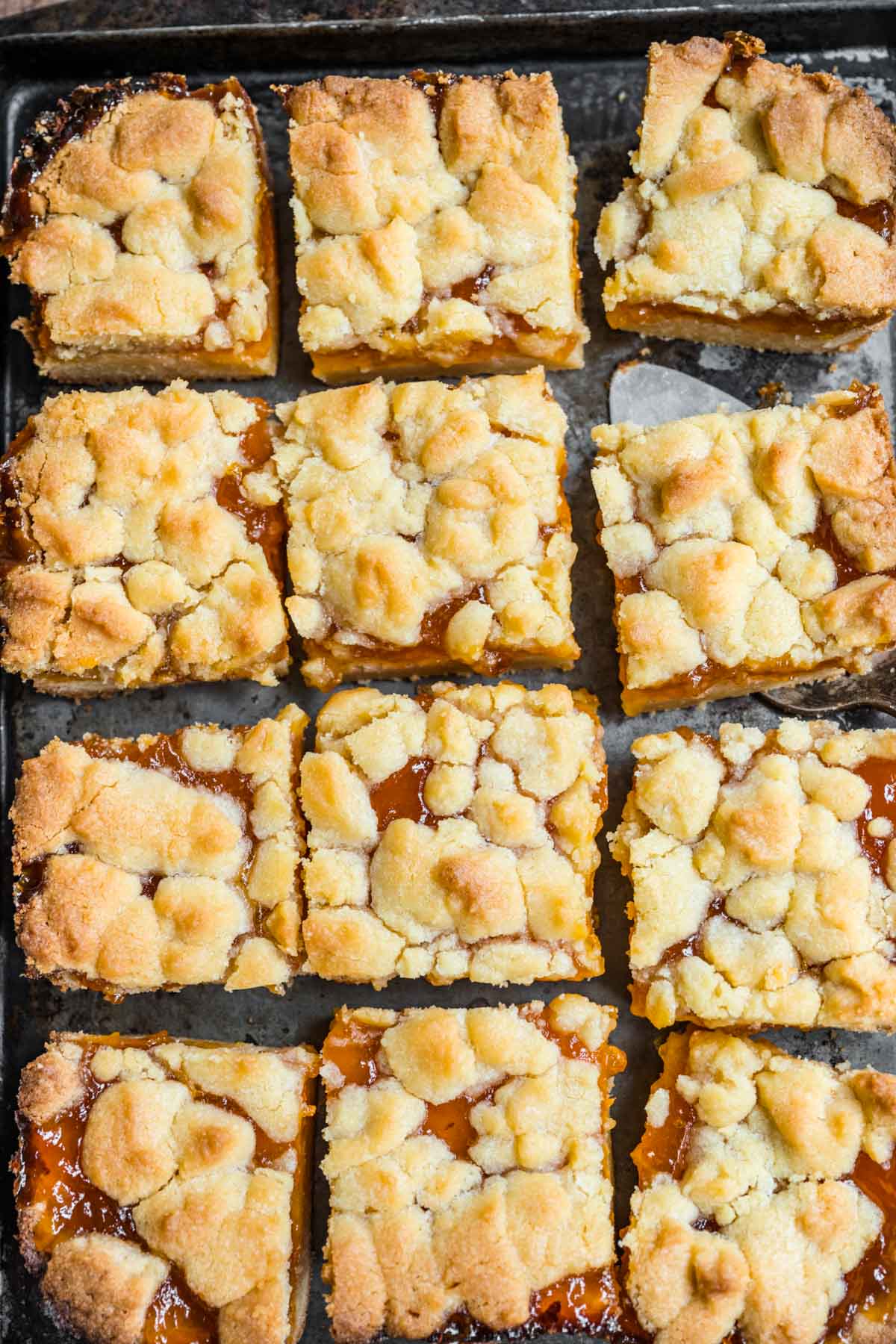 APRICOT SHORTBREAD BARS
The simple shortbread base for this recipe is made with simple and wholesome ingredients. Everything you need, like eggs, vanilla, flour, sugar, and butter, is probably already in your pantry. Then to make these bars a more special dessert, we've added a simple apricot spread. The gorgeous apricots take this shortbread recipe to a whole new level with sweet and refreshing summer flavors that you won't be able to get enough of.
While apricots are at their most fresh during the summer, you don't have to wait until then to enjoy these apricot squares. Because the apricot flavor comes from jam, which stores exceptionally well, you can make this perfect apricot shortbread recipe any time of year. I've even made them for family gatherings during the holiday season. The fruit adds a bit of unexpected bright flavor to the classic Cookie Recipes.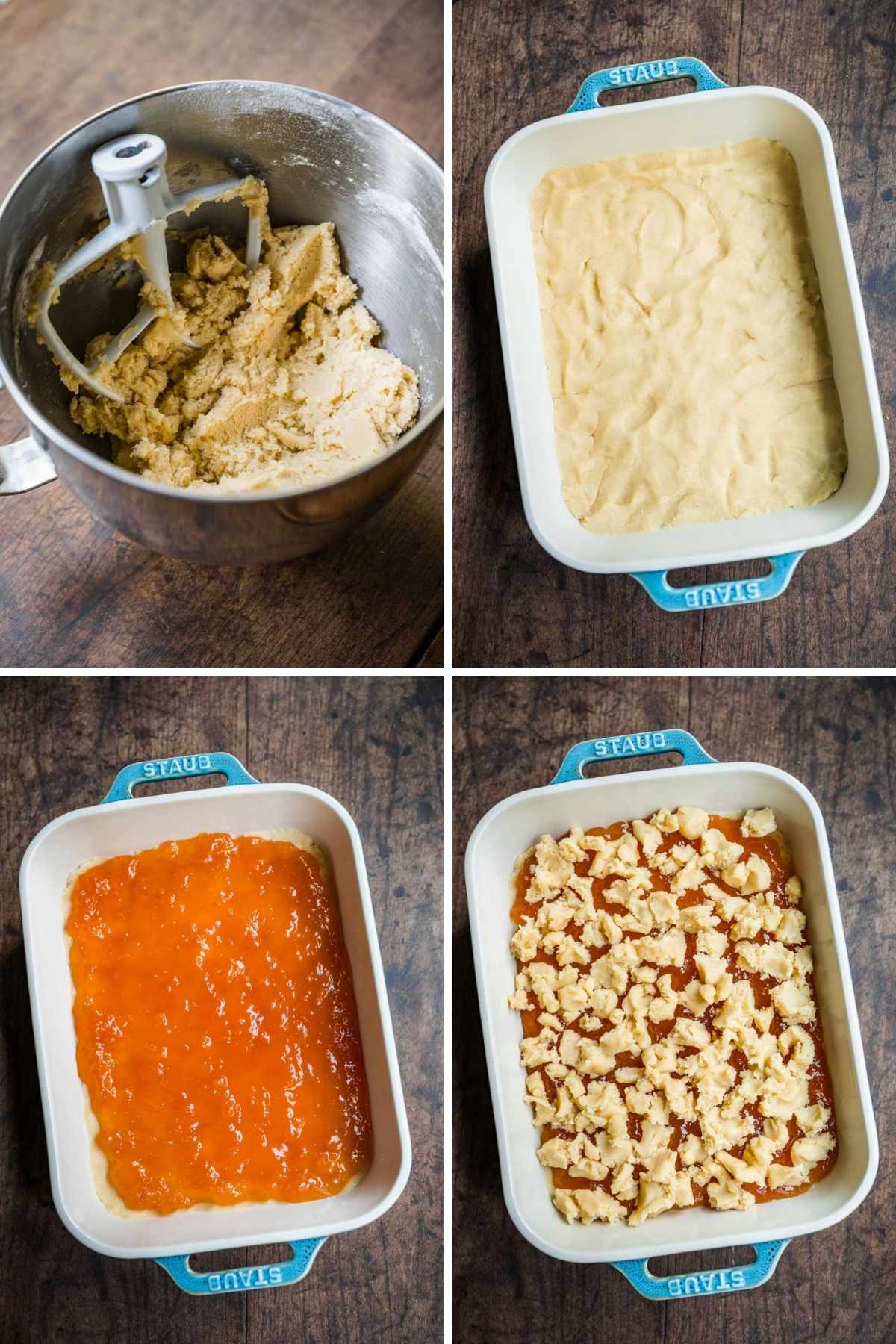 HOMEMADE APRICOT JAM
If you have fresh apricots, you can use them to make your own luscious apricot jam.
Wash 2 pounds of apricots. then cut the delicate fruits in half and remove the pits.
Add them to a large pot with ½ cup of water and simmer for 10 minutes while stirring.
After the 10 minute cook time, the apricots will have turned to soft mash. You can use a masher to break up any chunks. Mix in 1 cup of sugar and ¼ cup lemon juice.
Stir and cook over low heat for 40 minutes while it thickens.
Pour the jam into jars, and leave a little space at the top.
Put them in the fridge to finish chilling.
Spread 1 ½ cup over your shortbread bars, and save the rest for your family to enjoy over toast for breakfast or other desserts.
MORE SHORTBREAD RECIPES
BAKING TIPS
Prep time: Preheat the oven and spray your baking dish with nonstick baking spray. You should also take the butter out of the fridge a few minutes in advance so it has time to soften.
Dough: Add the softened butter and sugar to your stand mixer. Cream the two together on medium speed for about 2-3 minutes until the butter mixture is light and fluffy. Then add in the egg yolk and vanilla extract. Mix the ingredients until creamy. Finish the dough by adding the flour, baking powder, and salt. Stir until just combined into moist crumbs.
Assemble: Divide the mixture in half, and spread one half of the shortbread over the prepared baking dish. Press down gently until it's in one even layer. Spread the apricot jam evenly over the top. Then sprinkle on the remaining dough as a crumb topping.
Baking time: Bake for 35-40 minutes until it's lightly golden brown with crisp edges. Let the bars cool completely before slicing into squares.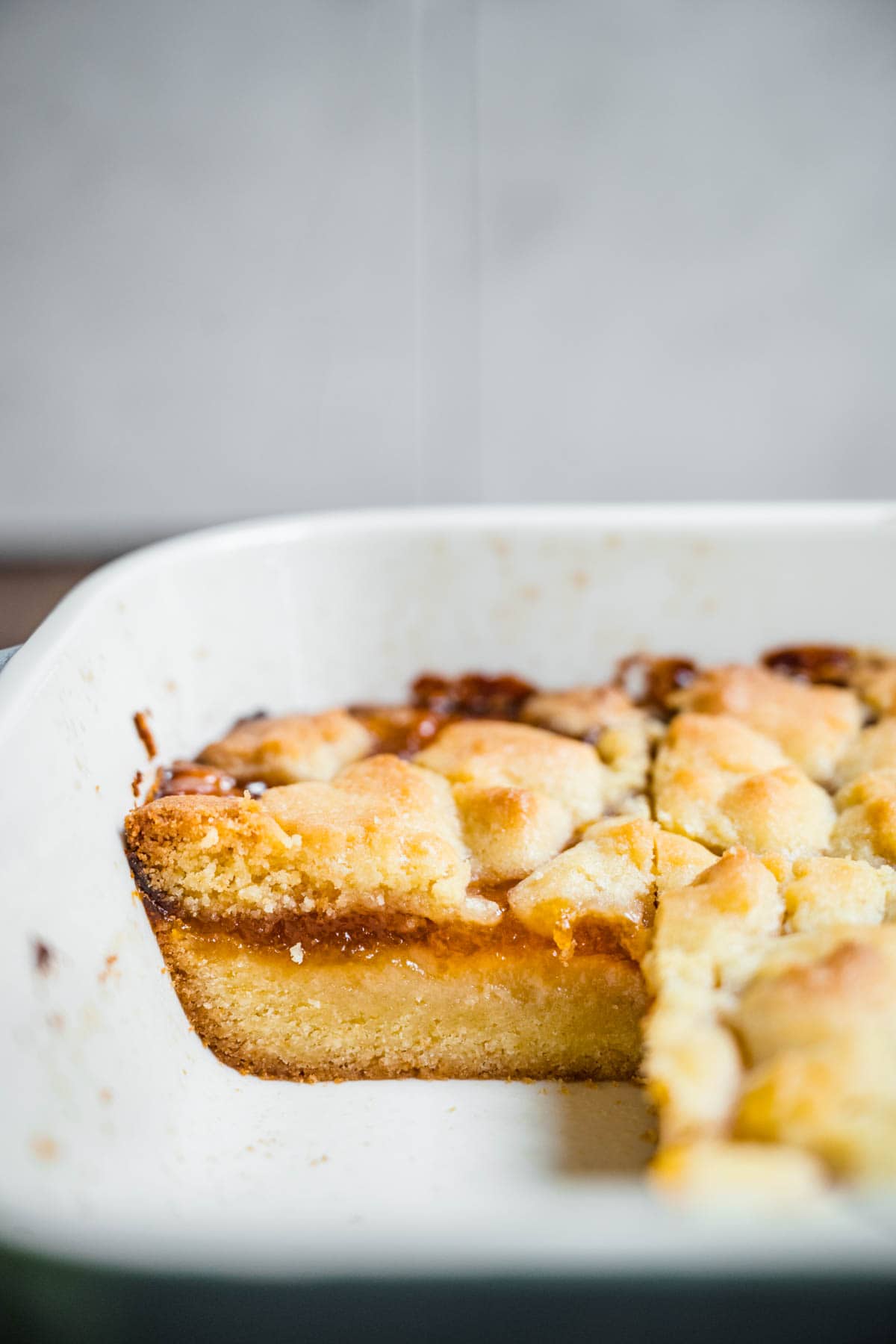 Create a free account to Save Recipes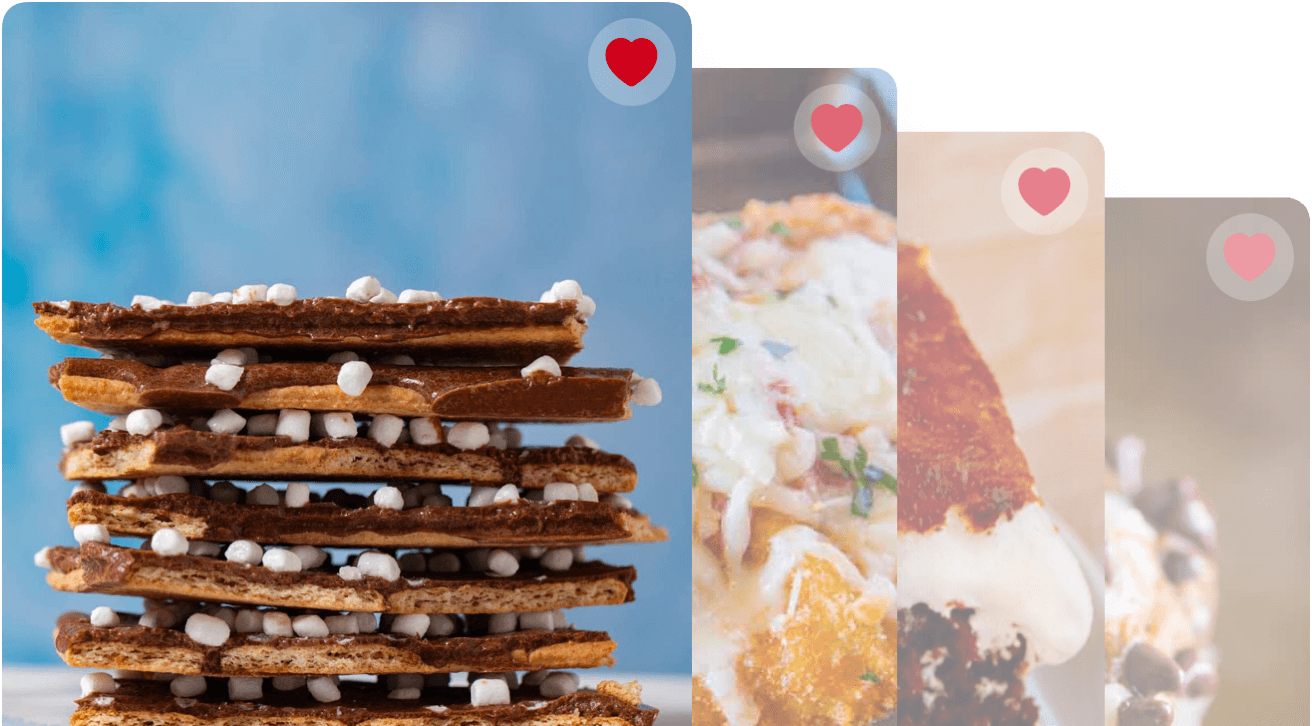 VARIATIONS ON APRICOT SHORTBREAD BARS
Jams: Apricots are the perfect fruit for a sweet, summery, bright flavor. However, you can experiment with the recipe by using different kinds of jams as the topping. Strawberry, raspberry, Blueberry, blackberry, or marmalade would all bring their own unique and delicious flavor to the shortbread bars.
Flavorings: You can add some different flavorings to the original recipe by swapping out the vanilla extract for a teaspoon of almond extract. Or, mix in some warm baking spices like cinnamon, nutmeg, or allspice.
Toppings: There are a variety of fun toppings you could sprinkle over the top of this bar recipe. Try adding some large-grain sugar for some sparkle. You could also sprinkle on shredded coconut, chopped nuts, or sliced fruit to give the bars extra texture and flavor.
MORE FRUIT DESSERTS
HOW TO STORE APRICOT SHORTBREAD BARS
Serve: After the baking time, you can keep the Shortbread Bars at room temperature for up to 4 days. Cover the dish in tin foil or transfer the bars to an airtight container to keep them fresh.
Store: You can also store them in the fridge for up to 1 week.
Freeze: Seal the bars in an airtight container or freezer bag to keep them long-term in the freezer. They can stay good frozen for up to 3 months. Let them defrost in the fridge before reheating them in the oven for a few minutes to enjoy the perfect Apricot Shortbread Bars.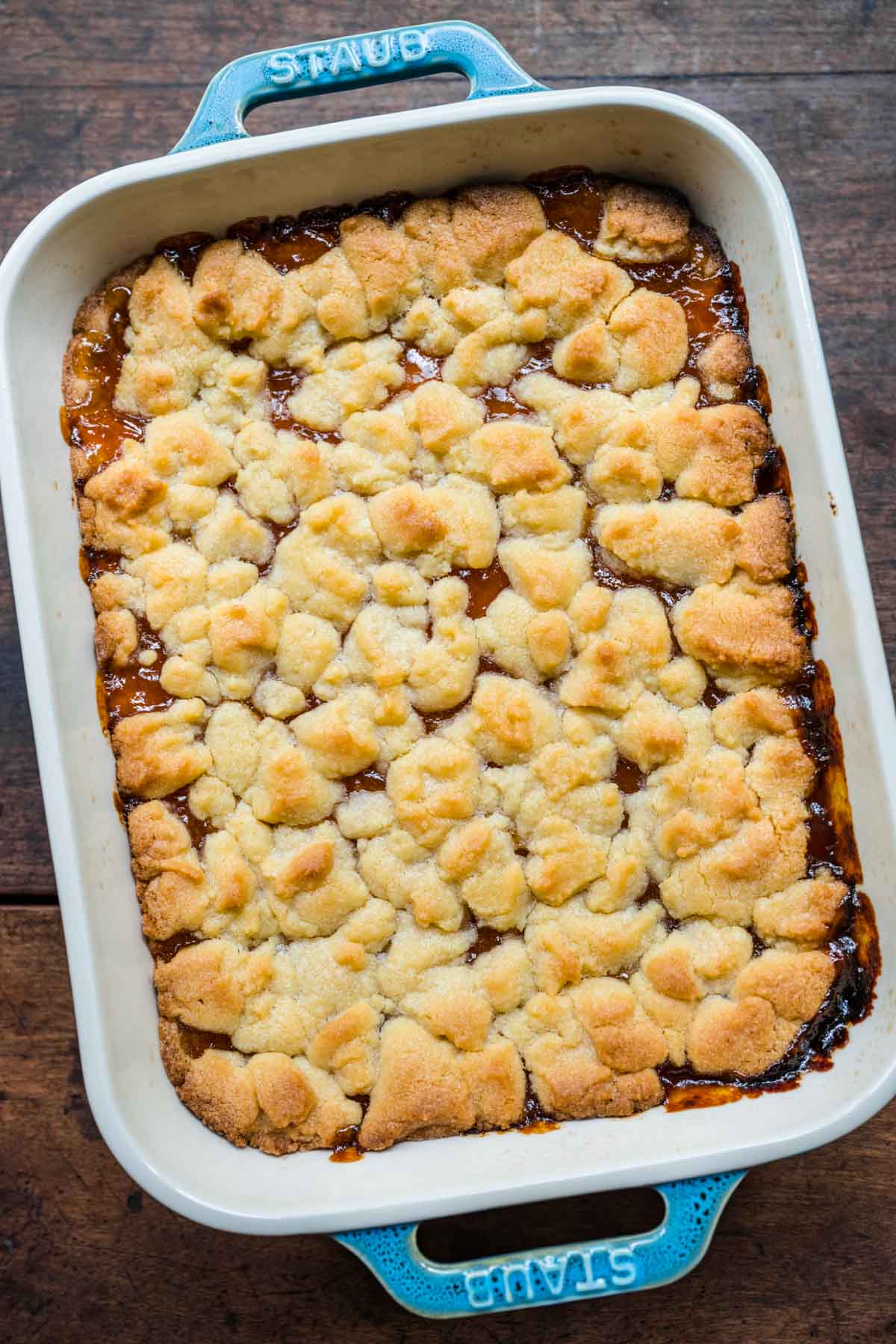 Ingredients
1

cup

unsalted butter

, softened

1

cup

sugar

2

large

egg yolks

1/2

teaspoon

vanilla extract

2

cups

all-purpose flour

1

teaspoon

baking powder

1/4

teaspoon

salt

1 1/2

cups

apricot jam
Instructions
Preheat oven to 350 degrees and spray an 8x10 baking dish with baking spray.

To your stand mixer add the butter and sugar and mix on medium speed until fluffy, about

2-3 minutes

.

Add in egg yolks and vanilla extract until creamy.

Add flour, baking powder, and salt until just combined.

Spread about half the mixture into the baking dish and press gently.

Spread apricot jam over the shortbread.

Sprinkle remaining shortbread mixture over the apricot jam.

Bake for

35-40 minutes

or until golden brown.

Cool completely before slicing.
Nutrition
Calories:
357
kcal
|
Carbohydrates:
52
g
|
Protein:
3
g
|
Fat:
16
g
|
Saturated Fat:
10
g
|
Trans Fat:
1
g
|
Cholesterol:
71
mg
|
Sodium:
65
mg
|
Potassium:
87
mg
|
Fiber:
1
g
|
Sugar:
30
g
|
Vitamin A:
574
IU
|
Vitamin C:
3
mg
|
Calcium:
32
mg
|
Iron:
1
mg