Dark Chocolate Crinkle Cookies
This post may contain affiliate links. Read my disclosure policy here.
Dark Chocolate Crinkle Cookies are a holiday classic made with cocoa powder and melted dark chocolate are the chewiest and fudgiest cookies you'll make for your Christmas exchange this year!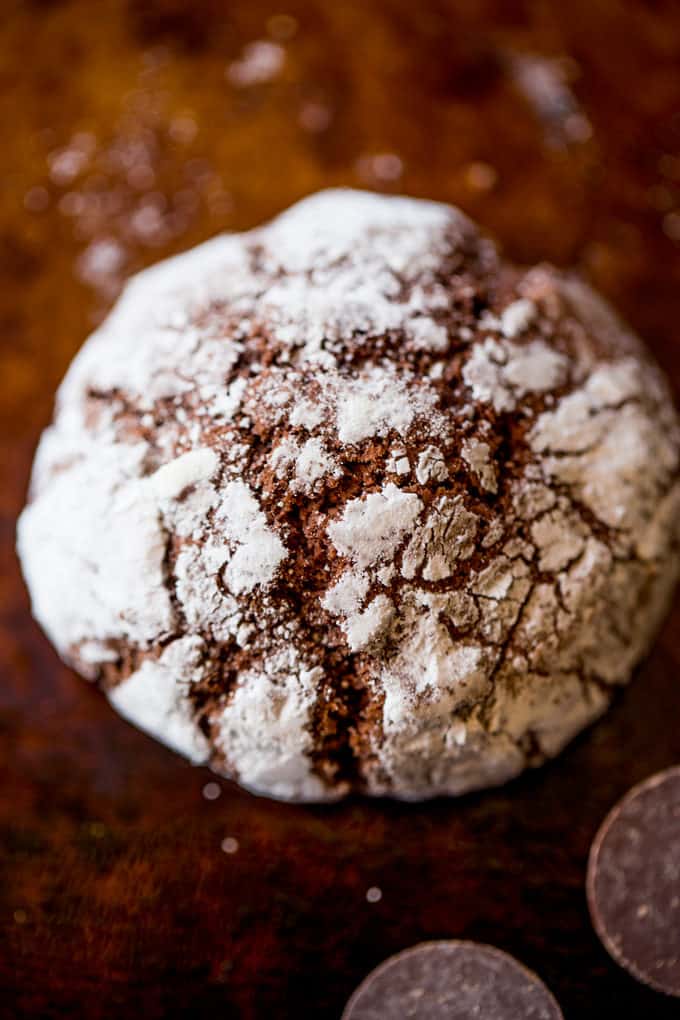 Dark Chocolate Crinkle Cookies are the smaller, more Christmas cookie exchange sized cousin of my favorite Chocolate Chewy Cookies with all the intense chocolate chewiness with the classic powdered sugar crinkle.
The cookies themselves are pretty easy to make but if you don't follow the instructions of putting the batter in the refrigerator to firm up you're going to be trying to form the cookie dough balls out of a soupy textured mixture.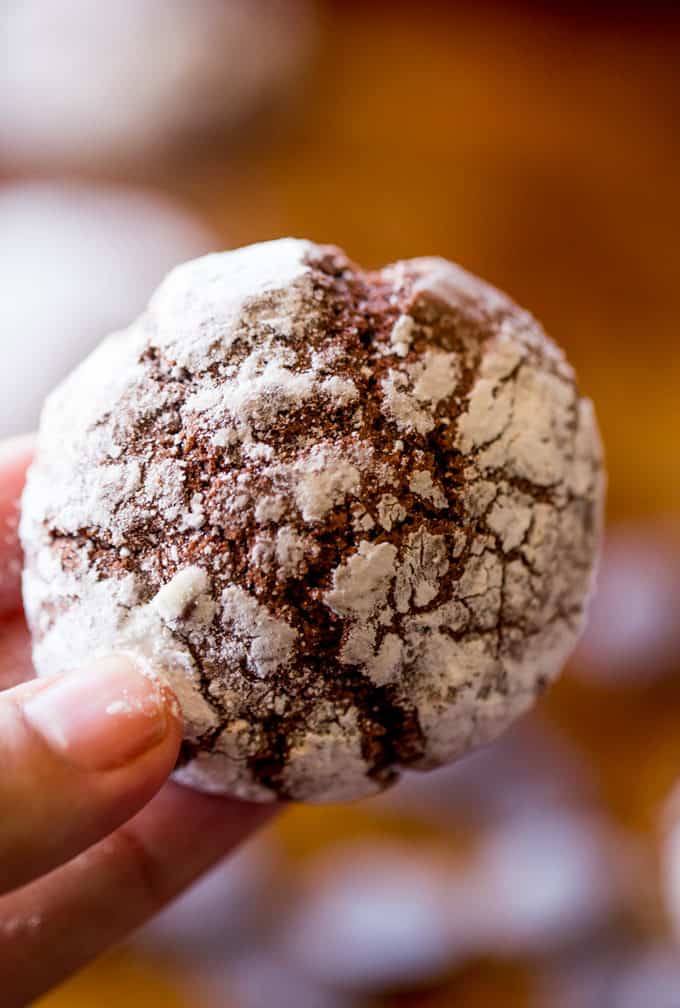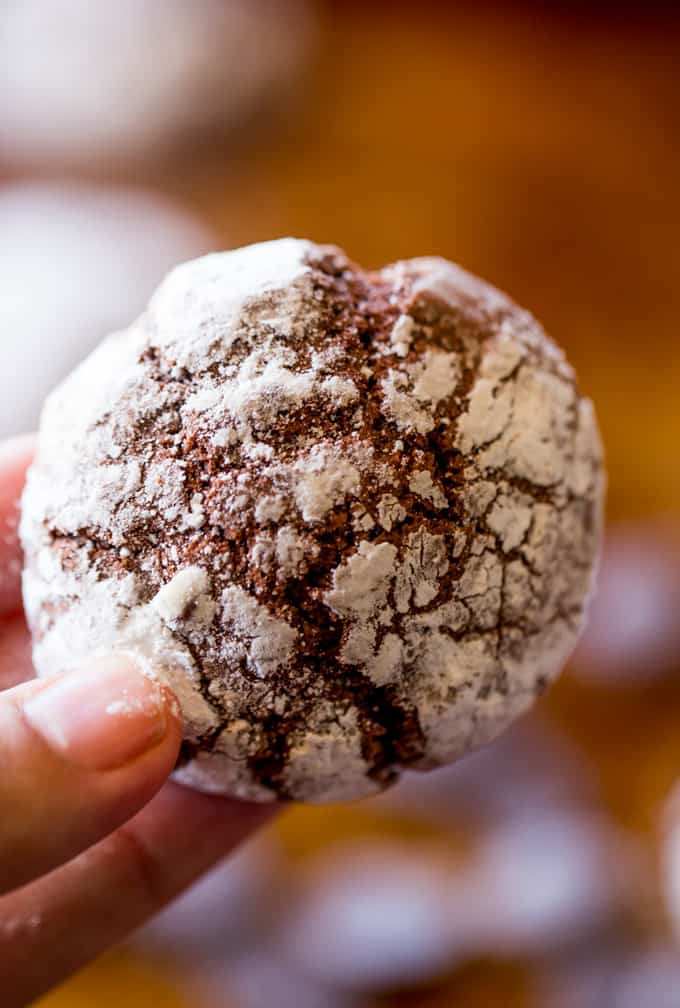 Just like a chocolate ganache the cooling time allows for these to firm up allowing the cooked cookies to spread into that classic powdered sugar cracked texture.
I mean, c'mon look at that amazing texture to the cookie, the perfect crinkle cookie texture!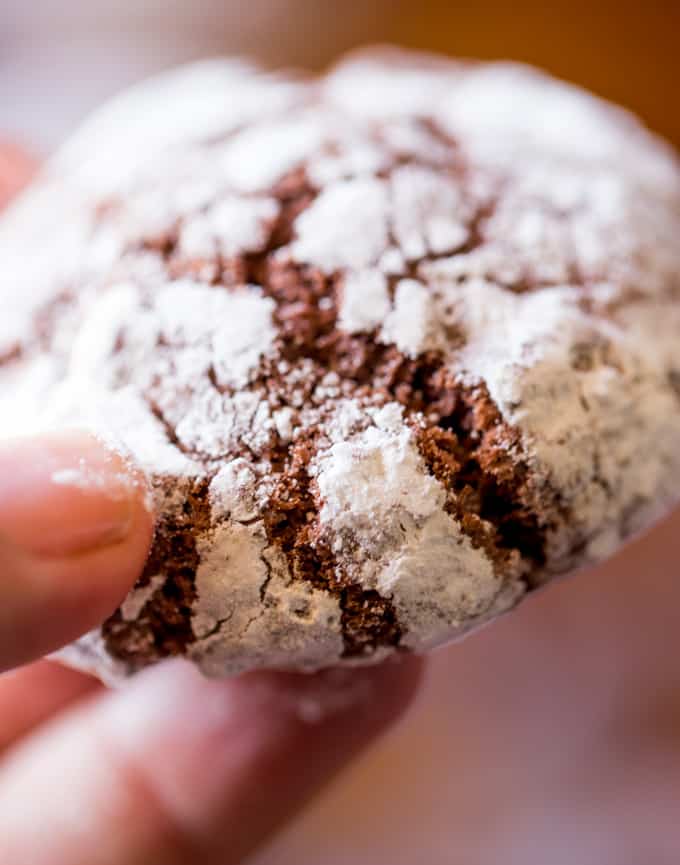 There are a few ways you can adjust the cookies to your taste. I melted the chocolate chips to add it to the batter, but you can leave them as chips and have little pockets of molten chocolate in your cookies.
I was just looking to amp up the chocolate flavor without changing the texture of the classic Dark Chocolate Crinkle Cookies you may have enjoyed in all your previous Christmas Cookie exchanges.
MY OTHER RECIPES
You can also add a bit of peppermint extract to the cookies (1/2 teaspoon) if you want to boost the Christmas feel of these cookies. Then they'll be chewy and fudgy with the flavors of a York Peppermint patty.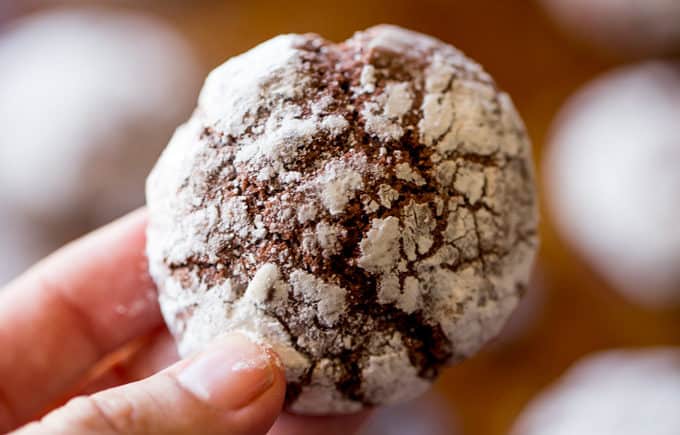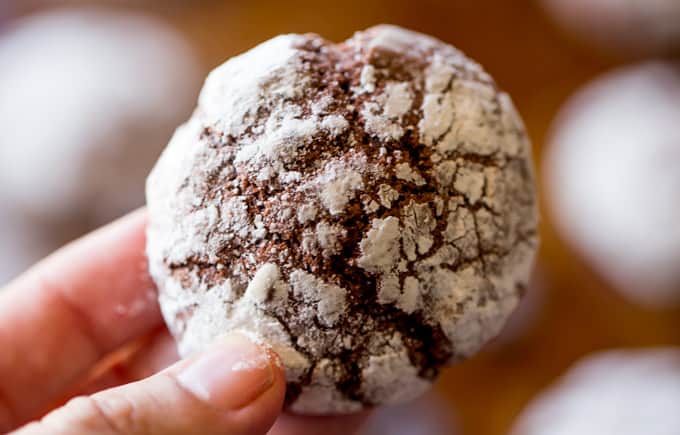 Tools used in this Dark Chocolate Crinkle Cookies recipe:
Silicone Mat: Helps keep your cookies baking evenly with no burned bottoms
Cookie Sheet: High quality and inexpensive, I have a whole stack of these!
Dark Chocolate Chips – My favorite dark chocolate chips, I keep them on hand in volume! More and more stores carry the brand now too, so when mine has a sale I buy 3 or 4 bags of every flavor. (Sometimes I can even get them for LESS than Nestle)
Unsweetened Cocoa Powder – This cocoa powder gives an amazing, dark, rich chocolate flavor. I also highly recommend the Trader Joe's Brand of cocoa powder.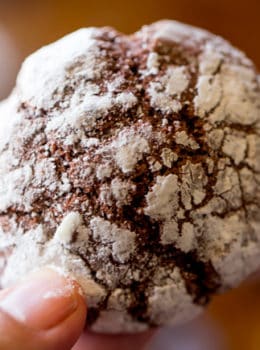 Dark Chocolate Crinkle Cookies
Dark Chocolate Crinkle Cookies are a holiday classic made with cocoa powder and melted dark chocolate are the chewiest and fudgiest cookies you'll make for your Christmas exchange this year!
Prep Time 1 hour 15 minutes
Cook Time 30 minutes
Total Time 1 hour 45 minutes
Ingredients
1/2 cup dark chocolate chips
1 cup unsweetened cocoa powder
2 cups white sugar
1/2 cup vegetable oil
4 eggs
1 tablespoon vanilla extract
2 cups all-purpose flour
2 teaspoons baking powder
1/2 teaspoon salt
1 cup powdered sugar
Instructions
In a microwave safe bowl microwave the dark chocolate chips in 30 second increments until fully melted when stirred (takes me 2 rounds of microwaving).

In a stand mixer add the cocoa powder, melted chocolate, white sugar, and vegetable oil on medium speed.

Add in the vanilla and each egg once fully incorporated.

Add the flour, baking powder, and salt on low until just combined.

Place the bowl in the freezer for 1 hour (minimum) to firm up.

Preheat oven to 350 degrees.

Spray your cookie sheets well with canola oil spray or line with parchment paper.

Using a small cookie scoop, scoop the dough into the bowl of powdered sugar and roll in the powdered sugar completely.

Lightly roll into a ball shape with your hands then roll through powdered sugar again before putting it on the cookie sheet.

Bake in preheated oven for 10 to 12 minutes on ONE sheet at a time in the top third of your oven (this helps to ensure the signature crackled tops).

Once out of the oven remove the cookies from the parchment paper in the first couple of minutes. They can stick to the paper very easily.
Recipe Notes
This post contains affiliate links.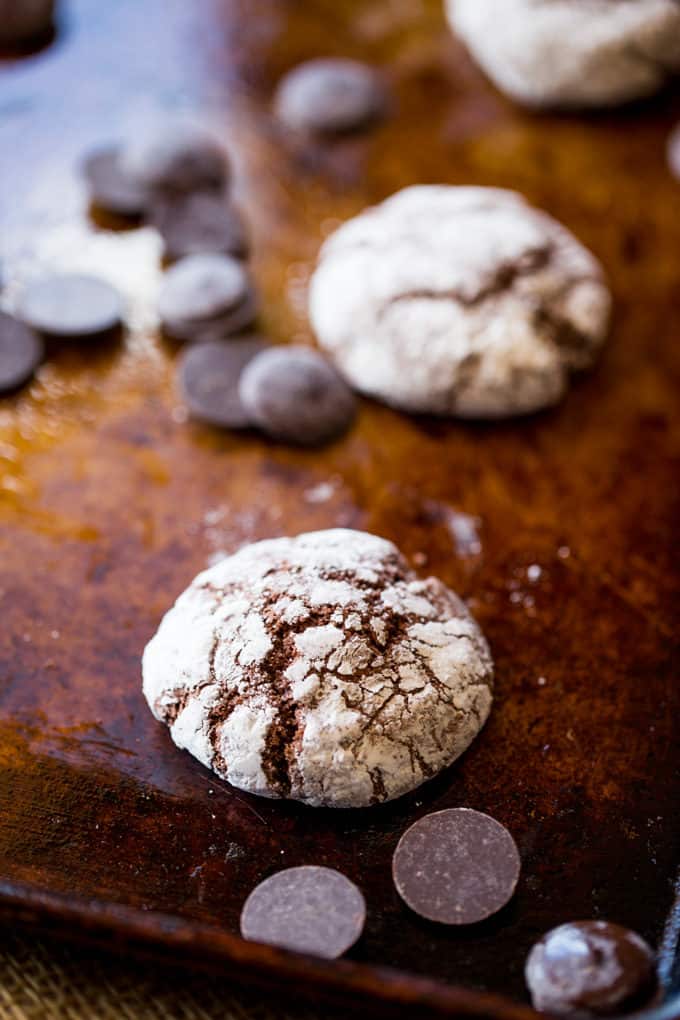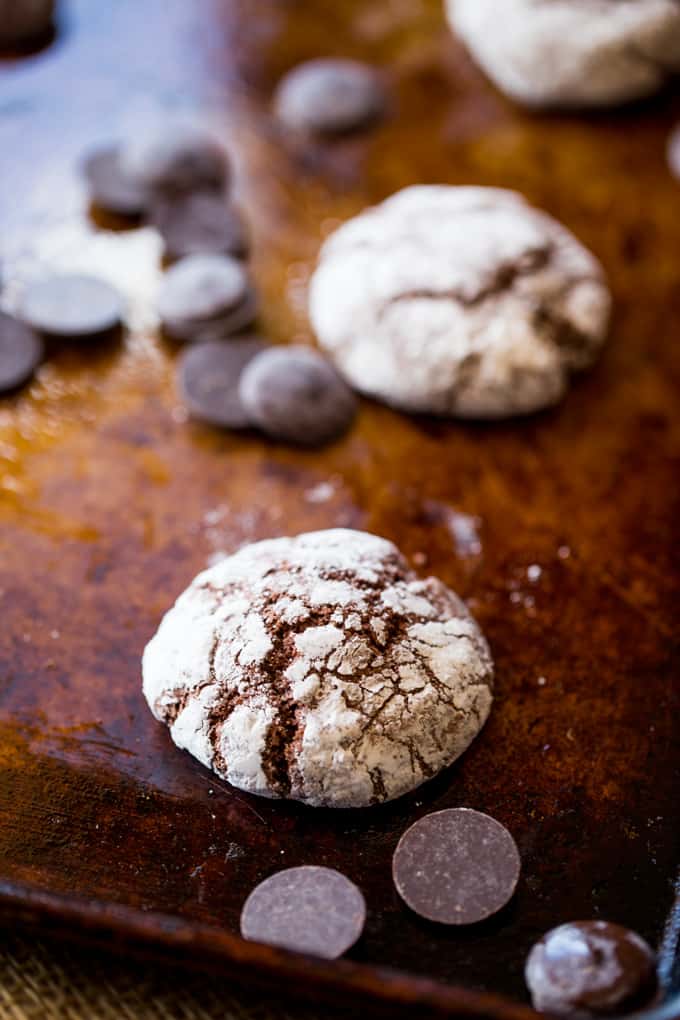 Dinner, then Dessert, Inc. owns the copyright on all images and text and does not allow for its original recipes and pictures to be reproduced anywhere other than at this site unless authorization is given. If you enjoyed the recipe and would like to publish it on your own site, please re-write it in your own words, and link back to my site and recipe page. Read my disclosure and copyright policy. This post may contain affiliate links.