Lemon Meringue Pie is the perfect tart, sweet dessert with flaky buttery pie crust, creamy lemon filling and fluffy toasted meringue topping.
When it comes to refreshing summer-time Dessert Recipes, Classic Lemon Meringue Pie should be at the top of everyone's list. Just like Key Lime Pie, it's a nice balance of tart and sweet flavor. The chilled pie is also a nice way to cool down on a hot day.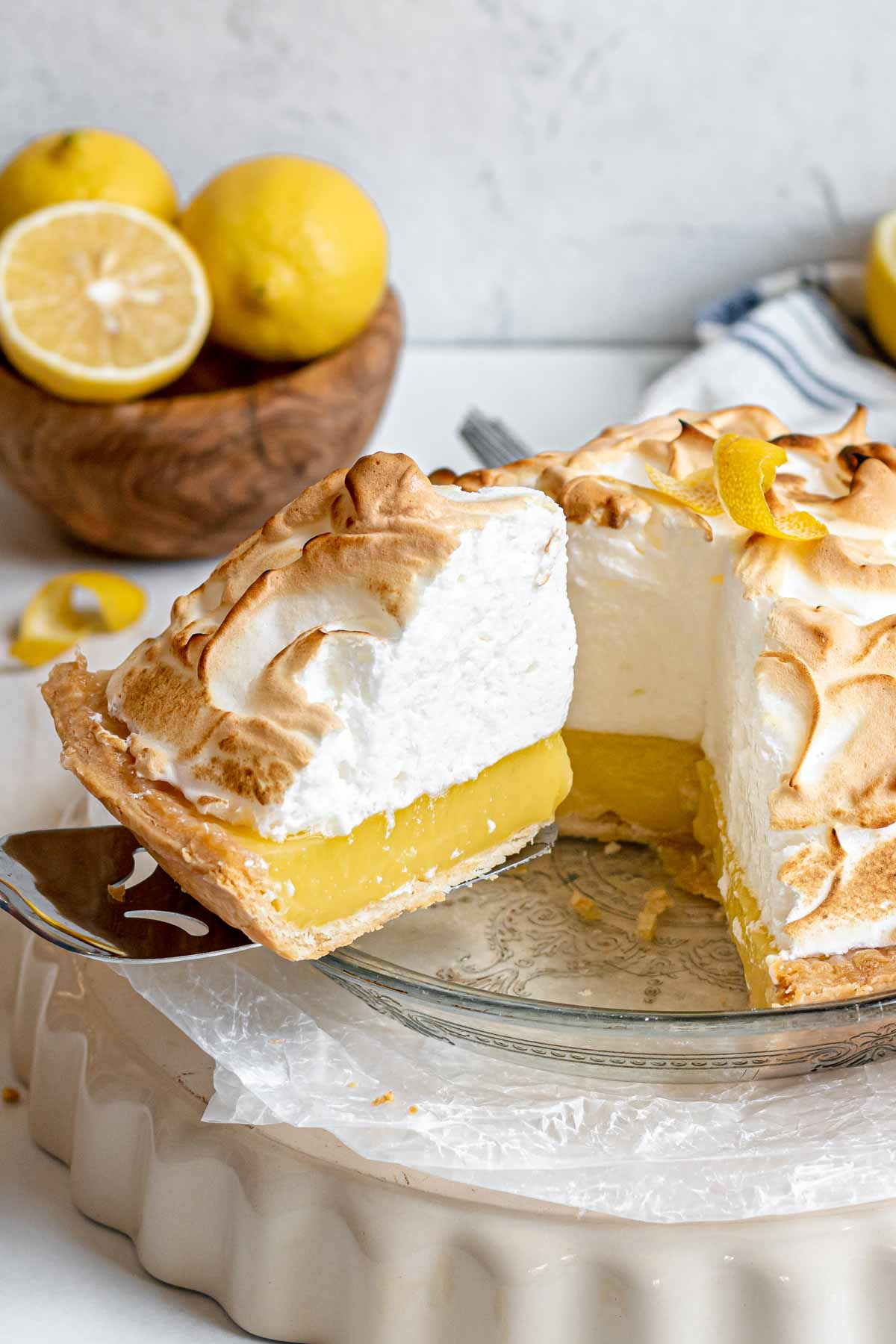 This classic recipe is sure to be a family favorite. The Homemade Pie Crust, Buttery Lemon Curd, and toasted meringue topping are simply irresistible. Everyone is sure to love the fresh lemon flavor and silky, creamy texture!
Lemon Meringue Pie is beautiful enough to serve for a special occasion, but it's also surprisingly easy to make. The classic dessert does take some time to make, but that's because it's important to give the pie time to chill before serving.
Hands-on baking time isn't nearly as time consuming as giving the zingy lemon meringue pie the time it needs to set. So, as long as you plan in advance, it's easy to get this recipe ready for your next lemon craving! You can even freeze it ahead of time and place in the refrigerator in the morning to thaw by dinner.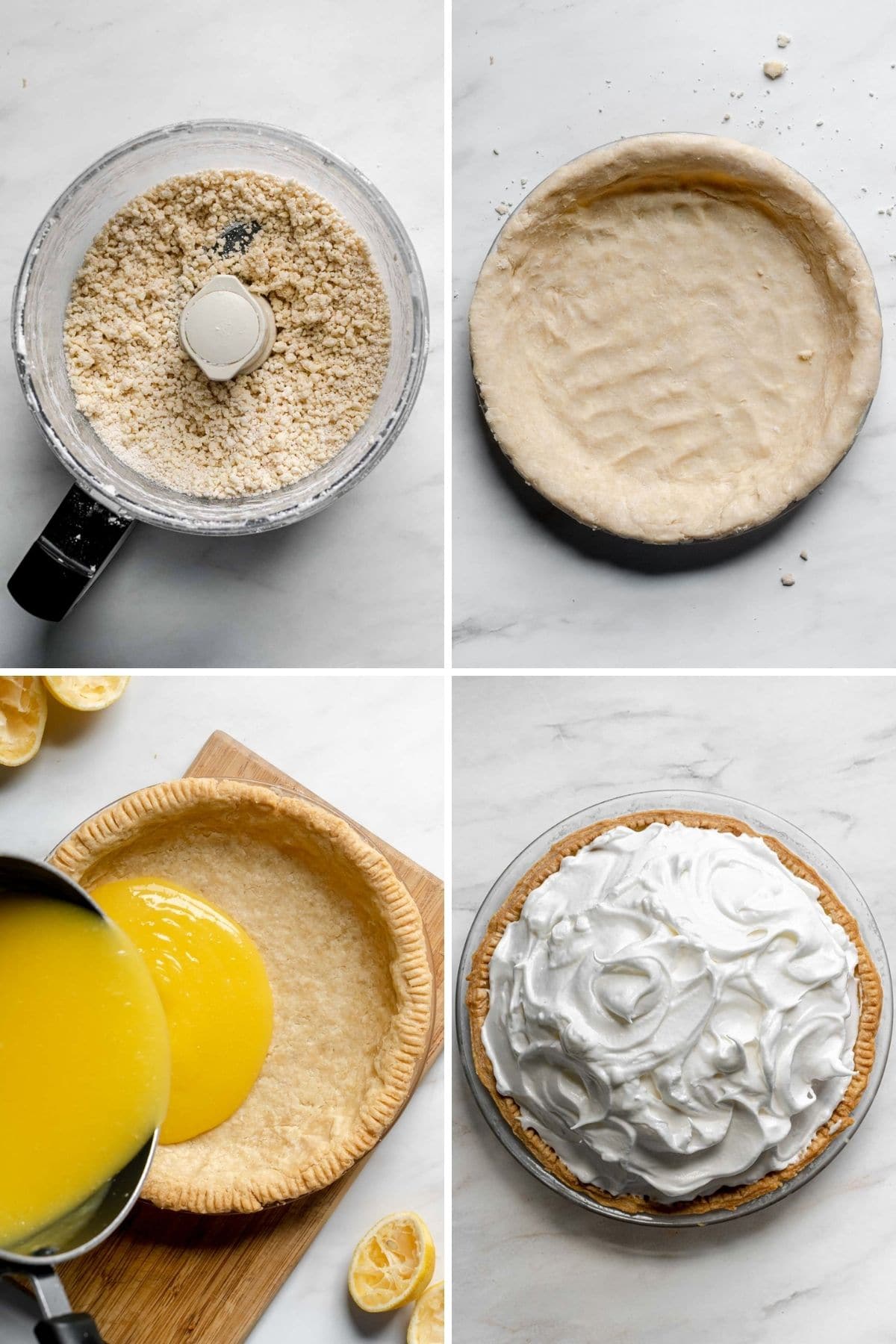 MORE FRUIT PIES
Key Ingredients
Homemade crust: This pie crust recipe is made with simple pantry ingredients. All you need is flour, salt, butter and water. The key to making flaky crusts is using chilled butter. If the butter melts it will absorb into the flour before you bake it, and you won't get the right texture. That's why it's also important to use iced water to help keep the butter cold.
Lemon pie filling: The key ingredient to get the right flavor for the lemon curd filling are the egg yolks and fresh lemon juice. The egg yolk mixture gives the filling it's thick, and smooth custard-like texture, and the lemon juice gives the pie it's tart lemon flavor. Other than those two ingredients, you just need a few more simple things like sugar, flour, salt, cornstarch, and butter.
Sweet meringue: Meringue is incredibly simple. All you need are egg whites and white sugar. The egg whites are beaten together, then the sugar is added to form the fluffy meringue. For the best results, make sure there are no egg yolks in the egg mixture and use fresh egg whites instead of packaged egg whites.
How to Make
Pie crust dough: Raise the oven temperature to 350 degrees. Add flour, salt, and chilled butter to your food processor. Spoon iced water into the food processor as you pulse the mixture. Continue adding one tablespoon at a time until the dough is formed into tiny crumbles. Roll the mixture into a circle big enough to go up the edges of a 9-inch pie dish. Press the dough into the pie plate. Top that with parchment paper and pie weights, or dry beans, to weigh down the crust. Put the dish in the preheated oven to bake pie crust for 35-40 minutes. It should be light golden brown. Remove and let baked pie crust cool while you make the lemon filling.
Lemon Pie Filling: Add white sugar, flour, cornstarch, salt, water, lemon juice, and lemon zest to a large saucepan, and stir the mixture well. Turn the stove-top to medium-high heat, and continue stirring as the lemon mixture comes to a boil. Turn the stove off and remove the pot from the heat. Stir in the butter, and let the warm filling cool for 5 minutes. As it's cooling separate 4 egg yolks from the egg whites. Add the yolks to the lemon base, and whisk until smooth.
Sweet meringue: Pour the bowl of egg whites into the sand mixer and beat them at high speed with the whisk attachment. Once the eggs are foamy, turn off the electric mixer and add the sugar. Continue beating until stiff peaks form. Be careful not to over mix the meringue or it will be too firm.
Baking time: Pour the lemon curd into the pie crust. Then top it with the meringue, leaving decorative peaks in the meringue topping. Put the pie in the oven for 10 minutes. After baking meringue, it should be slightly toasted on top.
Chill: Let the recipe cool at room temperature, then put it in the fridge for at least 4 hours before serving. The refrigerator time, let's the lemon filling and meringue set, so that you can cut a beautiful, clean piece of pie.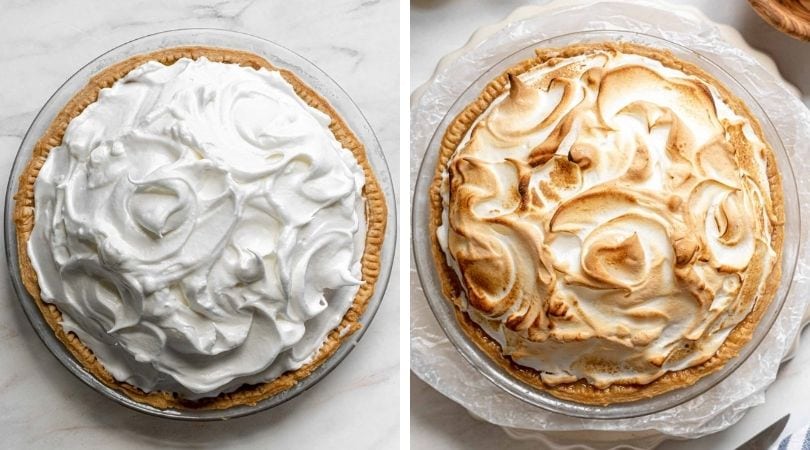 Create a free account to

Save Recipes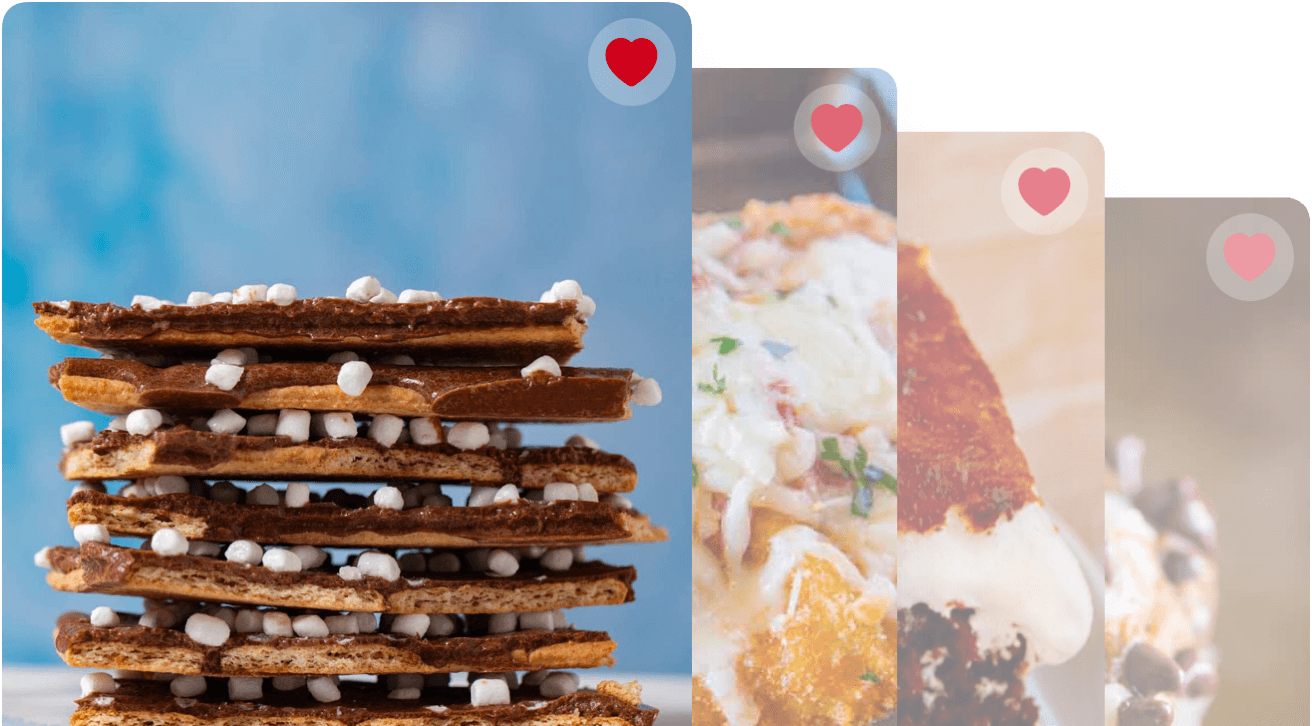 Variations
Decorations: If you want to add some toppings to this perfect lemon meringue before serving, you can sprinkle on coconut flakes, large grain sugar, or grated lemon zest.
Lime Meringue Pie: If you like the idea of citrus-based desserts, like this one, you can use the same basic concept to make another one. Just replace the lemon ingredients with lime to make a tangy lime meringue pie.
Prepacked Crust: Save yourself a step by using a store bought pie crust. You will still want to bake before filling since the toasting time for the meringue is not enough to cook the crust through.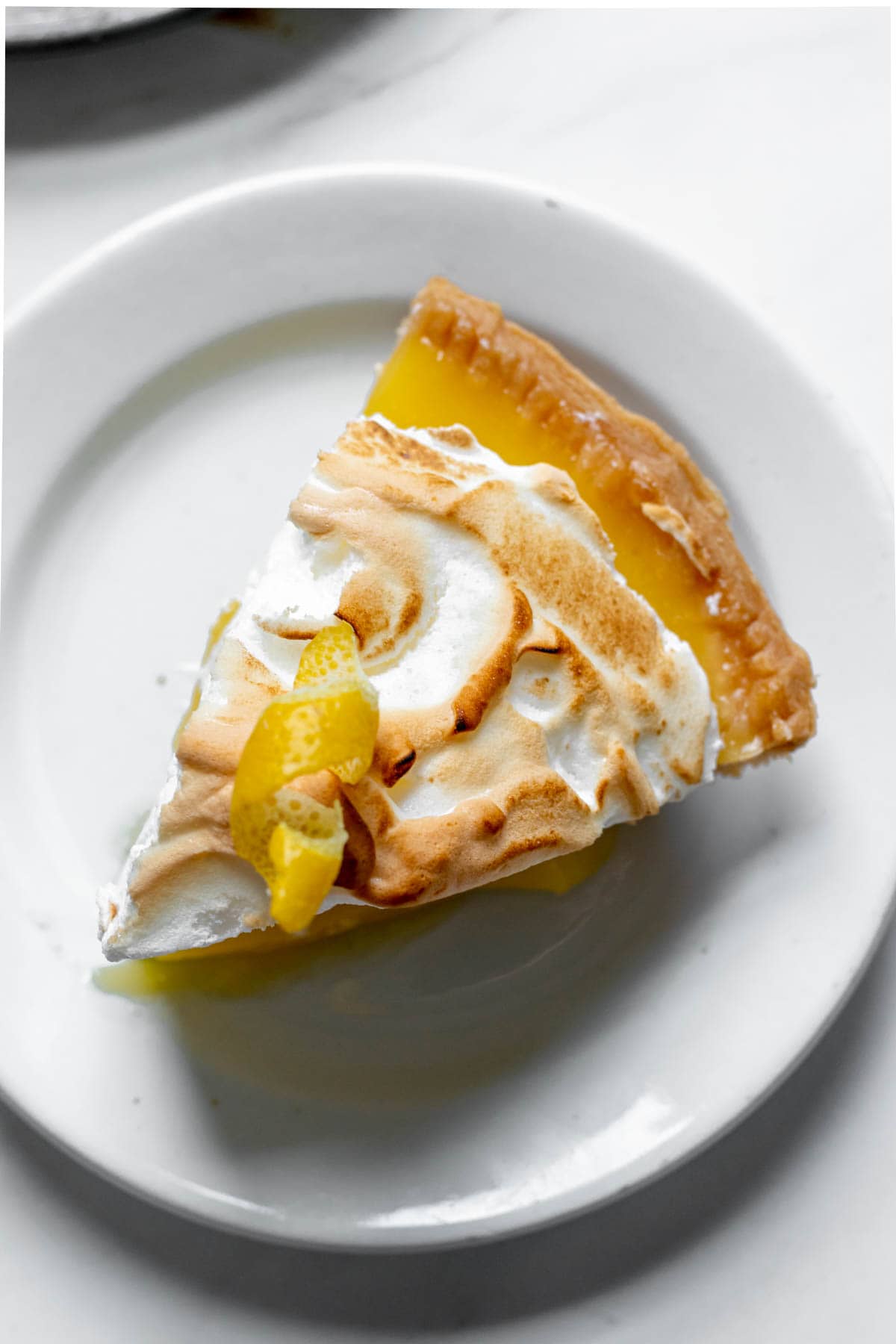 More Lemony Desserts
How to Store
Serve: Make sure to chill Lemon Meringue Pie in the fridge for at least 4 hours before slicing and serving. This pie can be at room temperature for up to 2 hours but it is best served chilled.
Store: To store this pie, cover it in plastic wrap or tin foil and store in the refrigerator for up to 3 days.
Freeze: You can freeze this custard pie for up to 3 months. Cover in plastic wrap then aluminum foil to prevent freezer burn. Transfer it to the fridge to thaw before serving again.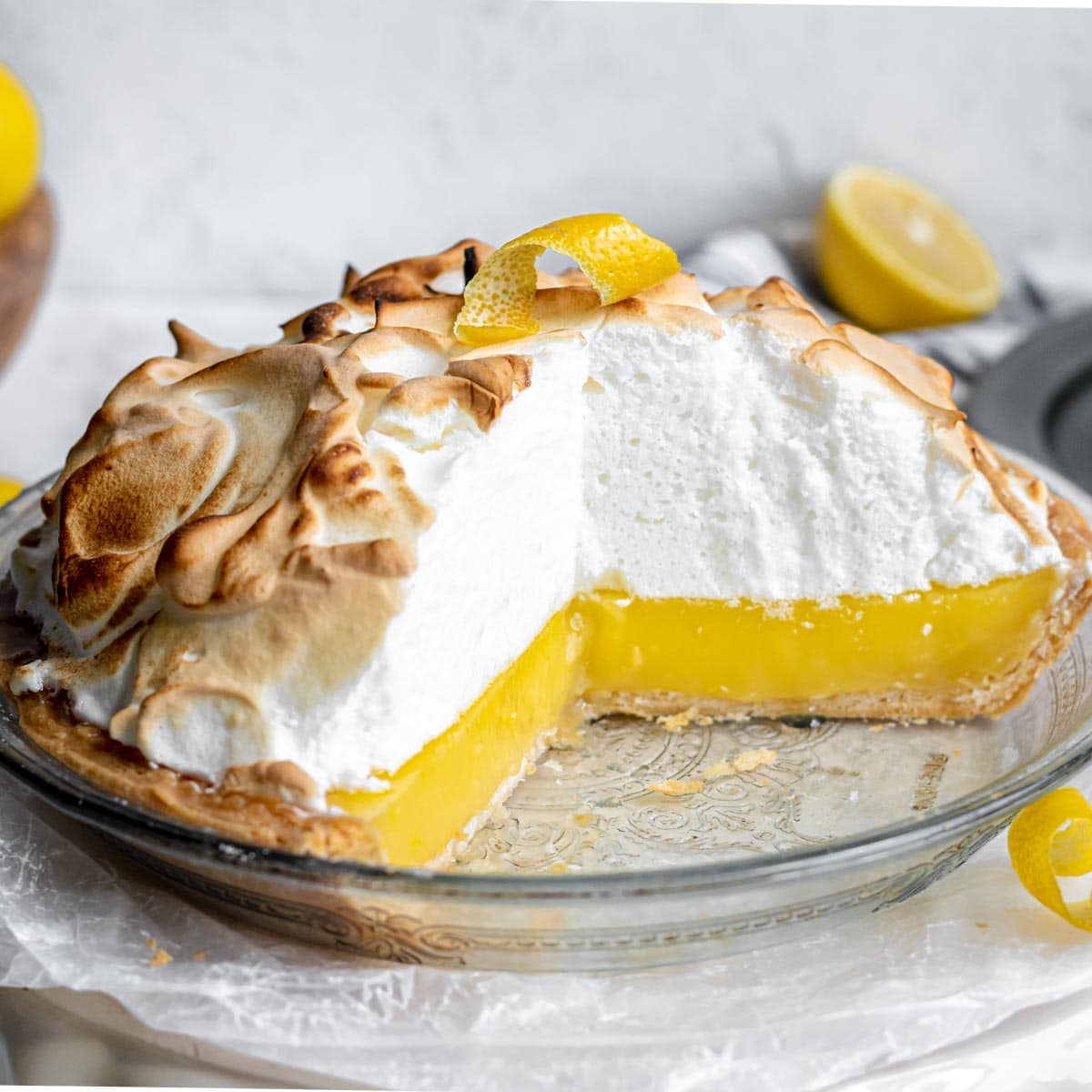 Ingredients
Pie Crust:
1 1/4

cups

flour

1/4

teaspoon

salt

1/2

cup

unsalted butter

, frozen and diced

1/4

cup

ice water
Lemon Meringue Pie:
1

cup

sugar

2

tablespoons

flour

3

tablespoons

cornstarch

1/4

teaspoon

salt

1 1/2

cups

water

1/2

cup

lemon juice

, fresh

1

tablespoon

lemon zest

2

tablespoons

unsalted butter

4

large

eggs

, separated whites from yolks

1/3

cup

sugar
Instructions
Pie Crust:
Preheat oven to 350 degrees.

Add the flour, salt, and butter to a food processor and pulse, adding the water (I spoon the water directly out of the cup of ice water directly into the food processor to make sure it is still ice cold) through the chute one tablespoon at a time until the dough begins tiny crumbles (don't let it become a ball).

Roll into a circle, and press into pie tin.

Top with parchment paper, add beans or pie weights to weigh down.

Bake for

35-40 minutes

, then remove and let cool.
Lemon Meringue Pie Filling:
Preheat oven to 350 degrees.

In a large saucepan add 1 cup sugar, flour, cornstarch, salt, water, lemon juice and lemon zest, stirring well.

Heat on medium-high and stir nonstop until mixture comes to a boil.

Turn off and remove from heat, stir in butter and let cool for

5 minutes

.

Quickly whisk in the 4 egg yolks (not the whites) and keep whisking until smooth.

Add egg whites to a stand mixer on high speed until foamy, then add in the ⅓ cup sugar and keep beating until eggs reach stiff peaks.

Pour lemon curd into the cooked pie crust and top with egg white meringue.

Cook for

10 minutes

, remove and let cool to room temperature.

Refrigerate for at least

4 hours

before slicing.
Nutrition
Calories:
256
kcal
|
Carbohydrates:
36
g
|
Protein:
4
g
|
Fat:
11
g
|
Saturated Fat:
7
g
|
Trans Fat:
1
g
|
Cholesterol:
87
mg
|
Sodium:
124
mg
|
Potassium:
53
mg
|
Fiber:
1
g
|
Sugar:
23
g
|
Vitamin A:
386
IU
|
Vitamin C:
5
mg
|
Calcium:
17
mg
|
Iron:
1
mg