Lemon Curd is tart and creamy made with ONLY 4 ingredients, perfect for dessert or brunch and ready in under 30 minutes!
Throwing the perfect brunch means pulling out your best recipes like this lemon curd along with Easy French Toast Bake and Easy Cinnamon Rolls.

Lemon Curd is a really sweet and creamy four ingredient dessert that's simple to throw together on the stovetop, with a bright and fresh tartness that pairs amazingly with fresh Easy Whipped Cream. This has so much more flavor than the store-bought version, I'm confident you'll want homemade every time from now on.
You can top this with extra lemon zest, or serve with baked goods like muffins or scones. It also goes really will with pastries and sweet breads, or as a topping for cheesecake. Try my Lemon Curd Sticky Rolls with Cream Cheese Glaze!
Frequently Asked Questions
How much juice is in one lemon?
Lemon juice can vary depending on the size and variety of lemon that you use. I t's a good idea to buy a few extra lemons for this reason. A lemon will typically give you between 1-2 tablespoons of juice.

If you have really large lemons you'll get 2-3, and smaller will get you about 1 tablespoon. You'll also get 1-2 tablespoons of zest from a lemon. For this lemon curd recipe, I recommend always measuring the juice to make sure you're not using too much or too little.
What should I do if my Lemon Curd won't thicken?
If it's your first time making this, make sure you've heated it for long enough. It will take about 15 minutes over medium heat for the curd to thicken properly. If you'r curd doesn't coat the back of a spoon after about 15-20 minutes, remove the curd from the heat.

After you've already made the curd and it's too thin, you can salvage it by adding unflavored gelatin. Start with 1/4-½ teaspoon, using according to package directions. Whisk in while the curd is still warm, and allow to set in the refrigerator. If you make this lemon curd recipe with gelatin, it would work well as a pie filling in my homemade graham cracker crust.
How do I get the right consistency for Lemon Curd?
Make sure you measure the ingredients exactly. You can also add an additional 1-2 egg yolks to help the curd thicken and add some creamy texture. Try making your curd in a double boiler to make the heat distribute more evenly.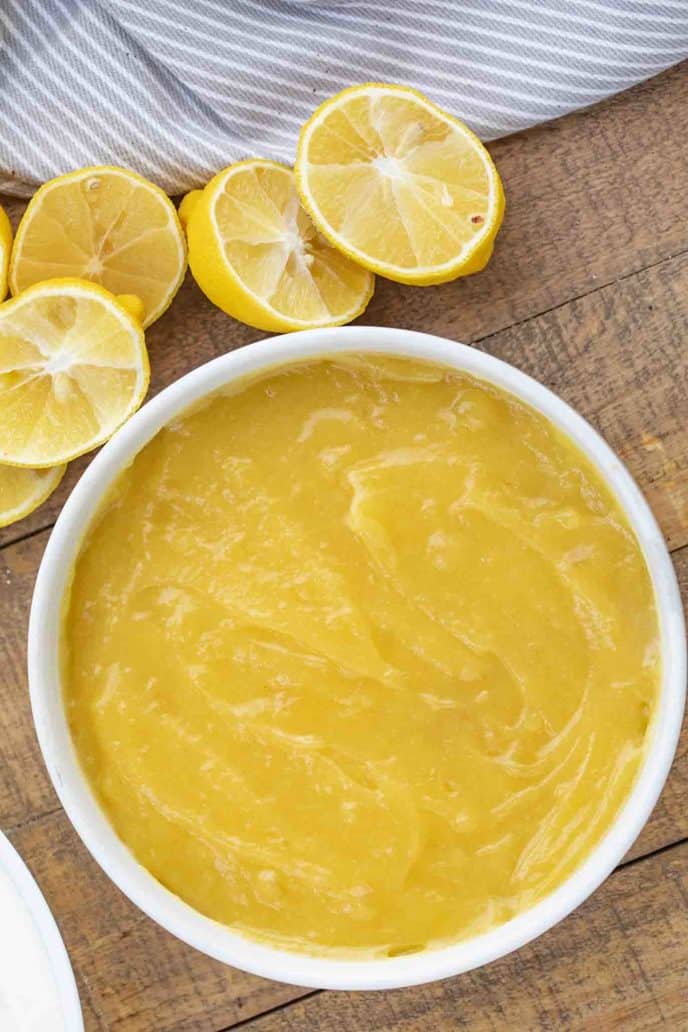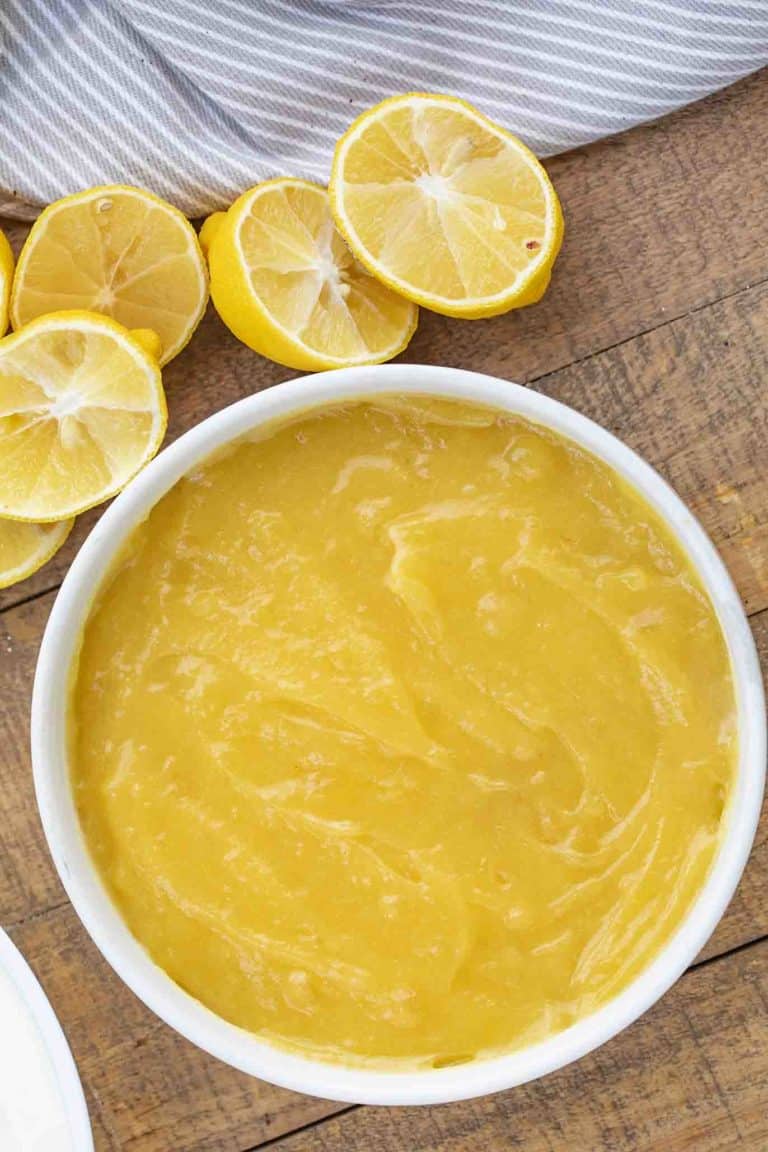 Create a free account to Save Recipes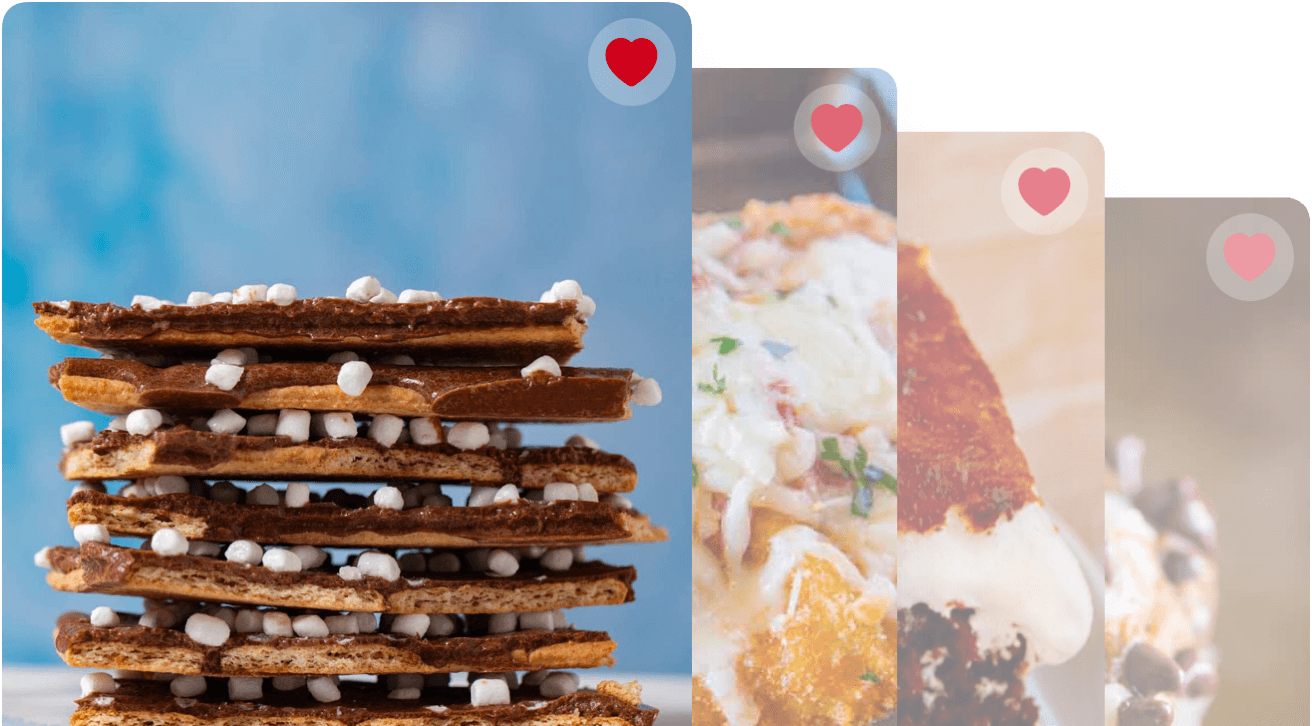 More Lemon Desserts
Tips for Making Lemon Curd
Use this as a layer in a Parfait recipe!
If you're getting lumps in your lemon curd, pass it through a fine mesh strainer to make it creamy and lump free. Do this while the curd is still hot.
When you're picking out lemons, go for the heaviest ones you can find. Typically, these will be the juiciest.
Bottled lemon juice usually contains other ingredients, like preservatives, and won't taste as good or come together as well as freshly squeezed lemon juice.
If you're making this as a pie filling, whisk in 1 tablespoon of cornstarch while it's still cold. It will thicken as it cooks.
Add a tablespoon of lemon zest right before cooling to add extra tart lemon flavor.
How to Store Lemon Curd
Serve: Do not leave lemon curd at room temperature for more than a total time of 2 hours. It does have a lot of acid and sugar, but it also has eggs and butter which means it is potentially unsafe in the danger zone (room temperature) for an extended time. This is also best served cold.
Store: Lemon curd must be refrigerated in an airtight container or jar, and will keep for 1-2 weeks.
Freeze: Lemon curd is PERFECT for freezing, because you can pull it out for the holidays or for summertime desserts calling for fresh lemon flavor. Seal it tightly in an airtight container, then freeze for up to 5-6 months.



Ingredients
8

tablespoons

unsalted butter

3/4

cup

sugar

3

large

eggs

3/4

cup

fresh lemon juice
Instructions
In a stand mixer add the butter and sugar creaming it together until lightened in color and fluffy (

2-3 minutes

) before adding in the eggs one at a time until fully incorporated then adding in the lemon juice and combining fully.

Move the mixture to a large saucepan over medium heat and whisk constantly until thick enough that the whisk going through the pan leaves a mark in the lemon curd (

12-15 minutes

), then cool completely before serving.
Notes
Note: click on times in the instructions to start a kitchen timer while cooking.
Nutrition
Calories:
134
kcal
|
Carbohydrates:
13
g
|
Protein:
1
g
|
Fat:
8
g
|
Saturated Fat:
5
g
|
Cholesterol:
60
mg
|
Sodium:
16
mg
|
Potassium:
30
mg
|
Sugar:
12
g
|
Vitamin A:
295
IU
|
Vitamin C:
5.9
mg
|
Calcium:
9
mg
|
Iron:
0.2
mg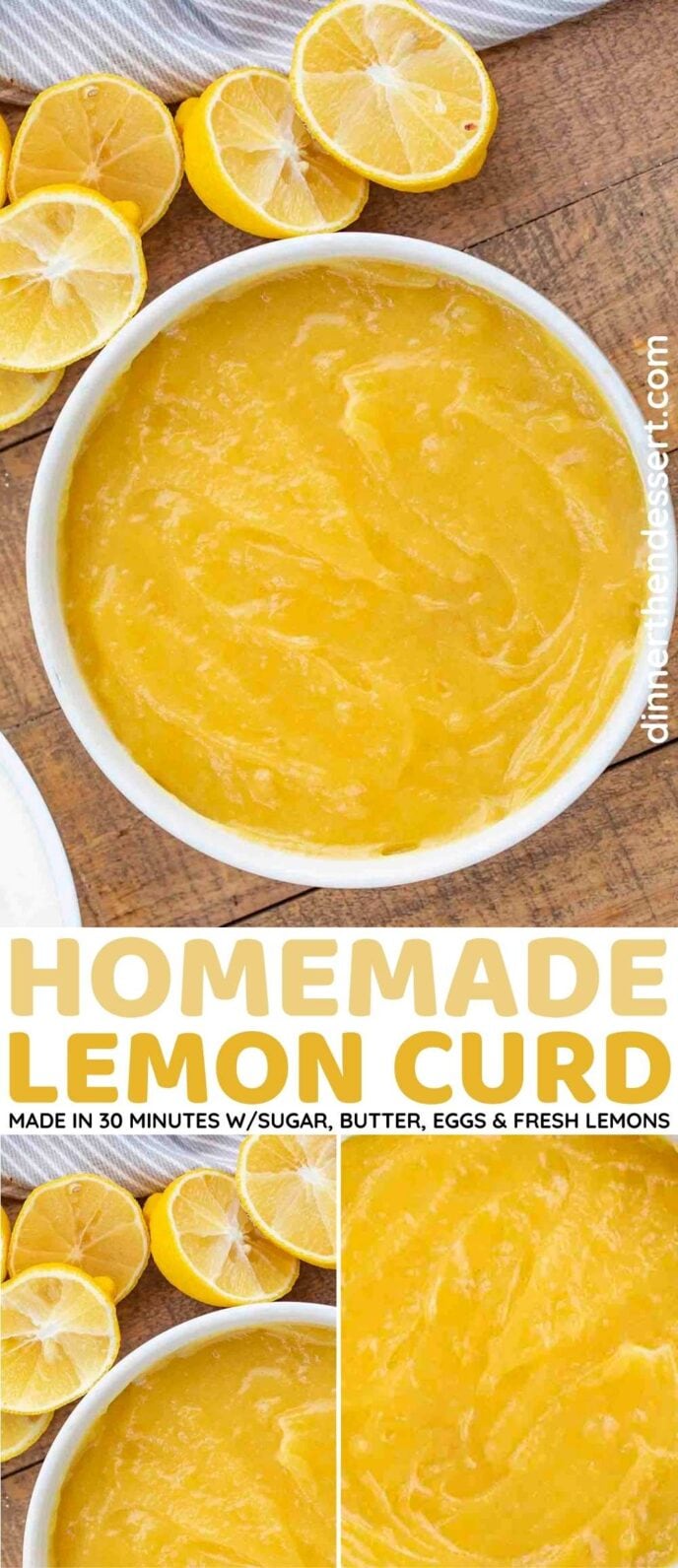 Photos used in a previous version of this post.