Iced Lemon Almond Milk Bread
This post may contain affiliate links. Read my disclosure policy here.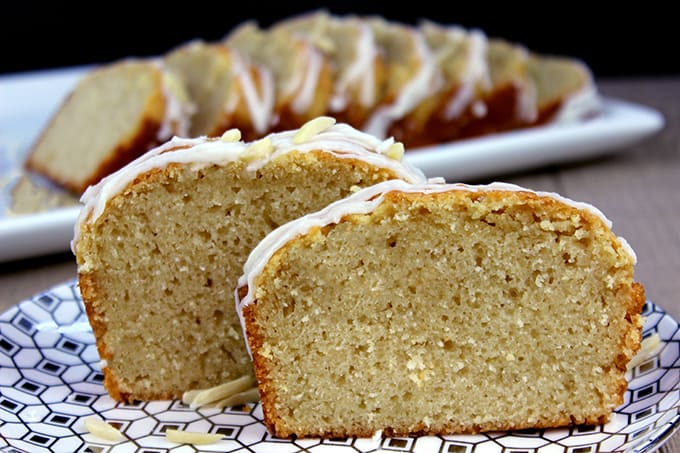 Almond Milk and Coconut Oil gives this Iced Lemon Pound Cake a wonderful hint of almond and keeps it dairy free.
This Almond Milk Bread was probably not a recipe I would've normally felt a pressing need to make. We are not a family who normally uses "alternative" ingredients, milk in our house is just normal cow's milk (though we do buy Organic so maybe that is outside the box?). The reason we had this almond milk was because we thought one of our kids was having a dairy reaction causing eczema and in my panic I sent my long suffering husband to the store to buy 8 cartons of alternatives to test. We ended up with sweetened, unsweetened and vanilla almond milk, plain and vanilla soy milk, plain and vanilla rice milk and a goat's milk. Let me tell you finding that all in organic varieties was A. a total pain and B. more expensive than I care to admit. Worst part? EVERY single one was summarily rejected as "yucky."
So I ended up with cartons of milk and my husband was a trooper and used a good amount of it in his morning cereal. I used the goat's milk in a goat ragu with crushed Marzano tomatoes served with a homemade pasta. The rice milk I experimented (and failed) in trying to make a rice pudding similar to what my grandma used to make for me (tip, use cow's milk!) and the unsweetened almond milk made it into this cake because my husband couldn't stomach to drink it straight. I think given the 8 cartons we started with that was a pretty good recovery!
The almond milk in this cake was actually a pretty awesome ingredient because the sugar in the cake helps temper the flavor of the milk and the almond in it actually perfumes the cake pretty amazingly. There isn't a knock you over almond flavor which I personally love because almond extract is just not my thing. I once accidentally broke a bottle of it and the smell was so overwhelming just even remembering it now makes me cringe. PS, if you love almond extract I would totally cut the vanilla extract in half and add almond extract as the other half.
The fact that it is a dairy free recipe is pretty awesome as a couple of friends of mine have issues with dairy so when the recipe was a huge hit the first thing I did was email a really stripped down version of my edits to the source recipe so they could make it and they both loved it! The even better thing about this recipe is it is so easy it is a couple of bowls and a whisk, so the Kitchenaid stand mixer wasn't called into action (which is always a plus since it is not a fun thing to wash!).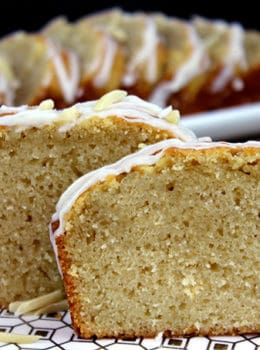 Lemon Almond Milk Pound Cake
Almond Milk and Coconut Oil gives this Iced Lemon Pound Cake a wonderful hint of almond and keeps it dairy free.
Prep Time 15 minutes
Cook Time 1 hour
Total Time 1 hour 15 minutes
Ingredients
1 1/2 cups flour
1/2 teaspoon salt
1 teaspoon baking powder
1 cup sugar
2 lemons , zested
3/4 cup Almond Milk (I used unsweetened)
1/2 cup coconut oil
2 large eggs
1 tablespoon fresh lemon juice
2 teaspoon vanilla extract
For the glaze:
2 cups powdered sugar
2 tablespoons fresh lemon juice
1 teaspoon vanilla
1/4 cup sliced almonds
Instructions
Preheat the oven to 350 degrees and coat a large loaf pan with baking spray.

Add the flour, salt, baking powder, sugar and lemon zest and stir.

In a second bowl add the almond milk, coconut oil, eggs, lemon juice and vanilla.

Whisk together the wet and dry ingredients until just combined.

Bake for 60 minutes or until you press down on the middle and it springs back up.

Let cook completely before removing from pan

To make the glaze add the lemon juice and vanilla to the powdered sugar.

Add the glaze to the cooled bread and stop with sliced almonds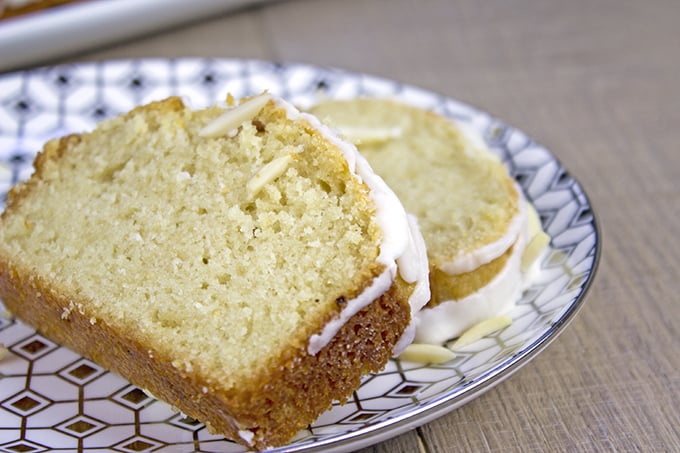 PS This weekend I am at BlogHer Food! So should you be at the conference please stop me and say hi! I am new to blogging conferences and feel a bit like the new kid in school 🙂
Dinner, then Dessert, Inc. owns the copyright on all images and text and does not allow for its original recipes and pictures to be reproduced anywhere other than at this site unless authorization is given. If you enjoyed the recipe and would like to publish it on your own site, please re-write it in your own words, and link back to my site and recipe page. Read my disclosure and copyright policy. This post may contain affiliate links.