Graham Cracker Crust is quick and easy, made with ONLY 3 ingredients and ready in under 20 minutes!
We're always working to bring you the best Pie and Pastry recipes that will be easy and delicious. This pie crust recipe is a a delicious crust from scratch and goes great with our New York Cheesecake, Oreo Chunk Cookie Pie and Easy Key Lime Pie!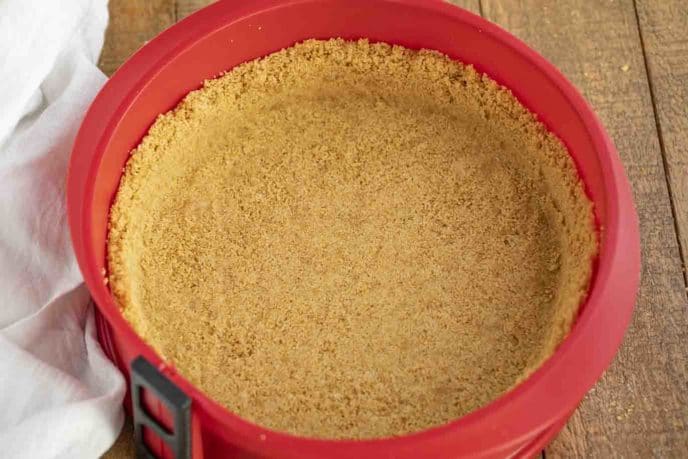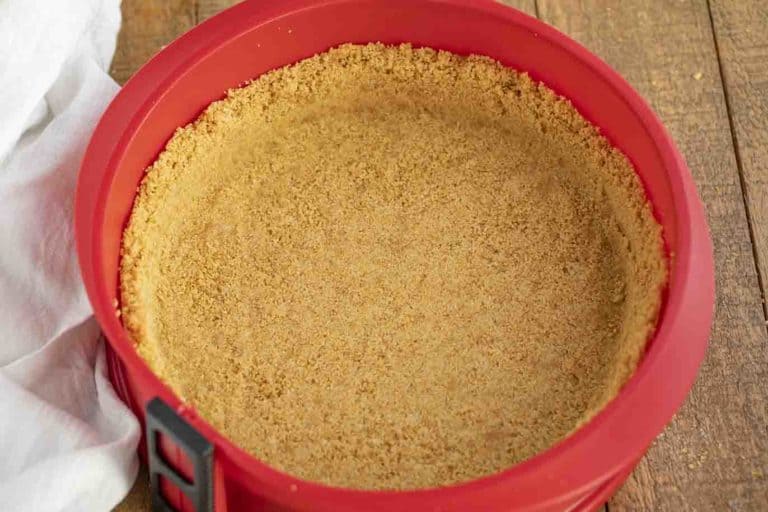 Graham Cracker Crust is a quick and easy pie crust with the crust from scratch. A crust made with graham crackers tastes so much better than store-bought crusts. With a minimal prep time, this recipe only uses three simple ingredients: graham crackers, sugar, and butter, and can be ready in under 20 minutes. It's really versatile and PERFECT for the holidays, or for any special occasions!
The graham cracker is an American food that had its beginnings in the late 19th century. Graham crackers are a very famous snack food all around the USA. Graham crackers are basically a sweetened cracker and made with molasses for a deep earthy flavor. The flour used in graham crackers is very similar in composition to regular whole wheat flour, except it is ground more coarsely giving it the rougher feel found in modern graham crackers.
While it is famous for its use in s'mores and often eaten around a campfire in the middle of the woods, this amazing food is very versatile and is often found as the crust of many cakes and pies. It adds a nice earthy balance to any pie you might find yourself making. Our S'mores Pie recipe is a fun fusion of the classic camping treat and a pie using the graham cracker pie crust.
If you want something with a bit of holiday flavor, you can add a pinch of cinnamon, nutmeg, and allspice to this if you're making a pumpkin dessert, or just make it as-is if you're making something like Banana Cream Pie. Try a variety of different flavored graham crackers to change up the crust flavor. For example, sub the graham crackers for Oreo cookies to make a chocolate Oreo crust.
How to Make Graham Cracker Crust
This recipe is great pressed into a springform pan to make cheesecake, but you can also press the crumbs into a pie plate for traditional pies. You can also use this recipe with disposable tinfoil pie plates so you can make a big batch and freeze for when you need them!
Step 1 – Crush the cracker sheets into crumbs. Use a food processor to quickly make graham cracker crumbs. If you're adding spices, add them at this time. You can also seal the crumbs in a plastic bag and use a rolling pin to crush them.
Step 2 – Combine all the ingredients (graham cracker, 6 tablespoons butter, granulated sugar). Mix the graham cracker crumbs and the sugar together before adding the butter. This makes sure everything is distributed evenly. This should be done in a medium bowl with a spoon or spatula.
Step 3 – Press the crumb mixture into shape into the 9-inch pie plate. Use a large spoon or the bottom of a drinking glass to make sure the crust mixture is pressed tightly into the pan.
Step 4 – Bake until ready!
More Graham Cracker Crust Desserts
Frequently Asked Questions
Does Graham Cracker Crust need to be baked?
You can use this recipe to make both baked and no bake pie crust. If you bake it, the sugar will melt and harden to keep the crust solid. If you do a no-bake crust, the melted butter will solidify to keep everything in place.

If you choose not to bake the crust, transfer it to the refrigerator for at least 1-2 hours before filling. Use a warm knife to make it easier to cut the pie by dipping it into hot water and drying it completely first.
How can I keep Graham Cracker Crust from crumbling?
If your crust is crumbling, make sure that you are baking it for long enough and at the right temperature (use an oven thermometer to check). Also, make sure that you are evenly mixing the crumbs after the butter is added. You need to make sure that everything is wet, or it won't hold.
Why is my Graham Cracker Crust hard?
You may have added too much butter to the recipe, which hardens when refrigerated. It also might be hard because you are pressing too hard when forming the crust to your pan. You want to press hard enough to get a good shape and keep the crumbs in place, but don't go overboard. If the crust is overcooked, try lowering the temperature or shortening the cooking time next time.
What Size Pan Does This Fit?
This recipe will make 1 9-inch pie crust.
Do I have to use White Granulated Sugar? 
That's the kind used here in this recipe. But brown sugar is a great option and adds a lot of yummy flavor. Use white sugar for a sweeter taste, or brown sugar for a deeper toasty flavor (or a blend of both).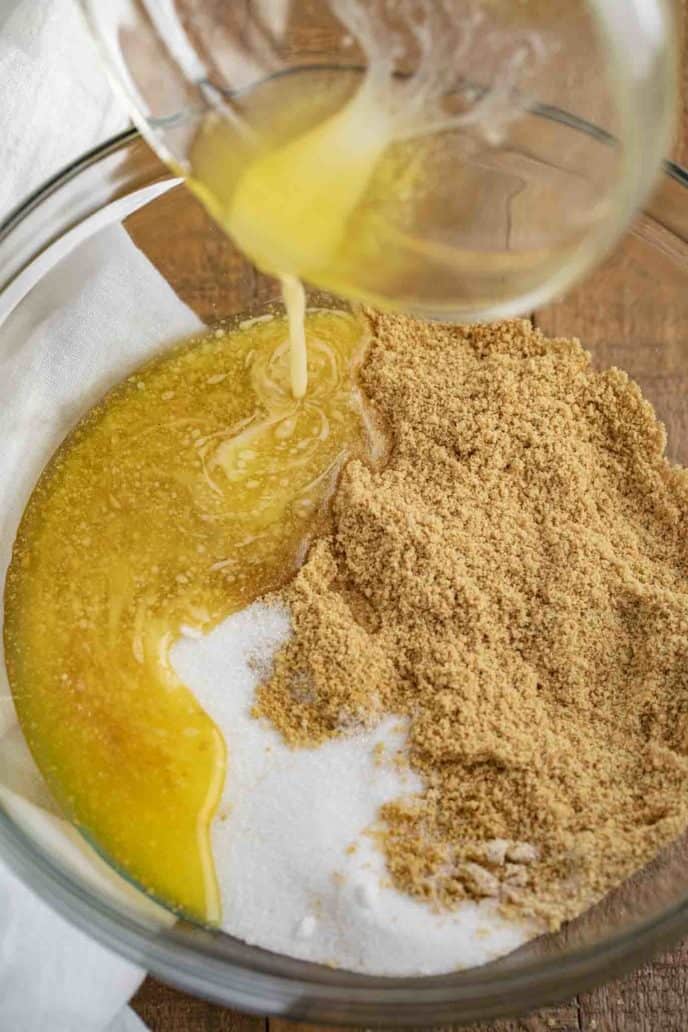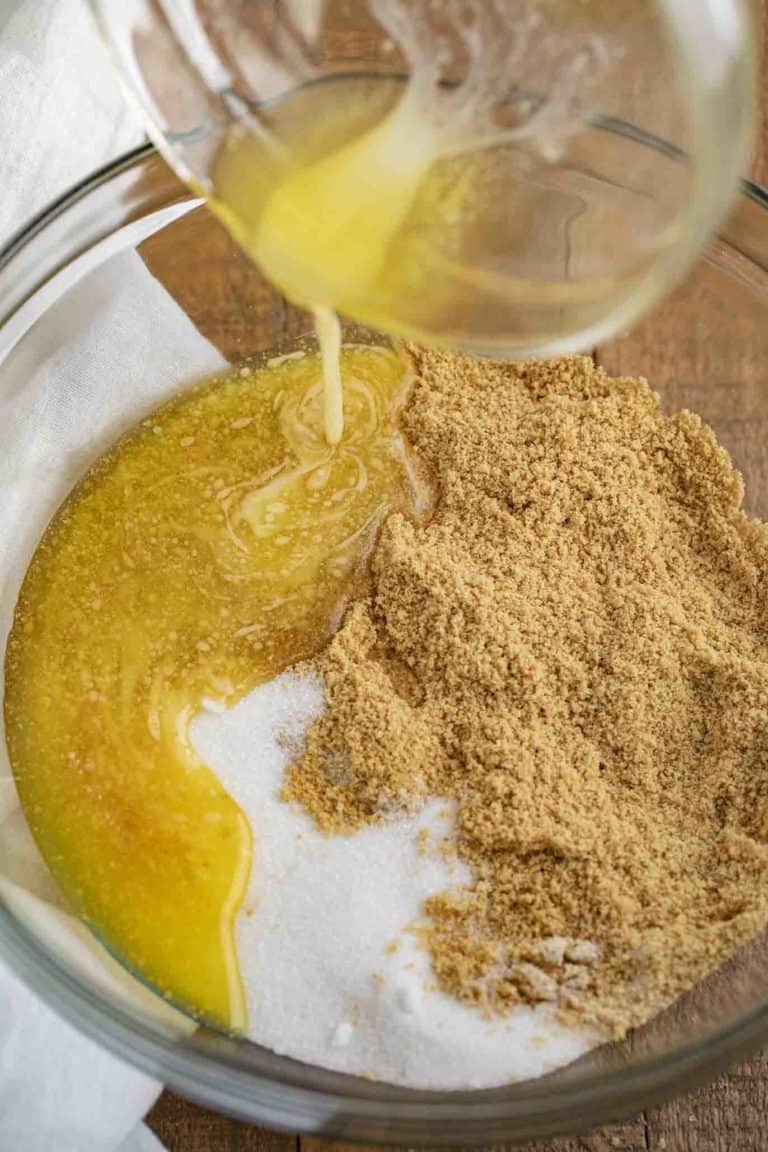 Create a free account to

Save Recipes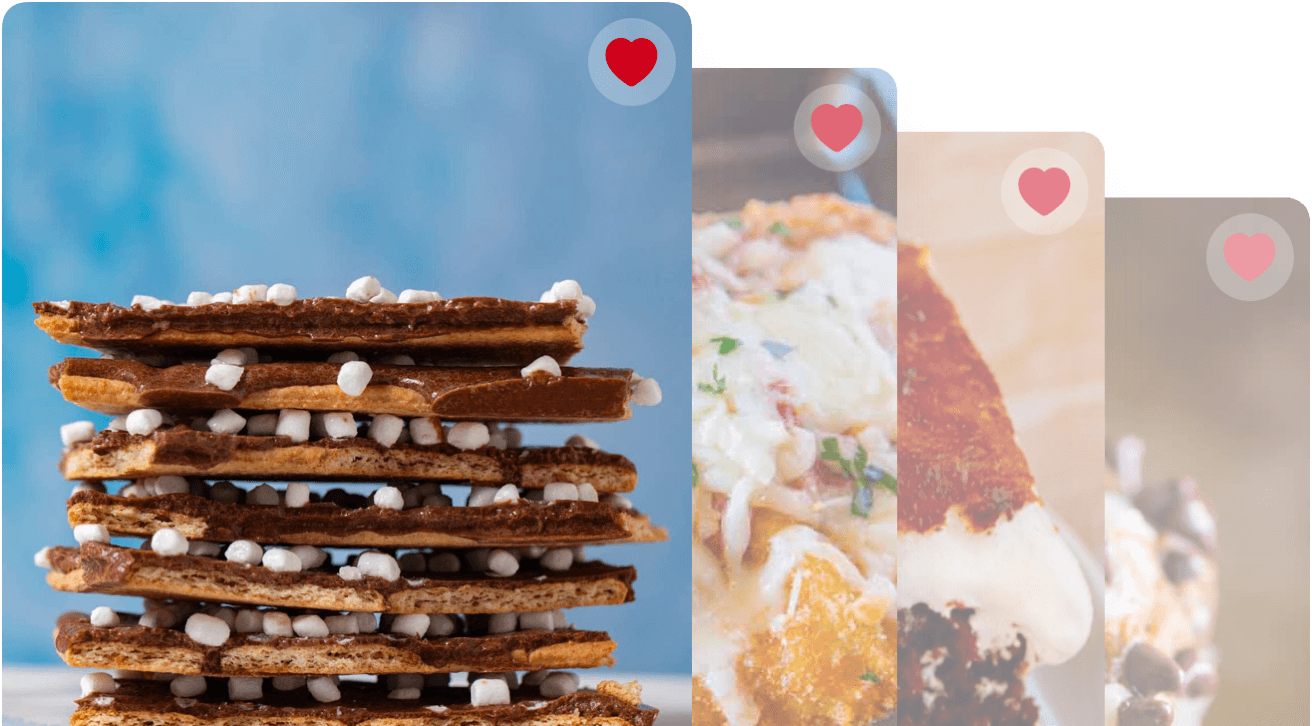 Key Ingredients for Graham Cracker Crust
Each of these ingredients can be found in just about every single grocery store in the USA which makes it super easy to make this recipe from home.
Graham Cracker – Graham crackers can come with cinnamon flavor or honey flavor, or regular. Any of these will be a great choice for your dessert recipe. Just be sure to blend them in a food processor to get a good crumble.
Butter – Use unsalted butter. Make sure that it's real butter for the best flavor. You can use butter substitutes like vegan butter with a 1 to 1 ratio.
Sugar – Regular baking sugar is used in this recipe.
Can I Make Graham Cracker Crust Ahead of Time?
Yes! You can make this Graham Cracker Crust up to 3 days before it is needed for baking. When you are done making it, just make sure to store it in an airtight container in the refrigerator until it is ready to bake. Then you can just pull it out and use it like any other pie crust.
How to Store Graham Cracker Crust
Serve: Graham Cracker Crust itself is safe at room temperature, but if you use any kind of dairy based pie filling, you will want to refrigerate it after no longer than 2 hours.
Store: You can store Graham Cracker Pie Crust in the refrigerator, covered with plastic wrap, for up to 3 days.
Freeze: You can store Graham Cracker Pie Crust crust in the freezer for 2-3 months. If you have multiple pie crusts, use a sheet of parchment paper between each one to avoid them sticking together.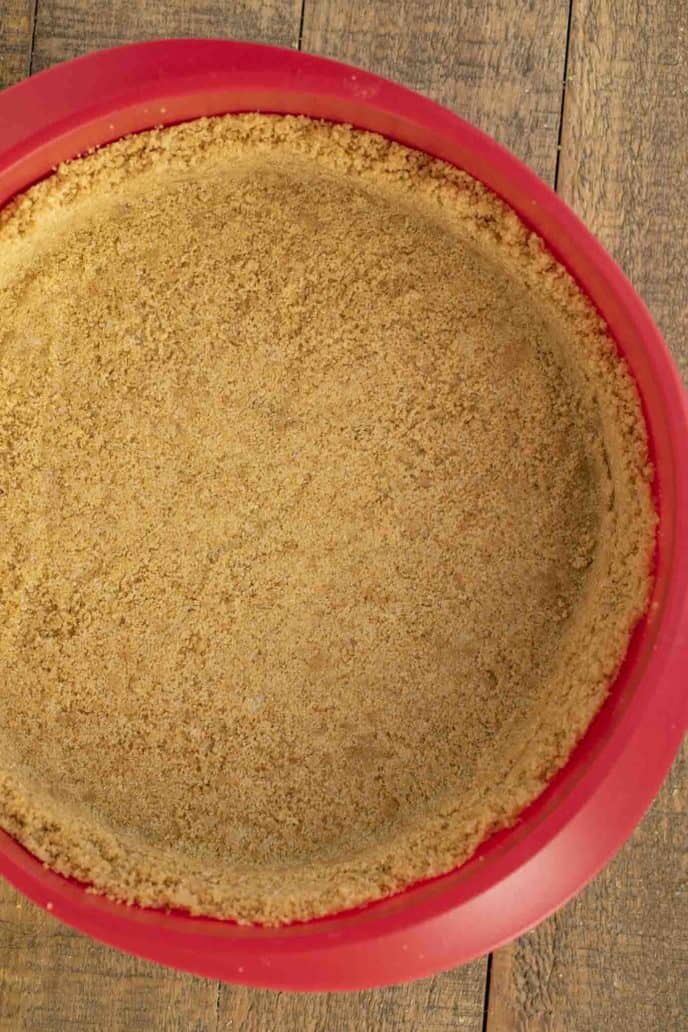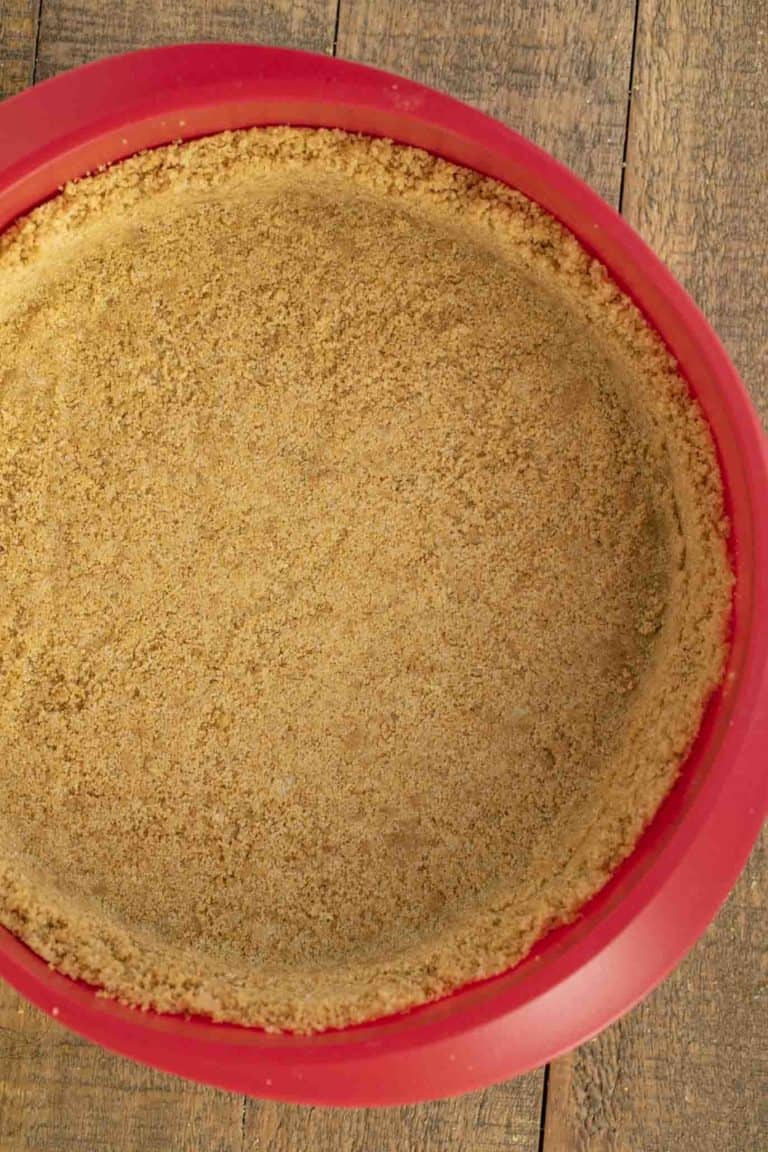 Ingredients
1 1/2

cups

graham cracker crumbs

, 12 full crackers

1/3

cup

sugar

6

tablespoons

unsalted butter

, melted
Instructions
Preheat oven to 350 degrees and grease a pie plate or springform pan.

Mix graham crackers, sugar, and melted butter in a medium sized bowl, then press into an even later in the prepared pie plate or springform pan.
Notes
Note: click on times in the instructions to start a kitchen timer while cooking.
Nutrition
Calories:
174
kcal
|
Carbohydrates:
20
g
|
Protein:
1
g
|
Fat:
10
g
|
Saturated Fat:
5
g
|
Cholesterol:
22
mg
|
Sodium:
105
mg
|
Potassium:
27
mg
|
Sugar:
11
g
|
Vitamin A:
260
IU
|
Calcium:
15
mg
|
Iron:
0.6
mg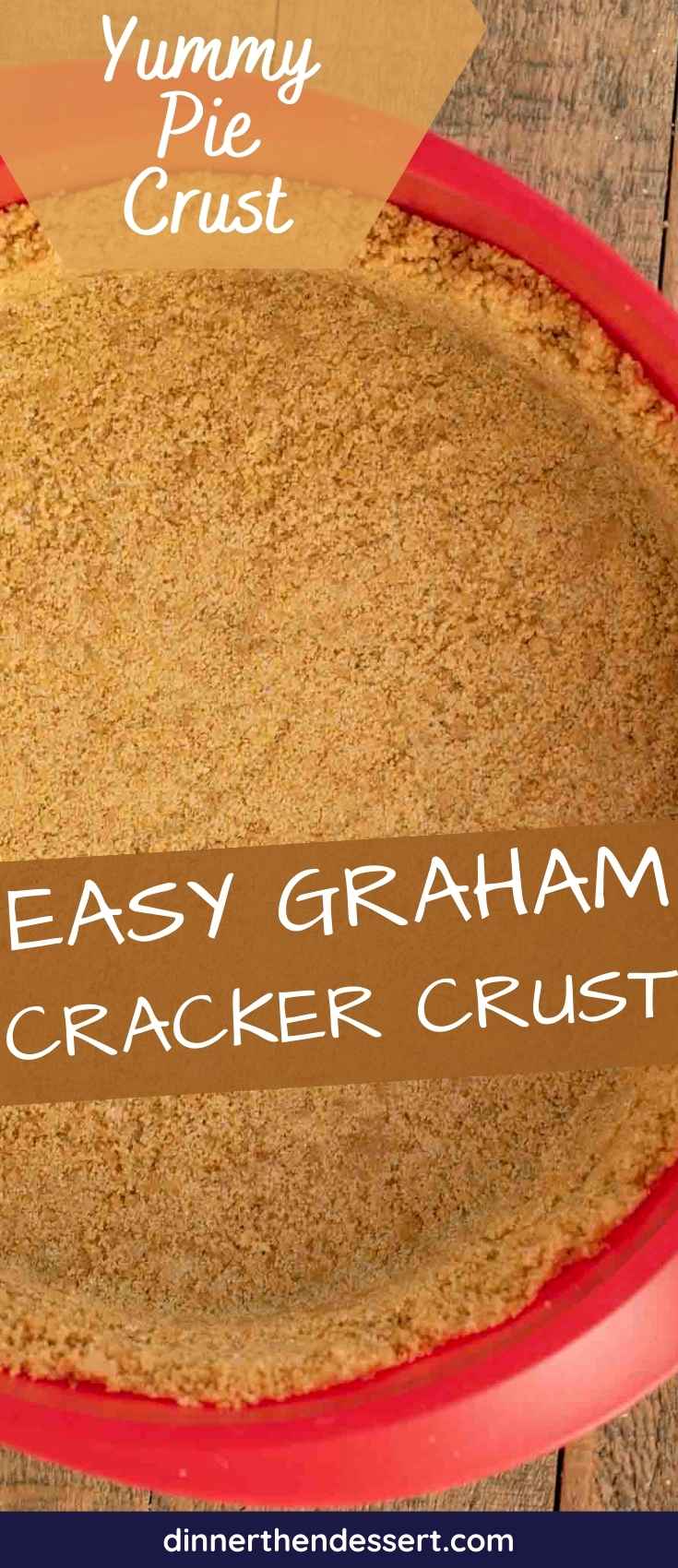 Photo used in a previous version of this post.