Mixed Berry Pie with homemade crust, blueberries, raspberries and blackberries together make the most amazing berry pie you've ever tasted!
We love fruit desserts almost as much as we love Chocolate Dipped Strawberries. If you love Strawberry Shortcake or Apple Crisp, you will love this classic fruit dessert heading your way.
Fruit Pies are the beginning of spring, and this Mixed Berry Pie is your official beckoning for spring to come and all the snow and winter weather to take a break.
There are debates over which fruit pies are best, and there really is no winning because they're all so amazing. When the weather starts to warm up and your market is full of fresh delicious berries, this pie will make them shine in the most sweet delicious way possible.
Top this recipe with my go-to Whipped Cream, Homemade Cool Whip, Homemade Vanilla Ice Cream, Lemon Curd or even just a large bowl of mixed berries.
Frequently Asked Questions
What berries are best for Triple Berry Pie?
We love blackberries, blueberries and raspberries, but any berry will do for this pie. You can certainly use strawberries but be sure to cut them into similar sized pieces.
Can you use frozen berries in this pie?
Frozen fruit has a much higher water content than fresh fruit and the physical structure of the fruit has been compromised by the freezing process. You can test this by letting a blueberry defrost on a plate, when it defrosts gently it looks like a deflated balloon whereas a fresh blueberry looks firm and plump.

When you bake a pie with fresh fruits your structure of your pie with reflect this in it's firmness and integrity. You will need more cornstarch in a pie made without fresh berries.
How do I make the perfect pie crust?
You can certainly use a pre-made pie crust for your pie recipes. The easiest trick is to use a pre-made bottom crust and top your pie with crumbles. However, making your own crust is as easy as assembling the crust ingredients.

A good pie crust is made by keeping everything ice cold. Cold butter and ice water, you can even keep your flour and pie dish in the freezer just to keep things as far from room temperature as possible. Once the ingredients head into the food processor, keep everything moving quickly with pulses instead of letting the motor run because the motor will heat up the food processor.
How do I make a lattice patten with pie crust?
Cut the crust into strips about ½ inch wide by 8 inches long. Place half the strips on the pie about ½ inch apart from each other. Fold every other strip back about halfway back from the pie's center. Place one strip down in the middle of the pie, opposite to the other ones. Fold the original strips back down, then fold up all the other strips. Repeat the process placing a new strip down opposite to the other strips until all the strips have been used.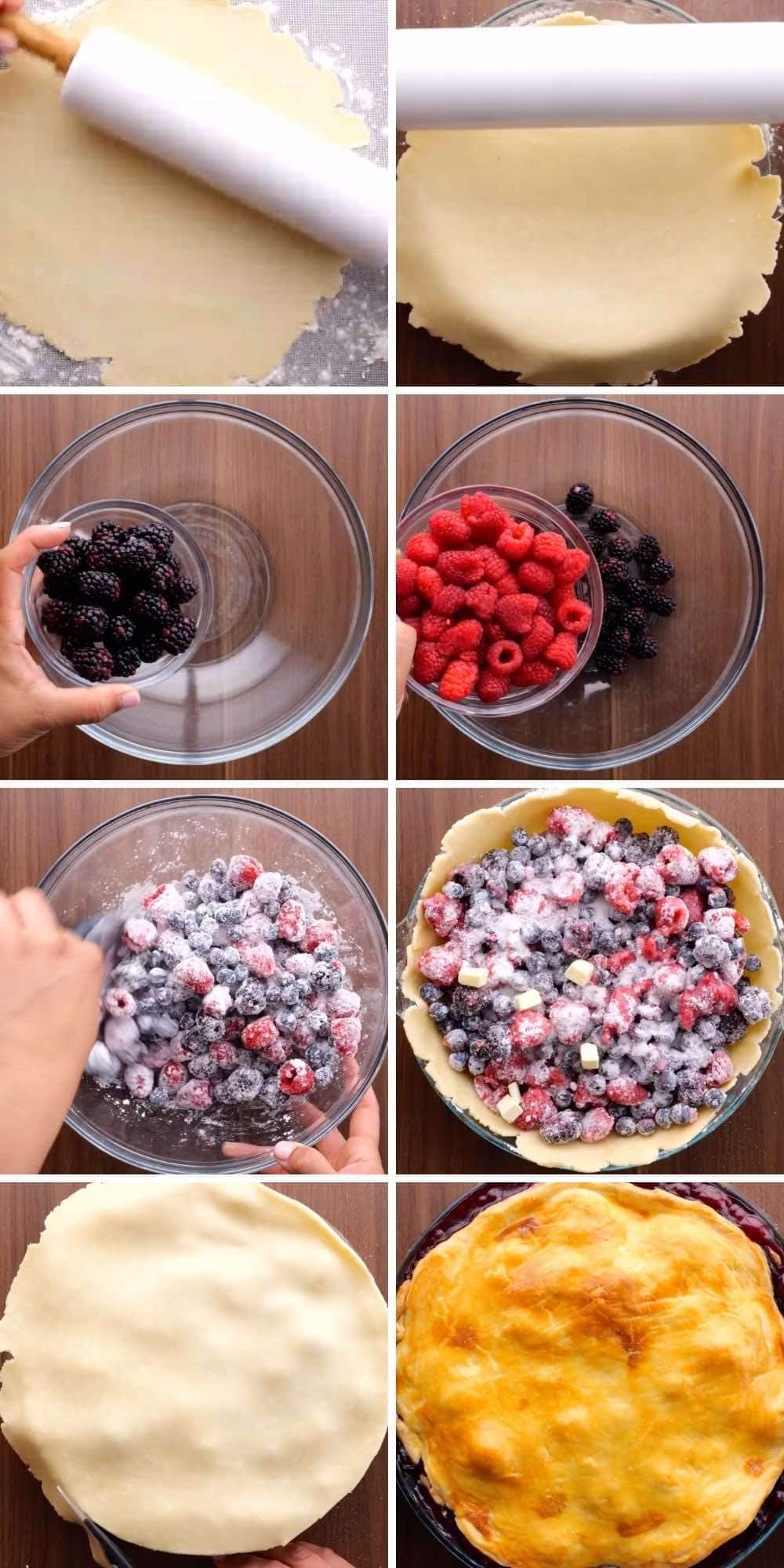 Create a free account to

Save Recipes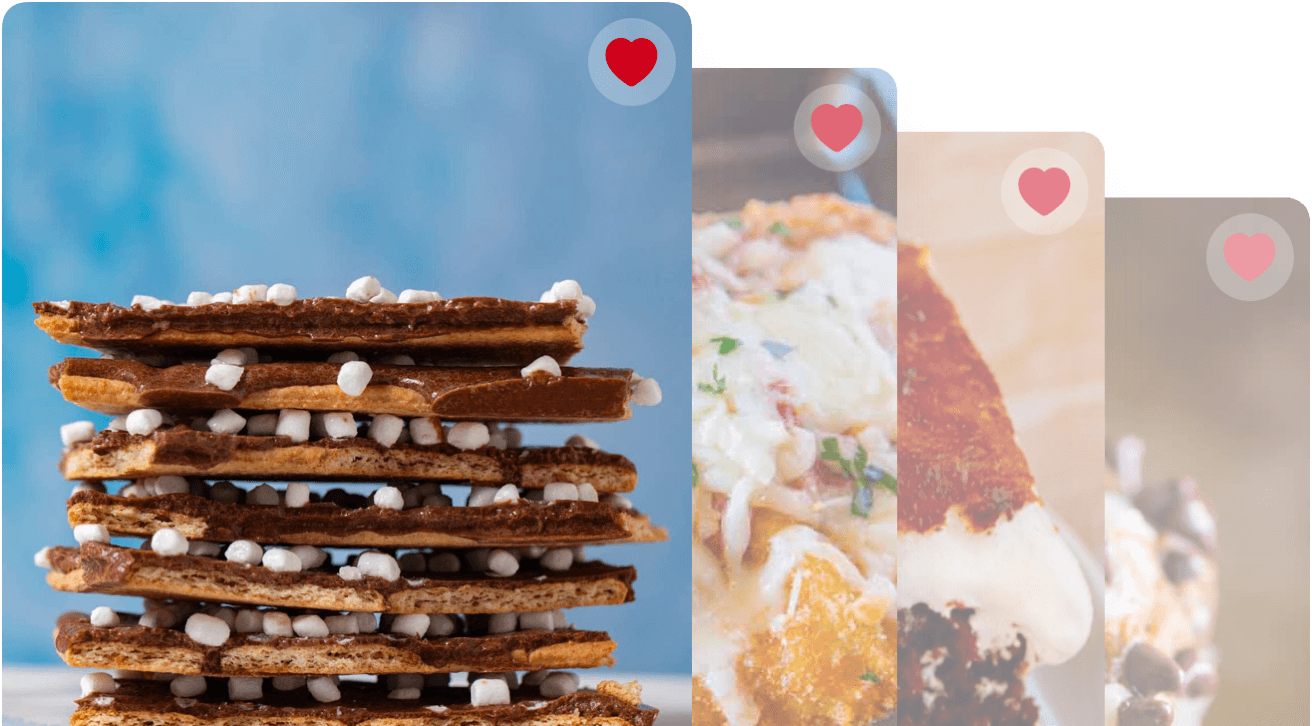 Recipe for a Double-Crust Pie Crust
2 cups flour flour
½ teaspoon salt
2/3 cup butter, frozen and cubed
6 tablespoons ice water
Add the ingredients to a food processor and pulse until the ingredients just come together in pea sized crumbles.
Form into two even balls, knead into a ball quickly and wrap in saran wrap and place in fridge until needed.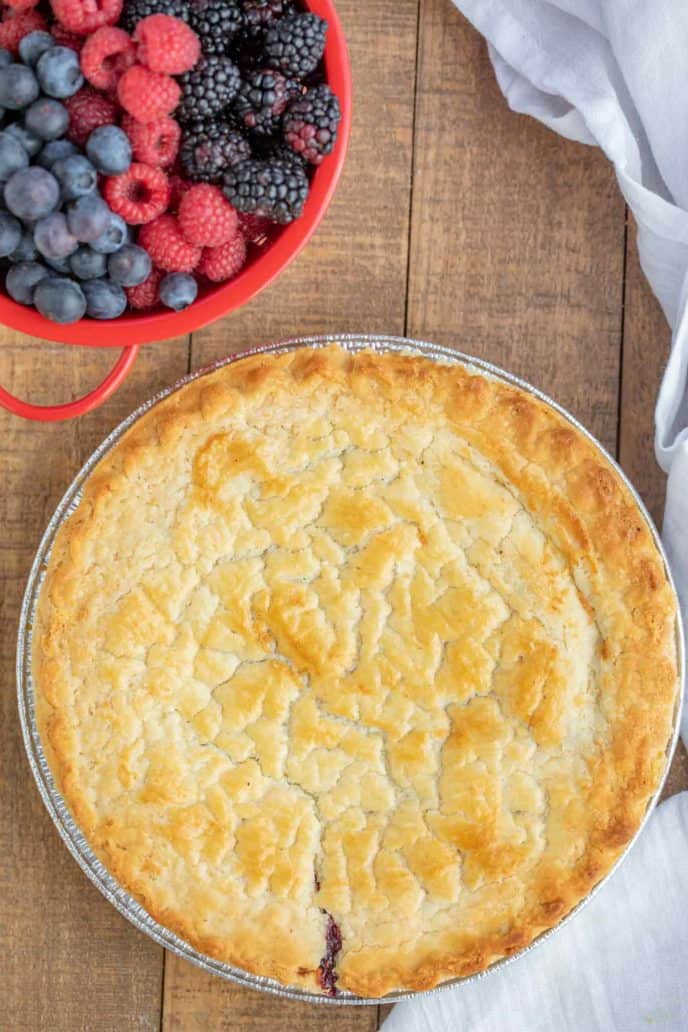 Tips for Making the Perfect Mixed Berry Pie
You can add additional sugar if your berries are tart, but if you are in season they should be sweet enough as written.
If you use frozen fruit, you can add a bit of brightness to the flavors by adding 2 tablespoons of lemon juice or lemon zest to the recipe (remember you will need to increase the amount of cornstarch by 2 additional tablespoons).
If you feel you may overflow your pie pan, you can line a baking sheet with a piece of parchment paper and bake this pie on top of the paper lined pan.
Pie Dough is best kept refrigerated until it is rolled out just before baking to make sure the butter inside the crust doesn't get warm.
Make sure to keep the top crust refrigerated until you are ready to top your pie.
Coarse sugar and turbinado sugar are perfect toppings for a pie for that crispy sugary topping.
An egg wash or milk brushed on top of the top crust also makes for a glistening shiny top like in the photos.
The pie filling for this berry pie recipe is made with cornstarch instead of flour to avoid a gummy texture. If you don't have cornstarch you can use Wondra which is a finer flour.
In a pinch use flour, but these berries won't release as much liquid as apples or peaches would so it may not mask the flavor as much as those pies would.
We use an all-butter recipe for this pie crust, but if you prefer shortening you can swap the butter out for shortening instead. It is still best to keep the shortening as cold as possible.
How to Store Mixed Berry Pie
Serve: You'll want to let the pie cool completely before slicing to avoid it being too runny.
Store: Store covered Mixed Berry Pie at room temperature up to 2 days, or in the refrigerator up to 5 days.
Freeze: It is not recommended to freeze this Berry Pie recipe, as it will compromise the quality of the fresh berry filling.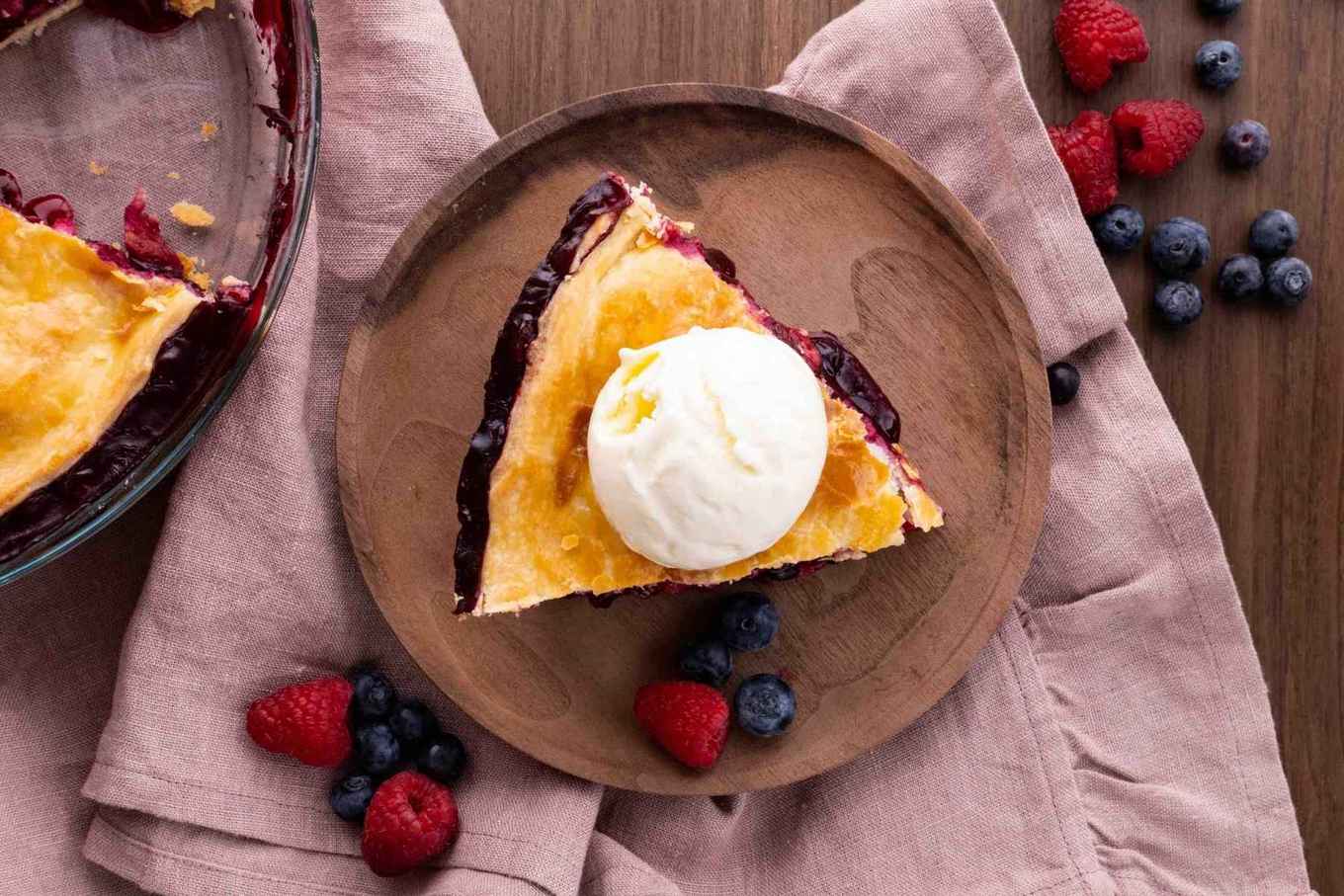 Ingredients
2

pie crusts

, (recipe below)

1

large

egg

, beaten

1

cup

fresh blackberries

2

cups

fresh raspberries

1 1/2

cups

fresh blueberries

1/2

cup

sugar

3

tablespoons

cornstarch

2

tablespoons

unsalted butter

, chopped
Instructions
Place the first pie crust in the bottom of the pie plate and brush the pie crust in the pie plate with half the egg.

Toss the fruit with the sugar and cornstarch until no visible cornstarch is left then pour it in the pie crust and top with the butter.

Top with the second pie crust, trim excess, brush with the remaining amount of egg.

Bake at 425 degrees with the edges covered in foil for

15 minutes

then reduce to 375 degrees, remove the foil, and bake for an additional

30 minutes

before cooling completely.
Notes
RECIPE FOR A DOUBLE-CRUST PIE CRUST: 2 cups flour flour ½ teaspoon salt 2/3 cup butter, frozen and cubed 6 tablespoons ice water Add the ingredients to a food processor and pulse until the ingredients just come together in pea sized crumbles. Form into two even balls, knead into a ball quickly and wrap in saran wrap and place in fridge until needed.
Nutrition
Calories:
305
kcal
|
Carbohydrates:
39
g
|
Protein:
3
g
|
Fat:
14
g
|
Saturated Fat:
5
g
|
Cholesterol:
33
mg
|
Sodium:
184
mg
|
Potassium:
72
mg
|
Fiber:
1
g
|
Sugar:
15
g
|
Vitamin A:
140
IU
|
Vitamin C:
2.7
mg
|
Calcium:
14
mg
|
Iron:
1.3
mg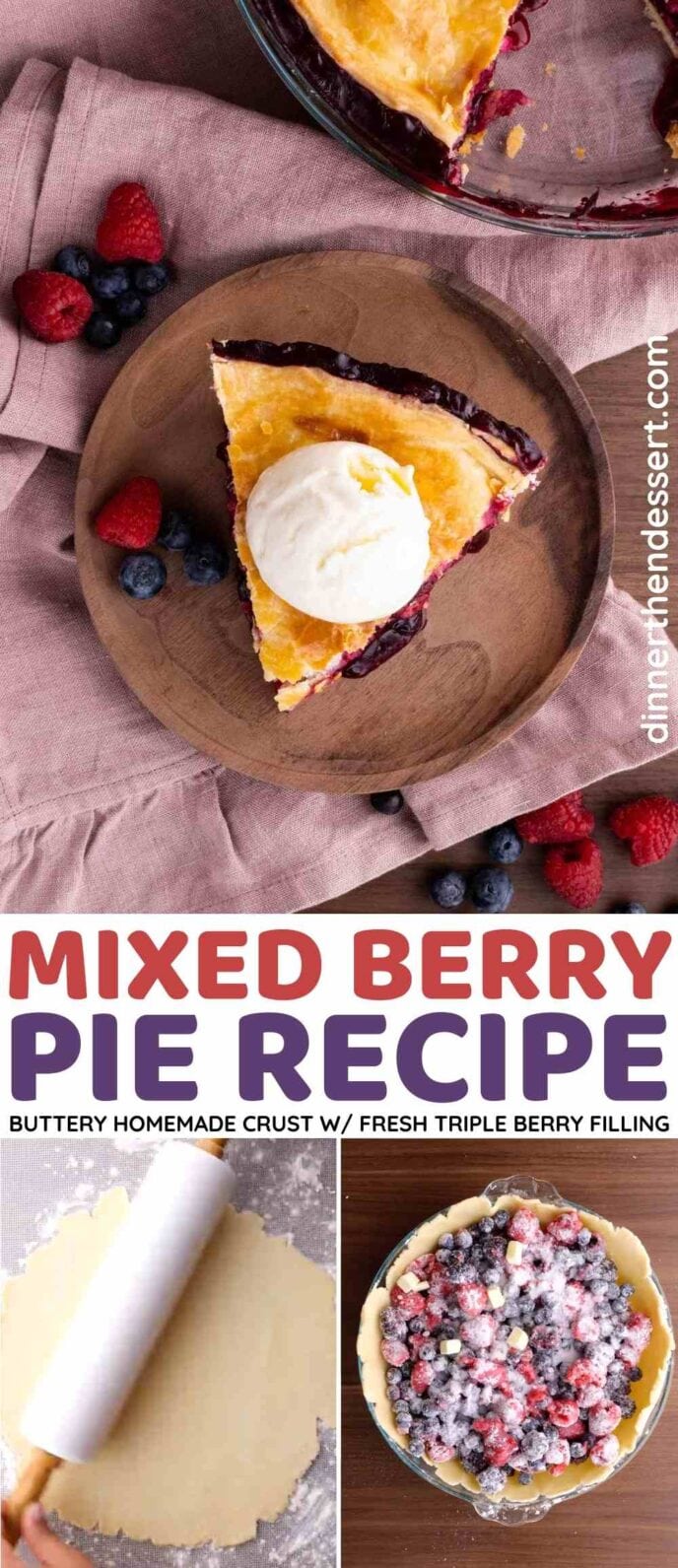 Photos used a previous version of this post.