Perfect Pie Crust is an easy, buttery, flaky pie crust great for holiday baking. Made with simple ingredients of butter, flour, salt, and water.
There are so many Delicious Dessert Recipes, that call for pastry crust. Fortunately, it's surprisingly easy to make a Homemade Pie Crust recipe. Then you can keep the perfect crust in the fridge or freezer to have ready the next time you make one of your favorite pies like Peach Pie, Apple Pie, and Buttermilk Pie.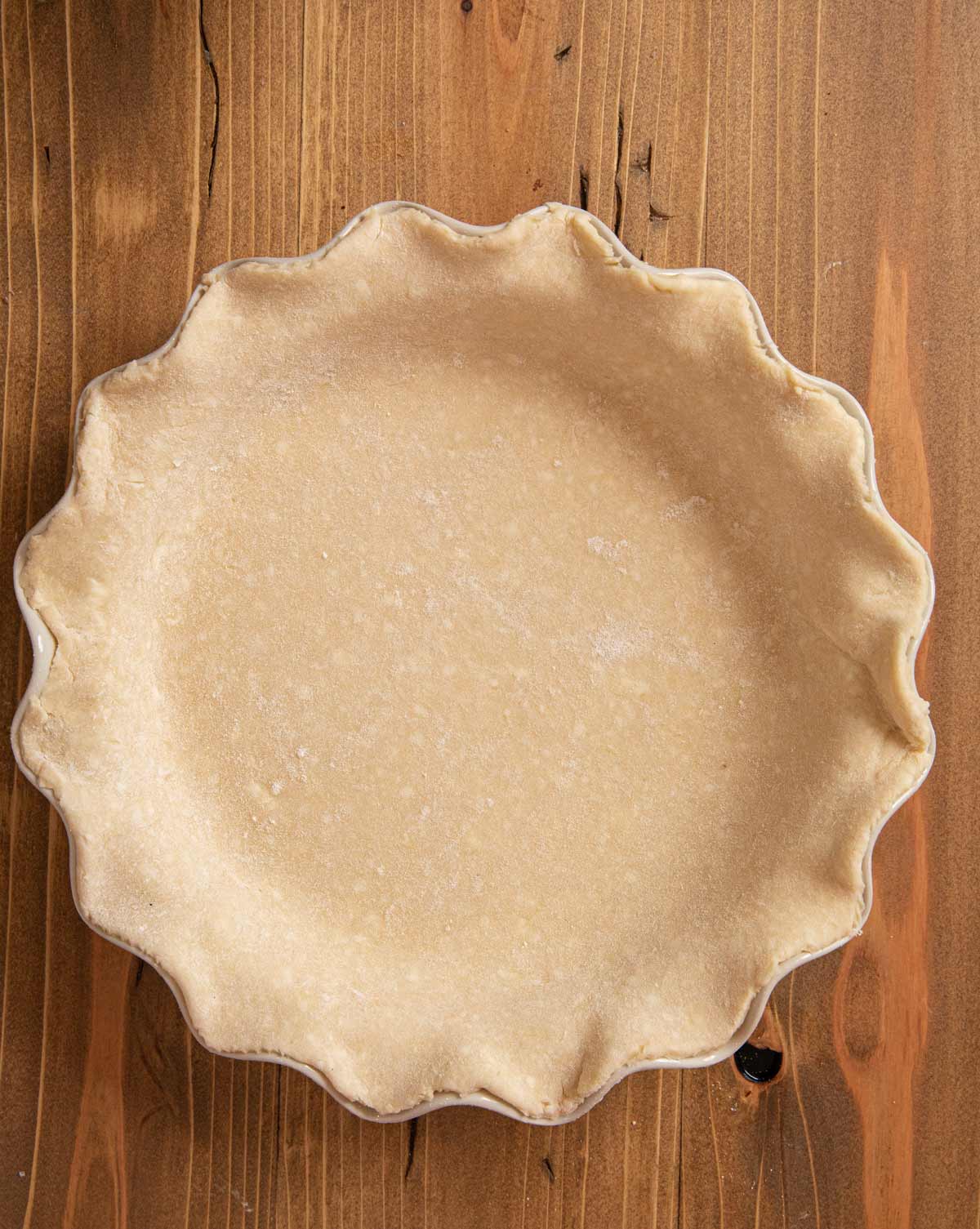 PERFECT PIE CRUST
A nice pastry crust, like this one, is essential to so many favorite Baked Goods like Sweet Pies, and Tart Recipes. You can even use it for a savory pie crust in Chicken Pot Pie. This easy Homemade Pie Dough makes a full pie crust recipe perfect for a 9-inch pie plate. It's an easy flaky pie crust that you can use for a blind bake pie, for a baked crust that's crisp and buttery.
If you want a double crust, double the ingredients for the butter pie crust. Divide the dough for the double crust in half and roll one out for the bottom crust and one for the top.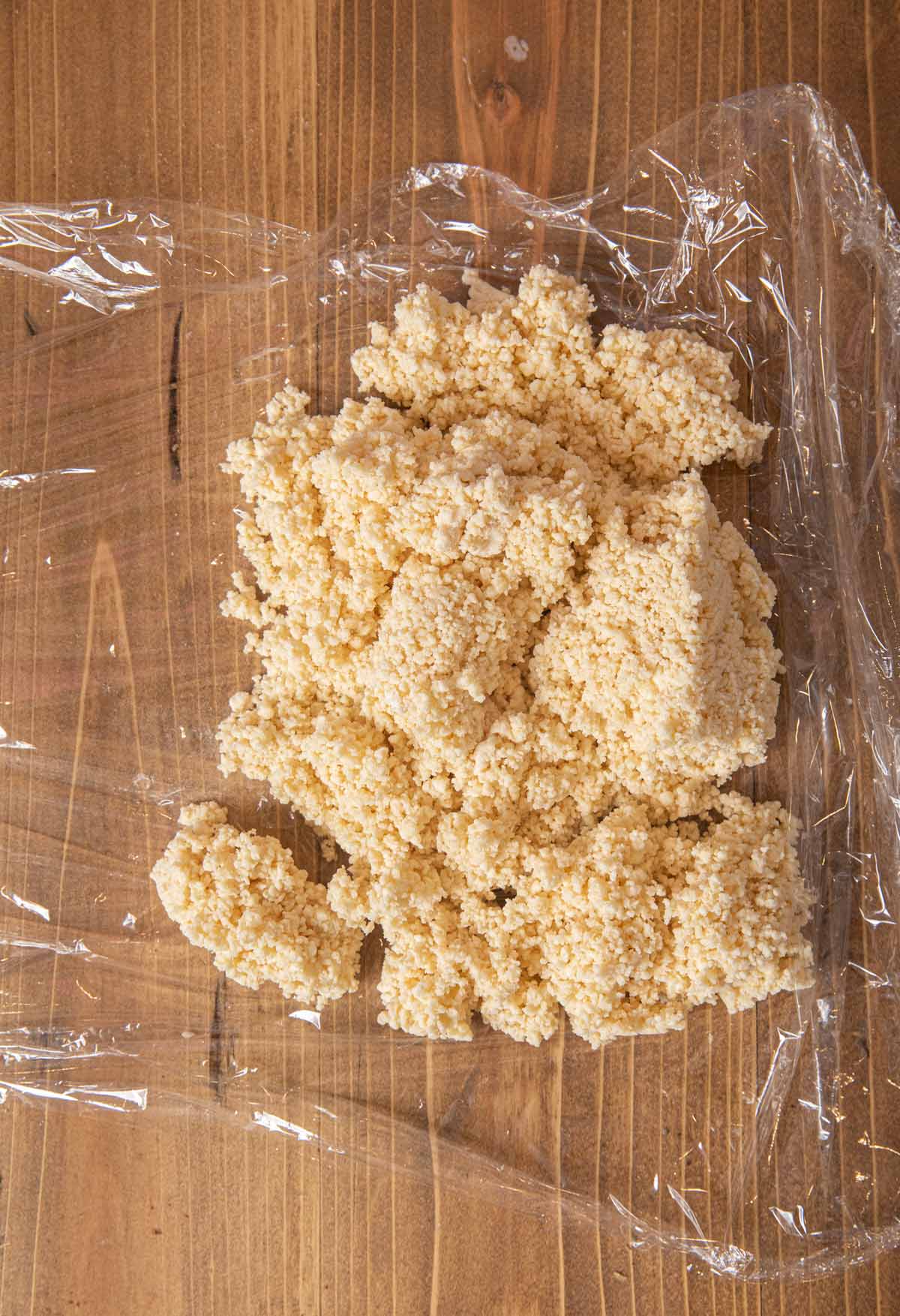 For a more beautiful presentation crimp the excess dough around the edge of the pie, or make extra dough for a lattice top. To make a lattice top make extra for the top dough, then cut it into strips once it's rolled out. Lay the strips out in crisscrossing straight lines over the pie.
DELICIOUS PIE RECIPES
TIPS FOR MAKING THE PERFECT PIE CRUST
Food processor: Add the flour, salt, and butter cubes to your food processor and pulse together. Through the top chute add cold water until the flour-butter mixture is in coarse crumbs.
Bowl: If you don't have a food processor, you can combine the dough in a large bowl. Add the dough ingredients to a mixing bowl use a pastry blender or pastry cutter to combine the mixture. Then add tablespoons ice water and continue combining. If the ingredients stick to the side, use a rubber spatula to get them back in the mixture.
Chill time: Lay plastic wrap out on a countertop, and move the dough to the plastic wrap. Press the consistent dough quickly into a ball in the plastic wrap. Be careful not to let the dough warm up. Refrigerate dough for at least 4 hours.
Roll dough: When you're ready to bake a pie, take the chilled dough from the fridge. Prepare a floured surface like a countertop, floured board, or baking sheet. Layout the dough with clean hands, then use a rolling pin to flatten it out into a circle.
Bake time: Place the rolled dough in the pie pan and fill it with your pie filling. The baking time will depend on the kind of pie and oven temperature.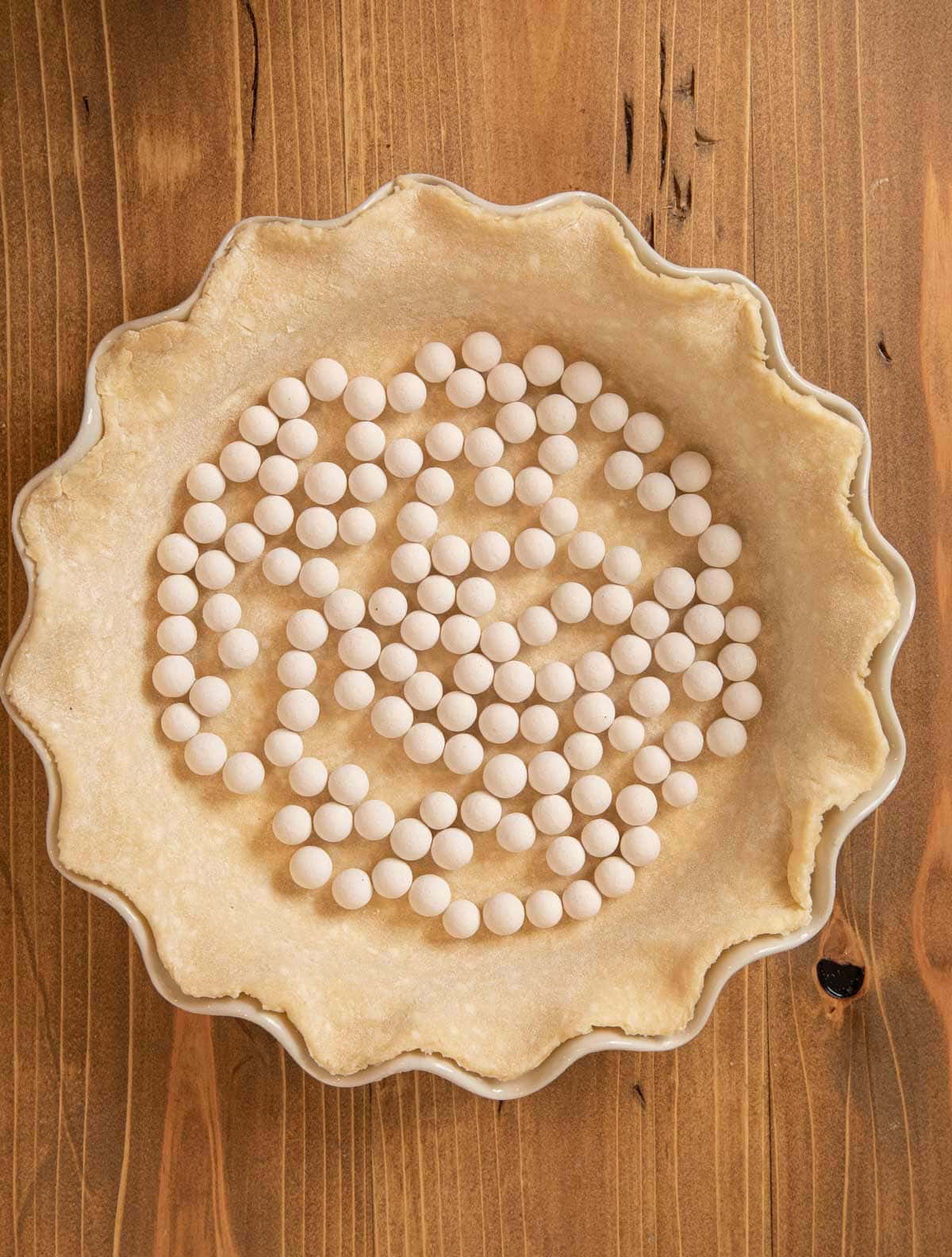 VARIATIONS ON PIE CRUST
Flour Mixture: You can change this Pie Crust depending on what kind of wonderful flour you use. Instead of all-purpose flour, you can use wheat flour or white wheat flour. To make a gluten-free pie crust or gluten-free tart crust using almond flour. Almond flour is an easy replacement for regular flour. Instead of almond flour, you could also use oat flour, coconut flour, or arrowroot flour.
Flavor: For some extra flavors try sprinkling kosher salt and sea salt over the dough. You can also sprinkle over a tablespoon sugar for extra sweetness. Another option is mixing in a little lemon juice with the dough. Adding in a little lemon juice will especially taste great if you're making the Pie Crust for a fruit pie. You can also add a little vanilla extract or an easy almond flavor with almond extract.
Butter: Instead of regular butter, you can use nut butters like cashew butter or coconut butter to replace it.
Egg wash: To give the Pie Crust a finished look use a pastry brush to add an egg wash to the crust. Remove the egg yolk, and whisk together the egg white to make the egg wash.
MORE PASTRY AND PIE RECIPES
HOW TO STORE PIE CRUST
Serve: You want the Pie dough kept nice and cool so the butter bakes properly. Because of this, you shouldn't leave it out at room temperature before baking.
Store: To keep the Pie Crust in the fridge it will store well for 3-5 days. Store the dough in plastic wrap, or an airtight Ziploc bag.
Freeze: In order to make the Pie Crust well in advance, you can store it in the freezer. Keep the dough in a Ziploc bag or wrapped tightly in aluminum foil for up to 3 months.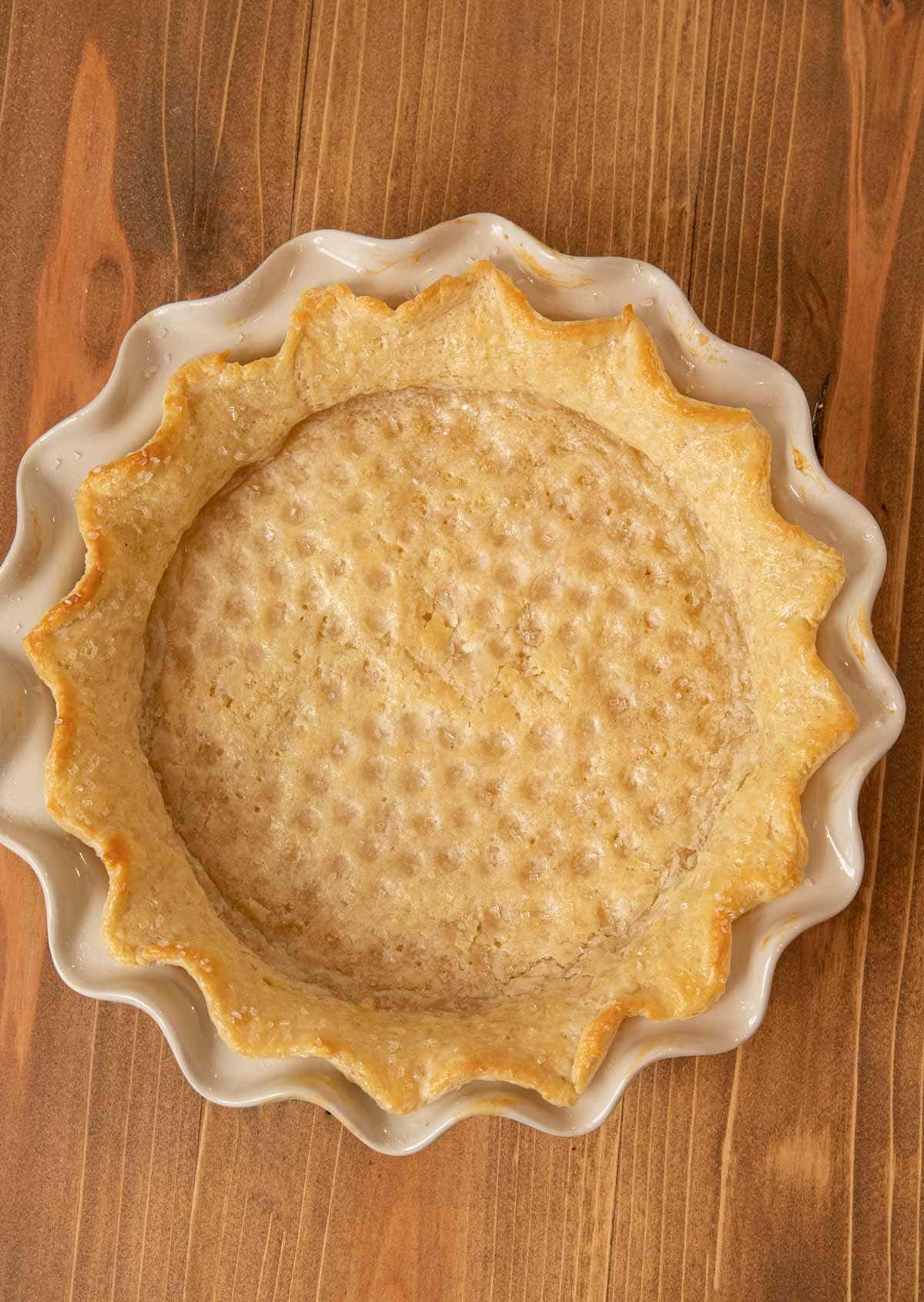 Recipe
Save
Perfect Pie Crust
Yield:

8

Servings

Prep Time:

10

minutes

Total Time:

4

hours

10

minutes

Course: Dessert
Cuisine: American
Author: Sabrina Snyder
Perfect Pie Crust is an easy, buttery, flaky pie crust great for holiday baking. Made with simple ingredients of butter, flour, salt, and water.
Ingredients
1 1/4

cups

flour

1/4

teaspoon

salt

1/2

cup

unsalted butter

, frozen and diced

1/4

cup

ice water
Instructions
Note: click on times in the instructions to start a kitchen timer while cooking.
Add the flour, salt, and butter to a food processor and pulse, adding the water (I spoon the water directly out of the cup of ice water directly into the food processor to make sure it is still ice cold) through the chute one tablespoon at a time until the dough begins tiny crumbles (don't let it become a ball).

Empty it into a sheet of plastic wrap and press it quickly into a ball (you don't want the heat of your hands to melt the butter) and refrigerate for 4 hours before rolling it out to use.
Nutrition Information
Yield: 8 Servings, Amount per serving: 173 calories, Calories: 173g, Carbohydrates: 15g, Protein: 2g, Fat: 12g, Saturated Fat: 7g, Cholesterol: 31mg, Sodium: 75mg, Potassium: 21mg, Fiber: 1g, Sugar: 1g, Vitamin A: 355g, Calcium: 6g, Iron: 1g
All images and text © for Dinner, then Dessert.
Keyword:
Perfect Pie Crust
Save