Pumpkin Pie is a classic fall favorite, with pumpkin puree, eggs, ground cinnamon, ground ginger, ground nutmeg, and more in just one bowl! Done in under an hour!
When Fall time is here, that means it's time to make the most iconic Autumn pie. If you like this Pie Recipe, you'll absolutely love our gooey Pecan Pie, delightful Apple Crisp Pie, and iconic Mississippi Mud Pie.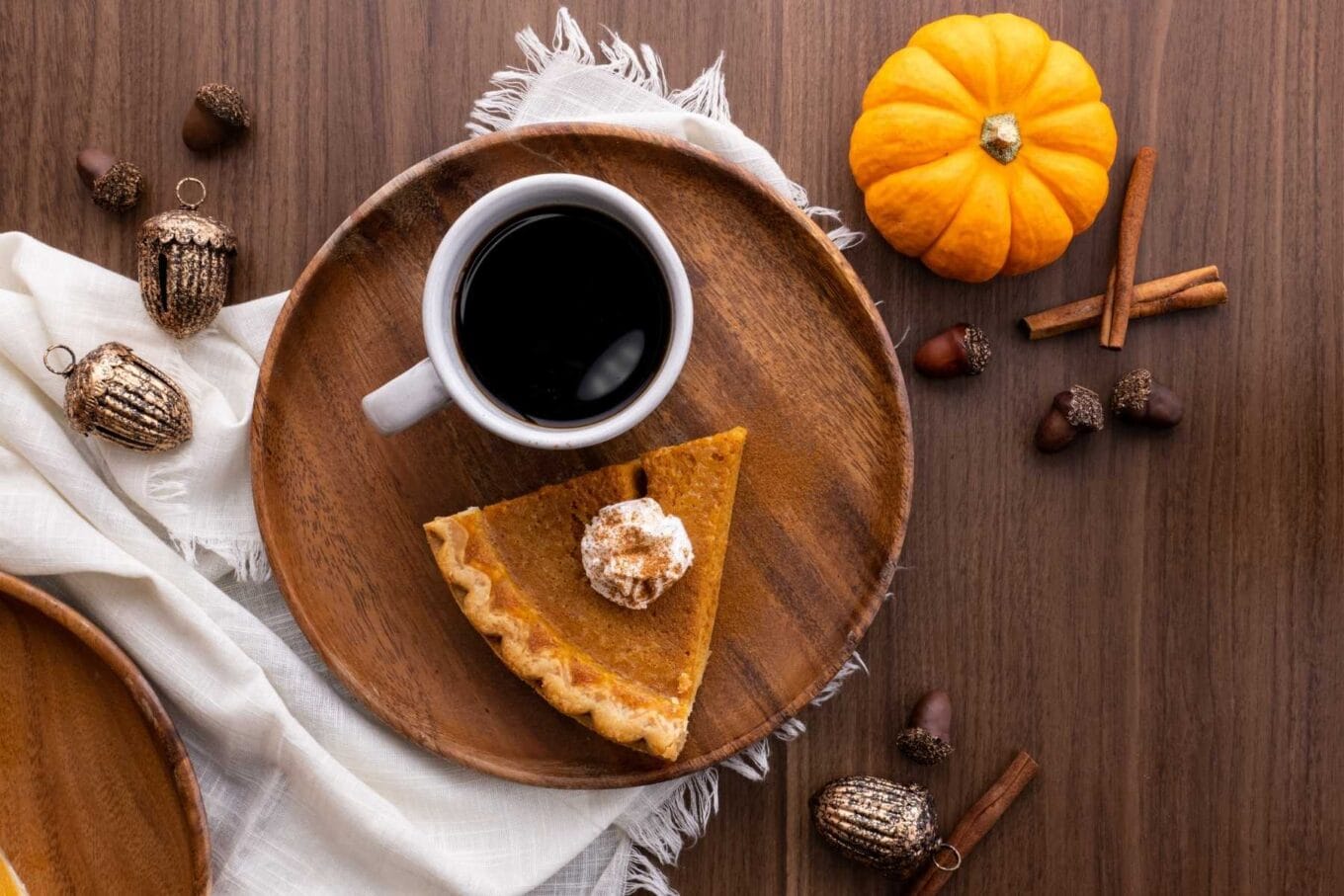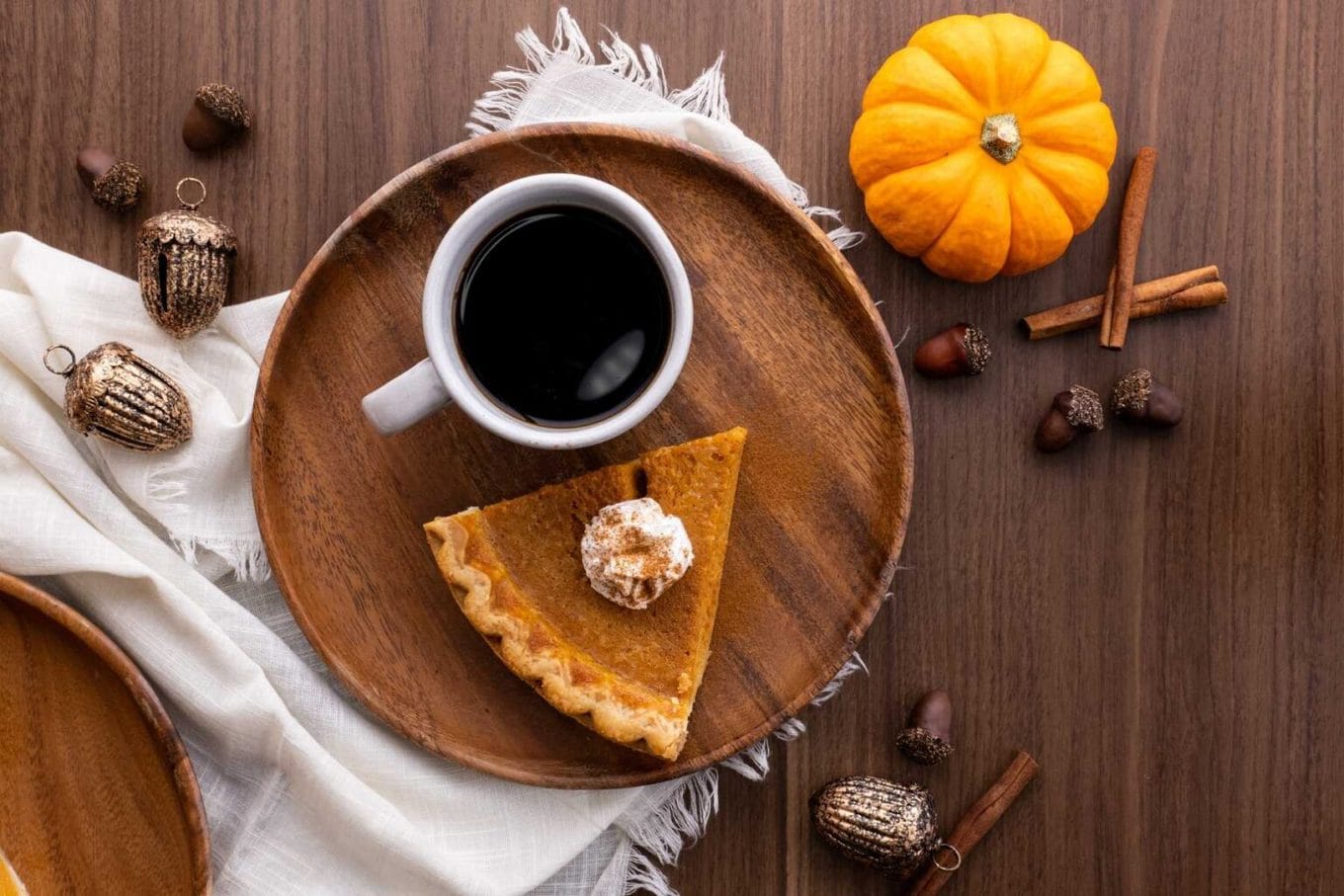 Traditional Pumpkin Pie is a rich, creamy dessert that has all of the crisp, savory flavors of Autumn. Add a spoonful of whipping cream, snuggle up with a fuzzy blanket and enjoy a slice of pie.
If this is your first time making your own homemade Pumpkin Pie, this is the perfect recipe for you. The steps are easy to follow, the prep is simple, the cook time is reasonable, and you end up with a rich perfect Pumpkin Pie that's perfect for family gatherings, Thanksgiving dinners, or cozy get-togethers with friends.
The pie filling is really easy to make and, if using a pre-made pie crust for this recipe, all you have to do to make the pie is to mix together pumpkin puree, eggs, evaporated milk, ground cinnamon, ginger, salt, and ground nutmeg. Then, you pour the Pumpkin Pie filling into the crust and put the crust in the pie pan. Smooth the pumpkin filling with a spatula and work out any bubbles before putting it into the oven and letting it cook. Once the crust is crunchy and golden brown, pull it out and let the pie cool on a wire rack.
Top this classic Pumpkin Pie recipe with some delicious, Homemade Whipped Cream (or Homemade Cool Whip) with a side of Homemade Vanilla Ice Cream.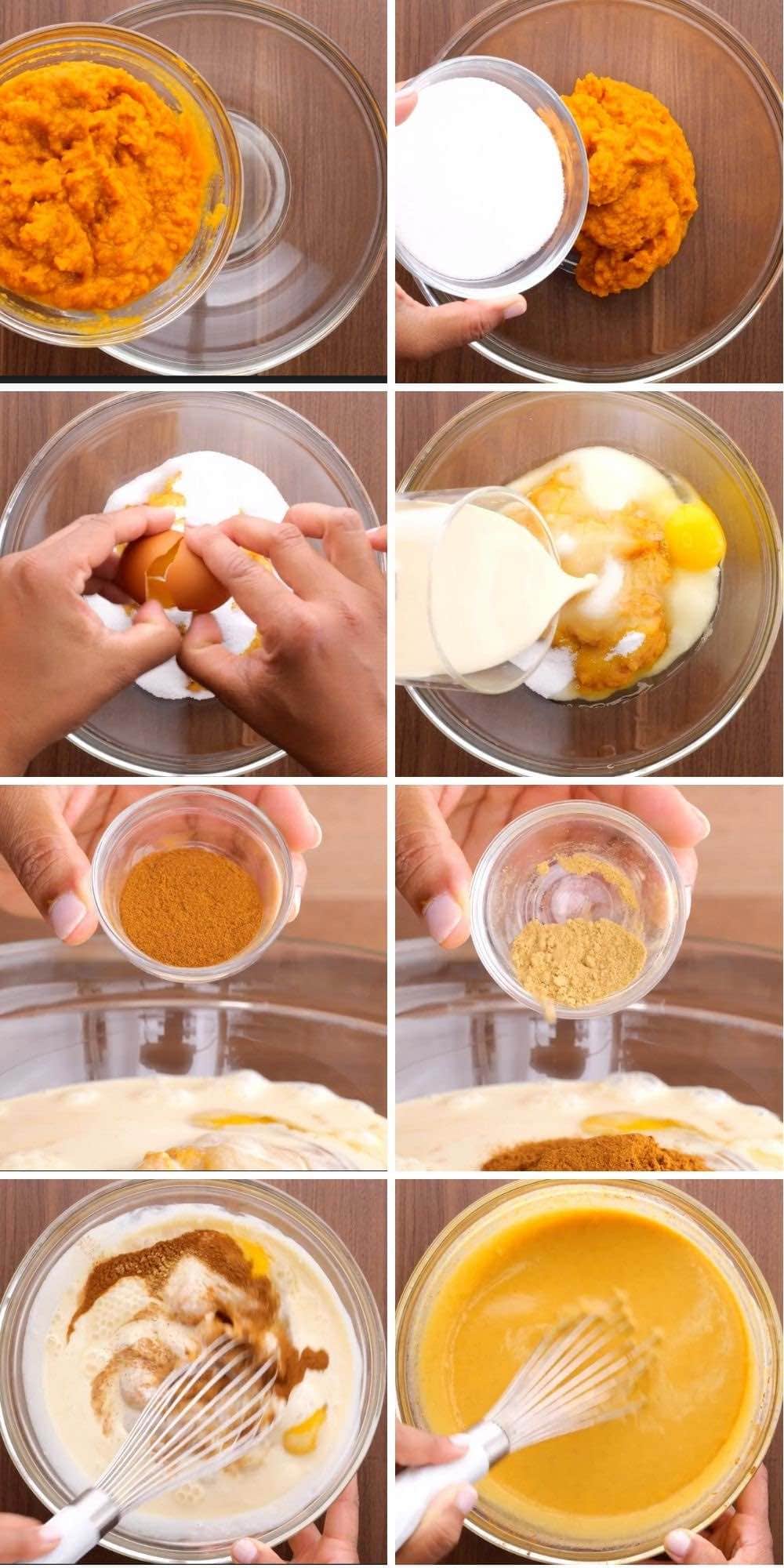 How to Make Pumpkin Pie
Making this pie is so easy! It's a matter of mixing all the ingredients and then baking it to perfection. Check it out!
Step One: Preheat oven temperature to 425ºF and get your pie crust ready along with a mixing bowl.
Step Two: In a large or medium bowl, mix together the filling until thoroughly combined. Dry ingredients get mixed first, then the wet ingredients. 
Step Three: Bake in two steps: 15 minutes at 425ºF, then 35 to 40 more minutes bake time at 350ºF
Step Four: Allow to cool completely on a wire rack or baking sheet before serving. Enjoy! 
More Yummy Pumpkin Recipes
Frequently Asked Questions
Where did Pumpkin Pie come from?
What is as American as…Pumpkin Pie? There's good evidence that Pumpkin Pie was made in what is now the United States as early as 1621 at Plymouth Plantation near Plymouth Rock. These original "pies" were really stewed pumpkin meat, milk, honey and a variety of spices sealed up inside a hollowed pumpkin rind.

Pumpkins themselves are native to North America and were introduced to Europe starting in the 1600's. Pumpkins quickly became a favorite ingredient for all sorts of dishes, including what we now know as Pumpkin Pie.
How can I avoid cracks in my pie? 
The key is to not overcook it. When you pull it out it will still be slightly wobbly in the center. Don't worry, it will set as is cools. 
Why do you have to cook pumpkin pie at a two temperatures? 
By initially baking the pie at the higher temperature, the pie crust is able to get crisp. With the lower temperature, the pie filling is able to cook thoroughly without burning the crust. 
How can I keep my crust edges from burning in the oven? 
After the pie has been cooked during the initial 15 minutes, cover the edges with tinfoil by wrapping tinfoil  around the exposed edge of pie crust and continue baking until ready.
Can I top Pumpkin Pie with brown sugar?
When the pie is still warm from the oven, sprinkle brown sugar over the top. The heat of the pie filling will partially caramelize the sugar, giving you a delightfully crunchy, sweet flavor.

Create a free account to Save Recipes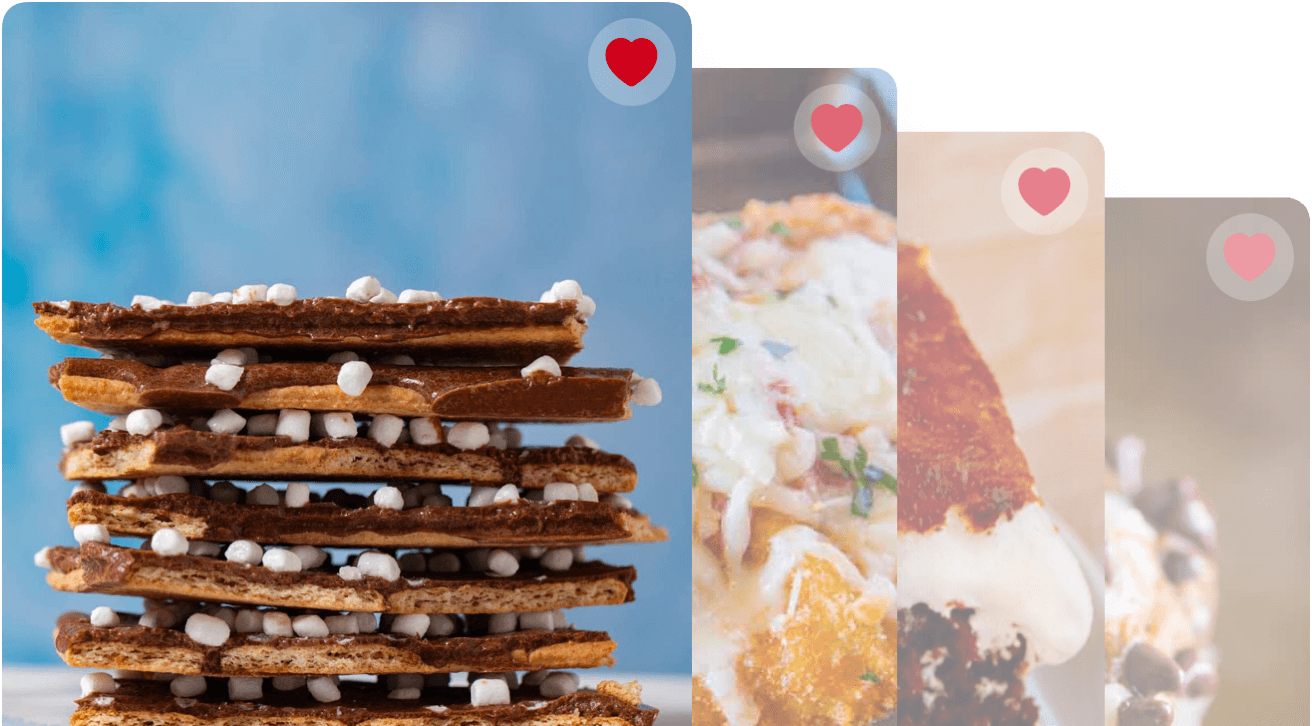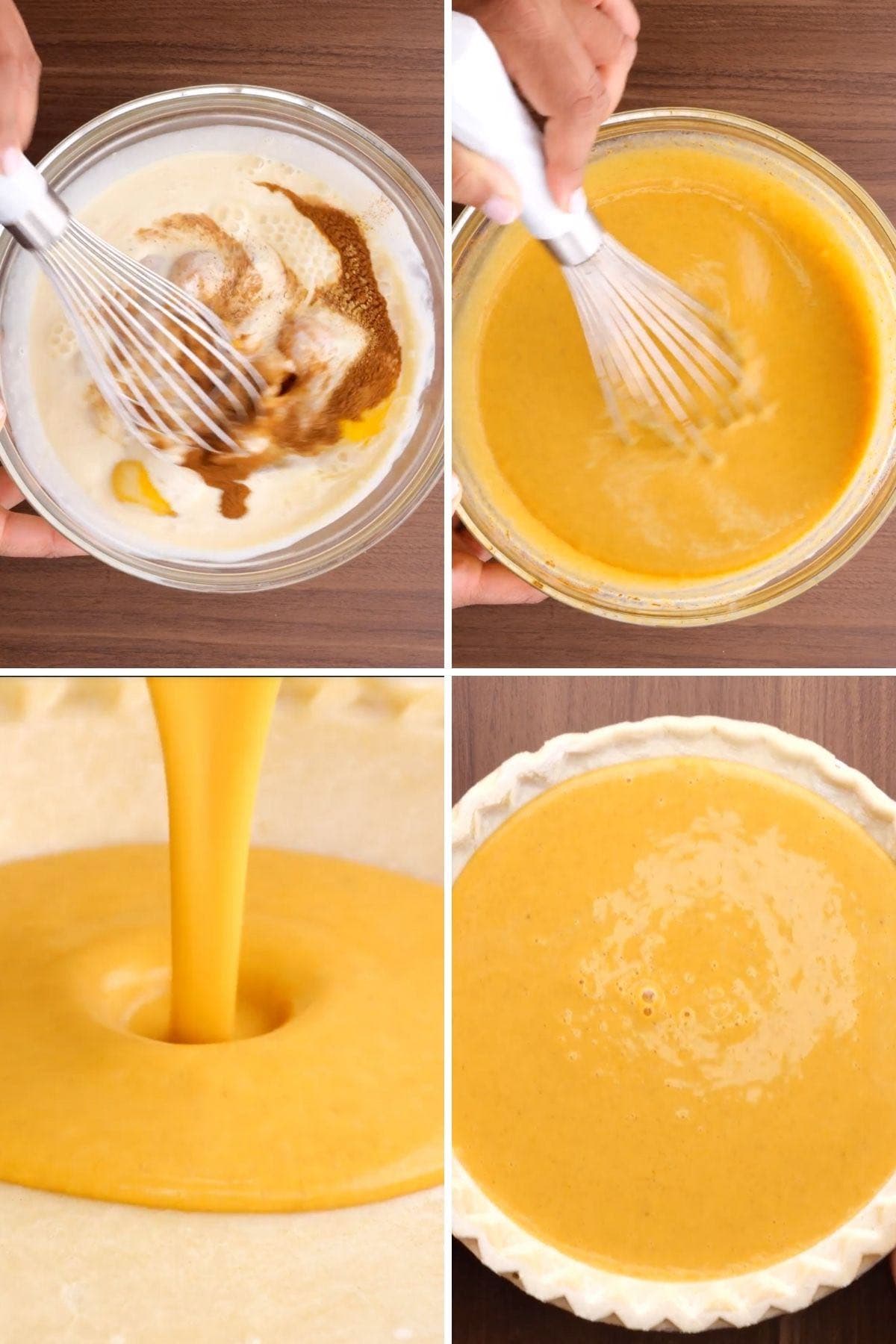 Key Ingredients in Pumpkin Pie
All these ingredients can easily be found at your local grocery store. 
Pumpkin: Canned pumpkin is really great for this recipe because it's already pureed. 
Spices: If you have the ability to grind your spices fresh, then that is the best. But preground spices will work great to make this incredibly flavorful! If using a premade blend of pumpkin spice, use 1.5 teaspoons of this mix. 
Cream: We are using evaporated milk, but you can use heavy cream if it's all that's available. Regular milk will work good in a pinch. Don't use sweetened condensed milk as it might become too sweet.
Sugar: Brown sugar is the best for this recipe, but you can use any granulated sugar or white sugar you have on hand.
Pie Crust: If you have a frozen crust, let it thaw to room temperature first. A store-bought pie crust make this recipe super easy so don't be afraid to use one. A homemade crust isn't a bad idea either, if you've got the time. 
Variations on Pumpkin Pie 
Toppings: When the pie is still warm from the oven, sprinkle brown sugar over the top. The heat of the pie filling will partially caramelize the sugar, giving you a delightfully crunchy, sweet flavor.
Spice: Add a teaspoon ground cloves to the pumpkin filling to give it an even bolder, richer flavor. The cloves have a delicious flavor that goes really well with ground cinnamon and pumpkin.
Gluten Free: To make my recipe for classic Pumpkin Pie better for people with a gluten intolerance, all you need to do is select your pre-made pie crust carefully. Check the nutrition information for a list of ingredients and make sure that it only uses all-purpose flour substitutes, such as almond or buckwheat flour.
Pumpkin Mixture: If canned pumpkin puree is not for you, you can make your own Homemade Pumpkin Purée. Make sure you puree it down in a food processor until there are few to no lump before mixing in the rest of the ingredients into the fresh pumpkin purée.
Pie Crust: If you prefer to make your own pie dough, try our Homemade Pie Crust recipe made with Graham Crackers!
Pumpkin Pie Spice: You can make your own blend of homemade Pumpkin Pie Spice to try. Use 1.5 teaspoons in the recipe instead of the individual spices in the recipe index.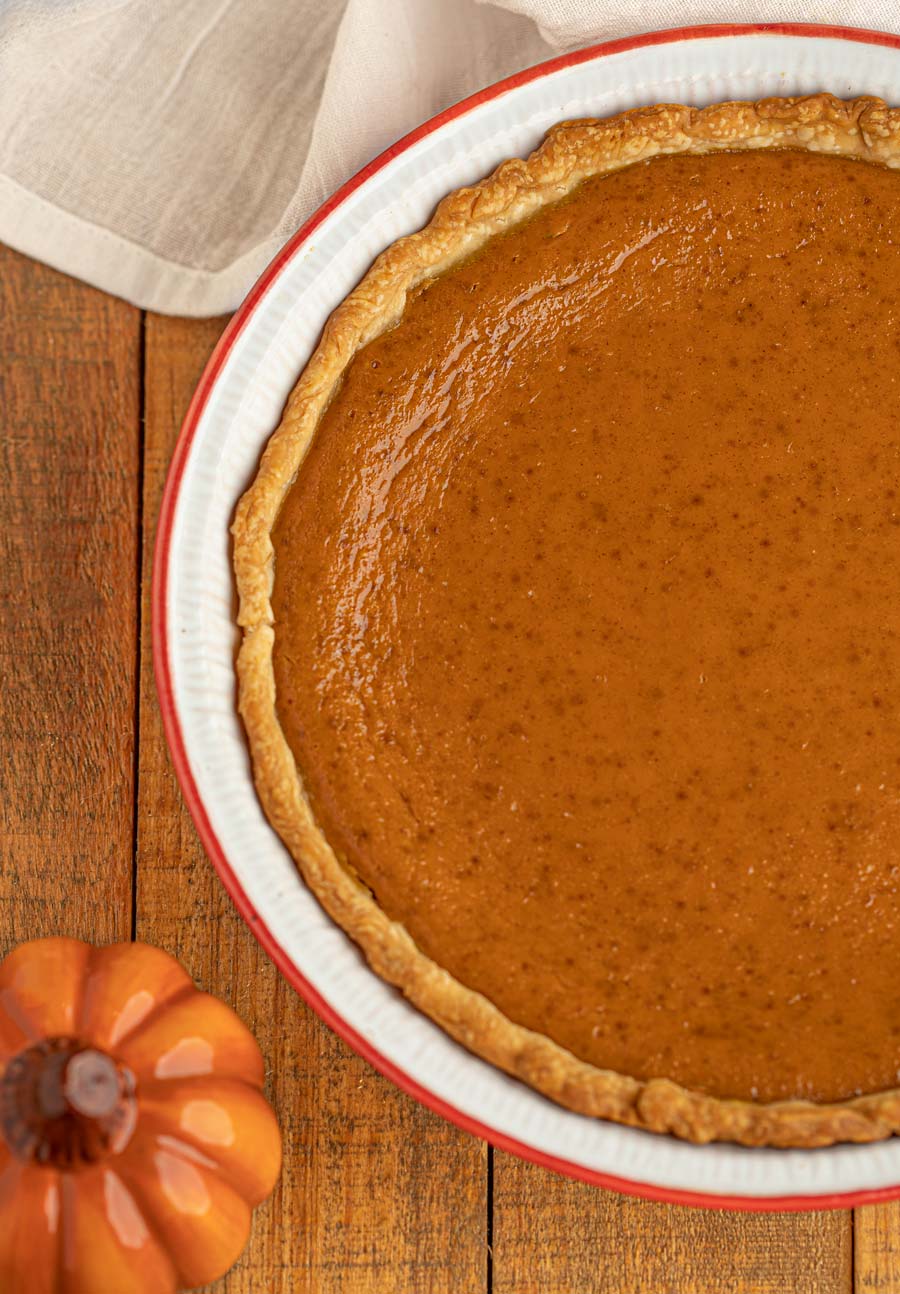 What to Serve with Pumpkin Pie
Need some help in putting together the perfect Thanksgiving menu? Check out these recipes to add to your day for an unforgettable meal. After all, this pie is the perfect end to your holiday meal!
How to Store Pumpkin Pie
Serve: Don't leave your fresh Pumpkin Pie out for longer than 2 hours. After the second hour it must be refrigerated or it can grow bacteria that can make you sick. Don't leave this pie out overnight.
Store: Wrap your leftover Pumpkin Pie in plastic wrap or aluminum foil and put it in the fridge.
Freeze: Always let Pumpkin Pie cool down to room temperature before wrapping it up and storing it. If you seal it up in an airtight container, Pumpkin Pie will stay good in the freezer for about 2 months. To thaw, let the pie sit in the fridge for a few hours before bringing it out to room temperature again.


Ingredients
1

unbaked pie crust

15

ounces

pumpkin puree

3/4

cup

sugar

2

large

eggs

1/4

teaspoon

salt

12

ounces

evaporated milk

1

teaspoon

cinnamon

1/4

teaspoon

ground ginger

1/4

teaspoon

nutmeg

, freshly grated
Instructions
Preheat oven to 425 degrees.

Line your pie plate with your unbaked pie crust.

Whisk together pumpkin puree, sugar, eggs, evaporated milk, cinnamon, ginger, salt and nutmeg in a large bowl then pour it into the pie crust.

Lower the temperature to 350 degrees then bake for an additional

35-40 minutes

.
Nutrition
Calories:
229
kcal
|
Carbohydrates:
22
g
|
Protein:
7
g
|
Fat:
13
g
|
Saturated Fat:
5
g
|
Cholesterol:
65
mg
|
Sodium:
240
mg
|
Potassium:
284
mg
|
Fiber:
2
g
|
Sugar:
6
g
|
Vitamin A:
8451
IU
|
Vitamin C:
3
mg
|
Calcium:
141
mg
|
Iron:
2
mg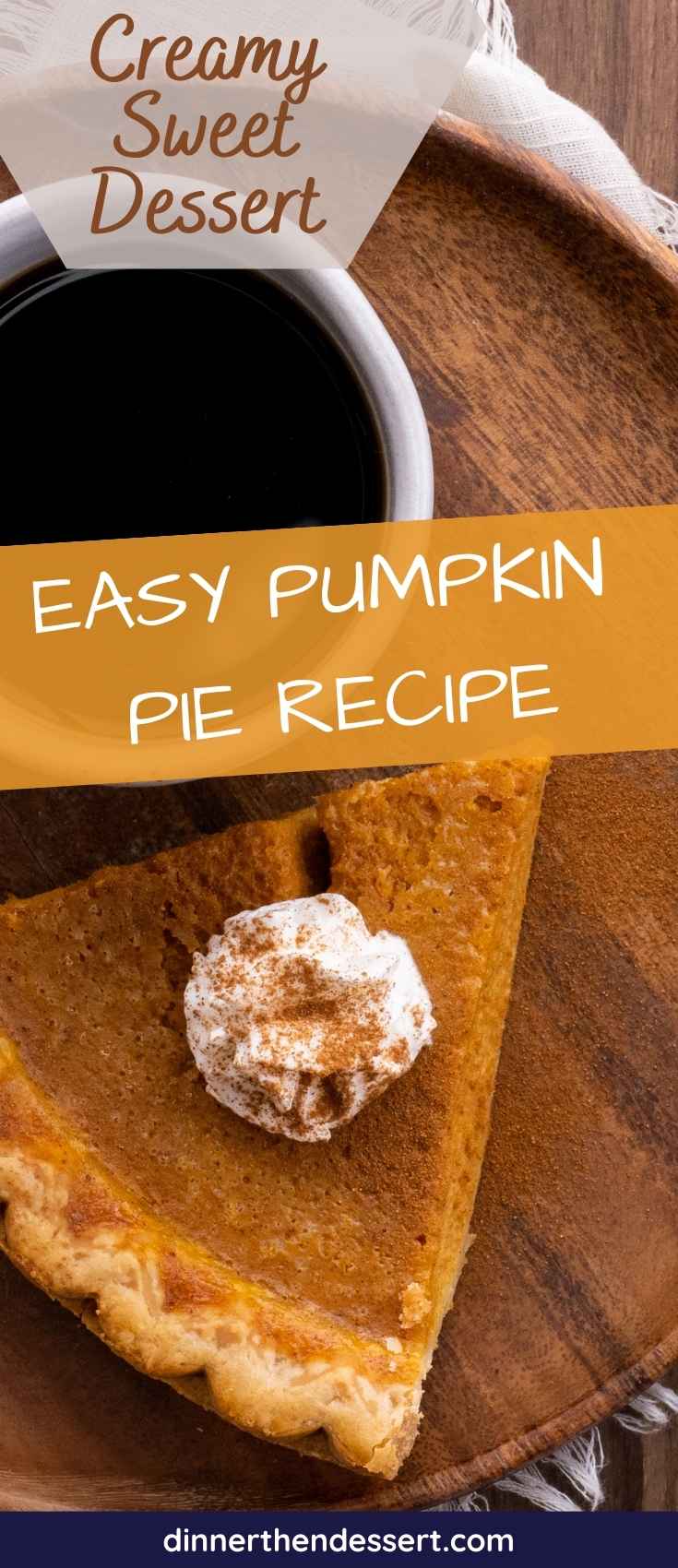 Photos used in a previous version of this post: