Double-Layer Pumpkin Cheesecake is made with one layer of creamy pumpkin and one regular cream cheese layer. Perfect for your Thanksgiving dessert!
This amazing Pumpkin Cheesecake is like a combination of the flavors from Pumpkin Pie and New York Cheesecake. It's a great Dessert Recipe to serve for the holidays, especially if you have any cheesecake lovers in the house.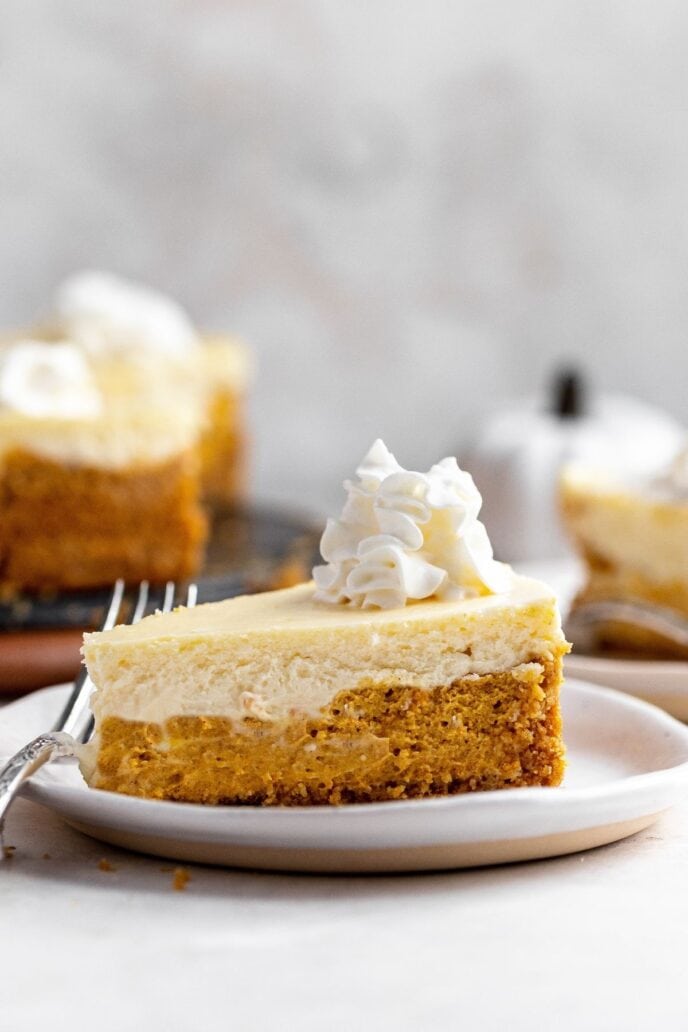 This cheesecake recipe is truly the perfect holiday dessert. The creamy cake is different than classic Thanksgiving desserts, but you still get the traditional flavors of pumpkin to make it festive. It's great if you want something a little more unique for your holiday!
This Pumpkin Cheesecake recipe is made with two distinct layers. The bottom layer has all the ingredients that give the recipe its distinct Autumn flavor. Pumpkin Puree and Pumpkin Pie Spice —made with nutmeg, cinnamon, ginger, and allspice— are mixed into the cream cheese. Then the second layer is yummy plain cream cheese. The warm spices from the pumpkin layer nicely balance with the regular sweet and tangy cheesecake for a rich and irresistible dessert!
After you combine the two cheesecake layers in the graham cracker crust, you will bake it for 1 hour. Then follow our foolproof trick of turning the oven off and cracking open the door for 1 more hour to let it cool and avoid any cracks in your beautiful Double Layer Pumpkin Cheesecake. Once it's baked and chilled you can slice the delicious cake and add your favorite toppings like Whipped Cream or Hot Fudge. Your whole family is sure to go crazy for this fun spin on a classic pumpkin dessert!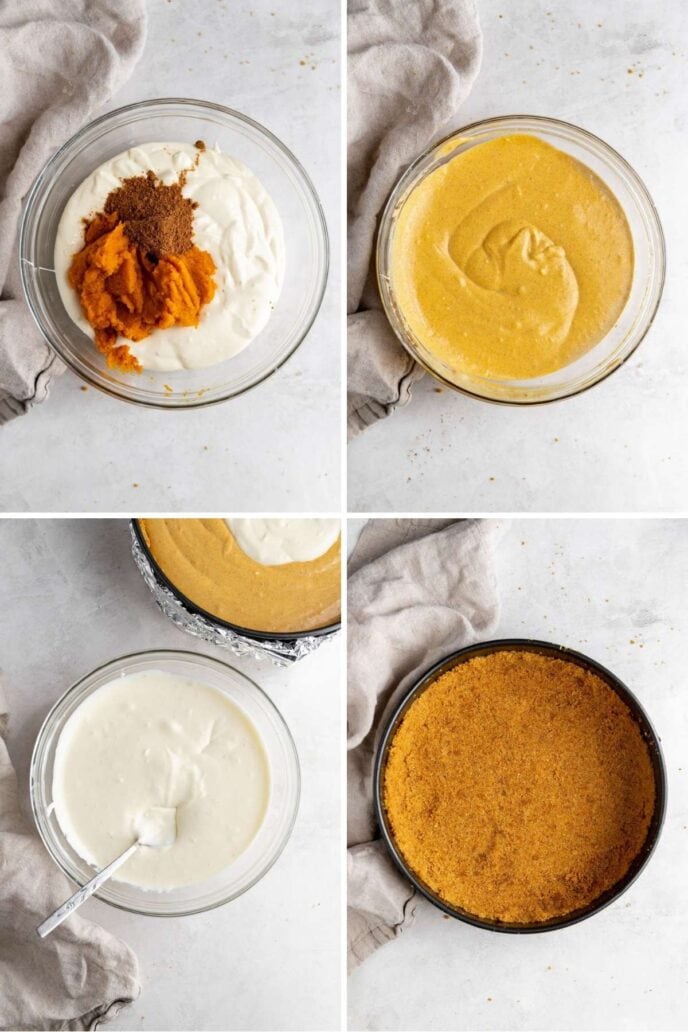 How to Make Double-Layer Pumpkin Cheesecake
Crust: Put the graham crackers in a food processor, and pulse to break them into crumbs. Instead of a food processor, you could also put the crackers in a large Ziploc bag and break them on your counter with a rolling pin. Then mix them in a bowl with ⅓ cup sugar and 6 tablespoons melted butter. Use your hands to press the mixture into the bottom of the springform pan and 1-inch up the sides in an even layer.
Prep: Preheat the oven to 350 degrees. Fill a large pan with water to prep the water bath, and wrap the springform pan in a large piece of aluminum foil to protect it from the water. The water bath ensures that the center of the cake gets cooked.
Cheesecake Batter: Add softened cream cheese and milk to your stand mixer and beat them together. Then add the milk until just combined. Next, mix in the eggs one at a time until combined. Then you can add the sour cream, vanilla, and flour.
Pumpkin Layer: Scoop two cups of the batter into a separate bowl, then mix in the pumpkin puree and pumpkin spice. Pour the pumpkin mixture into the prepared pie crust. Then spoon a layer of cheesecake on top evenly.
Baking Time: Place the pan in the water bath and bake the cake in the preheated oven for 1 hour. After the hour, open the oven door a crack and turn it off so the heat slowly escapes. Leave the cheesecake in the oven for another hour. Then take the Pumpkin Cheesecake from the oven and remove the foil. Put it in the fridge to let it chill before serving.
More Pumpkin Desserts
Frequently Asked Questions
How do I know when Pumpkin Cheesecake is done?
If you simply go by the jiggle test, you will end up baking the cheesecake too long. By the time the middle is fully set, the edges may become dry. Turn off the oven after 1 hour and trust that your Double Layer Pumpkin Cheesecake will finish setting as it cools.
Why leave Cheesecake in the oven to cool?
By cracking open your oven door and turning it off, you will let your cheesecake slowly cool down before removing it completely for refrigeration. This allows the center of the cheesecake to finish setting without over-baking the edges. It also helps prevent the cheesecake top from cracking.
Can I make Double Layer Pumpkin Cheesecake ahead of time?
Cheesecakes are a wonderful dessert to bake ahead because they do need to chill in the refrigerator before serving. You can definitely make your cheesecake a day or two ahead of time and keep it in the refrigerator until you're ready to serve. Save any garnishes like whipped cream or grated nutmeg to add on top right before serving.
What if I don't have a springform pan?
If you don't have a springform pan, you can get creative in using what you do have on hand. Use a regular pie pan, round cake pan, or a square brownie type pan to make bar style slices. If you have silicone bakeware, that will make it especially easy to remove the cheesecake once it's cooled. You can even use muffin tins to make mini layered pumpkin cheesecakes. Just make sure whatever baking dish you use will be deep enough for both cheesecake layers, and that you grease it very well and still use the water bath.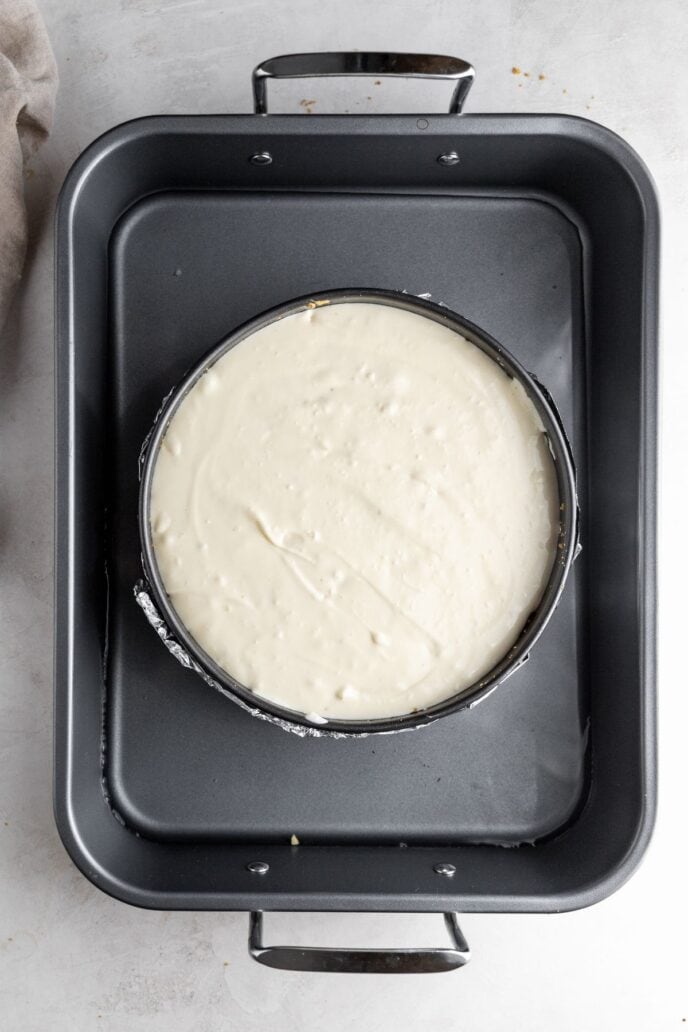 Create a free account to Save Recipes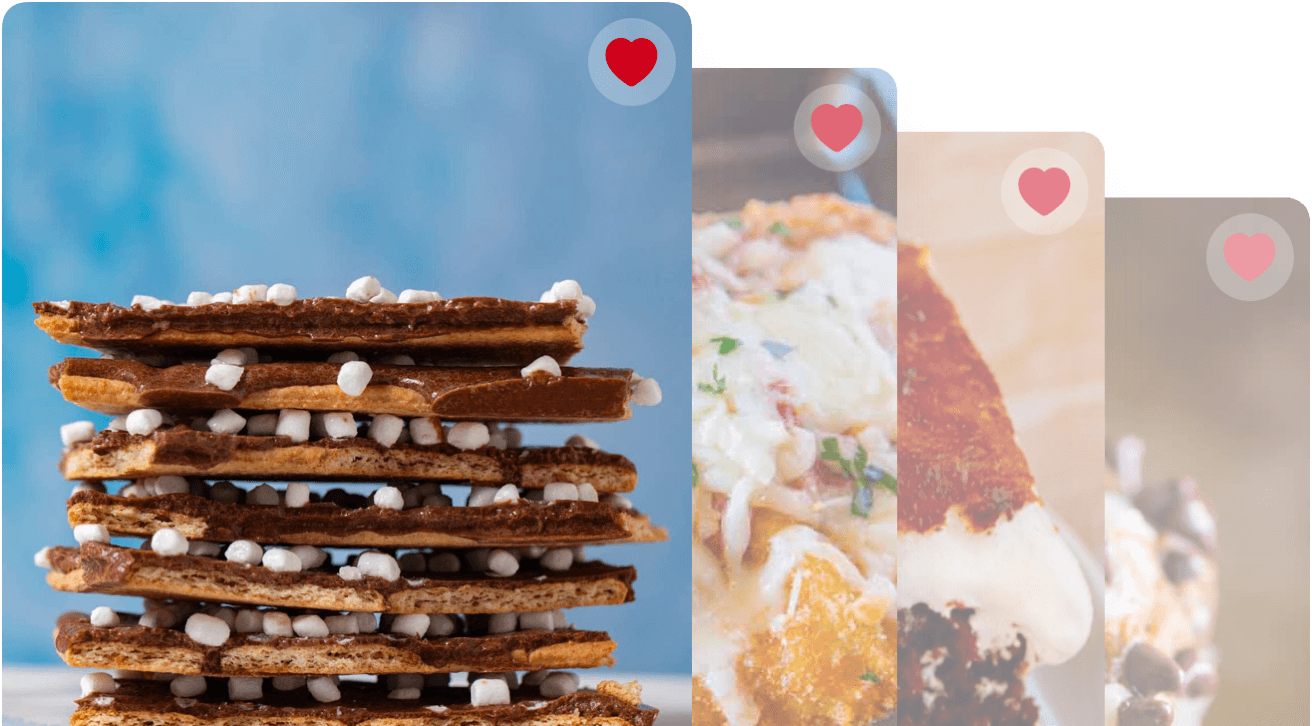 Key Ingredients in Double-Layer Pumpkin Cheesecake
Graham Cracker Crust: The base of this Double Layer Pumpkin Cheesecake is a classic graham cracker crust made with easy pantry ingredients of graham crackers, sugar, and butter.
Traditional Cheesecake: For a perfectly creamy and tangy cheesecake, make sure you let your cream cheese soften at room temperature so it blends nice and smooth with the other ingredients. Use full fat milk and sour cream for the best texture and flavor. Together with sugar, eggs, vanilla and flour, this easy cheesecake filling is a decadent treat.
Pumpkin Cheesecake: Even though this recipe has two different layers of flavor, the easy trick is that you'll mix up one big batch of cheesecake batter, then add pumpkin puree and pumpkin spice to half of it before adding the layers to your springform pan. You can use fresh or canned pumpkin puree, just make sure to avoid the pumpkin pie filling if you shop for the canned variety. Pumpkin Pie Spice is available in the spice section of your grocery store, or you can make your own homemade blend.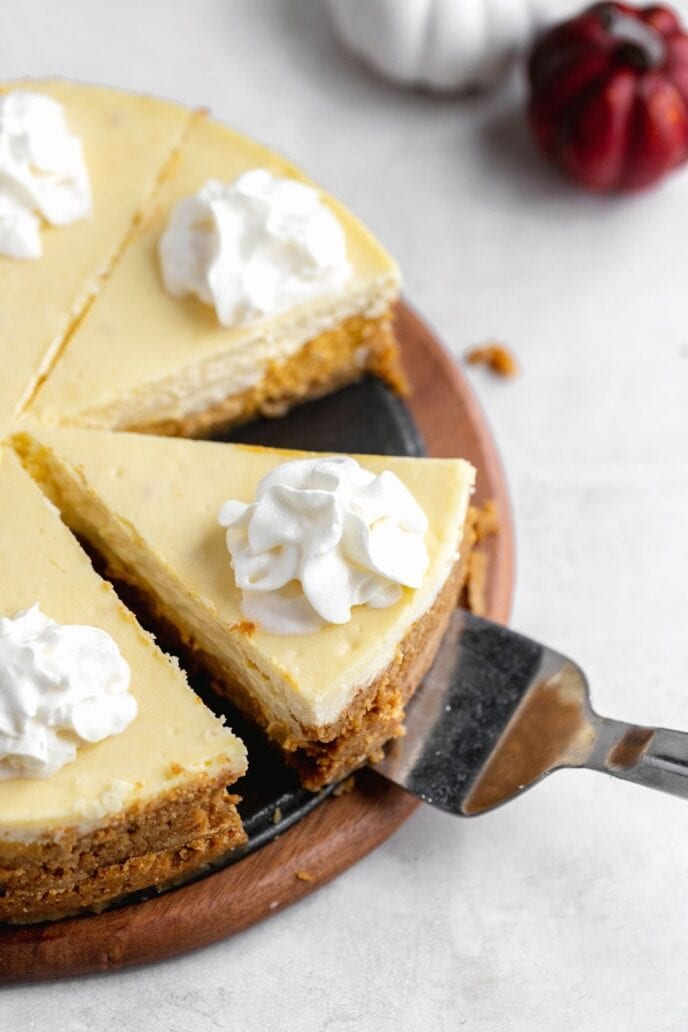 Variations on Double-Layer Pumpkin Cheesecake
Crust: You can use different kinds of cookies to make the crust instead of graham crackers. Try using gingersnaps, vanilla Oreos, or Nilla Wafers. You could also purchase a pie crust from the store to use for your cheesecake.
Chocolate-Pumpkin Cheesecake: For a Layered Pumpkin Cheesecake with chocolate, leave the pumpkin layer the same, and mix chocolate into the plain cheesecake part. Melt ½ cup chocolate chips in the microwave and then mix them into the cream cheese mixture before adding it to the pan.
Mix-ins: There are a variety of mix-ins you can try in this recipe. Get some crunch with toasted pecans, walnuts, or almonds. You could also add chocolate more easily by just folding chocolate chips or chocolate chunks into the batter. For more unique mix-ins, try toffee bits, pretzel pieces, or chocolate-covered nuts.
Toppings: Dress up your whipped cream topping by mixing cinnamon into it for more spiced fall flavor. You can also grate fresh whole nutmeg over the top to add a pretty finish that gives another layer of spice. Other delicious toppings for Pumpkin Cheesecake include Salted Caramel Sauce, Apple Pie Filling, or Candied Pecans.
More Cheesecake Recipes
How to Store Double-Layer Pumpkin Cheesecake
Serve: After the recipe has time to set in the fridge, take it out to slice and serve. However, don't leave it at room temperature for more than 2 hours.
Store: To store leftover cake, cover it tightly and keep it in the refrigerator for up to 5 days.
Freeze: Cheesecake can also stay good frozen for 6 months. Let it thaw in the fridge overnight before serving.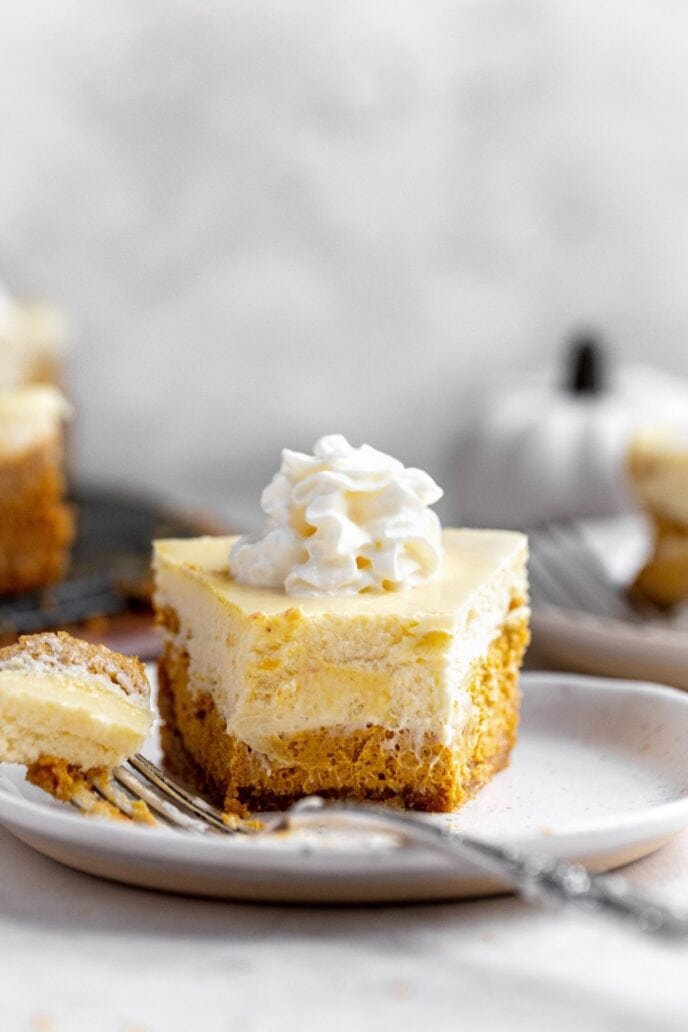 Ingredients
Graham Cracker Crust:
1 1/2

cups

graham cracker crumbs

, 12 full crackers

1/3

cup

sugar

6

tablespoons

unsalted butter

, melted
Instructions
Graham Cracker Crust:
Mix the graham cracker crumbs, ⅓ cup sugar, and 6 tablespoons melted butter. Press into the bottom of the springform pan, and 1-inch up the sides.
Sour Cream Cheesecake Filling:
Preheat oven to 350 degrees and wrap a 9-inch springform pan in a large piece of foil to protect from the water bath. Prepare a large pan of water you can set the springform pan in to bake.

In a stand mixer beat the cream cheese and sugar, then add in the milk until combined.

Add in the eggs one at a time until fully combined, then add in the sour cream, vanilla, and flour until combined before pouring into the springform pan.

Remove two cups of filling and add in pumpkin puree and pumpkin spice.

Pour pumpkin filling into pan over the crust and spread evenly.

Gently spoon on the non-pumpkin filling.

Place the pan in the water bath and bake for 1 hour.

Turn off the oven, open the door a couple of inches to let the heat out gently, and let it cool for 1 hour.

Remove from oven, discard the foil.

Refrigerate, covered, until chilled before serving.
Nutrition
Calories:
383
kcal
|
Carbohydrates:
44
g
|
Protein:
8
g
|
Fat:
20
g
|
Saturated Fat:
11
g
|
Polyunsaturated Fat:
1
g
|
Monounsaturated Fat:
5
g
|
Trans Fat:
1
g
|
Cholesterol:
102
mg
|
Sodium:
303
mg
|
Potassium:
266
mg
|
Fiber:
1
g
|
Sugar:
34
g
|
Vitamin A:
3848
IU
|
Vitamin C:
1
mg
|
Calcium:
142
mg
|
Iron:
1
mg