Homemade Apple Pie Filling spiced with cinnamon and nutmeg is easy and ready in just 30 minutes to fill fall pastries or top with ice cream.
Inspired by our delicious and easy Apple Pie, this homemade Apple Pie Filling is great for freezing or canning. Check out all our fruit Pie Recipes you can make ahead for a quick dessert.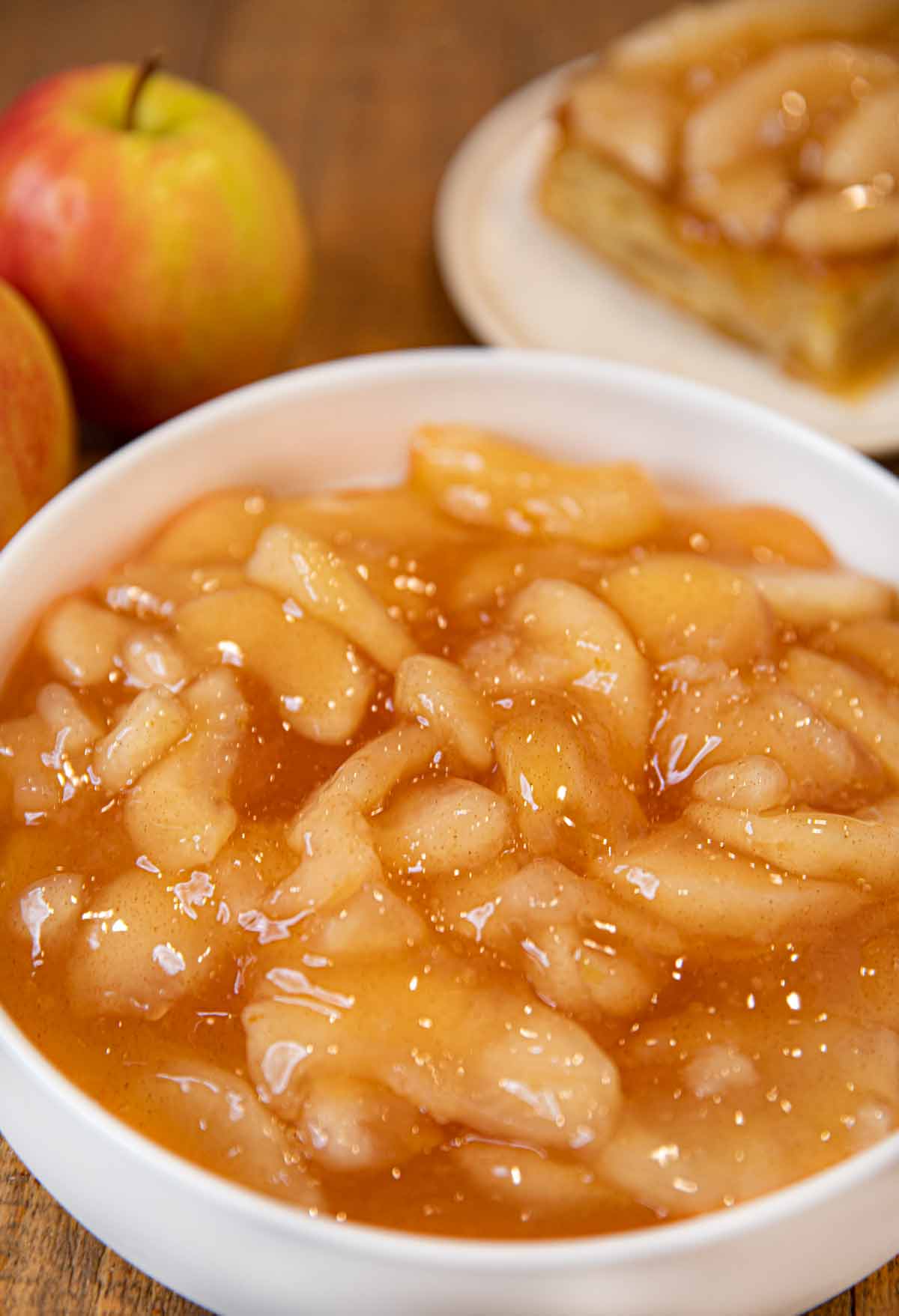 A homemade Apple Pie Filling is just so much better than any canned pie filling you get at the grocery store! It's filled with fresh ingredients, and there are no questionable preservatives. This recipe for Apple Pie Filling is so easy and delicious, you'll never buy the canned stuff again.
The best Apple Pie Filling is all about fresh! Use fresh lemon juice instead of the bottled stuff. If you can find it, try using fresh, whole nutmeg and grating it yourself. Fresh ground nutmeg has way more flavor and whole nutmeg stays fresh in the pantry for a long time.
This recipe is enough for one 9-inch pie, however you can easily double, triple, or quadruple it for storing ahead of time. Freezing this delicious apple pie filling is the easiest way to store it, plus it lasts 6 months in the freezer! If you want to can this Apple Pie Filling recipe, there are instructions on how to use a water bath canning process in this post.
This Apple Pie Filling can be used in all your favorite recipes besides just apple pie. Try it baked with a brown sugar crumble for an easy Apple Crisp, or as the filling in any apple recipe. You can also just serve it warm in a bowl topped with Vanilla Ice Cream or Whipped Cream.
How to Make Apple Pie Filling
Peel, core and slice your apples, then toss them with lemon juice and add to a large dutch oven with water.
Whisk in the sugar, cornstarch, cinnamon, nutmeg and salt until well combined.
Bring to a boil on high heat, then simmer for 8-10 minutes on medium heat until the apples are soft and the sauce has thickened.
If canning, do so while hot, otherwise cool completely before using in your classic apple pie or favorite apple recipes.
More Apple Dessert Recipes
Frequently Asked Questions
What are the best kinds of apples for Apple Pie Filling?
We use gala apples for this homemade pie filling, but you can also use any tart apples such as Granny Smith, Golden Delicious, Gala Apples, Honey Crisp Apples, or Braeburn Apples.
How do I make an easy pie crust?
To make the Perfect Pie Crust, you'll need 1 ¼ cups flour, ¼ teaspoon salt, and ½ cup unsalted butter that has been frozen and diced. Pulse in a food processor and then slowly spoon in ¼ cup ice water, one tablespoon at a time. The water and butter staying super cold is what gives you that flaky, golden brown crust for your pie. Continue to pulse until the dough is in tiny crumbles, do not let it form a ball. Empty it onto a sheet of plastic wrap and quickly form into a ball, being careful not to let your hands warm up the butter. Then refrigerate for at least 4 hours before rolling out your flaky pie crust.
Can I make Apple Pie Filling ahead?
Yes! In addition to canning this recipe for Apple Pie Filling, you can also freeze it. Keep your pre-cooked Apple Pie Filling in the freezer up to 6 months for a ready to go, easy homemade apple pie! Simply thaw and pour into a pie crust, top with a second crust and bake until the top is golden brown and the filling is hot. If your thawed Apple Pie Filling is too thin, use a cornstarch slurry of equal parts water and cornstarch to thicken it before baking.
How should I slice apples for Apple Pie Filling?
To make this Apple Pie Filling, you can either use apple slices or apple chunks. The important thing is to make sure they are even in size and width so they cook evenly. Your Apple Pie Filling will seem thinner right after cooking but it will thicken as it cools.
Key Ingredients in Apple Pie Filling
Apples: Any tart, crisp apple works well for Apple Pie Filling. Gala apples have the perfect texture and flavor for this simple pie filling recipe. This is also a great way to use up any extra apples you have on hand, especially if you've gone apple picking in the fall.
Sugar: Classic white sugar is an easy pantry staple, but you can also use half brown sugar or all brown sugar for a more caramel flavor.
Lemon Juice: When cooking and baking, try to use fresh squeezed lemon juice rather than the bottled kind. Tossing the apples with lemon juice will keep them from browning before the apples are cooked. You can also grate in a little of the lemon zest if you'd like the citrus flavor to shine through.
Spices: Cinnamon and nutmeg are the classic warm spices that are perfect for fall baking. Try using a whole nutmeg grated fresh for even more flavor.
Cornstarch: Cornstarch is essential for thickening the apple juice and creating that gooey, sticky binder for the tender cooked apples.


Create a free account to

Save Recipes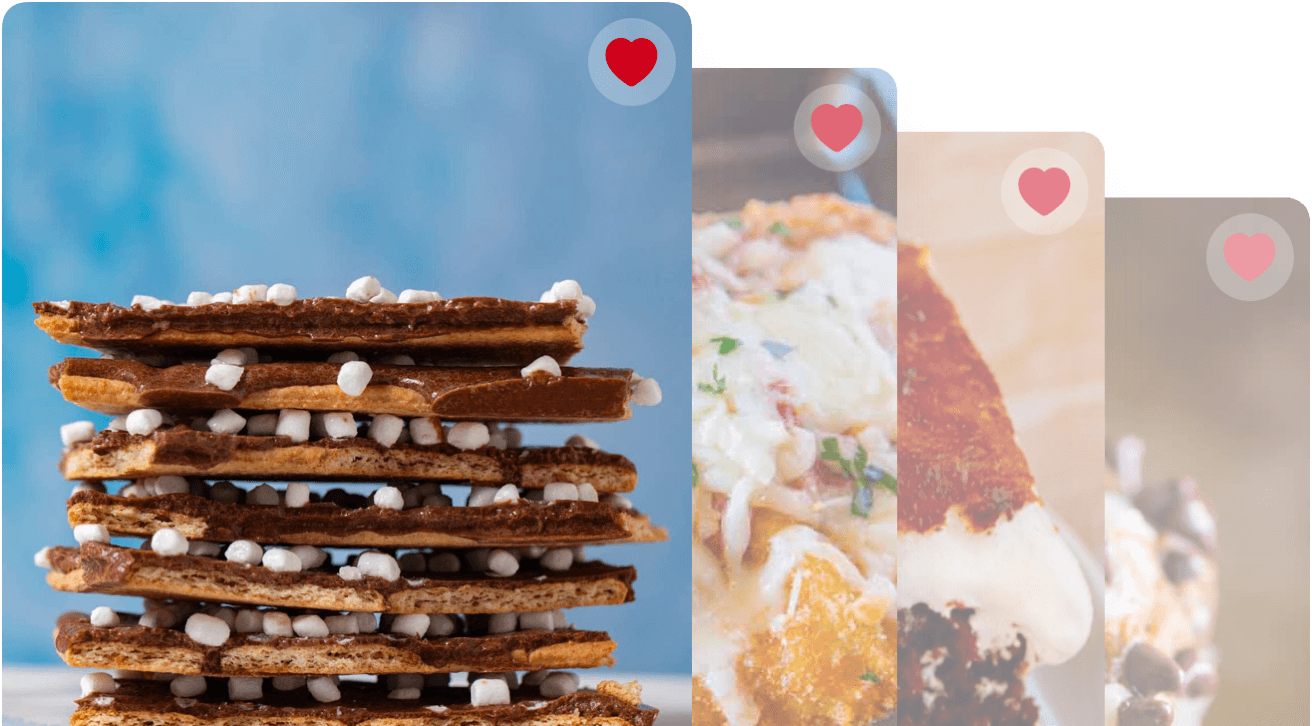 Variations on Apple Pie Filling
Brown Sugar: Substitute half the white sugar with a ½ cup brown sugar. Brown sugar will add a darker color to the Apple Pie Filling.
Caramel Apple Filling: For a Caramel Apple Pie Filling, use all brown sugar and no white sugar. Reduce the water to half for a thicker caramel apple sauce.
Fruit: This recipe can easily be adjusted using other firm fruits like peaches, plums, or pears.
Spices: Give this Apple Pie Filling more fall flavor by adding cloves and allspice. Try swapping 1 teaspoon Pumpkin Spice Mix for the other spices.
Ideas for Using Apple Pie Filling
Mini Apple Pies: Use a glass or biscuit cutter to cut a rolled pie crust into small circles. Line the cups of a greased muffin pan with the pie crusts, and fill with Apple Pie Filling. Top with another crust or crumble topping and bake at 350 for 15-20 minutes.
Apple Pie Pops: Follow this fun recipe for Apple Pie Pops to serve individual Apple Pie pockets on a stick.
Spiced Apple Oats: Ladle Apple Pie Filling onto a steamy bowl of oatmeal for a cozy winter breakfast.
Apple Pie French Toast: Use this amazing apple pie filling as a topping on homemade French toast for a perfect fall brunch idea. Top with Homemade Salted Caramel Sauce for the ultimate holiday treat.
How To Can Apple Pie Filling
Prepare water bath canner.
Sterilize pint size mason jars (2 cups) and lids in boiling water, then reduce to a simmer while making pie filling.
Ladle hot apple pie filling, using a wide funnel, into the hot jars leaving about 1 inch headspace.
Remove any air bubbles and wipe any filling off the rim and the jar.
Center lid on the jar and screw on band until fit is fingertip tight.
Process jars in water bath canner for 25 minutes.
Remove jars and completely cool on a thick towel or cooling rack.
Check lids for seal after 24 hours, they should not pop or flex when pushed.
Delicious, Classic Fruit Pies
How to Store Apple Pie Filling
Serve: Apple Pie Filling needs to be stored or canned before 2 hours at room temperature.
Store: Store your Apple Pie Filling in a sealed jar or container in the refrigerator for up to 5 days.
Freeze: Apple Pie Filling can be frozen for up to 6 months in a freezer safe airtight container. Cool completely before freezing and leave room (about ½ inch) at the top of the container.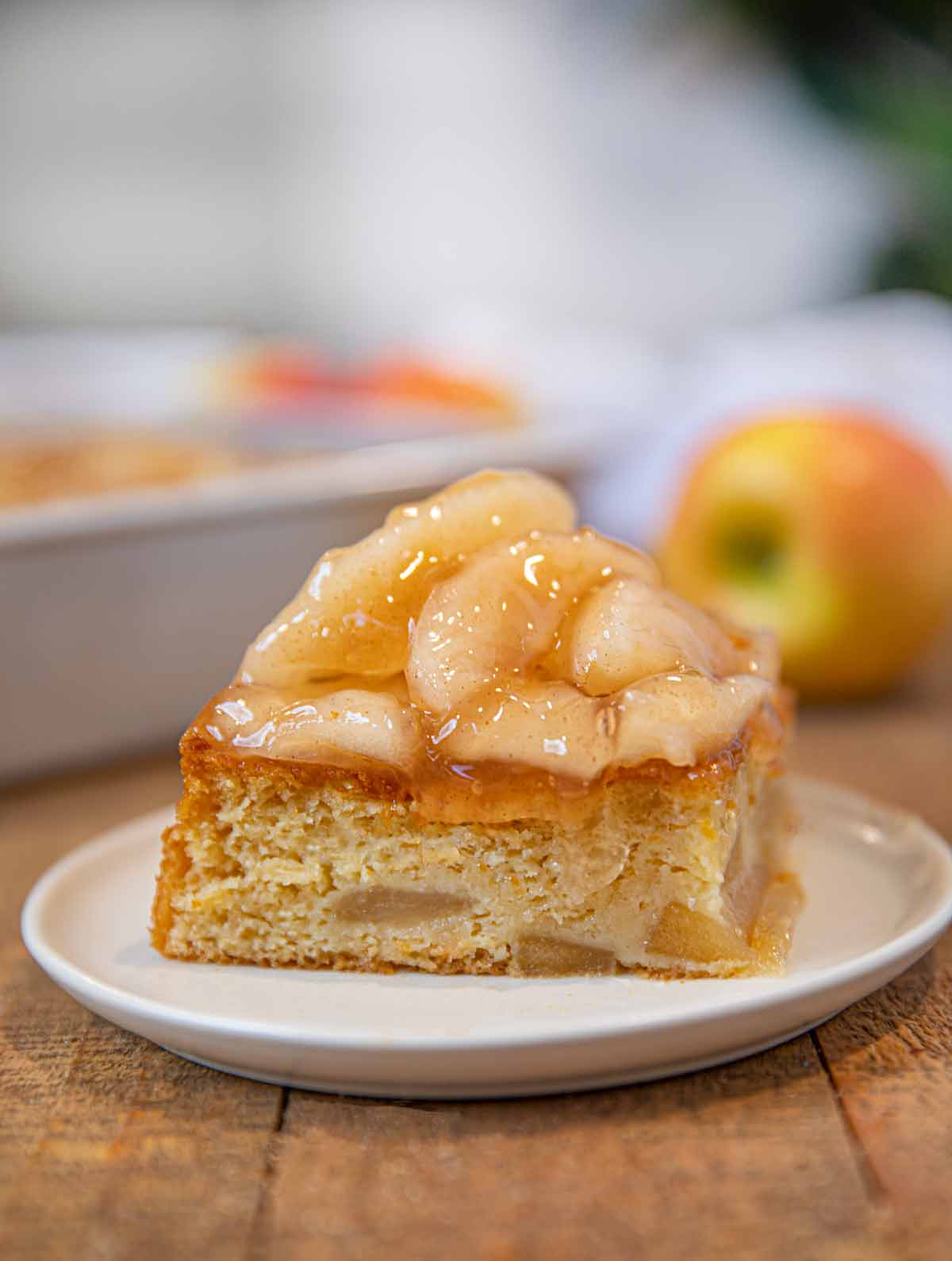 Ingredients
4

gala apples

, peeled, cored and sliced

1

teaspoon

lemon juice

2 1/2

cups

water

1

cup

sugar

3

tablespoons

cornstarch

3/4

teaspoon

ground cinnamon

1/4

teaspoon

ground nutmeg

1/8

teaspoon

salt
Instructions
Toss apple slices with lemon juice as soon as soon as you've cut them and add to large dutch oven with water.

Whisk in the sugar, cornstarch, cinnamon, salt, and nutmeg until well combined.

Bring to a boil on high heat then lower to medium heat and simmer until apples are softened and sauce has thickened, about

8-10 minutes

.

If canning, do so while hot otherwise cool completely before using in a recipe (especially pie).
Nutrition
Calories:
125
kcal
|
Carbohydrates:
32
g
|
Protein:
1
g
|
Fat:
1
g
|
Saturated Fat:
1
g
|
Sodium:
62
mg
|
Potassium:
78
mg
|
Fiber:
2
g
|
Sugar:
28
g
|
Vitamin A:
39
IU
|
Vitamin C:
4
mg
|
Calcium:
6
mg
|
Iron:
1
mg