Blueberry Pie is the classic dessert favorite made with fresh blueberries, a lattice crust and a coarse sugar topping that's a perfect holiday dessert in just an hour!
Pies are such a popular dessert on the site already including our Mixed Berry Pie, Pecan Pie, Banana Cream Pie and my personal favorite Easy Key Lime Pie. If you like our blueberry pie recipe, you'll love these.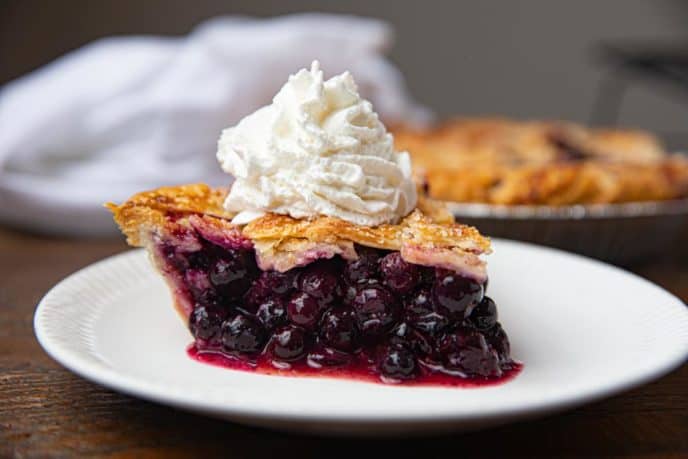 BLUEBERRY PIE
There are few desserts that are are well loved as blueberry pie, and for good reason! The crust is crunchy, the blueberries are sweet, and the pie is perfect to share with family and friends. People love blueberry pie so much that April 28th is National Blueberry Pie day in the United States, which as as good a reason as any to enjoy this tasty recipe.
But we're in the middle of summer right now and there are amazing sales on blueberries. This is the PERFECT season to be enjoying blueberry pie!
How to Make Blueberry Pie:
This classic blueberry pie recipe is simple and easy, and you can make it for any occasion. Some varieties of blueberry pie call for lemon juice or zest (not us), and there are a few different opinions about what kind of pie crust is the best (we're a fan of the lattice ourselves.)
Start off by washing your blueberries.
Then, in a large bowl, stir together the sugar, cornstarch, salt and cinnamon and cover the blueberries with the mixture.
Once you've done that, take your bottom crust and line a pie pan with it, then pour the pie filling into it.
Cut pieces of butter and set them on top of the filling.
Make the lattice for the top of the pie (don't worry if you aren't sure how to do this, we'll cover that later).
Mix together the water and egg to make an egg wash and brush it over the top of the lattice.
Mix egg with water and brush on pie crust then sprinkle on sanding sugar.
Bake pie on middle shelf of oven for about 50 minutes, or until crust is golden brown.
HOW DO YOU MAKE A LATTICE TOP?
Now when making the lattice top, the first thing to remember is to not be intimidated. Lattice tops look fancy and difficult, but in reality they are easy to make. Here are step-by-step instructions for how to make a perfect lattice top.
Roll out your dough and cut it into ½ to ¾ inch strips.
Then, lay about five of them vertically across the top of pie, and make sure that they are evenly spaced.
Fold every other strip in half, making sure not to the the dough stick to itself (dust the dough with a little flour before you start to keep them from sticking.)
Take another strip of dough and lay it horizontally across the pie over the vertical strips that are laying flat, leaving the folded ones alone.
Roll the folded strips flat and fold back the ones that are now covered by the horizontal strip.
Once they're flat, lay another strip horizontally across them.
Keep doing this until you have half of the pie covered.
Turn your pie so that the unfinished side is towards you and repeat this process until the entire pie is covered.
In my best Ina Garten voice, "See? Wasn't that easy?"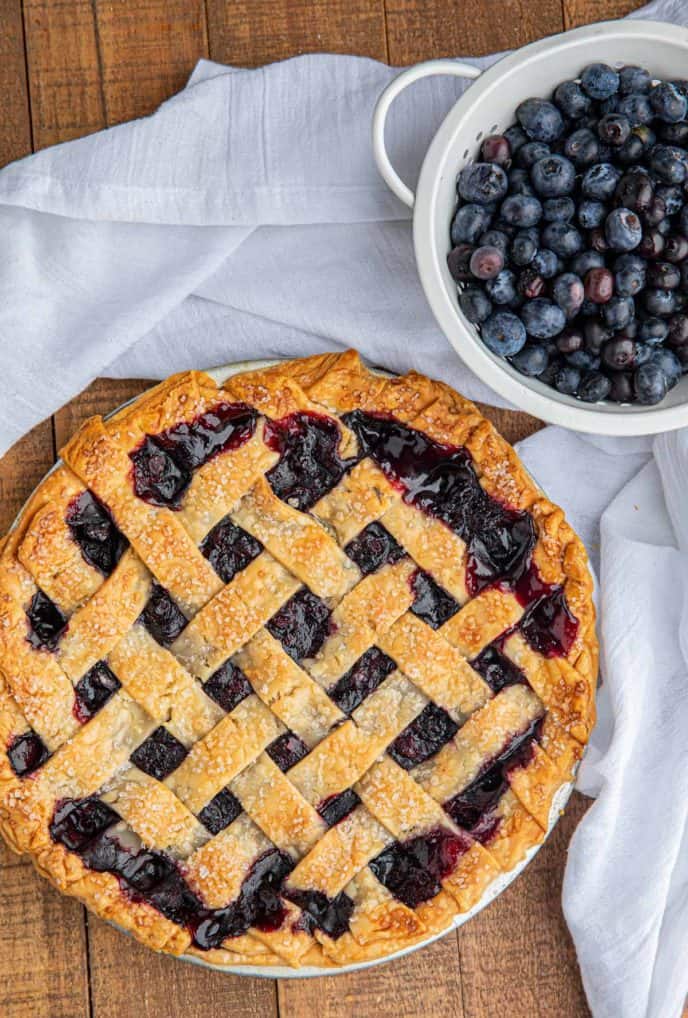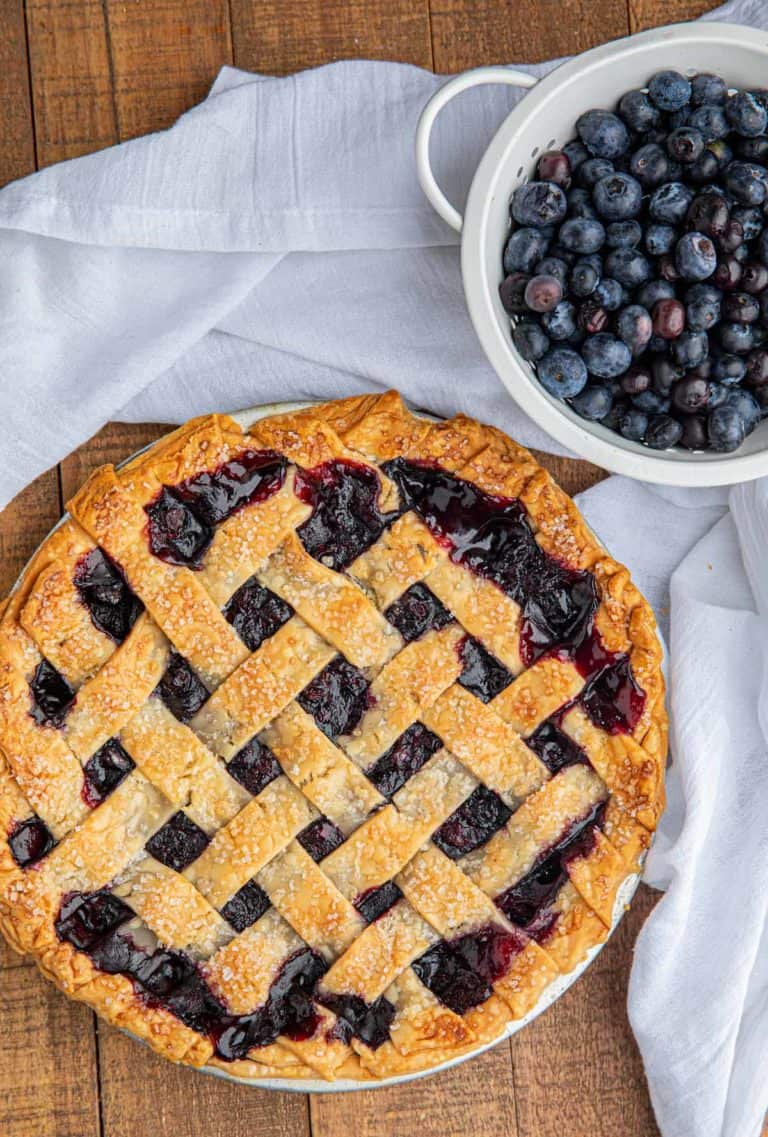 Create a free account to Save Recipes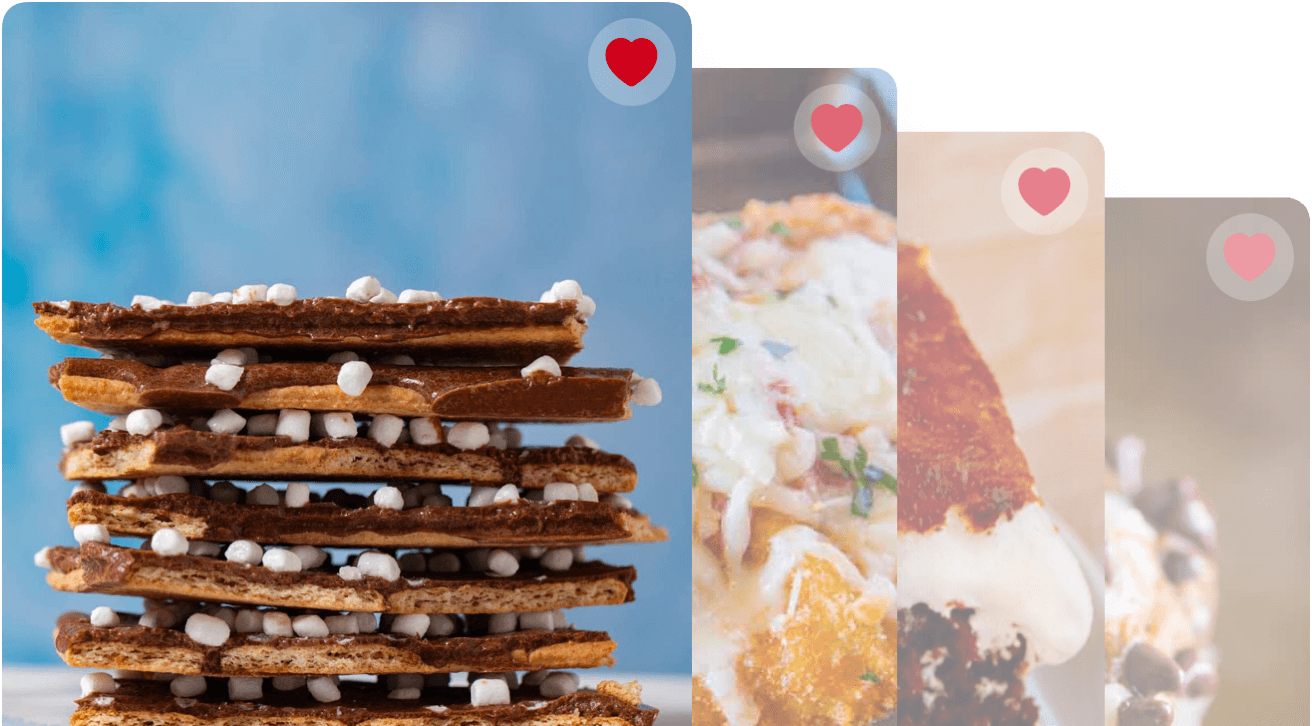 Can you make Blueberry Pie from frozen fruit?
Yes, you can but I wouldn't. The structure you get from frozen blueberries is less sturdy than you would from fresh. So when you look at the pictures in this pie you can see each blueberry is bright, full and holding up the pie crust beautifully. You will not get this result with from using frozen blueberries.
If you are unconcerned with the look of the pie and you're craving blueberry pie and don't mind then yes, use frozen berries. You will have to increase the cornstarch mixture, I'd say by at least 2 tablespoons.
Can you make Blueberry Pie the day before?
Yes, you can and I may even suggest it as it gives the filling a chance to thicken before serving. Let it sit on a pie plate until it reaches room temperature. Do not cut into a warm fruit pie as the filling will still be too loose.
Runny Pie
Sometimes the filling on fruit pies can turn out a little runny, and this is because fruit holds a lot of water. The cornstarch is a thickener, and can help dry it out a little, but if you need to you can increase the amount a little bit to help soak up some extra moisture. Also, when you are baking your pie, let the inside of it boil to make sure it cooks into the right consistency (look for bubbles coming up through the pie crust). Our blueberry pie recipe usually doesn't need any adjustments, but feel free to thicken the filling as much as you'd like.
Origins of Blueberry Pie:
The tradition of blueberry pie goes way back in American history. Blueberries are native to the United States  and the colonists that came over from Europe began using them in traditional pie recipes. The Ojibwe Native Americans' word for blueberry pie is miini-baashkiminasigani-biitoosijigani-bakwezhigan, and the oldest recorded recipe comes from the 1872 Appledore Cook Book. The blueberry quickly became a favorite for pies because you don't have to core, peel or pit it, which saves a whole lot of time.
Storing Blueberry Pie:
Serve: a blueberry pie can sit out at room temperature for up to 2 days if in an airtight container
Store: You can store blueberry pie, loosely covered for up to 4 days.
Freeze: You can store blueberry pie in the freezer for up to 6-8 months in an airtight container.
Whether you are getting together with some friends or making dinner for a weeknight, blueberry pie is a delicious, hearty dessert classic that is surprisingly easy to make.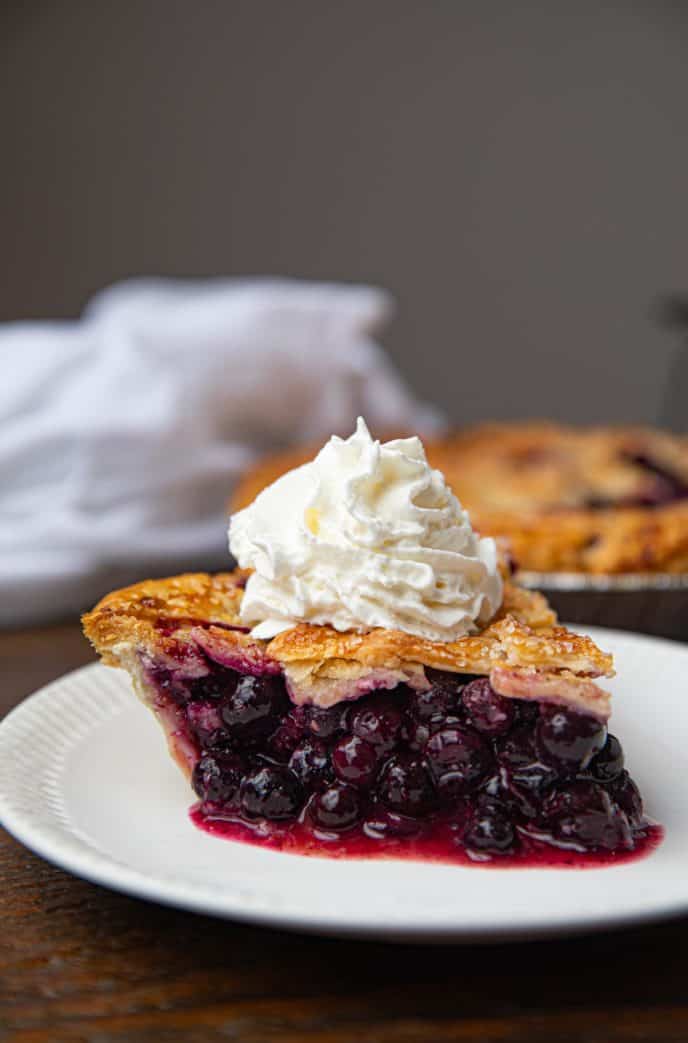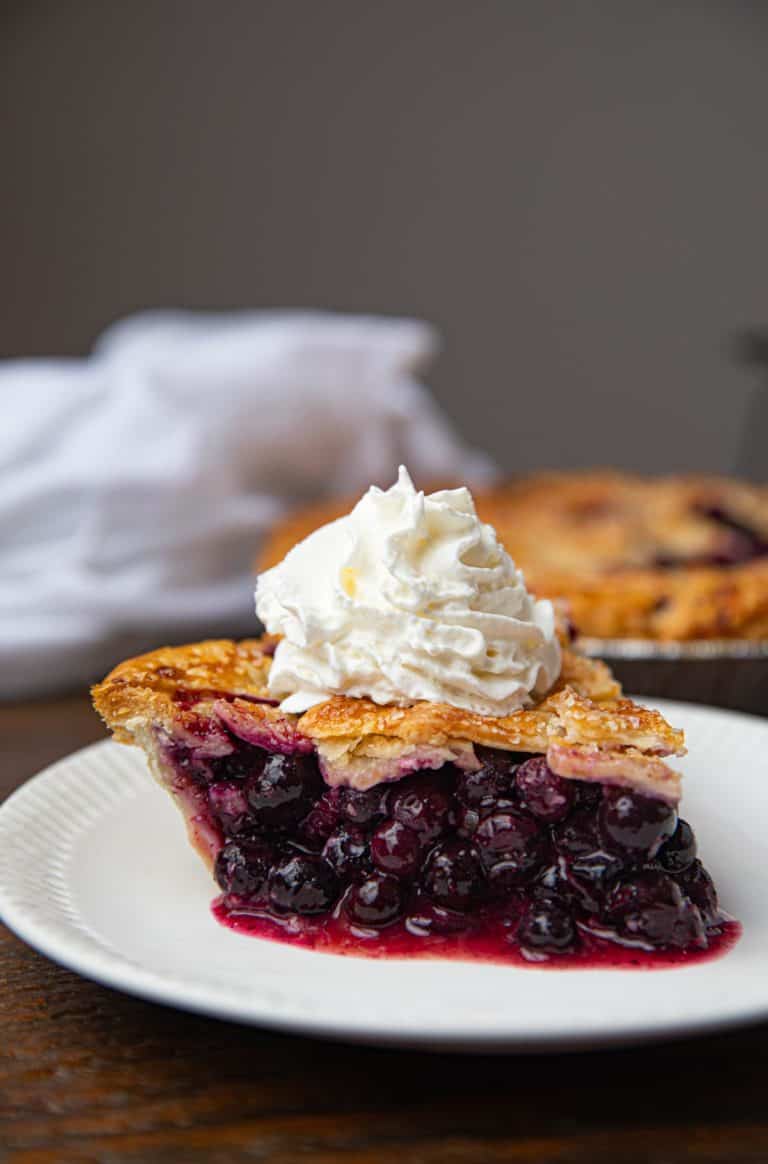 Ingredients
3/4

cup

white sugar

6

tablespoons

cornstarch

1/4

teaspoon

salt

1/2

teaspoon

ground cinnamon

4

cups

fresh blueberries

1

tablespoon

unsalted butter

1

large

egg

1

tablespoon

water

1

tablespoon

coarse sanding sugar
Instructions
Preheat oven to 375 degrees.

Mix sugar, cornstarch, salt, and cinnamon, and sprinkle over blueberries and mix them together gently (please be careful to not break the blueberries).

Line pie dish with one pie crust.

Pour berry mixture into the crust, and dot with butter.

Cut remaining pastry into ½ - ¾ inch wide strips, and make lattice top.

Mix egg with water and brush on pie crust then sprinkle on sanding sugar.

Bake pie on middle shelf of oven for about 50 minutes, or until crust is golden brown.
Nutrition
Calories:
361
kcal
|
Carbohydrates:
57
g
|
Protein:
4
g
|
Fat:
13
g
|
Saturated Fat:
5
g
|
Cholesterol:
30
mg
|
Sodium:
258
mg
|
Potassium:
108
mg
|
Fiber:
3
g
|
Sugar:
28
g
|
Vitamin A:
120
IU
|
Vitamin C:
7.2
mg
|
Calcium:
16
mg
|
Iron:
1.5
mg