Oreo Chunk Cookie Pie
This post may contain affiliate links. Read my disclosure policy here.
Oreo Chunk Cookie Pie tastes like a delicious, warm, Oreo chunk cookie baked into a buttery crisp pie crust that's half pie and half fresh baked cookie!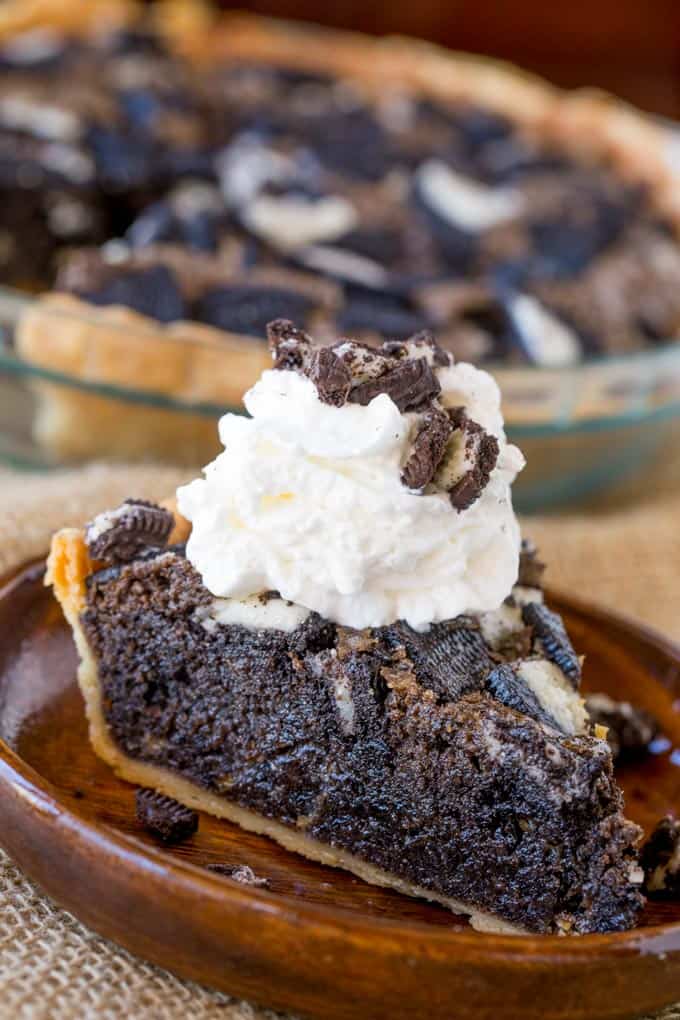 Oreo Chunk Cookie Pie is one of the first dessert recipes I ever created from scratch as an adult. Most people love experimenting with add-ins for things like brownies and cookies to personalize them, but when I was a young adult (read: just out of college) I came across a cookie pie recipe on Bakerella's blog.
It looked amazing, like a classic chocolate chip cookie baked into a pie. Which I also made: Chocolate Caramel Chip Cookie Pie
More back story because why not? Well, having just finished college I was still dreaming about these:
Oreo Chunk Cookies
that were part of my college's traditional after party/study/every meal of the day foods we all flocked to. So seeing this cookie pie just made me want the Oreo version.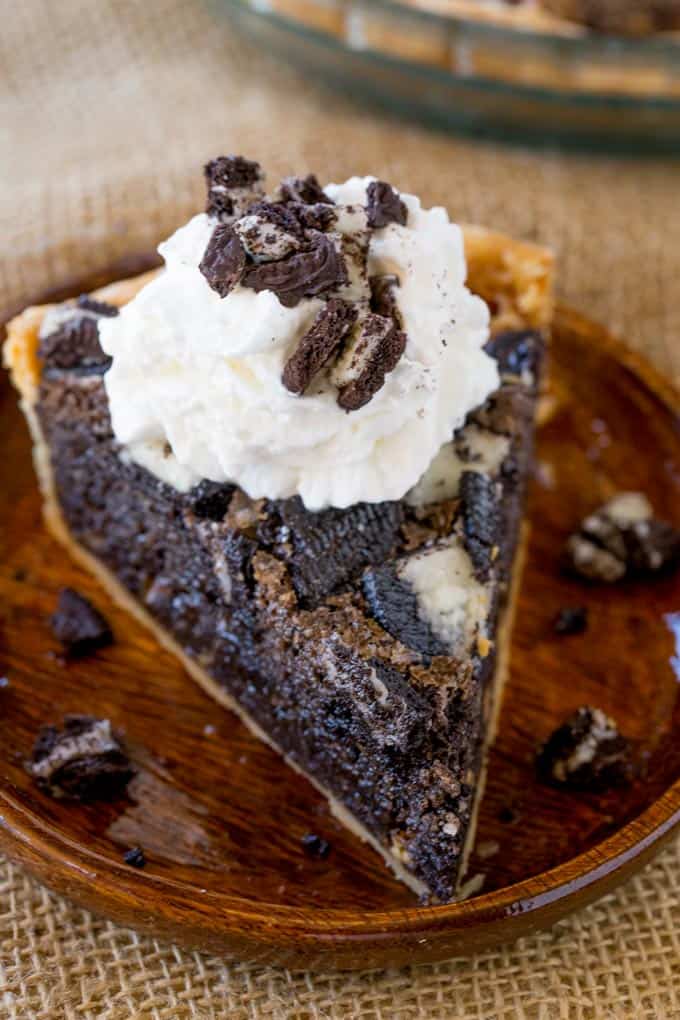 Once I figured out how to make the cookies I figured out how to create the right amount of filling for this pie and the results are, well, delicious.
This Oreo Chunk Cookie Pie tastes like a delicious cross between the Oreo chunk cookies I made a month or so ago and a half baked chocolate cookie crumb crust by incorporating Oreo crumbs and chunks in the batter.
What you end up with is a delicious half baked Oreo chunk cookie nestled into a buttery crisp pie crust. You could serve this with ice cream or whipped cream, but to be honest, pour a cup of milk and sit down with a warm slice of this pie. You will be in heaven.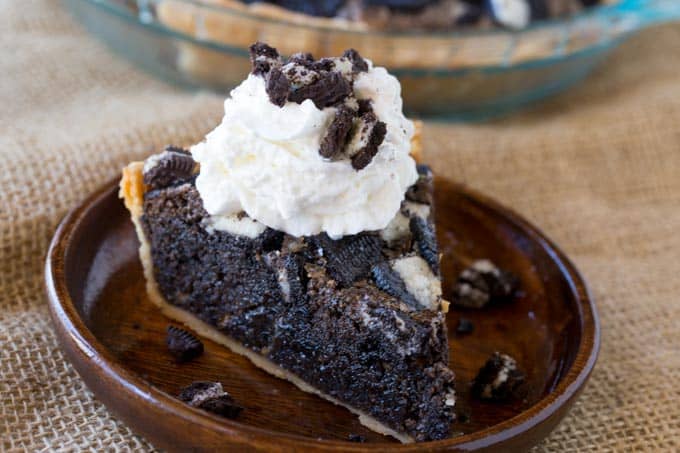 Tools used in the making of this Oreo Chunk Cookie Pie:
Stand Mixer
: The most beautiful appliance in my kitchen in the gorgeous Colbalt Blue.
Pie Plate
: I've had the
Emile Henry version
of this plate for 6 years and always get compliments on it, this beauty is a steal in comparison.
White Chocolate Chips
: These end up melting in the pie and only add flavor so going with good quality here is important. I recently switched my white chocolate preference (side by side testing in 4 different recipes) from Guittard to Ghirardelli, so these are a great deal to stock up.
Vanilla Extract
: I'm all about Neilssen Massey vanillas. I also love their
vanilla sugar
when I don't want to add liquid to a recipe and their
vanilla paste
when I want a beautiful plate (I brush it on) or filling (I include it in between cake layers before the frosting)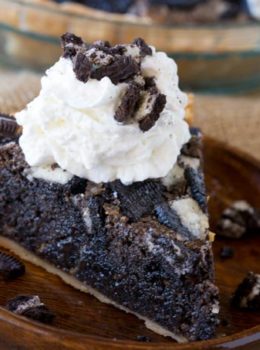 Oreo Chunk Cookie Pie
Oreo Chunk Cookie Pie tastes like a delicious, warm, Oreo chunk cookie baked into a buttery crisp pie crust that's half pie and half fresh baked cookie!
MY OTHER RECIPES
Prep Time 15 minutes
Cook Time 1 hour
Total Time 1 hour 15 minutes
Ingredients
1 unbaked 9-inch deep-dish pie shell
2 large eggs
½ cup all-purpose flour
½ cup granulated sugar
½ cup packed brown sugar
1 teaspoon vanilla extract
3/4 cup butter 1½ sticks, softened
1 cup white chocolate chips
1 cup Oreo crumbs
12  Oreos quartered
Instructions
Preheat oven to 325° F.

Beat the eggs in large mixer bowl on high speed until foamy.

Add in the flour, Oreo crumbs, brown sugar, white sugar and vanilla.

Beat in butter until combined.

Stir in the white chocolate chips.

Put mixture into pie shell and even the mixture out in the shell.

Put the quartered Oreos on top of the pie and push them in about halfway.

Bake for 60 minutes.

You can insert a knife or toothpick but just be aware melted chocolate will get all over it.

If the top looks browned and crisp after the timer goes off I would say you are good to go.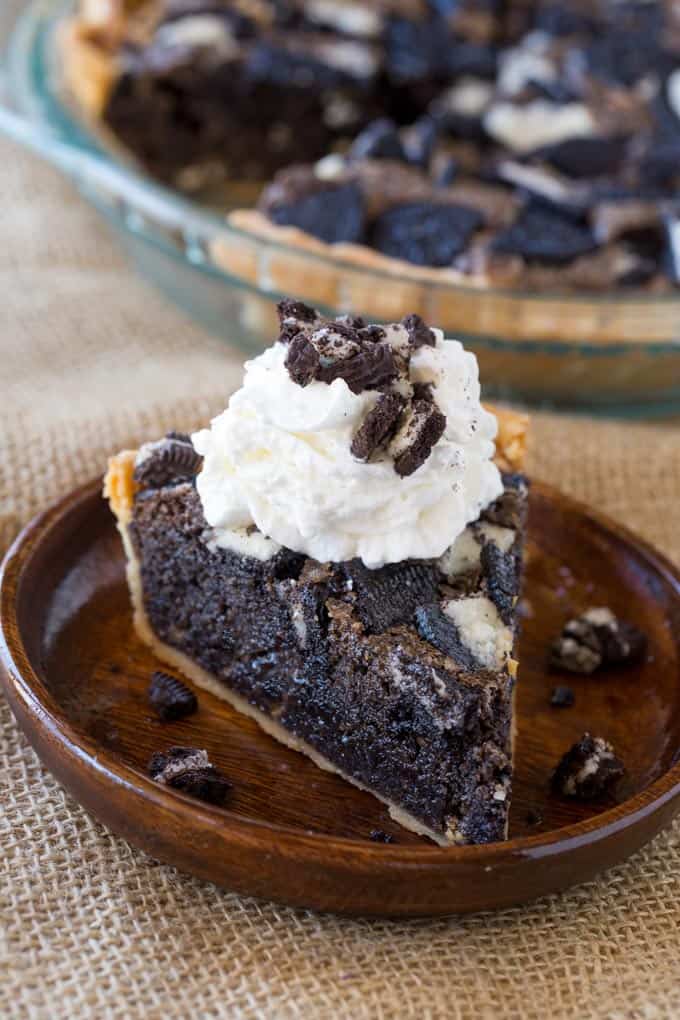 Dinner, then Dessert, Inc. owns the copyright on all images and text and does not allow for its original recipes and pictures to be reproduced anywhere other than at this site unless authorization is given. If you enjoyed the recipe and would like to publish it on your own site, please re-write it in your own words, and link back to my site and recipe page. Read my disclosure and copyright policy. This post may contain affiliate links.