Oreo Chunk Cookie Pie tastes like a delicious Oreo chunk cookie baked into a buttery pie crust that's half pie and half fresh baked cookie!
We love baking pies all year long, including Mixed Berry Pie and Chocolate Chip Cookie Pie and also no-bake pies like the popular Banana Cream Pie!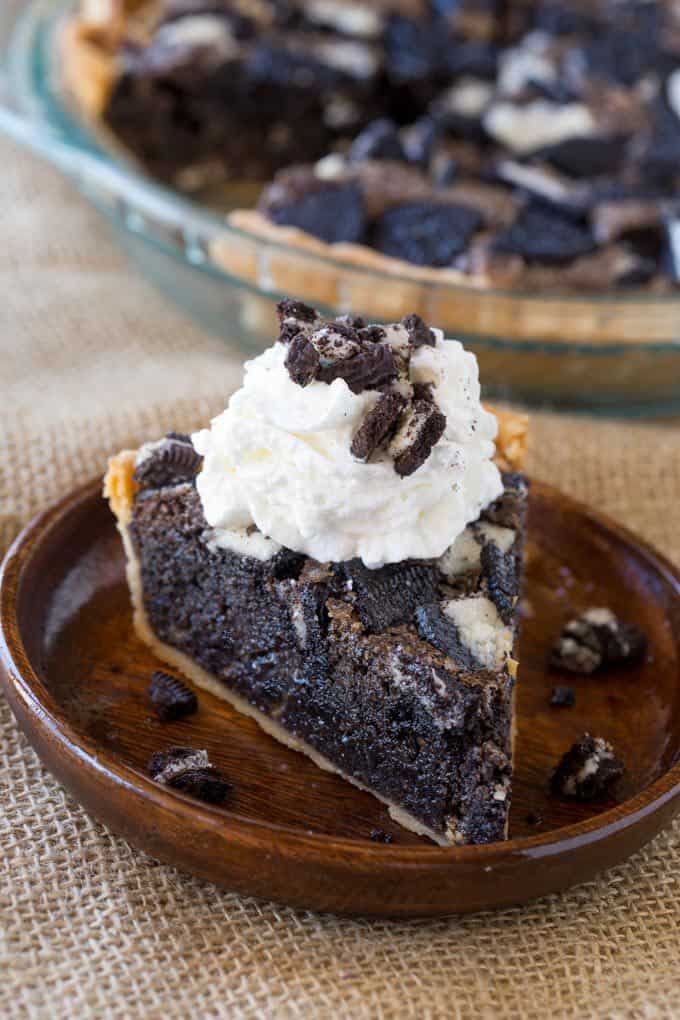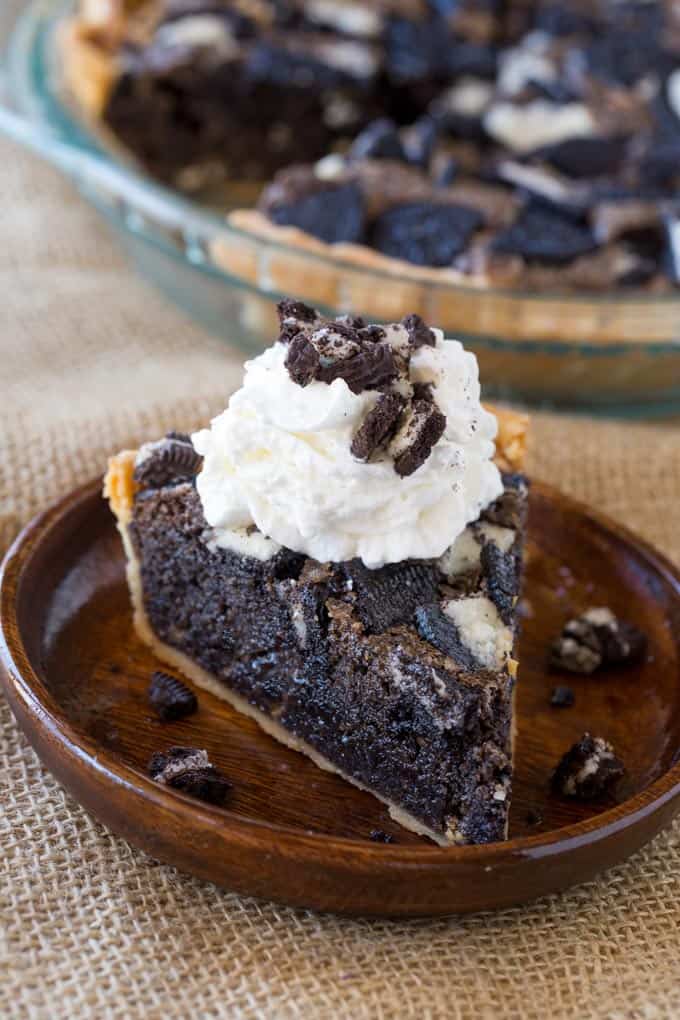 This Oreo Chunk Cookie Pie tastes like a delicious cross between Oreo Chunk Cookies and a half baked chocolate cookie crumb crust by incorporating Oreo crumbs and chunks in the batter. Most people love experimenting with add-ins for things like brownies and cookies to personalize them, and this recipe will change everything you know about baking. Cookies baked into pies? Best dessert ever.
What you end up with is a delicious half baked Oreo chunk cookie nestled into a buttery crisp pie crust. You could serve this with Vanilla Ice Cream, Homemade Cool Whip or Homemade Whipped Cream, but to be honest, pour a cup of milk and sit down with a warm slice of this pie. You will be in heaven. It may be different than your classic No Bake Oreo Cream pie, but in all the best ways ever. This is the BEST OREO PIE.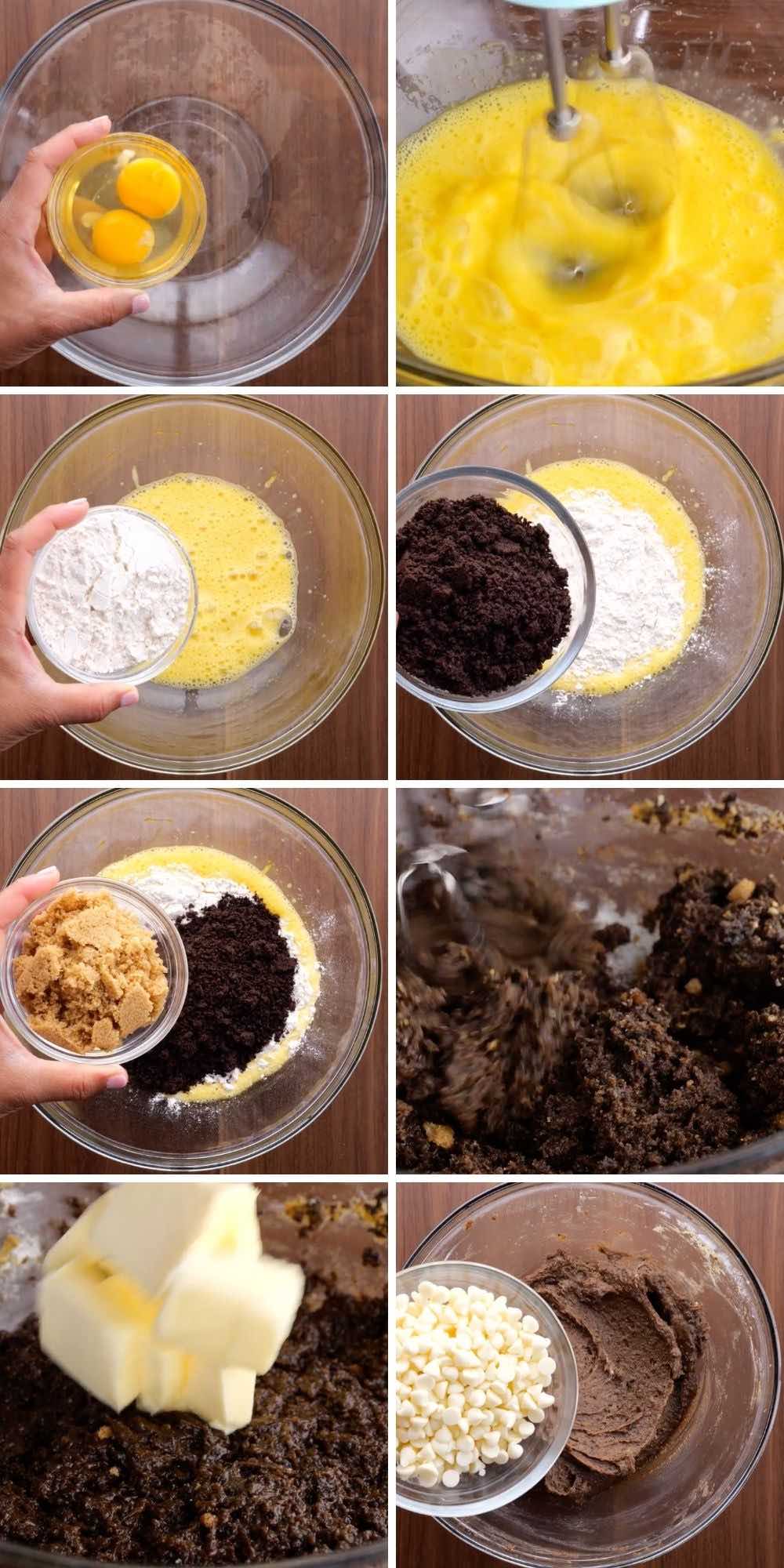 Oreos are probably the most popular dessert flavor on the site. There is Oreo Cake, of course the classic Oreo no bake dessert Oreo Balls (even Peppermint ones), Oreo Cheesecake, Oreo Popcorn and probably the best ever viral hot recipe of the moment, Oreo Churros. If you love Oreos, you're in the right place!
If you want to make this pie 100% Oreo you can also make this with an Oreo crust. We can't vouch for you if you eat the entire 9-inch pie in one sitting. Especially if you top it with this Homemade Hot Fudge recipe!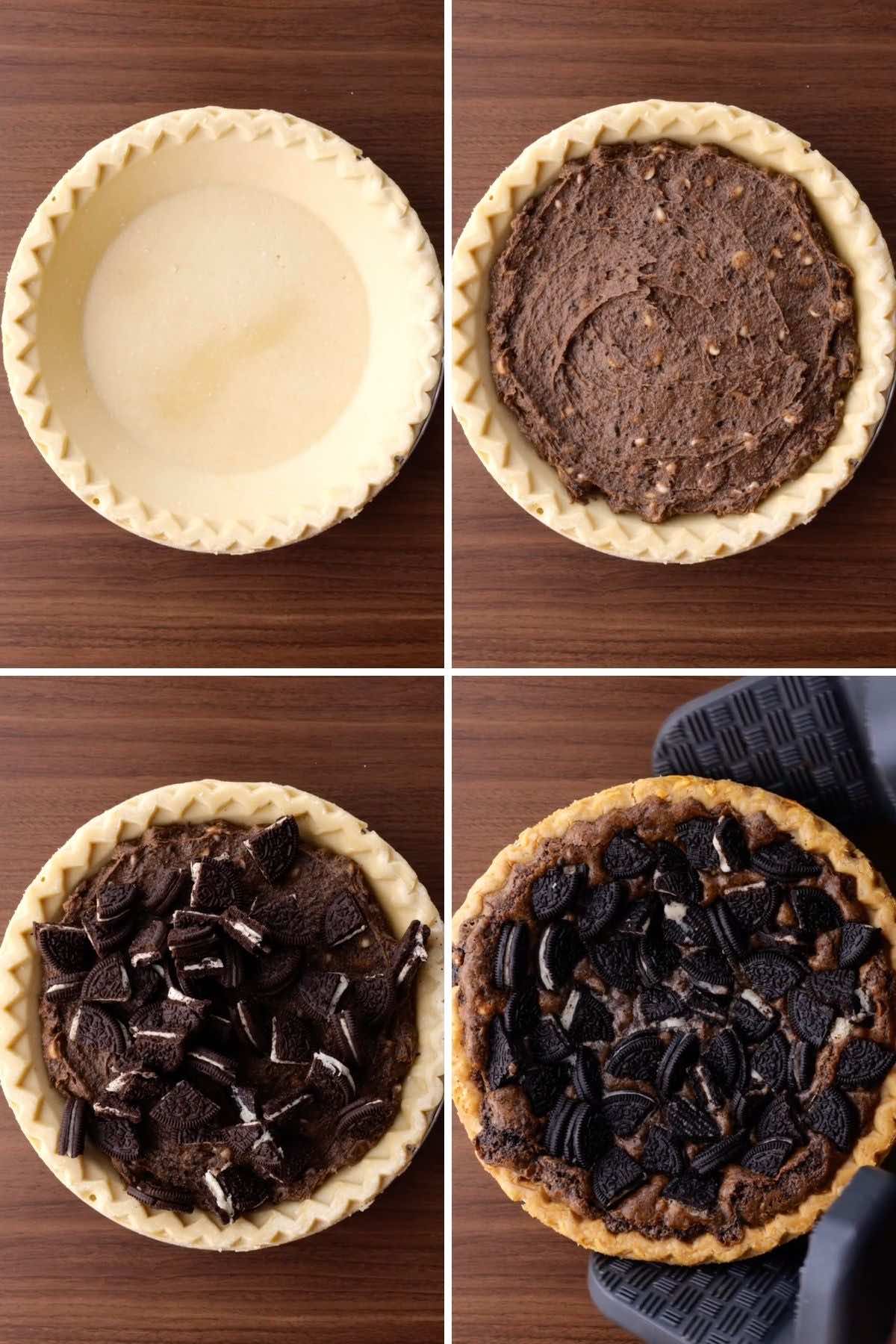 Create a free account to Save Recipes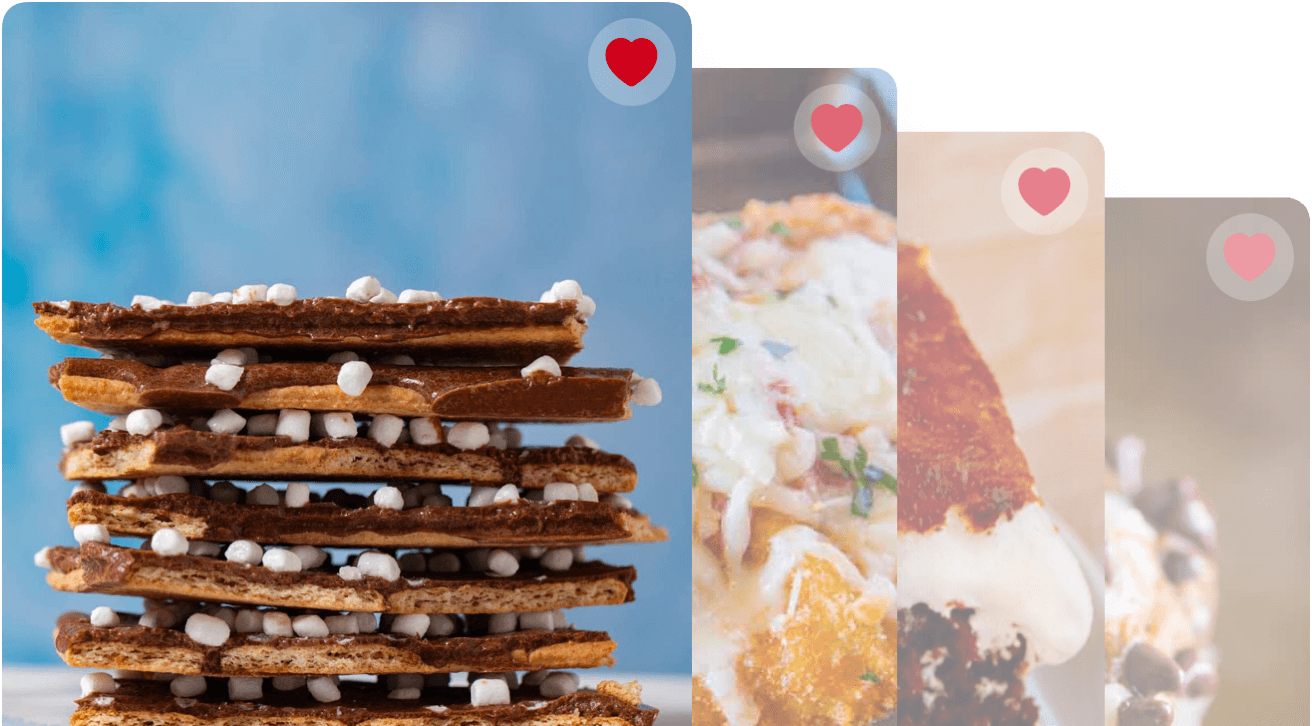 Frequently Asked Questions
How do I make No Bake Oreo Pie?
14.3 ounce package Oreos
8 tablespoons unsalted butter, melted
8 ounces cream cheese, softened
1 cup powdered sugar
8 ounces cool whip

1. Process the Oreos in a food processor until they're fine crumbs, and mix half of them with the melted butter. Press it into a pie pan and refrigerate for 30 minutes.
2. Whisk together the cream cheese, powdered sugar, and cool whip until smooth, then fold in the Oreos and pour into the pie crust, refrigerate for 2 hours.
What other cookies can I bake into a pie?
Just about any! Use this same base recipe and instead of Oreos, try it with Nutter Butters, Chips Ahoy, Biscoff cookies, or your favorite Girl Scout Cookie.
Can I use different pie crust for Oreo Chunk Cookie Pie?
Absolutely! Try making this pie with a Graham Cracker Crust, or substitute the graham crackers for more Oreos for a chocolate cookie crust. You can even press the cracker crust into a 8×8 baking dish, or skip a crust altogether and bake it into cookie bars.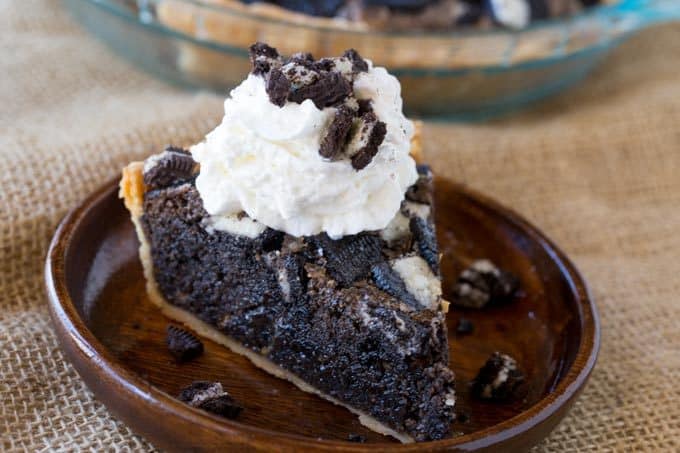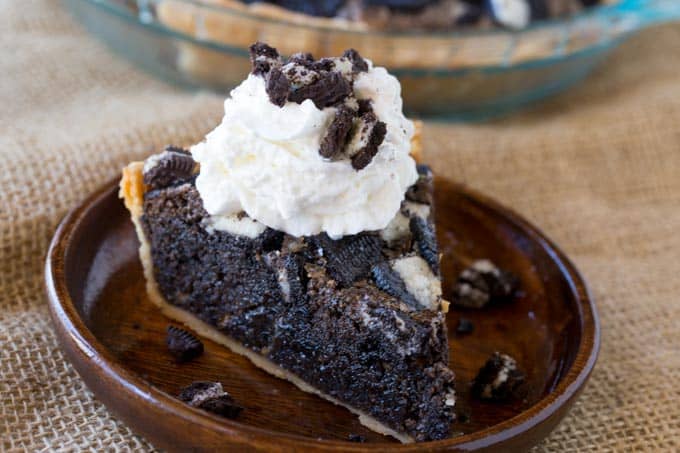 Tools Used in the Making of this Oreo Chunk Cookie Pie
Stand Mixer
: A beautiful appliance in any kitchen.
White Chocolate Chips
: These end up melting in the pie and only add flavor, so going with good quality here is important. Stock up when you see good quality chocolate on sale.
Vanilla Extract
: This is a great quality vanilla. You can also use
vanilla sugar
when you don't want to add liquid to a recipe and
vanilla paste
when you want a beautiful plate (brush it on) or filling (include it in between cake layers before the frosting).
How to Store Oreo Chunk Cookie Pie
Serve: Oreo Chunk Cookie Pie is best served still warm from the oven, after it's had a chance to cool for about 10 minutes.
Store: Cover with plastic wrap and store on the counter for up to 3 days, or in the refrigerator for up to 1 week. Reheat in the microwave for 10-15 seconds.
Freeze: Oreo Cookie Chunk Pie would be best frozen before baking, and thawed overnight in the refrigerator prior to baking. You can also freeze the cooked pie, wrapped tightly in plastic and then foil, for up to 1 month. Defrost at room temperature and reheat before serving.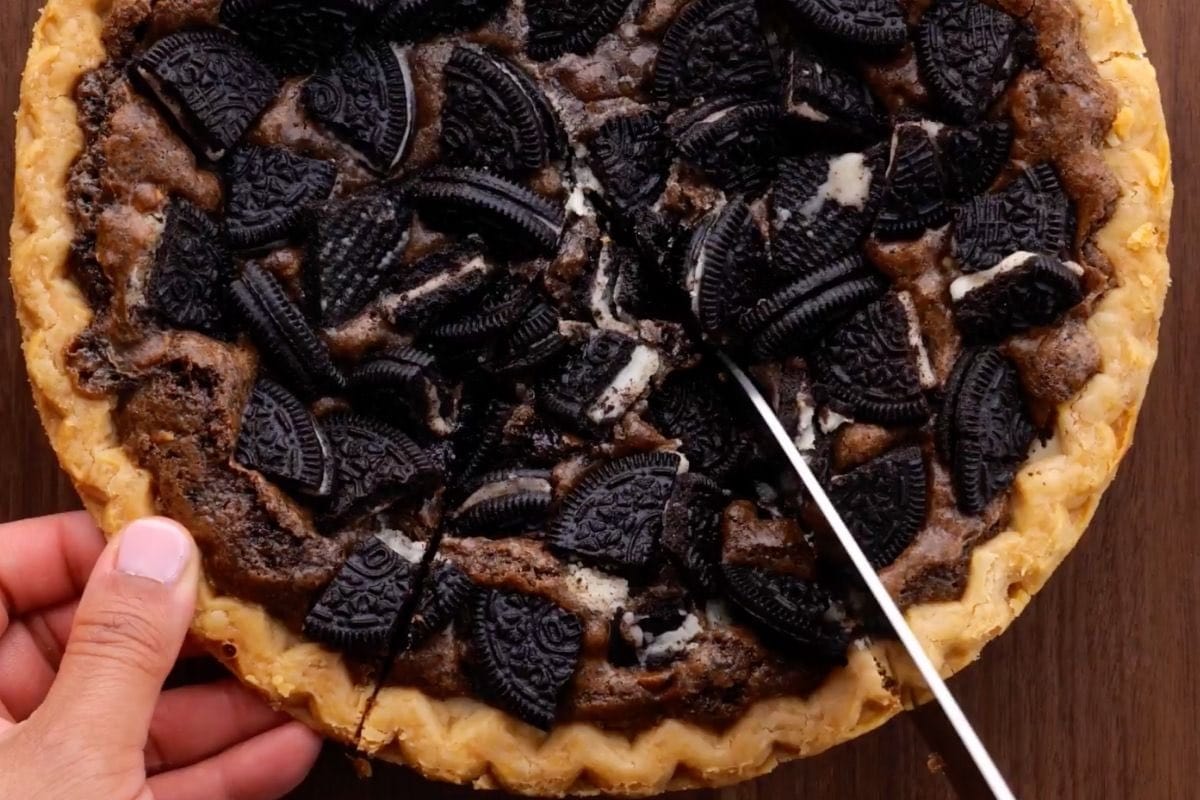 Ingredients
1

9-inch deep-dish pie shell

, unbaked

2

large

eggs

½

cup

flour

½

cup

sugar

½

cup

brown sugar

, packed

1

teaspoon

vanilla extract

3/4

cup

butter

, 1½ sticks, softened

1

cup

white chocolate chips

1

cup

Oreo crumbs

12 

Oreos

, quartered
Instructions
Preheat oven to 325 degrees.

Beat the eggs in large mixer bowl on high speed until foamy.

Add in the flour, Oreo crumbs, brown sugar, white sugar and vanilla.

Beat in butter until combined.

Stir in the white chocolate chips.

Put mixture into pie shell and even the mixture out in the shell.

Put the quartered Oreos on top of the pie and push them in about halfway.

You can insert a knife or toothpick but just be aware melted chocolate will get all over it.

If the top looks browned and crisp after the timer goes off, the pie is ready.
Nutrition
Calories:
730
kcal
|
Carbohydrates:
85
g
|
Protein:
7
g
|
Fat:
41
g
|
Saturated Fat:
20
g
|
Cholesterol:
91
mg
|
Sodium:
466
mg
|
Potassium:
218
mg
|
Fiber:
1
g
|
Sugar:
54
g
|
Vitamin A:
600
IU
|
Vitamin C:
0.1
mg
|
Calcium:
81
mg
|
Iron:
4.6
mg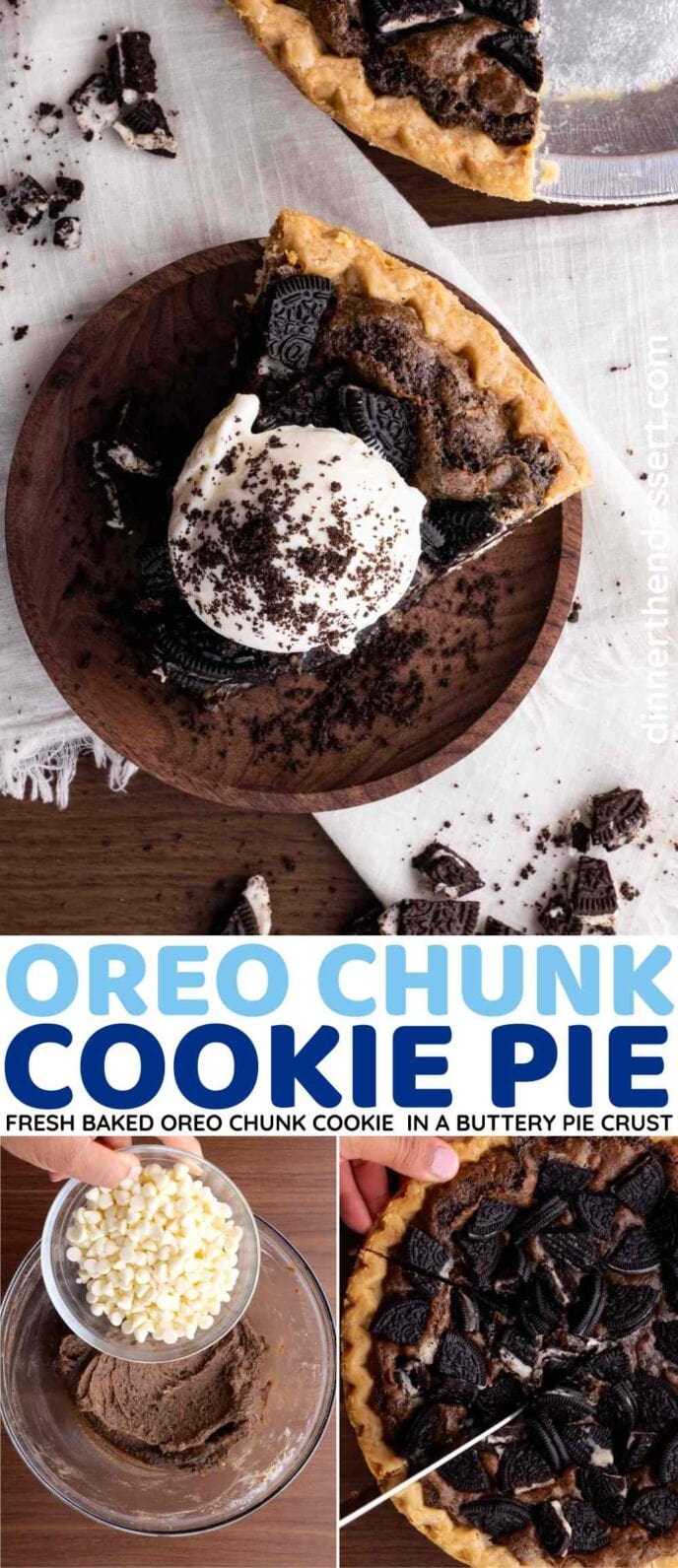 Photos used in a previous version of this post.