Oreo Coffee Ice Cream Pie is the perfect frozen treat for summer! Creamy coffee ice cream and Oreos in a cookie crust with coffee whip cream.
A sweet, delicious cold Ice Cream Pie Recipe is the perfect dessert for a hot summer day. Whether you use homemade Coffee Ice Cream, or store-bought, this amazing chocolate cookie and coffee ice cream pie is sure to be a summertime hit.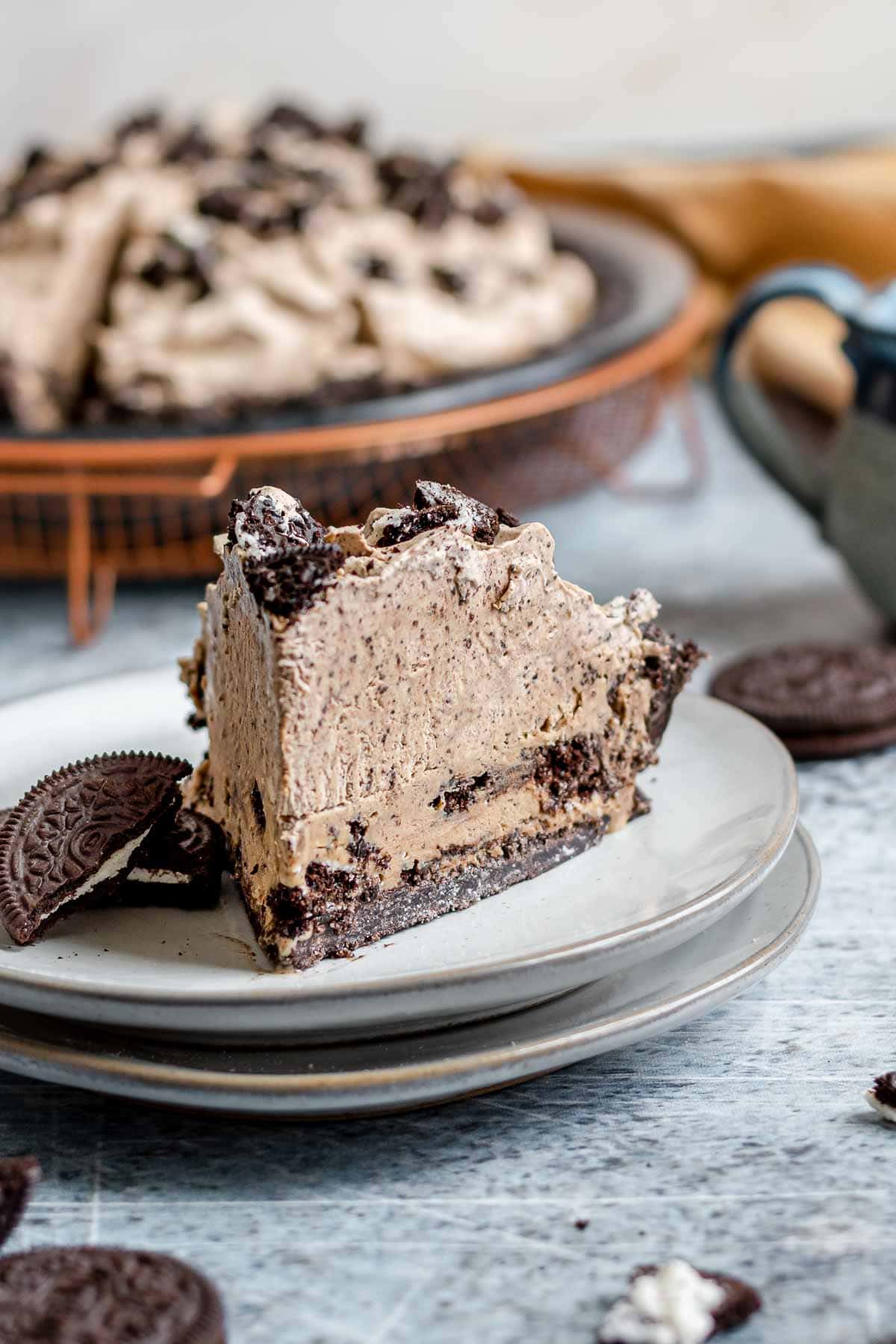 This Oreo Coffee Pie is like a cross between a pie and an ice cream cake with its creamy chocolate espresso filling and chocolate cookie crust. The combination of Oreo cookies, cream topping, and coffee ice cream filling makes this frozen pie unique and delicious. Think of it like a cookies n' creme mocha latte but as a frozen chocolatey treat that can feed a crowd! It is sure to be a favorite summer dessert, especially if you are a coffee lover!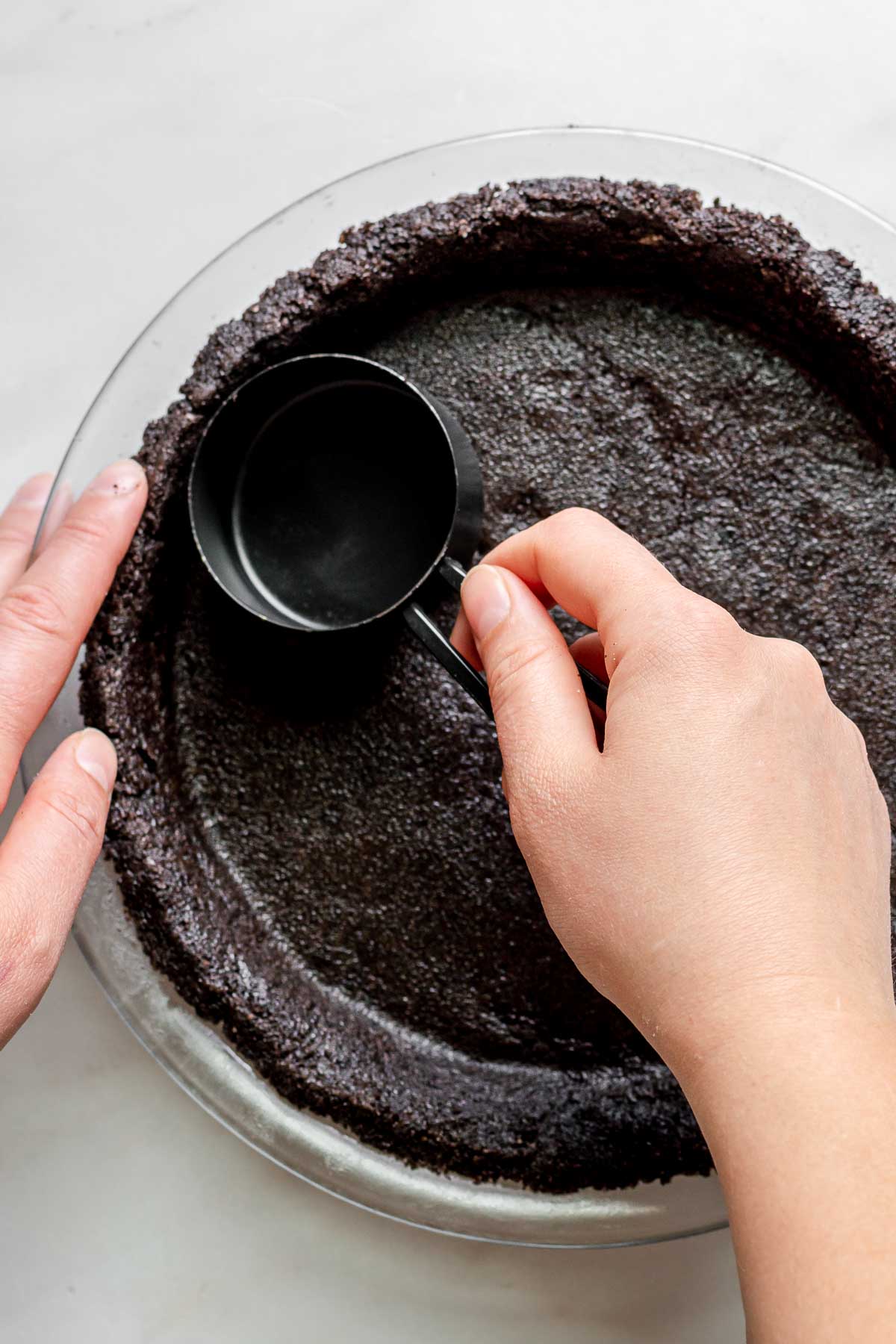 Making this coffee ice cream dessert is also super easy and has coffee and cookies all the way through it. The chocolate cookie crumb crust is just made by combining butter, sugar, and Oreo cookie crumbs. The layer of ice cream gets even more sandwich cookies added to it then spread into the cookie crumb crust. Finally, it gets a homemade whip topping flavored with additional cookie crumbs and espresso powder or instant coffee.
The only thing to keep in mind is that it takes time for the frozen pie to set properly. Once it's frozen solid, take the pie from freezer about 10-15 minutes before serving so it's easy to cut slices. If you have a sweet tooth, feel free to add additional toppings like Chocolate Sauce, chocolate-covered coffee beans, or extra chocolate shavings before serving.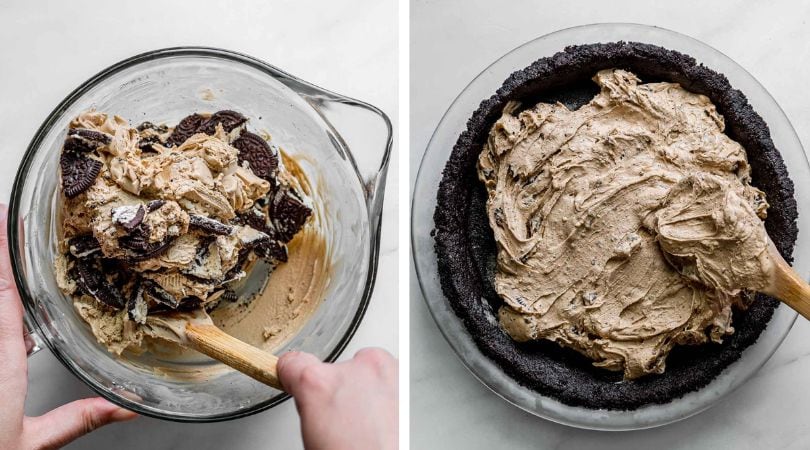 How to Make Oreo Coffee Ice Cream Pie
Cookie Crumb Crust: To make the pie crust start by breaking the Oreos into crumbs. You can pulse them in a food processor, or put them in a Ziploc bag and break them apart on the counter. Next, melt the butter in a microwave-safe dish. Stir together the Oreos, sugar, and melted butter into a crumb mixture until they're well combined. Press the chocolate cookie crust into a 9-inch pie pan so that it's in a nice even layer.
Coffee Ice Cream Filling: Take the coffee ice cream from the freezer about 10 minutes ahead of time so you have softened ice cream to work with. Mix together the ice cream with the chunks of Oreos. Then pour the ice cream mixture into the pie plate.
Whipped Topping: Add the heavy cream, powdered sugar, coffee granules, Oreo crumbs, and vanilla extract into an electric mixer. Combine the mixture on high speed until stiff peaks form. Then spread it over the pie. After this step, the hands-on time is done.
Freeze: Once you've assembled the pie, freeze until firm. This should take about 4 hours. Remove pie from freezer at least 5-10 minutes before serving. Wipe your knife between cutting slices for clean slices.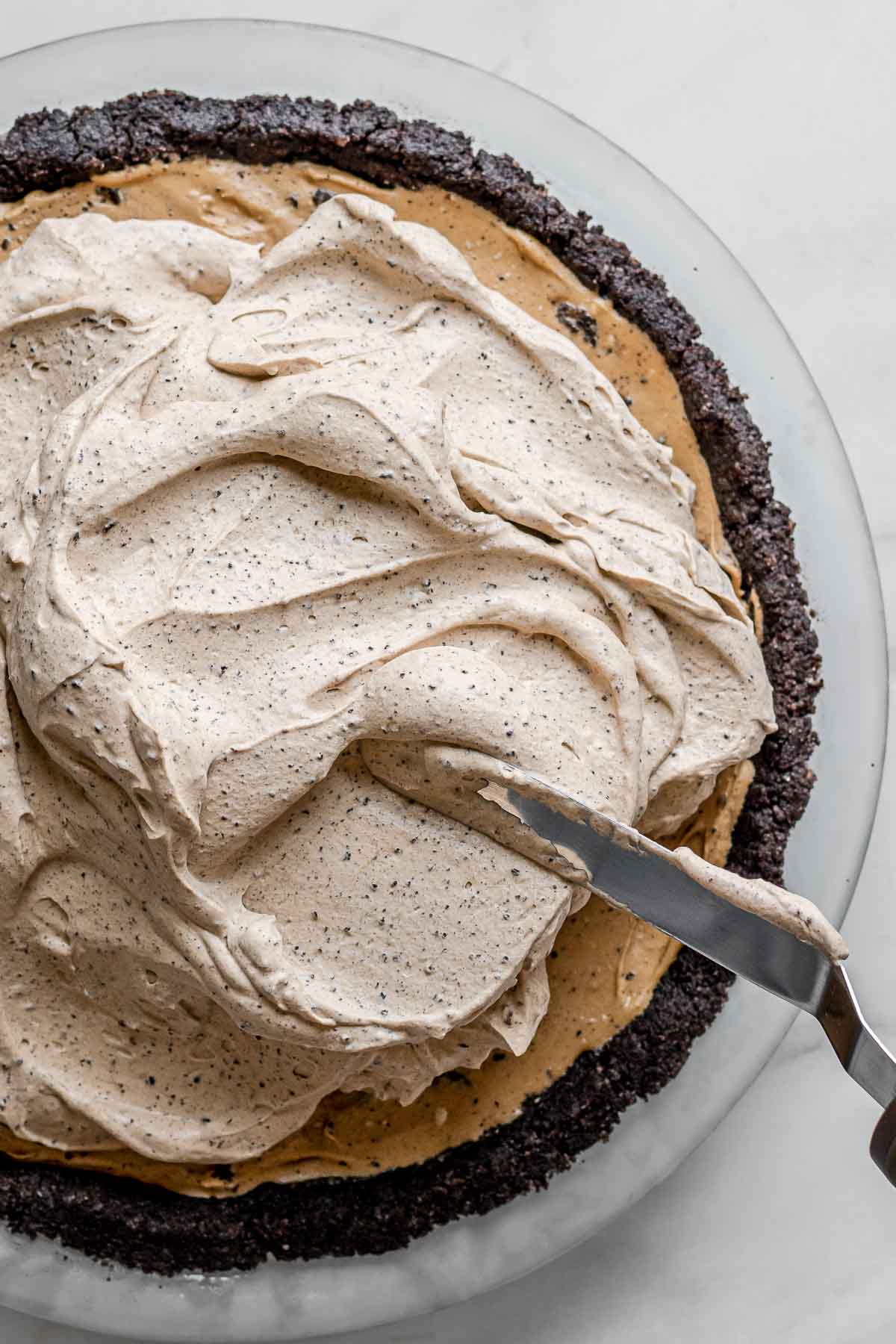 Delicious Ice Cream Treats!
FAQs for Oreo Coffee ice Cream Pie
Is this Ice Cream Pie kid-friendly?
The ice cream mixture is made with creamy coffee ice cream, and there are coffee granules called for in the recipe. Due to the caffeine content, this isn't the best recipe for kids. If you want to make it for the whole family, you can leave out the coffee granules and get a non-caffeinated brand of coffee ice cream.
Can I use a different flavor of ice cream?
You can absolutely get creative with your choice of ice cream flavors, especially if you want to make this ice cream for folks who can't have coffee. Try it with chocolate chip ice cream, caramel ice cream, or peanut butter ice cream.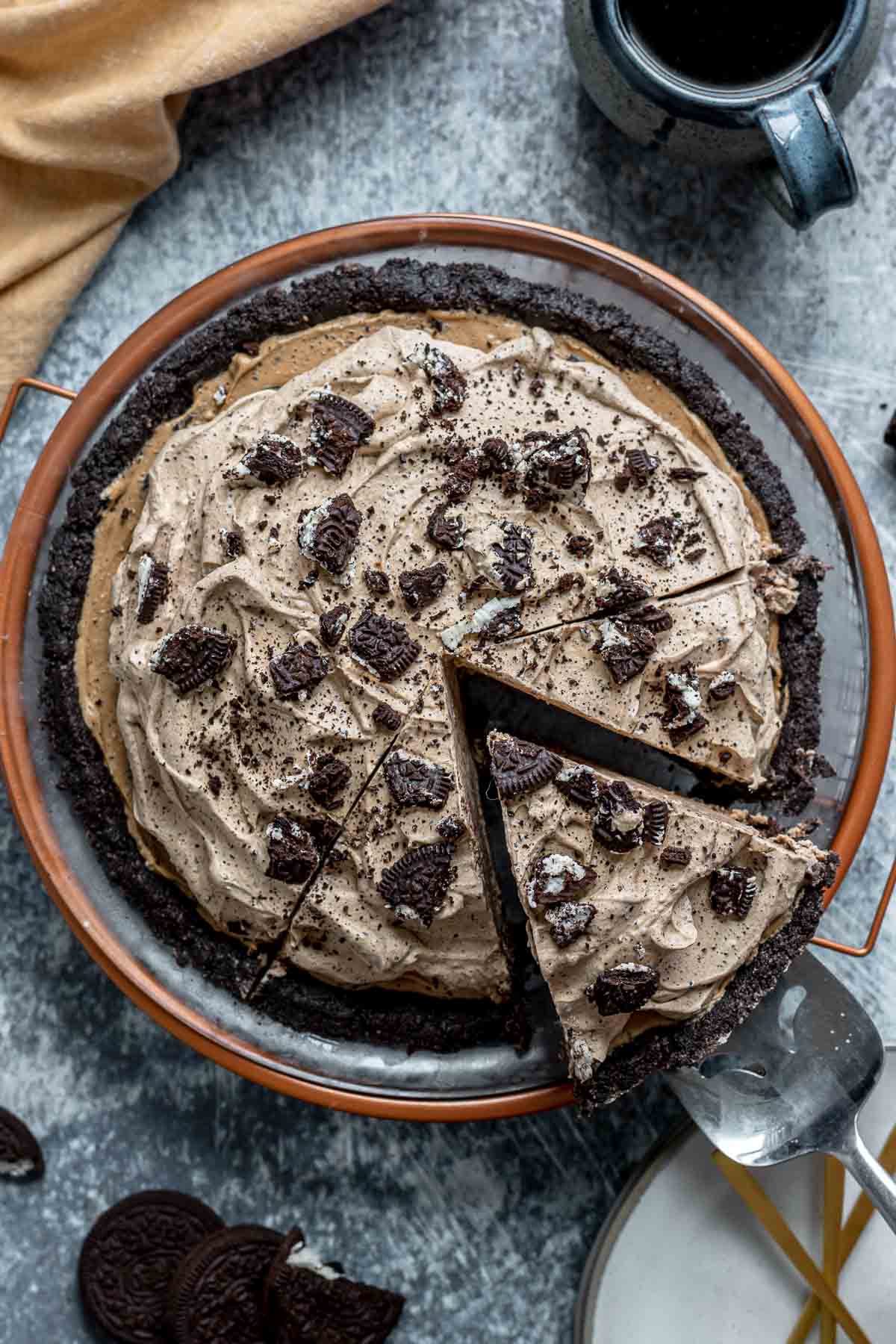 Create a free account to

Save Recipes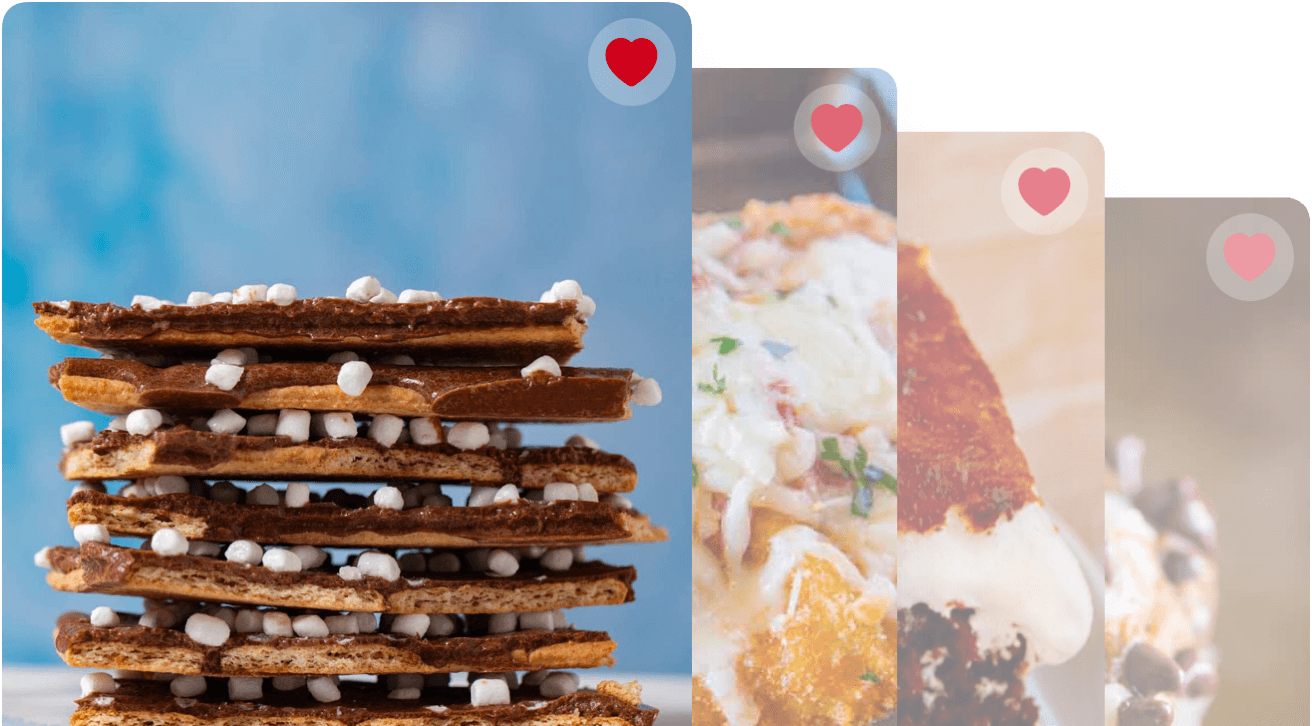 Key Ingredients
Coffee Ice Cream: You can store bought ice cream or a homemade ice cream recipe. If you are using homemade ice cream, make sure the ice cream is fully frozen. If you use store-bought, you want to use a quality coffee ice cream. You want it soft enough to easily mix in the cookies but you don't want it to be melted.
Oreos: These iconic chocolate sandwich cookies have been a favorite treat for generations! The dark chocolate crumbs are made with a special cocoa powder so they have a deep chocolate flavor. The sweet creme filling has a tasty vanilla flavor that balances out all the bold coffee and cocoa flavors. They are in every layer of this amazing pie, from the crust to the chopped cookies in the layer of ice cream to more crumbs in the whipped cream.
Cookie Crust: The cookie crumb crust is made from the whole sandwich cookies including the creme filling. This means you don't want to add too much additional sugar. The melted butter helps moisten the crumbs and you don't need to bake the crust for it to hold together.
Whipped Topping: The creamy, sweet coffee whipped topping is made with whipping cream, instant coffee granules or espresso powder, additional chocolate cookie crumbs, and a little bit of vanilla. It gets beaten until it's nice and fluffy and even though it will freeze slightly, it still stays creamy when you cut into it.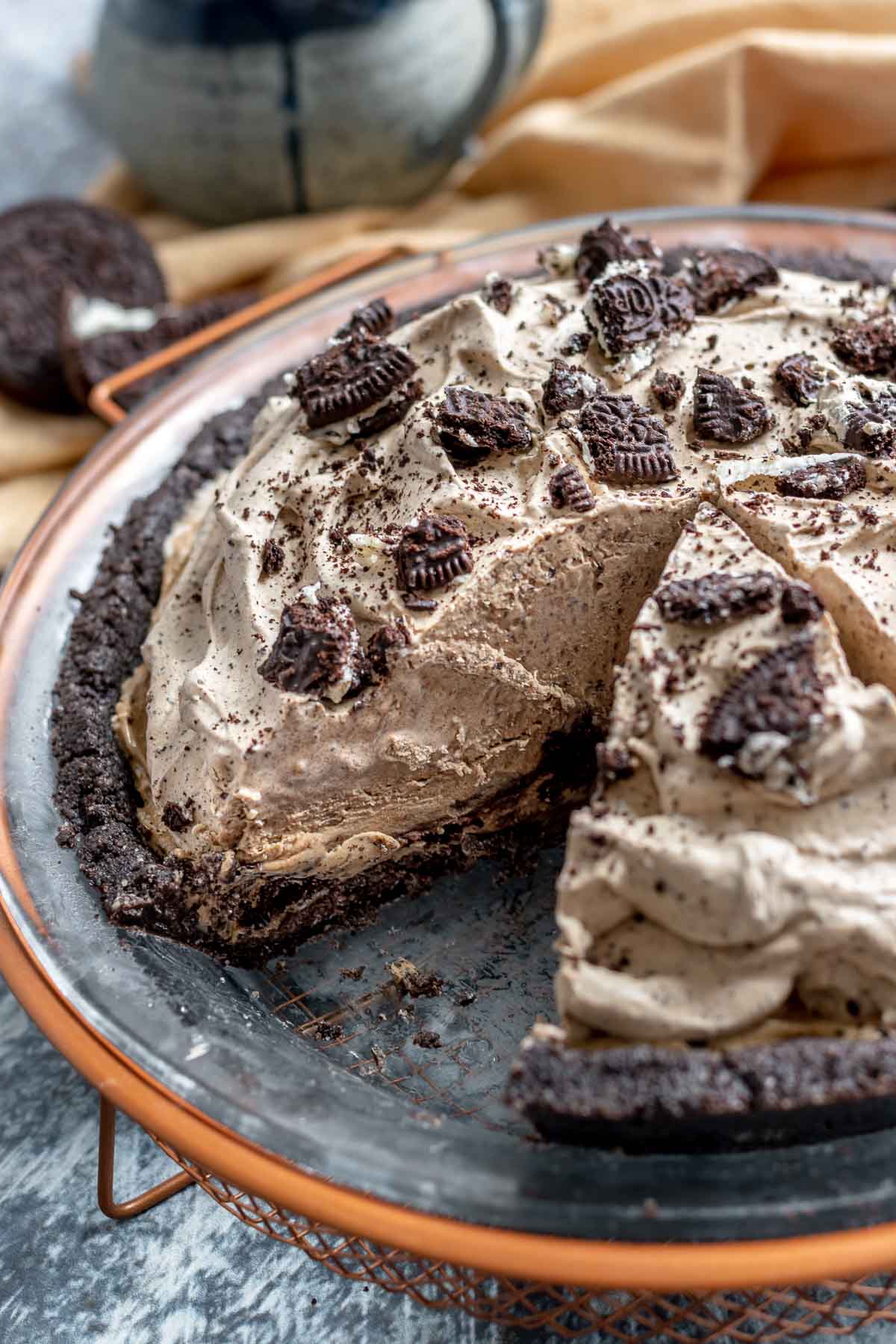 Can you make Oreo Coffee Ice Cream Pie ahead of time?
You absolutely need to prepare this pie ahead of time with at least 4 hours so it can set. If you are making homemade coffee ice cream, it's best to make that the night before so that it is completely frozen before you get started. The pie crust can be made about 2 weeks in advance, just wrap it up in plastic wrap and store it in an airtight freezer bag. The whipped cream is the only thing you should make the same day so it stays perfectly fluffy and slightly firm.
Variations
Chocolate Ice Cream: You can try making this pie with chocolate ice cream instead of coffee ice cream. Whisk the chocolate ice cream with the oreo chunks, and continue the rest of the recipe as you normally would. Oreo Ice Cream Chocolate Pie will be a dream come true for any chocolate lover.
Vanilla Ice Cream: Just like with chocolate, you can replace the coffee ice cream in the recipe with Vanilla Ice Cream.
Irish Coffee Ice Cream Pie: For Irish Coffee Ice Cream Pie mix in 2 tablespoons of Irish whiskey with the filling. You could also use a coffee-flavored liqueur in Irish Coffee Ice Cream Pie. Bailey's Irish cream is one of the most popular coffee-flavored liqueurs and it keeps well with the Irish theme. The only drawback to this version of the ice cream pie is you won't be able to serve it to kids. However, if you want a slightly boozy dessert to share with friends it's a delicious way to go.
Toppings: You can use any of your favorite ice cream toppings to add on top of this dessert. A chocolate drizzle is a great way to add some extra rich flavor. Either use classic chocolate syrup or a Hot Fudge Chocolate Sauce. You can also add a peanut butter drizzle. Put the peanut butter in the microwave for a few seconds to loosen it up before drizzling it over the top. For a more sweet flavor use Caramel Sauce. You can also add some sprinkles, mini chocolate chips, or chopped nuts.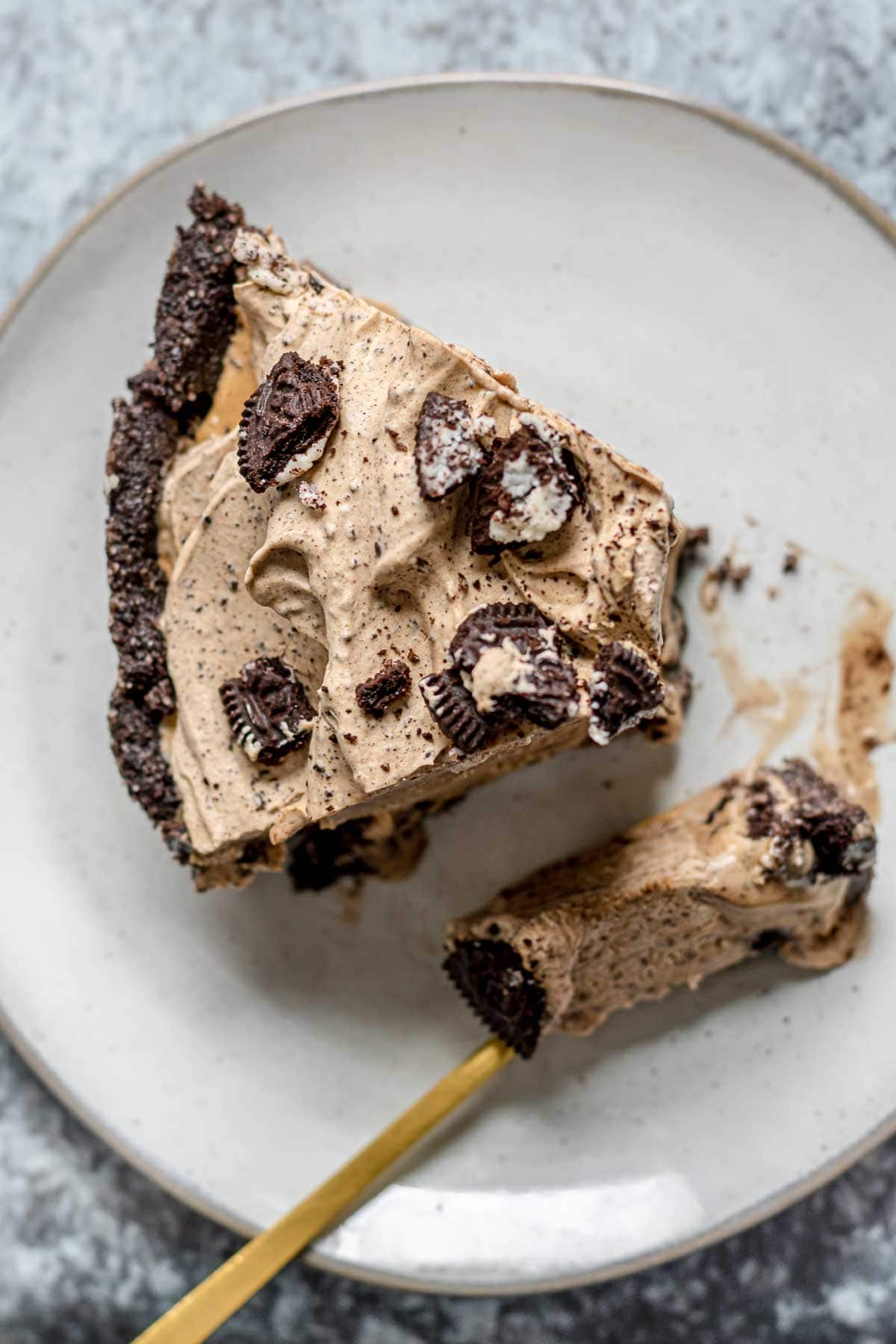 Amazing Homemade Ice Cream Recipes
How to Store
Serve: Because of the ice cream in the recipe, you can't leave this pie out at room temperature for more than an hour or so, but it's best to keep it frozen unless serving. However, you do want to let it sit out for about 10 minutes so it's easy to slice.
Store: To store the pie, keep it in the freezer. Wrap the pie tightly in plastic wrap or aluminum foil and keep it for up to 3 months. Take the pie out 10 minutes or so before serving, so that the ice cream has time to soften.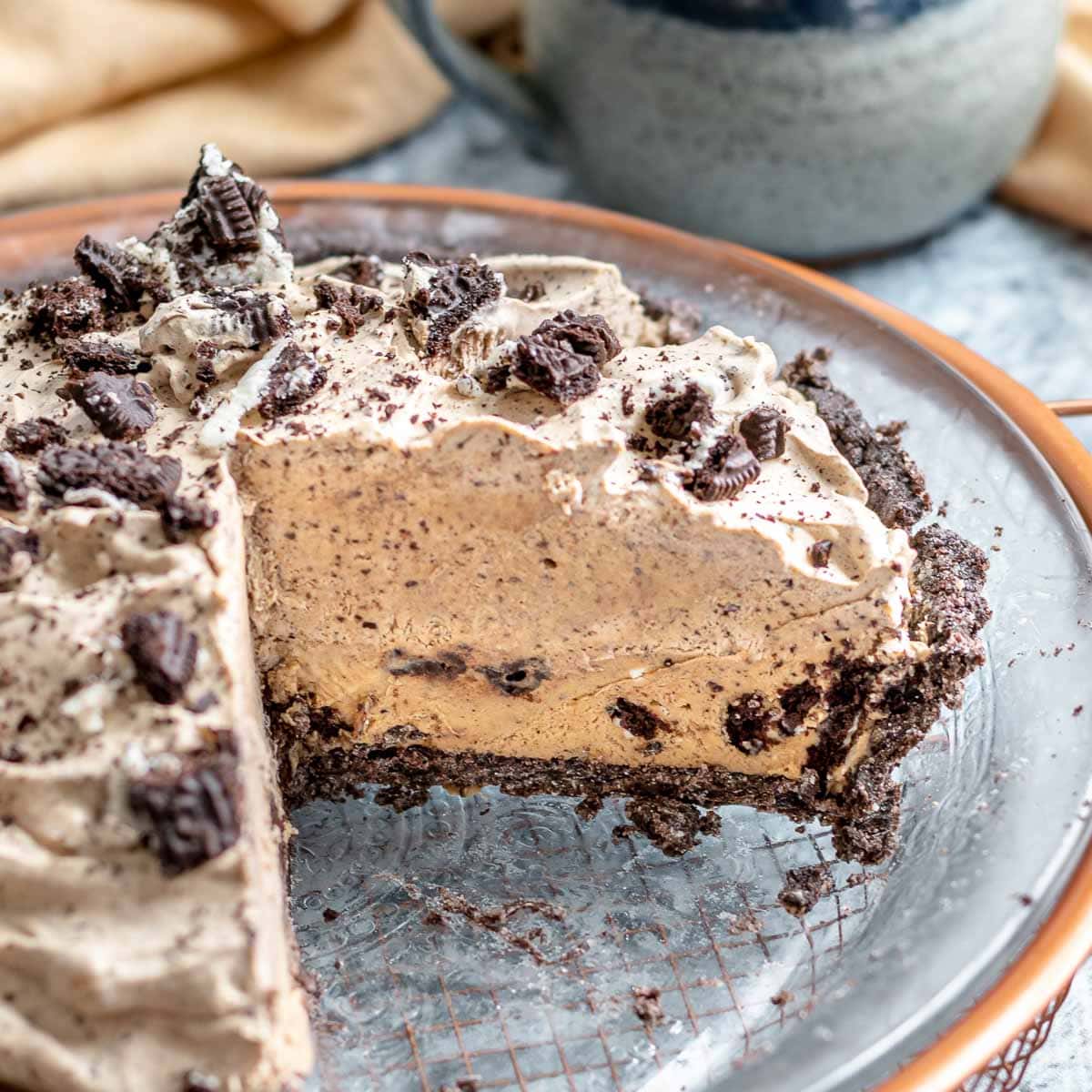 Ingredients
Oreo Crust:
1 1/2

cups

Oreo Cookie crumbs

1/4

cup

sugar

1/3

cup

unsalted butter

, melted
Pie Filling:
4

cups

Coffee Ice Cream

12

Oreo Cookies

, crushed
Whipped Cream Topping:
2

cups

heavy cream

1/2

cup

powdered sugar

1

tablespoon

instant coffee granules

1/2

cup

Oreos Cookie crumbs

1

teaspoon

vanilla extract.
Instructions
Stir together Oreo crumbs, sugar, and butter until well mixed.

Add crust mixture to a pie plate and press down evenly.

In a large mixing bowl whisk together coffee ice cream and crushed Oreos.

Pour into cooled pie plate.

Add heavy cream, powdered sugar, coffee granules, Oreo crumbs, and vanilla extract to a stand mixer and beat on high speed until it holds stiff peaks.

Spread onto the pie.

Freeze for

4 hours

before serving.

Add additional crushed Oreos or shaved chocolate over the top before serving.
Nutrition
Calories:
492
kcal
|
Carbohydrates:
48
g
|
Protein:
5
g
|
Fat:
32
g
|
Saturated Fat:
18
g
|
Cholesterol:
87
mg
|
Sodium:
229
mg
|
Potassium:
215
mg
|
Fiber:
1
g
|
Sugar:
34
g
|
Vitamin A:
926
IU
|
Vitamin C:
1
mg
|
Calcium:
92
mg
|
Iron:
3
mg