Vanilla Ice Cream made from fresh cream, sugar, and vanilla extract is indulgently sweet, creamy, and the perfect classic dessert topper.
You'll love topping everything with this delicious vanilla ice cream including Ultimate Apple Crisp, a warmed up bowl of Easy Banana Bread with a few chocolate chips, and warm Triple Chocolate Bundt Cake!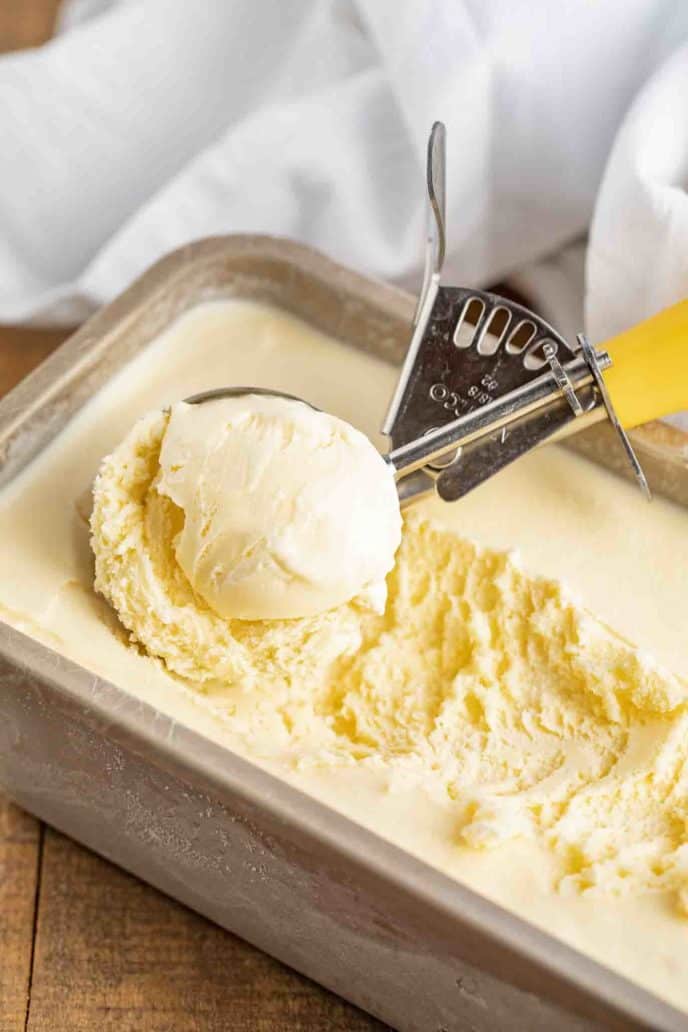 Vanilla Ice Cream is an absolute classic, made from wholesome fresh cream, sugar, and vanilla. It's rich and creamy, and the perfect pairing to other indulgent desserts like Flourless Chocolate Cake, with a generous portion of Easy Whipped Cream on top.
This Philadelphia-style ice cream recipe is super creamy and really quick to throw together. There's no heating or egg yolks to worry about, and you're using one bowl plus the ice cream maker so cleanup is easy, too. It's the perfect kid-friendly activity for a rainy day!
Vanilla is the most popular ice cream flavor in the world, which goes to show that the simple things are often the most appreciated. All it takes to make amazing ice cream are a few simple ingredients, so make sure those ingredients are as fresh and high quality as possible. Buy full fat half-and-half and heavy cream, real sugar, and make sure you are using real vanilla extract and not artificial vanilla flavoring. This will give you the perfect ice cream base to use in all your favorite frozen treat recipes, or even mix in your favorite syrups and toppings.
Use this simple ice cream as the base for an indulgent Banana Split or Ice Cream Sundae. The next time you entertain, impress your guests with homemade creamy vanilla ice cream and a full bar of toppings, including crushed nuts, cherries, Strawberry Topping, Salted Caramel Sauce, and of course, Hot Fudge.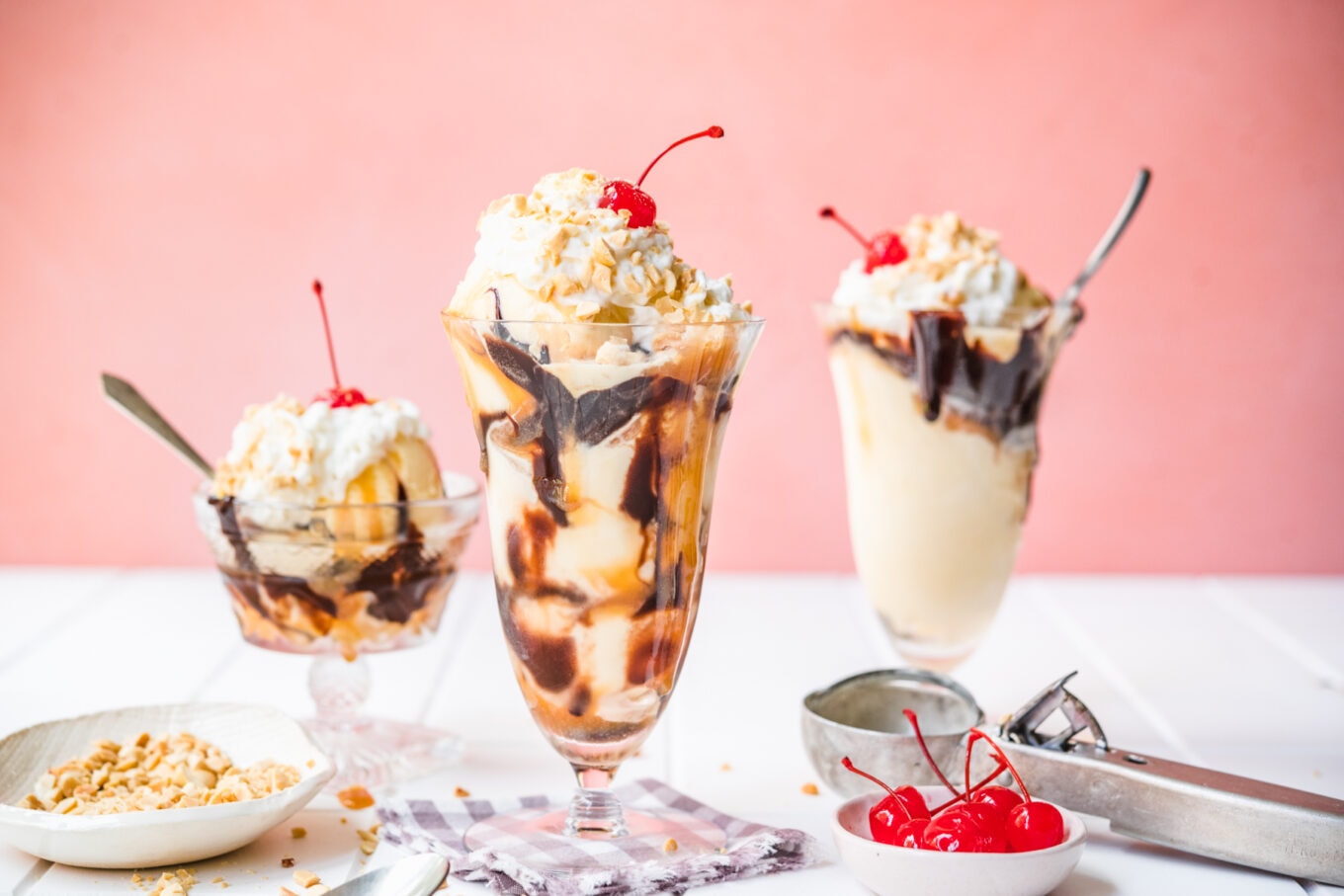 Frequently Asked Questions
How can I make Vanilla Ice Cream even creamier?
This homemade vanilla ice cream recipe has no eggs. If you want an even more indulgent and creamy ice cream, you can start with a custard base. In a mixing bowl whisk 3-4 egg yolks with the sugar. At the same time in a saucepan over medium-low heat, add the cream and half and half. When the cream starts to simmer, pour 1 cup of it slowly into the eggs while whisking (this is called tempering). Then pour everything back into the saucepan and simmer for an additional 2-3 minutes. Strain and allow to cool in the refrigerator for 30 minutes, then whisk in vanilla and pour into the ice cream maker as usual.
What is the difference between Vanilla and French Vanilla Ice Cream?
French vanilla ice cream is made with an egg custard, while regular vanilla ice cream is made with just cream and sugar. This is why french vanilla custard ice cream is more yellow in color. It also makes the vanilla itself seem more creamy and indulgent, which is where the confusion over the type of vanilla comes in.
How do I make homemade Vanilla Ice Cream without an ice cream machine?
There are two ways to successfully make ice cream without an electric ice cream maker.
1. Freeze a glass or metal bowl. Mix all of your ice cream ingredients together, then transfer to a frozen medium bowl and put back in the freezer for 30 minutes. When it's just starting to freeze, hit it with an electric hand mixer, and repeat every 30 minutes until you can't mix it easily anymore. Serve or return to freezer for later.
2. Fill a large plastic container halfway with ice and ¼ cup of rock salt. Add your ice cream base to a large plastic bag and seal tightly. Place your ice cream bag inside of the ice container and seal the lid tightly. Shake the plastic container until you have ice cream, about 10 minutes. This is the perfect time to get the kids to help! Rinse the bag before opening.
How do I make Vanilla Bean Ice Cream?
Adding real vanilla beans to this homemade ice cream recipe takes it to the next level! Split open two vanilla bean pods and scrape out the insides with the side of a paring knife. Whisk the vanilla bean paste into your ice cream mixture along with the rest of the ingredients. You can even keep the vanilla pods and soak them in alcohol to make homemade vanilla extract.
Why is it called Philadelphia style ice cream?
Philadelphia style ice cream, also known as American or New York style ice cream, is an eggless ice cream style different from the custard based French ice cream. It has less to do with the actual city of Philadelphia, and more to do with the fact that it was introduced to America around the time of the Revolutionary War, when Philadelphia was the center of culture and cuisine.
What to Serve with Vanilla Ice Cream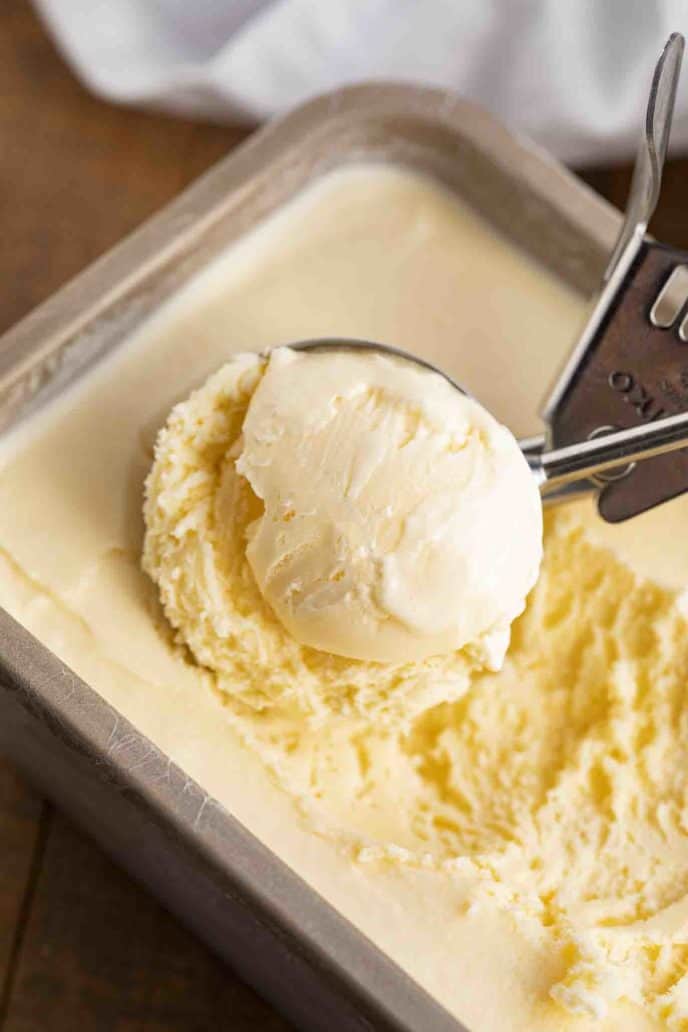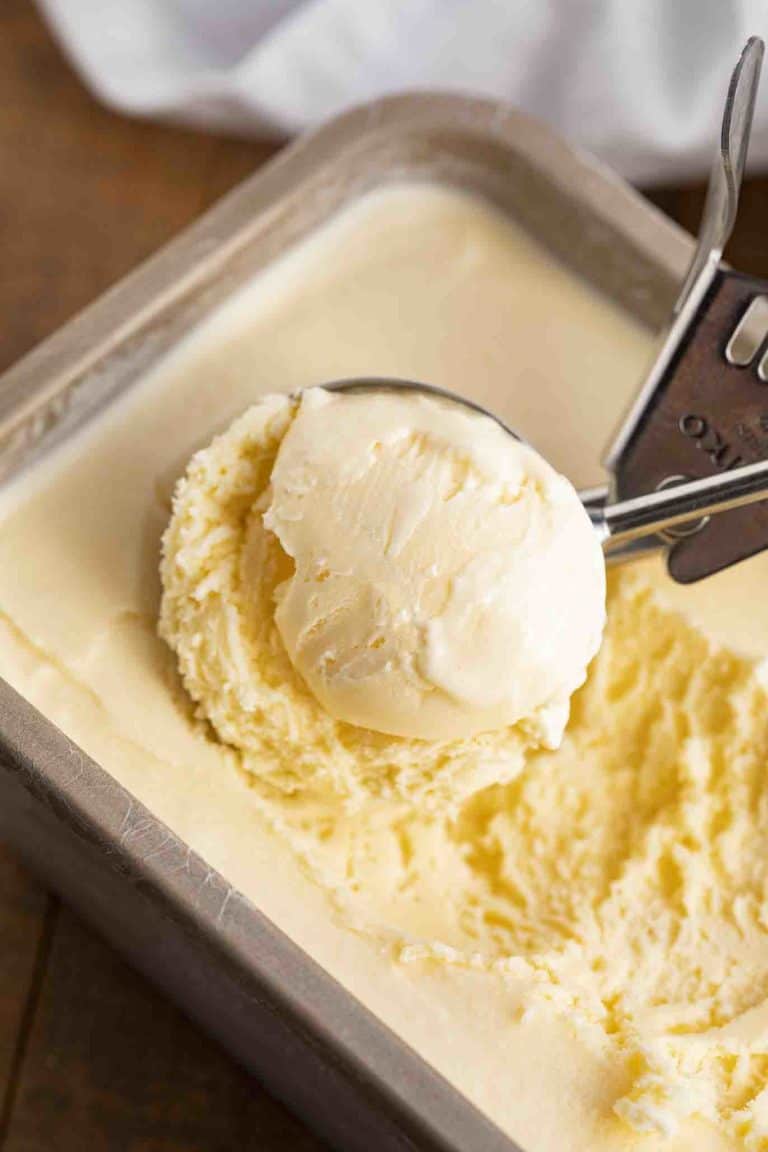 Create a free account to Save Recipes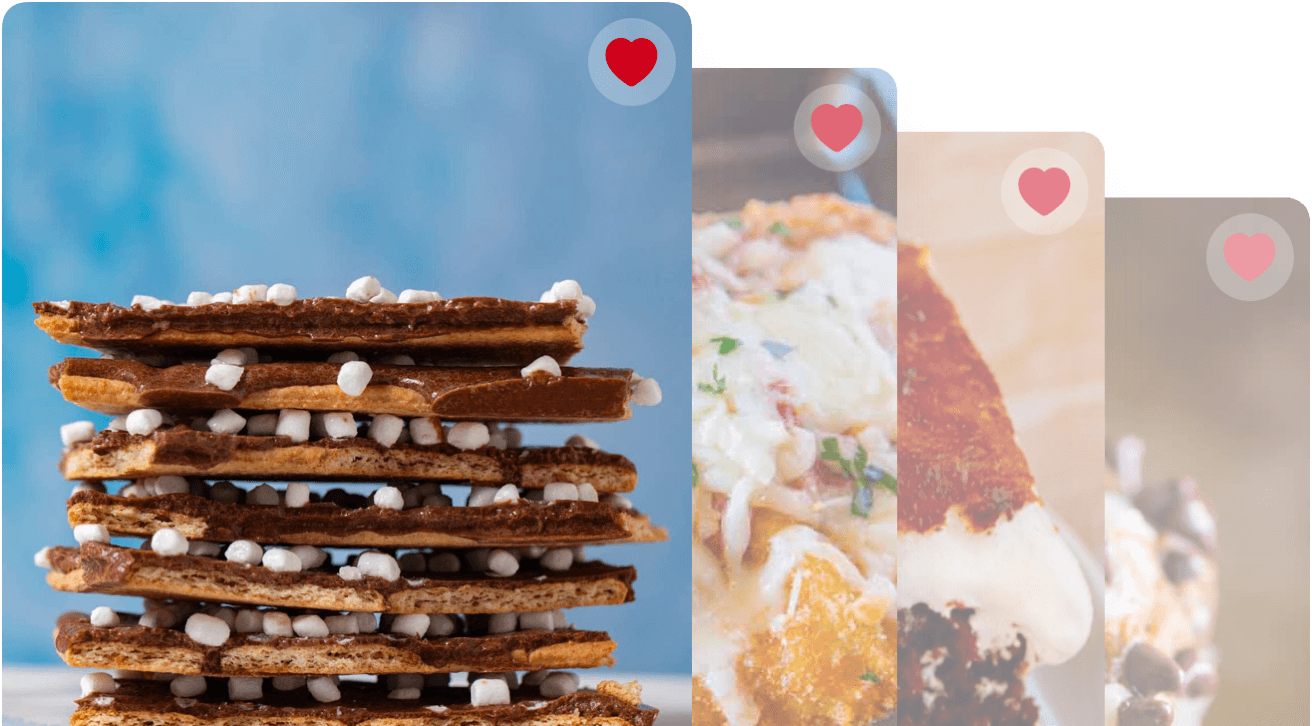 How to Use Vanilla Ice Cream
In addition to loading up with your favorite toppings, you can use this delicious ice cream in so many different ways. Sandwich a big scoop between two Chocolate Chip Cookies or Cowboy Cookies, or turn it into the ultimate Ice Cream Cake for the next special birthday in your life. It's easy to make your own Bon Bons or classic Ice Cream Sandwiches with chocolatey cookie outsides. You can even make Fried Ice Cream without having to break out the hot oil, simply roll your vanilla ice cream in a buttery cinnamon corn flake coating! The possibilities are endless when you begin with this delicious vanilla ice cream as your base.
Tips for Making Vanilla Ice Cream
Use whole-fat heavy cream. This gives the ice cream the creamy indulgent consistency that you're looking for.
You can add other flavors of extract such as almond or mint if you want to branch out from just vanilla.
You can also add pureed fruit like strawberries, blueberries, raspberries, pineapple, or cherries to flavor your homemade ice cream.
If you do make a custard type ice cream base first, add the vanilla after everything has cooled for the most vanilla impact.
Add mix-ins like pecans, almonds, or peanuts with a drizzle of caramel while in the ice cream mixer, once the base has started to freeze.
Chocolatey mix-ins go great with vanilla ice cream. Try mini chocolate chips, peanut butter chips, M&M or Reese's pieces candies, or chopped candy bars.
For an adult version, add a splash of your favorite liquor or liqueur, like brandy or peppermint schnapps. Don't add too much or it won't freeze, stick with a few tablespoons for flavoring.
If your ice cream maker calls for freezing the bowl beforehand, don't skip this step. Preferably freeze it the day before, or you'll have a hard time getting your ice cream to freeze.
More Homemade Ice Cream Recipes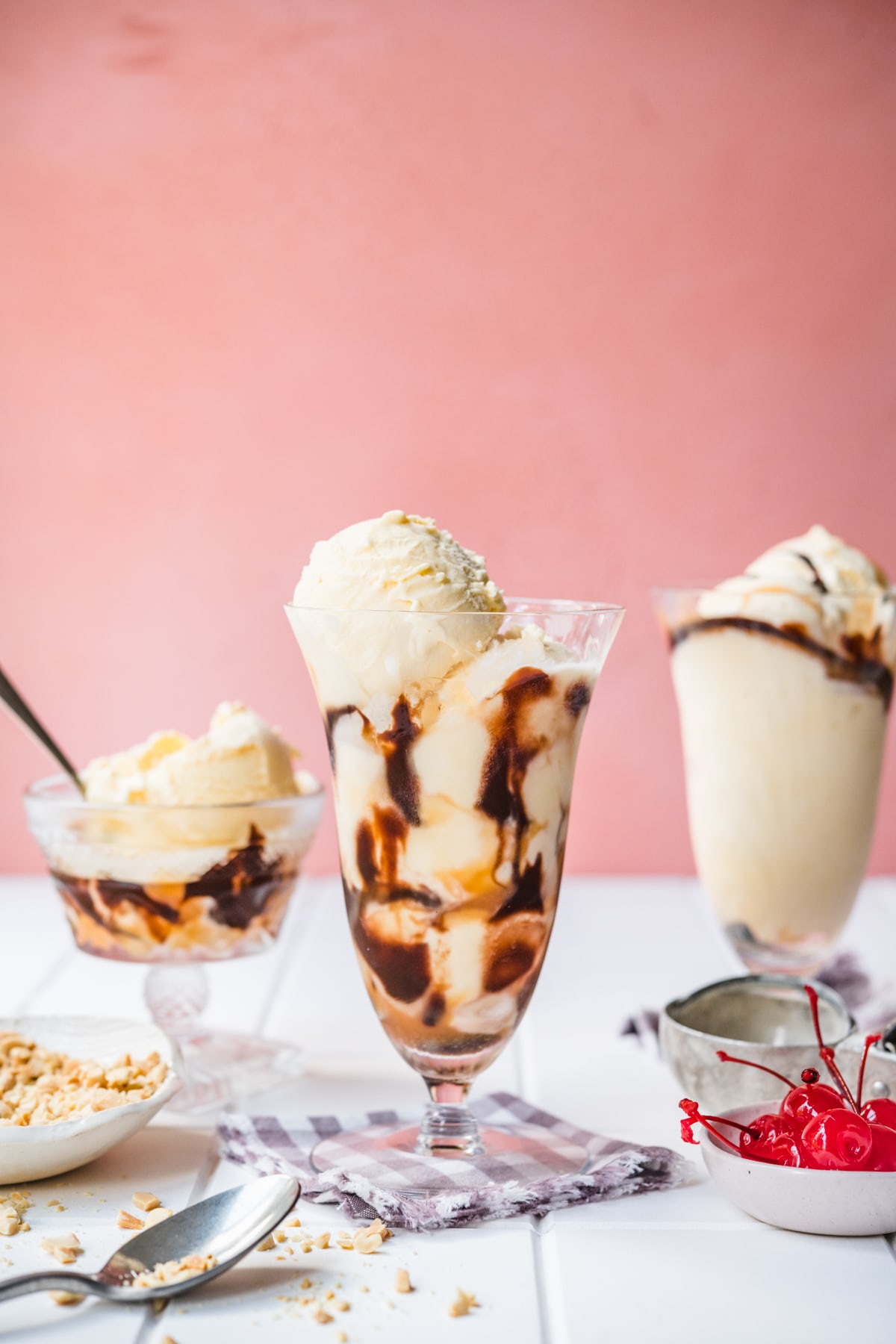 How to Store Vanilla Ice Cream
Serve: Serve plain, or in a cone with your favorite toppings.
Store: You can mix the base ingredients together up to 24 hours in advance and store in the refrigerator in a sealed container. This is a good time to start freezing your mixer bowl. Then you'll be ready to go the next day to churn fresh ice cream before serving.
Freeze: Homemade Vanilla Ice Cream will last up to 2 weeks in the freezer in an airtight container. Because there are no preservatives, it's best to eat this homemade treat within 2 weeks.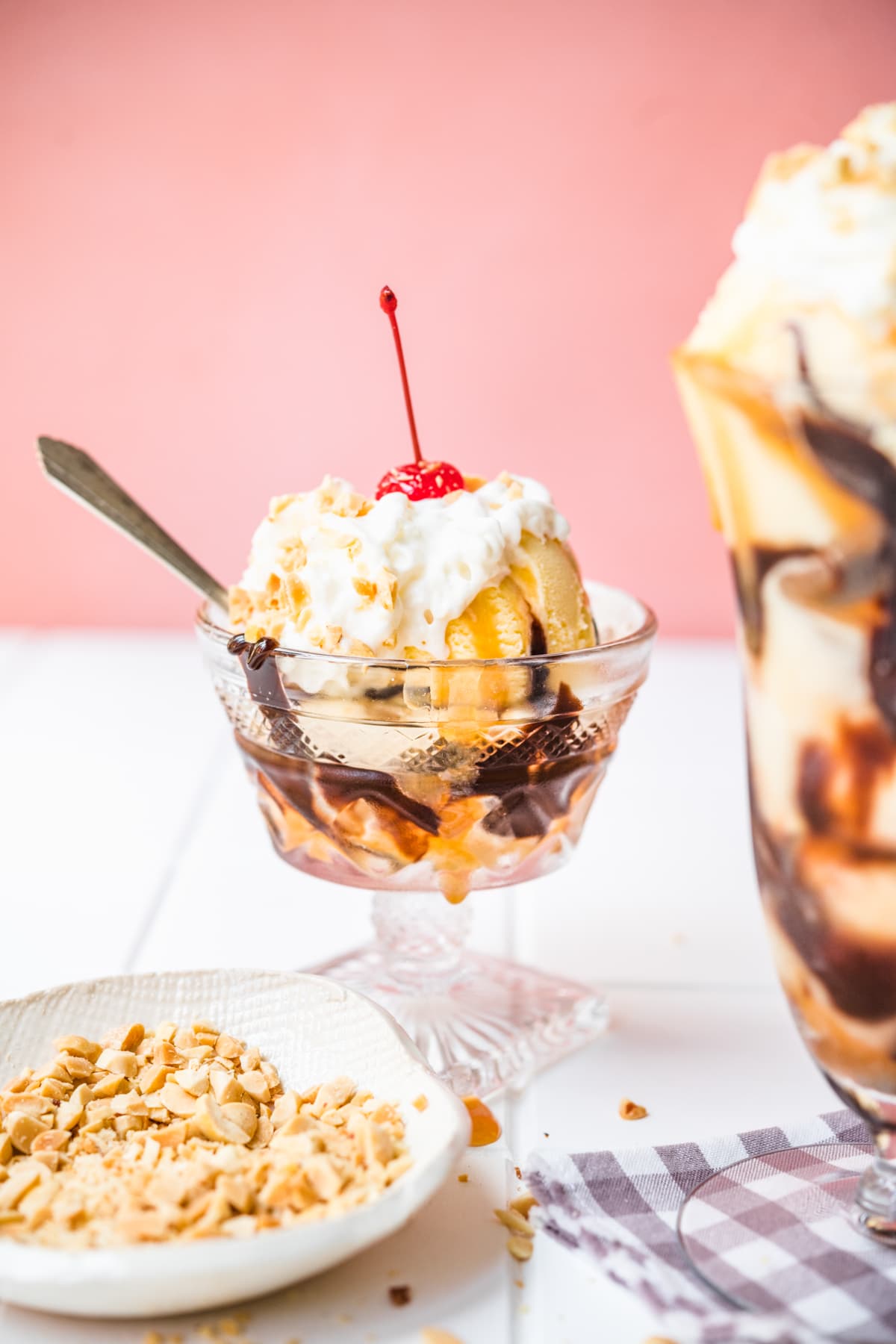 Ingredients
2

cups

half-and-half

2

cups

heavy cream

1

tablespoon

vanilla extract

1

cup

sugar
Instructions
Whisk all the ingredients together in a large bowl.

Add mixture to your ice cream maker then freeze for at least

3 hours

to harden before serving.
Nutrition
Calories:
385
kcal
|
Carbohydrates:
29
g
|
Protein:
3
g
|
Fat:
28
g
|
Saturated Fat:
18
g
|
Cholesterol:
103
mg
|
Sodium:
47
mg
|
Potassium:
123
mg
|
Sugar:
25
g
|
Vitamin A:
1090
IU
|
Vitamin C:
0.9
mg
|
Calcium:
102
mg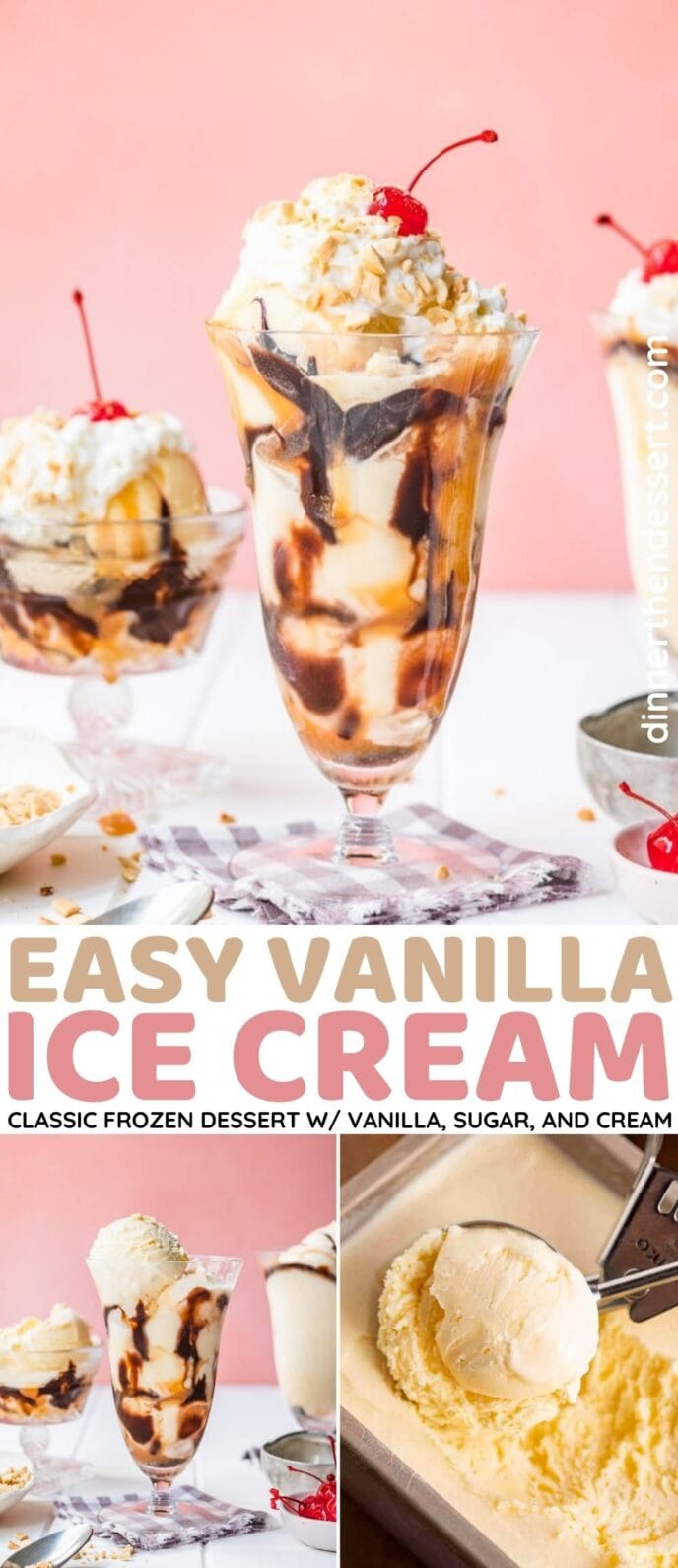 Photo used in a previous version of this post.