Chocolate Pudding is a rich and creamy dessert made with cocoa powder, sugar, evaporated milk, and corn starch, EASY to make and ready in under 45 minutes!
Chocolate Desserts are so popular on the site, they have their own category! Satisfy all your cravings with Chocolate Covered Strawberries, Chocolate Covered Oreos, and Chocolate Covered Pretzels!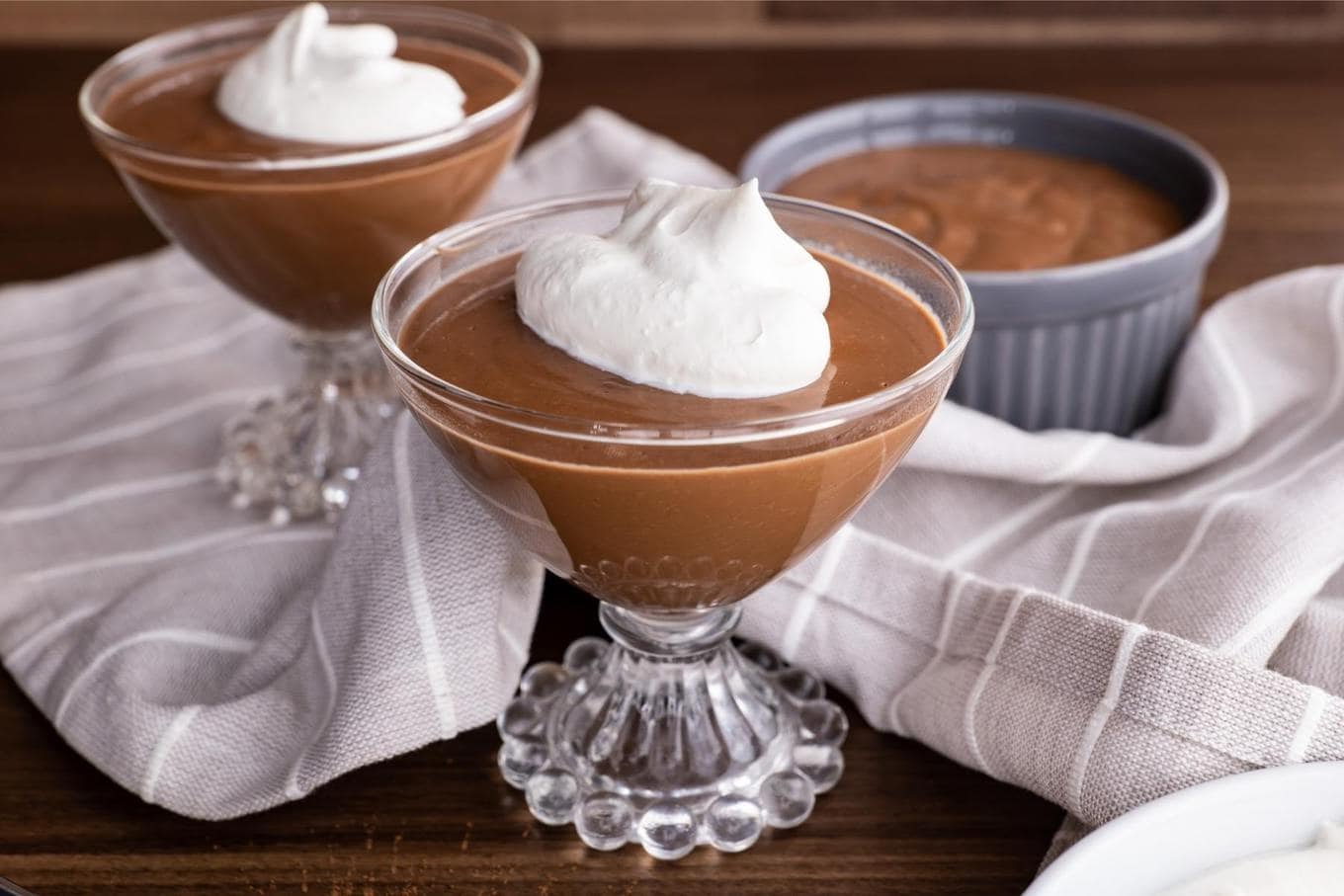 Chocolate pudding is a really quick and easy dessert, perfect to make on weeknights when you want something sweet without a lot of work. You'll love to top this with Easy Whipped Cream and chocolate shavings, or cut up a banana or strawberries and mix them into the pudding.
The presentation of this homemade pudding is impressive, even though it's so simple. Just divide the pudding into any small, cute serving bowls or ramekins that you have, and top with whipped cream. You can even add some chocolate shavings, sprinkles, or a fresh strawberry garnish to dress it up for guests.
You might even want to make a double batch, because this never lasts very long!
Frequently Asked Questions
How do you make Chocolate Pudding even creamier?
Whisk two egg yolks into the milk before adding it to the pudding. This will create a custard-like consistency, which adds a thick and creamy texture to the pudding.
Can you make Chocolate Pudding ahead?
Chocolate pudding will last for a few days in the refrigerator, but try to make it within a 24 hour window so it will be as fresh as possible. You can also whip it with an electric mixer before serving to make it lighter, which is perfect when served over fresh fruit.
If you are going to save it for a few days, place the saran wrap layer directly over the pudding to help keep it from creating too thick of a skin on top.
How do I make Chocolate Pudding without cornstarch?
You can make this chocolate pudding recipe without cornstarch by substituting in regular all purpose flour and egg yolks. Add the all purpose flour the same way you would add corn starch in this recipe.

In a separate bowl, whisk together the egg yolks. Heat the chocolate and milk mixture over medium heat. When the chocolate is hot, pour about a cup of it slowly into the egg while whisking (this is called tempering). Then pour everything back into the saucepan and follow the recipe as usual.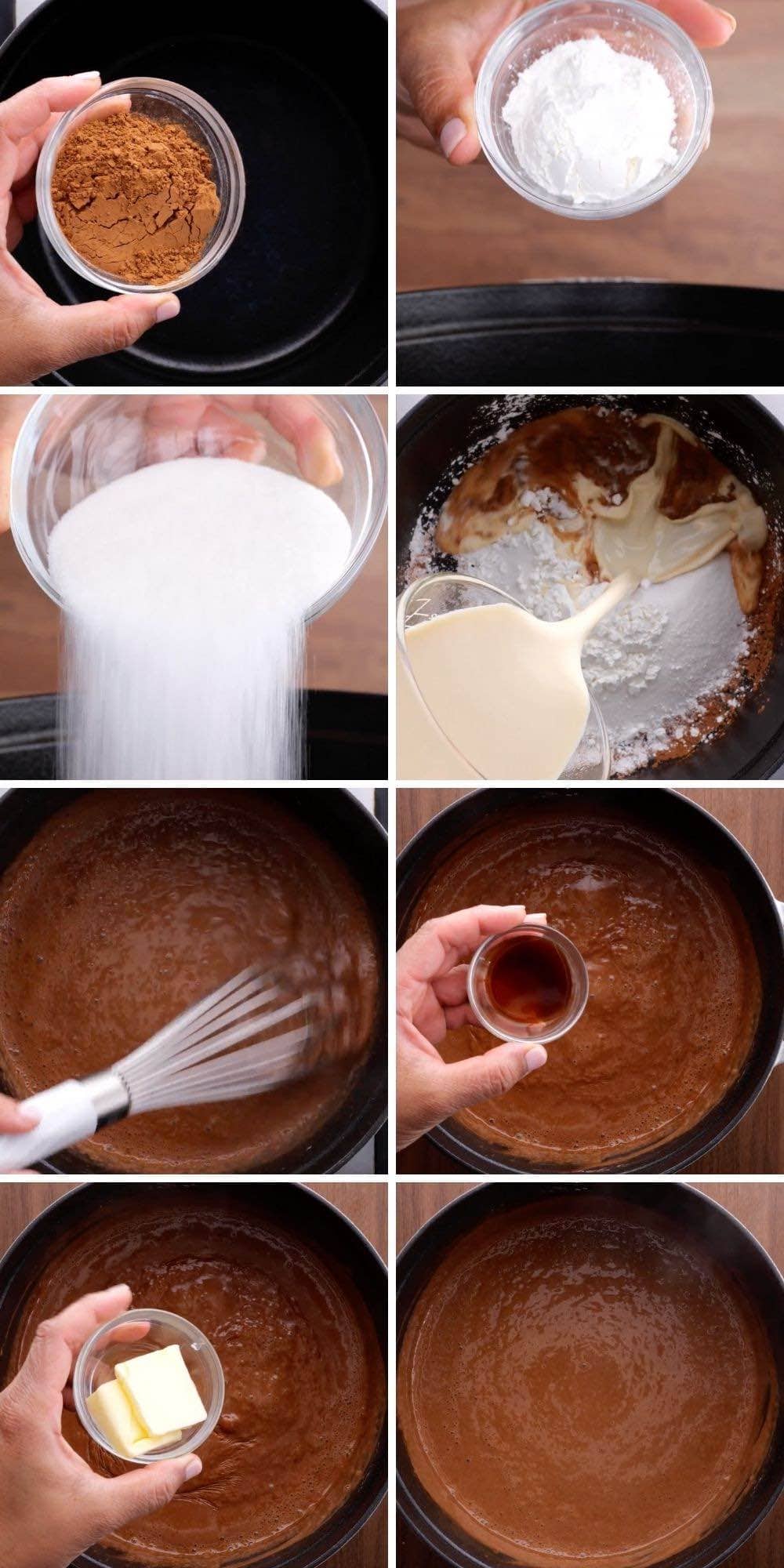 Create a free account to Save Recipes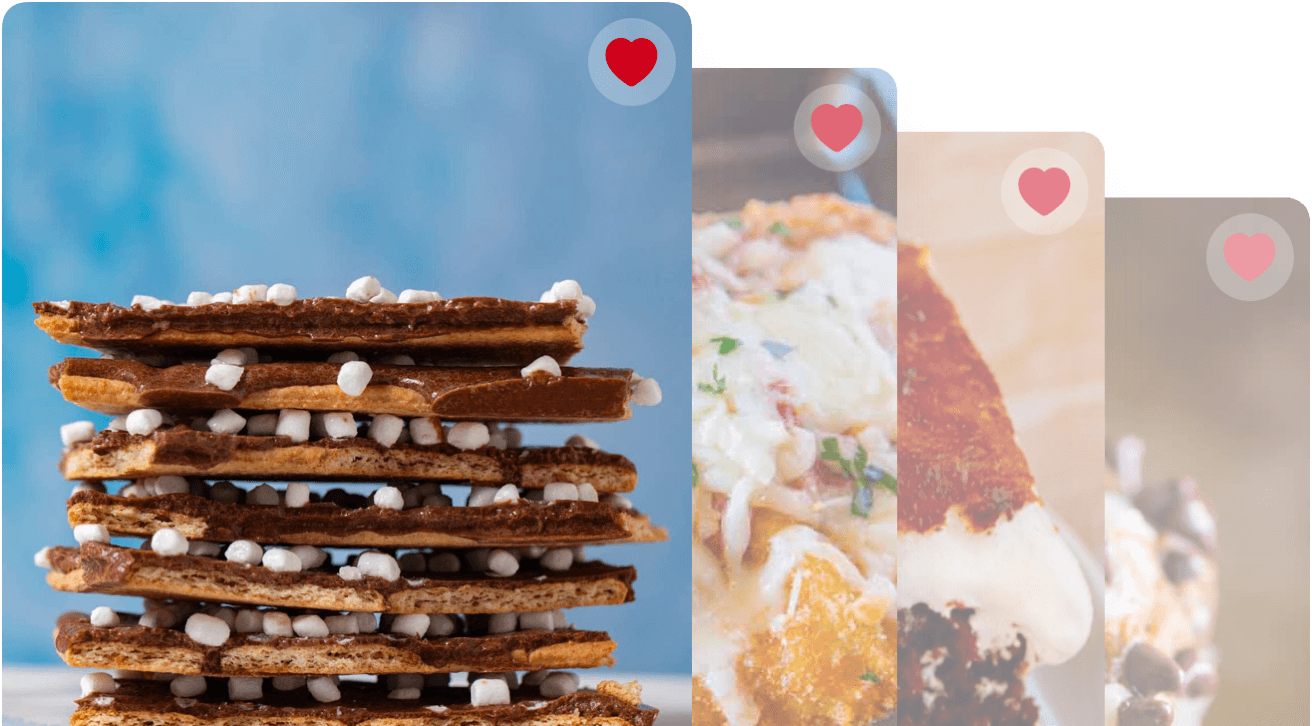 More Chocolate Desserts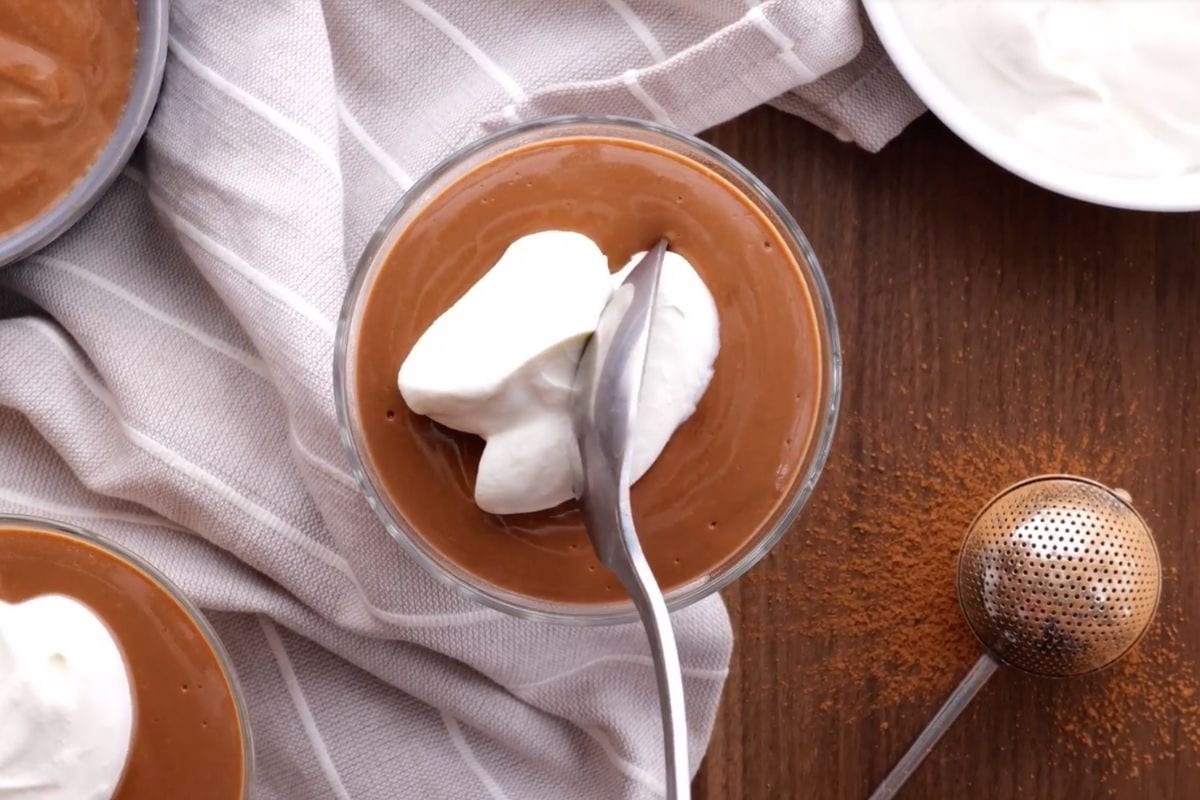 Tips for Making Chocolate Pudding
Wait until your pudding coats the back of a spoon without immediately dripping off before turning off the heat. This lets you know the pudding is thickening properly.
Substitute heavy cream or whole milk for the evaporated milk if that's what you have. The higher the fat in the milk, the creamier the pudding will be.
If your pudding is lumpy from the corn starch, pour it through a strainer before refrigerating.
Top with coconut flakes, semi-sweet chocolate chips, or chocolate shavings for garnish.
Pour chocolate pudding over a Graham Cracker Crust and top with Wwhipped Cream before refrigerating for a chocolate pudding pie!
Add a tablespoon of instant espresso while cooking, or a splash of Irish cream for an adult version.
Add more flavor to this chocolate pudding recipe with ½ teaspoon of cinnamon and a dash of nutmeg, or ¼ teaspoon of cayenne pepper.
Use brown sugar instead of white sugar for a deeper molasses like flavor.
This recipe is naturally gluten free when made with corn starch and not flour.
How to Store Chocolate Pudding
Serve: Do not leave Chocolate Pudding at room temperature longer than 2 hours. It is best to keep refrigerated until serving.
Store: This is a dairy based dessert, so it needs to be refrigerated. Leave the plastic wrap on the container loosely, so the plastic is touching the top of the pudding. The plastic wrap stops the pudding from forming a skin.

Chocolate pudding will last 3-4 days in the refrigerator.

Freeze: You can freeze pudding when wrapped tightly for 2-3 months. You can also freeze this pudding in popsicle molds to make pudding pops. For a twist on the classic pudding pop, freeze them with cut up strawberry pieces for a chocolate strawberry pudding pop.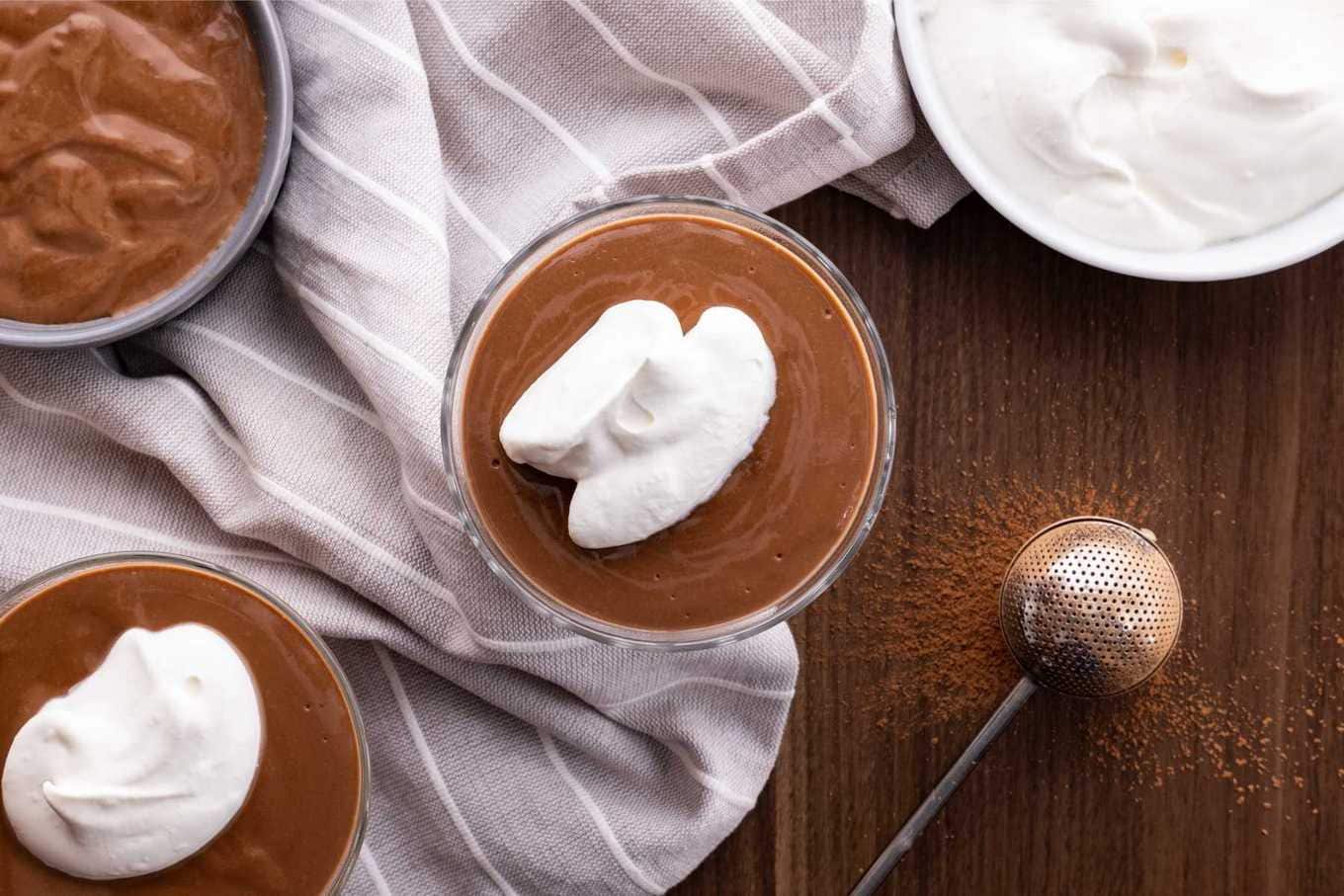 Instructions
Whisk the cocoa powder, sugar, cornstarch, salt and milk together well in a large pot before turning the heat on, making sure there are no lumps.

Bring the mixture to a boil, whisking constantly until thickened (

2-3 minutes

) then shut off the heat and add the vanilla and butter whisking it in well and chilling before serving.
Notes
Note: click on times in the instructions to start a kitchen timer while cooking.
Nutrition
Calories:
264
kcal
|
Carbohydrates:
32
g
|
Protein:
8
g
|
Fat:
12
g
|
Saturated Fat:
7
g
|
Cholesterol:
40
mg
|
Sodium:
196
mg
|
Potassium:
377
mg
|
Fiber:
1
g
|
Sugar:
27
g
|
Vitamin A:
370
IU
|
Vitamin C:
2.1
mg
|
Calcium:
283
mg
|
Iron:
0.7
mg