Banana Pudding is the perfect, creamy no-bake treat with vanilla pudding, vanilla wafers, and banana slices all layered together.
Homemade Banana Pudding is an easy Dessert Recipe that's perfect for a quick weeknight treat. And like the creamy Chocolate Pudding Recipe, both Rice Pudding and Banana Cream Pie recipes are incredibly popular and delicious sweet treats for any occasion!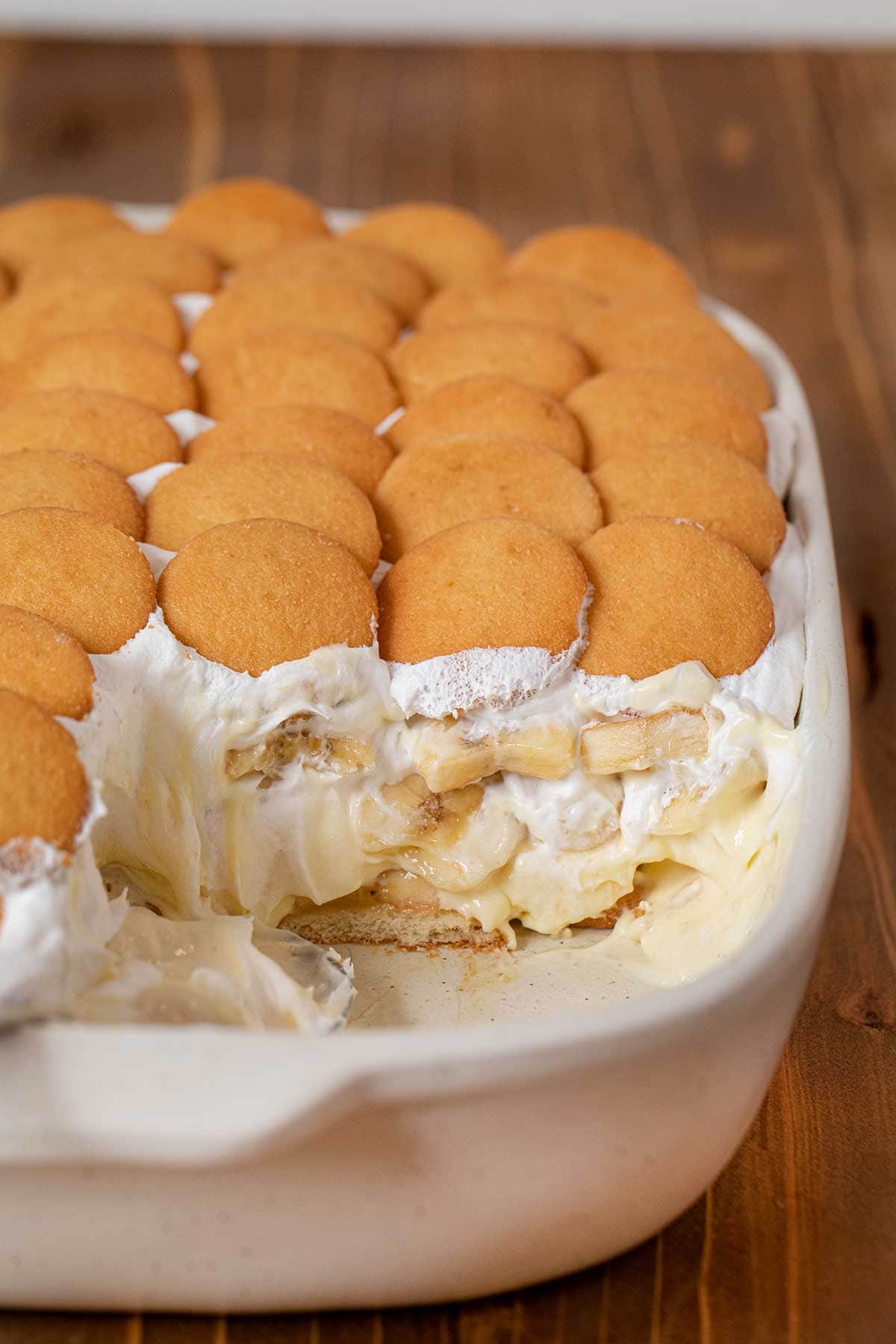 Homemade pudding is an amazing comfort food that doesn't require lots of work. The simple ingredients like vanilla pudding, banana slices, and Nilla wafers come together in no time. This entire recipe is ready in just 10 minutes, then all you have to do is let it set in the fridge before serving. And since this banana pudding is made with an instant pudding mix, you don't even need to use your stove!
Old fashioned Banana Pudding is also the perfect way to use up extra bananas. Unlike Banana Bread, you don't want the bananas to be too old before you use them. Once the bananas start to have their first few brown spots, it's the perfect time to make the pudding and get the best banana flavor.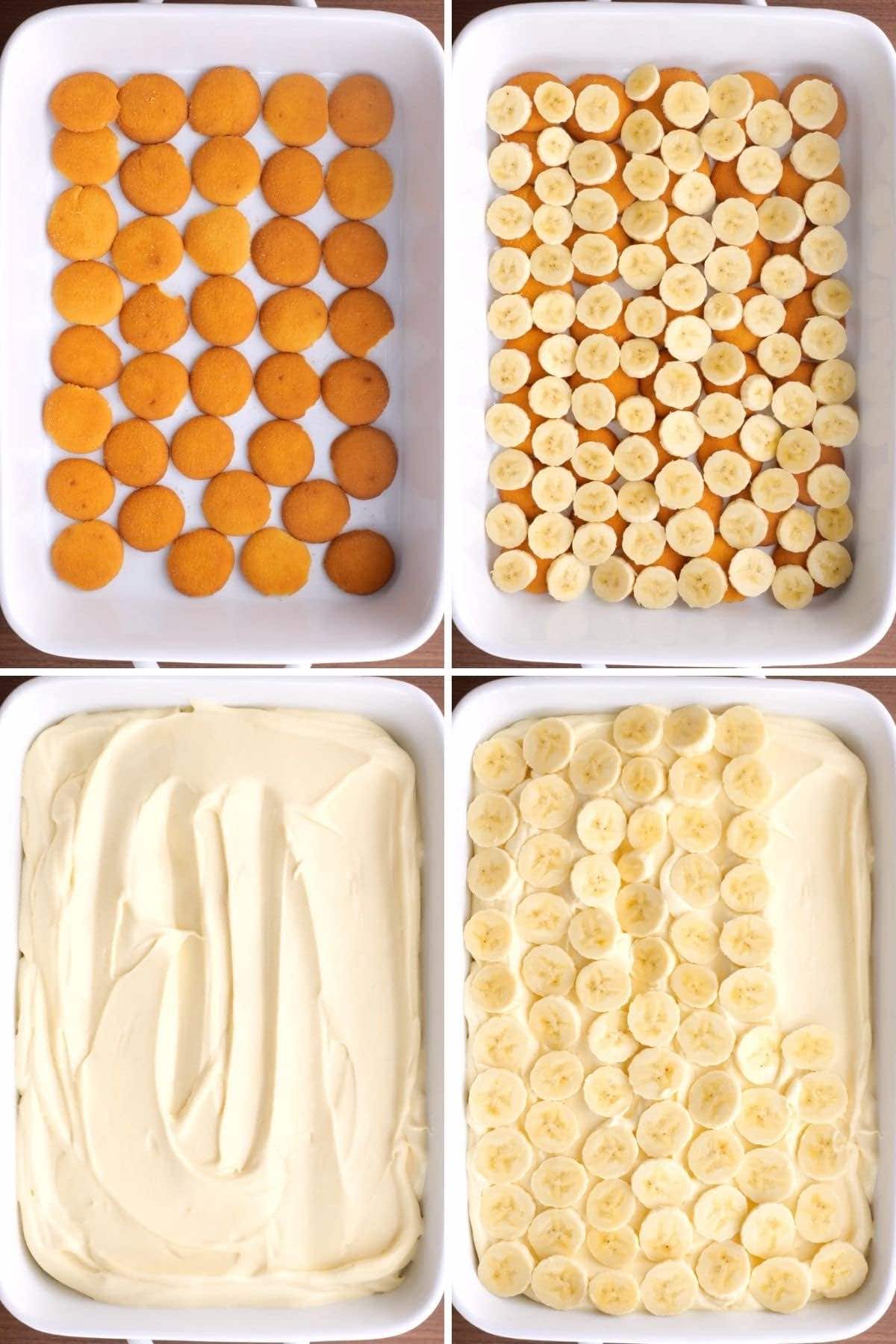 The classic dessert is great to serve at a party in a beautiful glass bowl, or just to serve up to your family for a delicious no-bake dessert. You can even make this a few days in advance, cover it in plastic wrap and store it in the fridge. Then, whenever people want a sweet snack they can just get it from the fridge.
No matter when you're serving it, the fresh bananas, wafer cookies, and creamy pudding are sure to be a hit. For even more rich flavor try adding a generous layer of a whipped topping to the traditional Banana Pudding. Stabilized Whipped Cream or Cool Whip would both taste amazing as a topping.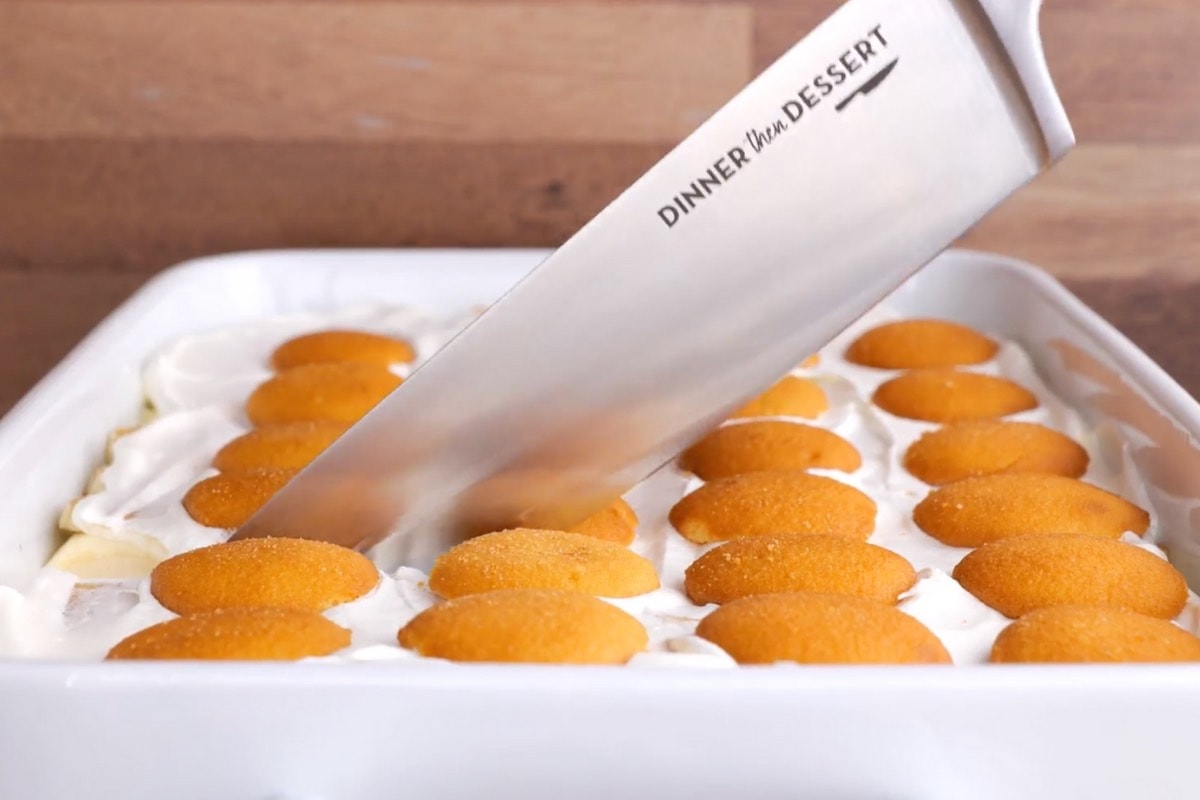 How to Make Banana Pudding
The process for making this recipe is actually super easy to do. It will take only 10 minutes to mix everything together.
Step One: Mix the pudding together.
Step Two: Cut the banana into slices.
Step Three: Layer everything and chill until ready to serve.
More Yummy Banana Recipes
Tips for Making Banana Pudding
Pudding mixture: Combine the instant pudding with milk in a large mixing bowl. You want to make sure the milk is chilled for this step. If you're using an electric mixer, use the whisk attachment and mix it on medium-high speed for about 3 minutes. Add in the condensed milk and vanilla extract and continue mixing until smooth.
Heavy cream: Add the heavy cream to your stand mixer and whip it together until stiff peaks form. Fold it into the pudding mixture. This will make the Banana Pudding extra fluffy and creamy.
Assemble: Arrange a layer of cookies in the bottom of your serving dish to form a base crust. Pour the a pudding layer into your serving dish. You can use a regular baking dish, trifle dish, or casserole dish. Slice ripe bananas into ½ inch slices. Put a layer of banana over the pudding, then add Nilla wafers again. Continue adding layers of pudding, banana slices, and wafers until the banana pudding mix is all added in your dish. For extra banana flavor you can add more banana slices to the top. You can also top it with optional garnishes like Whipped Cream.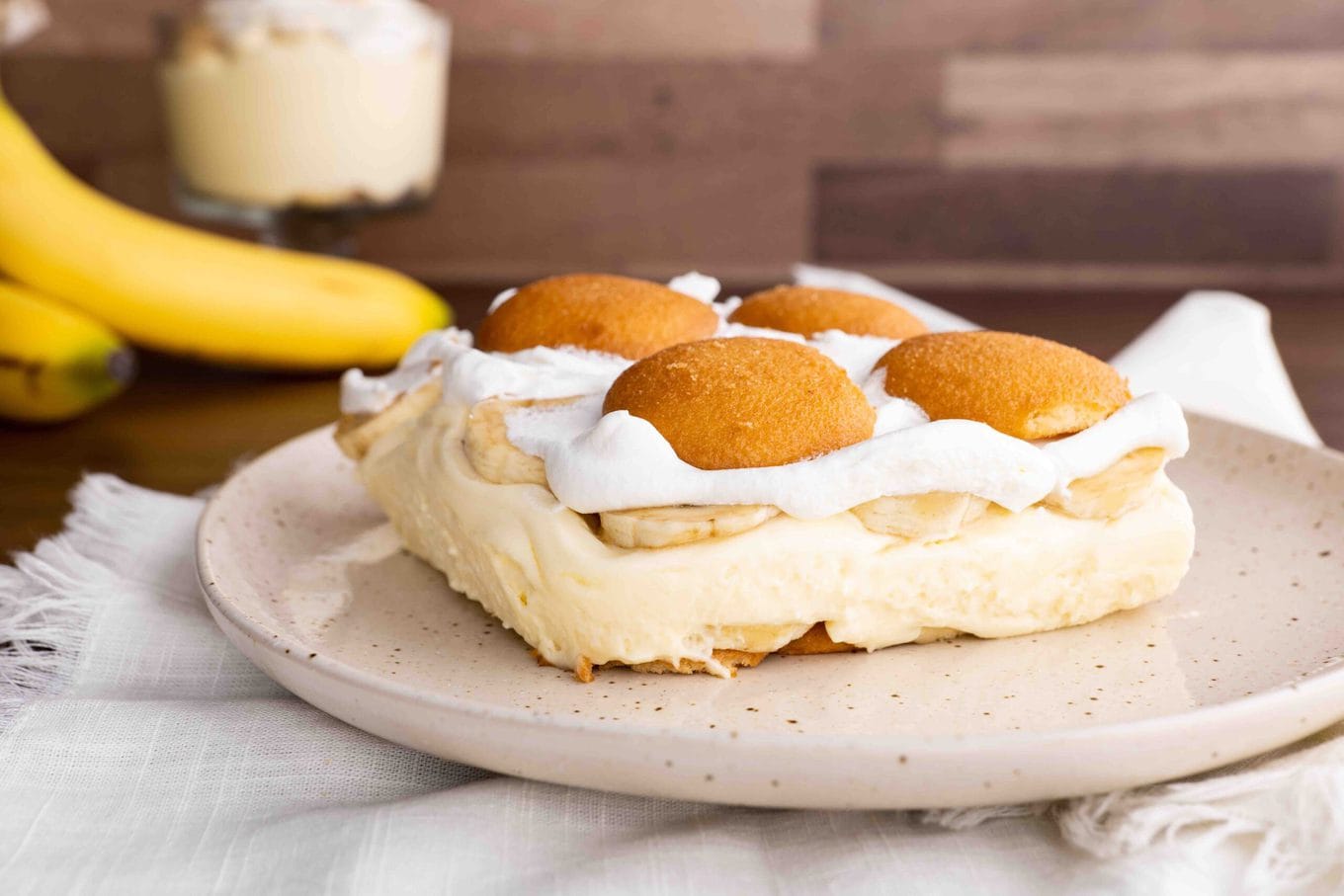 Frequently Asked Questions
Can other fruit be added to Banana Pudding?
Along with the sliced bananas, try adding other fruits into the layer like blueberries, strawberries, or raspberries. These will give a fun and delightful twist to this classic dish.
What kinds of cookies can be used for Banana Pudding?
Instead of vanilla wafer cookies, you can use different kinds of crisp, buttery cookies for the layer of cookies. You can also sprinkle wafer crumbs over the top of the pudding instead of just layering whole cookies.
Can you use cream cheese in Banana Pudding?
Instead of this traditional Banana Pudding, you can add some tang with cream cheese. Combine ¾ cups softened, whipped cream cheese with the pudding mixture in place of the heavy cream. The pudding cream cheese mixture makes a delicious, thick cheesecake pudding.
How do you keep bananas from browning? 
Ultimately, browning bananas that have just been cut are safe to eat. They just won't look as fresh as they can be. Browning is a natural process that happens when the banana is exposed to the air. You can mitigate this issue by coating the cut banana slices with a little bit of citrus juice from pineapples, oranges, lemons, or limes. This will be especially useful for the top layer if the Banana Pudding is being served at an open party where the appetizers will be sitting out throughout the night. This is why many people will use single serve clear cups which help maintain the bright and vibrant yellow color. 

Create a free account to

Save Recipes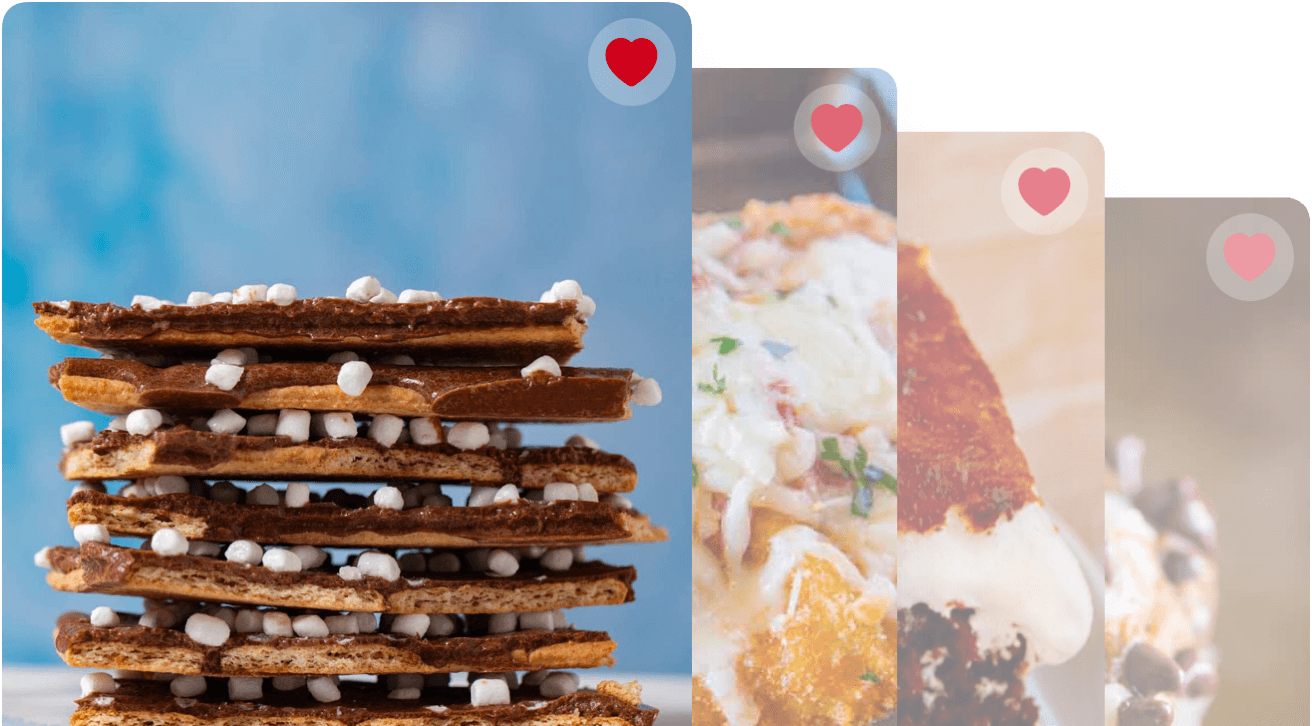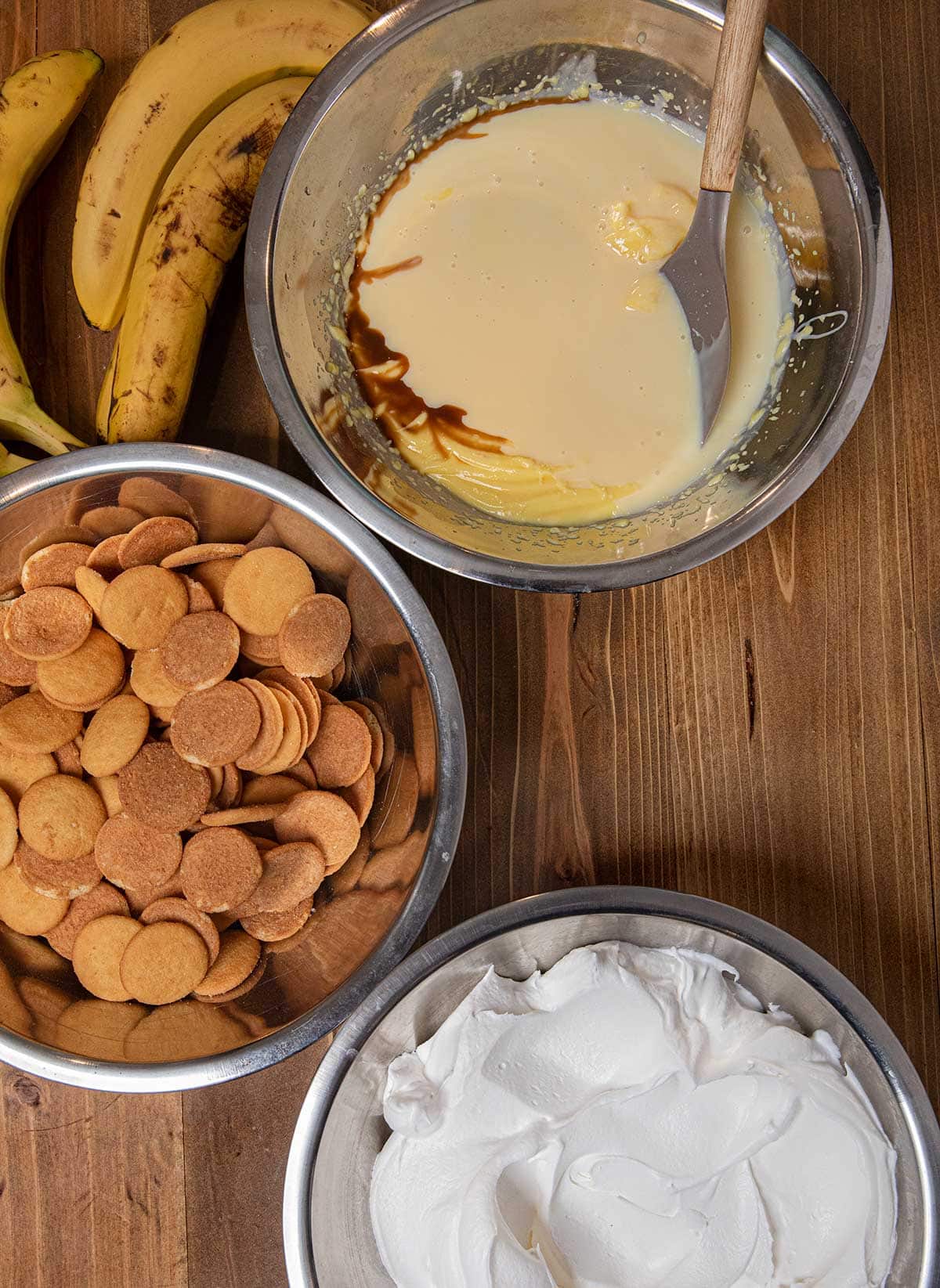 Key Ingredients for Banana Pudding
Bananas: Use perfectly ripe bananas that only have a few spots and no major bruising. You'll want that peak banana flavor without the exaggerated flavor of overripe bananas – those ones should be used in Banana Bread.
Pudding: Any grocery store will have the regular pudding mix that's ready to go once you mix water. If you'd like to make your own, simply make this following recipe without adding the chocolate: Chocolate Pudding.
Whipped Cream: Your closest grocery store will supply you with ready made whipped cream. If you'd prefer to make your own, you can follow our Easy Whipped Cream recipe that uses only 3 ingredients and takes less than 5 minutes to make.
Vanilla Wafers: We are using the classic Nilla Wafers which can be purchased from any grocery store. You can use different cookies with ease as long as they are vanilla flavored.
Variations on Banana Pudding
Chocolate Banana Pudding: You can use a chocolate pudding mixture instead of vanilla in the recipe. To add to the chocolate banana treat, drizzle Chocolate Ganache over the top of the pudding before serving.
Caramelized Banana Pudding: You can make delicious caramelized bananas to layer in this recipe. Combine ¼ cup butter, ½ cup brown sugar, and ¼ teaspoon ground cinnamon with the slices of banana in a saucepan. Cook for 3 minutes until you have slightly caramelized bananas.
Cinnamon Whipped Cream for this recipe: For an optional topping try making Cinnamon Whipped Cream. To make Fluffy Cinnamon Cool Whip just mix 1 teaspoon ground cinnamon into your Whipped Cream or Cool Whip Recipe.
How to Serve Banana Pudding
There are several different ways you can serve your banana pudding. These are great ideas for serving your guests at a party or any event. You can serve them individually as pre-made portions, or all in one dish for self serving.
Wine Goblets: Layer the pudding, bananas, and whipped cream in a clear wine goblet or other clear cup that is stemless. This is a great way to showcase the various layers of Banana Pudding. You can get disposable clear plastic cups from the store that can easily be thrown out.
Serving Dish: This recipe is using the standard porcelain serving dish that guests can scoop from. This is a great way to serve your Banana Pudding without having to worry about any accidents from glass cups.
Trifle Bowl: A trifle bowl is great for a pretty representation if you're serving it at a party. It looks like a very large wine glass so you can see all the layers.
How to Store Banana Pudding
Serve: Don't leave Banana Cream Pudding at room temperature for more than 2 hours. Keep it lightly covered when not actively being served.
Store: Cover the dish in plastic wrap or put the pudding in an airtight container to store in the fridge. It will stay good for 3 days.
Freeze: To make the pudding in advance put it in an airtight container and freeze it for up to 2 weeks.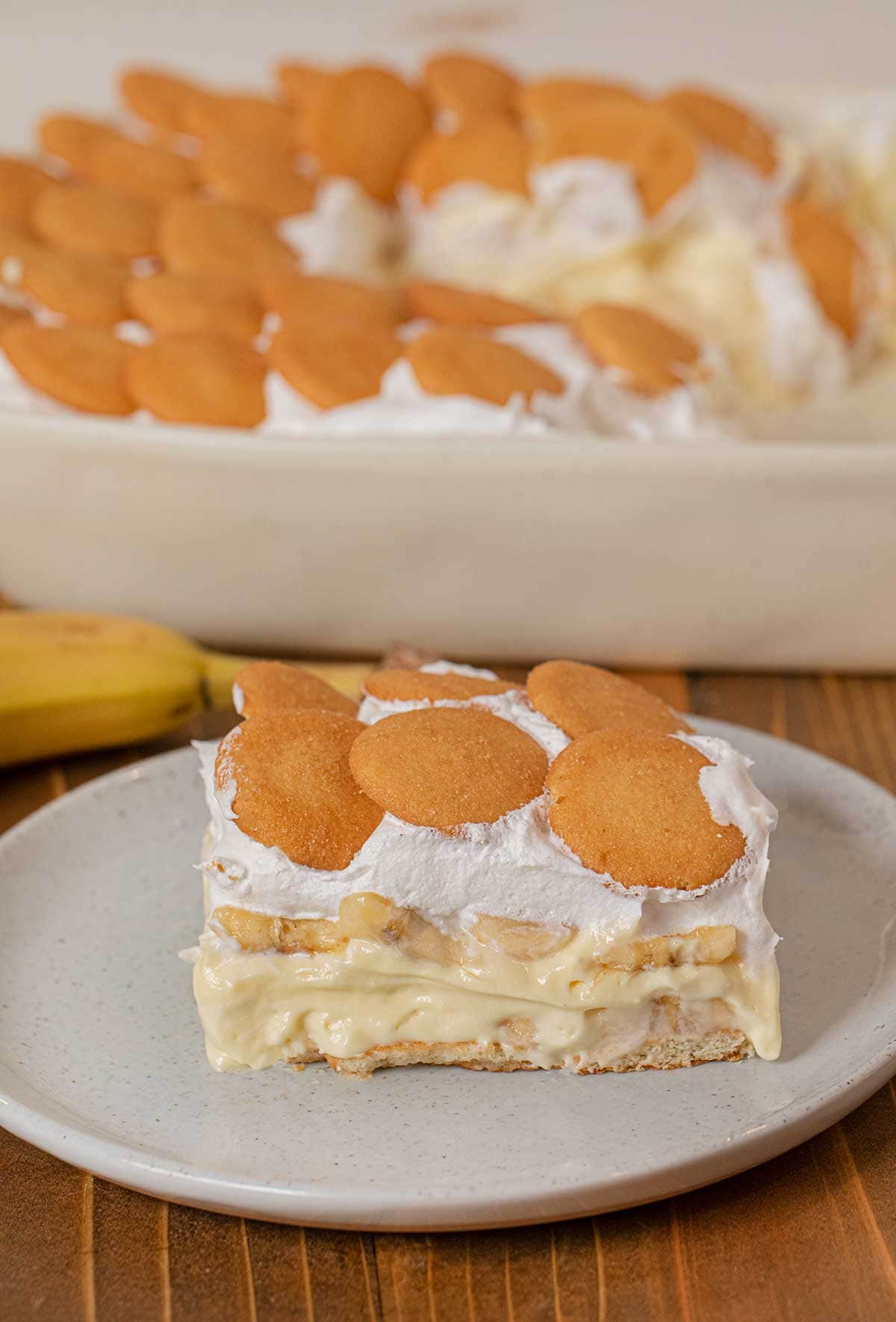 Ingredients
5

ounces

package instant vanilla pudding mix

2

cups

cold milk

1

tablespoon

vanilla extract

1

can (14 ounces)

sweetened condensed milk

3

cups

heavy cream

16

ounces

Nilla wafers

8

bananas

, sliced
Instructions
In a large mixing bowl add vanilla pudding mix and milk, whisking until smooth, about

3 minutes

.

Add in condensed milk and vanilla extract and whisk until creamy and smooth.

Add heavy cream to stand mixer and whip to stiff peaks, about

3-4 minutes

.

Fold heavy cream into pudding mixture.

Layer a serving dish with bananas, wafers, and pudding as desired, then chill for

2 hours

before serving.
Nutrition
Calories:
472
kcal
|
Carbohydrates:
59
g
|
Protein:
6
g
|
Fat:
25
g
|
Saturated Fat:
14
g
|
Trans Fat:
1
g
|
Cholesterol:
73
mg
|
Sodium:
232
mg
|
Potassium:
404
mg
|
Fiber:
2
g
|
Sugar:
38
g
|
Vitamin A:
809
IU
|
Vitamin C:
6
mg
|
Calcium:
137
mg
|
Iron:
1
mg
Photos used in a previous version of this post.