Banana Split just like from an ice cream shop with three flavors of ice cream and favorite toppings like chocolate ganache, cherries, peanuts, and more!
This is the perfect Frozen Dessert to make the next time you want a decadent ice cream experience from your own home. Made with rich Vanilla, Chocolate, and Strawberry Ice Cream it's truly the perfect dish!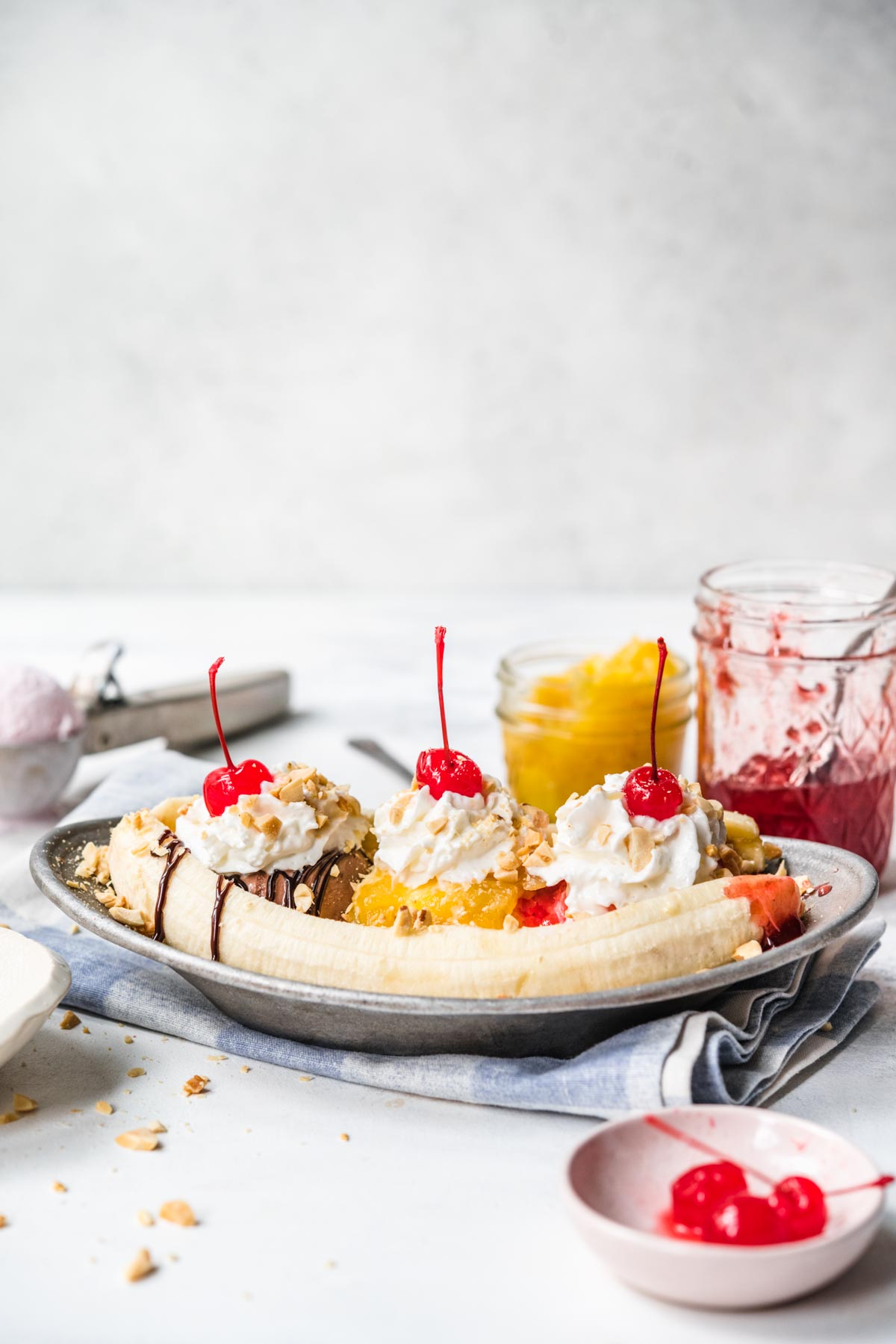 BANANA SPLIT
A classic Banana Split is made with 3 types of ice cream, and a variety of topping ingredients all served over banana slices. You just slice the banana and lay them down like a banana boat to hold up the rest of the recipe.
This sundae has been a favorite with kids and adults alike ever since it was first made, and it's no wonder why. It's a simple dessert with easy to follow directions and no cooking time required. You'll have it ready in minutes, and you can add as many different topping varieties as you want!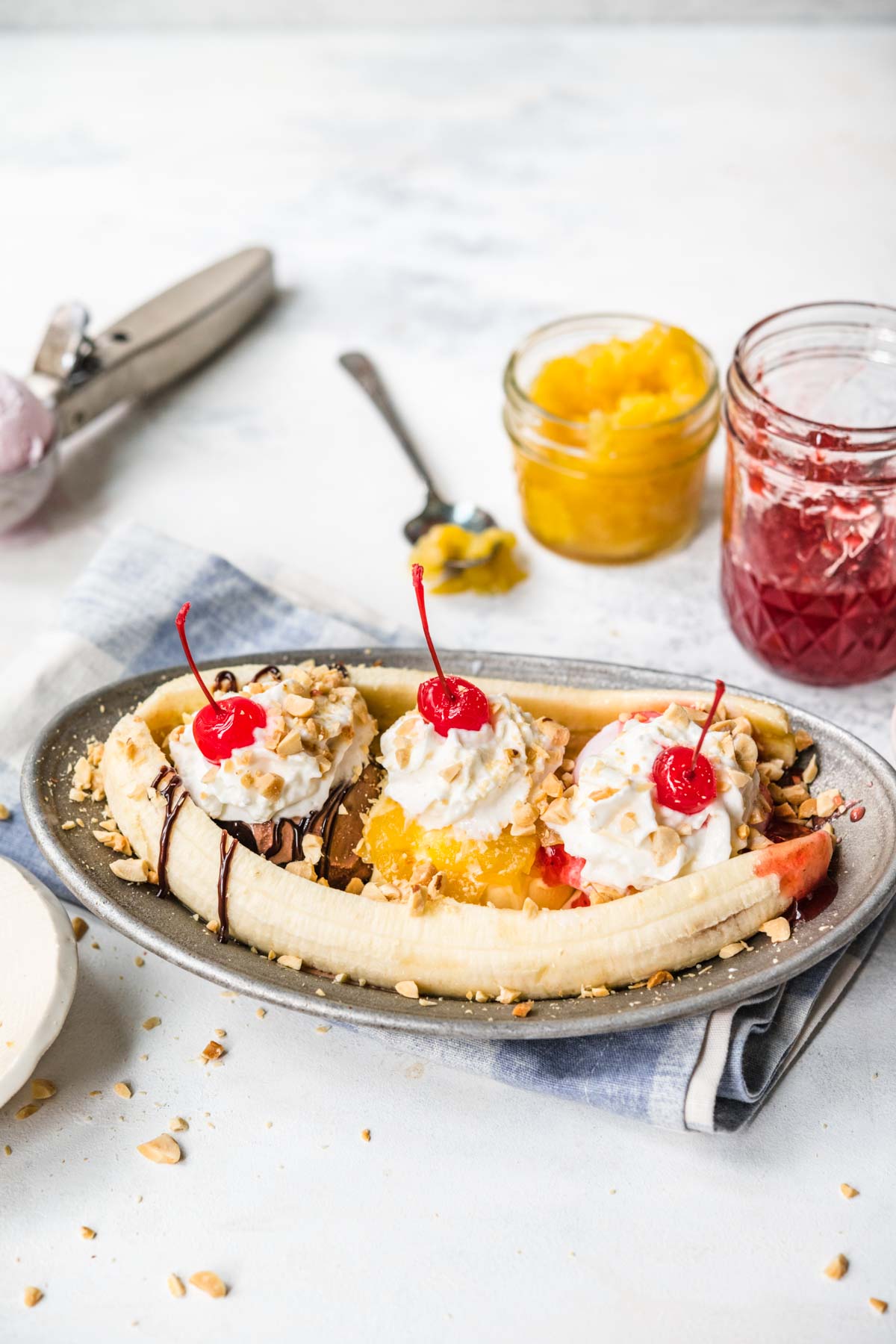 BANANA SPLIT BAR
As soon as school gets out, parents are always looking for ways to keep kids busy. One sure-fire way is letting them assemble their own treat. This is especially fun if they get to pick out their own ice cream flavors and toppings for the banana split booth.
You can set up a table or counter in your house with the ice cream flavors and bowls with all the toppings. To make it easy if your kids are younger, you can slice the bananas into the bowls ahead of time, then all they have to do is add the ice cream and toppings.
Put out dishes with Strawberry Topping, Pineapple, Chocolate Ganache, and Whipped Cream for them to scoop up themselves. You can also put out other toppings like M&Ms, chopped pretzels, mini marshmallows, and sprinkles.
MORE FROZEN DESSERTS
HOW TO MAKE YOUR OWN BANANA SPLIT
Banana: If you have a banana split dish, slice the banana lengthwise and lay it in the dish. If not, just chop it into a bowl.
Ice cream: Give the ice cream a few minutes to soften so it's easy to get round scoops. You can also run the ice cream scoop under hot water so it more easily cuts through the cream. Scoop the three flavors over the top of the banana.
Toppings: Drizzle on the chocolate over the chocolate ice cream, then add the pineapple to the vanilla, and the strawberry to the strawberry. This way you have three distinct flavor sections, which is especially great if your sharing so that everyone can pick their favorite. Add a bit of whipped cream to each scoop and top that off with a cherry. Then sprinkle the whole dish with peanuts to finish.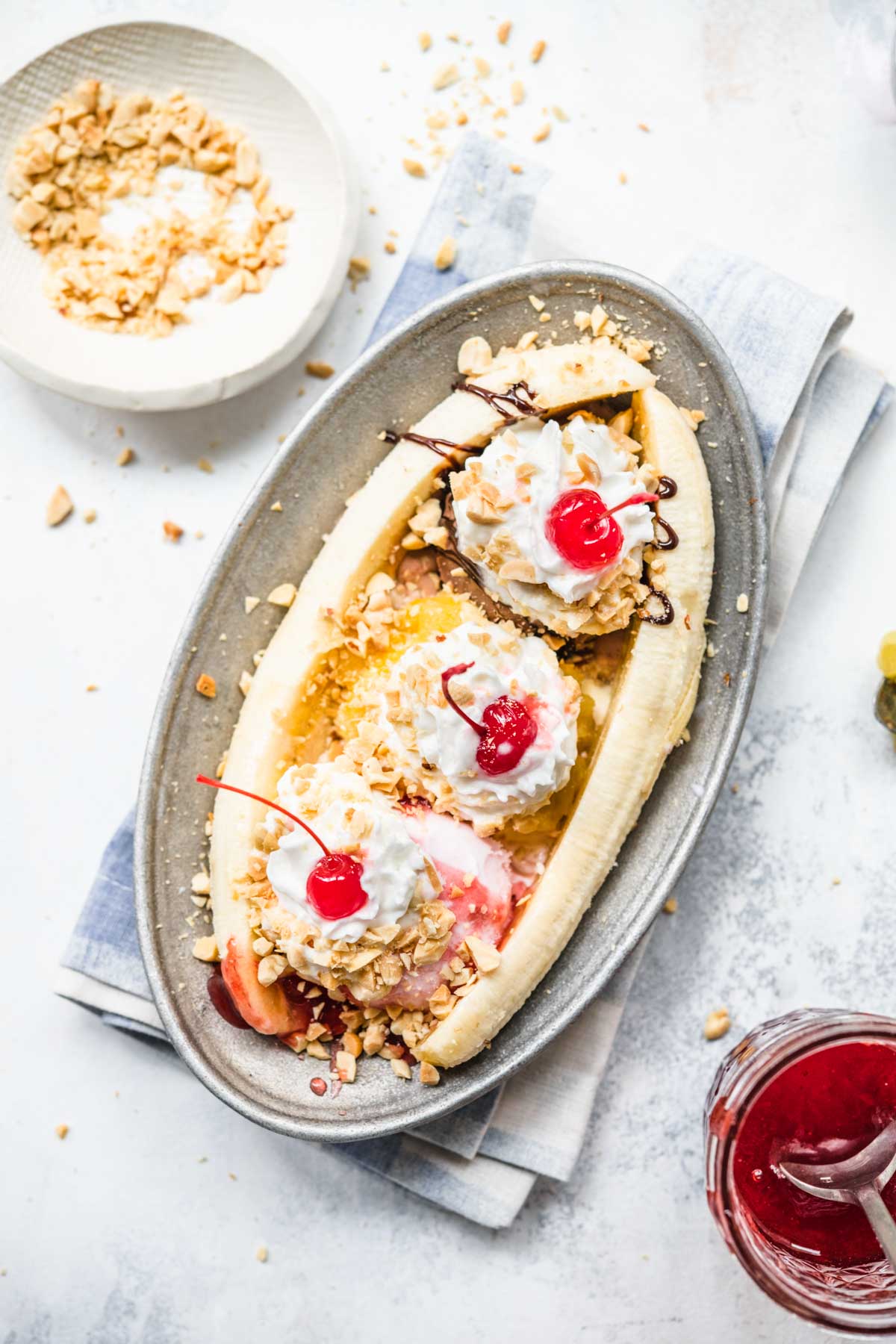 Create a free account to

Save Recipes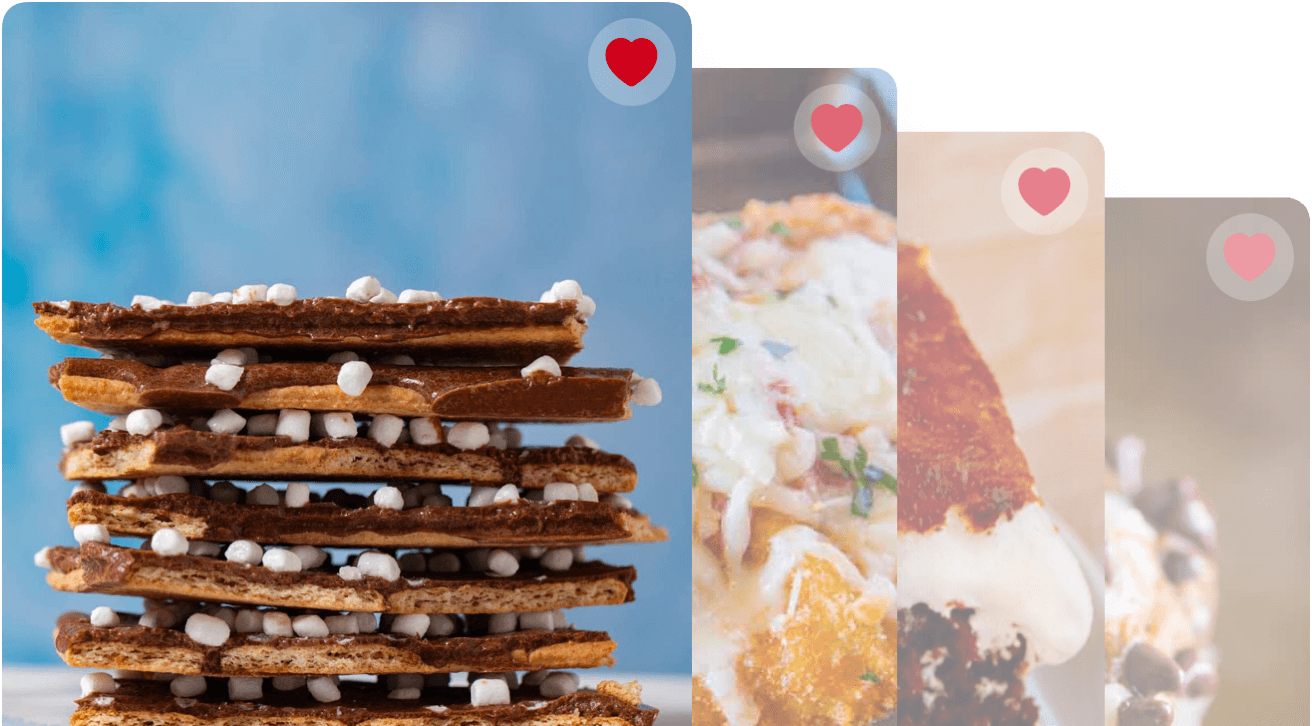 VARIATIONS ON BANANA SPLITS
Ice cream: There are plenty of different Banana Split Varieties you can try depending on what kinds of ice cream you use. Feel free to try the same recipe with any of your favorite flavors like cookie dough, cookies and cream, mint, pistachio, birthday cake, moose tracks, or peanut butter.
Toppings: You can also experiment with any of your favorite toppings. Try chopped pecans, fresh strawberries, Hot Fudge, Chocolate Ganache, Caramel Sauce, sprinkles, Oreos, or gummy bears.
For a crowd: To make the same recipe for a big group assemble it in a casserole dish. Lay the split bananas across the bottom until it's covered, then scoop the other ingredients on top. Give it some time to set in the freezer, then scoop it into individual bowls to serve.
MORE FUN DESSERT RECIPES
HOW TO STORE BANANA SPLIT
Serve: This recipe is best served fresh. After you've added all the toppings dig in before it starts to melt.
Store: If you have leftovers, you can store them in the freezer. Cover the dish in an airtight container. It should stay good for up to 2 months. Take it out of the freezer to soften a little 10 minutes before serving.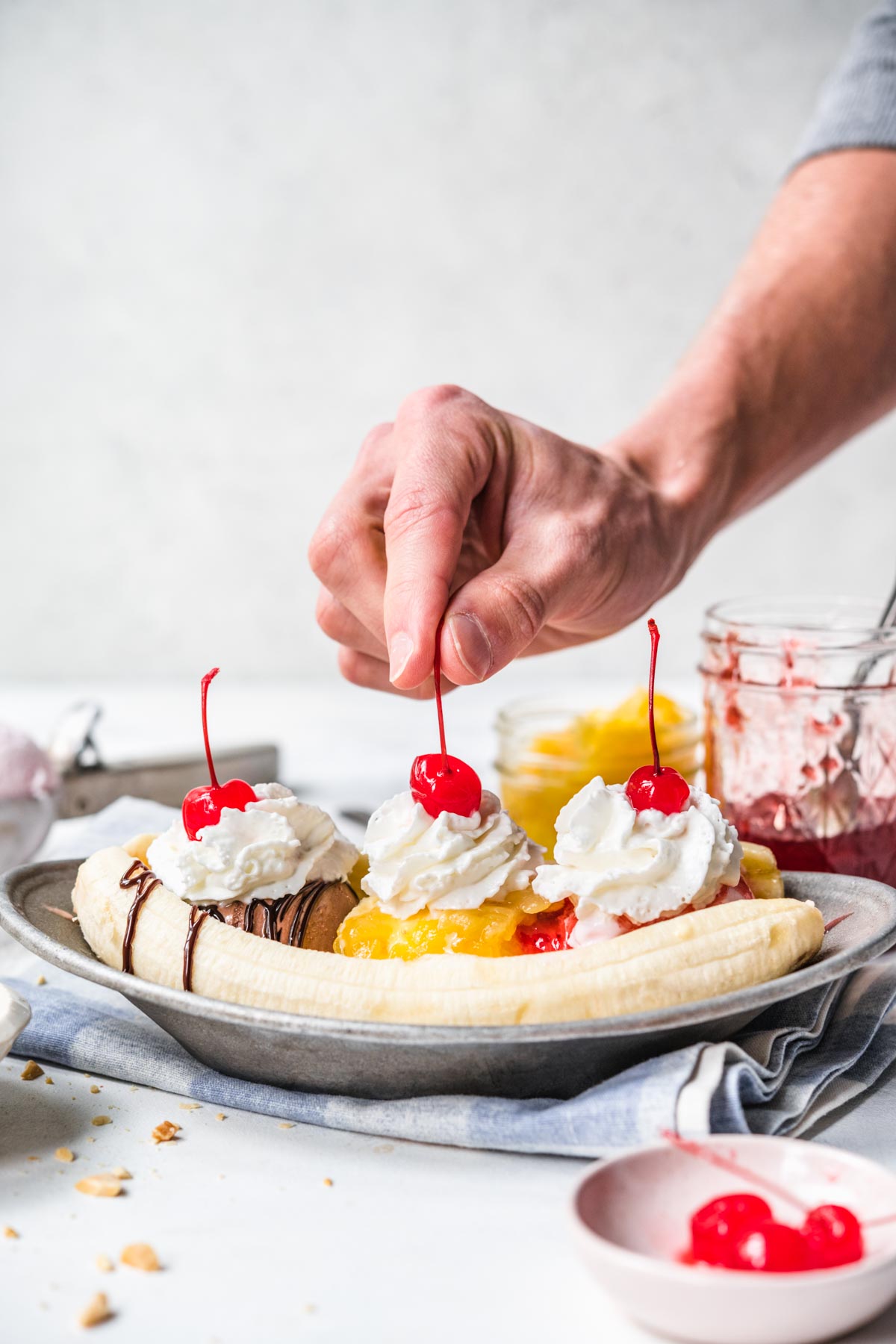 Instructions
Add banana to banana split dish (or chop into bowl).

Add ice cream scoops in chocolate, vanilla, then strawberry order from front to back.

Add chocolate ganache drizzled over chocolate ice cream.

Add pineapple topping over vanilla ice cream.

Add strawberry topping over strawberry ice cream.

Top each scoop with whipped cream.

Top with cherries over whipped cream.

Sprinkle peanuts over entire dish.
Nutrition
Calories:
848
kcal
|
Carbohydrates:
131
g
|
Protein:
14
g
|
Fat:
34
g
|
Saturated Fat:
16
g
|
Cholesterol:
82
mg
|
Sodium:
156
mg
|
Potassium:
1053
mg
|
Fiber:
8
g
|
Sugar:
84
g
|
Vitamin A:
964
IU
|
Vitamin C:
20
mg
|
Calcium:
295
mg
|
Iron:
2
mg