This creamy homemade Strawberry Ice Cream recipe is made with fresh strawberries and cream. Ice cream maker optional!
When it comes to Frozen Treats like homemade ice cream, you can't beat the classic trio of Chocolate, Vanilla, and Strawberry Ice Creams! So fresh and delicious!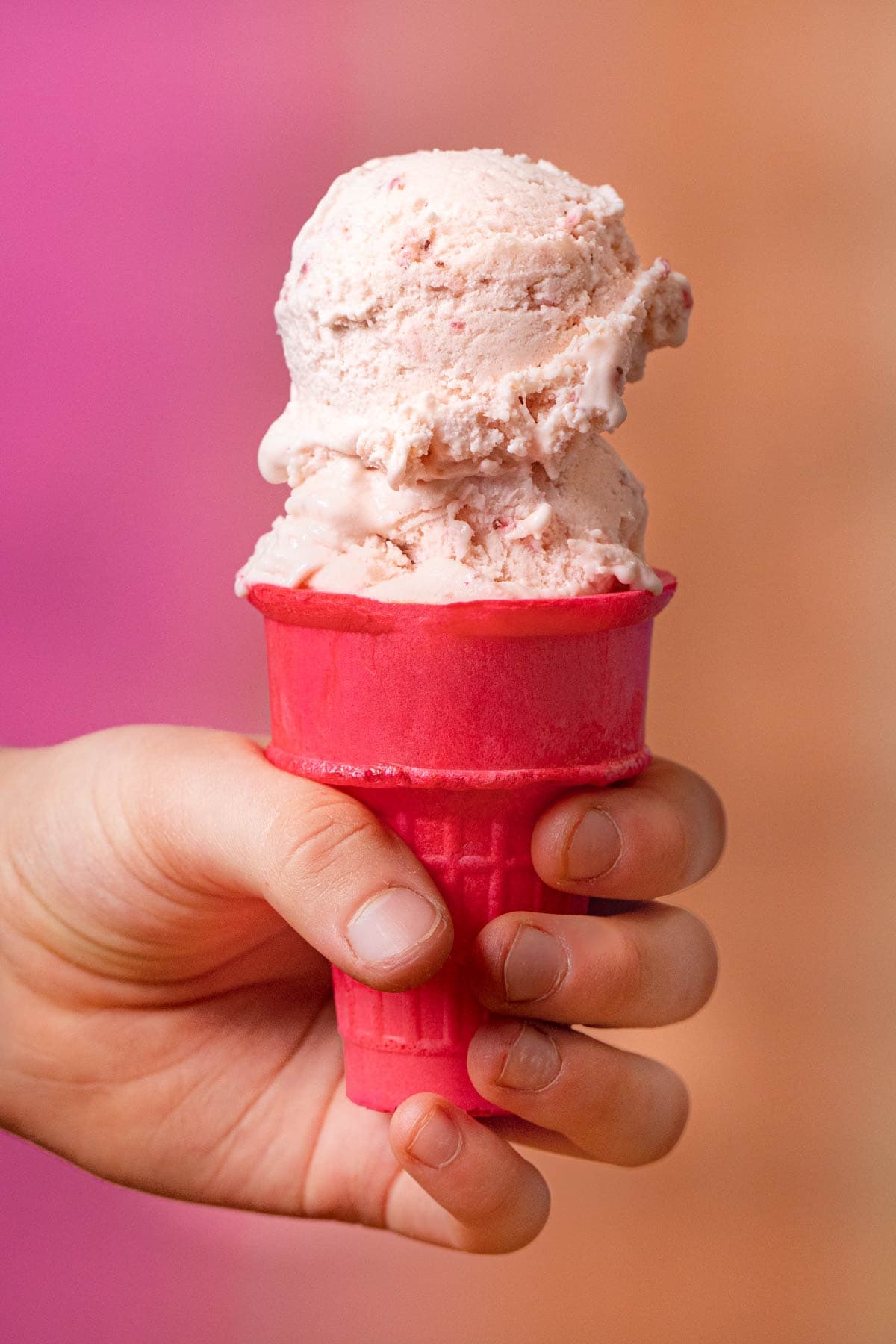 This Strawberry Ice Cream recipe starts with a custard ice cream base so it is extra rich and creamy. The whole pound of ripe strawberries gives an intense and fresh strawberry flavor. The extra steps of preparing the custard and making homemade strawberry puree give you a decadent Strawberry Custard Ice Cream that would rival a gourmet ice cream shop!
Whether you have an ice cream machine or not, you can easily make this amazing homemade Strawberry Ice Cream. Simply follow the recipe card to make the vanilla ice cream custard base and strawberry puree. If you have an ice cream machine, be sure to read your ice cream maker instructions before you begin making ice cream. Some ice cream machines require you to freeze the bowl beforehand and you don't want to skip this step. For best results, freeze the bowl at least a day ahead so that your ice cream freezes quickly.
If not, check below the variations section for 2 ways to make this Strawberry Custard Ice Cream without an ice maker. The shaken rock salt ice cream method is a great activity for kids during the summer! 
Making homemade Strawberry Ice Cream means you get to adjust the flavors to make it exactly like you want it! Add chunks of fresh or frozen strawberries in the end for the most intense strawberry flavor. You can also try different flavor combinations like chocolate and strawberry or add mix-ins like nuts or candy. Enjoy the journey of making this delightful summer treat, and even more so, savoring each scoop. Ready to try making something different? Check out our Pineapple Curd which is so good!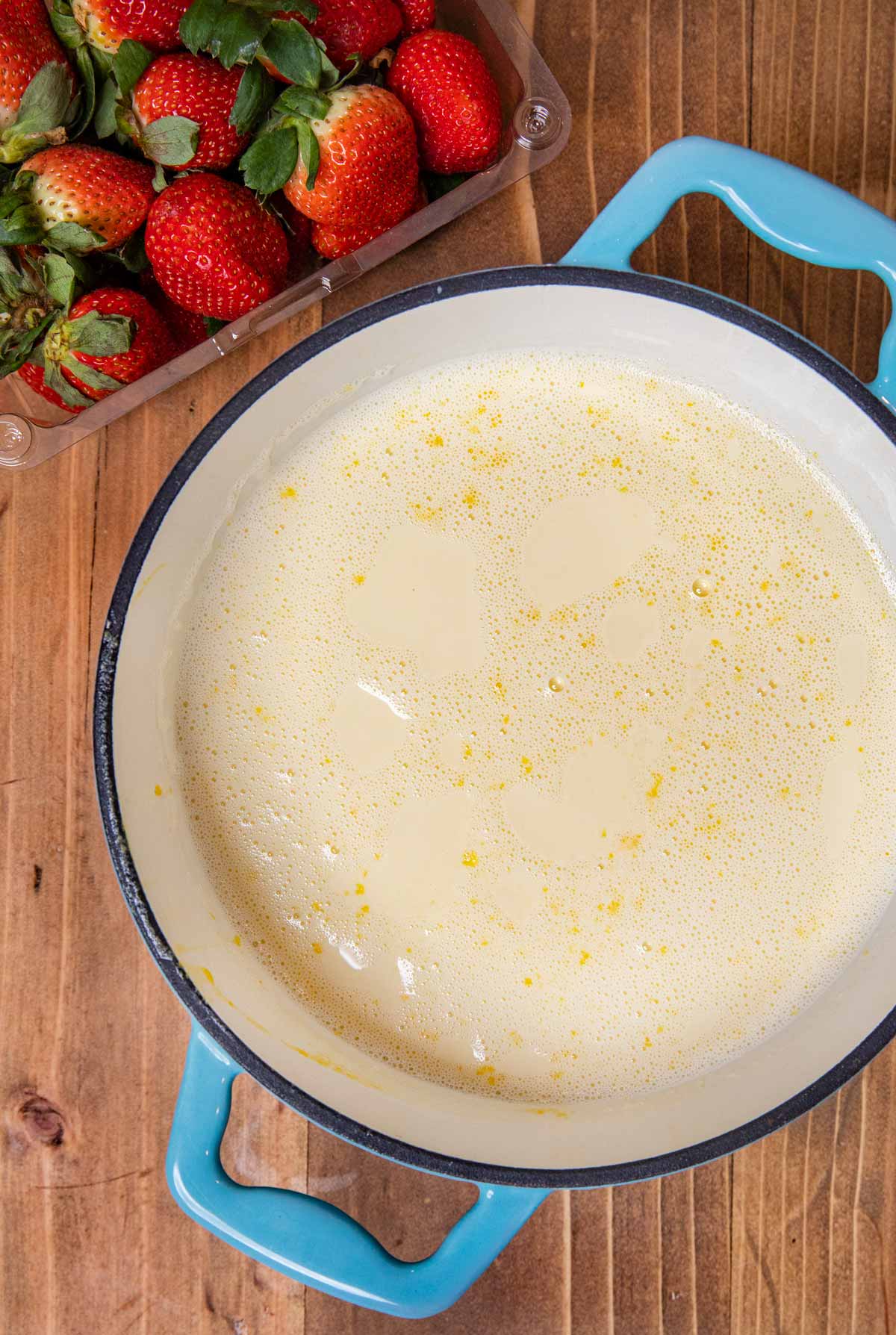 How to Make Strawberry Ice Cream
Homemade Strawberry Ice Cream is the perfect blend of rich creaminess and fresh fruitiness. Making it at home ensures that it remains free from artificial additives commonly found in store variants. Here's the overview of how to make it. For detailed steps see the recipe card at the end. Check it out!
Step One: Whisk the egg yolks with ¼ cup of sugar. Simultaneously, in a saucepan, heat the remaining sugar, heavy cream, milk, vanilla extract, and salt on medium low heat to medium heat. Gradually introduce the milk mixture to the egg yolks while whisking, then combine all into the saucepan and cook until thickened.
Step Two: Transfer the mixture to a bowl, cool, and refrigerate for two hours.
Step Three: For the strawberry puree, cook half the strawberries with ¼ cup sugar and lemon juice until thickened. Blend this with the remaining fresh strawberries in a food processor.
Step Four: Mix the strawberry puree with the chilled custard, churn in an ice cream maker according to its instructions, or every 30 minutes using a potato masher, and freeze for 3 hours before serving.
More Easy Summer Fruit Treats
Frequently Asked Questions
Can I use frozen strawberries?
Absolutely! However, using fresh strawberries gives a brighter flavor. If opting for frozen, ensure they're thoroughly thawed before use.
How long can I store this ice cream?
Stored in an airtight container, it will maintain its quality for up to 2 weeks, though freshest when consumed within the first week.
What if I don't have an ice cream maker?
You can freeze the mixture in a container and stir every 30 minutes until set. However, an ice cream machine provides the best texture.
Can I add mix-ins?
Of course! Consider chocolate chips, cookie pieces, or even crushed nuts for added texture and flavor.
Can I add red food coloring?
It is not recommended to use artificial red food coloring as many people have a bad allergy to it. Find an alternative red like a quarter cup of beet or pomegranate juice, or hibiscus tea. And you probably won't even need any as the strawberry mixture is naturally red.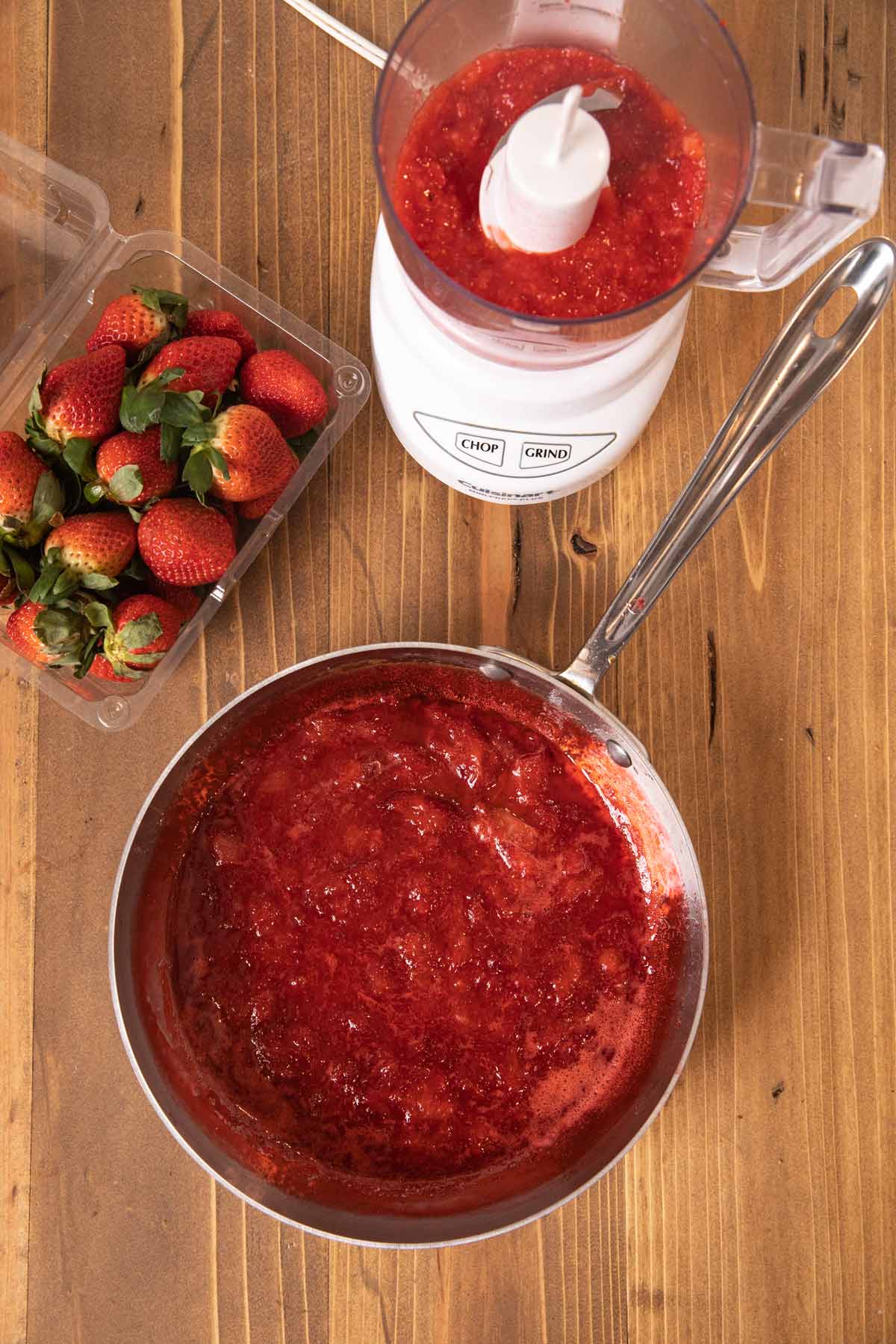 Create a free account to Save Recipes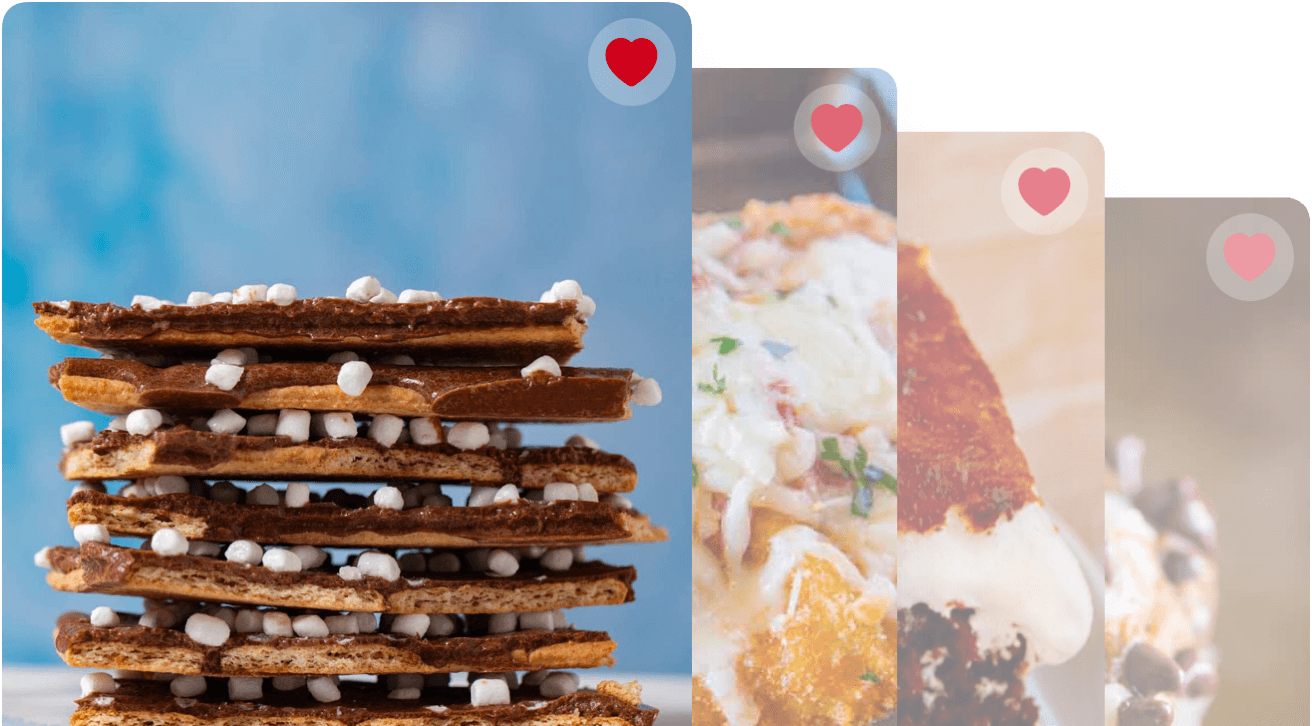 Key Ingredients in Strawberry Ice Cream
Crafting this delightful treat isn't just about following steps; it's about understanding the simple ingredients. These components come together to create an ice cream that's incredibly rich and flavorful and can be easily found in your local grocery store. Check it out!
Egg Yolks: They lend a velvety texture, ensuring the creaminess that's signature to premium ice creams. If health concerns arise, there are yolk-free variations available, but they might slightly alter the texture.
Heavy Cream & Whole Milk: These ingredients form the base, offering a smooth strawberry ice cream recipe with condensed milk and body to the ice cream. While low-fat versions are available, they might sacrifice the richness. You want to use heavy cream or whipping cream and whole milk because of the high-fat content. The higher the fat content, the creamier and more decadent this Strawberry Ice Cream will be.
Strawberries: The star ingredient. Their natural sweetness and tang create a balanced flavor profile. Always opt for ripe, juicy ones for the best taste.
Vanilla Extract: It adds depth, enhancing the strawberry notes and bringing out a fuller flavor profile. Always choose a pure extract over artificial flavorings. For a more intense vanilla flavor, soak whole vanilla beans in the heavy cream overnight. Use 1 teaspoon vanilla paste instead of vanilla extract.
Sugar: Essential for sweetness and also in ensuring a soft texture. Adjust granulated sugar to taste, and if desired, alternative sweeteners can be considered. 
Variations on Strawberry Ice Cream
Berries: You can make this recipe with any fresh or frozen berries that you like. Replace 1 cup of strawberries with other berries for a Mixed Berry Ice Cream. Depending on the season, try a Blueberry Ice Cream or Blackberry Ice Cream too.
Chocolate Covered Strawberry: Fold in chocolate chunks and frozen strawberry pieces halfway through the mixing process in the ice cream machine. Wait 10 minutes and while the machine is mixing slowly drizzle in Chocolate Ganache.
Strawberry Cheesecake Ice Cream: Use a leftover batch of Cheesecake Bars or buy a small cheesecake from the grocery store. Cut cheesecake into ¼ inch pieces and add ½ cup cheesecake pieces to ice cream once it begins to freeze.
Other Mix-Ins: Other delicious add-ins for Strawberry Ice Cream are Shortbread Cookie pieces, salted pretzel twists, white chocolate chips, or fresh fruit pieces.
Adult-Style: If you are adding boozy mix-ins (rum or cognac would be delicious with strawberries), add 2 tablespoons max. Liquor can prevent the ice cream from freezing if you add too much.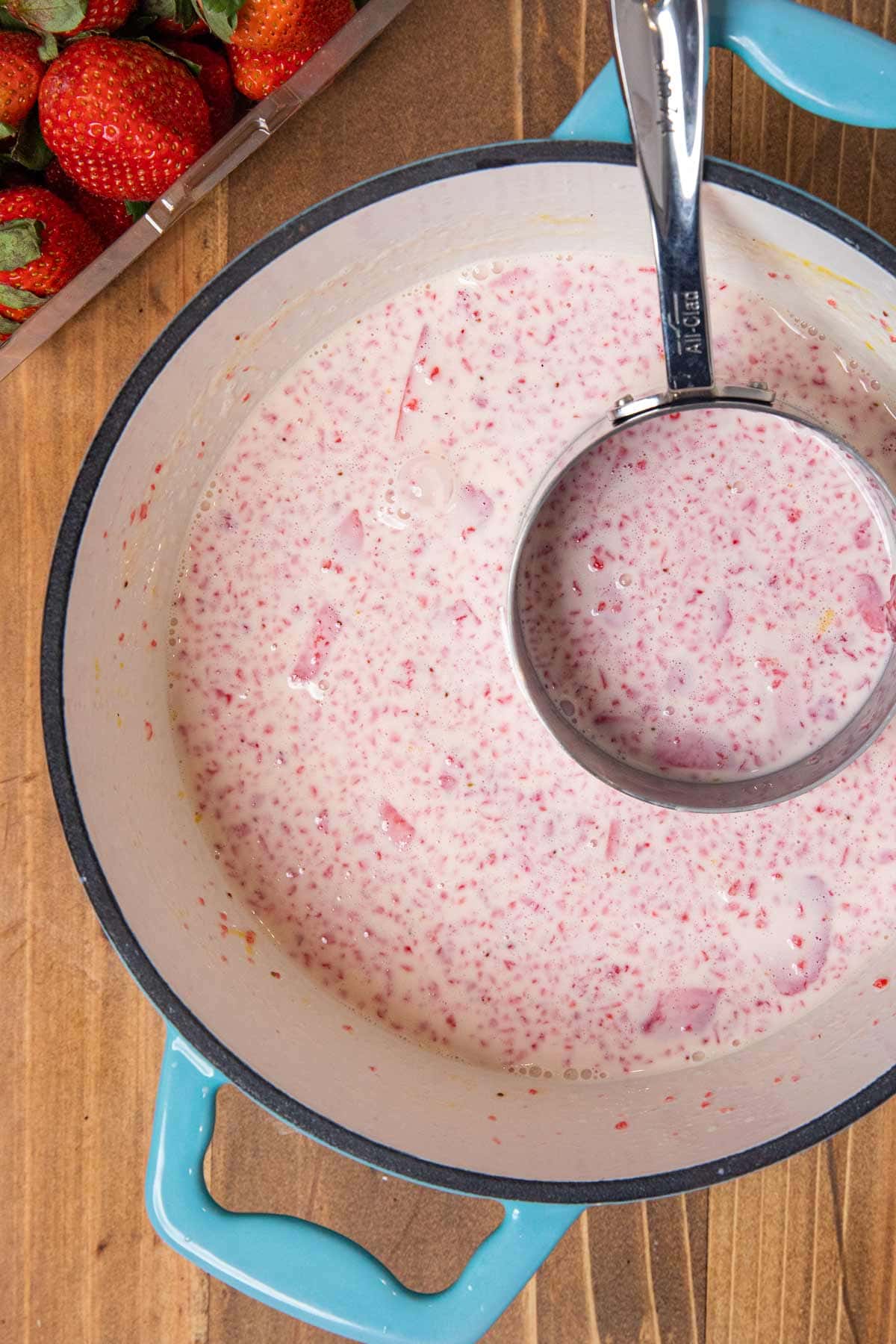 No Churn Strawberry Ice Cream
Freeze a large metal bowl or glass mixing bowl overnight (at least 12 hours).
Prepare the Strawberry Ice Cream mixture as usual.
Pour strawberry mixture into frozen bowl and freeze in back of the freezer for 30 minutes.
After 30 minutes, beat with electric mixer on medium high speed for 2-3 minutes then place back in freezer.
Repeat mixing and freezing every 30 minutes until mixture is too stiff to mix. Freeze for 4 hours and serve.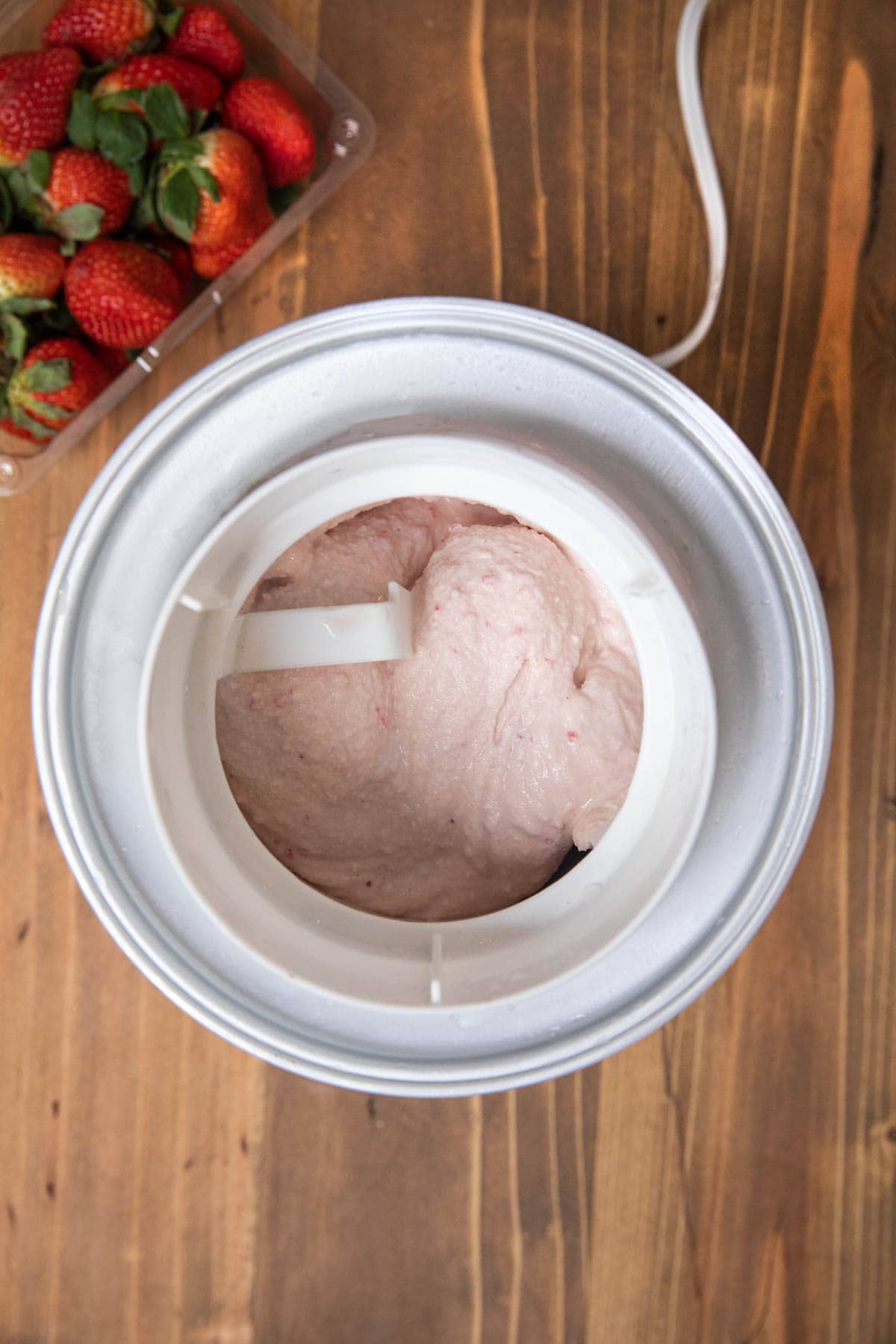 Shaken Strawberry Ice Cream
You need a container large enough to easily hold a gallon size plastic bag with plenty of room for ice and salt that has tightly sealed lid.
Fill the container half way with ice cups and ¼ cup rock salt.
Prepare the Strawberry Ice Cream base and pour into a gallon sized plastic bag. Remove any air before sealing tightly.
Nestle bag with ice cream mixture into the ice and salt mixture and seal lid.
Shake or roll the container for at least 10 minutes, until the ice cream forms.
Remove bag from container and transfer ice cream to frozen bowl with a lid or other freezer safe airtight container and freeze.
More Recipes with Strawberries
How to Store Strawberry Ice Cream
Serve: Freeze your Strawberry Ice Cream for at least 3 hours, until firm, before serving. Cover the ice cream container with plastic wrap and wipe down as much moisture on the lid and container to reduce ice crystals. The best containers are shallow and flat, like a metal loaf pan or glass baking dish.
Freeze: Freeze Strawberry Ice Cream for up to 2 months in an airtight container that is secured tightly to keep out moisture. Plastic wrap between the lid and ice cream will prevent ice crystals. Store ice cream in the back of the freezer so the temperature stays consistent.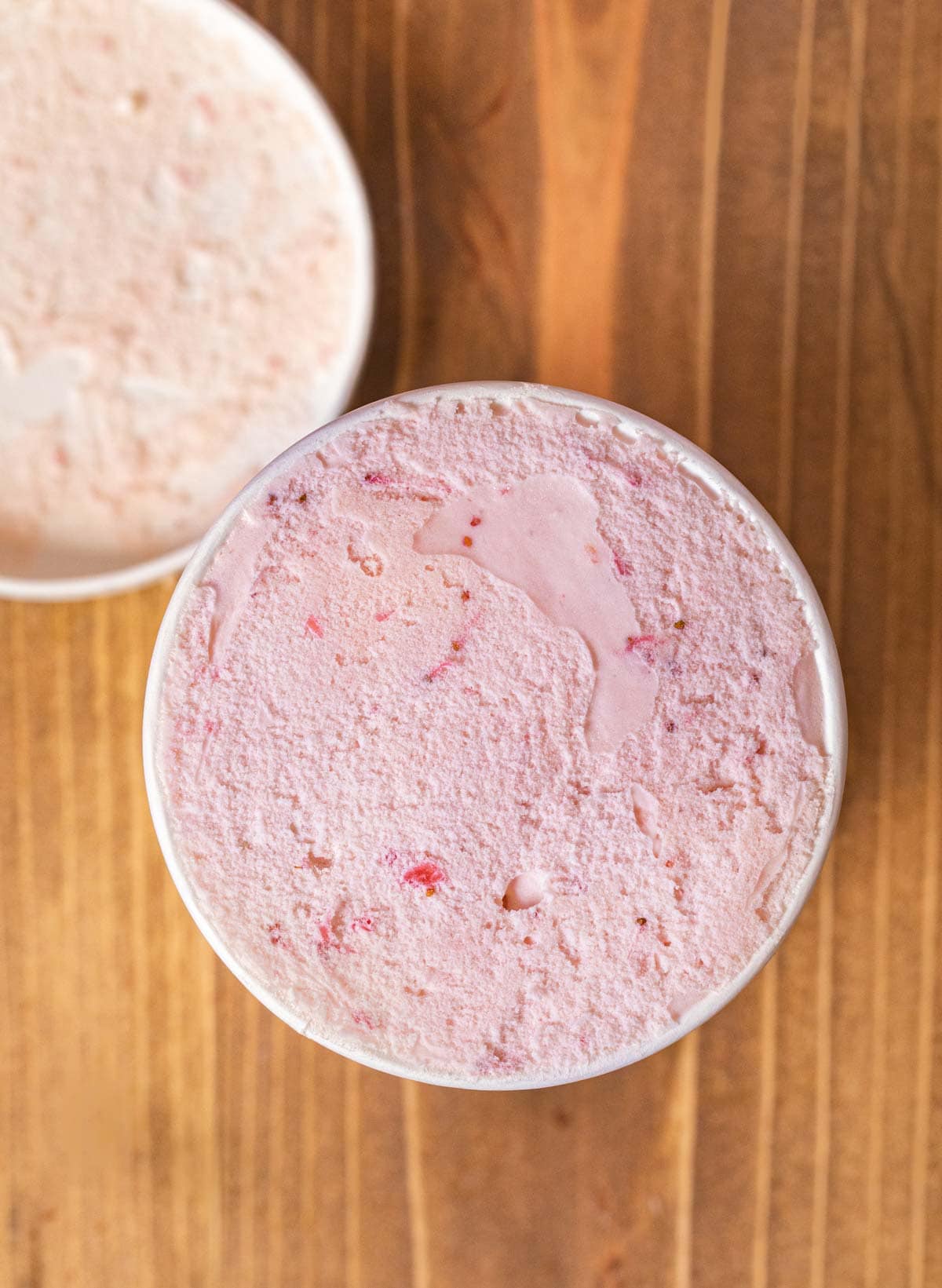 Ingredients
4

large

egg yolks

, lightly beaten

1

cup

sugar

, divided

2

cups

heavy cream

2

cups

whole milk

1

tablespoon

vanilla extract

1/4

teaspoon

salt

1

pound

strawberries

, tops trimmed off

1

tablespoon

lemon juice
Instructions
In a medium bowl whisk eggs well with ¼ cup sugar

In a medium saucepan add the ½ cup sugar, heavy cream, whole milk, vanilla extract and salt on medium heat.

Whisk nonstop and bring to a simmer, then reduce heat to low.

Add ½ cup vanilla bean mixture in a very slow thin stream to the egg yolks while whisking quickly (do not stop whisking).

Pour the egg custard mixture into the pot slowly while whisking constantly.

Cook until mixture is thickened, about

8-10 minutes

(do not let boil or milk will taste scalded).

Turn off heat and pour into a metal bowl or other heat proof bowl.

Let cool completely, then refrigerate (covered) for

2 hours

.

Add ½ the strawberries, ¼ cup sugar and 1 tablespoon lemon juice to a saucepan.

Mash and cook (stirring often) on medium heat until thickened and strawberries are broken down, about

8-10 minutes

.

Add cooked strawberries and rest of the fresh strawberries to a food processor and pulse until mostly smooth.

Remove custard from refrigerator, stir in strawberries and add to ice cream machine (per machine instructions).

Freeze for at least

3 hours

to harden before serving.
Nutrition
Calories:
261
kcal
|
Carbohydrates:
23
g
|
Protein:
3
g
|
Fat:
18
g
|
Saturated Fat:
10
g
|
Cholesterol:
124
mg
|
Sodium:
85
mg
|
Potassium:
148
mg
|
Fiber:
1
g
|
Sugar:
21
g
|
Vitamin A:
740
IU
|
Vitamin C:
23
mg
|
Calcium:
86
mg
|
Iron:
1
mg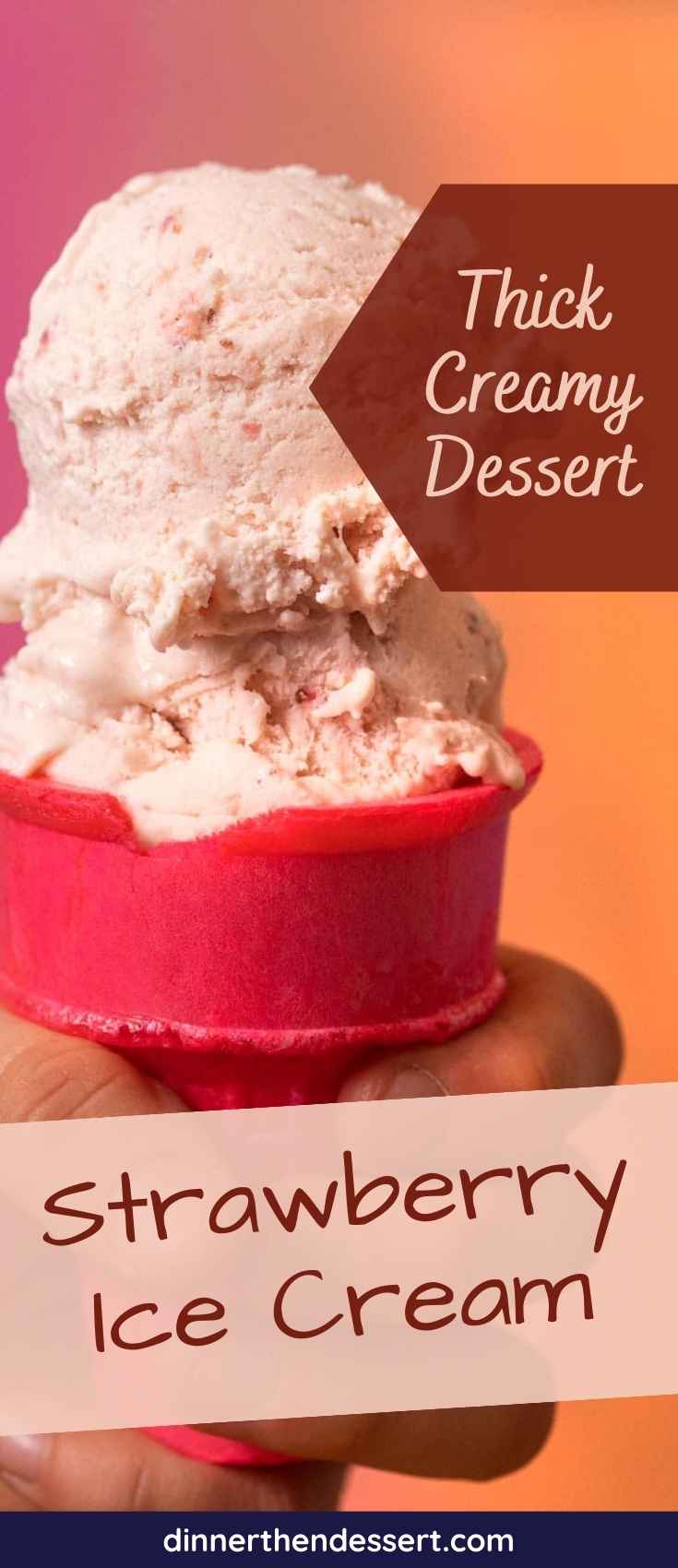 Photos used in a previous version of this post.