Easy Homemade Pineapple Curd is a rich creamy treat with fresh pineapple, egg yolks, sugar, and lemon juice. Delicious as cake filling or ice cream topping.
Sweet Fruit Dessert sauces like Pineapple Topping, Strawberry Topping, and Lemon Curd can be a filling or topping for baked goods and desserts, or you can enjoy them all on their own!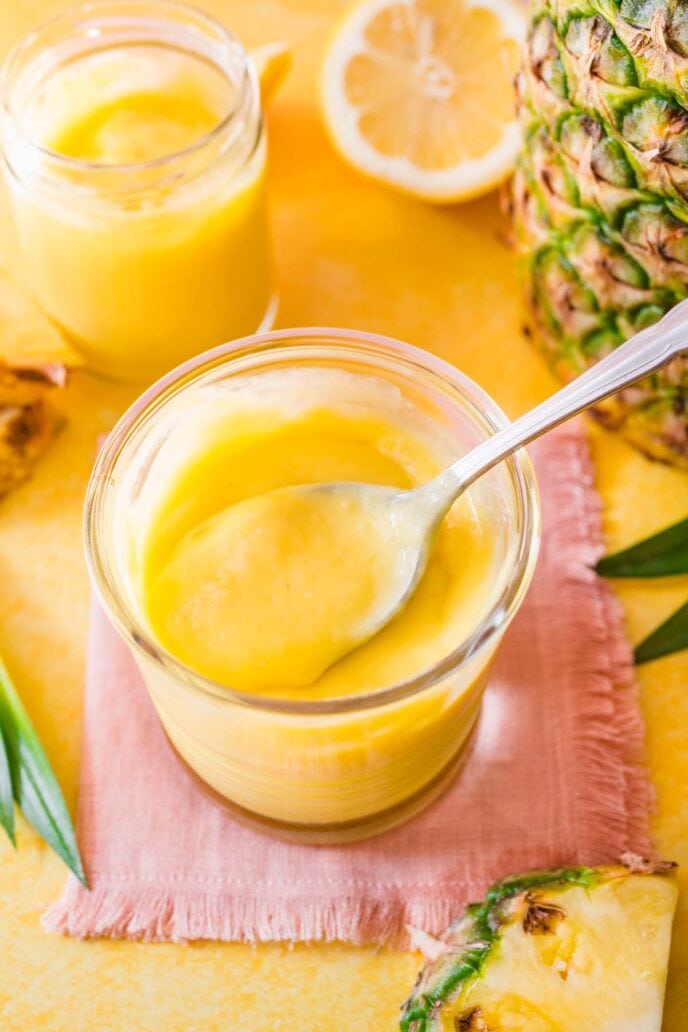 This creamy, tangy, and fruity homemade Pineapple Curd is like a tropical custard that you won't be able to get enough of. Use it to fill your favorite desserts or eat it by the spoonful. This decadent pineapple curd is one that you'll be making over and over again.
This recipe for Pineapple Curd is easy to make with about half the whisking as regular custard thanks to the food processor. You blend the pineapple puree at the same time with the egg yolks, instead of waiting for the pineapple to break down first. Blending the pineapple puree with the eggs and sugar also cuts the cooking time in half since the sugar dissolves in the natural pineapple juice.
Once you transfer the egg-pineapple puree to the sauce pan, that's when the constant whisking starts. Make sure you continually stir the custard and keep the heat low, otherwise you'll end up with scrambled yolks. Sometimes your custard will get a little too hot and turn slightly chunky. Don't worry! You can strain your Pineapple Custard through a mesh sieve before you refrigerate it to make it perfectly smooth.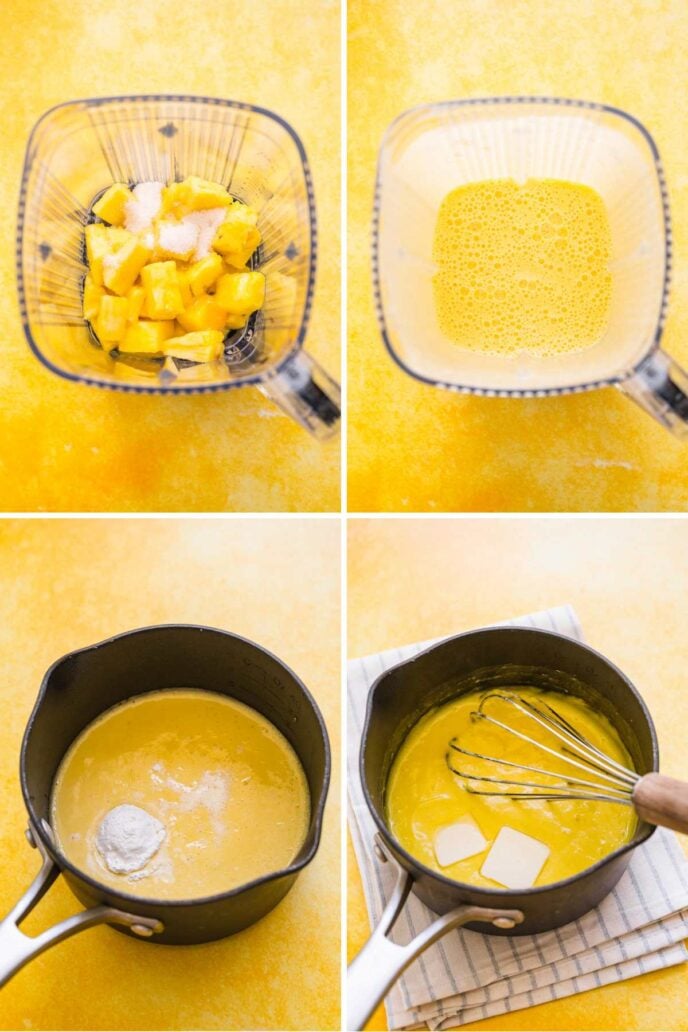 Once your custard is cooked and you've added the butter, you'll want to let it cool completely until it's set and thick. Set the Pineapple Curd in a large glass jar with a lid to store it, or into a tartlet shell if you making a Pineapple Curd Tart. This delicious and creamy treat also makes a great holiday gift, so you can set it in mini glass jars so it's ready to give away.
How to Make Pineapple Curd
Blend: Use the smoothie function to blend pineapple chunks, egg yolks, and sugar in your blender.
Cook: Pour the mixture into a saucepan and add lemon juice, cornstarch, and salt. Whisk well and cook on medium heat until it thickens.
Cool: Remove from heat and whisk in butter. Let cool completely in a jar, and it will set up nicely before serving.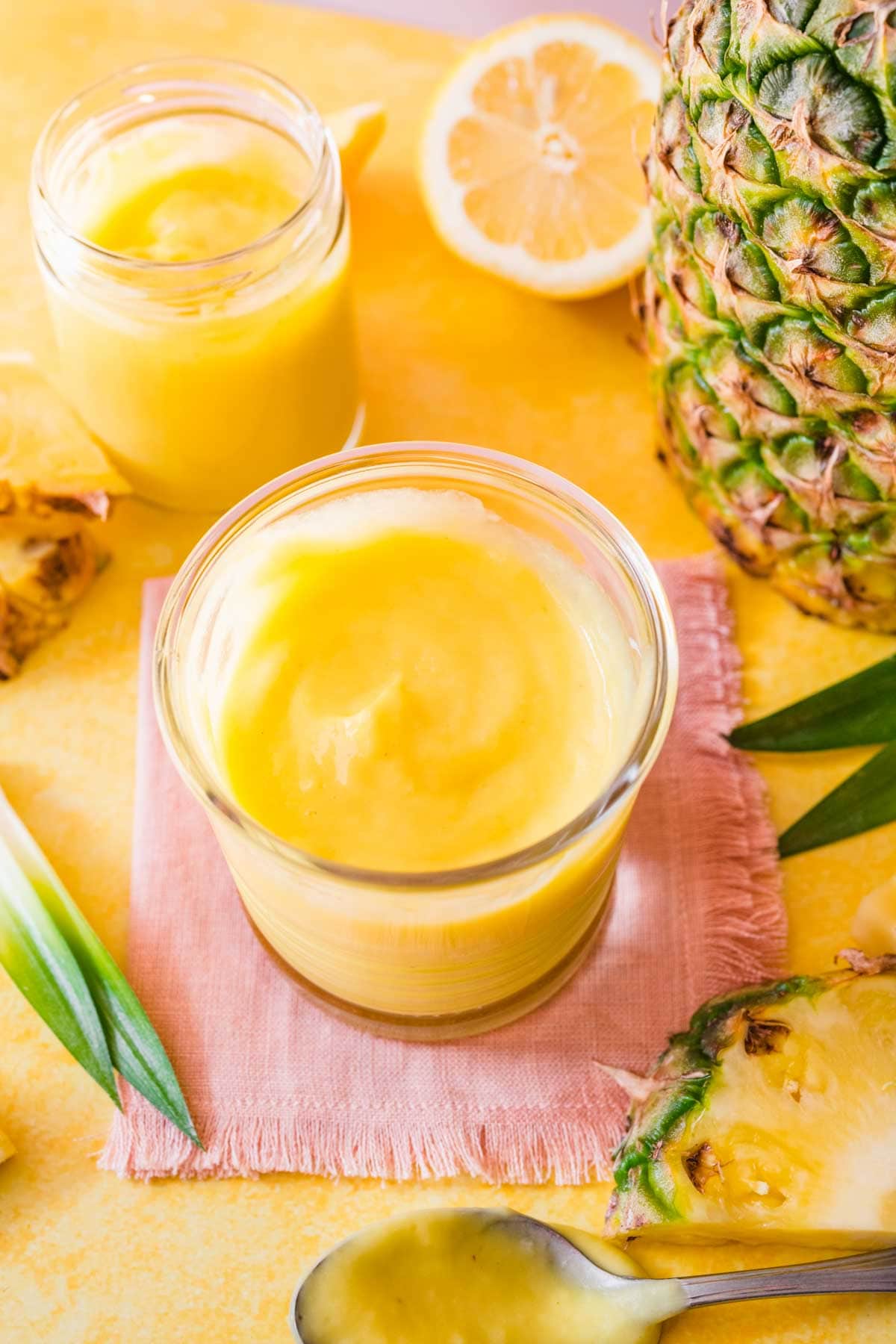 More Easy Fresh Fruit Desserts
Frequently Asked Questions About Pineapple Curd
Why are only the egg yolks used in Pineapple Curd?
Egg yolks have a thickness and creaminess that coats toast beautifully. That same characteristic is why only the egg yolks are used in curd. The yolks help achieve the thick, but creamy texture you want in a curd.
What if my curd won't thicken up?
The main reason a curd won't thicken is usually because the mixture hasn't cooked for long enough. Try giving it a little more time over heat, while whisking to ensure a smooth texture and even cooking.
How to Use Pineapple Curd
Ice Cream: Serve over Vanilla Ice Cream as a fruity topping. Pineapple would pair well with other flavors too, like strawberry ice cream, chocolate chip ice cream, or birthday cake ice cream.
Cake: Use as a cake filling for your favorite Cake Recipes. Add it into the layers of your cake by placing a thin layer of frosting on each side of the cake layers first as a barrier to prevent the Curd from totally soaking into the cake. You can also add the Curd to the top of the cake, again over a layer of frosting. Another option wold be to set out a jar or bowl of Pineapple Curd, serve the cake slices, and let people add a spoonful on top of their slice.
Tart: Add prepared Pineapple Curd to a baked tart shell or Graham Cracker Crust for a delicious dessert where the Curd is the star of the show.
Dip: Serve Pineapple Curd as a fruit dip with strawberries, bananas, apples, or other tropical fruits. To add to the delicious pineapple flavor, sprinkle some toasted coconut, macadamia nuts, or mini chocolate chips over the top of the Curd.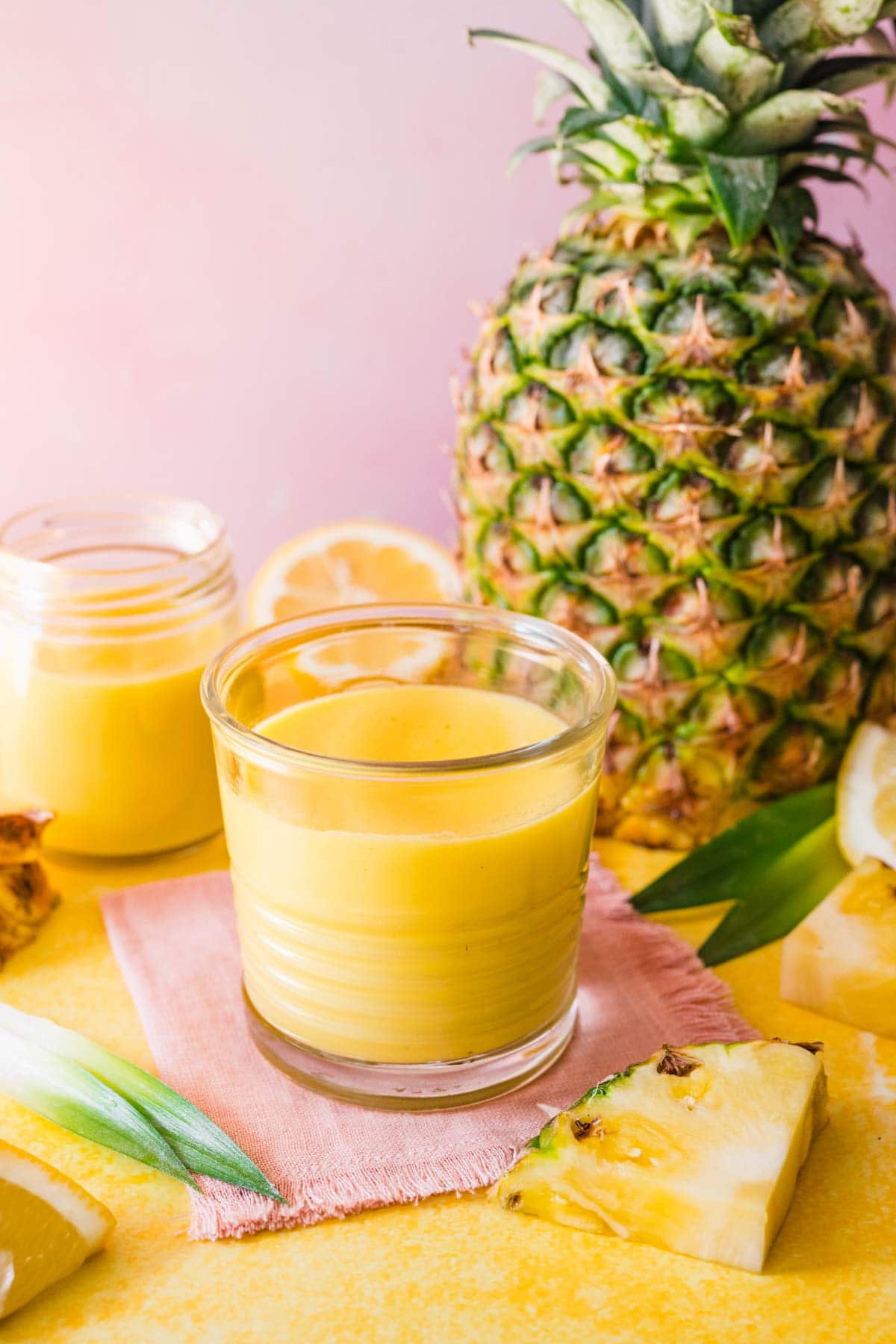 Create a free account to Save Recipes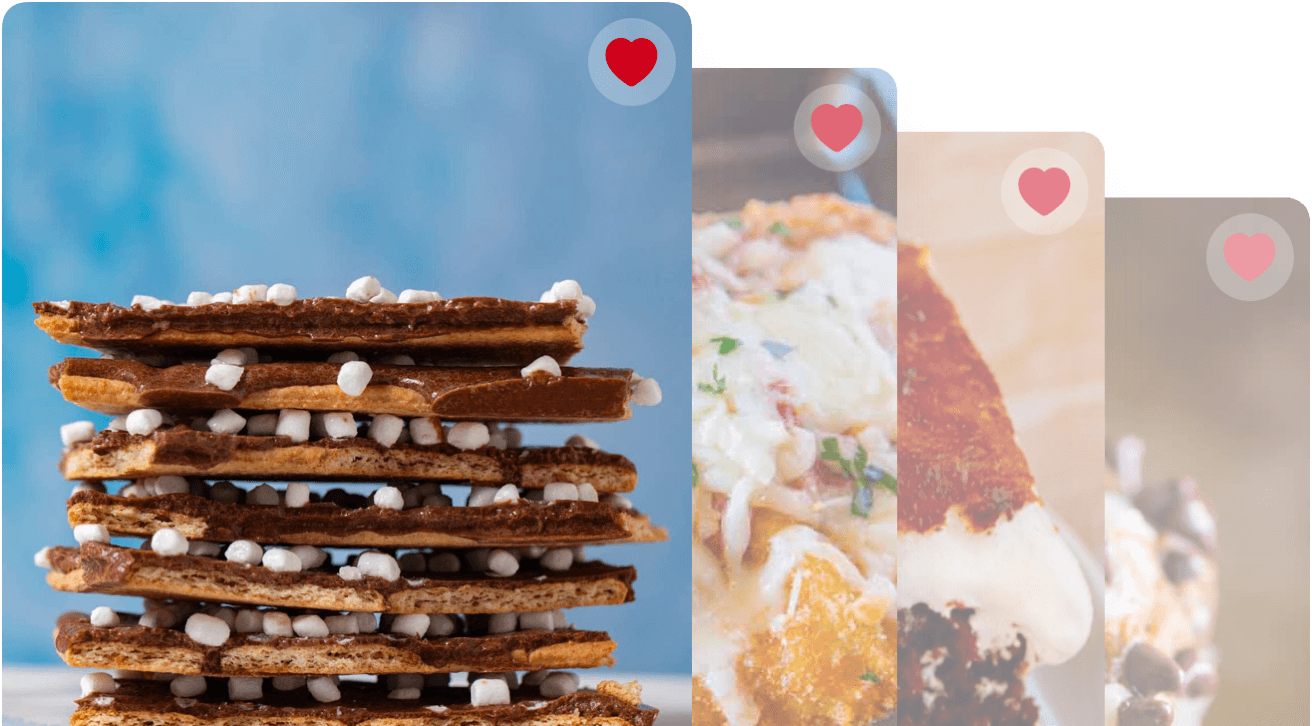 Variations on Pineapple Curd
Canned Pineapple: Instead of fresh pineapple, you can use canned pineapple or frozen pineapple chunks that have been thawed. Drain thawed or canned pineapple juice, and rinse any syrup off the canned pineapple.
Pineapple Juice: You can make your Pineapple Curd extra creamy and pineapple-y by adding pineapple juice. The one caveat is that you don't want to use fresh pineapple juice or it won't thicken properly. Used canned pineapple juice (like the mini Dole cans) and add 2-3 tablespoons.
Orange Pineapple Curd: Orange and pineapple are delicious together so add 2 tablespoons orange juice and 1 teaspoon orange zest to make Orange Pineapple Curd.
Tropical Pineapple Curd: Make a mixed fruit Tropical Curd by swapping half the pineapple chunks with mango, papaya, and guava chunks. Add a splash of coconut milk to make it creamy.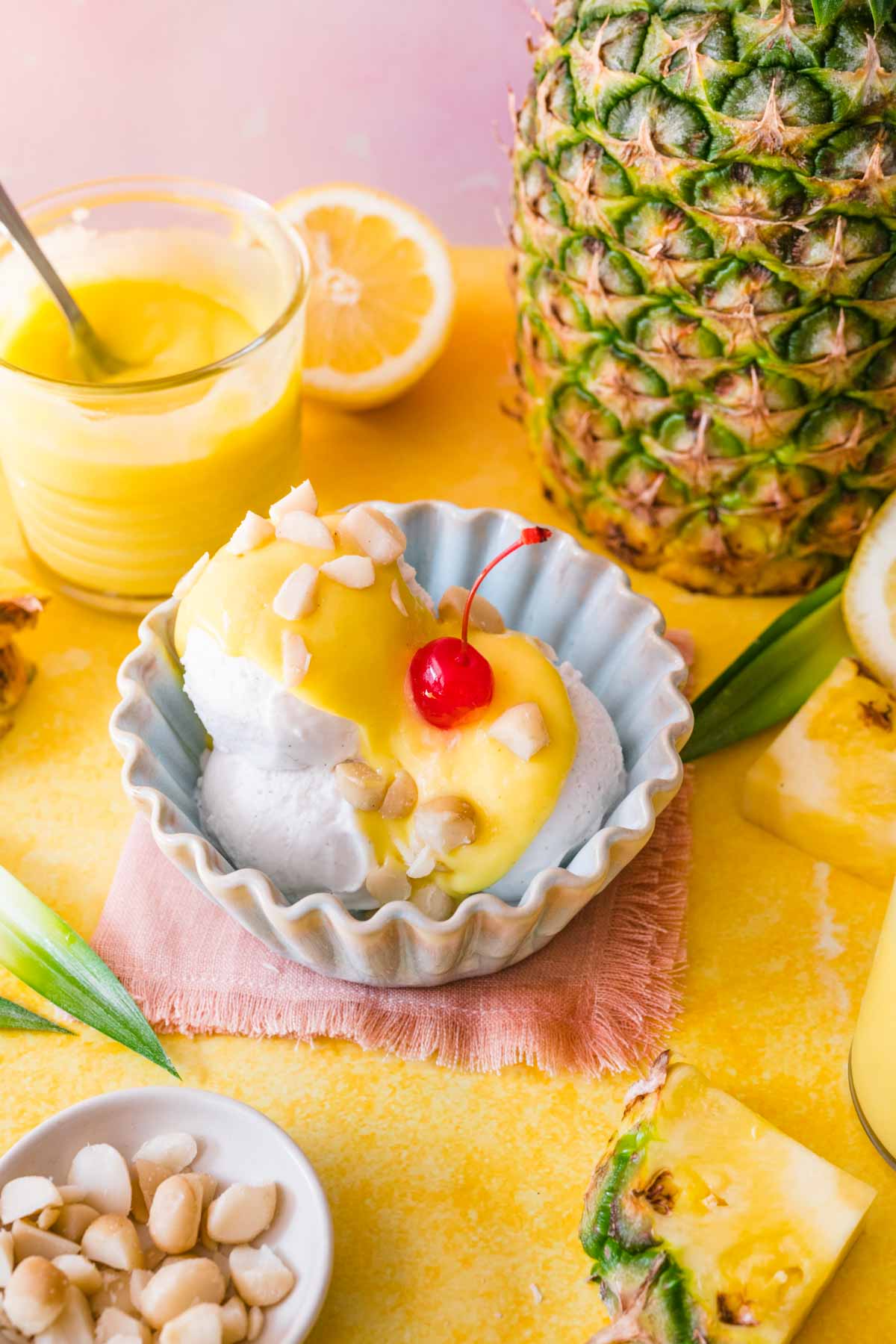 Instant Pot Pineapple Curd
Blend: In a food processor, puree the pineapple chunks, 1 cup butter (softened), and sugar until smooth. Add in egg yolks, plus 2 eggs, and blend for one more minute. Blend in lemon juice until just combined.
Jar: Divide curd mixture between 3 half pint glass jars and put lids on jars. Add wire trivet to bottom of Instant Pot and place jars on trivet.
Cook: Carefully add 1 cup water to bottom of Instant Pot. Lock lid and seal pressure valve. Cook on Manual High Pressure for 10 minutes. Naturally release 10 minutes, then quick release.
Cool: Cool jars on a wire rack for 30 minutes, then seal jars and refrigerate overnight to set.
More Delicious Pineapple Desserts
How to Store Pineapple Curd
Serve: Keep Pineapple Curd at room temperature for up to 2 hours before chilling. Let Pineapple Curd cool in the refrigerator for at least 3 hours before serving or using as a filling.
Store: Cover Pineapple Curd with plastic wrap or keep in an airtight container. Store in the refrigerator for up to 10 days and stir well before using.
Freeze: Once the Pineapple Curd has completely chilled and set in the refrigerator, freeze in a sealed container for up to 1 year. Thaw overnight before using the defrosted Pineapple Curd.


Ingredients
1 1/2

cups

pineapple chunks

, fresh

2

large egg yolks

2

tablespoons

sugar

1

tablespoon

lemon juice

1

tablespoon

cornstarch

1

pinch

salt

2

tablespoons

unsalted butter
Instructions
Add pineapple, egg yolks, and sugar to a blender and blend on smoothie function until smooth.

Add mixture to a saucepan with lemon juice, cornstarch, and salt.

Whisk well, cooking on medium heat until it thickens, about

5-7 minutes

.

Remove from heat and whisk in butter.

Let cool completely before serving.
Nutrition
Calories:
82
kcal
|
Carbohydrates:
11
g
|
Protein:
1
g
|
Fat:
4
g
|
Saturated Fat:
2
g
|
Polyunsaturated Fat:
0.3
g
|
Monounsaturated Fat:
1
g
|
Trans Fat:
0.1
g
|
Cholesterol:
56
mg
|
Sodium:
8
mg
|
Potassium:
63
mg
|
Fiber:
1
g
|
Sugar:
9
g
|
Vitamin A:
175
IU
|
Vitamin C:
5
mg
|
Calcium:
14
mg
|
Iron:
0.3
mg