Pineapple Upside Down Cupcakes are the perfect miniature version of the classic cake with buttery yellow cake, pineapple chunks, and cherries.
This amazing Miniature Cake Recipe is the perfect cupcake version of Pineapple Upside Down Cake. If you love this adaptation, you're going to love making Jelly Doughnut Muffins as well as the yummy Strawberry Upside Down Cake!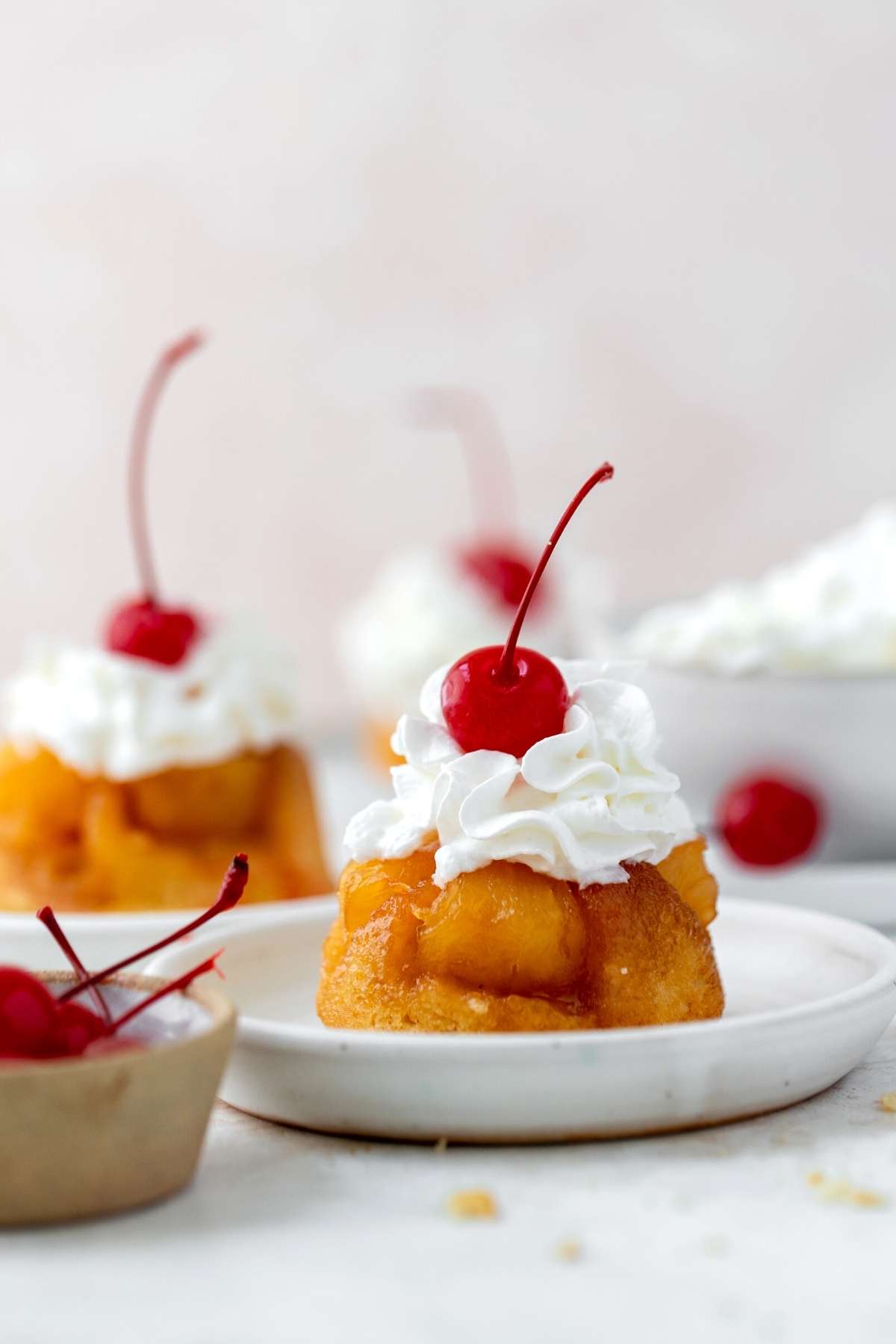 This recipe takes an iconic dessert and makes them into adorable cupcakes that are the perfect addition to any celebratory dessert table. Bright red and yellow colors from the fruit make the cakes look amazing, and are sure to bring a smile to everyone's face. Making them into cupcakes makes this classic pineapple dessert easy to serve to a crowd without worrying about slicing the cake into pieces
Just like the classic cake, they have a pineapple and cherry layer that's baked on the bottom but served on top. To accomplish this in the mini version, you simply add the pineapple and cherry topping to the bottom of each muffin cup, then pour the cake batter over top. Once the pineapple cupcakes are baked, simply flip them over to reveal the beautiful fruit topping ready to serve.
The sweet and tangy cherry and pineapple flavors go perfectly with the moist yellow cake recipe. The refreshing flavors are the perfect way to end a Summer BBQ or just enjoy it on a hot day. Serve each cake up with a scoop of Vanilla Ice Cream to make the dessert nice and cooling.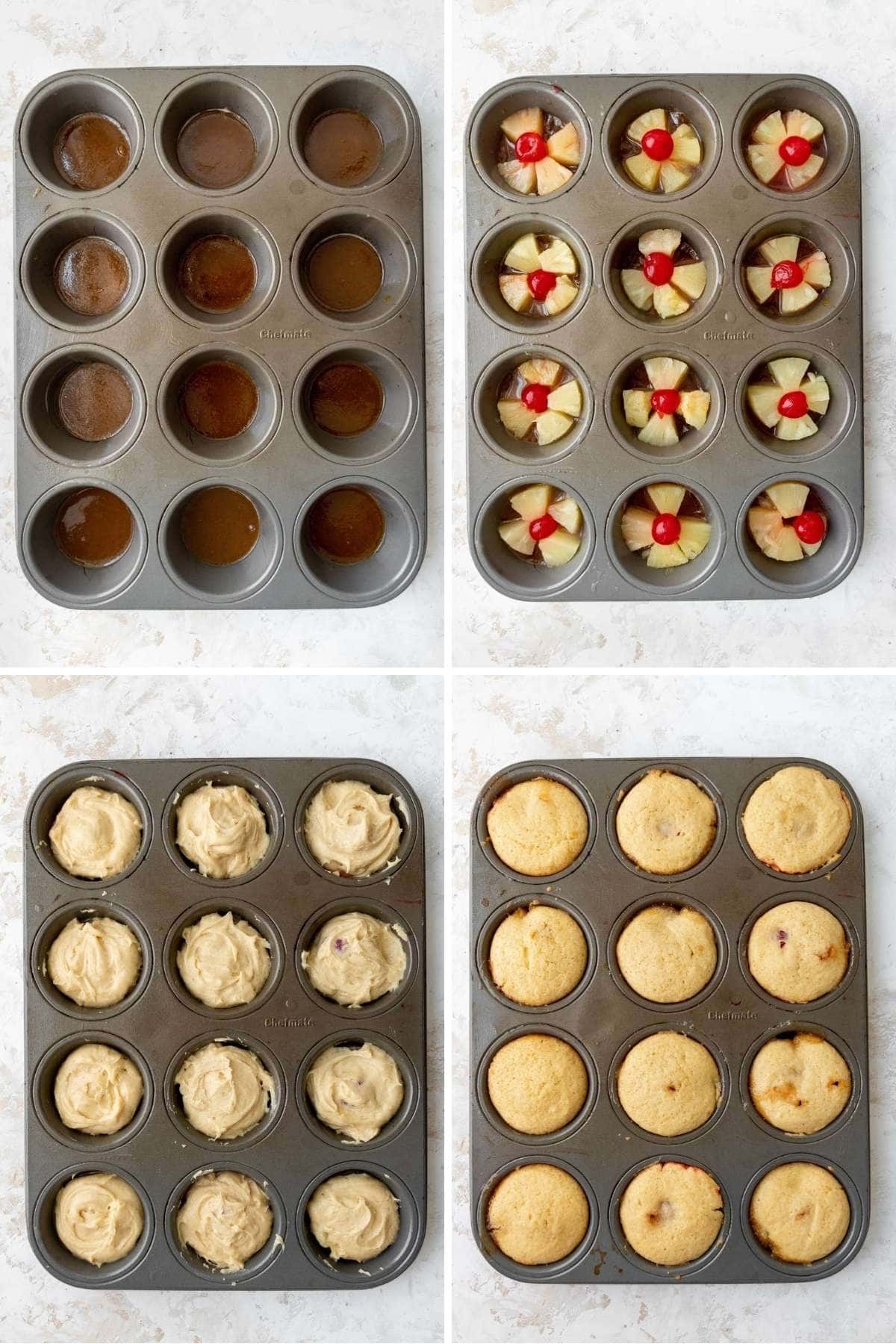 How to Make Pineapple Upside Down Cupcakes
We love this recipe because it is so easy and makes an amazing dessert that everyone can easily enjoy! The baking process is pretty straight forward so you shouldn't have any trouble at all. Check it out!
Prep time: Preheat the oven to 350 degrees. Then spray a 12-cup muffin tin with nonstick cooking spray. You want to use nonstick spray instead of paper liners so that the cupcakes will easily come out with the pineapple topping.
Topping: Melt the butter and brown sugar in a microwave-safe bowl. Mix the ingredients together and divide it evenly into the muffin cups. Add the pineapple pieces on top, then place cherries in the middle of the pineapples.
Cake batter: Add the butter, granulated sugar, and brown sugar to your electric stand mixer. Mix for 1-2 minutes until light and fluffy. Then add in the egg, vanilla extract, sour cream, and pineapple juice. Turn the electric mixer to low speed until combined. Then sift in the flour, baking powder, and salt. Mix at low speed again until just combined.
Baking time: Spoon the batter from the bowl into the muffin cups over the sliced pineapple. Pop the pan in the preheated oven to bake for 20-22 minutes. Keep the cupcakes in the oven until a toothpick inserted in the center of one comes out clean. Let the cupcakes cool down for 10 minutes while still in the tin. After 10 minutes run a knife around the edge of each cake to loosen them up. Then put a baking sheet on top of the muffin tin, and flip it over so the cupcakes come out with the pineapple slices on top. 
More Yummy Pineapple Recipes
Frequently Asked Questions
Why is it called Upside Down? 
Traditional cakes are baked and then the topping is added on after it has finished baking. With upside down cakes, the topping is baked into the cake by being placed first in the baking dish and the batter cooking on top of it. When it's finished baking, it's flipped upside down so that it's ready to serve!
Can I use fresh pineapple instead of canned?
Yes, you can. Be aware that fresh pineapple will not have the extra sweetness that canned pineapple does. And this may be desirable for you. Be sure to cut the pineapple up into chunks about an inch thick. 
What's the best way to flip Pineapple Upside Down Cupcakes?
Simply place a baking sheet upside down onto the muffin tin. While the cupcakes are still warm, hold both sheet and tin together and quickly flip it with caution. With the baking sheet flat on the table or counter, lift the muffin tin up. The cupcakes should just fall right out. If not, then you can coax them with a little pressure from a fork or your hand.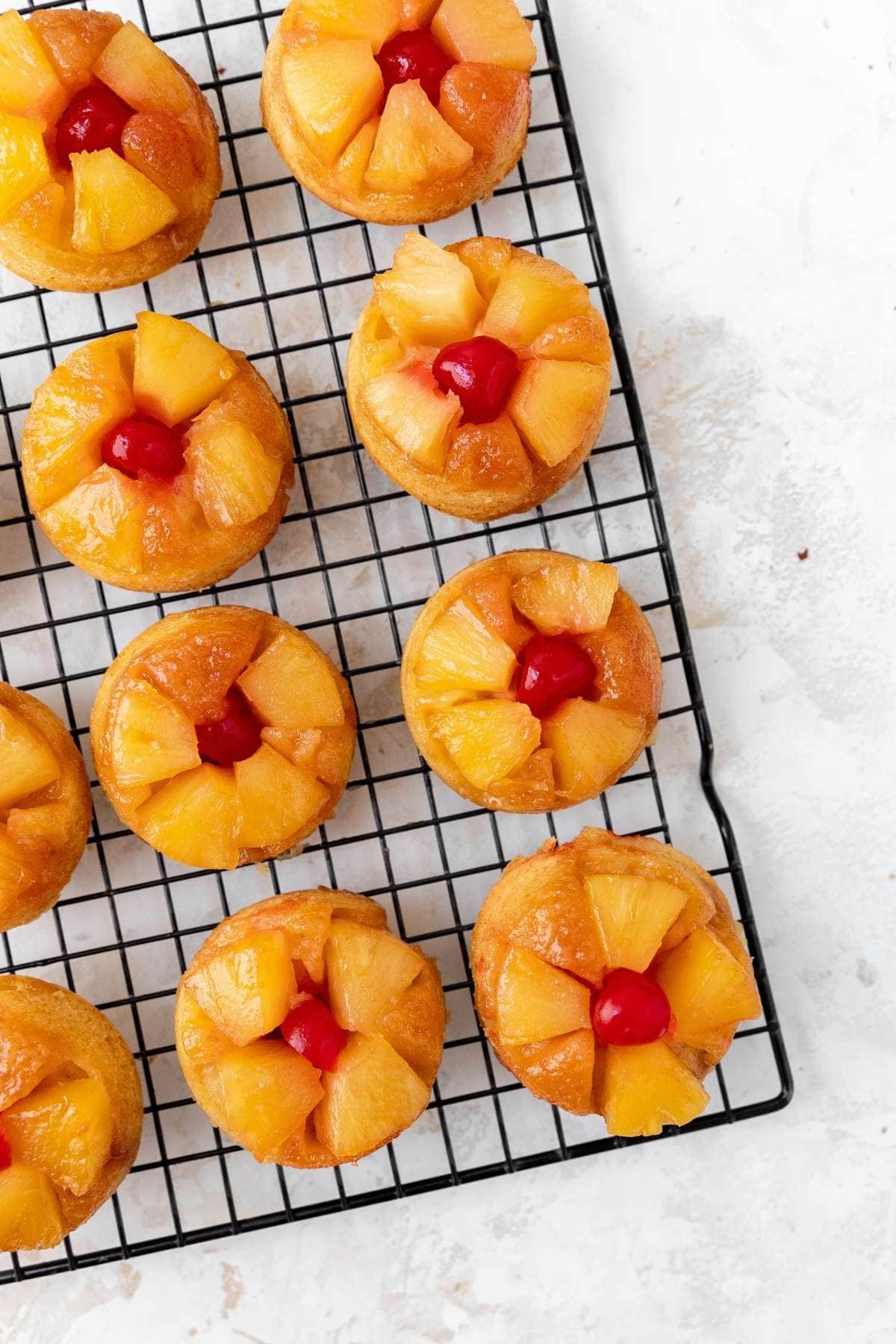 Create a free account to

Save Recipes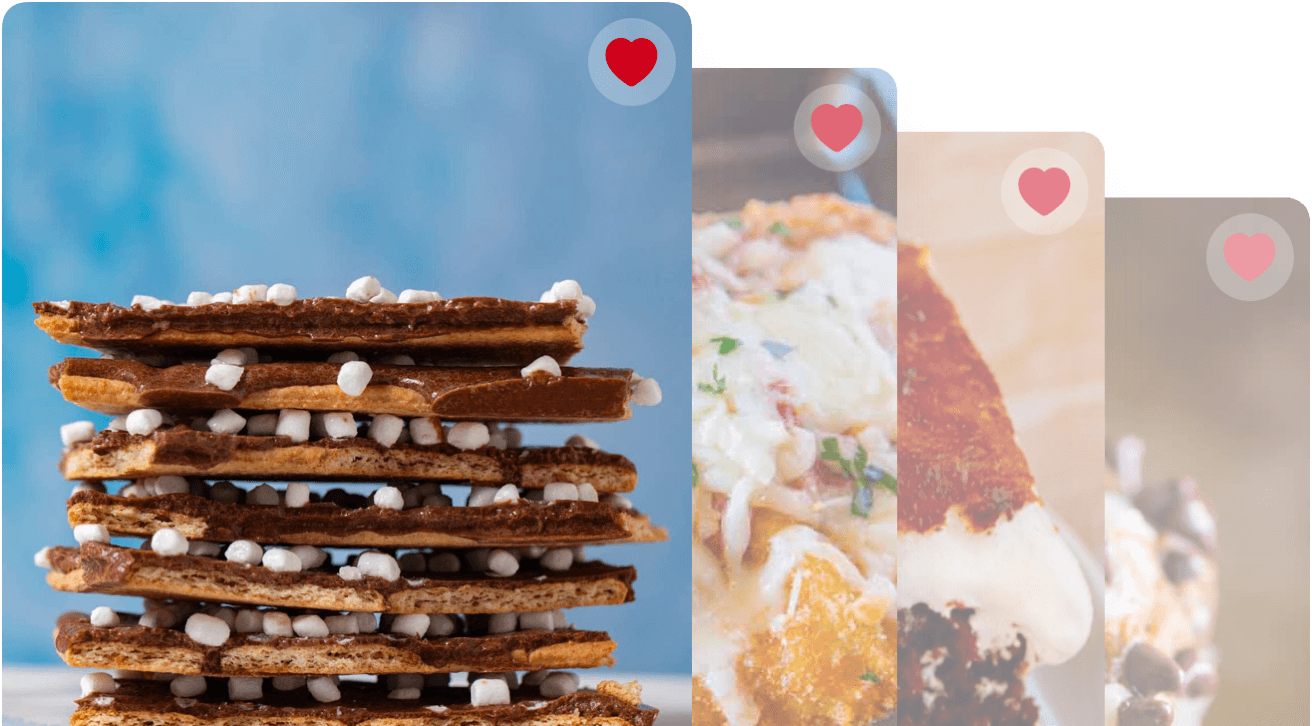 Key Ingredients in Pineapple Upside Down Cupcakes
Because this recipe is so simple, you should be able to easily find all the ingredients at your local grocery store. Check it out!
Pineapple: The cans of pineapple from the store are sweetened and make this recipe extra yummy! If your pineapple is not cut into chunks, you'll want to carefully do so during preparation. 
Cherry: The sweet and slightly tanginess of maraschino cherries brings a vibrant depth to this already amazing dessert. 
Cake Batter: We are using a regular cake mixture with added sour cream which gives it an extra richness and deeper density that is very desirable.  
Can I make Pineapple Upside Down Cupcakes ahead of time?
Yes, absolutely! This is a great treat to make ahead of time. Simply bake it according the instructions below and store it in an airtight container in the fridge for up to 3 days before the party. They will last in the fridge for up to 5 days, but for best taste, we recommend serving them within the 3 day mark.
They'll also keep in the freezer for up to a month. Let them thaw in the fridge overnight before serving them.
If you want to add whipped cream for the party, don't put it on until you're ready to serve them. Whipped cream doesn't hold well on top of cake in the fridge or freezer.
Variations on Pineapple Upside Down Cupcakes
Pineapple rings: Instead of using diced pineapple in the pineapple layer, you can use whole pineapple slices. Put a slice of pineapple at the base of each muffin cup and then put a cherry in the center for a cherry-filled pineapple ring.
Yellow cake mix: Instead of fully making a cake from scratch, you can save time by using a boxed cake mix. To make the boxed cake mix wonderfully moist, add one extra egg to what the back of the box said. You should also exchange the water with milk and the oil with melted butter.
Coconut: Coconut and pineapple make a wonderful tropical flavor together. To incorporate that into this dessert, sprinkle coconut flakes into the pineapple topping.
Different fruits: For some variations in the fruit topping, you can try using different kinds of berries like cranberries, strawberries, or raspberries.
How to Store Pineapple Upside Down Cupcakes
Serve: After cooking, you don't want to leave the Pineapple Cupcakes at room temperature for more than 2 hours.
Store: Cover the cupcakes or put them in an airtight container to store in the fridge for up to 5 days.
Freeze: You can also freeze the pineapple cakes for up to 1 month as long as they're kept sealed. Take them out of the freezer and let them thaw in the fridge for a few hours before dessert time.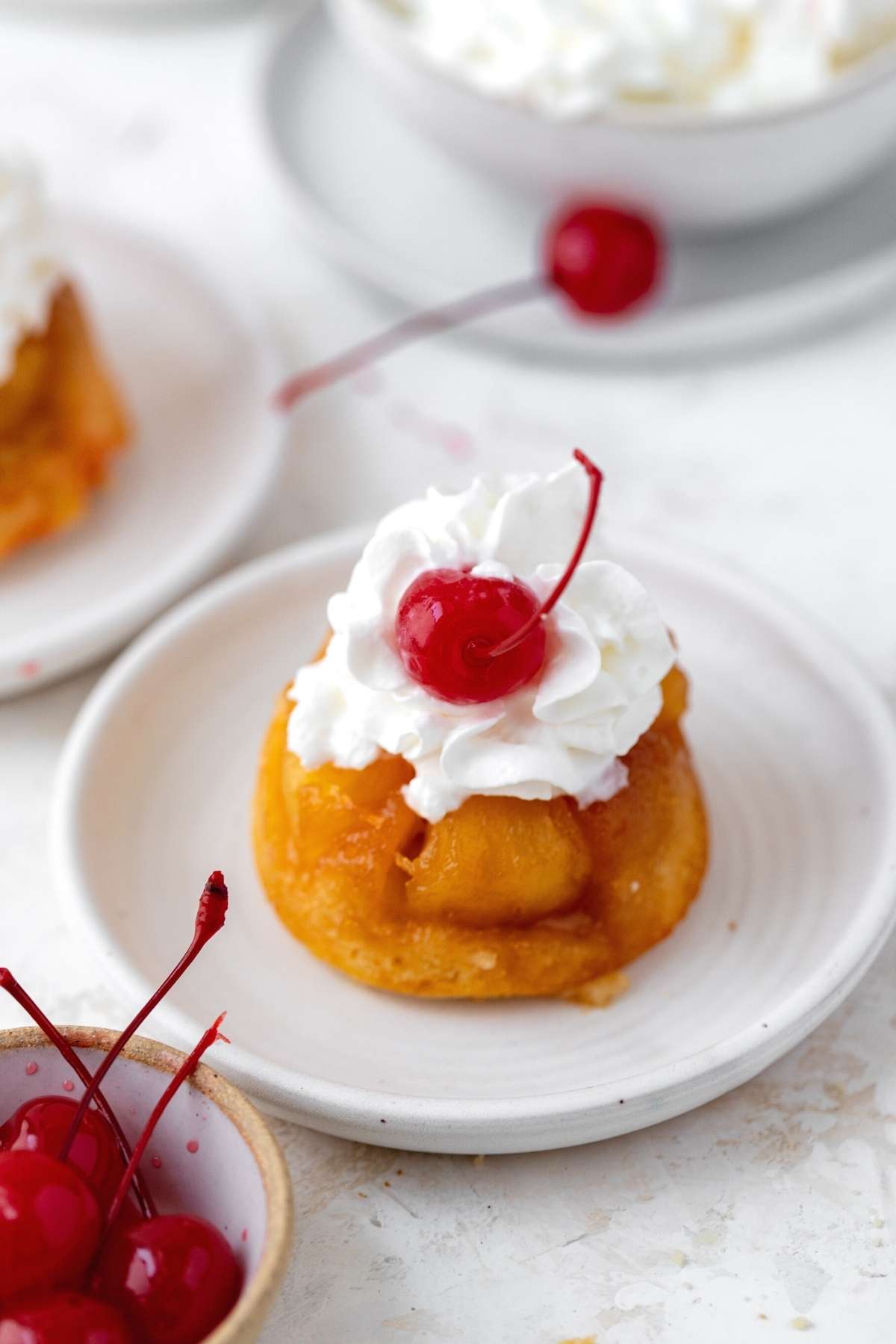 Ingredients
Topping Ingredients (Go into the muffin tin first)
3

tablespoons

unsalted butter

, melted

1/2

cup

brown sugar

, packed

20

ounces

pineapple chunks in juice

, drained (reserve ¼ cup of juice for cake)

12

maraschino cherries

, stems removed
Cake Batter Ingredients
1 1/3

cups

flour

1

teaspoon

baking powder

1/2

teaspoon

kosher salt

1/4

cup

unsalted butter

, softened

1/2

cup

sugar

1/4

cup

brown sugar

, packed

1

large

egg

1

teaspoon

vanilla extract

1/4

cup

sour cream
Instructions
Preheat the oven to 350 degrees.

Spray a 12 cup muffin tin with baking spray.

Melt the butter and brown sugar in a microwave-safe bowl then mix together and pour into the muffin tins.

Add pineapple chunks to the bottom of muffin tins then place cherries in the middle of the circles.

To your stand mixer add butter, sugar, and brown sugar on medium speed until light and fluffy, for

1-2 minutes

.

Add in the egg, vanilla extract, sour cream, and pineapple juice at low speed until combined.

Sift together flour, baking powder and salt then add it into the stand mixer on low speed until just combined.

Spoon batter carefully into muffin tin until ¾ full.

Bake for

20-22 minutes

or until a toothpick comes out clean.

Place baking sheet upside down on muffin tin and flip over quickly while still warm.
Nutrition
Calories:
247
kcal
|
Carbohydrates:
42
g
|
Protein:
2
g
|
Fat:
8
g
|
Saturated Fat:
5
g
|
Trans Fat:
1
g
|
Cholesterol:
36
mg
|
Sodium:
113
mg
|
Potassium:
142
mg
|
Fiber:
1
g
|
Sugar:
31
g
|
Vitamin A:
284
IU
|
Vitamin C:
4
mg
|
Calcium:
48
mg
|
Iron:
1
mg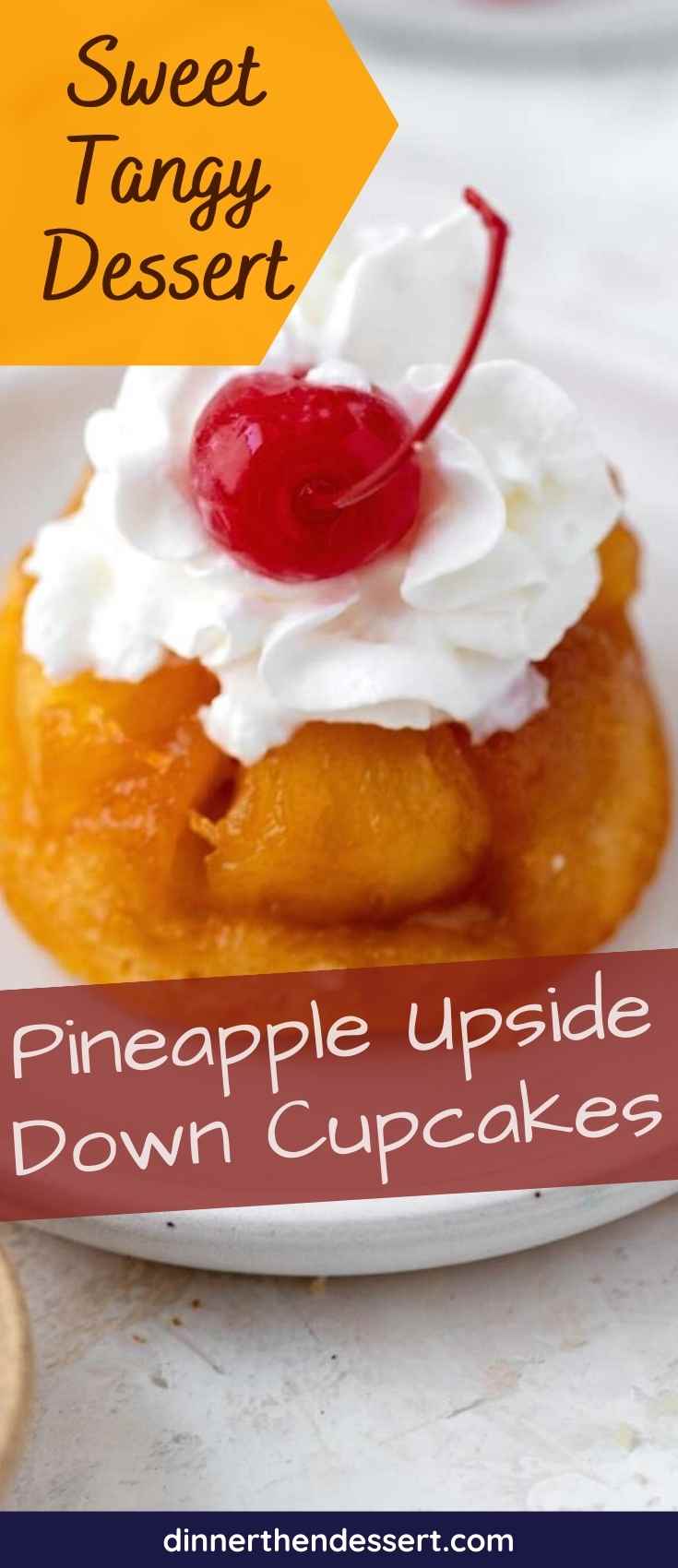 Photos used in a previous version of this post: